This weekend I'm going to a conference! So you know how you get new clothes for a trip? Well I decided my MacBook needed something spiffy to wear, too. So today I designed my first mandala, cut it on holographic vinyl with my Cricut, and applied it to the cover of my MacBook. I know folks like to put this type of mandala design on shirts and bags, too, so I thought I'd share my apple mandala design with you here on my blog!
I designed this mandala in Adobe Illustrator following the wonderful tutorial written by Designs by Miss Mandee. I decided to theme my mandala with… APPLES! So if you look closely, you'll see apples, apple leaves, and lots of apple seeds. Here's what the Apple Mandala looks like up close: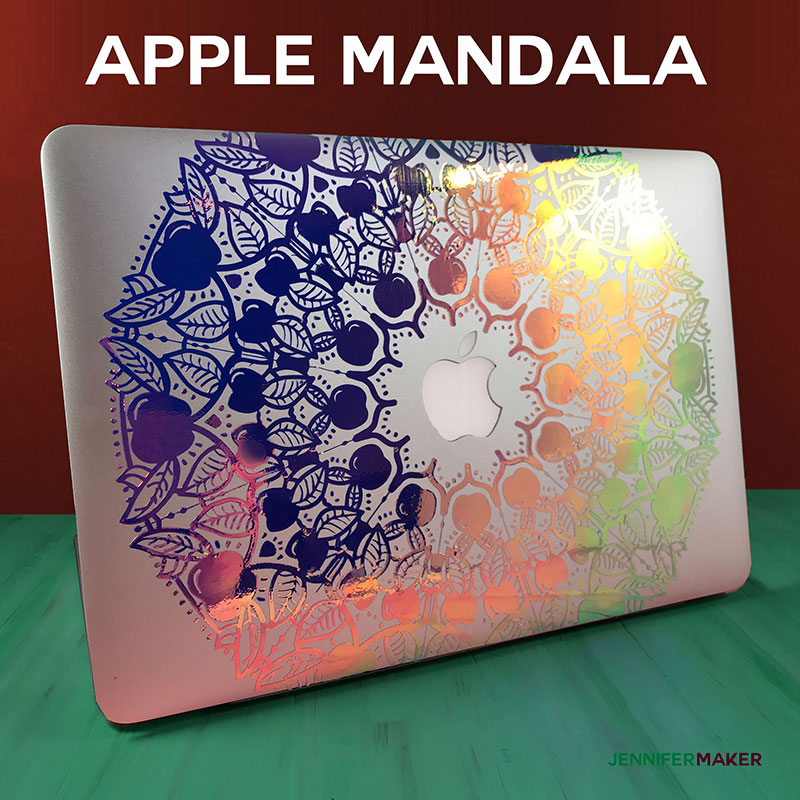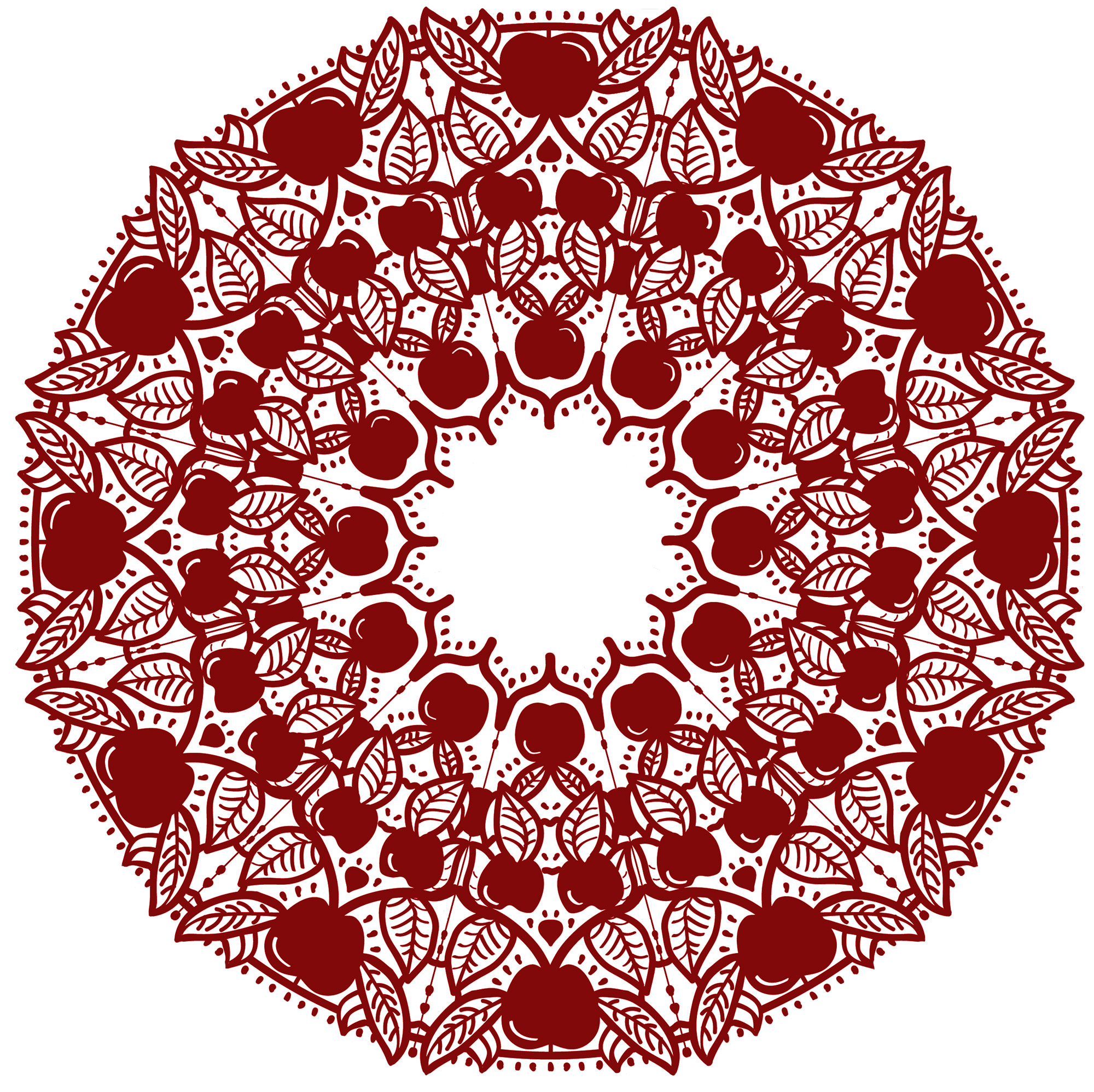 This post contains some affiliate links for your convenience (which means if you make a purchase after clicking a link I will earn a small commission but it won't cost you a penny more)! Read my full disclosure policy.
There are no special instructions for cutting out this design — it's all one piece when you upload it to Cricut Design Space, as you can see below: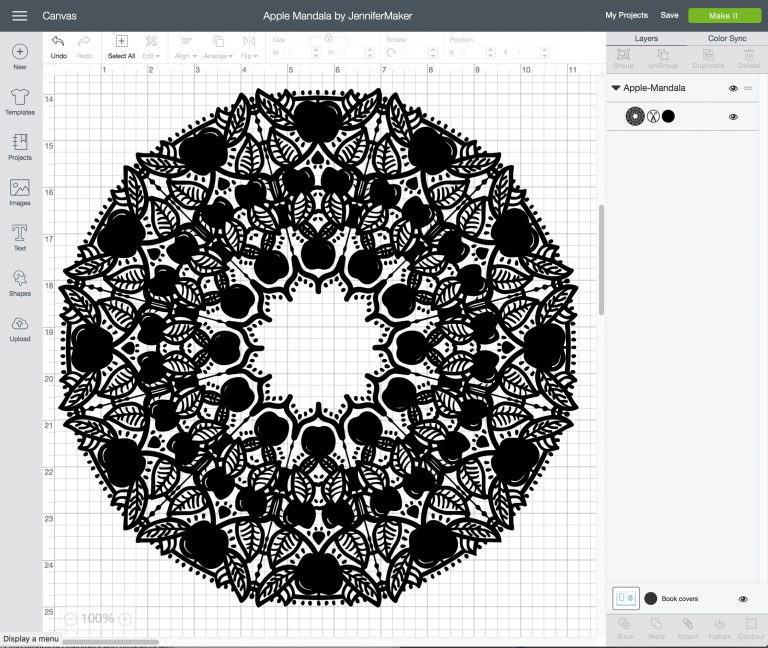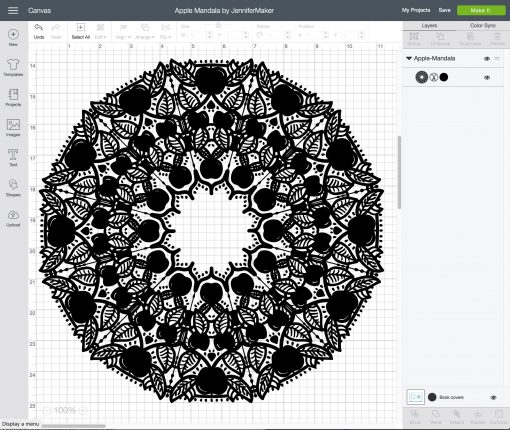 If you decide to cut my apple mandala out, be aware that you'll need lots of patience (which is typical for detailed mandala designs like this). It took about 1 1/2 hours to cut, but I can say that my Cricut Explore cut it like a champ! I cut my mandala on Cricut Holographic Vinyl (Blue).
Weeding was about two hours, maybe a little more. I am not very practiced at weeding, however, so maybe it could go faster. There's a lot of little pieces to weed. Here are some of my favorite weeding tips. Good luck!
To transfer it to my MacBook, I first cleaned the cover with some rubbing alcohol. Then I transferred the weeded design to a sheet of transfer film. Then, before I put it on my MacBook, I cut it to size (you'll notice it is taller than the MacBook cover). Then I carefully transferred it onto the laptop. Some of the seeds were stubborn and didn't want to transfer, so I moved them over manually later.
You'll find the apple mandala design (Design #55) in my Free Resource Library — you can get the password to the library by filling out the form below:
I hope you can use the file for something interesting with this. I'd love to see photos if you make something with this mandala! If you make one, please share a photo in our Facebook group, email it to me at [email protected], or tag me on social media with #jennifermaker.
Love,