Learn how to make your own Stacked Book Decor for fall, Christmas, and year-round home decor!
These DIY Book Stacks are super popular. And just wait til you see how easy they are to make! They are also super affordable. You can use books from the Dollar store, the thrift store or you can even upcycle and use old books you have lying around the house! They make the perfect decor for your home!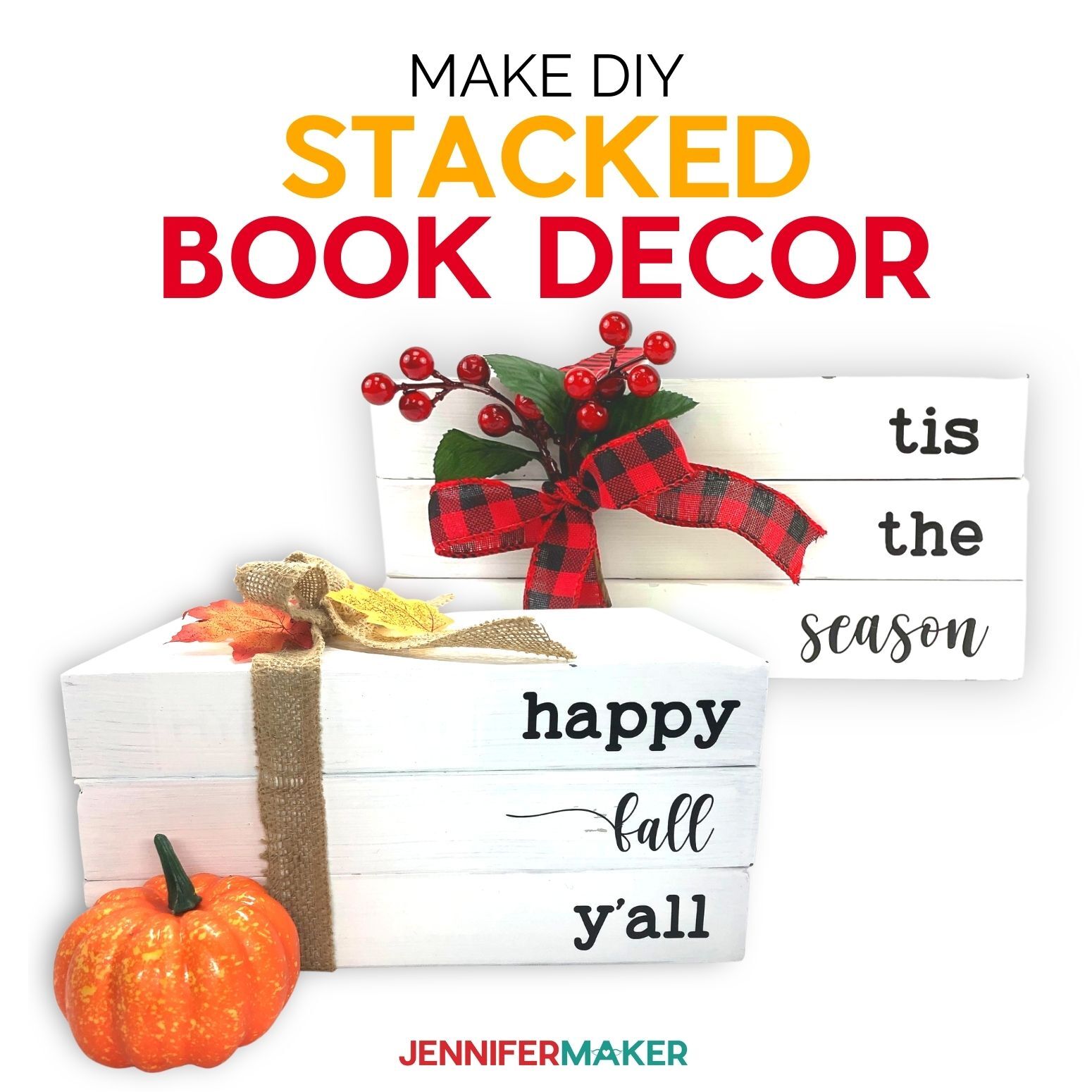 I've seen a few of these stacked books floating around and thought, "hey, I can make that!" I decided to try it out and was amazed at how they turned out so I decided I'd love to share these with you so that you too can have them to place in a special part of your home! What a great way to make your home feel more homey by adding "home sweet home" to the spine of your book.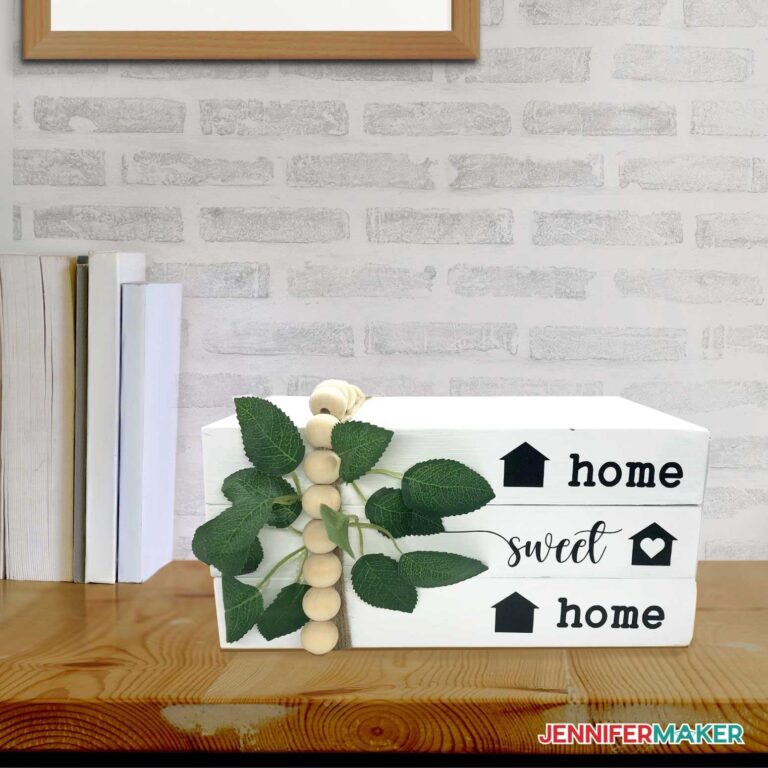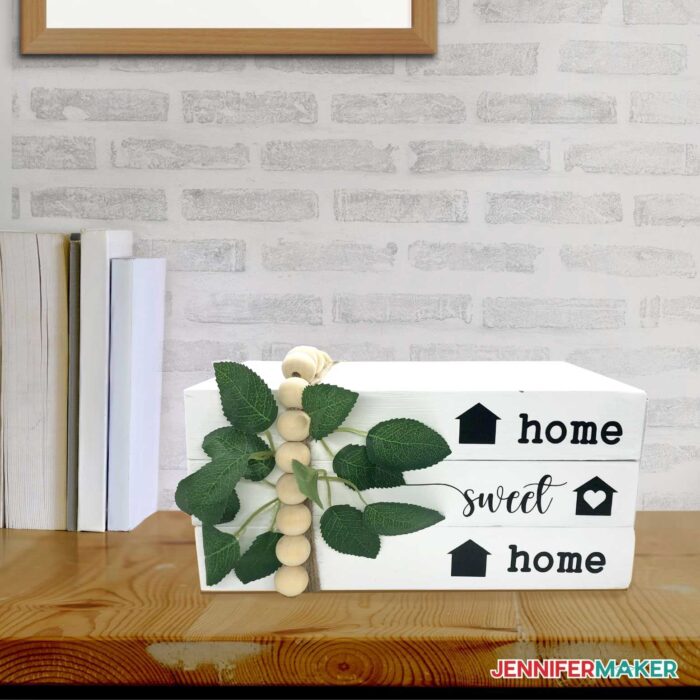 The first thing we will need are a stack of books. I'm making stacks of three, but feel free to mix it up! We'll also need some paint, foam brushes, mod podge and vinyl. I will also be adding to my stack using some pretty greenery, twine, ribbon and wooden beads for these, but there are lots of possibilities! Don't forget a glue gun to add all the decorative trimmings to your stack.
Then of course we'll need a Cricut Cutting machine, a mat, weeding tool, a scraper to burnish the vinyl, transfer tape, and scissors. I will also be using butcher paper to protect my work surface.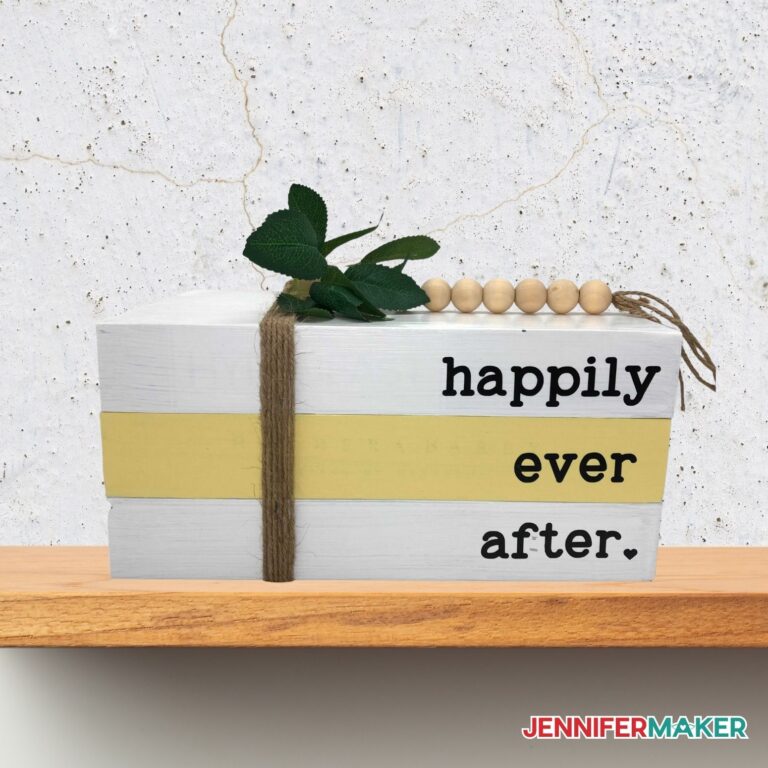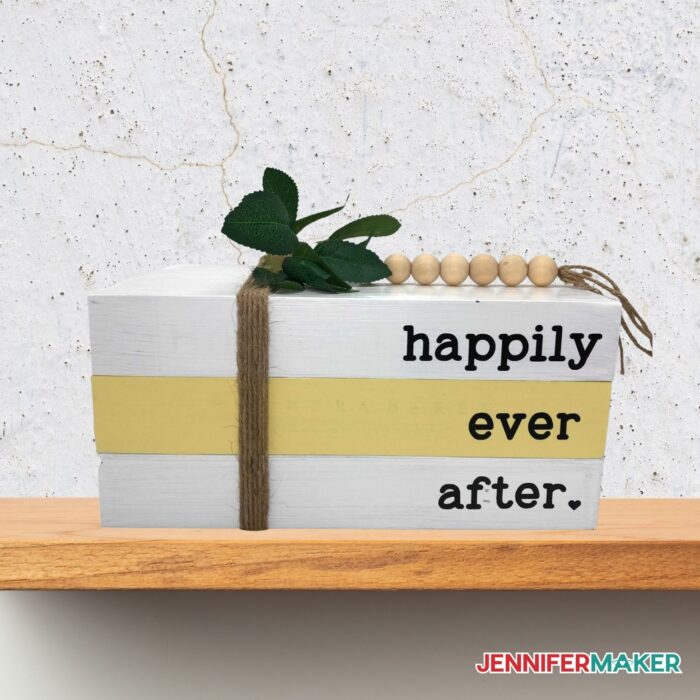 Your stacked books take a little time to prep so I recommend planning to paint your books the day before you add your vinyl and decorations to ensure that everything is dry. Also, remember not to rush through your painting. If you apply your coats too closely, the paint may clump and pull apart from the previous layer. Slow and steady wins the race and this is a project we don't want to rush through. I want your stacked books to not only look amazing, but to also last a really long time!
You can make these to gift to a friend as a house warming gift, or even to decorate kids birthdays! I think the best part of this simple project is that you don't have to spend a lot of money to make them and there are so many different ways you can use them. You can display a personal message, a family quote, or even just have them for seasonal decor in your living room.
I've made few different designs for you to use, including this super super cute stack of books: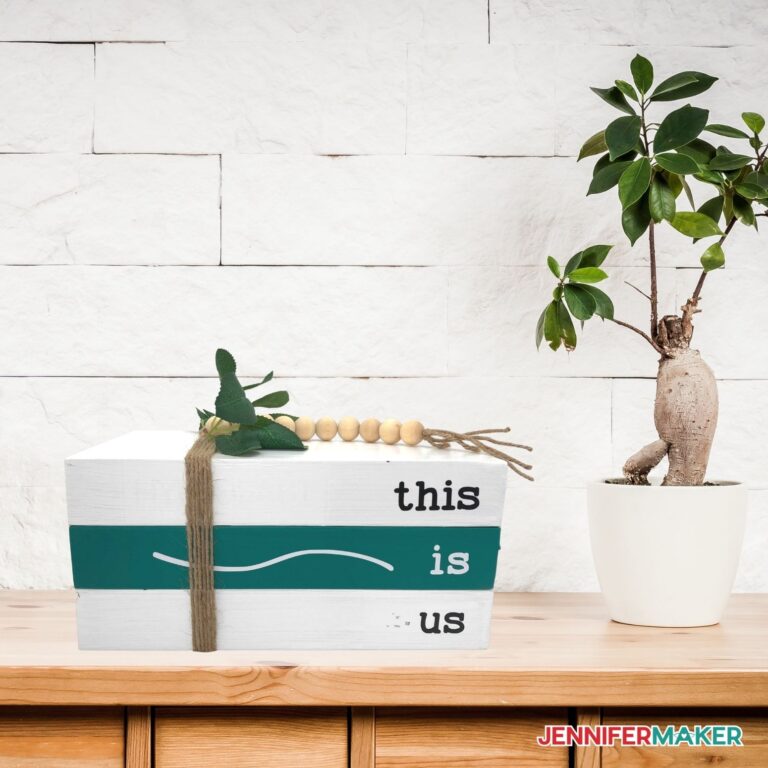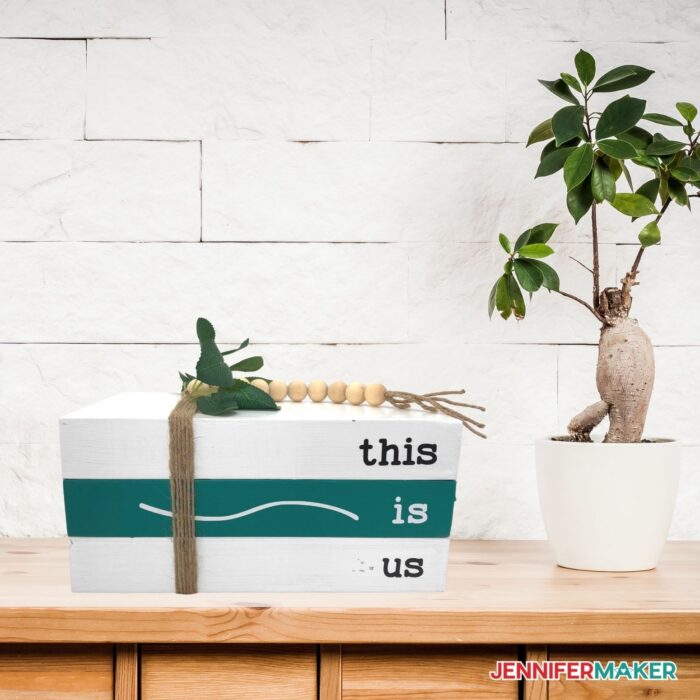 Here's a supply list of what you need to make stacked book decor! This post contains some affiliate links for your convenience (which means if you make a purchase after clicking a link I will earn a small commission but it won't cost you a penny more)! Read my full disclosure policy.

How to Make Your Own DIY Stacked Book Decor
The detailed step-by-step assembly video on how to create these personalized vinyl letter decals was broadcast during Maker Academy Weekend 2021. Get a pass to watch all 20+ workshops, each with a printable handbook, transcript, audio files, design files, and support with a VIP pass below: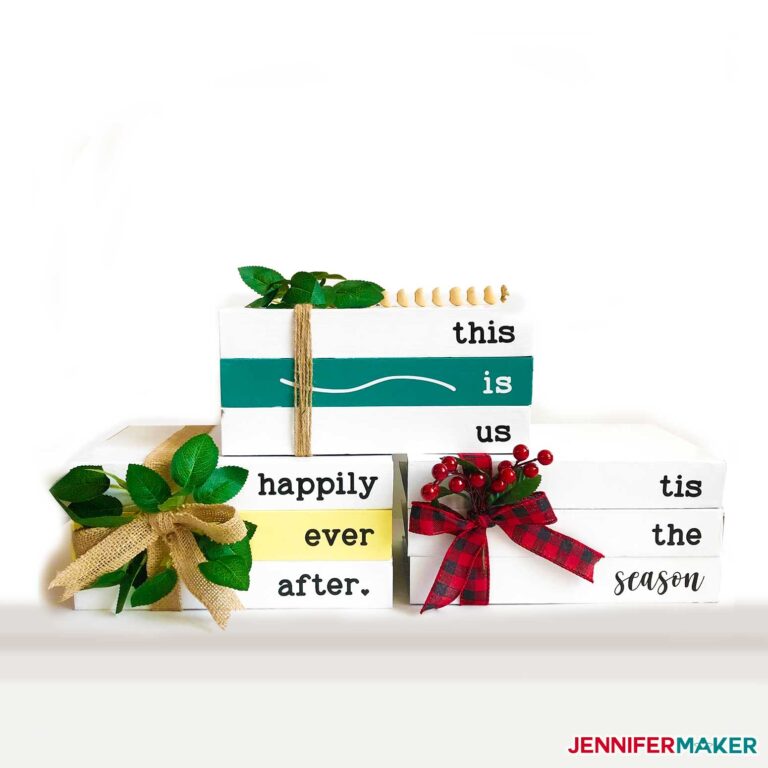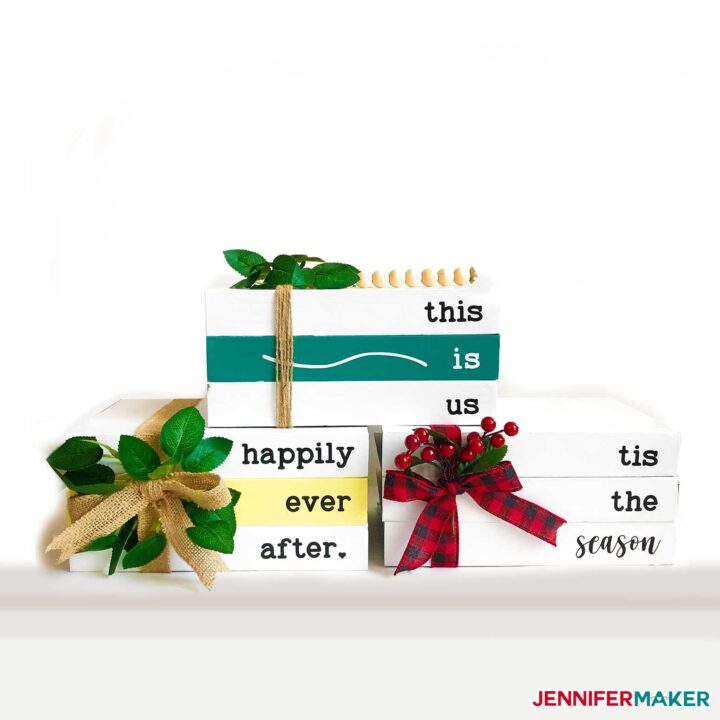 DIY Stacked Book Decor
Prep Time:
5 hours
30 minutes
Estimated Cost:
$10 - $30
Learn how to make your own Stacked Book Decor for fall, Christmas, and year-round home decor!
Look at how amazing these look to add to your holiday decor! I really love how the faux holly and plaid bow made the books look more put together. You can add any quote you'd like to the book spine and also place more books if you'd like to add a longer quote. There are so many possibilities!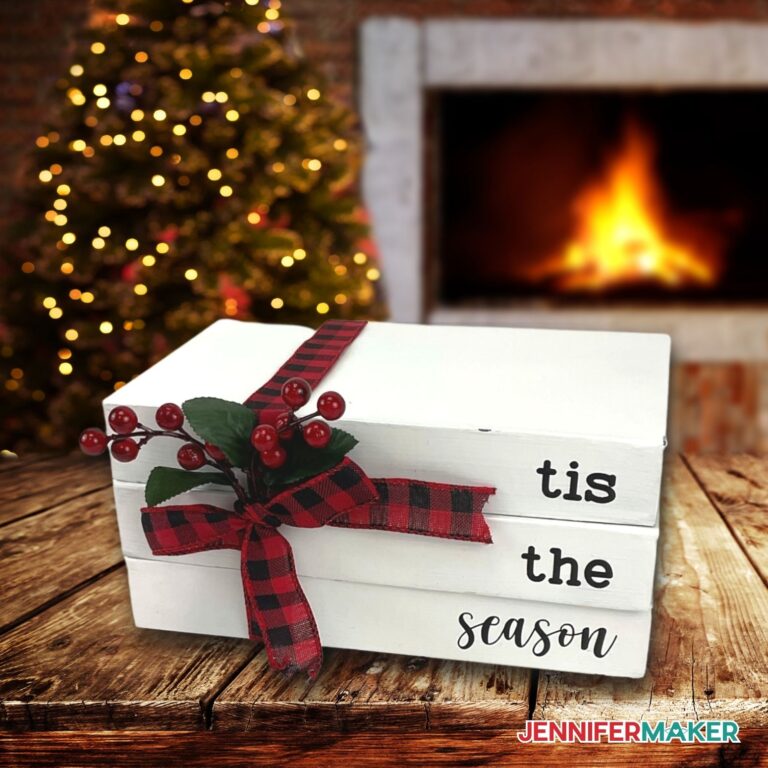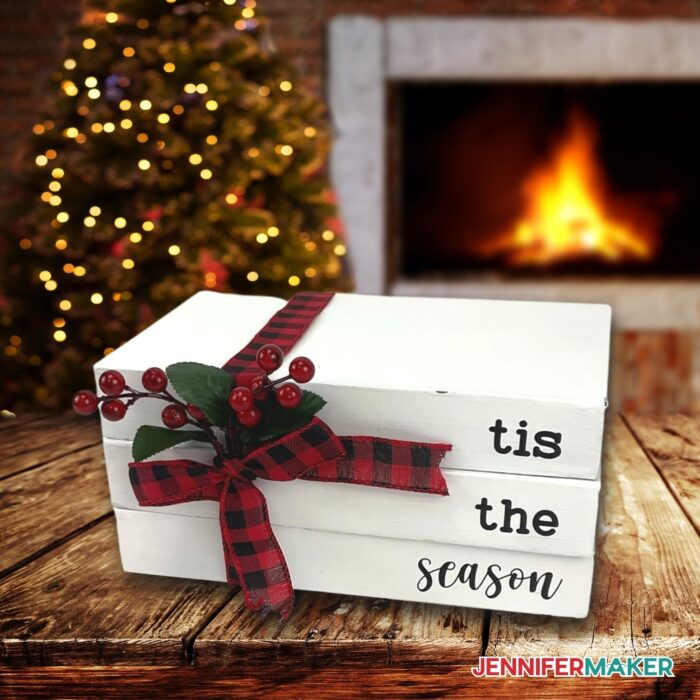 Another fun idea is to add your family names, your last name, or even the date of your wedding to the stacks of books. I love the personalized look of that and love that it makes a house feel more like home. I think I will try that out next!
Answers to Your Questions About How to Make DIY Stacked Book Decor
Q: Where is your tutorial for this project?
This is a special project we made for our free Maker Academy Weekend event! A complete and detailed step-by-step video premiered during the event November 4-7, 2021. Get access to the workshop video and printable workbook with a VIP Pass to Maker Academy Weekend 2021, which comes with other perks and bonuses, too!
Q: Where can I get books for this project?
Your local thrift store or dollar store is a great place to find inexpensive books you can re-use and upcycle!
Get the free designs for my Stacked Books!
I love seeing what you make with my designs and how you use them! Please share a photo of your stacked book decor in our Facebook group or tag me on social media with #jennifermaker.
Love,