Learn how to make Christmas Luminaries using my free 3D Tree SVG Design!
Paper luminaries are a wonderful addition to any home during the winter. They warm up a table or mantle, and fill us with cheer. And best of all, they are SO simple to make! Just a little paper, some glue, and an LED light, and you're good to go! These can be used with or without tea lights and with or without the vellum. So for Day 2 of The Great Maker 25-Day Gift-Away Challenge, I am showing you how to make beautiful Christmas Luminaries!
See exactly how to make these Christmas Luminaries in my tutorial video (or keep scrolling if you prefer a step-by-step photo tutorial):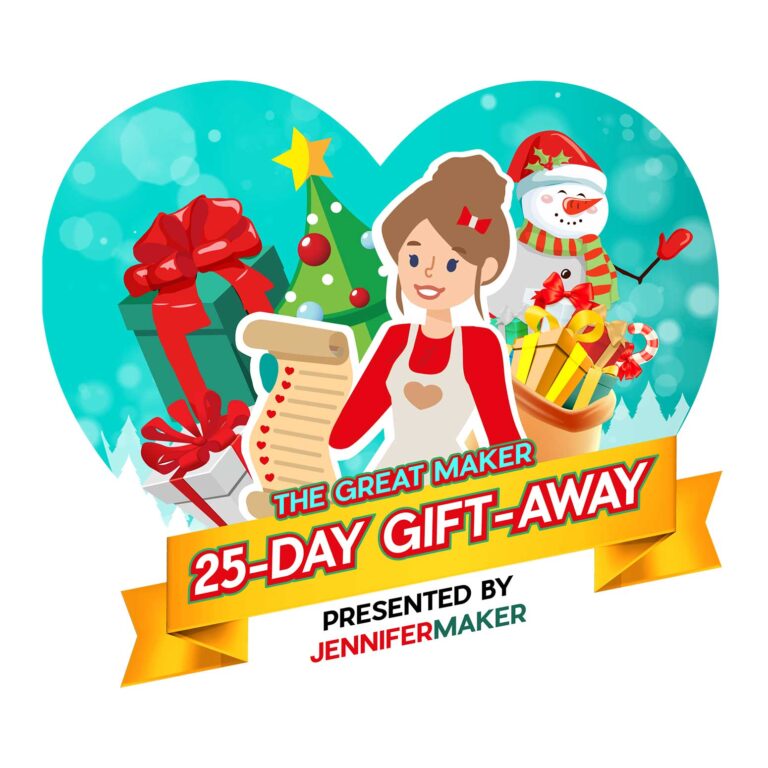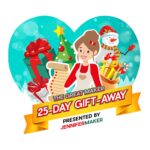 What is the 25-Day Gift-Away?
This is an
annual tradition
here at JenniferMaker! Every day for the first 25 days of December, we gift you with a brand new project, design, tutorial, and video for something YOU asked us to make. On top of that, we host a giveaway with 25 days of prizes. Some of the amazing prizes are
Cricut cutting machines
, sewing machines, gift cards, and beautiful
print editions of our popular Cricut Coach Playbook
. You can even earn bonus entries for sharing photos of the daily projects!
Click here to learn more about the JenniferMaker 25-Day Gift-Away!
I've designed many paper luminaries over the years, including the pretty stars you see on top of my Christmas trees here and here — you'll find the free pattern for the star here!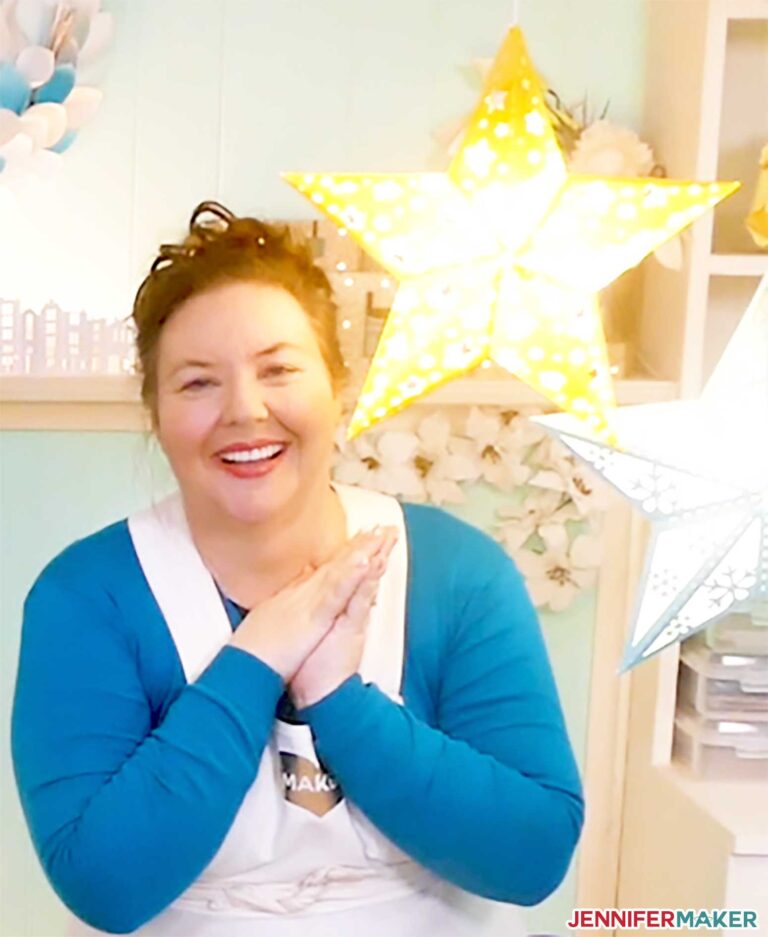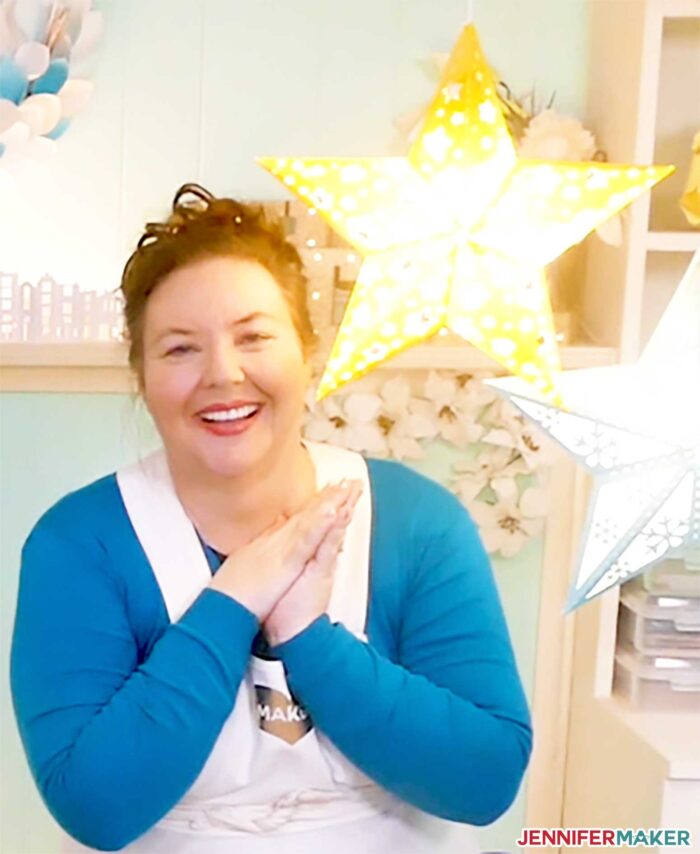 You don't need much to create paper luminaries! Really just a sheet of 8.5″ x 11″ cardstock is enough to make this seven inch Christmas tree luminary. You can make a larger luminary if you move up to the 12″ x 24″ cardstock. Beyond that, you just need glue or tape. If you'd like your luminary to glow more, you can use something inside to diffuse the light, such as window film, vellum, or even just a thin paper like copy paper, parchment paper, or wax paper. I've used a pretty window film with a cool design here!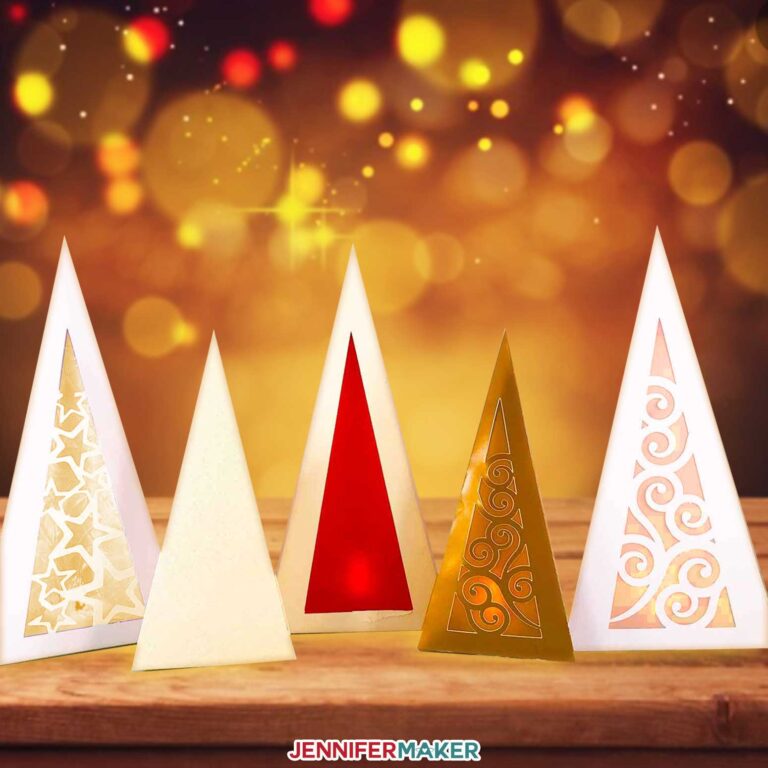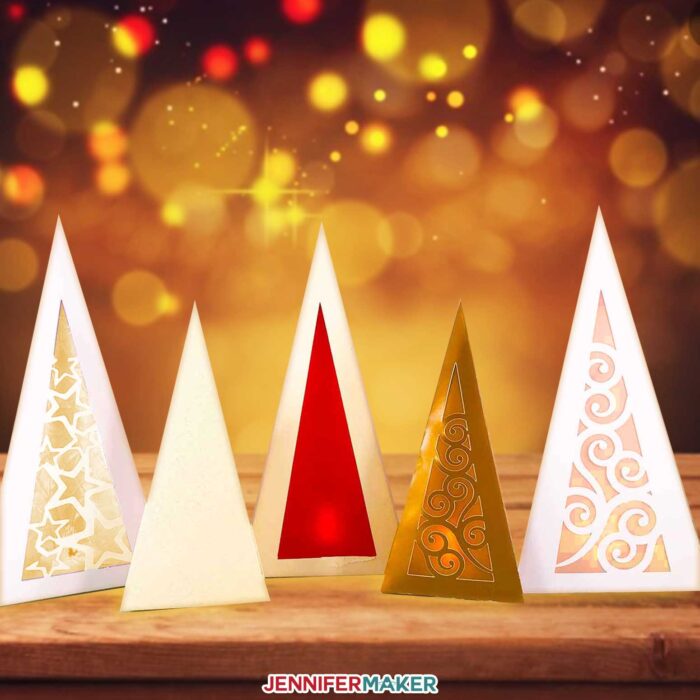 To cut out your luminary, you can use a Cricut cutting machine as I have or just cut it by hand with a craft knife. If you use a Cricut, you'll want a green StandardGrip mat, the fine-point blade, and a scoring tool to make it a little easier to fold. Your Cricut does most of the hard work for you here!
This luminary project is perfect for learning how to make intricate cuts in paper and how to use your scoring tool.
Here are Christmas Luminaries made by Courtney, a "social bee" on my team!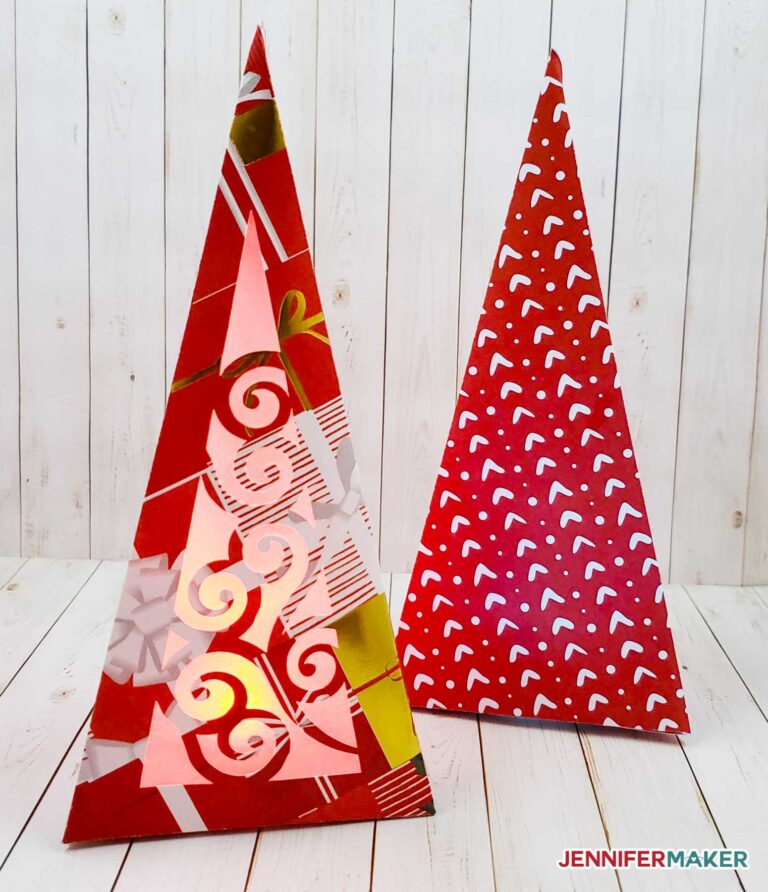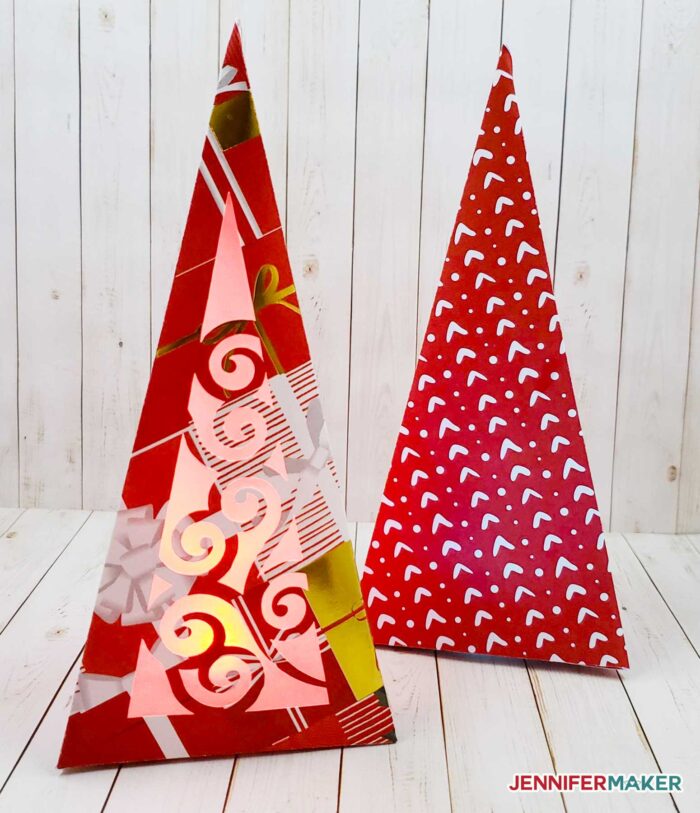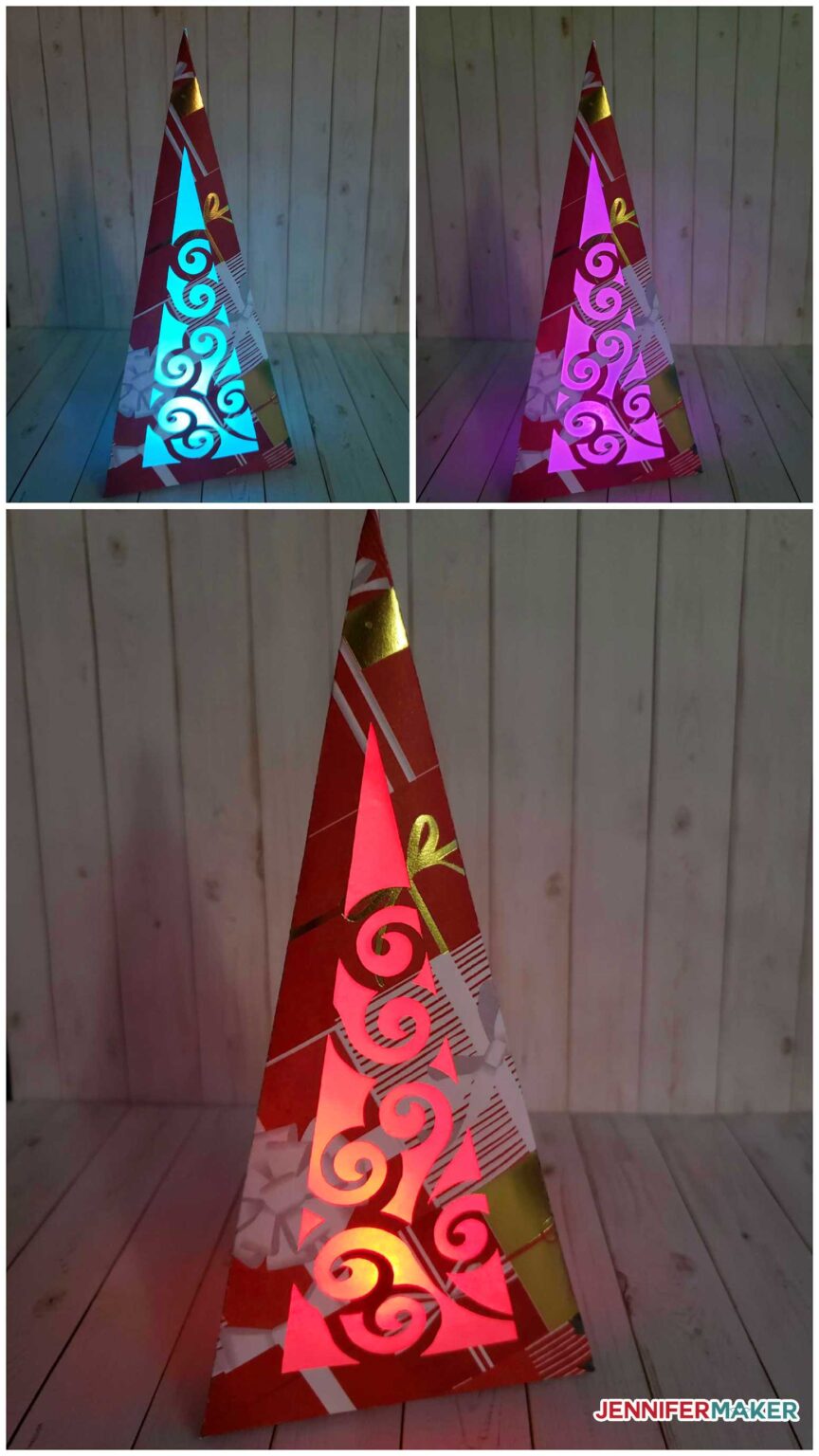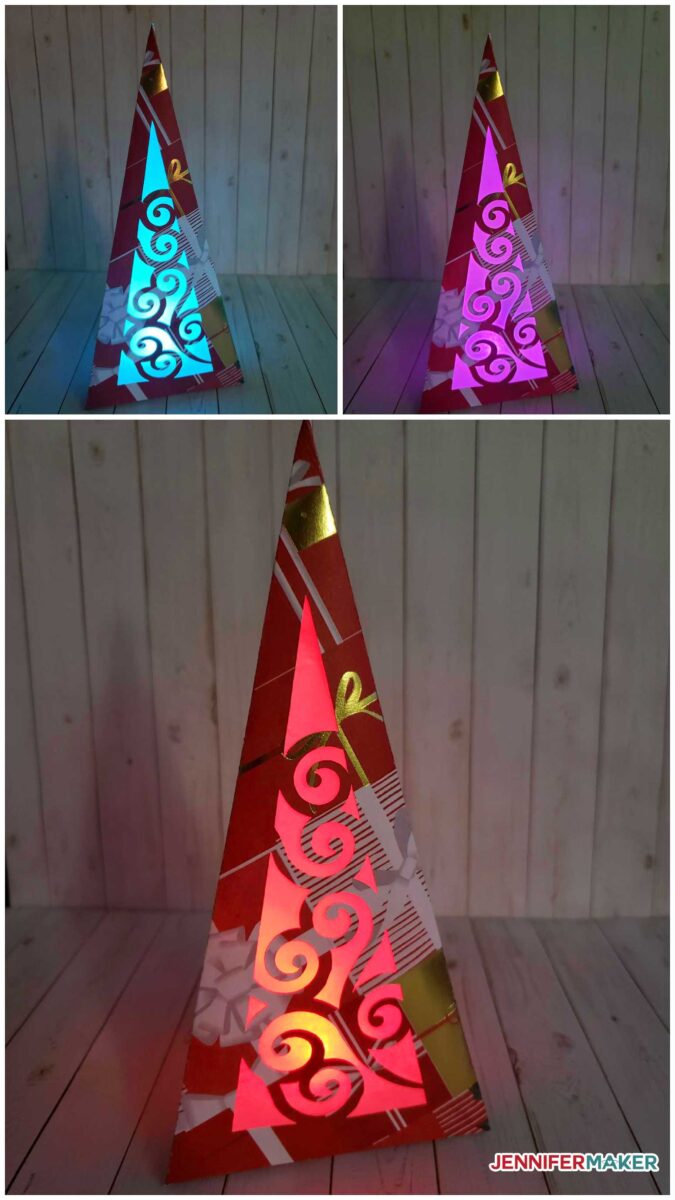 So let me show you where to find the free design pattern for these luminaries, and then I'll show you how to cut and assemble them! This post contains some affiliate links for your convenience (which means if you make a purchase after clicking a link I will earn a small commission but it won't cost you a penny more)! Read my full disclosure policy.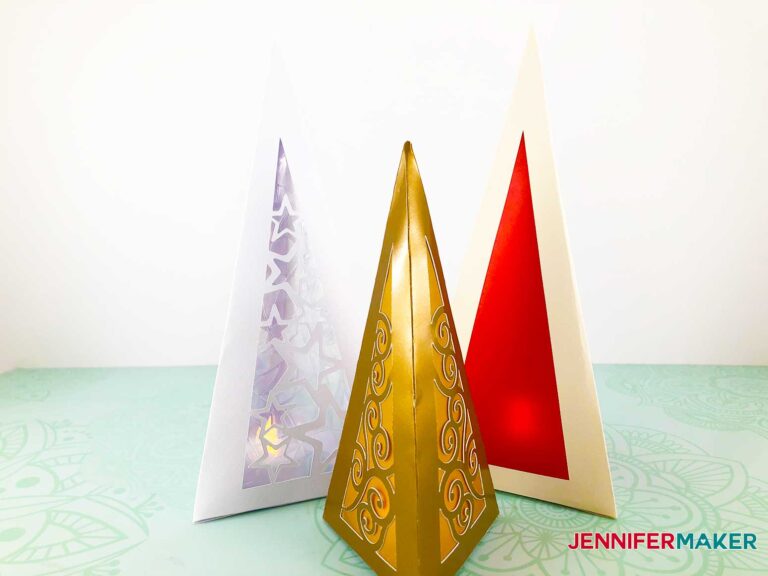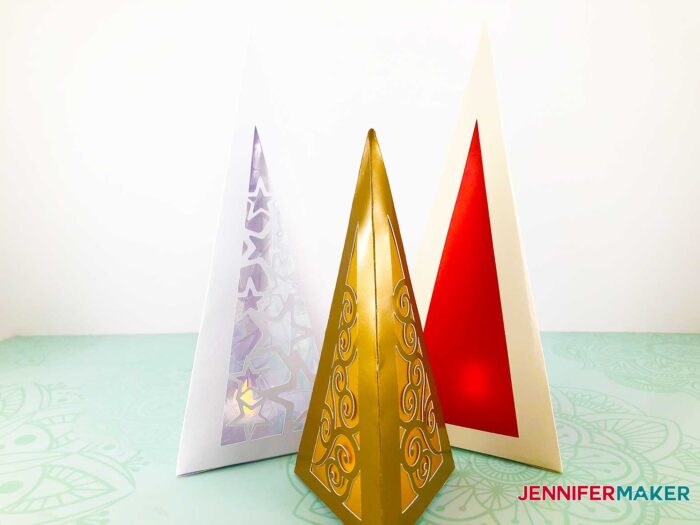 Materials to Make Christmas Luminaries
How to Make Christmas Luminaries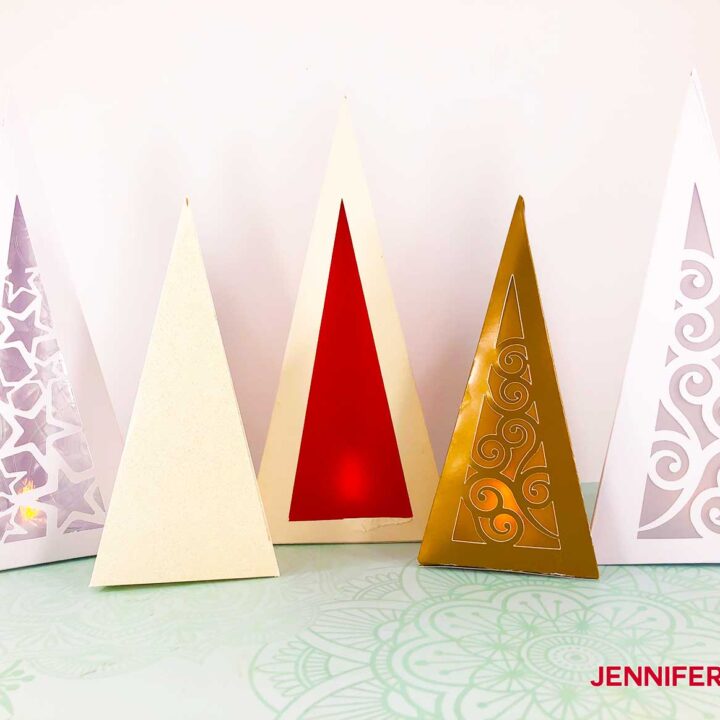 Christmas Luminaries
Yield: 1 luminary

Active Time: 25 minutes

Total Time: 25 minutes

Difficulty: Easy

Estimated Cost: $10

These super cute Christmas Tree Luminaries will be sure to brighten up any mantle or tabletop during the holiday season!
Instructions
STEP 1: GET THE CHRISTMAS LUMINARIES DESIGN
Download the free Christmas Tree Luminary pattern from my free resource library (get the password to the library in the form at the bottom of this page) -- look for design 253. The design is available an SVG cut file for cutting with a Cricut or another cutting machine, as well as a printable PDF for cutting by hand.

Here is what my Christmas Luminaries design file will look like when you upload it to Cricut Design Space: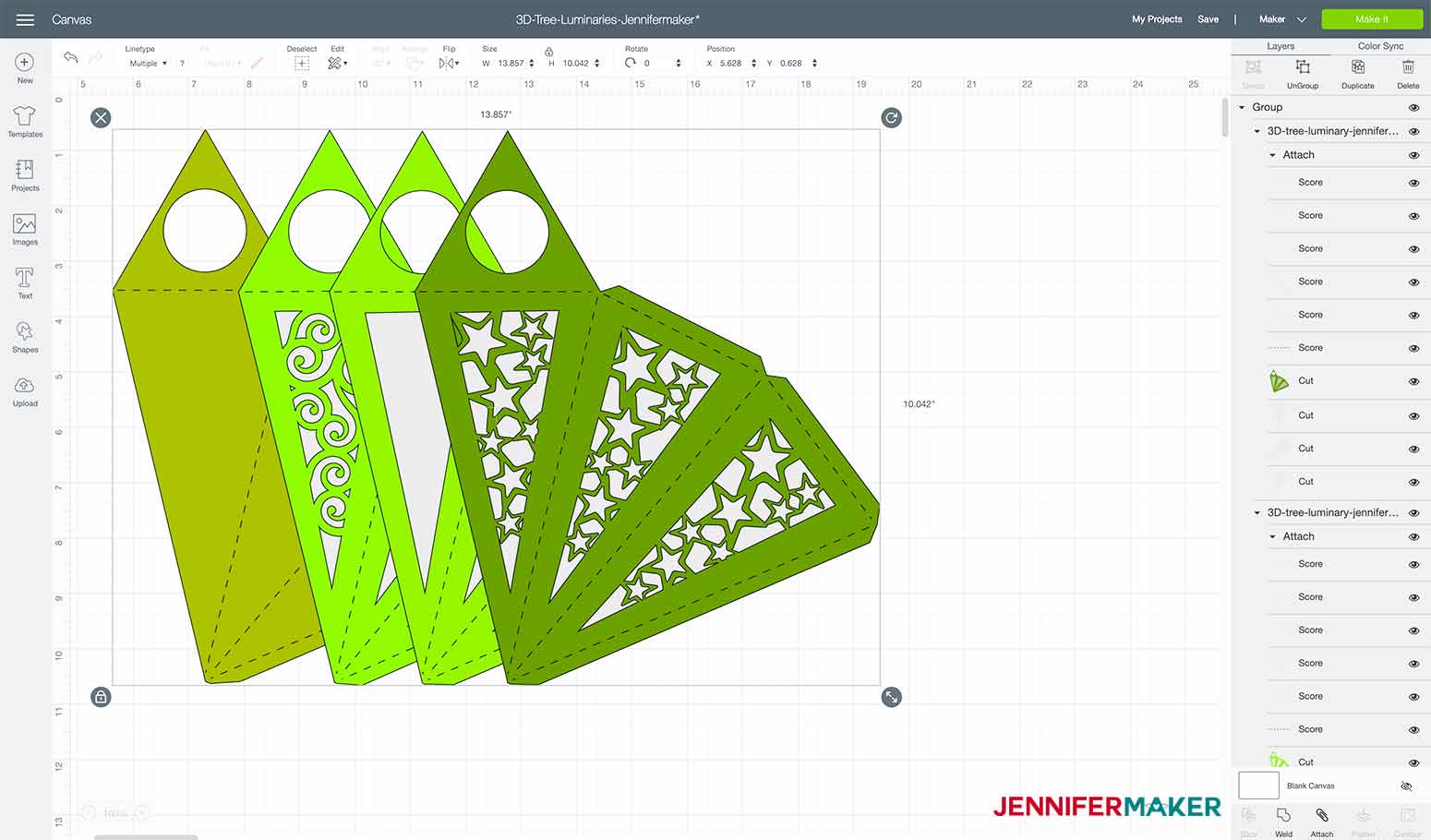 Tip: If you are not sure how to upload an SVG cut file to the Cricut Design Space, watch this helpful video training series I made. If you are on an iPad or iPhone, here is how to download and upload SVG files to the Cricut Design Space app.
STEP 2: CUT THE CHRISTMAS LUMINARIES DESIGN
I have two sizes of trees in this design. One file has a set of four trees that are sized to about 9 inches tall. When cutting the trees from this file you need to use the Cricut 12 x 24 Cardstock or any other cardstock that size. You will also need to use the Cricut StandardGrip mat.

If you choose to cut the 7-inch trees, those can be cut out of any material that is 12" x 12" in size. I used Cricut Metallic Posterboard.

Once you have uploaded the designs into Design Space, you will need to Ungroup the designs using the Ungroup button. Choose a design to cut, then hide or delete the designs you are not using.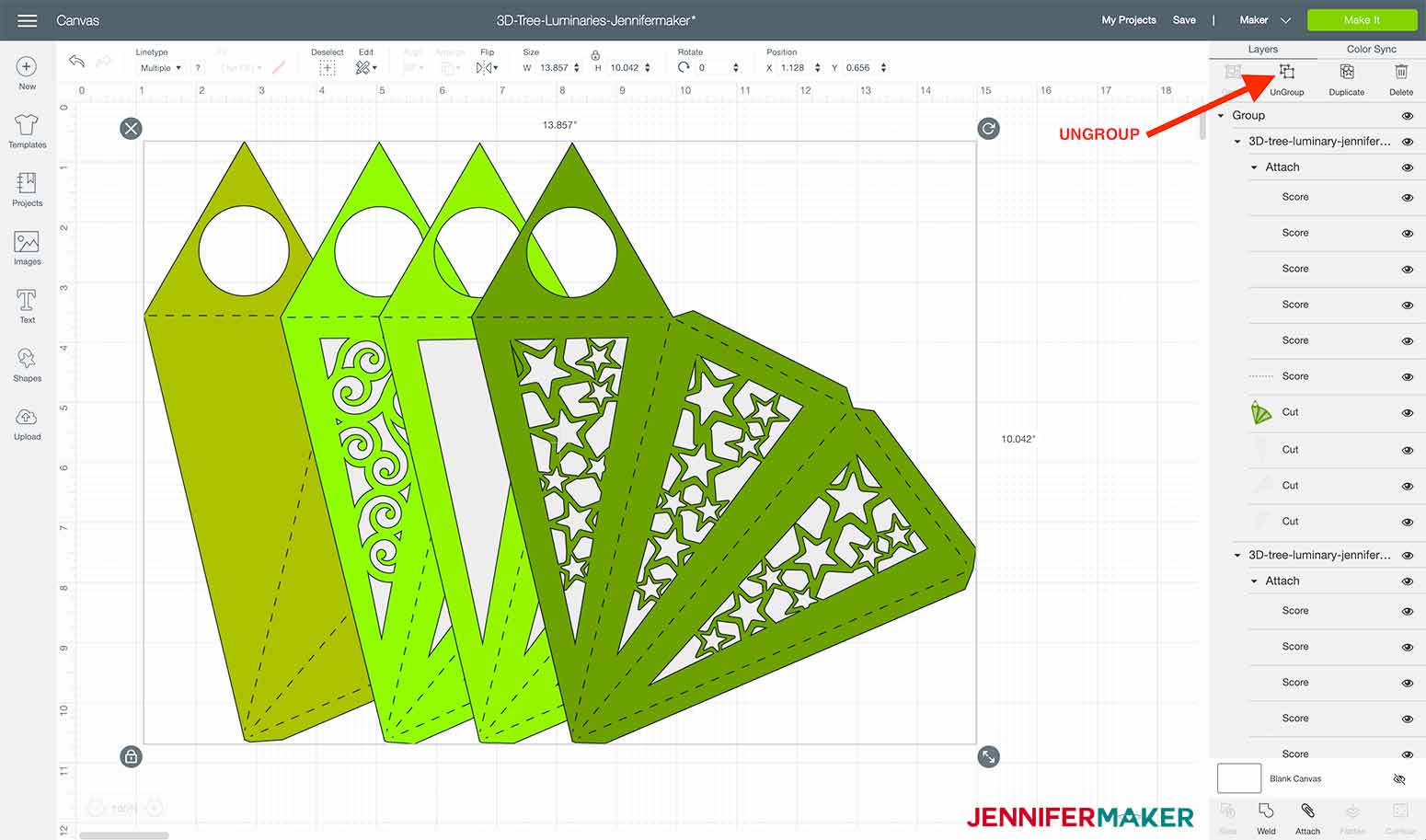 The score lines are already pre-set for Design Space so you will only need to Click Make It to cut my Christmas Luminaries.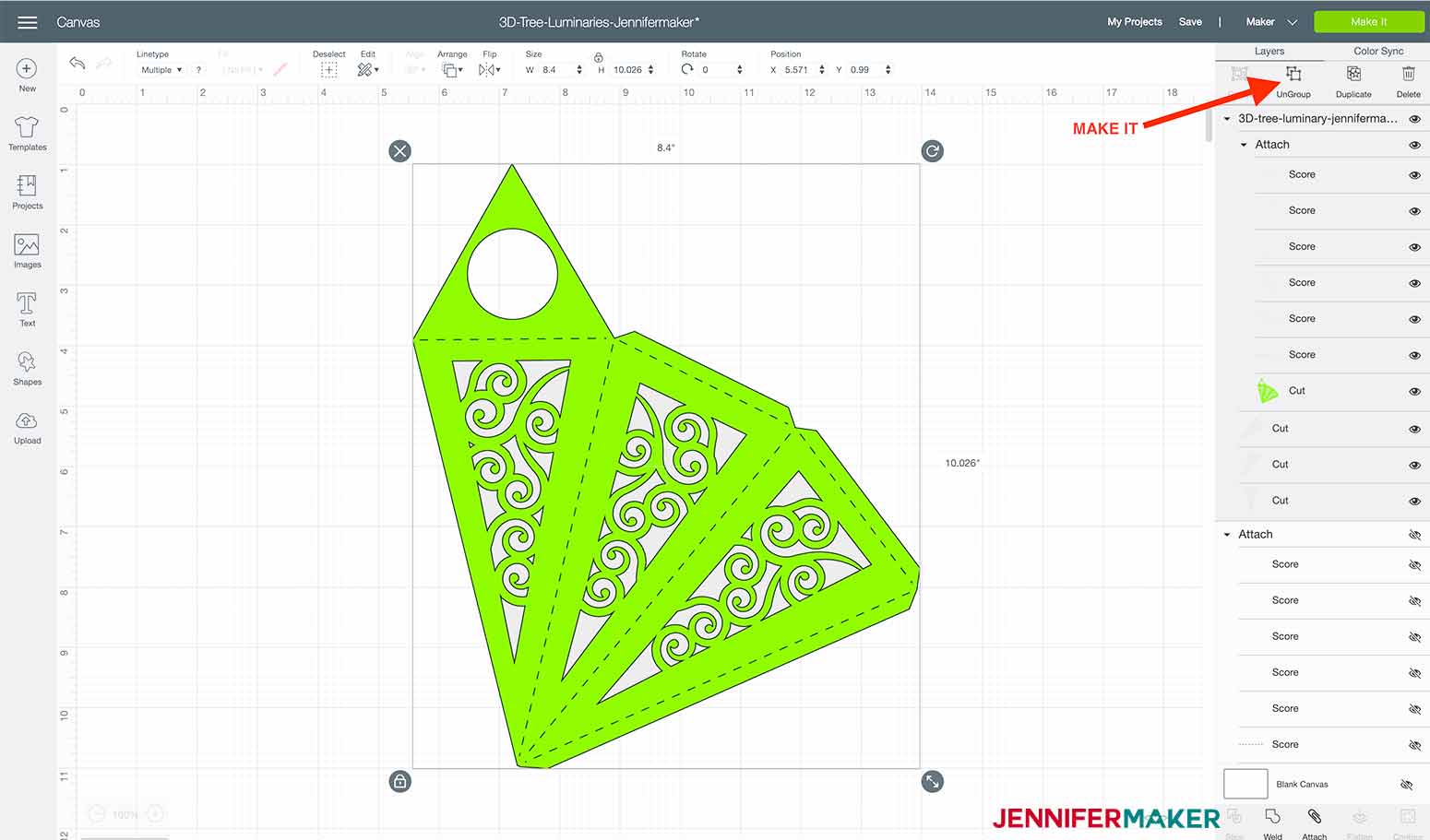 Select the material you are cutting. I used the Medium Cardstock setting for the 12 x 24 Cricut Cardstock and the Metallic Poster Board setting for the Poster Board. I used the Vellum setting when cutting the vellum for the open space. Load your material onto your Cricut cutting mat and cut your design.

Be sure to load your scoring stylus or scoring wheel into the machine as it will score first and cut after.

Note: I used the Window Film listed in the materials section instead of vellum on a couple of my Christmas Tree Luminaries. I used the Vinyl setting on the Cricut Maker to cut this material. It was applied to the Christmas Tree in the same manner as the vellum.
STEP 3: ASSEMBLE THE CHRISTMAS LUMINARIES
I used double-sided tape to assemble my Christmas Luminaries. You may choose to use glue or even spray adhesive as your adhesive.

I adhered the vellum to the design first. I applied a strip of double-sided tape around the openings, removed the paper backing from the tape and applied the vellum piece to each of the three sides.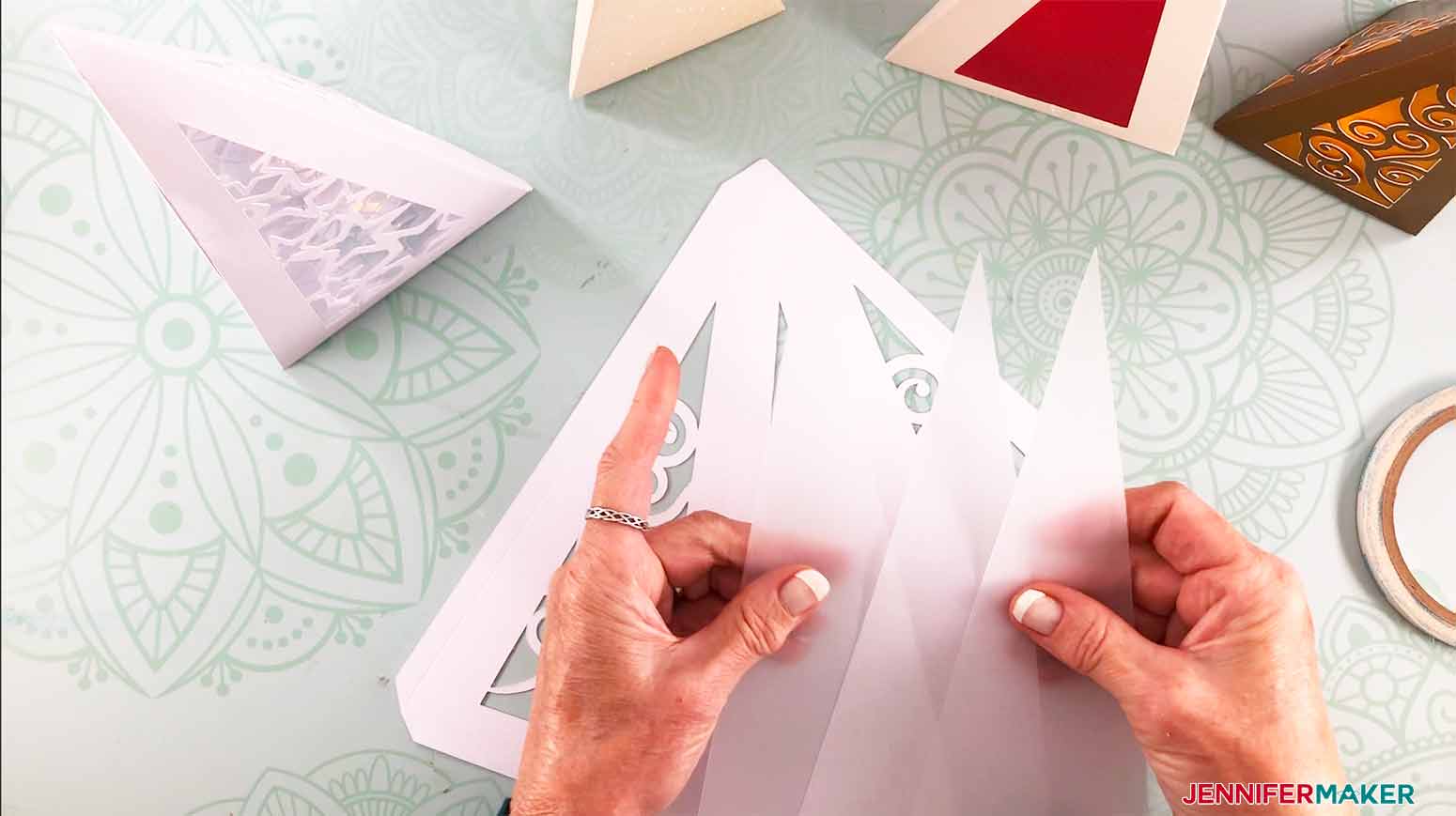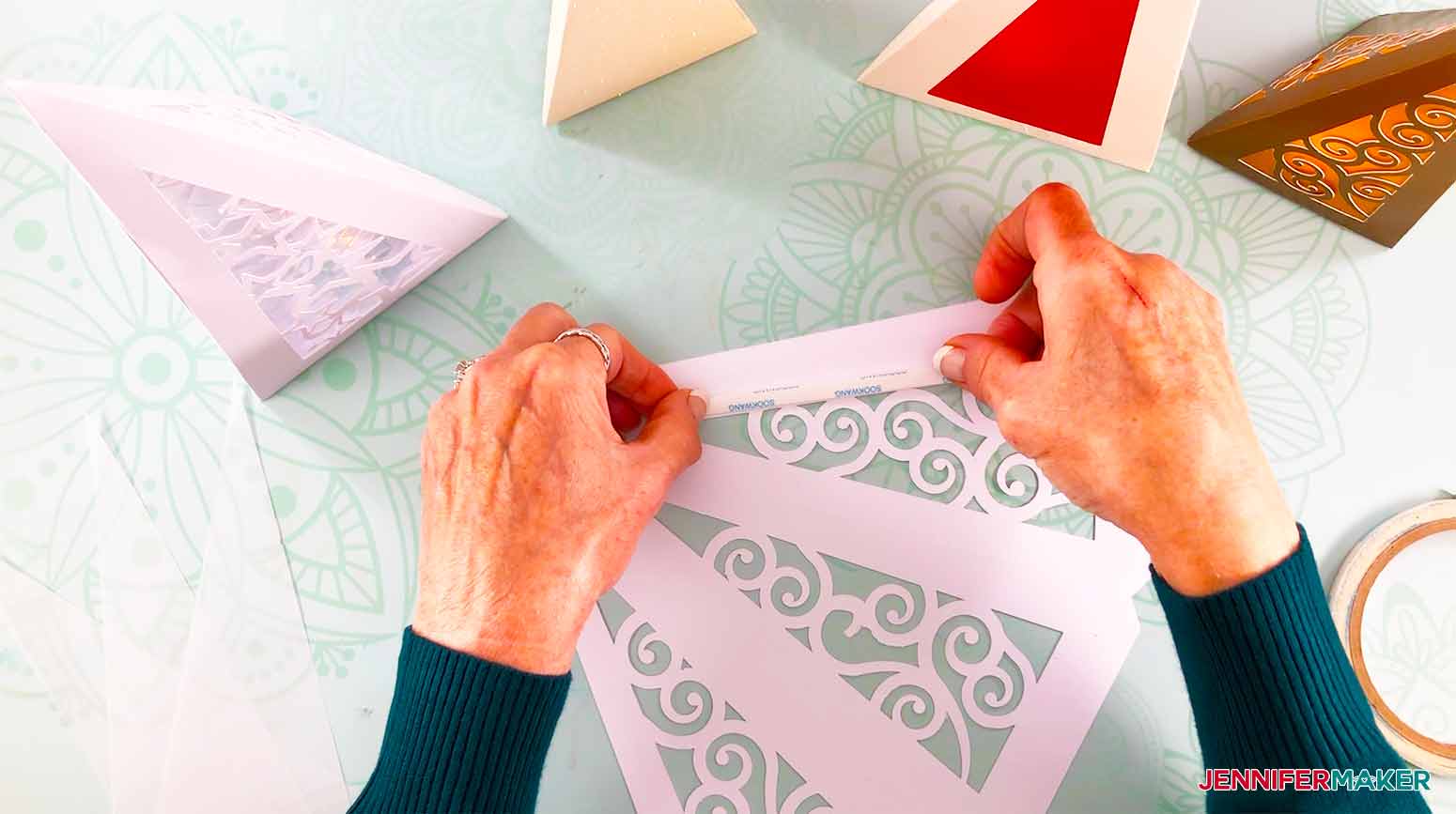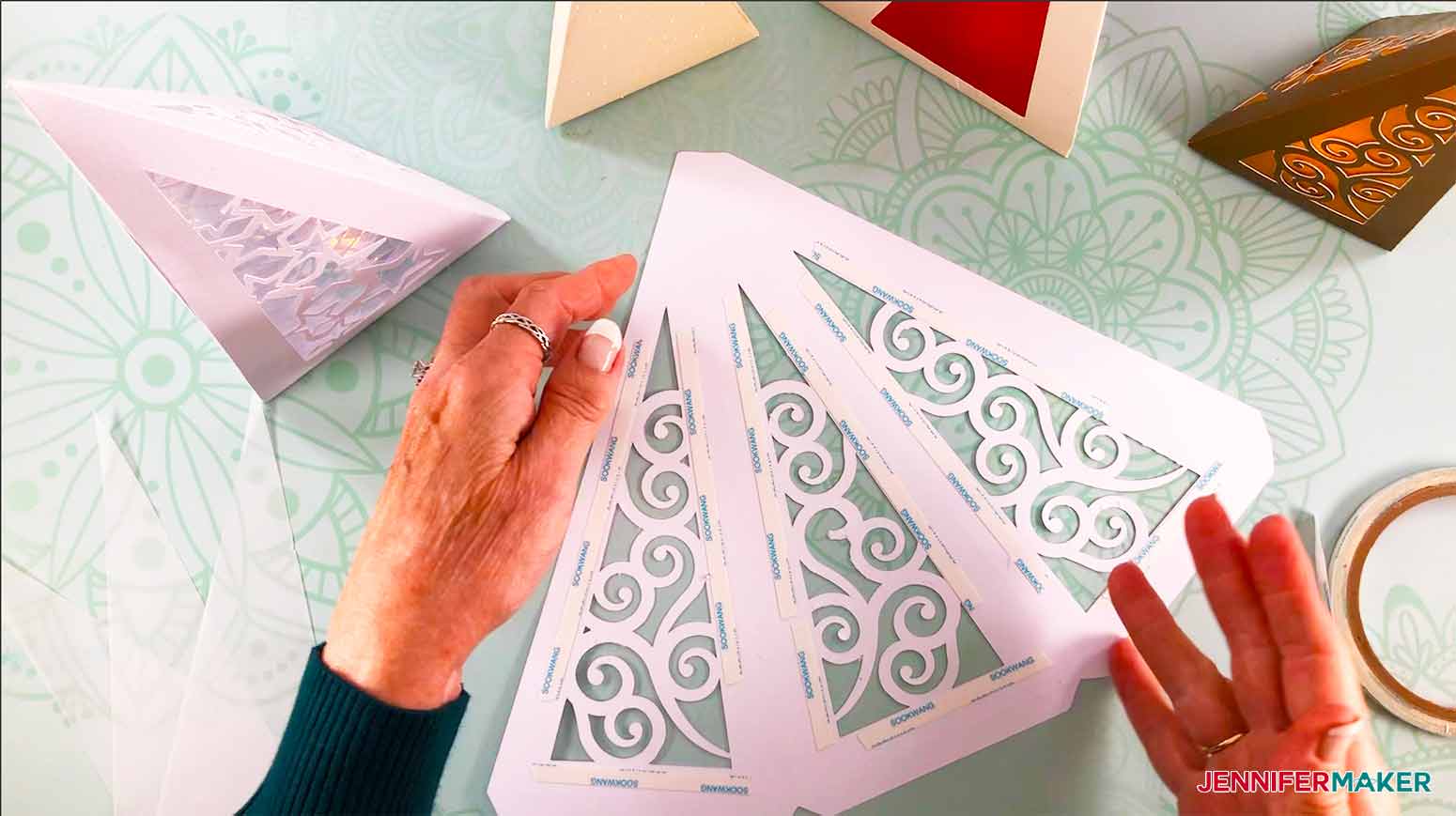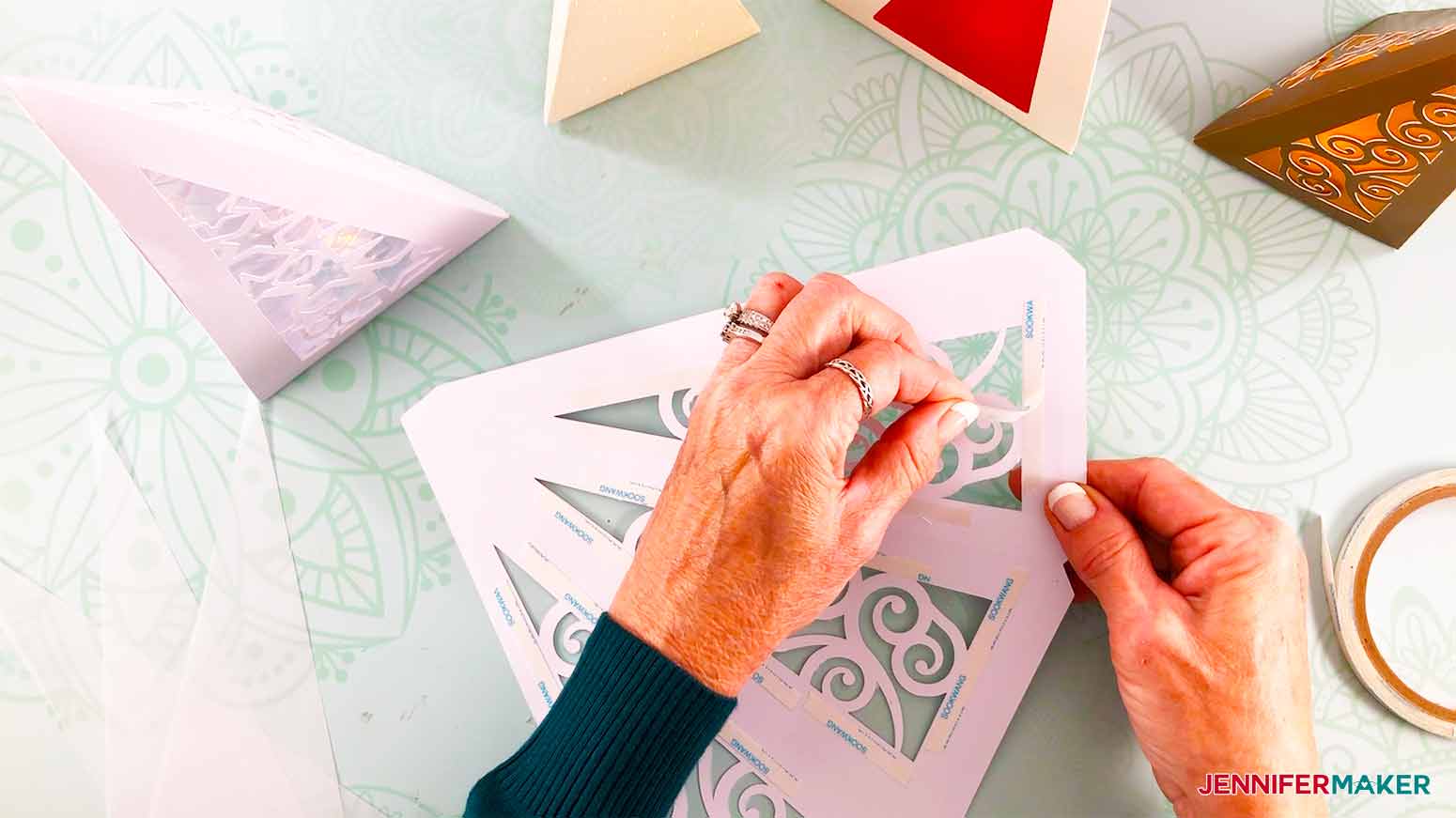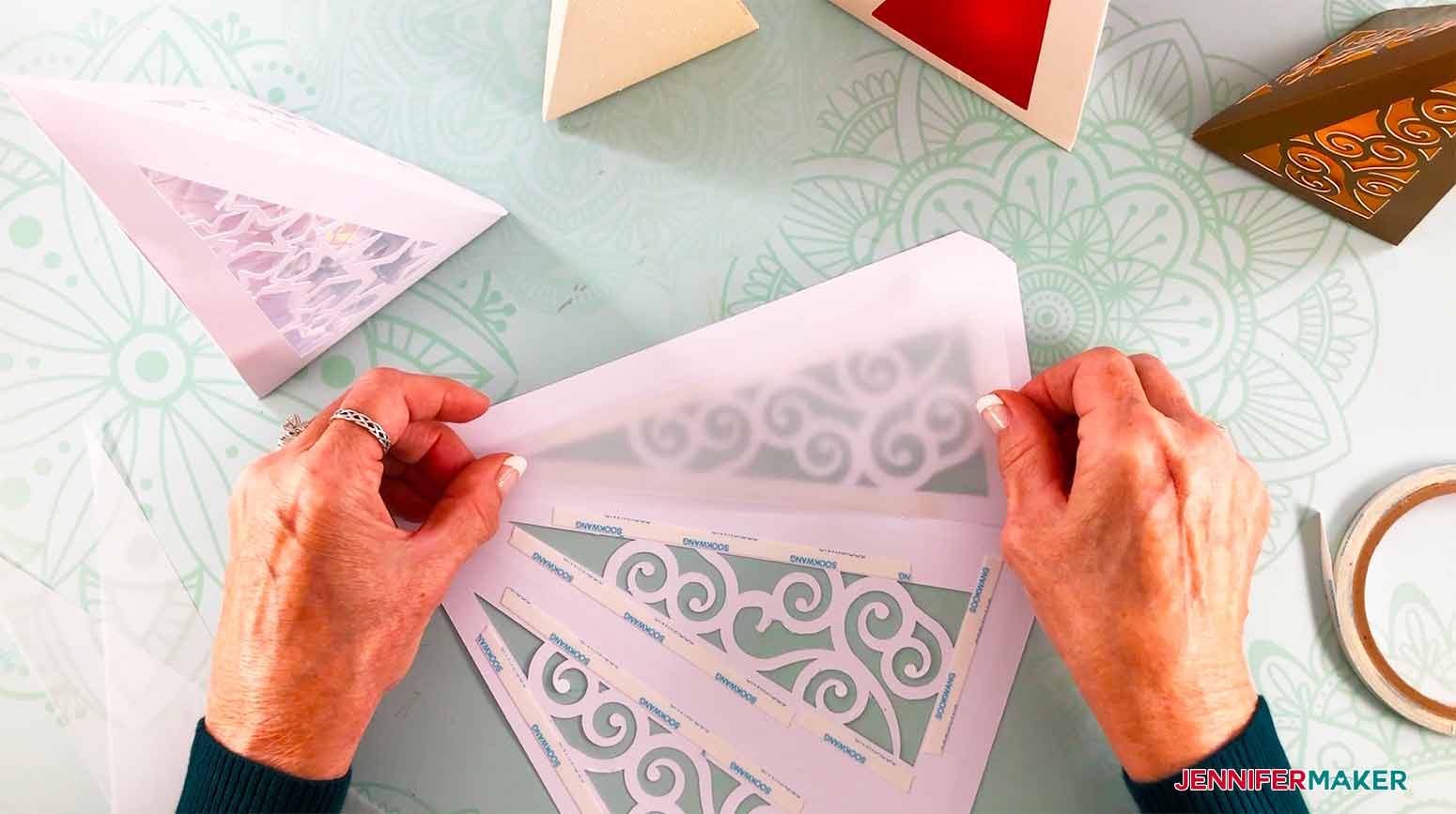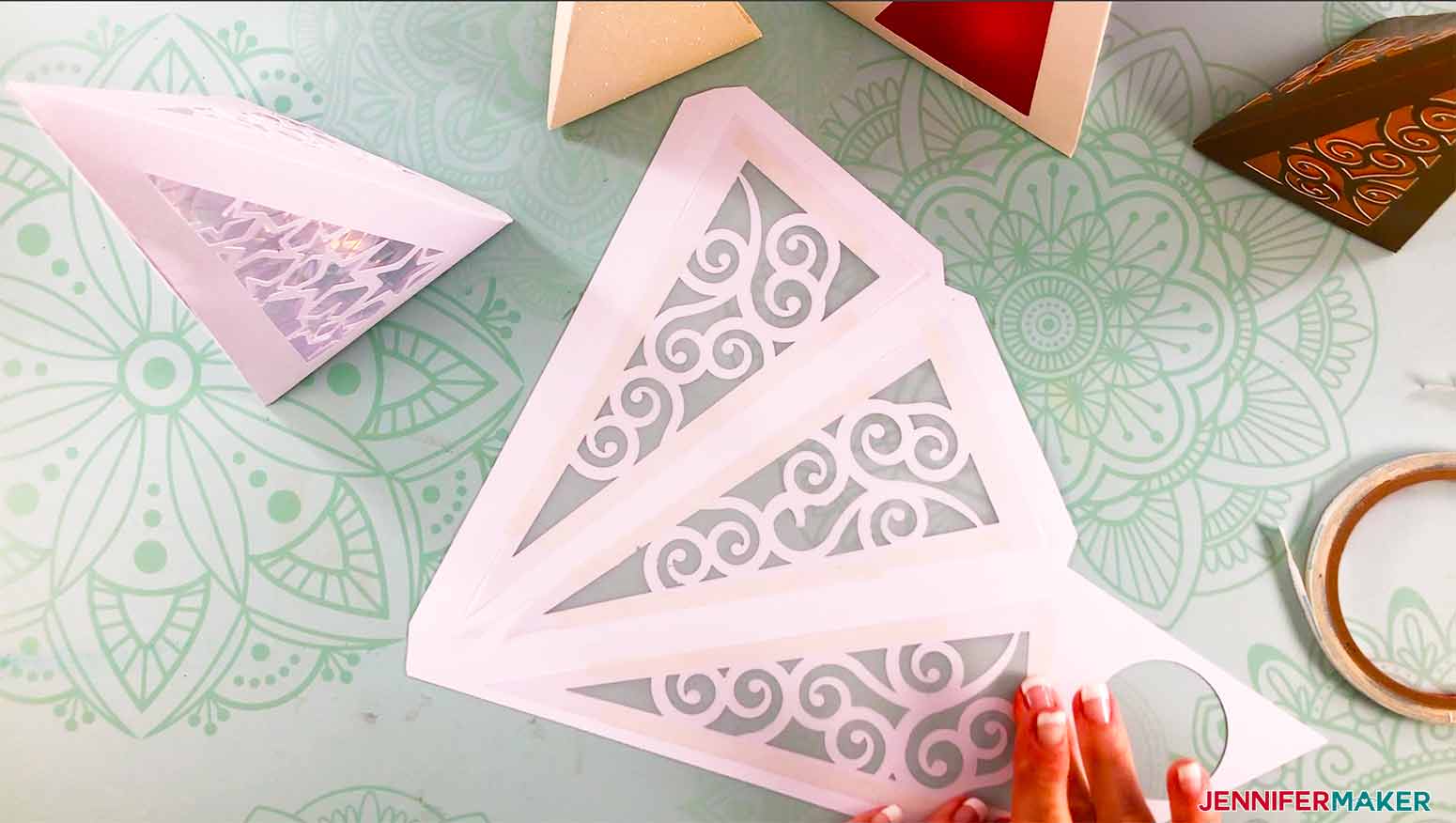 I then applied double-sided tape to the three flaps. Don't remove the paper backing from the tape yet as we still need to fold on the score lines.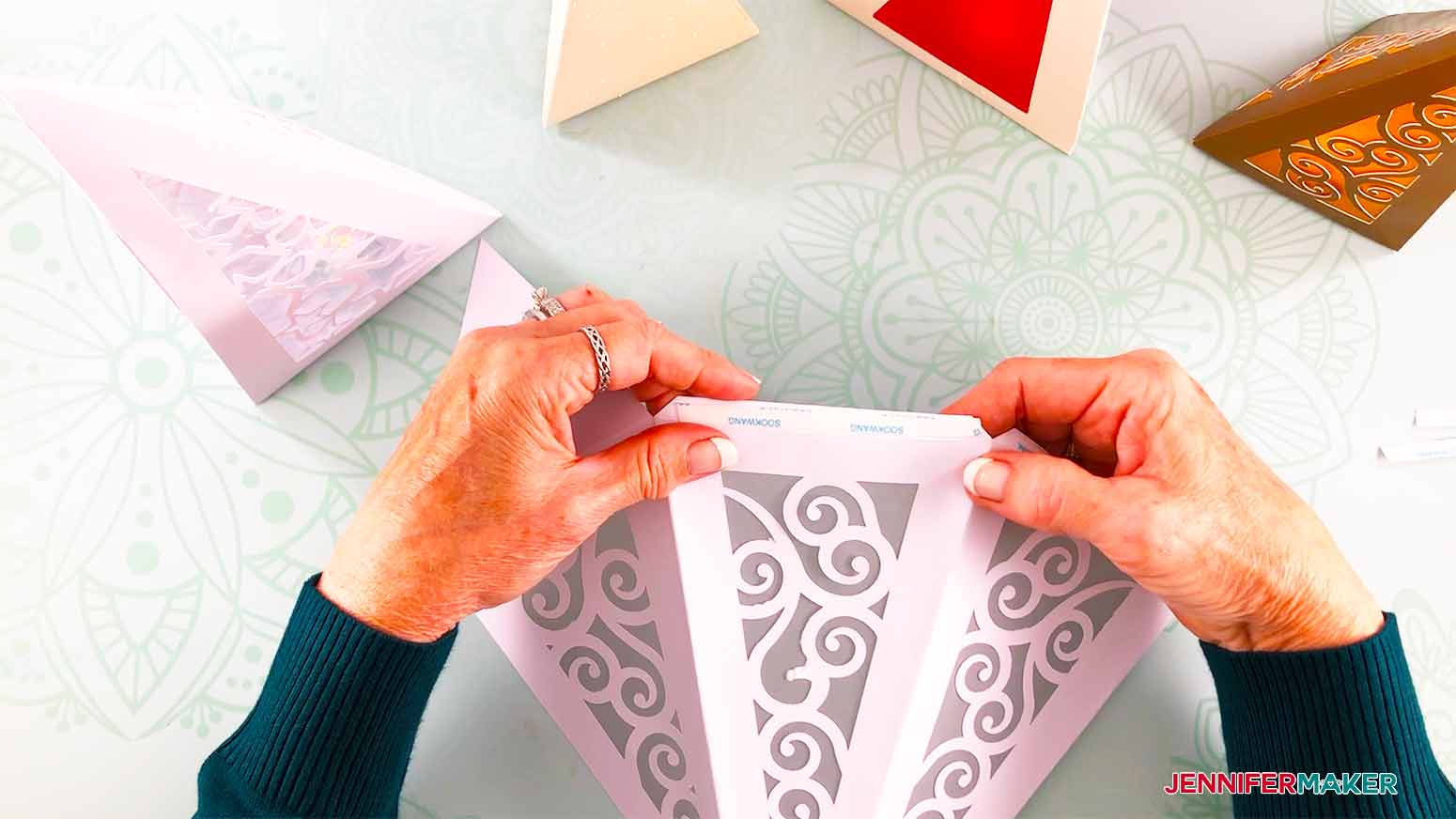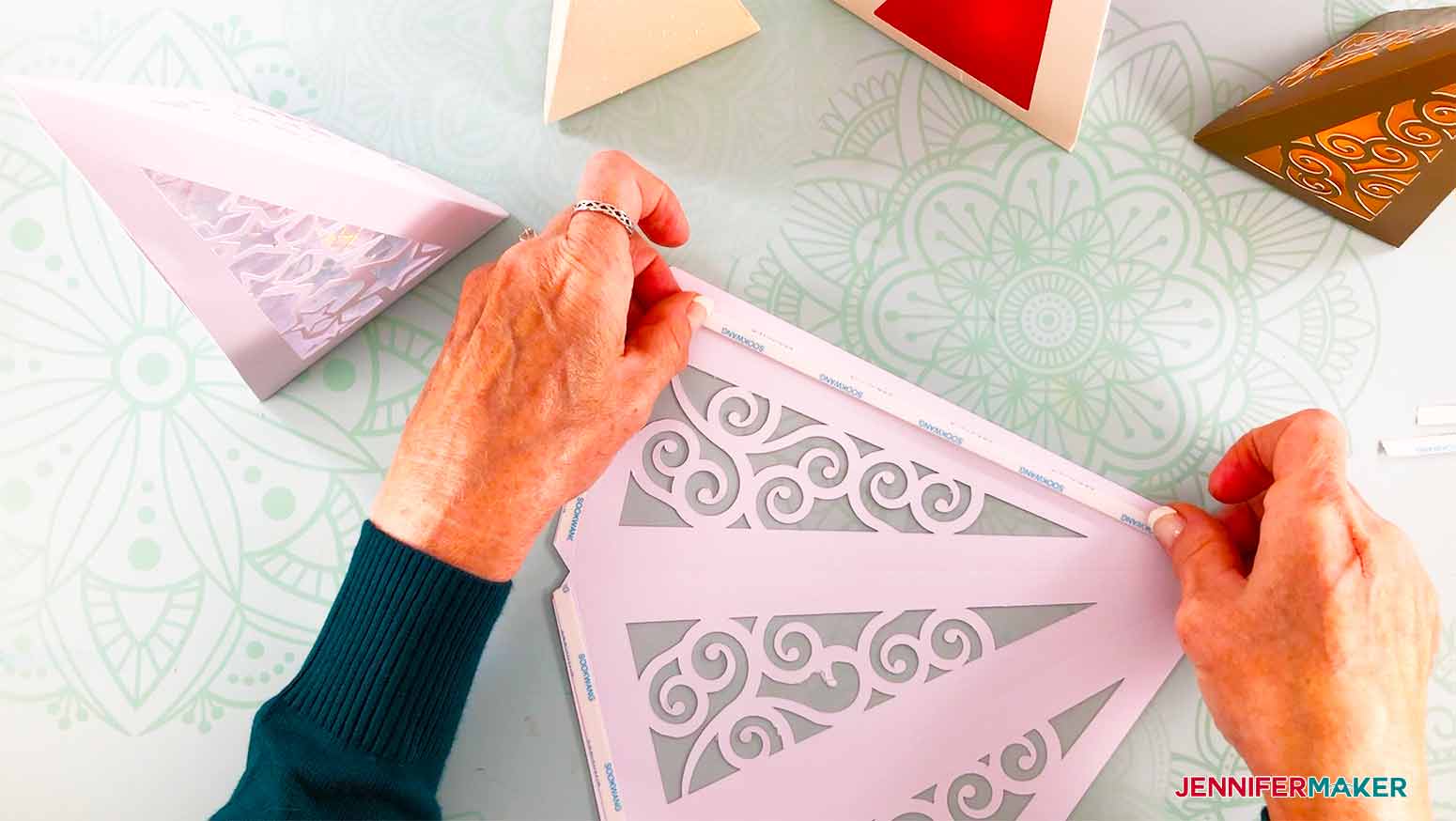 Fold on the marked score lines. Take your time to make sure the folds are on the score lines. I found it easiest to push up from the underside of the tree to get the score lines to fold the best. Once all score lines are folded, remove the paper from the double-sided tape.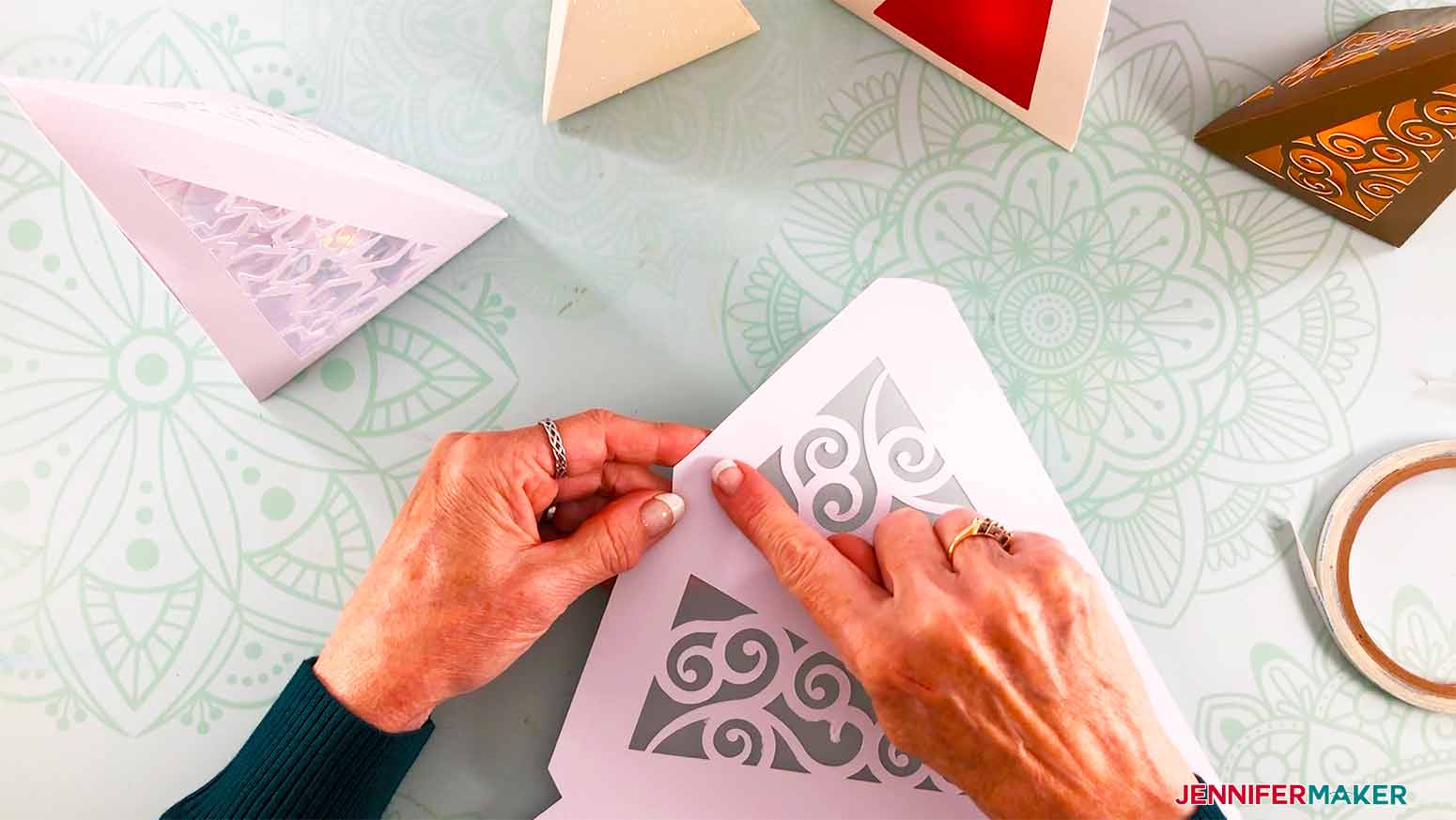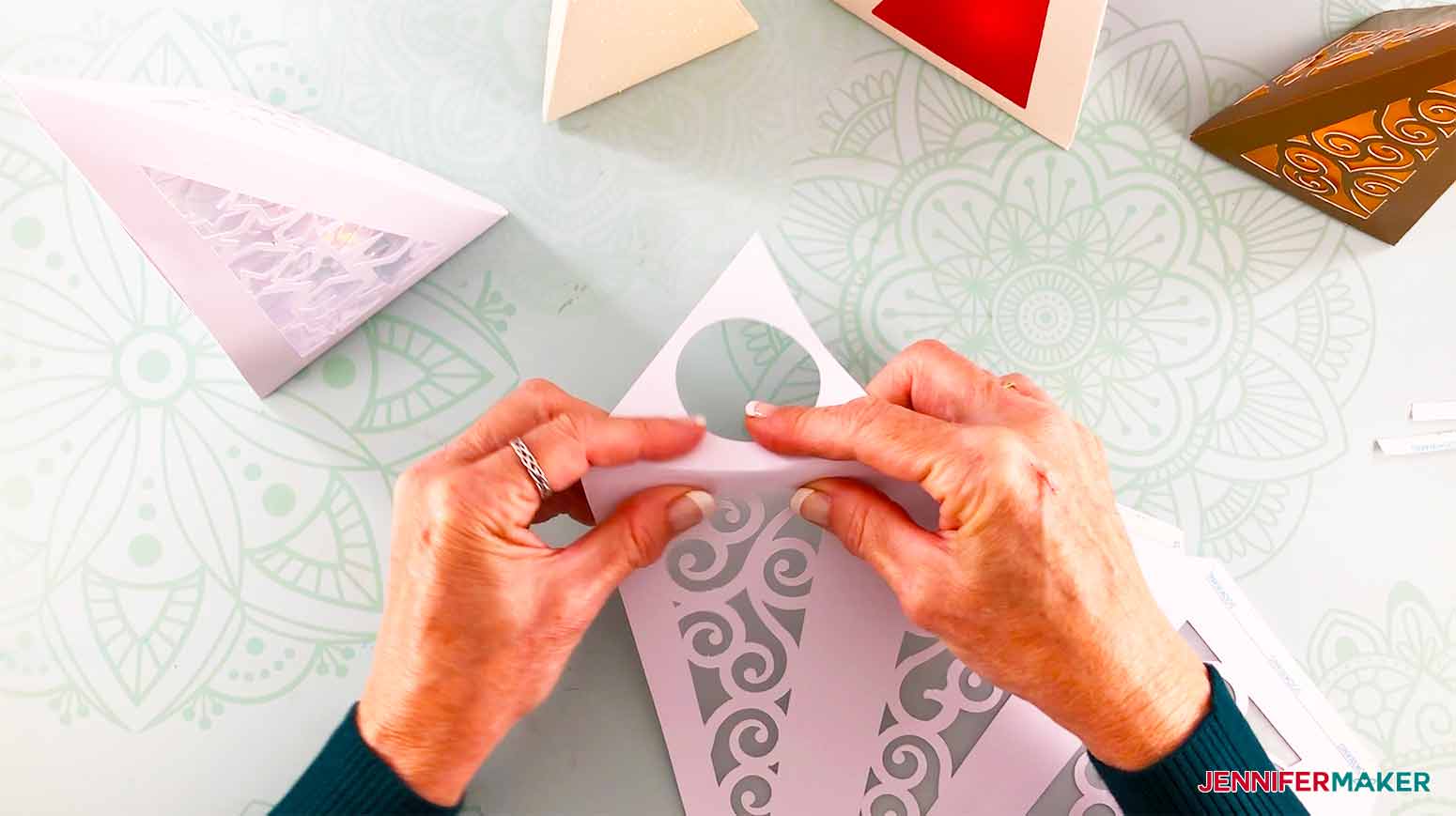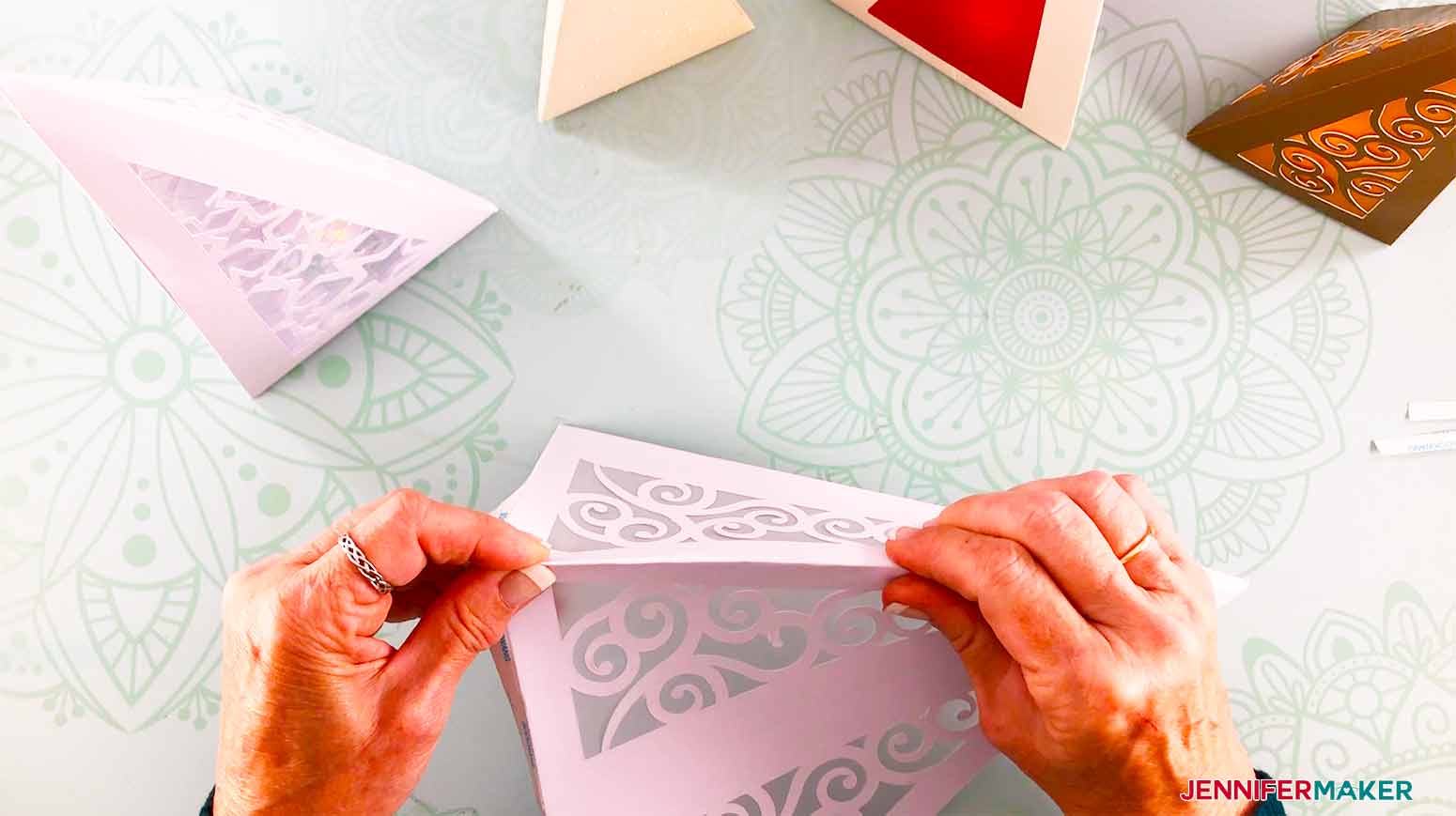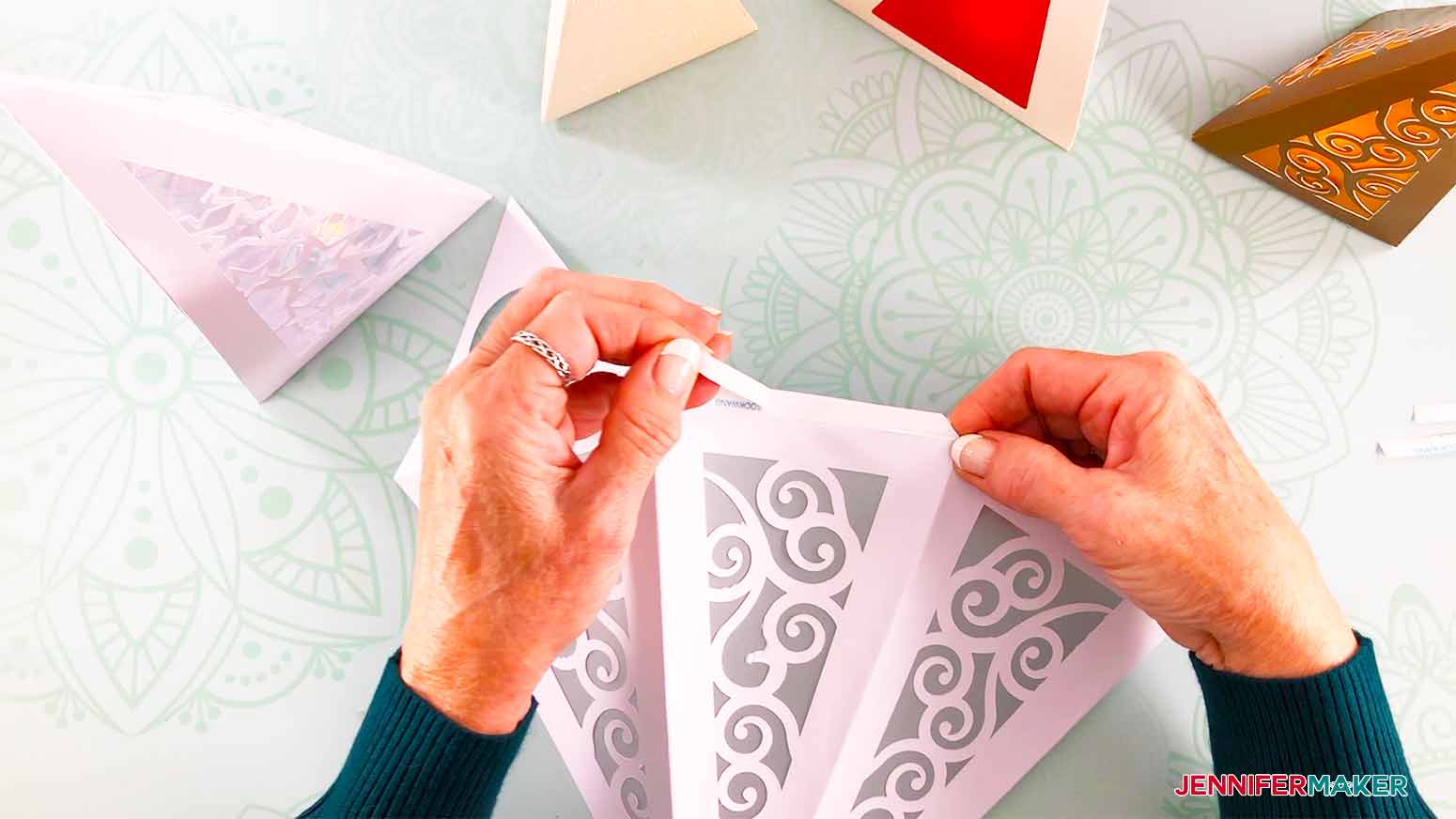 At this point, your design is ready to be folded together! I folded in one of the bottom tabs first and pressed it to the triangle piece with the hole for the tea light.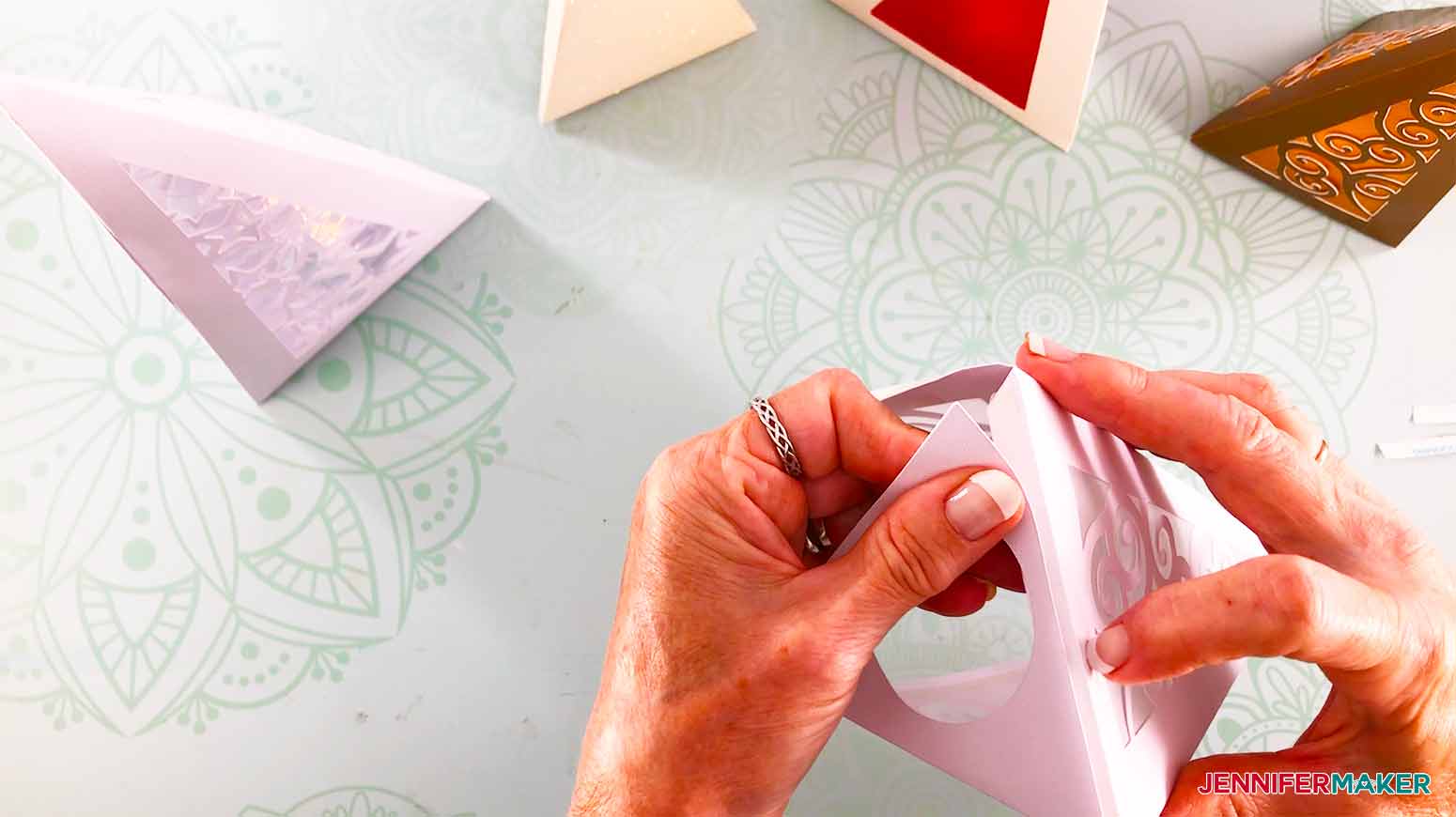 Then I simultaneously attached the long sides together and catching the last bottom side.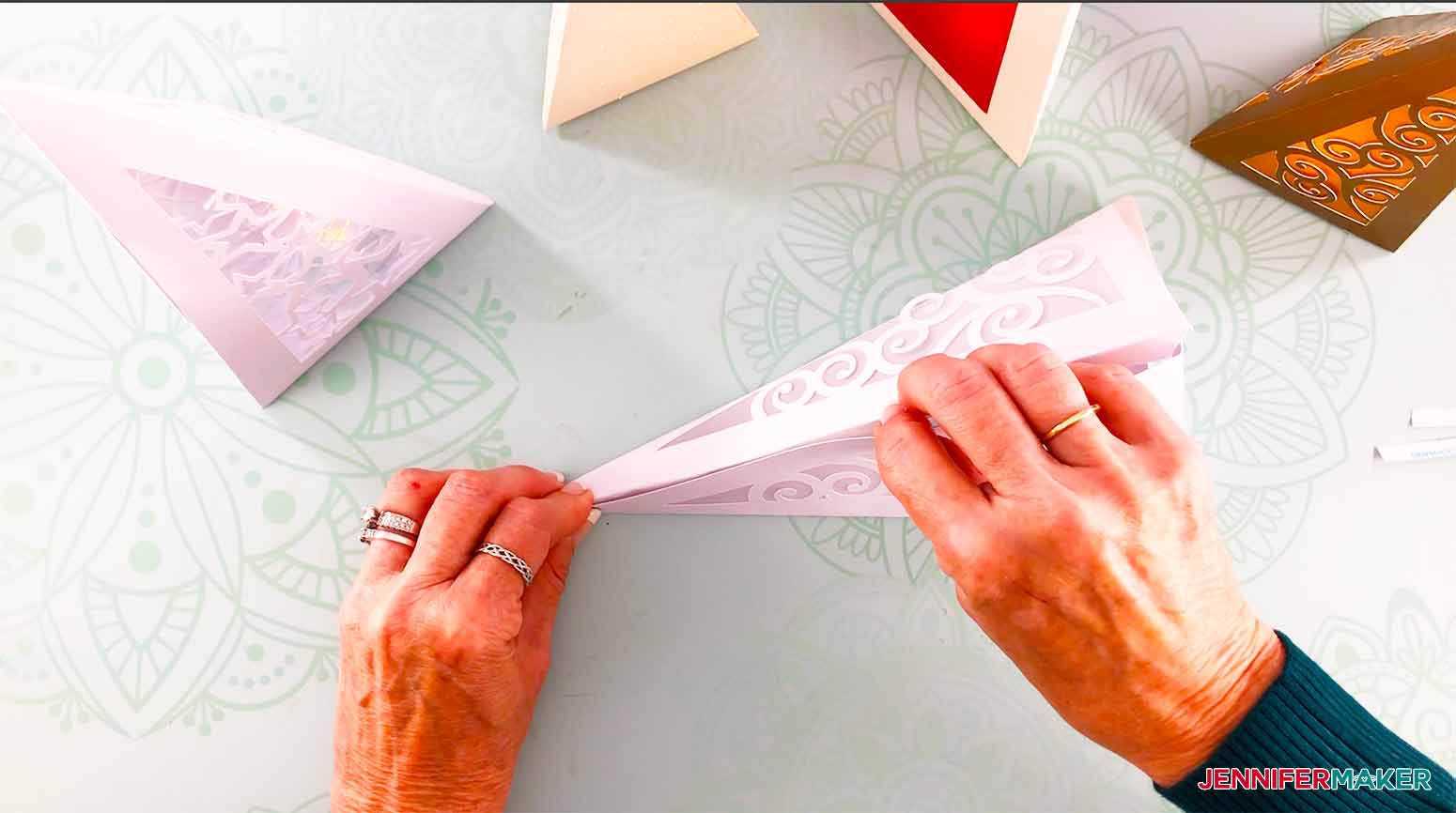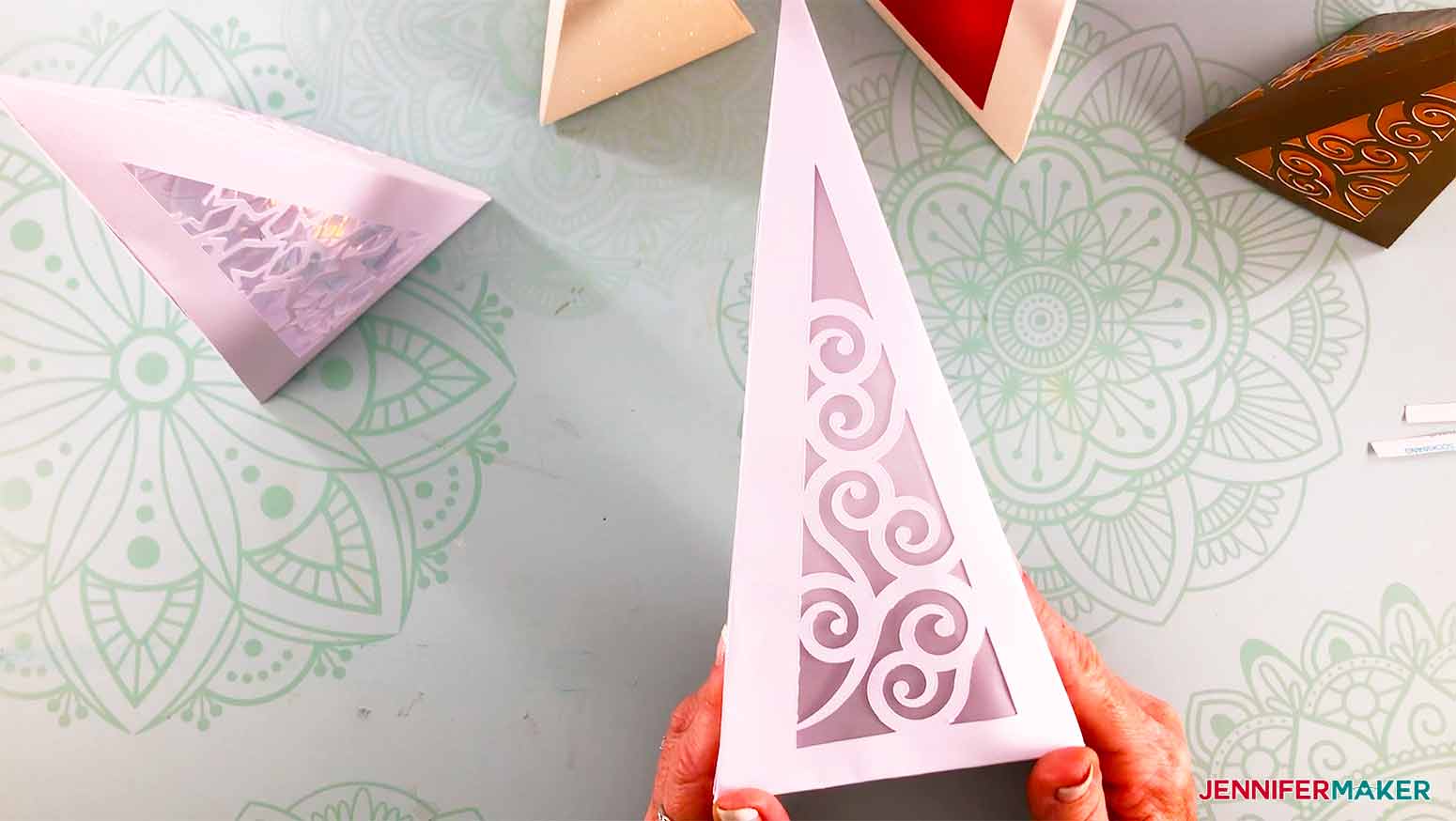 STEP 4: SHOW IT OFF
Once assembled, place an LED tea light or LED fairy light in the center and enjoy!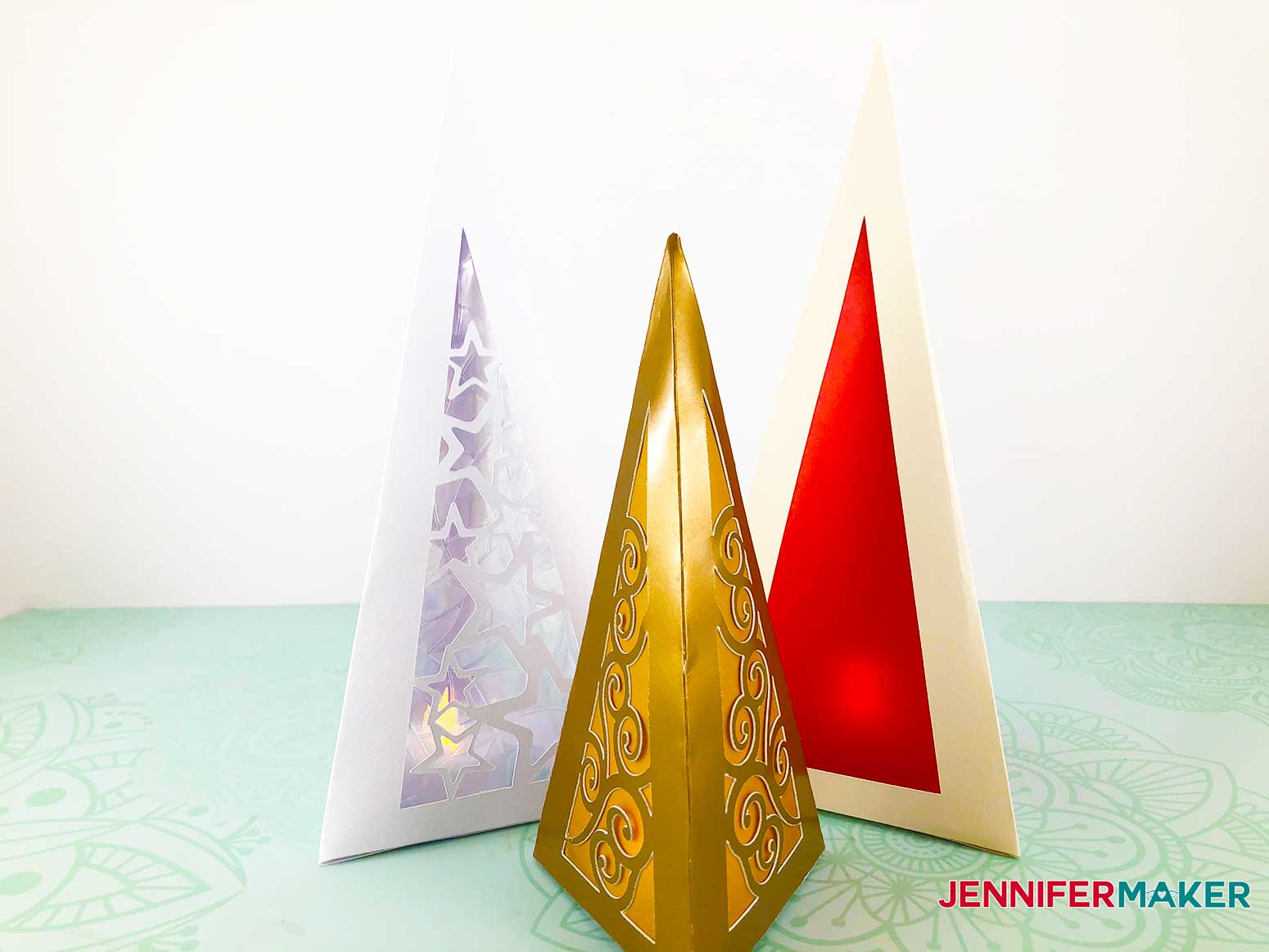 Notes
The finished size of my Christmas Tree Luminaries are 3 inches wide by 7 inches high for the shorter tree and 3 inches wide by 9 inches high for the taller tree.

Special thanks to the JenniferMaker Design Fairy Team, specifically Design Fairy Vicki, for helping me design and assemble these adorable Christmas Luminaries.
Recommended Products
As an Amazon Associate and member of other affiliate programs, I earn from qualifying purchases.
Answers to Your Questions About Christmas Luminaries
Q: Is poster board too heavy for this project?
No, I used metallic poster board and it worked beautifully!
Q: What is the size of the vellum?
The size of vellum I used in this project was 8 ½" x 11".
Q: Can these be made on the Cricut Joy?
Sure! You would just need to resize them to fit on your mat. If you don't know how to resize, you can visit our tutorial on resizing.
Q: I don't have vellum, what can I use instead?
There are several options! I often use wax paper because I can cut it on my Cricut! 20 lb. copy paper can also be used in place of vellum. Other options are frosted acetate, or even tissue paper (if you cut it by hand or use the rotary blade on the Maker)!
Q: What lights do you use?
You can use an LED tea light or fairy lights to light up your luminary.
Get my free SVG files to make your own Christmas Luminaries!
I'd love to see your Christmas luminaries. Please share a photo in our Facebook group or tag me on social media with #jennifermaker.
See all of the projects, tutorials, and free designs in The Great Maker 25-Day Gift-Away Challenge!
Love,