Learn how to add custom vinyl designs to lampshades!

Love surprising guests with your DIY home decor skills? Give them a real surprise with these silhouette lampshades that only become visible with light! Today I'll show you how to create amazing lampshade silhouettes by using permanent vinyl on the inside of the shade. This fun project will transform your regular lamp into a surprise scene when you turn it on. These are really cute for events and holidays, but fun for every day use in a bedroom or living room, too!
Want to save this project? Enter your email below and we'll send the project straight to your inbox.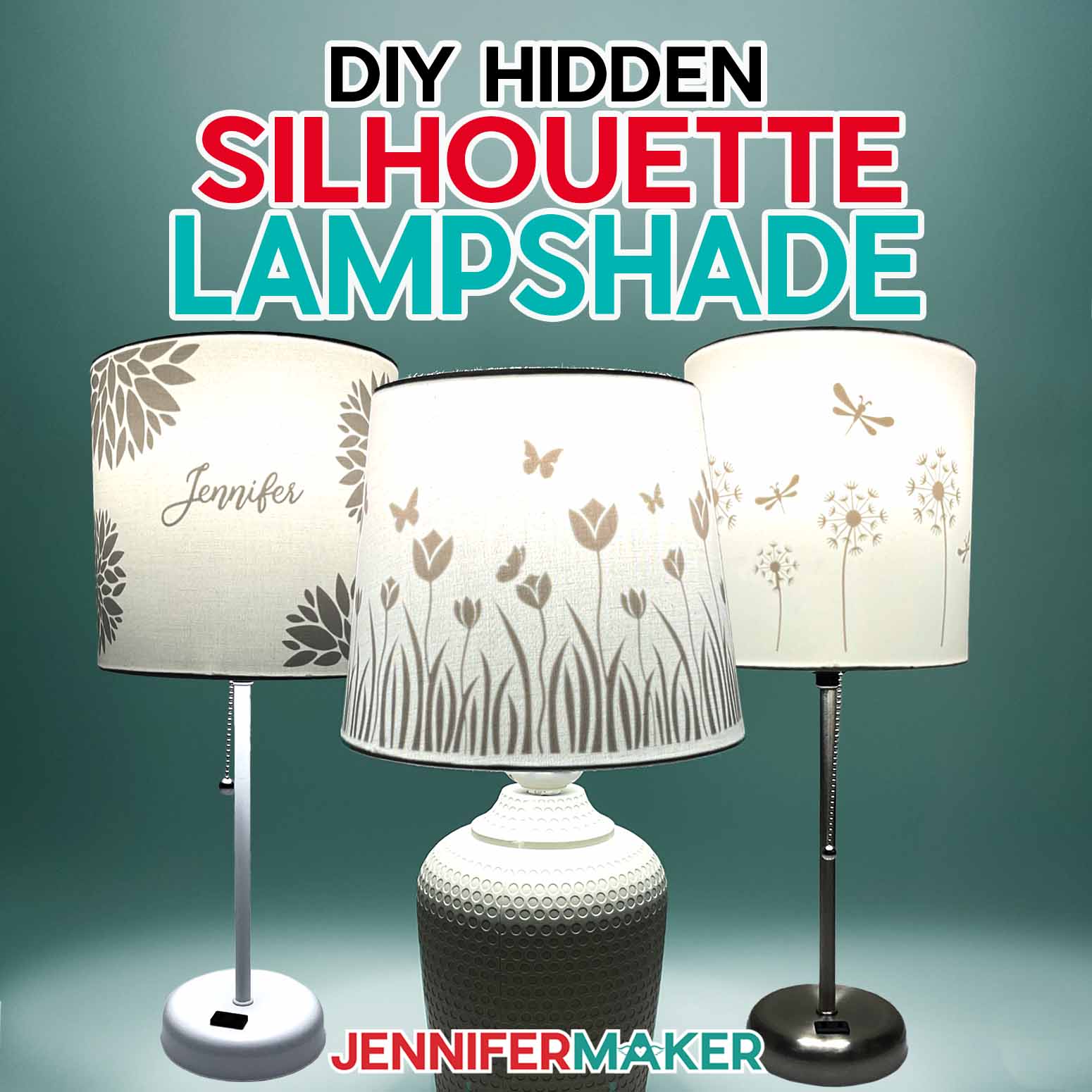 While the silhouette may be a mystery til you turn the light on, learning how to make them won't be, because I'm going to walk you through every step. Whether you have new lamps you want to zhuzh up or an old lamp in need of a makeover, I can help!
To create our silhouettes, we'll prepare a decal with white permanent vinyl, then apply it to the inside of two types of lamp shades. First, we'll do a straight-sided shade where the sides are a straight line up and down.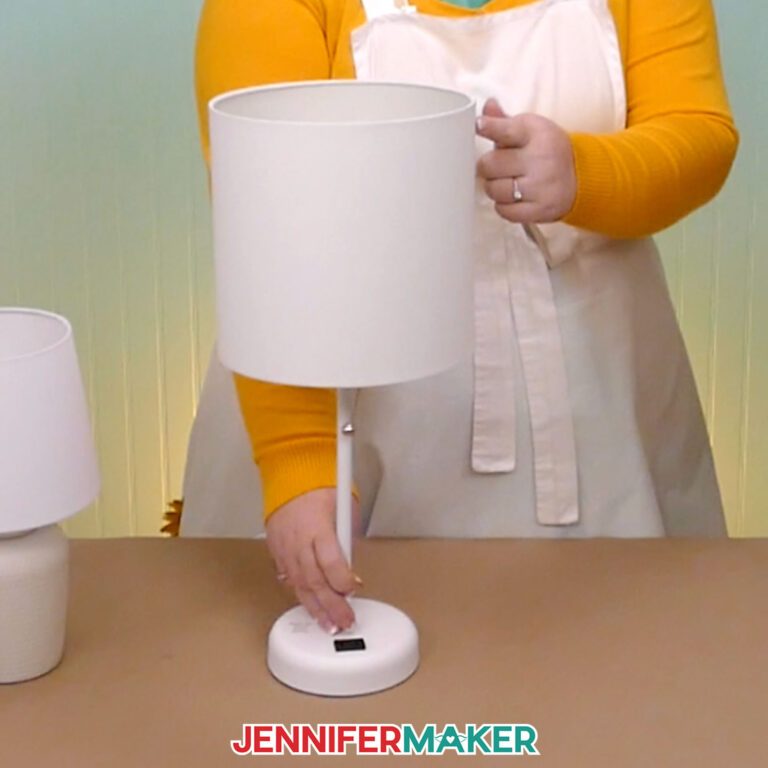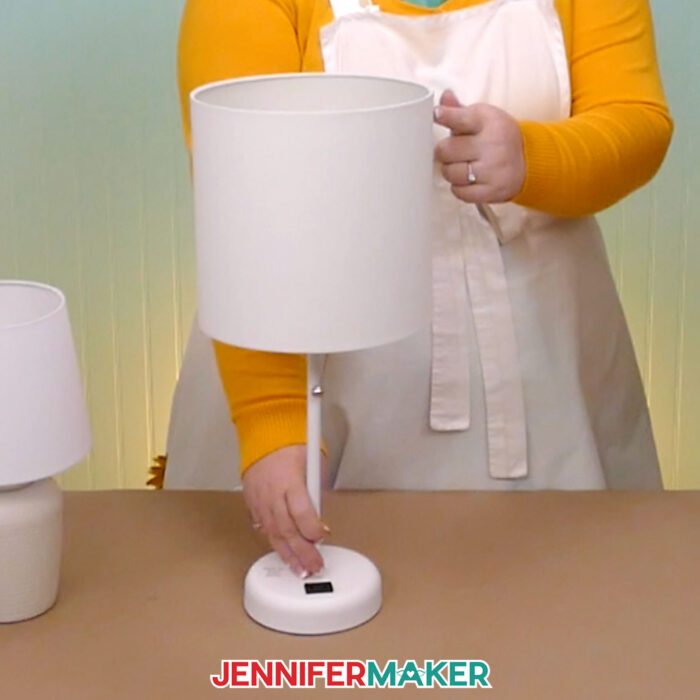 Then I'll show you how to prepare and apply a decal to a tapered shade. A tapered lampshade has a top ring and bottom ring that are different sizes, so the sides of she shade are slanted.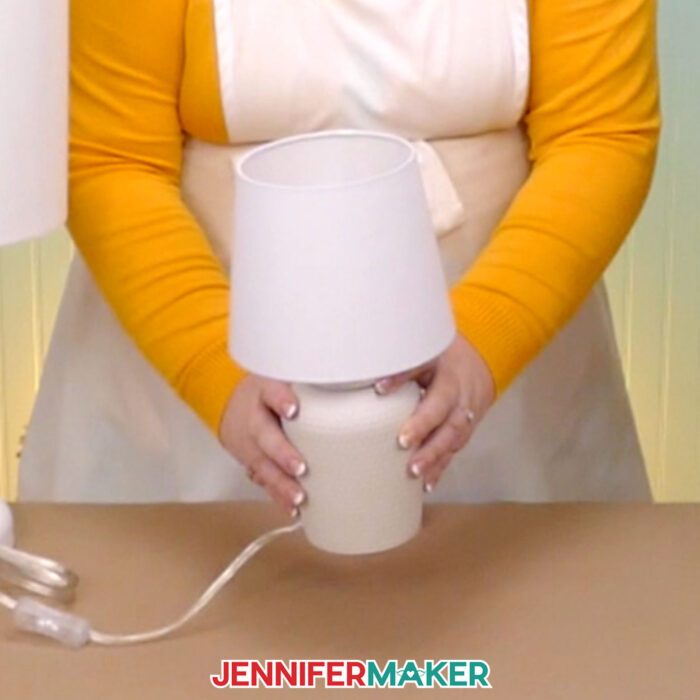 Whether your lampshade is straight-sided or tapered, tiny or oversized, I'll show you how to measure and size your decal so know how to decorate multiple different types of lampshade. Don't skip measuring and rely on what the original packaging of your lampshade says — this is probably the vertical height of the lampshade, and not the circumference that you need.
So, why white vinyl instead of another color? When I did my tests I found that white was the only color that looked hidden when the lights were off. If you'd like a less hidden and more colorful look when the lights are off, play around with colored vinyl if you like. Combine it with different colored light bulbs for a really creative look!
I'll cut my vinyl with a Cricut Maker 3 – but you can also use the original Maker, any of the Explore models, and the Venture for this project – or if you have a smaller shade, the new Joy Xtra, or even the original Joy would work.
Along with my Maker 3, I'll show you first how to cut your vinyl on a 12″ by 24″ green StandardGrip machine mat. But what if you don't have one of those? Don't worry, because later on I'll show you how to modify the design to fit a 12″ by 12″ mat.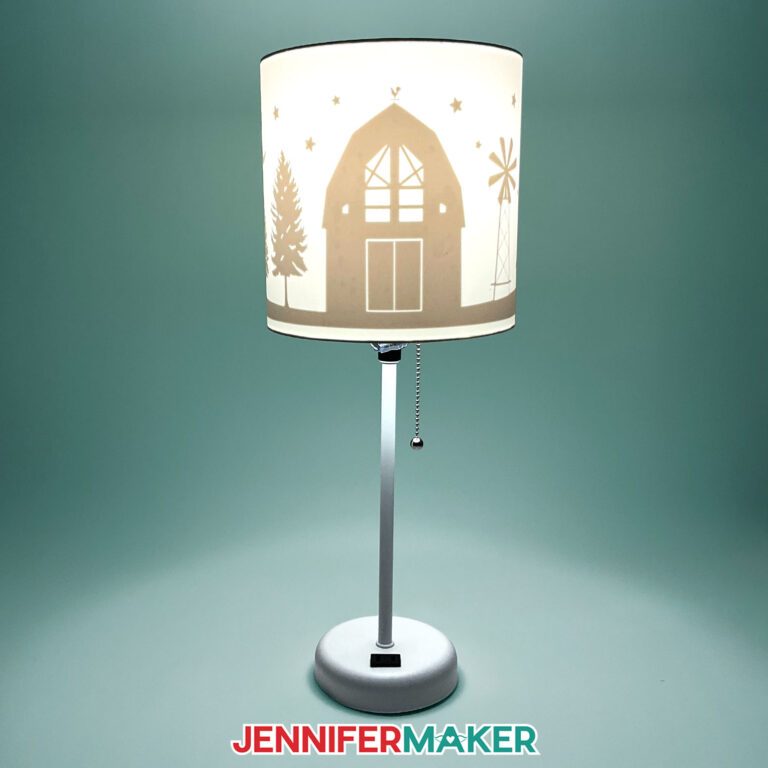 First, I'll demonstrate how to prepare and apply this cute barn scene with a ground at the bottom. The design wouldn't look right on a tapered lampshade because of the ground, so I'll apply that one to a straight-sided shade instead.
But what if you have a tapered lampshade? Preparing designs for tapered shades does require a few more steps, but I'll walk you through the entire process for that, too. Included in the download folder is a version of the barn design without the straight ground, so it'll work with a tapered shade! In the tutorial, though, I'll decorate a tapered shade using this pretty dahlia design — which we'll also personalize with a name!
The steps to decorate a tapered lampshade also apply to any lampshade that's different than an average, straight-sided shade — that means, if you're using a tiny lampshade, a really big lampshade, or a shade that's perhaps an odd shape, the tapered lampshade part of the tutorial is for you!
What if your lampshade is huge and the decal doesn't have enough pieces to go all the way around? I've included another file with extra elements you can add! You can even use these to customize your own lampshade scene. Have fun with it!
Since this is a little different than a "typical" vinyl project because we're applying vinyl to the inside of our lampshades rather than a flat surface, there are some things to consider that I'll tell you about my video tutorial. But don't let it stress you out! I have some really useful tips and tricks that will make for an easy application.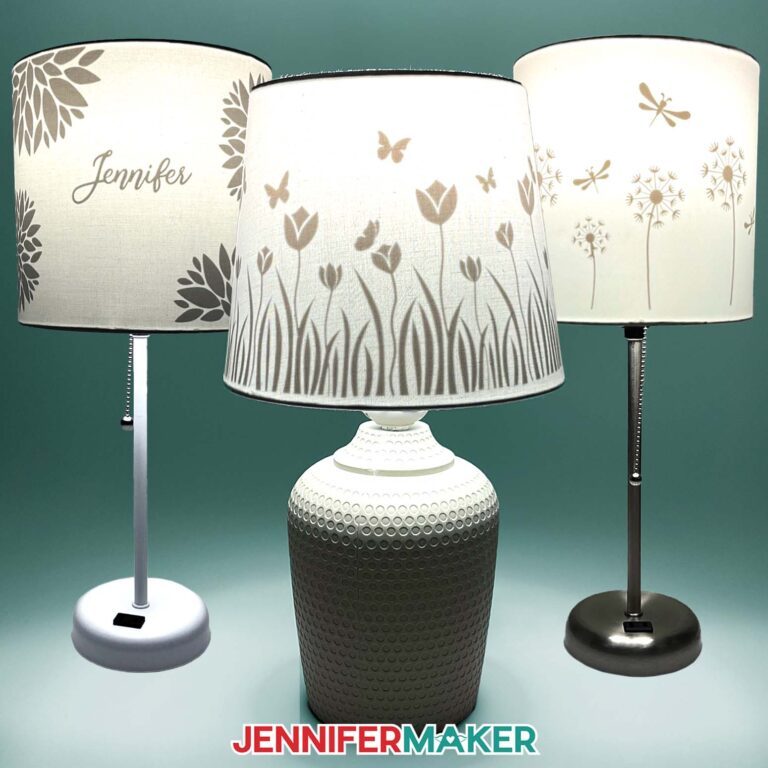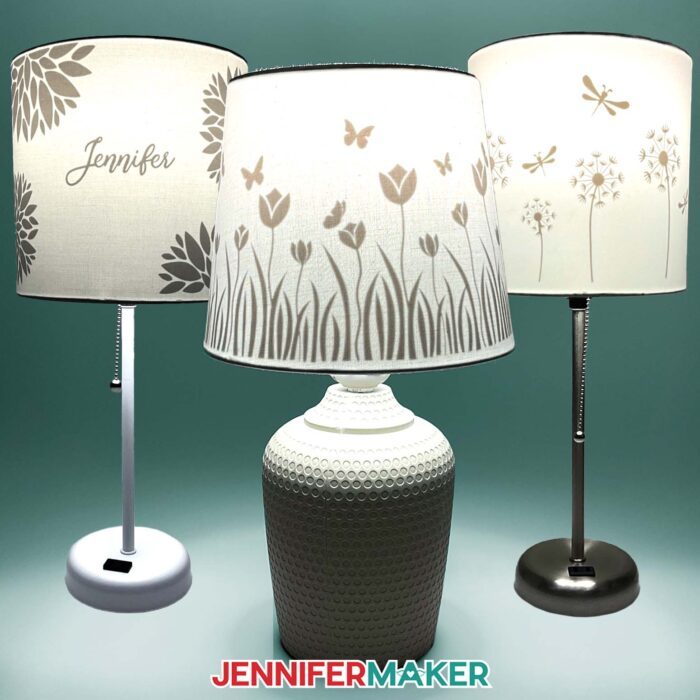 For example, this project uses a different transfer tape technique than most vinyl decals, and requires an additional material you may already have in your kitchen. That's right, not craft room, kitchen! I'll show you exactly how to use it, and where to align the decal for the best application around the inside of the shade.
I recommend working in a well-lit area for this project. It makes it easier to see and weed the white vinyl, as well as easier to align the vinyl inside your lampshade when it comes time to apply it.
These were so much fun to design and make, and even more fun to flip on once they were finished! It's so neat turning on the light to reveal the concealed silhouette design. I love how the hidden design of the interior lining shines through, but it's completely inconspicuous when the lamp is turned off. Think of all the cool decals you could make for lampshade silhouettes for themed decor, Halloween, Christmas, and more!
Ready to learn how to make a silhouette lampshade? This post contains some affiliate links for your convenience (which means if you make a purchase after clicking a link I will earn a small commission but it won't cost you a penny more)! Read my full disclosure policy.
Materials And Tools to Make a Silhouette Lampshade
See my full and complete Amazon shopping list for the exact items used in this project!

How to Make a Silhouette Lampshade!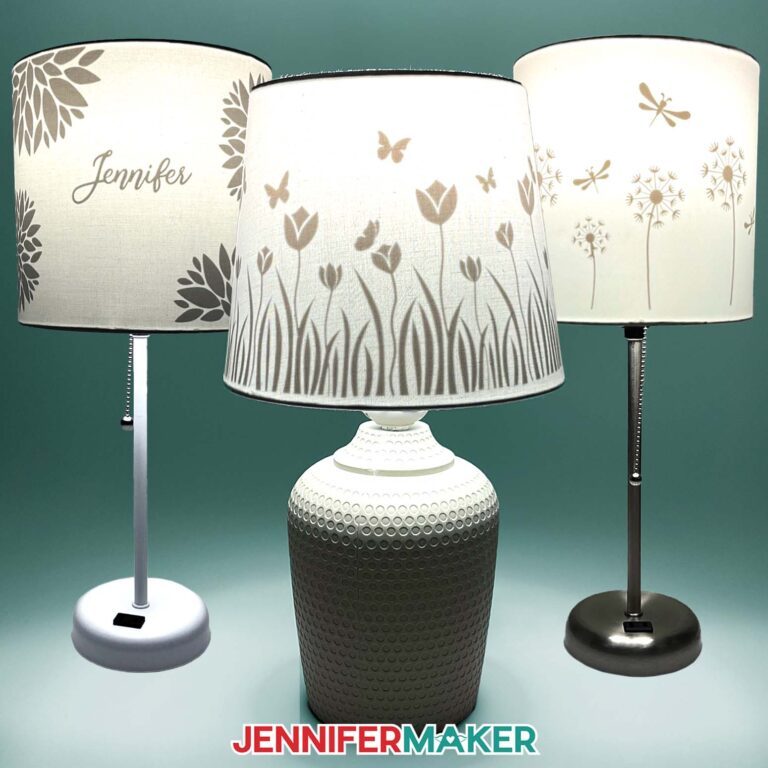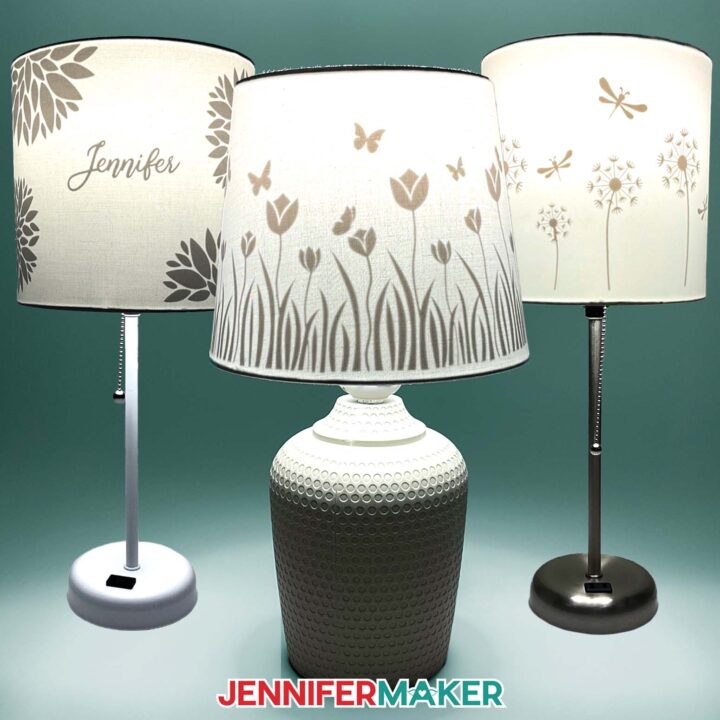 Silhouette Lampshade
Difficulty:
Easy to Medium
Learn how to make a beautiful Silhouette Lampshade with permanent vinyl!
Answers to Your Questions About How to Make a Silhouette Lampshade
Q: What is the best shape for a lampshade?
A: This is entirely personal preference! The design of your lamp and the design of the shade should suit your decor, and completely depends on the look you like. Though if you're looking for a super easy lampshade silhouette project, you may find it easier to use a straight-sided shade as it's fewer steps.
Q. What is the rule for lampshades?
A: While personal preference is the most important "rule," professional interior decorators recommend that a lampshade should be wider than the base of the lamp, the bottom diameter of the shade should be roughly the same size as the height of the base, and the height of the shade should be around 2/3 as high as the base. Ultimately, it's your house, your style — the design of your lamp is up to you.
Q: Do you measure lampshades at the top or bottom?

A: The method of measuring lampshades is going to differ depending on what you're measuring them for! For this project, you'll want to measure the circumference of the shade (bottom circumference if your shade is tapered). Make sure to take this measurement INSIDE the shade, rather than the outside, for the most accurate read.
Q: What type of lamp shade gives the most light?
A: White lampshades using clear translucent bulbs tend to give off the most light. These are a great option for making silhouette lampshades because even though some of the shade will be covered by vinyl, it will still emit a good amount of light. A lampshade with a a darker color or fabric pattern will not give off as much light as a plan white lampshade.
Q: Why does my white lamp shade look yellow when lit?
A: If it's crisp, white light you're after, be sure you're using a translucent white daylight bulb instead of a warm white lightbulb, which will give off more of a yellow, warm light.
Q. Do you have any other projects with lamps or light?
A. For some more "bright" ideas, check out my tutorials for an engraved acrylic nightlight, hanging heart lantern, easy hanging lamp, paper cut lamp, puzzle lamp, light-up Dollar Tree snowman, and lighted shadow boxes!
Get my free SVG files for silhouette lampshade designs!

I'd love to see YOUR amazing lamp shade creations! Please share a photo in our Facebook group or tag me on social media with #jennifermaker.
Love,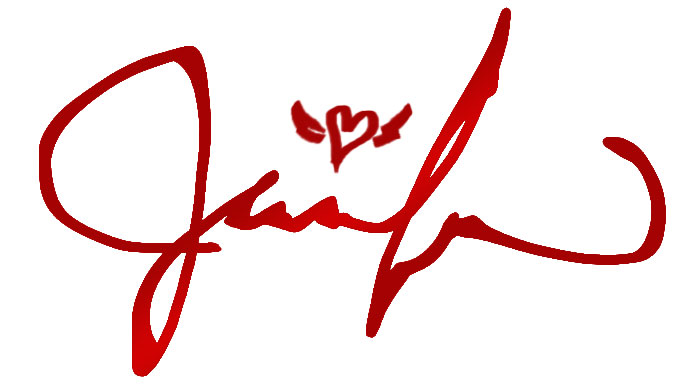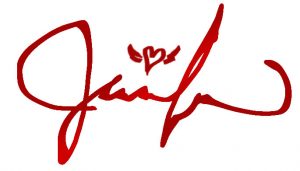 Want to remember this? Save this tutorial on How to Make a Silhouette Lampshade to your favorite Pinterest Board!