Learn the right settings to use for your next sublimation T-shirt project!
Do you know how long to heat press a sublimation shirt? Trick question, because it depends on the shirt! There are so many sublimation T-shirt blanks and ways to add designs to them, how can you keep everything straight? I've tested over 20 sublimation shirts (and some that aren't normally for sublimation!) for vibrancy, feel, price, and comfort, as well as how well the color holds up in the wash to help you identify the BEST shirt for you! I'm even going to share my secrets for sublimating on cotton fabric and dark colors. Whether you're just getting started in sublimation and want help with your first sublimation shirts, or are already sublimating but need new options and ideas, I've got you covered!
Want to save this project? Enter your email below and we'll send the project straight to your inbox.
Watch my full video on Sublimate ALL the shirts, complete with pressing times:


I LOVE sublimating on shirts to make high quality, full color creations that last wash after wash. And when you compare a sublimated shirt next to one with iron-on vinyl — or HTV –shirt, you can see and even FEEL the difference. HTV remains solid and gets fused to the shirt with heat, so it's almost like a really strong sticker. But sublimation turns into a gas under high heat, so it actually dyes the fabric fibers and then goes back to a solid. And since the design becomes part of the fiber, you can't feel the edges, the fabric doesn't change texture, and it lasts as long as the shirt! I'll show you a few other methods, too, and my test results on 20+ shirts!
Why so many tests? There are tons of options out there, and I want to provide as much information as I can on how long to heat press sublimation shirts so you can craft with confidence!
Sublimation transfers take some special materials and equipment, but once you're all set up, the process is so fast and easy — and you'll know all about how long to heat press a sublimation shirt, too! If you're new to sublimation, be sure to check out my Sublimation for Beginners tutorial!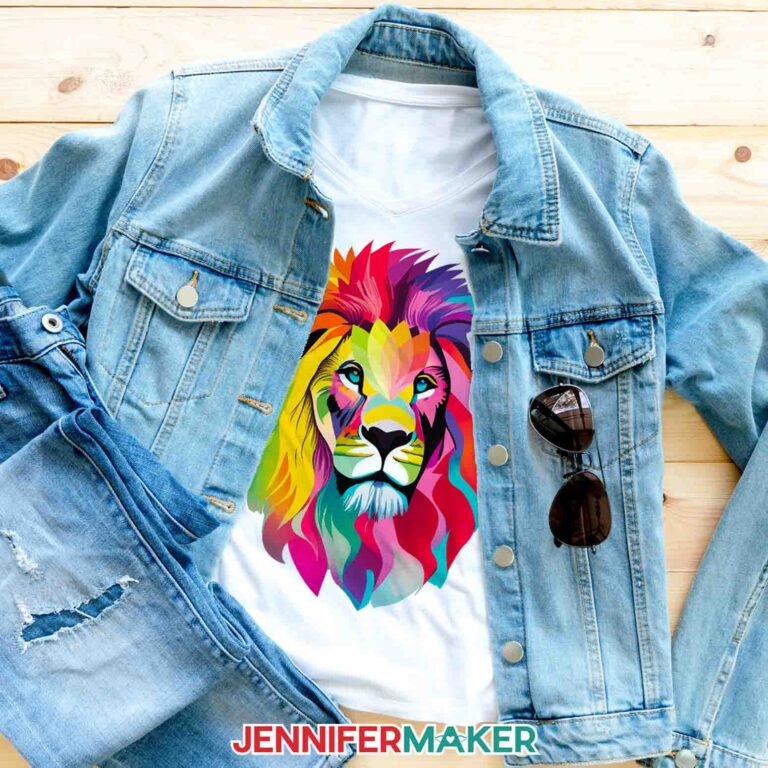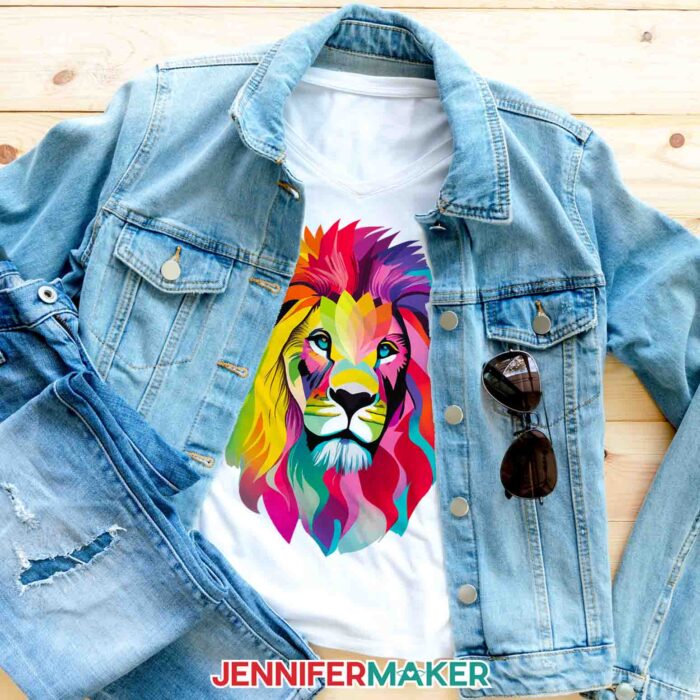 To keep my tests consistent, I prepared my lion design in Google Docs (see my free tutorial on how!) and printed copies using a converted Epson EcoTank with Hiipoo ink on A-Sub 125g sublimation paper. If you need help choosing the best sublimation printer, see my guide.
Then, I prepared each shirt according to the tutorial or Sublimation Cookbook recipe that matched the process being tested. I'll link each below!
I tested a traditional clamshell heat press, an Autopress, an EasyPress, and even a Mini Press, and they all worked! I had a lot of shirts to press, so I stuck with the Autopress, since it has auto pressure and auto open. But use the heat press that's best for you! The best temperature, times, and pressure vary depending on your equipment, but I have all the details in my Sublimation Cookbook.
Finally, I washed everything the same way: inside out in a normal cycle with cold water and mild detergent. I took them out of the wash right away and dried them on low.
Some of my workarounds require other tools and materials, so be sure to check the full tutorial before starting a project. Several involve cutting vinyl, which I did with a Cricut Maker 3, but you can also use a Maker, Explore 3, Explore Air 2, Explore, or Venture.
But wait, why workarounds?
Knowing how long to heat press a sublimation shirt is tough enough, but what do you do when you have a shirt made of a material or color other than a white polyester? Sublimation dye is transparent, so a transfer sheet won't look correct on a dark shirt. And on cotton shirts, the ink can't infuse the fibers. So it will look faded right away and lose more color with every wash, like my Gildan 100% cotton shirt below. But, on the plus side, it's super comfy. So if you like the faded, washed out look, cotton would work for a while!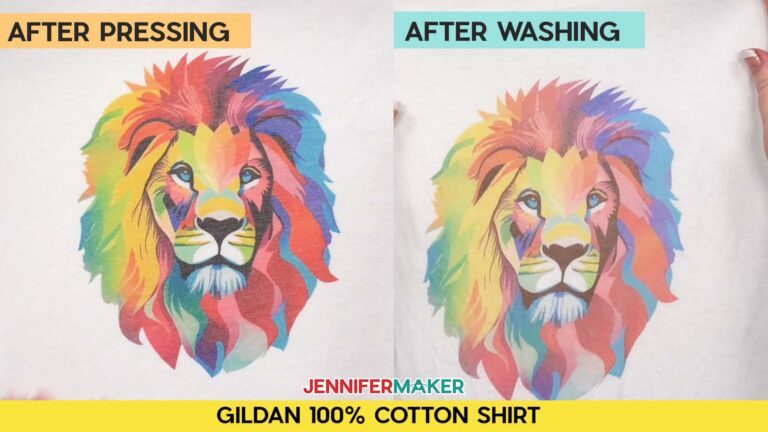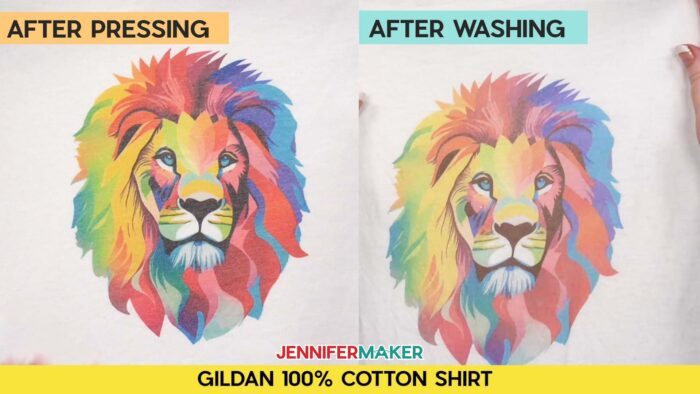 And now, the T-shirt results! Let's find out how long to press sublimation shirts!
Ready to learn how long to heat press a sublimation shirt and make a sublimation T-shirt using my free design and step-by-step tutorials? You're going to love them! This post contains some affiliate links for your convenience (which means if you make a purchase after clicking a link I will earn a small commission but it won't cost you a penny more)! Read my full disclosure policy.
White 65-100% Polyester Shirts
Shirts: Cricut, Hanes, Gildan, Joe's USA, Jerzees, Jiffy, Make Market, Bella+Canvas, Vapor Apparel, ORJ, Amazon
Temperature: 385°F (196°C) to 400°F (204°C)
Time: 40 to 75 seconds
Pressure: Light to medium pressure
Autopress: 400°F (204°C) for 45 seconds with automatic pressure
The white Cricut sublimation shirt is actually 95% and 5% elastane (that's also known as Lycra or Spandex) for some stretch and a nice heavy weight. But it still sublimates like a pure polyester fabric! And it came out of the dryer looking just as good! Plus, it's even softer than it when started — it almost feels like cotton. As much as I like them, these shirts do run a little small.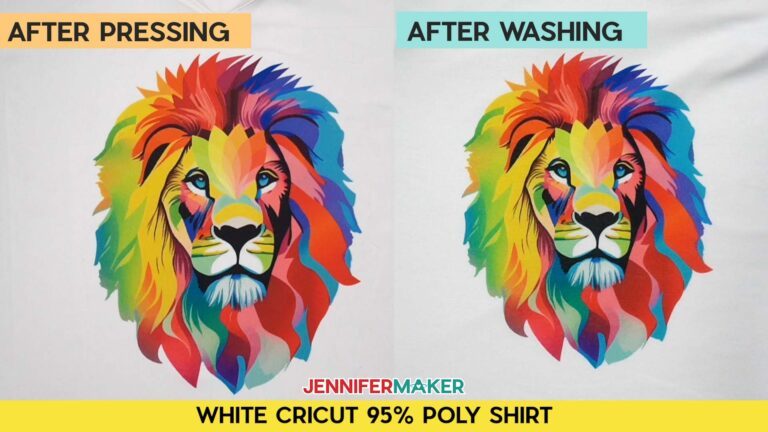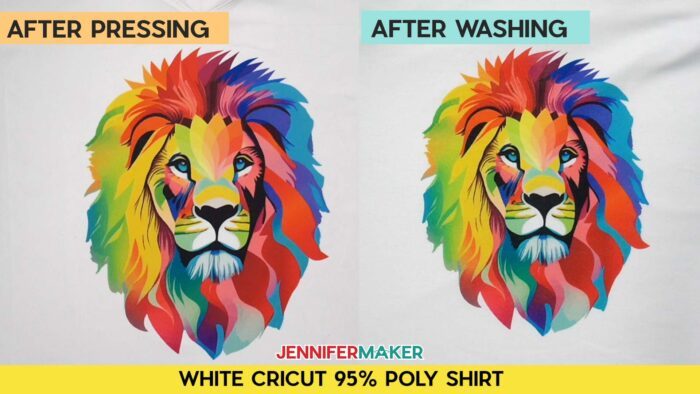 The Gildan moisture-wicking shirt felt silky before washing, but more cottony and soft after washing, and the color still looks wonderful! It's just a tad less cottony feeling than the Cricut shirts and at 5 oz it's a bit more see-through. I don't find them as comfortable since I don't like the feel of polyester, but that's definitely a personal preference.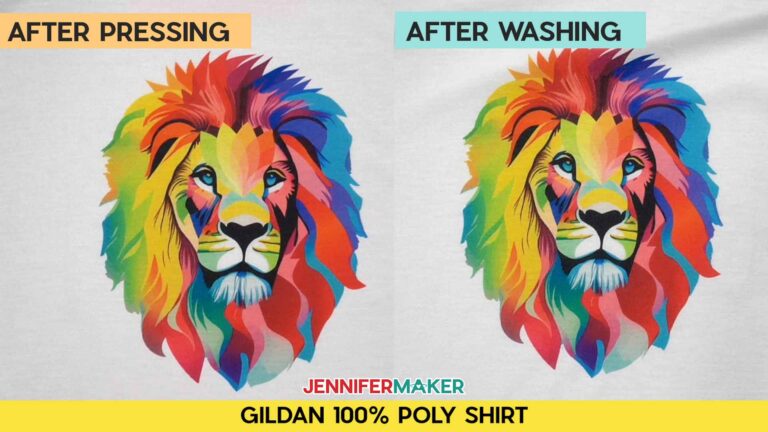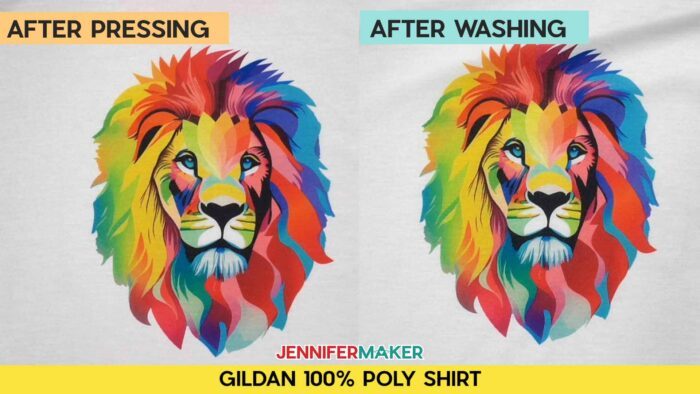 The Hanes Sport Cool Dri shirt is very colorfast, but the silky fabric tends to cling to everything in all the wrong places, so it's less comfortable. It's a 4 oz shirt, so it's pretty average in the see through category.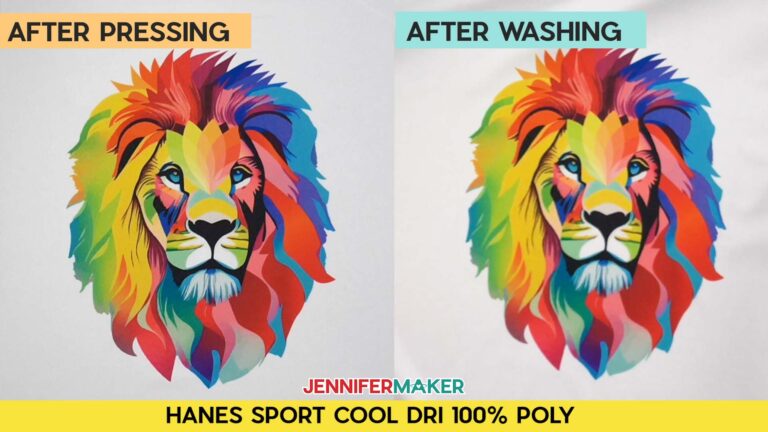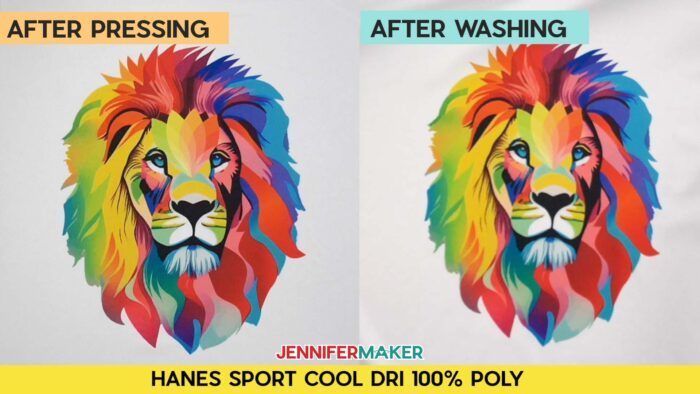 The shirt by Joe's USA sublimated beautifully, and was colorfast. It's only 3.8 oz like most of our polyester shirts, but it is even more silky feeling than the others. So while it's moisture wicking, it's also clingy and pretty see-through.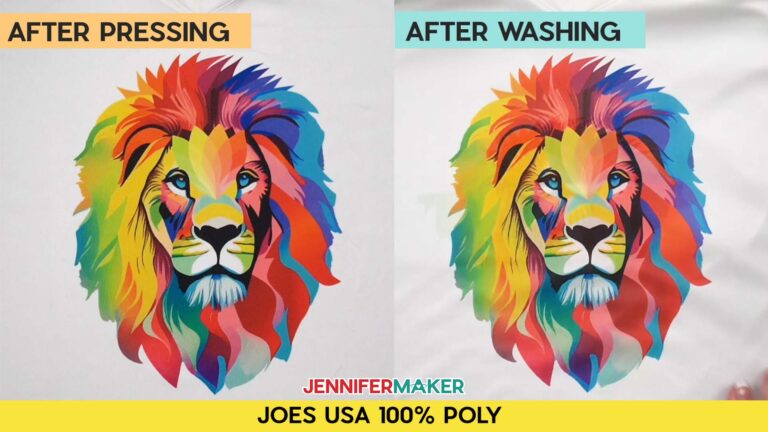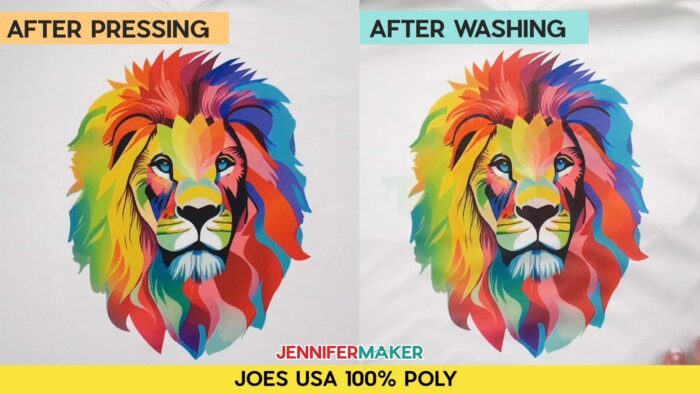 Vapor Apparel's shirt has the most obvious polyester feel, but it's less see-through than some of the similar options, which is really good! It sublimated very well and came out of the wash looking just as nice!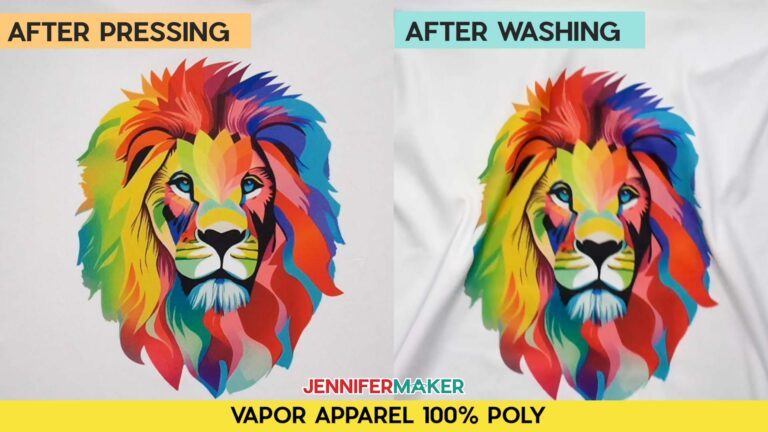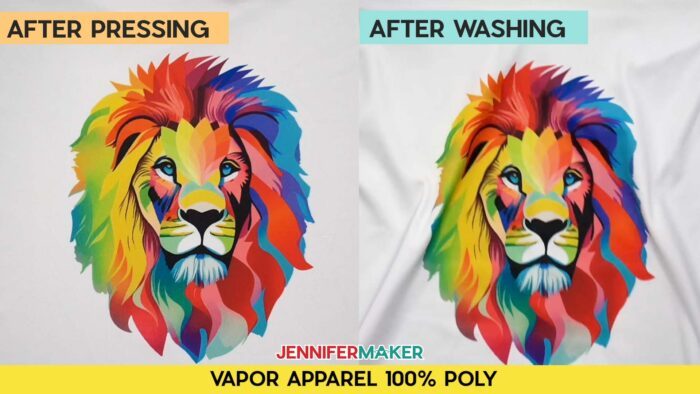 The Michaels Make Market sublimation shirt sublimated and washed fine, but it definitely has that slinky polyester feel I don't love. Also, the sizing runs very small, so go up at least a size, probably two.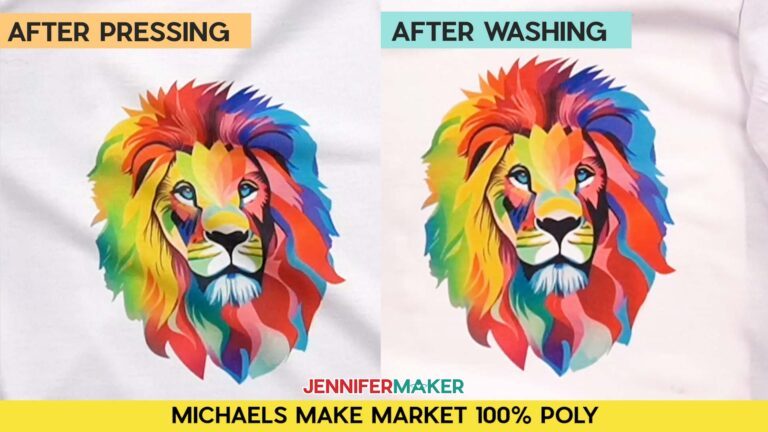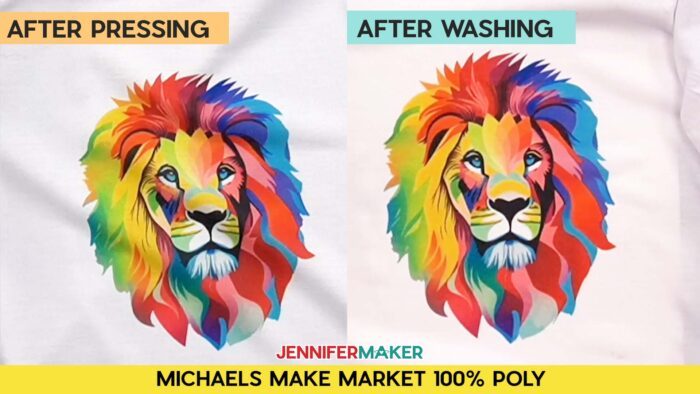 The Chase shirt has nice color, but it is super silky and shiny, and pretty see through. I got them in a bundle that worked out to $5 a shirt, but there are better options in this list.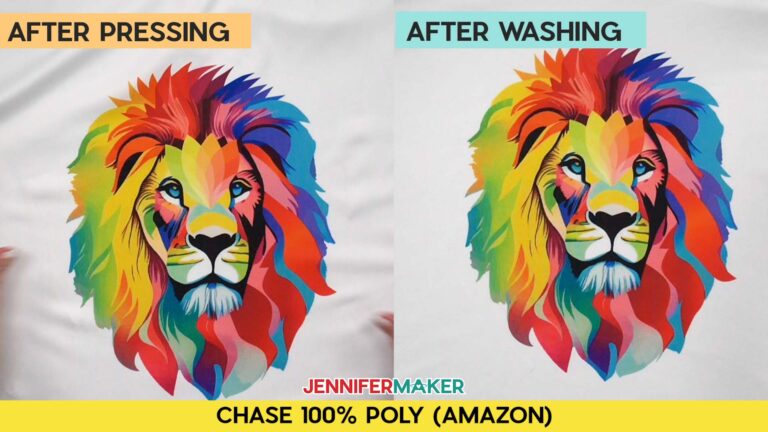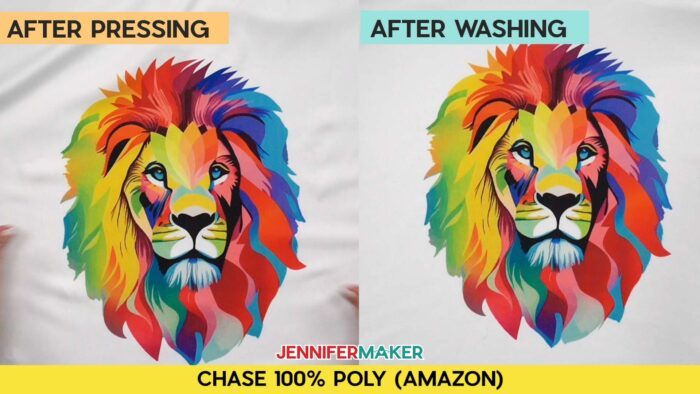 The ORJ shirt was almost the same as the Chase shirt in colorfastness, feel, and price. These are good options if you're on a budget and need your color to stay put.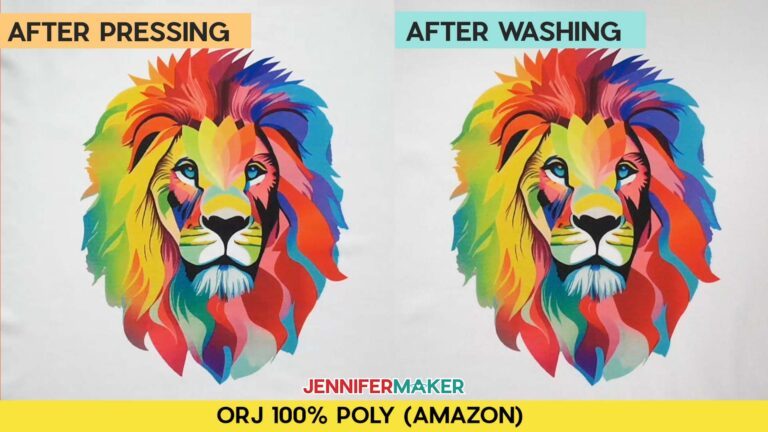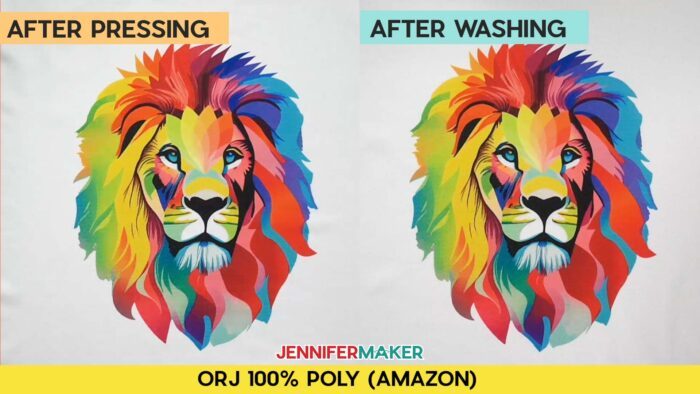 The Bella Canvas 3001C shirt is 65% polyester and 35% viscose, so it's the lowest amount of polyester I'd sublimate in this way. The low polyester count is noticeable, because the ink doesn't sublimate as well and it isn't as colorfast. But it does feel more like cotton! So if you want a vintage look that is less vibrant, or want to avoid the silky polyester options, these are worth trying. They are very thin and see-through, so maybe plan to wear a tank underneath.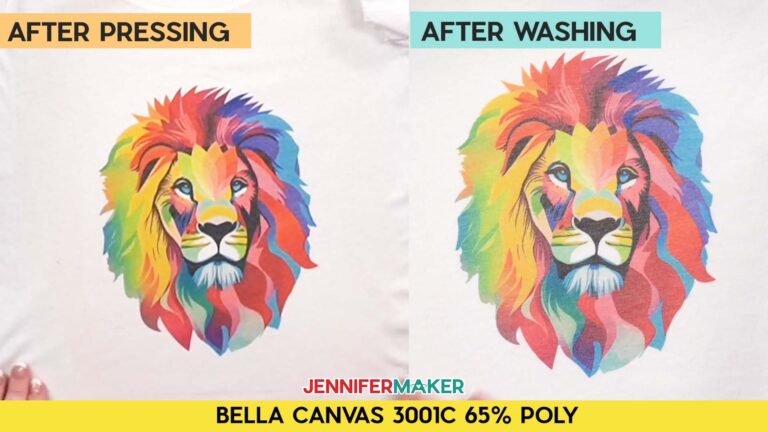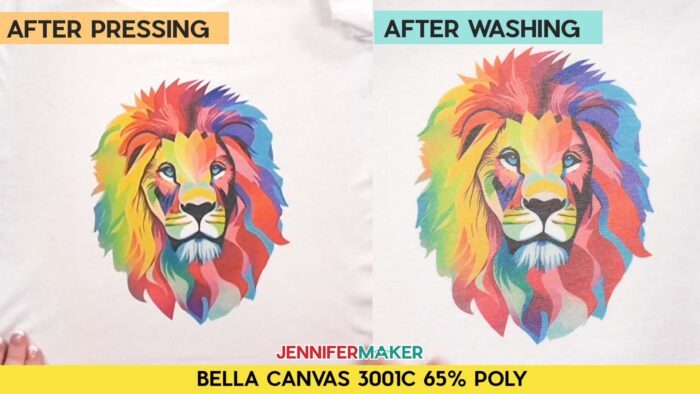 Color 65-100% Polyester Shirts
Temperature: 385°F (196°C) to 400°F (204°C)
Time: 40 to 75 seconds
Pressure: Light to medium pressure
Autopress: 400°F (204°C) for 45 seconds with automatic pressure
I tested the gray Cricut shirt using the same method as the white version and it sublimated really well. But this is a good reminder that sublimation ink is transparent, so the base color will impact lighter colors and show in white sections. Otherwise, it looked the same after washing and is a cottony feeling shirt. I think it's very comfortable and you can't see through this shirt at all. Be sure to order a size or two up, though!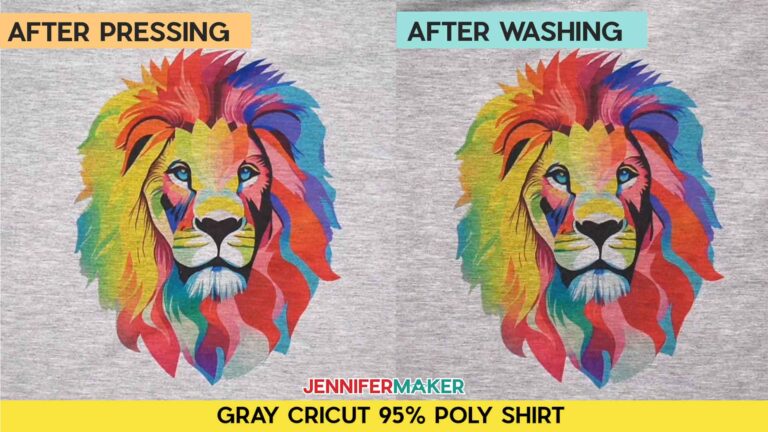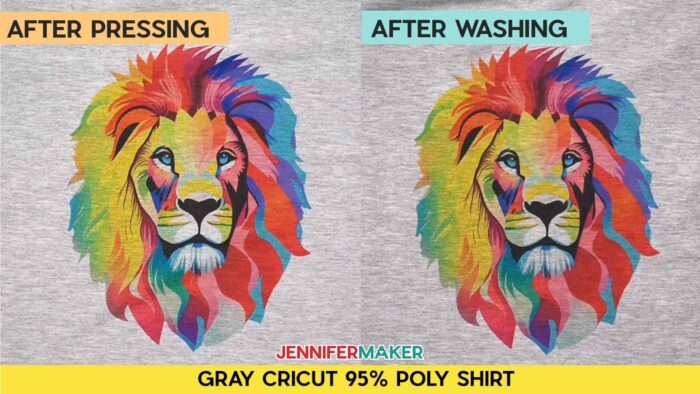 I also sublimated the pink Vapor apparel shirt like any other polyester option. It looks and feels just like the white version — so super silky. Again, beautiful sublimation and colorfastness, but low comfort. But they aren't quite as see through as some of the others. However, the pink color seemed to influence the ink less than the gray Cricut shirt. So if you want to experiment with sublimating color polyester shirts, try lighter options!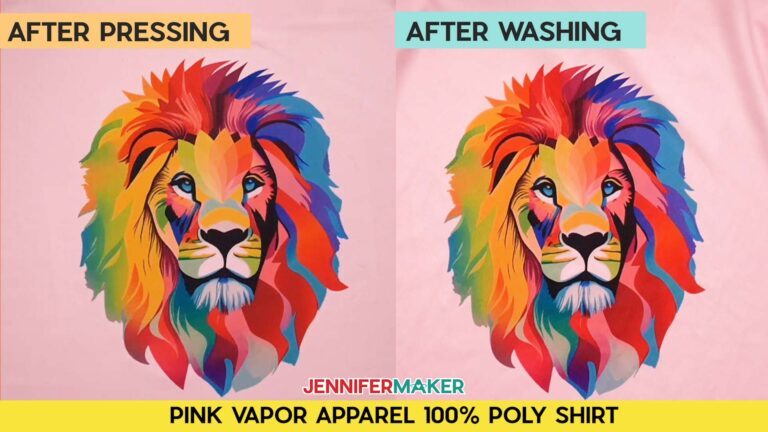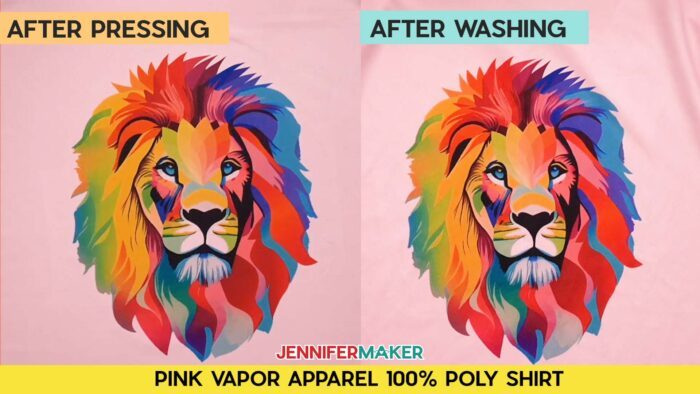 Gildan has some heather shirts, which are 65% polyester and 35% cotton, so they feel nicer that the 100% polyester options but still have a compatible fiber content. The design wasn't as colorfast after washing as a result, but these shirts are a nice balance of comfort and color. They are pretty see through, though! There are other colors available, but. be sure to check the fiber content — they're not all the same.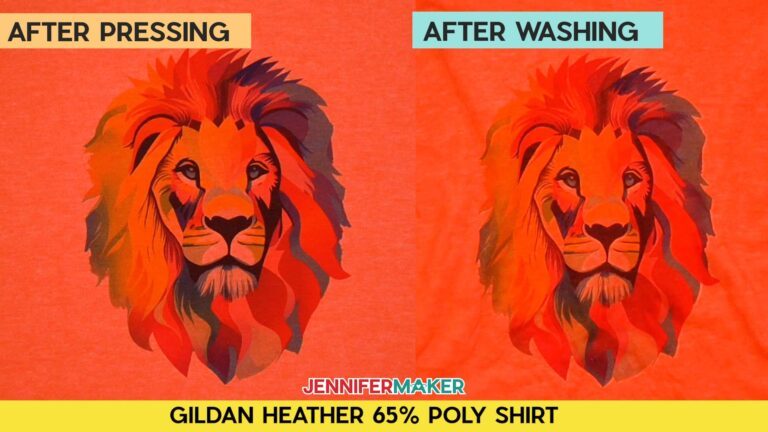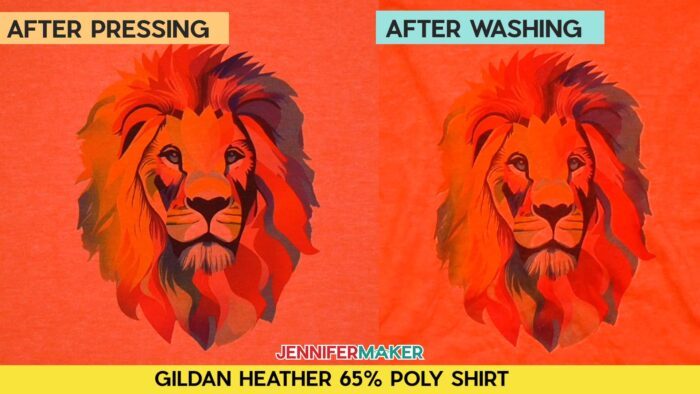 If you want a color shirt with a white design area, a pre-bleached, 100% polyester shirt is an option. Mine sublimated and washed beautifully, and appears quite colorfast. It isn't as silky as other polyester shirts, and feels fairly heavyweight, so I think it's more comfortable. And it's not see through at all!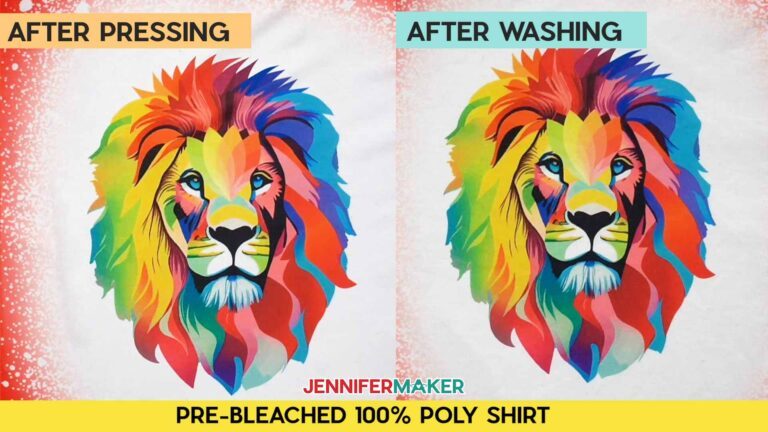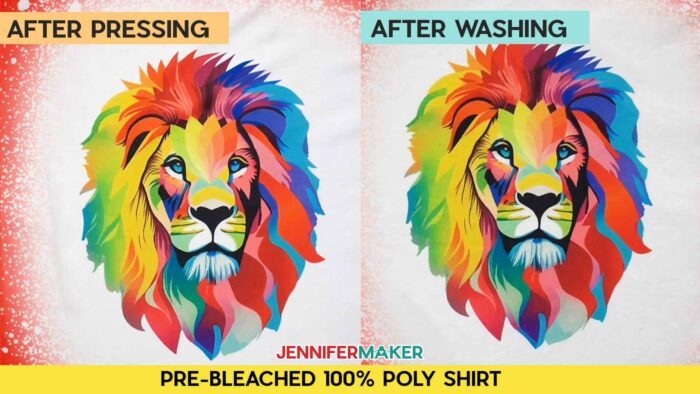 If you want more control, you can bleach one yourself! I tested out bleaching a red Gildan Heather shirt with 65% polyester and 35% cotton. It's not as vibrant as the pre-bleached version, but you can be more creative with this method. See my tutorial on how to bleach a shirt for sublimation.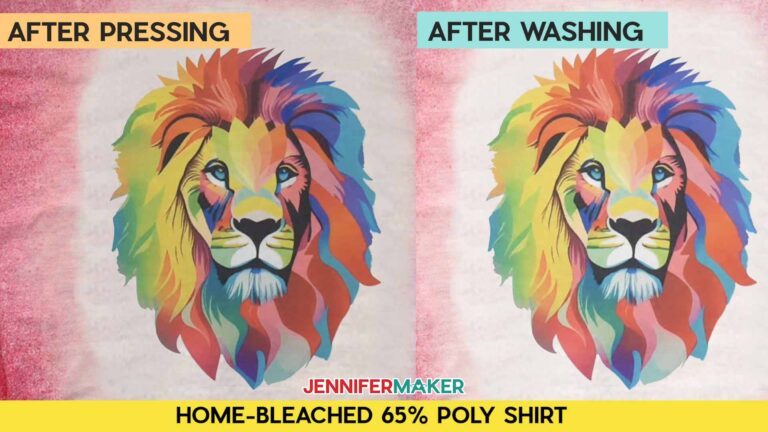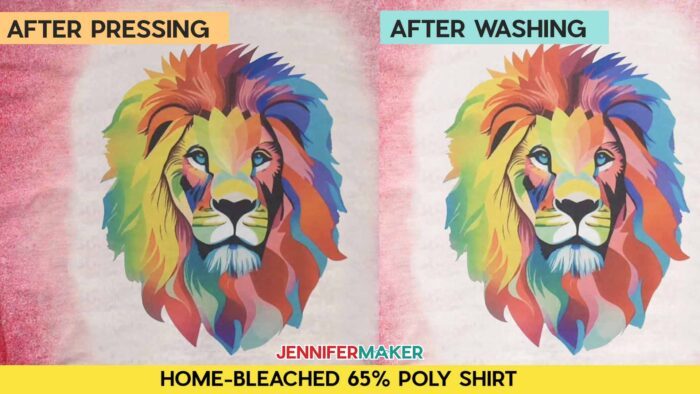 Vinyl Workarounds for Cotton T-shirts And Dark Colors
Temperature: 385°F (196°C) to 400°F (204°C) (lower temperatures for tacking down vinyl varies by material, remember to check each tutorial for details!)
Time: 40 to 75 seconds
Pressure: Light to medium pressure
Autopress: 400°F (204°C) for 45 seconds with automatic pressure
You can use a cutting machine like a Cricut to cut the vinyl to the correct shape, then tack it down with heat before sublimating right on top.
Clear Sublimation HTV had good color initially, but it lost some vibrancy in the wash. The HTV doesn't stand out on the fabric as much as the other vinyl options. So it's a good idea to try if you just MUST use cotton and want that vibrant color. See my tutorial on how to sublimate cotton using clear HTV.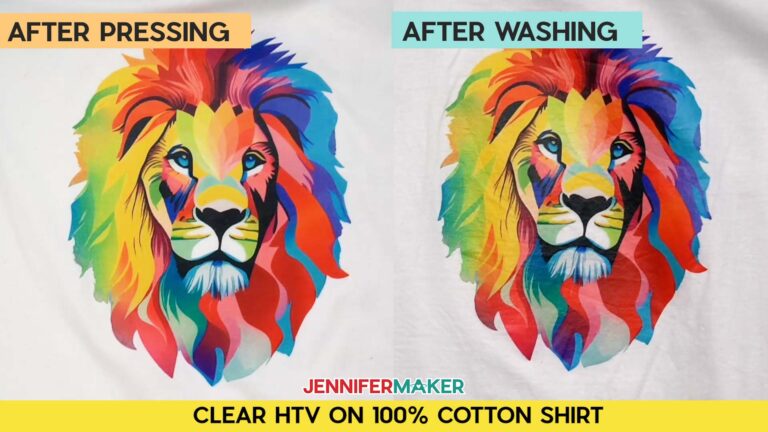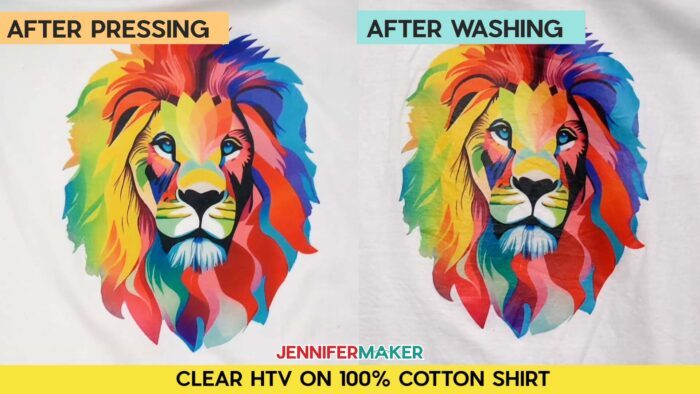 Sublimating on White Glitter HTV looks beautiful, even on black shirts and is so sparkly! The color stays true through the wash, but it might be wrinkly after the dryer. Just turn it inside out and press it flat again. The HTV is pretty thick, so the design will stand out on the fabric. And it will crack and peel eventually, but if you like sparkle, this is a fun workaround. See my tutorial on how to sublimate on cotton using glitter HTV.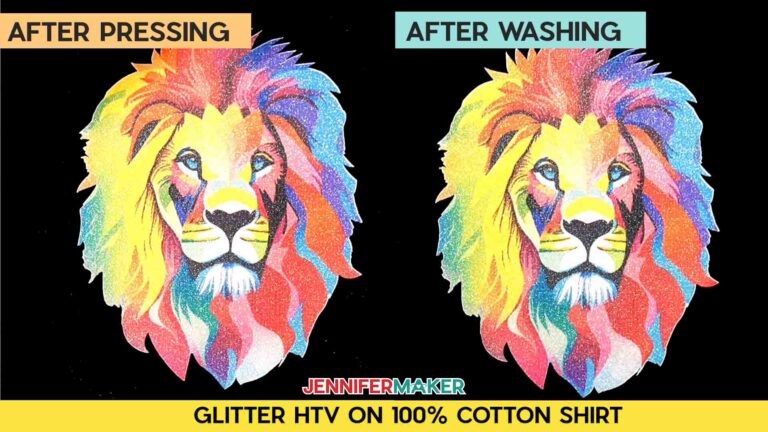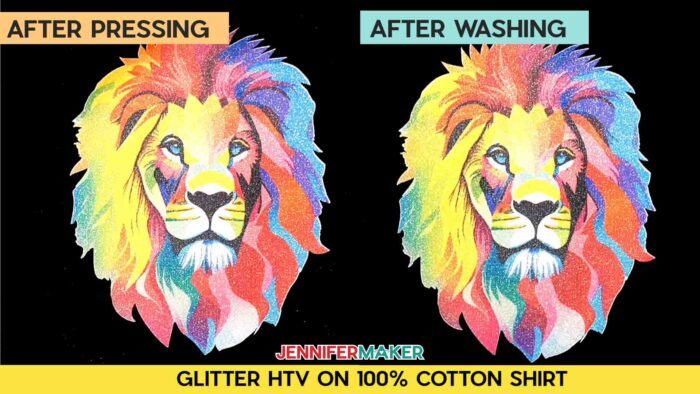 Holographic HTV on a cotton shirt looks great when it's freshly pressed if you like things shiny! It's a little stiff, similar to the glitter option. But, washing and drying this shirt made it super wrinkly! You can gently iron it from the back to smooth out the design, but that might make the adhesive break down faster than normal. But this is a really fun look! See my tutorial on how to sublimate cotton using holographic HTV.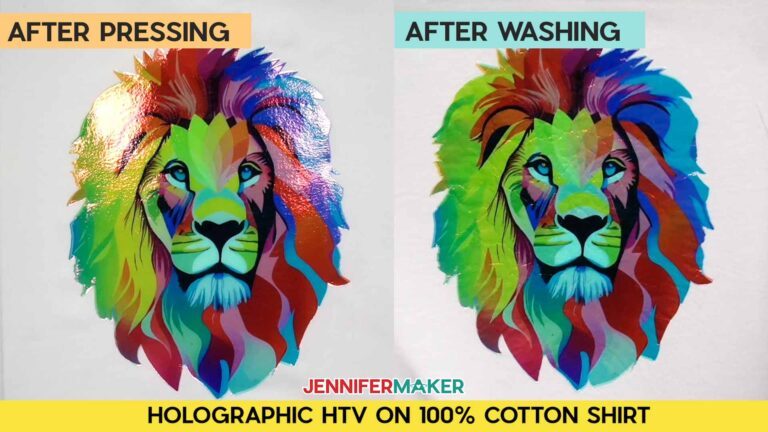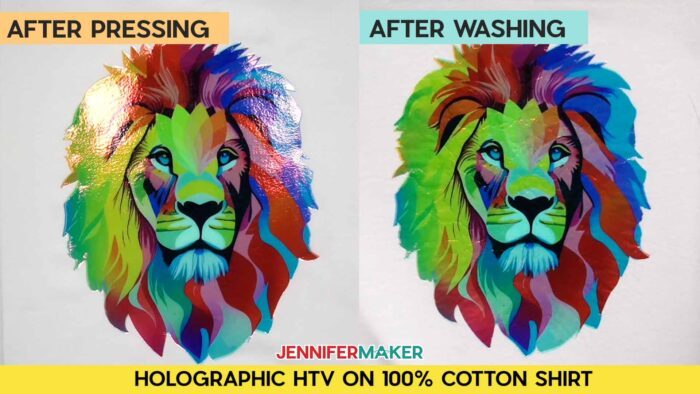 Glow in the Dark HTV on cotton made it through the wash looking great and isn't as thick as the glitter or holographic options. And of course, it glows and that's a huge bonus in my book! This does need to be pressed longer than the others, so see my tutorial on how to sublimate on cotton using glow in the dark HTV for details.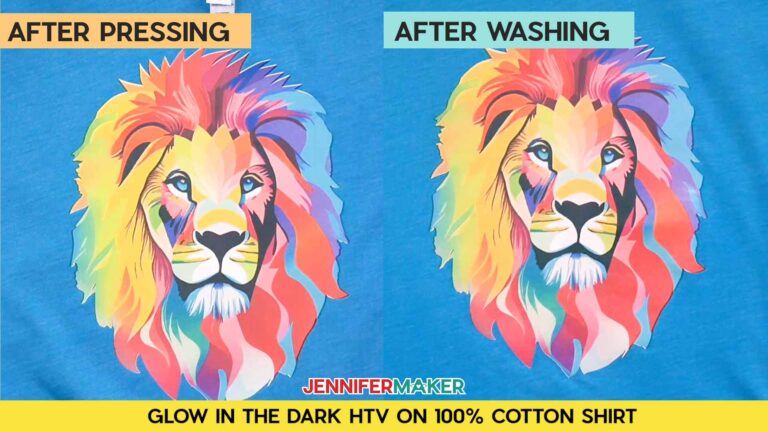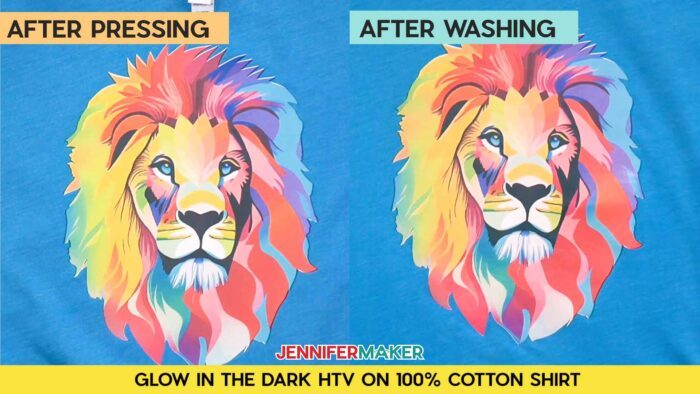 EasySubli HTV on cotton sublimated very nicely and stayed true through the wash! It's less flexible than the clear and glow in the dark HTV and really feels like a decal, though. See my tutorial on how to sublimate on cotton using EasySubli.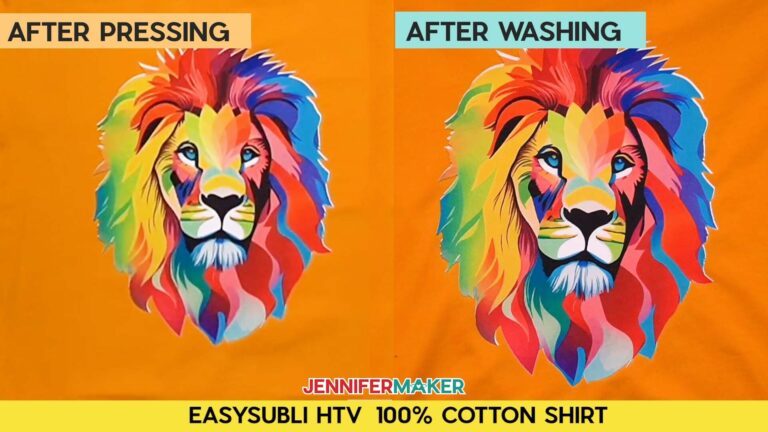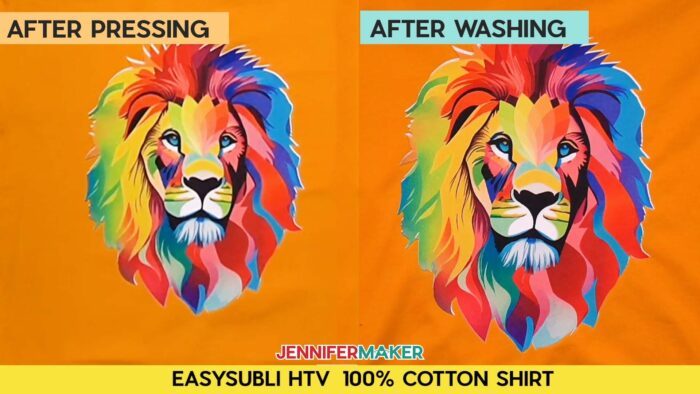 Other Workarounds for Cotton T-shirts And Dark Colors
Direct to film (DTF) on cotton is very flexible but not very colorfast, especially after washing. Some of the powder seems to have come off in the wash, which makes it pretty unpredictable. This is a tricky process, so definitely see my tutorial on how to sublimate on cotton using DTF powder.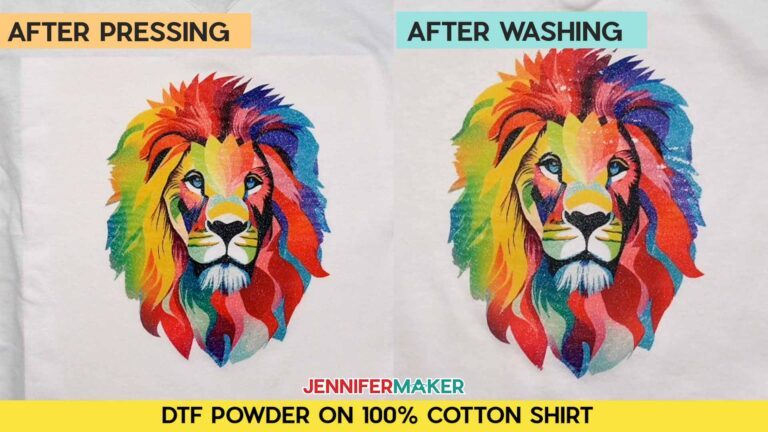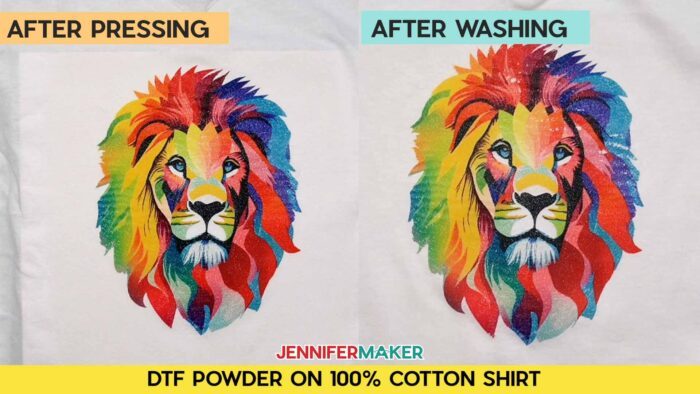 Using Sublimation Spray on cotton didn't sublimate well and didn't stay colorfast, but is better than sublimating right on cotton. It's really flexible, too! See my tutorial on how to sublimate on cotton using Sublimation Spray.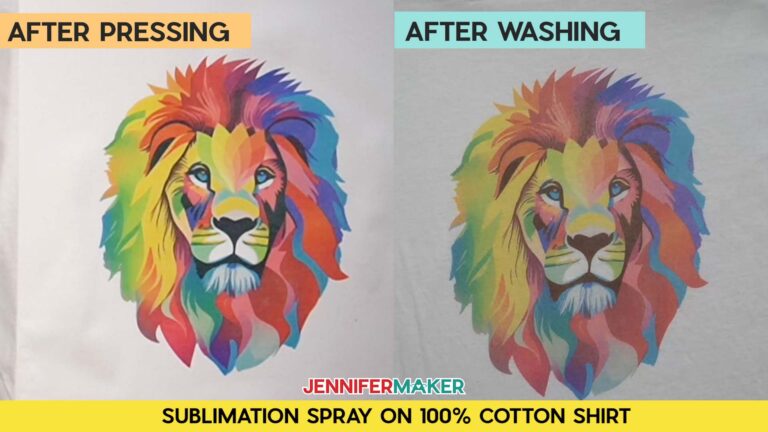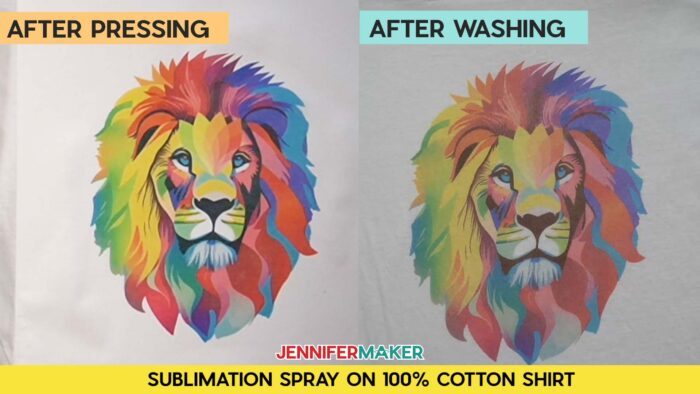 Hopefully this comparison helps you see the full range of options and results so you can make the best choices for your projects!
Sublimation T-Shirts I Tested
Sublimation Cookbook
If you're looking for a handy way to look up heat press times for your sublimation projects, the Sublimation Cookbook has handy "recipes" for over 150 sublimation projects! You never need to guess at what time, temperature, or pressure to use again, and it includes settings for all heat presses, too! Learn more at SublimationCookbook.com.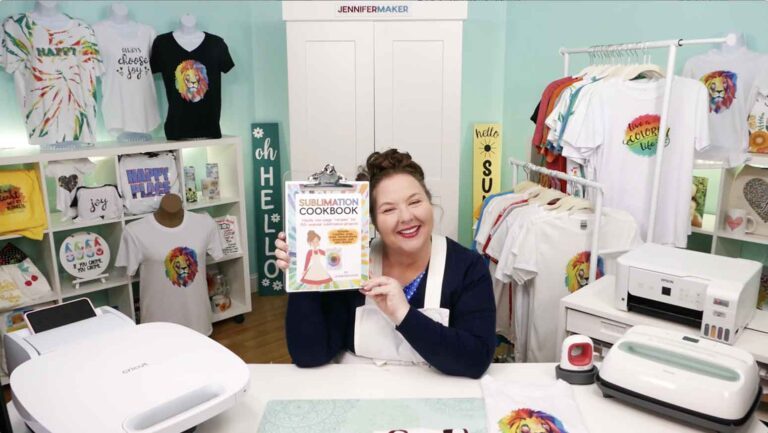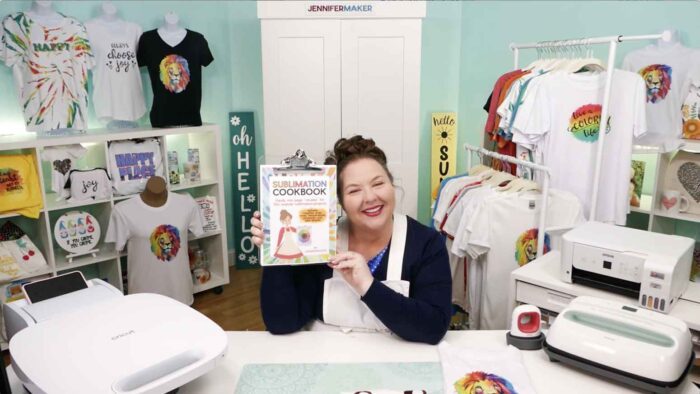 Questions About How Long to Heat Press Sublimation Shirt Styles:
Q. What is a sublimation T-shirt?
A: A sublimation T-shirt is made by heating dye sublimation ink to a gaseous state, which soaks into the fabric of the shirt, then cools back down into a solid state to create a permanent design.
Q. Can you sublimate on any T-shirt?
A: Technically yes, but you'll get the best results easiest with white polyester T-shirts, like ones from Cricut. You can use polyester blends, but the design may not be vibrant, especially after washing. And you can sublimate on dark shirts if you use darker ink or add a light colored substrate to it first, like white glitter vinyl. Remember that different types or shirts might use different temperatures or pressing times, so always check!
Q. Can I sublimate on a 100% cotton t-shirt?
A: Again, technically yes, but you might not like the result. The sublimation process needs polymer-based material to work perfectly, and cotton doesn't have any. As you can see from my tests, the printed image won't transfer as well and it will fade more with each wash. But if you add a substrate like the ones I tested, you can balance sublimation success and comfort!
Q. How many washes does sublimation last?
A: There are many variables, but if you use a mostly polyester shirt and follow my tips, your sublimation T-shirt should last as many wash cycles as the shirt itself!
Q. Do sublimation shirts fade?
A: Even the best sublimation T-shirts will eventually fade, just like clothing you'd buy at a store, even ones made with screen printing. But since the dye soaks into the fibers, sublimation images will last much, much longer than HTV decorations.
Q: What is the best temp and time for sublimation shirts?
A: You're in luck, because this tutorial tests over 20 T-shirts to find out how long to heat press a sublimation shirt for best results. The correct temperature and pressing time for a sublimation shirt varies according to the fiber content and materials you use. But remember, sublimation requires higher temperatures than a home iron can reach!
Q: How long do you press a sublimation transfer?
A: The pressing times for sublimation items varies, but my Sublimation Cookbook provides recipes and is a great starting point for your sublimation journey! Between this tutorial and my Sublimation Cookbook, you should be able to accurately gauge how long to press a sublimation shirt of any material or color!
Get my Sublimation Lion design (and many more) for free!
Sublimation Cookbook
Can't remember how long to press that sublimation blank? Not sure what order to stack your layers? Confused about how to get the best transfer? The Sublimation Cookbook guide can help, with step-by-step sublimation project recipes for over 150 different sublimation blanks. Each of these "recipes" show you exactly what to use, how long to press, how hot to press it, and how to take care of your sublimated project for long lasting results. Plus, it's the best way to help you avoid common sublimation problems before they arise!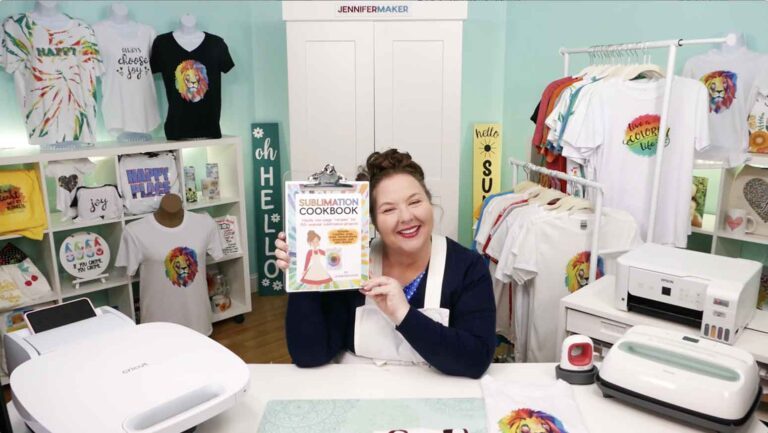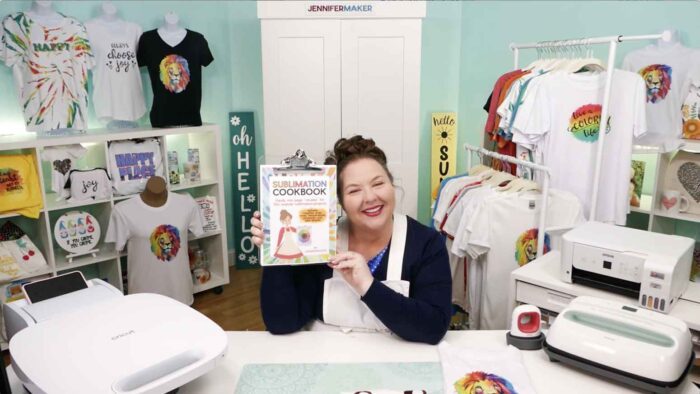 I also have a group just for sublimation crafting where you can get help and tips from other crafters who love to sublimate, too! Come join us at jennifermaker.com/sublimationgroup to ask questions (like how long to heat press a sublimation shirt other than the ones I've covered here), share ideas, and get inspired!! I'd love for you to post your sublimation T-shirts there, or tag me on social media with #jennifermaker.
Love,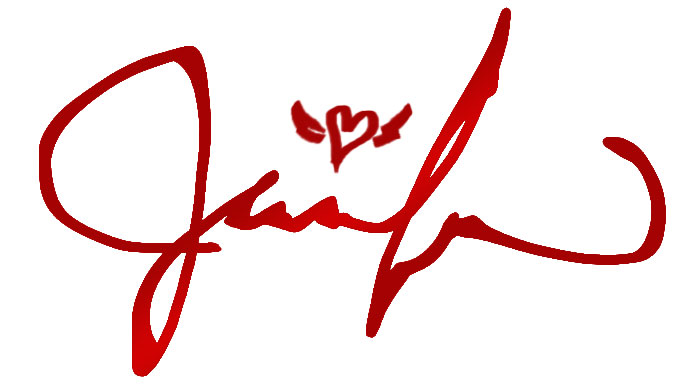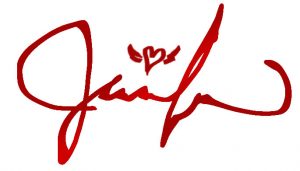 Want to remember this? Save this tutorial on How Long to Heat Press A Sublimation Shirt to your favorite Pinterest Board.