Learn how to sublimate clear HTV for new project options!

Sublimation has become one of my favorite ways to customize T-shirts. There are so many fun ways to do it! However, sublimation has its limitations. It requires a white or light-colored surface, made from (or coated with) polyester. Typically you can only sublimate on white shirts made out of at least 65% polyester. If you sublimate onto the wrong fabric, the dye will wash right out. How annoying is that!? And if you sublimate onto dark fabric, it won't show up, unless you try a method like bleaching for sublimation, which is super cool…but may not be the look you're going for. Luckily for you, I've found my new favorite way to sublimate onto 100% cotton shirts, AND dark fabric, too! Let's learn how to sublimate clear HTV using these colorful designs made with an AI art generator!
Want to save this project? Enter your email below and we'll send the project straight to your inbox.

This is a Cricut Mystery Box project — it uses the same blue LightGrip Machine Mat that you could have gotten in the "Game On" mystery box in July 2023. While this mystery box is no longer available, you can still purchase the mat below in my material list. Learn more in my Cricut Mystery Box Guide.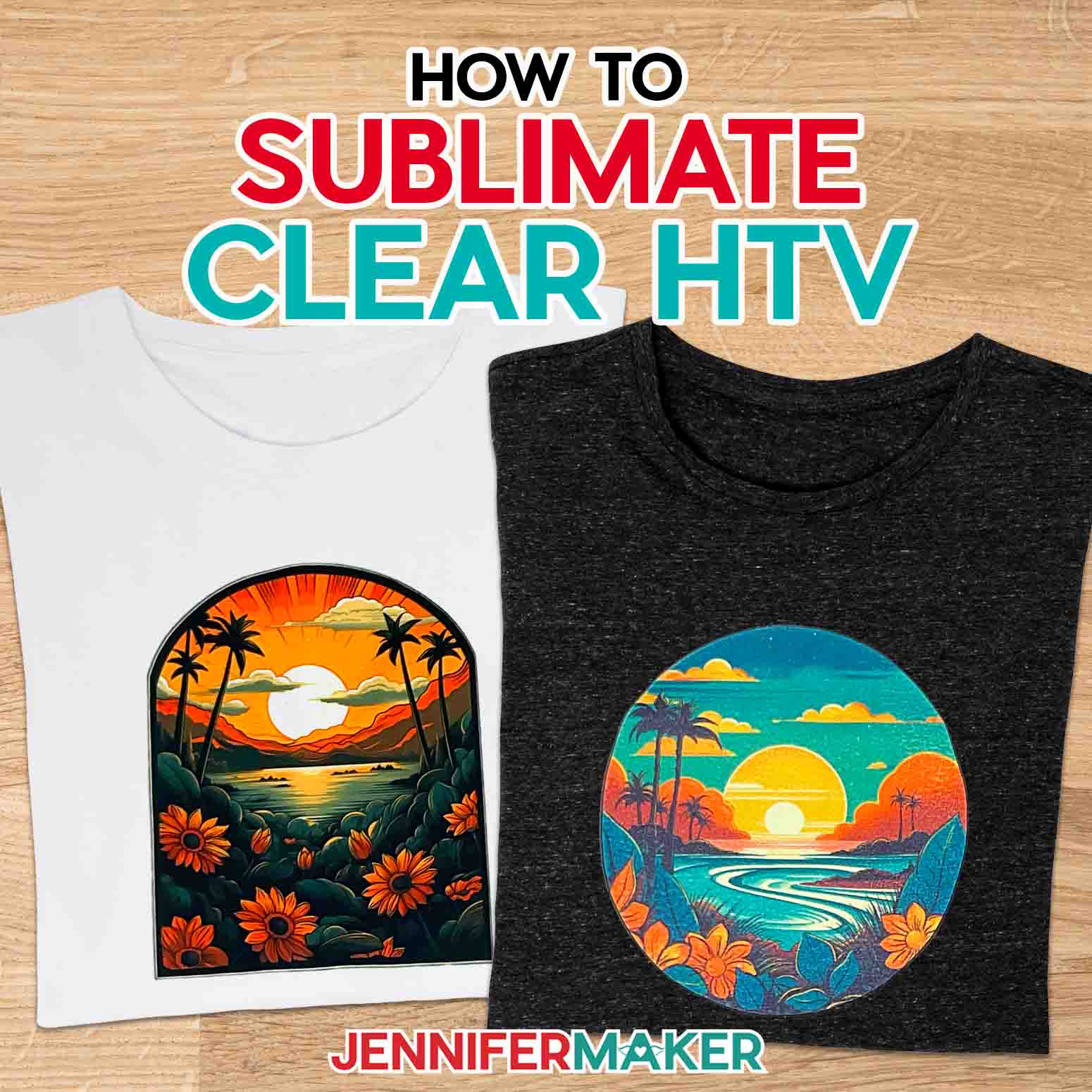 Sublimation involves heating sublimation dye until it reaches a gaseous state, where it's then infused into a polymer-coated surface. Sublimation dye is translucent, so while it's super vibrant, it doesn't show up very well on fabric other than light-colored garments made of mostly polyester.
There are workarounds out there for other materials and colored fabrics, including white sublimatable HTV which only just came out recently, after the original publication of this tutorial!
I've done SO many tests to find the best way to apply full-color designs to dark shirts and cotton shirts. The results of these tests were mixed, and while I found some solid techniques, some methods are lackluster at best.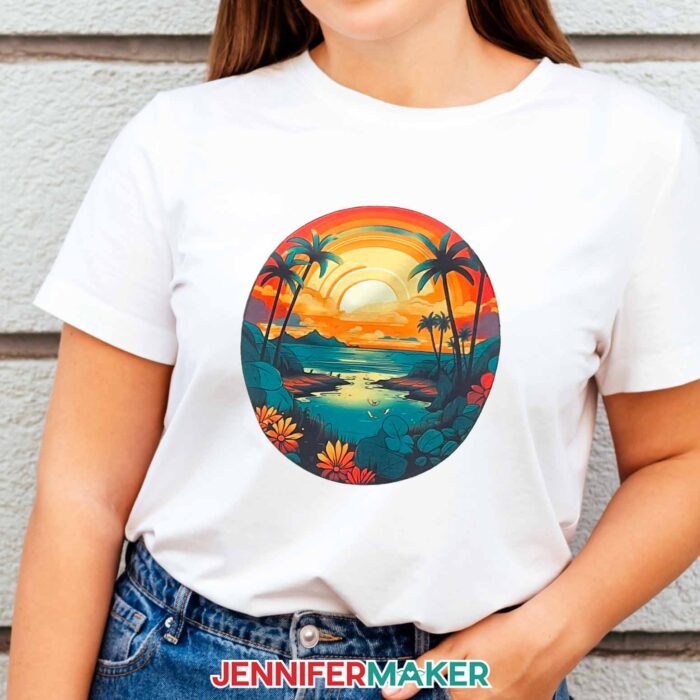 There are methods like printable heat-transfer vinyl that only require an inkjet printer, but I often find that the image will fade sooner than hoped for. I've tried Easy Subli too, which gives good results — but is kind of time-consuming, with lots of extra steps. Sublimation spray is fine in a pinch, but in my experience the image will fade the first time you wash the shirt.
Not all of my attempts at sublimating dark fabrics or cotton have been difficult or disappointing, though. While some of these tests have been a flop, others have actually yielded some really nice solutions to the problem. I've had lots of success sublimating glitter, holographic, and glow-in-the-dark vinyl. These gave great results — IF you want your image to be sparkly, holographic, or glow green when the lights go down.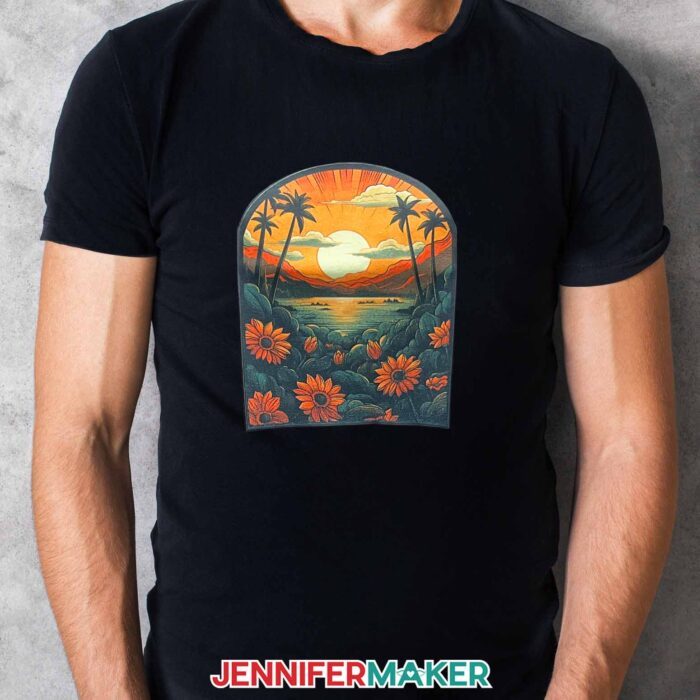 Why do these work when regular permanent vinyl doesn't? Because these specialty vinyls have a polymer coating on them, which can be sublimated! But what if you don't want to use glitter, holographic, or glow-in-the-dark vinyl, or printable vinyl?
Clear sublimation HTV is my favorite way to achieve this result on a non-polyester shirt. And I'm going to walk you through the whole preparation and sublimation process!
But how does sublimated clear HTV show up on a black shirt, when sublimation dyes are translucent? When we originally created this tutorial, white sublimation HTV wasn't available yet! So, how'd we achieve those vibrant colors you need to make our images look its best? We used this hack: A combination of the clear sublimation HTV and white iron-on vinyl. Spoiler alert: It worked great!
To follow this tutorial using cotton T-Shirts and clear sublimation HTV, you'll need regular white HTV if you're making a color shirt, as well as some standard sublimation supplies like a sublimation printer (I'll use my converted Epson Eco-Tank), a heat press (like a Cricut EasyPress 2, or another style), sublimation transfer paper, and other items you can find in my materials list. Follow my list so you can make sure to get the right products.
I'll also use my Cricut Maker 3 cutting machine to print then cut the sublimation paper, and cut the vinyl. Any of the Maker or Explore series Cricut cutting machines will work, because they have Print Then Cut capabilities.
If you've never used this kind of vinyl, don't worry! My tutorial will guide you through the whole process of how to sublimate clear HTV so you end up with an awesome result the first time.
Ready to learn how to sublimate clear HTV? This post contains some affiliate links for your convenience (which means if you make a purchase after clicking a link I will earn a small commission but it won't cost you a penny more)! Read my full disclosure policy.
Materials And Tools to Sublimate Clear HTV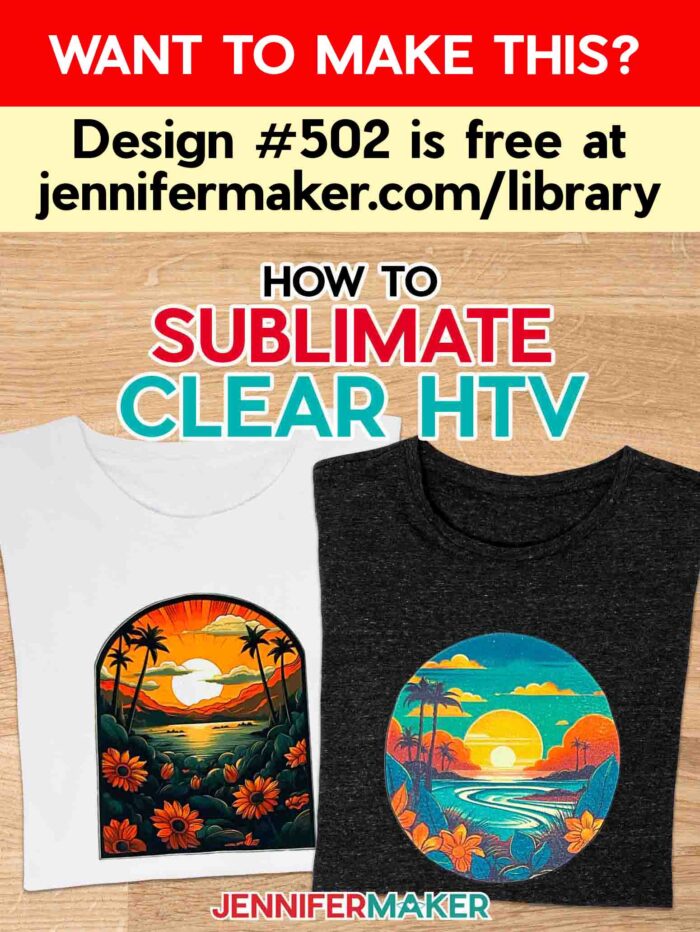 How to Sublimate Clear HTV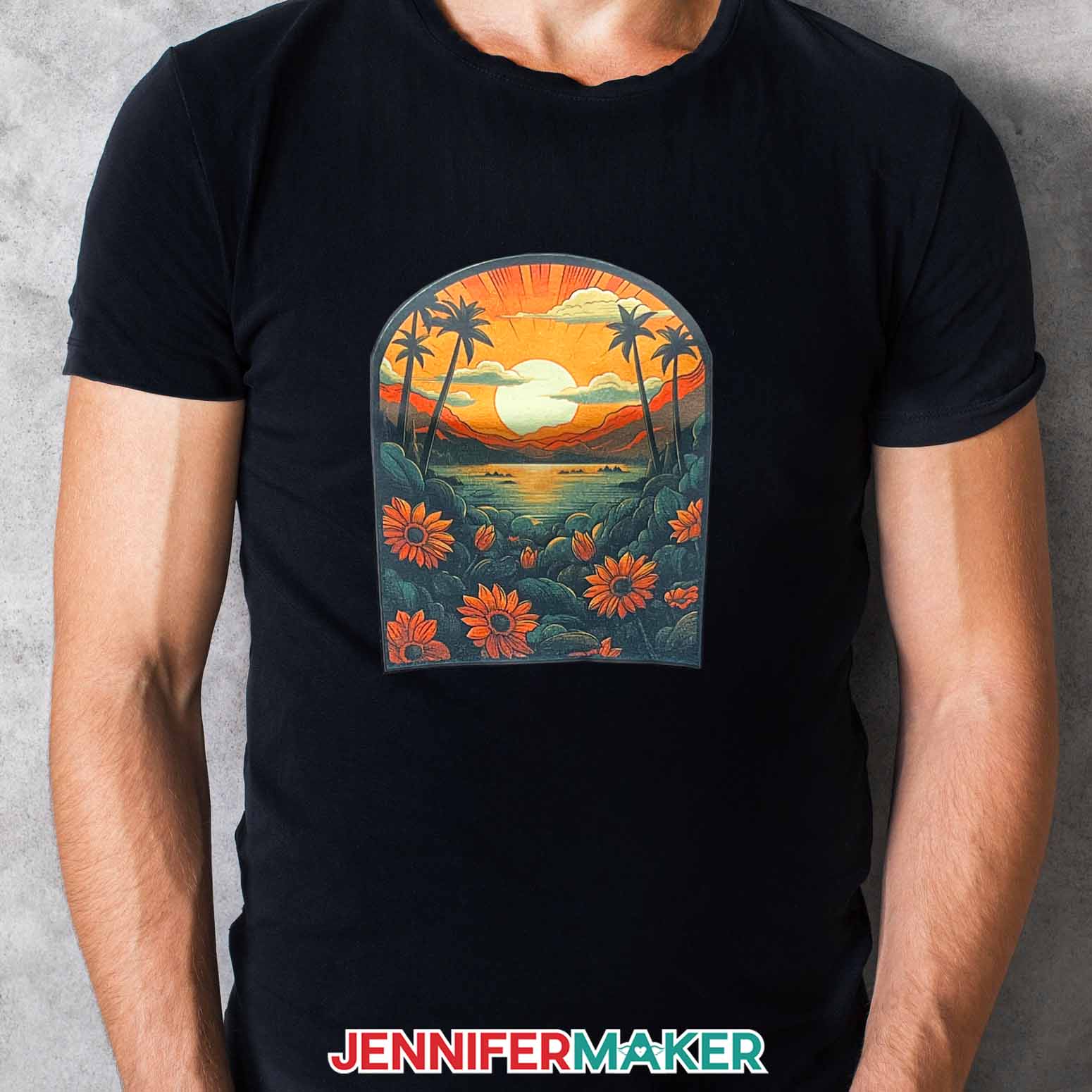 How to Sublimate Clear HTV
Additional Time:
10 minutes
Total Time:
1 hour
5 minutes
Learn how to sublimate clear HTV for use on 100% cotton t-shirts AND dark-colored shirts! We'll use Cricut Design Space's Print Then Cut feature along with clear HTV and white iron-on vinyl.
Answers to Your Questions About How to Sublimate Clear HTV
Q: Can you sublimate on clear HTV vinyl?
A: Yes and no. Let me explain! The clear heat transfer vinyl I used for this project is designed to be sublimated, and is often sold as "clear sublimation HTV", "sublimation vinyl", or "HTV for sublimation." Regular clear HTV vinyl isn't designed to accept sublimation dye, and will not work for sublimation projects.
Q: Can you sublimate on any clear vinyl?
A: Nope. See the question above, and remember that the only vinyl suitable for sublimation is clear sublimation HTV, white sublimation HTV, white glitter HTV, holographic HTV, and glow-in-the-dark HTV.
Q: What temperature is clear HTV?
A: When using an EasyPress, you'll want to press your clear HTV at 385° F (196° C) for 30 seconds to apply it to your shirt, and then sublimate at the same temperature for 55 seconds.
Q: What temp should my heat press be on for sublimation?
A: Each sublimation project will be different, but for THIS project you'll press your clear HTV at 385° F (196° C) for 30 seconds to apply it to your shirt, and then sublimate at the same temperature for 55 seconds.
Q: Why is my sublimation not bright?
A: If your sublimation is coming out looking faded or more dull than you expected, it may be due to your heat or time being off. I recommend sublimating your clear HTV for 55 seconds at 385° F (196° C).
Q: Is sublimation hot or cold peel?
A: While some sublimation is hot peel, most is cold. After sublimating the clear HTV, let the sublimation paper sit for 5-10 seconds before hot peeling. In regards to the vinyl, the clear sublimation HTV is cold peel. After applying the clear sublimation HTV you should let it cool completely before attempting to peel away the carrier sheet. The white iron-on vinyl, however, is hot peel in this project (but not usually). Remember that sometimes we use materials differently based on the project!
Q: How do you make sublimation not fade?
A: Even the best sublimation T-shirts on white polyester fabrics will eventually fade a little bit. To keep the sublimation image on your shirt looking nice and vibrant, turn your shirts inside out before washing them. That way, the front of the shirt won't rub against other things in the machine. Use warm or cold water and a mild detergent to keep the design vibrant, and don't wash them with a lot of other colors. Gentle cycle is best. Take your sublimated shirts out of the wash right when they're done — you don't want them sitting crumpled up and wet. Hang dry or use a dryer set to air dry or low heat. The main reason is to not expose your sublimation shirts to super high heat again, as the ink might sublimate out. Most dryers won't get that hot on a normal setting, but the heat can still accelerate fading, as well as wear on the vinyl itself — so hanging dry is always a good idea.
Q: What kind of paper should I use?
A: While some people will use just regular laser paper, I really recommend you use special sublimation paper for the best and most vibrant results and ink transfer. I used A-SUB paper during my tests.
Q: What kind of ink should I use?
A: You must use special sublimation ink — a regular inkjet printer using regular printer ink will not work for sublimation. My favorite sublimation ink is Hiipoo Ink. If you ever have issues with your colors or print quality, check out my helpful post to help solve your sublimation color problems.
Q: How do I test my sublimation prints for vibrancy and color?
A: Use my free subliflower designto see how your colors look!It's Design #385 in my resource library!
Q: How can I learn more about sublimation?
A: Can't remember how long to press that sublimation blank? Not sure what order to stack your layers? Confused about how to get the best transfer? The Sublimation Cookbookguide can help, with step-by-step sublimation printing project recipes for over 150 different sublimation blanks. Each of these "recipes" show you exactly what to use, how long to press, how hot to press it, and how to take care of your sublimated project for long lasting results.
Get my free PNG files to Sublimate Clear HTV

Now that you know how to sublimate clear HTV, I'd love to see YOUR awesome sublimation creations. Please share them with me! You can post a photo in our Facebook group or tag me on social media with #jennifermaker.
Love,