Learn all about the Glowforge Aura, the new affordable craft laser cutter, engraver, and scoring machine!
Greg and I have been Glowforge PRO owners and users for many years now. We've made many things on our Glowforge, everything from acrylic projects like the engraved plaques we showed you how to color last year as well as wood projects like this Tree of Life plaque. We've been REALLY wanting to teach you how to do laser engraving and cutting for a long time now, but we felt the price of the Glowforge Pro made it a little tough for most people. Which is why the new Glowforge Aura craft laser is so exciting — it's WAY less money than the Glowforge Pro. So, many more of you will be able to get an Aura IF you want one. This ultimate guide will help you decide if the Glowforge Aura is right for you!
Want to save this guide? Enter your email below and we'll send the link straight to your inbox.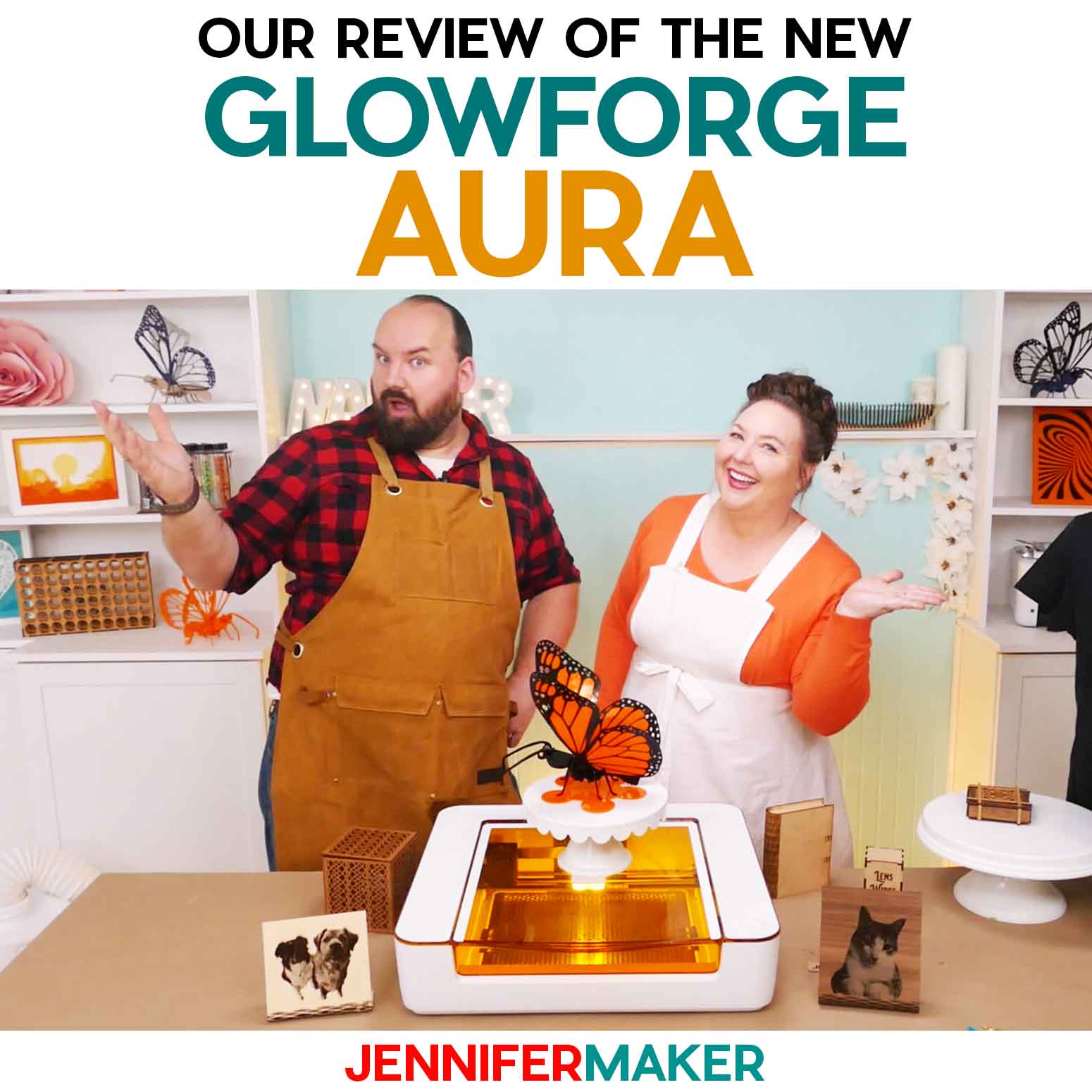 Check out our new Glowforge Aura review video as we give you a first look at the new craft laser cutter and engraver, including all the cool things it can cut, how it compares to the Glowforge Pro, and three free laser cutter designs!
This post is a work in progress — check back later as we add more information to it!
Honest Review of the Glowforge Aura
Please know that we always buy our own tools and materials. And that includes the Glowforge Aura. While Glowforge generously offered to gift us the Aura to review (thank you, Glowforge!), we insisted on paying for it so we can give you a completely honest and unbiased review. So this is NOT a sponsored review and we're going to share all the things we like and dislike about the Glowforge Aura!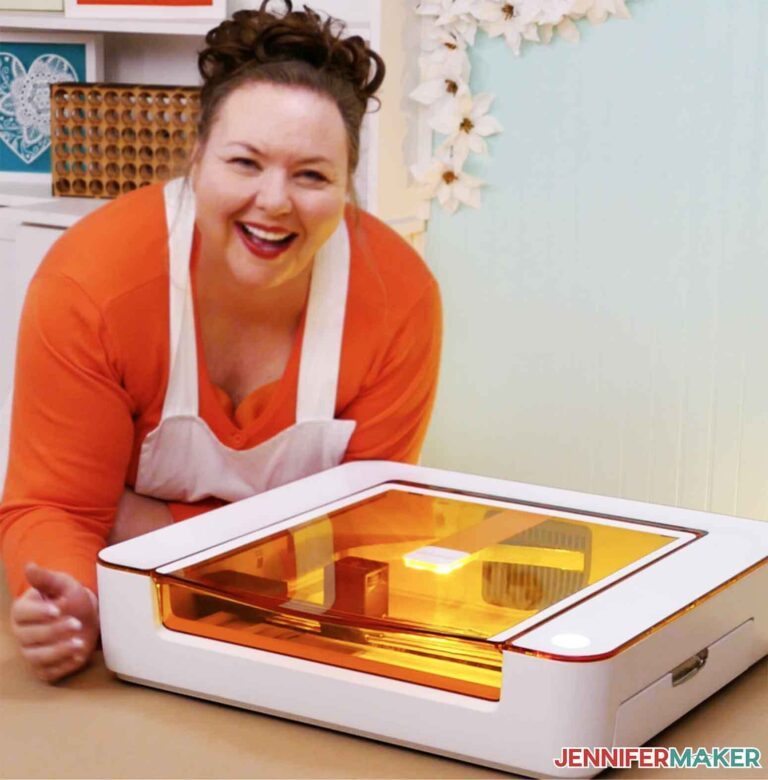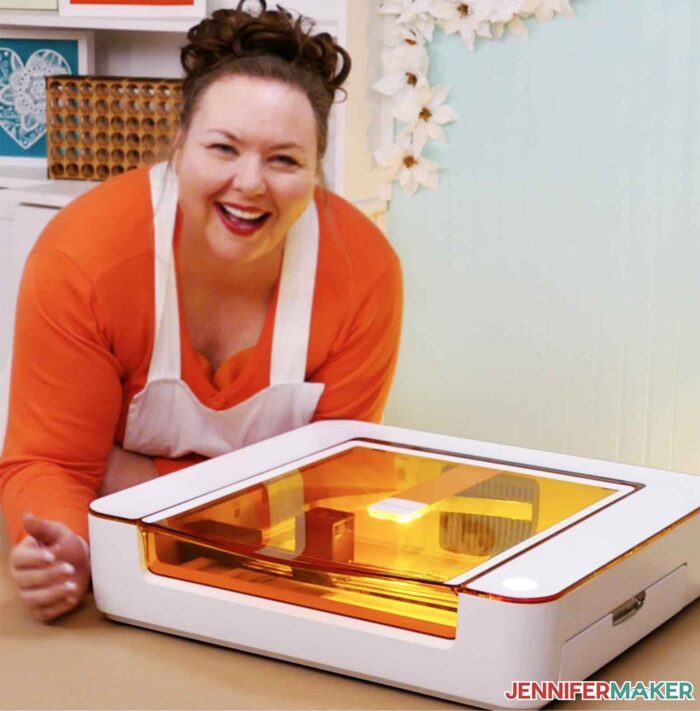 Our Favorite Feature
The best thing about the Glowforge Aura is how easy and user-friendly it is. It isn't scary or intimidating like the bigger lasers. It's really pretty plug and play. Setup is easy, and Glowforge has its own software that makes designing projects and operating the machine simple. The Aura's ease of use is a HUGE plus in my opinion!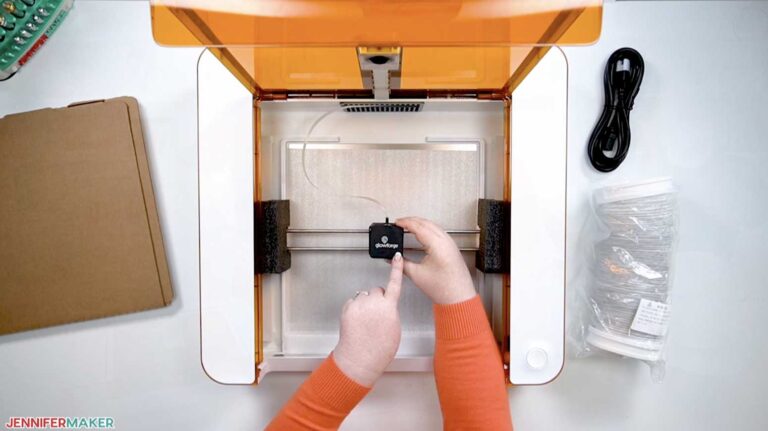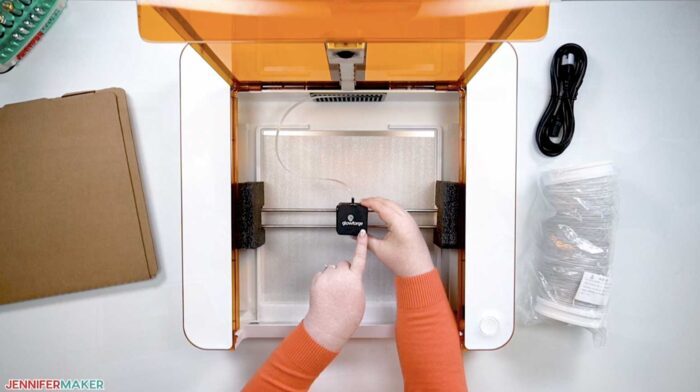 Materials Are Easy!
It's really easy to choose and use materials because Glowforge has its own line of materials, which they call Proofgrade Materials. We've been using these for years now and they are very high quality, reliable, and great looking materials like solid wood, plywood, leather, and acrylic, all of which the Glowforge Aura craft laser can cut. And one of my favorite things about their materials is the QR code they put on all their Proofgrade materials.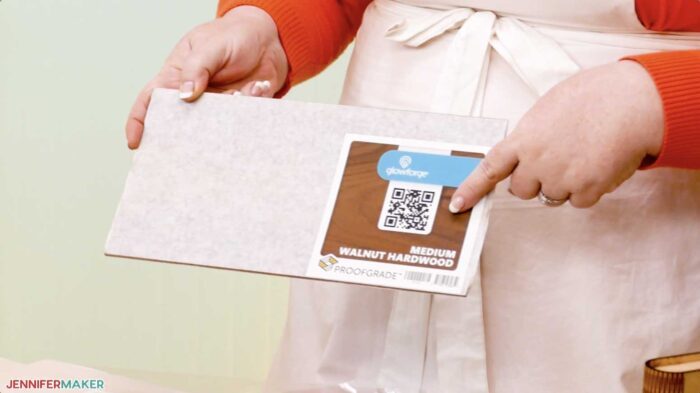 The Glowforge reads this QR code using a built-in 8 megapixel camera called "Aura-Vision" and tells the Glowforge app to pick the correct settings to match! It really makes it SUPER easy.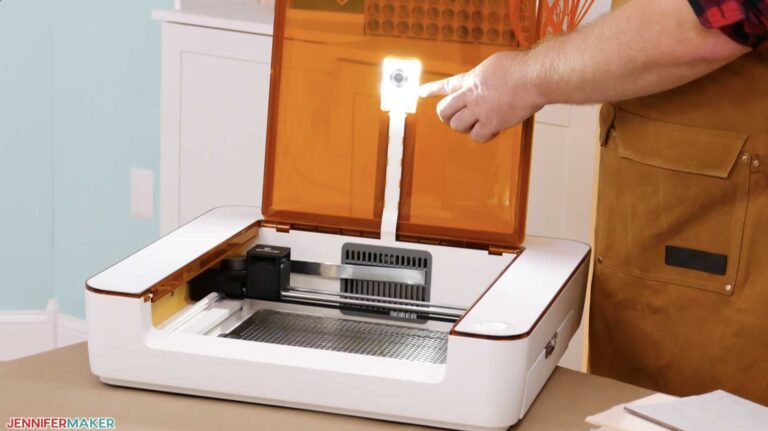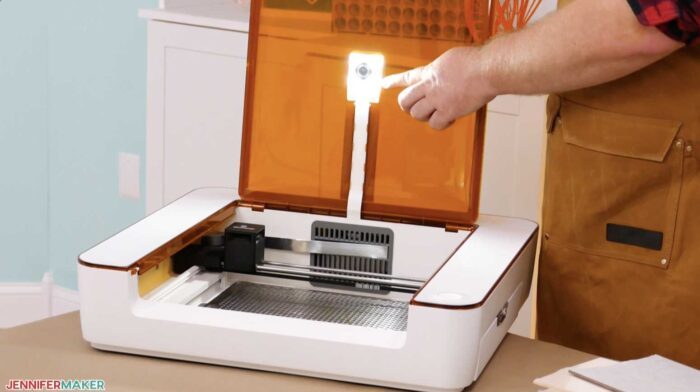 What Can You Cut on the Glowforge Aura?
You can CUT a bunch of materials that are a lot thicker than you may be used to if you mostly use cutting machines like a Cricut. Typically, you can expect to cut up to 1/8″ (3mm) thick wood, acrylic, and leather with the Aura. We cut this simple "tree of life" family tree on the Glowforge Aura from 1/8″ Cherry Plywood — isn't it beautiful?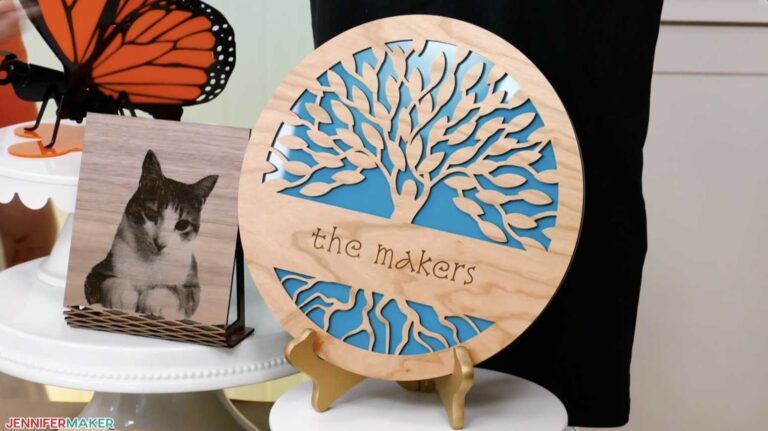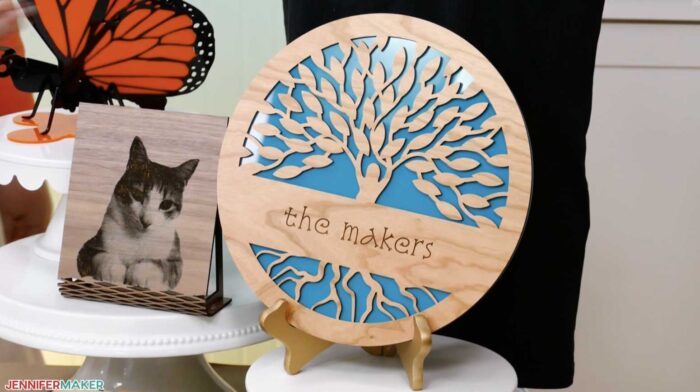 It's also possible to cut softer materials, such as foam, up to 1/4″ thick. You can even cut more delicate things like cardstock and iron-on vinyl, though a cutting machine will be faster. Still, I'm really excited, because other Glowforges can't cut iron-on vinyl, but they've developed material that works beautifully with the diode laser!
And you can cut dark and opaque acrylics. We designed this 3D monarch butterfly and cut it out of just one sheet of black and orange Proofgrade acrylic. Isn't it amazing?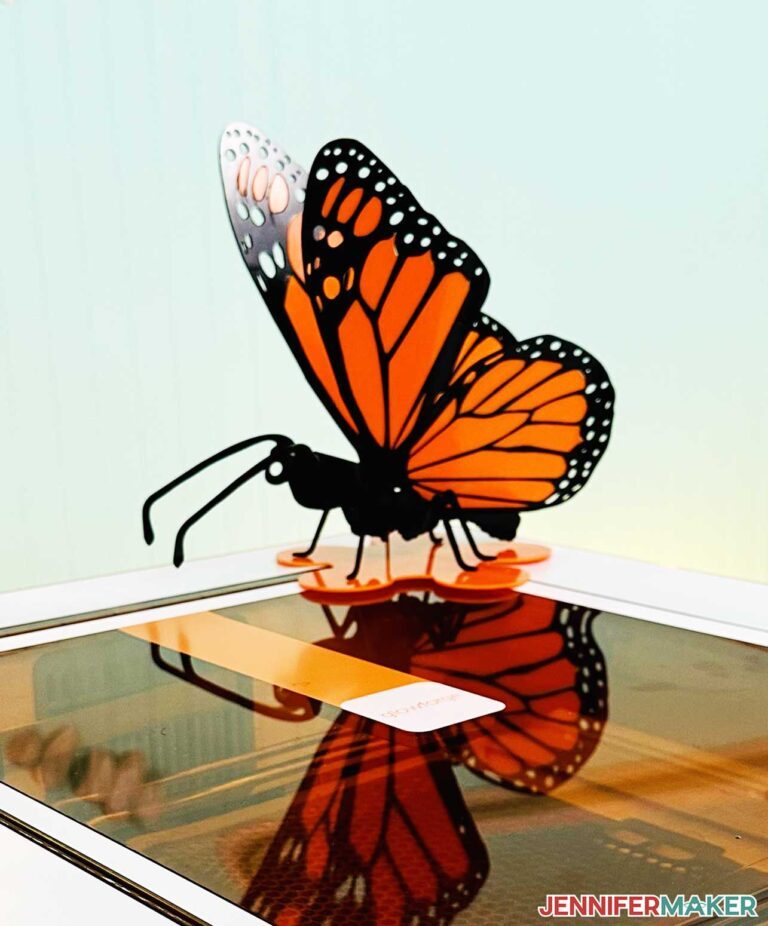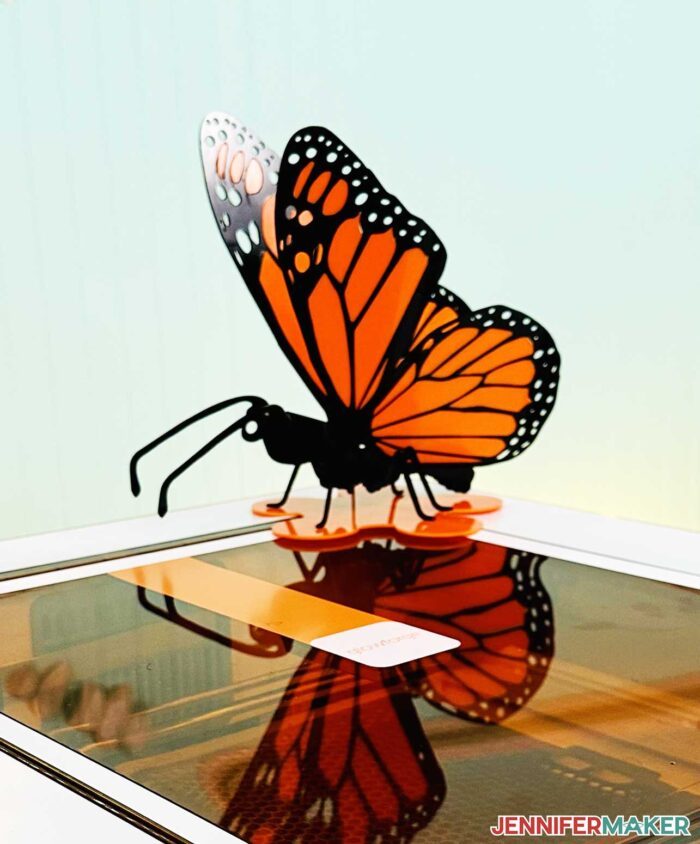 You can get my monarch butterfly laser SVG design totally free in my library under design #515.
Also, you can use non-Glowforge materials. They just need to be "laser-safe" or "laser-compatible" and 3mm (or less) if you want to cut them (unless it's like foam or something).
You Can Also Engrave and Score!
I made this leather patch with faux stitching so it looks like it was embroidered and sewn onto something, but really the Glowforge Aura did all that detail work. The letters on this patch are another cool thing you can do with the Glowforge laser cutter: engraving!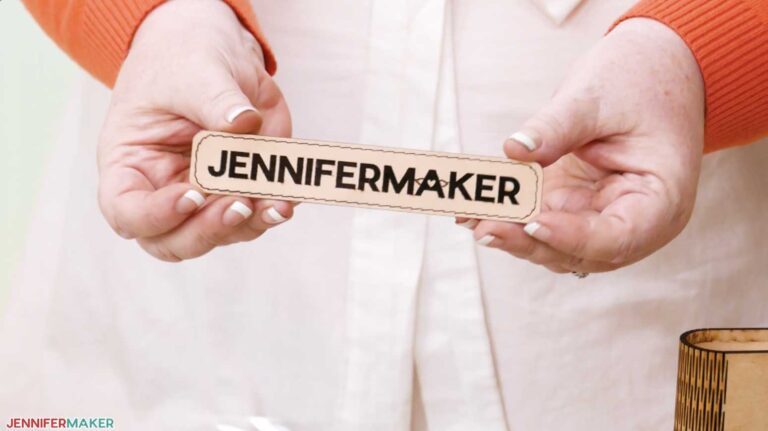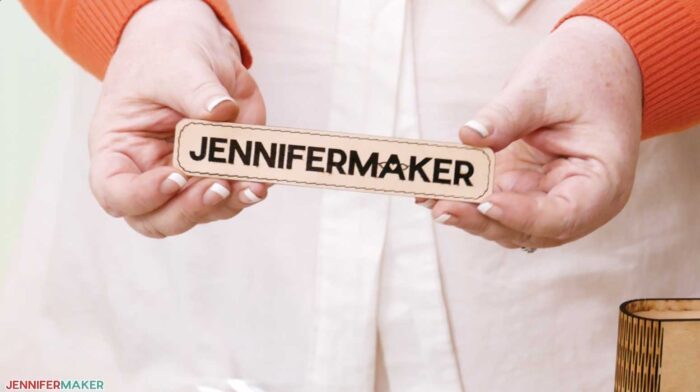 Check out this awesome photo frame I designed! I engraved our cat Butterscotch's cute face on Light Proofgrade Plywood compatible with the Aura — which is about 1/8″ thick — and cut it out, all with the Glowforge Aura craft laser.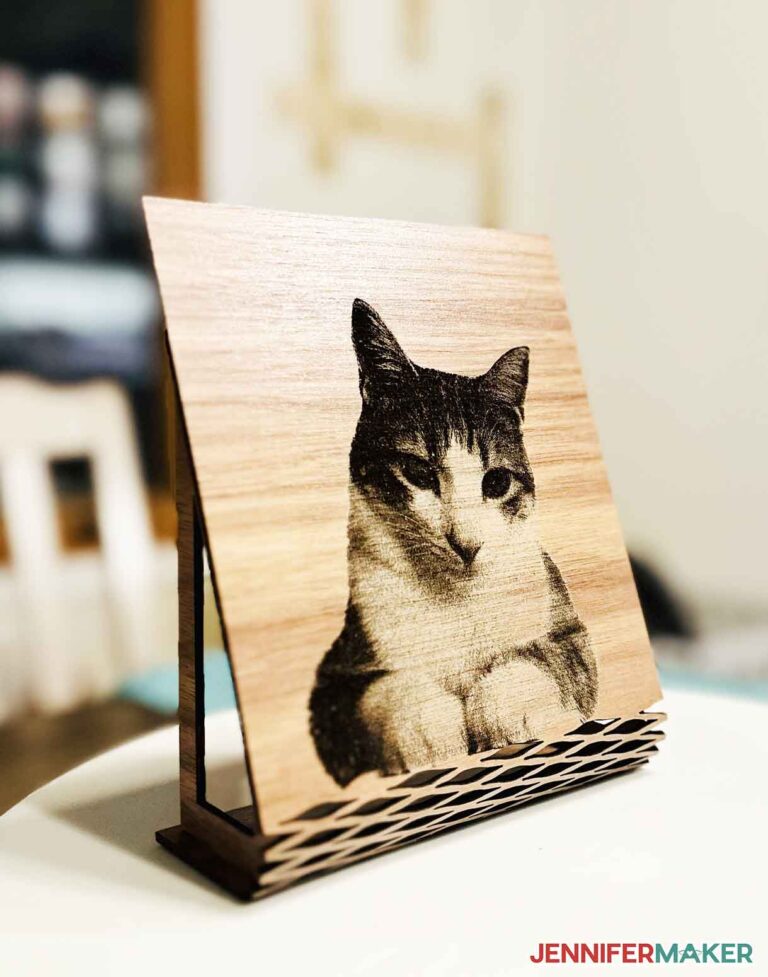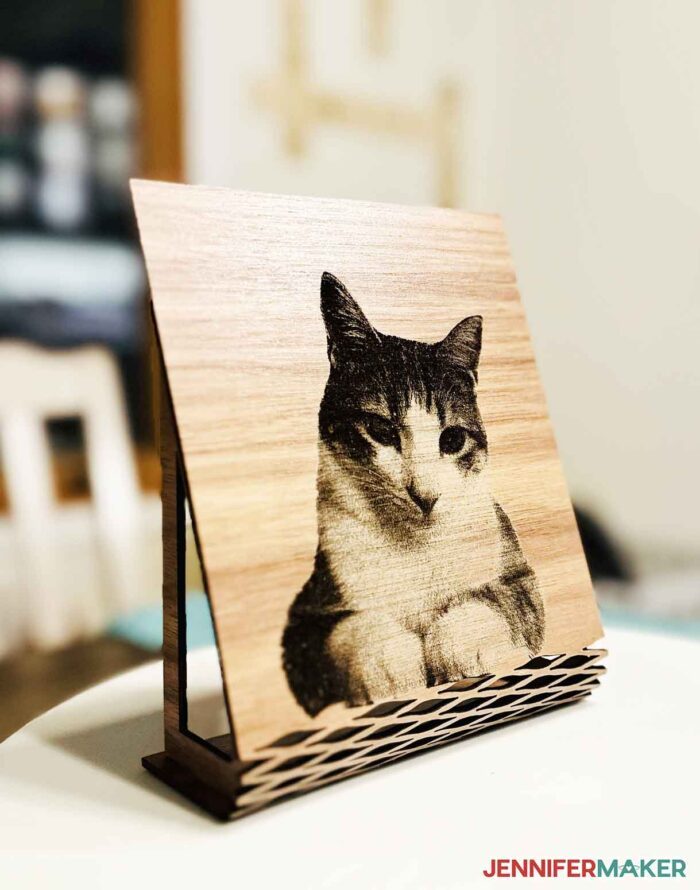 The detail is amazing — you can see the tiny hairs on him! And it was so easy to do — I just uploaded the frame design and photo to the Glowforge app, positioned them, and then sent it to the Glowforge Aura to laser cut and engrave.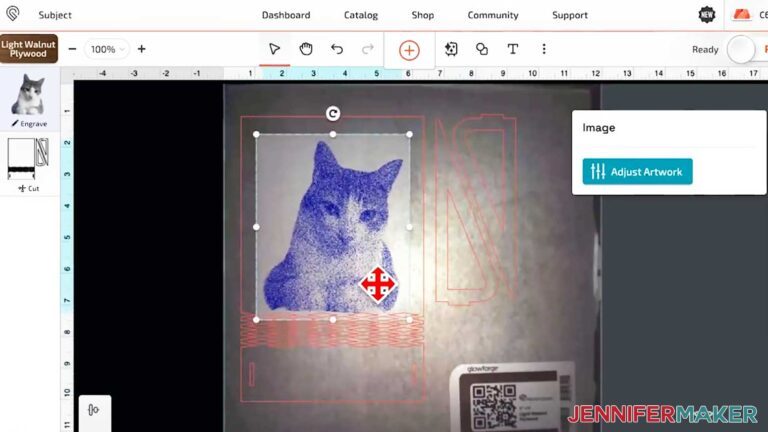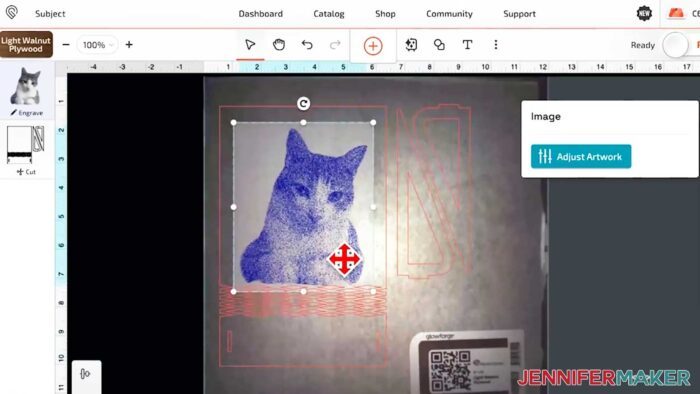 This frame is designed with a honeycomb "kerf" pattern on the bottom so you can bend the wood into a stand — so cool! You can get this design for free in my library under #515.
Glowforge Aura Specifications
You can cut materials up to 1/4″ thick and 12″ x 12″ in area with the Glowforge Aura craft laser giving you 144 square inches of design space. If you use the pass through feature, you can even use larger pieces of material. And if you remove the cutting tray, you can engrave materials that are up to 3/4″ thick!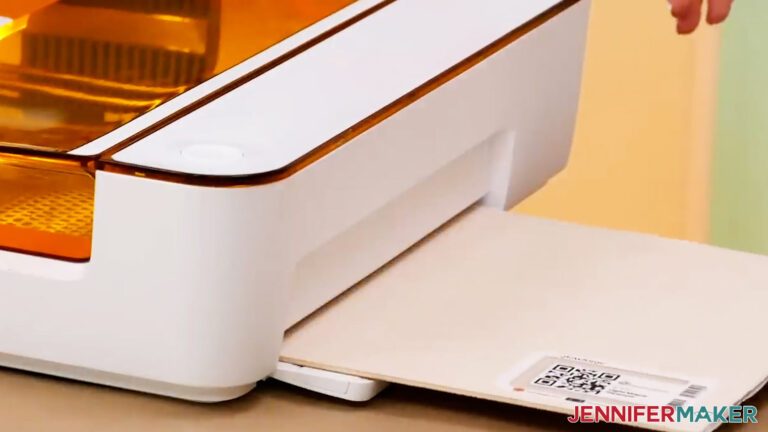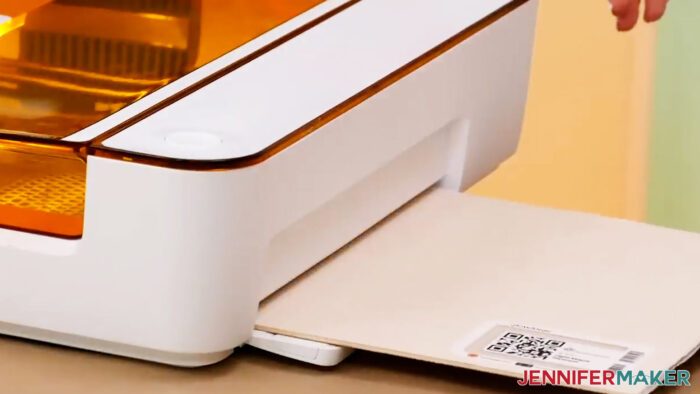 Another thing I like about the Aura is its relatively small footprint. It's about 22″ x 20.5″ and 5″ tall, so it fits on most crafting tables. And, it only weights 19 lbs!
The Aura is a Class 1 laser product with an embedded Class 4 laser. It uses 6000 milliwatts (6 watts or 6W) at its peak. It won't send your electricity bill through the roof!
Safety Features of the Glowforge Aura Craft Laser
We also really love some of the new safety measures Glowforge has introduced with the Aura. Instead of wearing safety glasses to protect your vision from the beam of light, the machine's cover is made from protective material.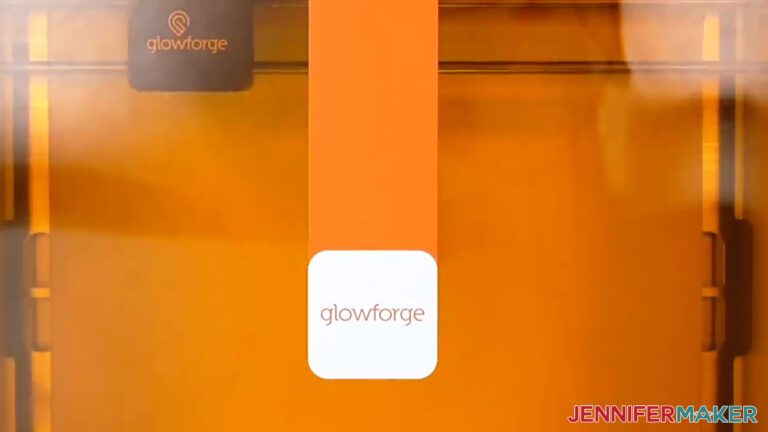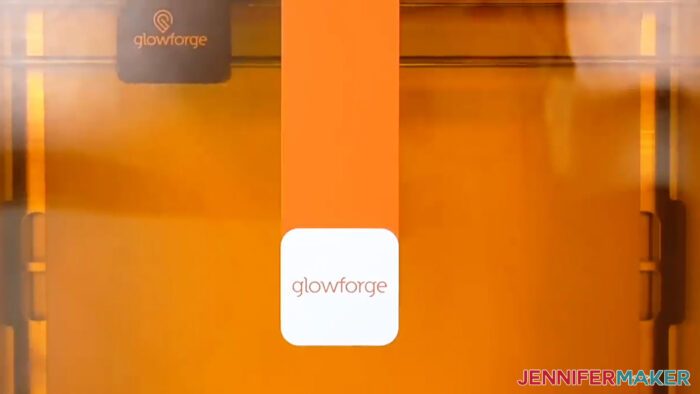 Also, there is a new air filter that really helps with ventilation. Glowforge's Aura personal filter is smaller than the one we use with our larger Glowforge Pro, but it's super efficient and works perfectly! It uses dual HEPA-grade, activated-carbon gas filters to trap 99.9%+ of particles from your projects. And the replaceable cartridges will keep you safe for up to 100 hours of operation.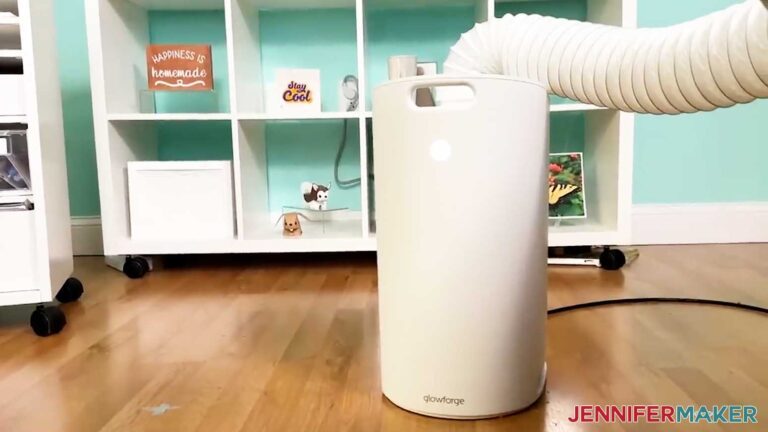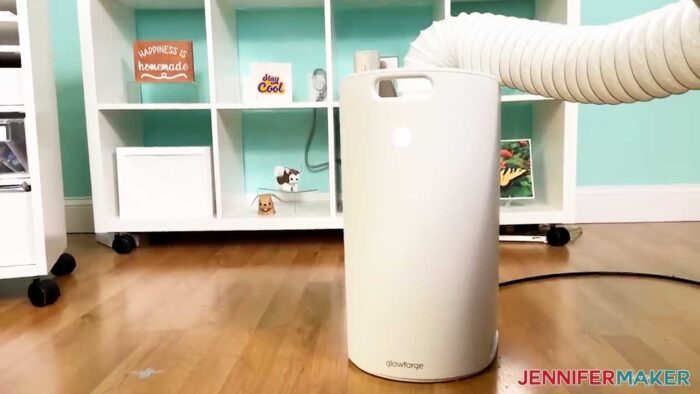 You can still vent the Aura out a window using the included hose, but I do recommend the optional personal filter if it's within your budget.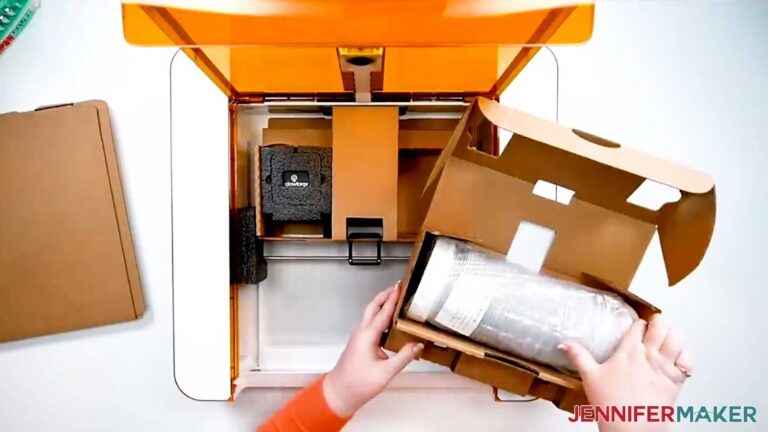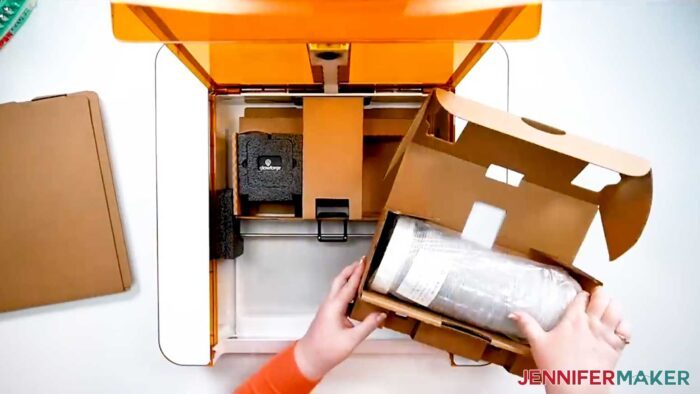 Note: While the Aura is a safe machine, you should never leave a laser cutter unattended while it's running. Stay nearby and check the progress often in case an issue comes up. This is when the slower speed can be a concern.
What Can I Make With A Glowforge Aura Craft Laser?
Check back soon for a list of my free projects that are compatible with the Glowforge Aura!
What Comes With the Glowforge Aura?
The Aura comes with a power cord and manual. Additional materials and the Personal Filter are available separately.
Answers to Your Questions About the Glowforge Aura Craft Laser:
Q: What is the maximum size the Glowforge Aura can cut and engrave?
A: The largest size is effectively 11.5″ x 11.5. Note that you can put longer materials in through the pass-through slot, however.
Q: Where can I buy a Glowforge Aura?
A: At the launch, the Glowforge Aura will be available from Michaels, Joann, and the Home Shopping Network HSN (with flex pay!). It will be available from the Glowforge shop later in 2023. Click here to buy a Glowforge Aura once it becomes available.
Q: How much is the Glowforge Aura?
A: At the launch, the Glowforge Aura retails for $1,199 USD. Although it's not the cheapest laser cutter, that is a fair price point for the machine's capabilities in my opinion.
Q: How much is the personal filter for the Glowforge Aura craft laser?
A: At the launch the personal filter is $399 and available from HSN, Joann, or Michaels. Each offer free shipping!
Q: What type of laser does Glowforge use?
A: The Glowforge Aura uses a diode laser while the Glowforge Pro and Glowforge Plus use CO2 lasers. Other than the size, that is one of the main things that is different between the models.
Q: Can you laser engrave with Glowforge?
A: Yes, the Glowforge Aura laser can engrave many materials, even though the powerful laser isn't the same as the one from the Glowforge Pro or Glowforge Plus. It really is a revolutionary craft laser for those looking at a consumer-grade laser cutter.
Q: What is the Glowforge Magic Canvas?
A: If you have a premium subscription, you can use the AI tool, Magic Canvas, to make really beautiful things with the push of a button. With practice, Magic Canvas transforms your ideas into physical products. I'll share more about the Magic Canvas functionality soon!
Q: Will Greg be in more of your laser crafting videos?
A: Good news: yes! My partner, Greg (an avid crafter, has used tons of different laser cutters and has more experience with them than I do, although I'm learning more every day! I'm excited to work with him on our new laser crafting series! He uses the original Glowforge machines in many different ways, but is very impressed with the Aura so far!
Q: Will you still have Cricut and Sublimation tutorials?
A: Yes! I'm thrilled to explore laser crafting and teach you everything I know, but this will be in addition to our free Cricut and sublimation content.
Q: What photo file types can I use with Glowforge software?
A: You can use JPGs and PNGs for photo projects, but not PDFs.
Q: Is there a monthly fee for Glowforge?
A: The basic Glowforge software is free, but there is a Premium subscription available with more features.
Q: What materials can I use with the Glowforge Aura craft laser?
A: At the time of launch, Glowforge recommends the following for use with the Aura:
Proofgrade Thin ECO Acrylic in black, red, green, orange, purple, and teal
Thin Natural Leather
Glowforge's Iron On (made in partnership with 3M) in black, white, or mixed packs and shimmer packs
Light Plywood in Walnut, Cherry, and Maple
Veneer in Walnut, Cherry, or Maple
Medium Walnut Hardwood
Glowforge also says you can use other types of iron on, peel and stick, and leather that fits under the roller bar for your operation that is labeled "laser safe," "laser ready," or "laser compatible." You can also use colored opaque acrylic and light plywood.
The Aura is not intended for use with:
Clear or translucent acrylic due to the diode laser's wavelength
Chromium-based items, such as some leather and faux leather
Carbon-based items like carbon fibers
Polytetrafluoroethylenes (PTFE) or Teflon-based items
Polyvinyl chloride (PVC)
Polyvinyl butyrale (PVB)
Beryllium oxide
Get my free designs to make laser cut projects!
As always, I'd love to see your new Glowforge Aura machine projects! I know you'll create some gorgeous things. Please share your ideas and photos in our laser crafters Facebook group or tag me on social media with #jennifermaker.
Love,