Learn how to make faux-etched wine glasses with frosted vinyl for glass!

Don't get me wrong, I love real etched glass. We all know that etching cream is magical and can give some really beautiful results. But it's a pretty messy process with a slew of safety concerns — which is kind of a buzzkill when you're just wanting to whip up a few cute glasses. You've all loved my wine glass projects in the past (especially this glitter one!), but I think this faux etching with frosted vinyl for glass is my favorite! But why?
Want to save this project? Enter your email below and we'll send the project straight to your inbox.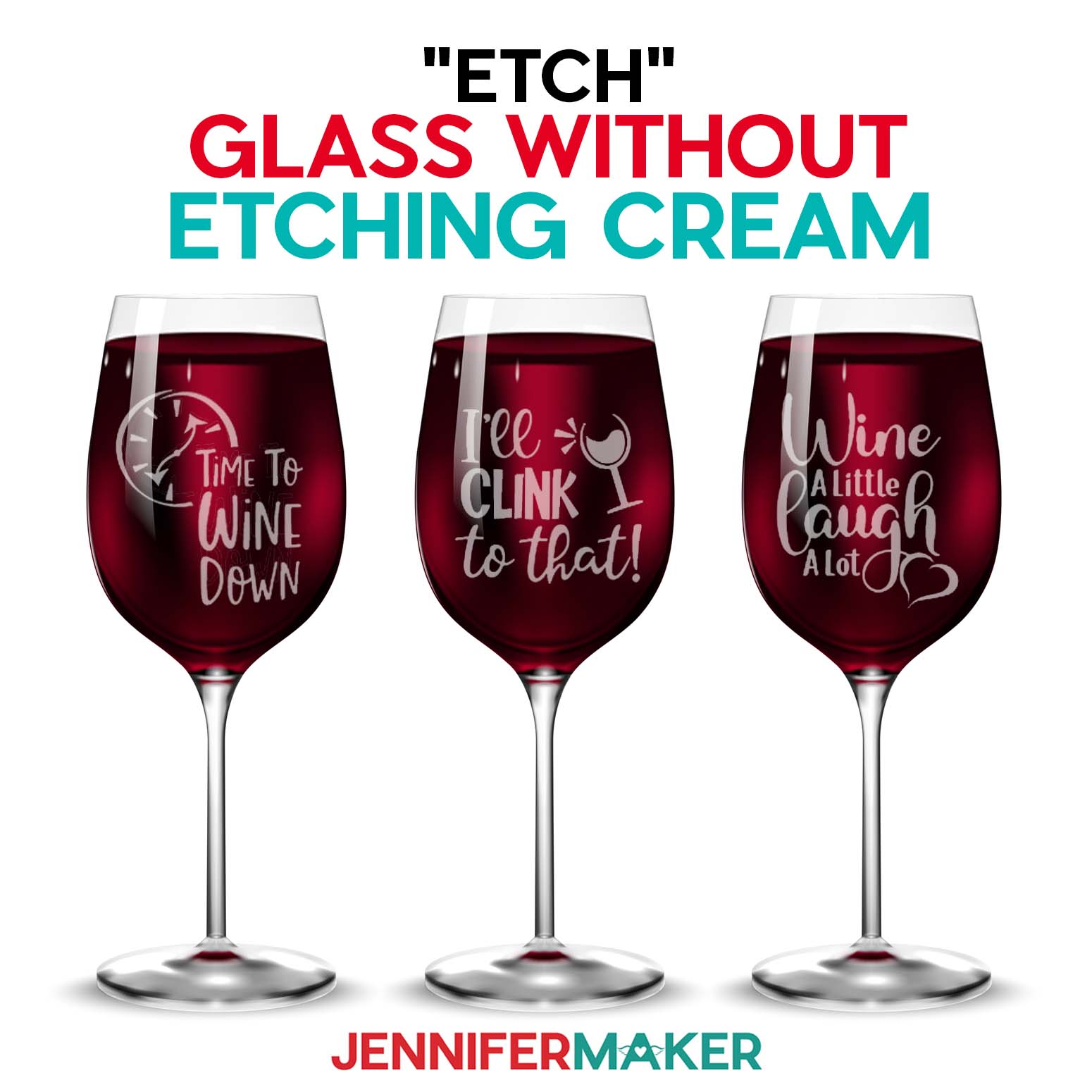 This is a Cricut Mystery Box project — it uses the Frosted Permanent Vinyl from the Mixed Materials, Enchanted Forest that you can get in the "Happy Camper" mystery box (affiliate link) that came out June 27, 2023. Even if the mystery box is not available when you check, you can still purchase the individual vinyls, which are all linked below in my material list. Learn more about Cricut Mystery Boxes and their contents in my Cricut Mystery Box Guide.
While glass etching can be a big task, especially if you just want to whip up a few decorated wine glasses in a short amount of time, the frosted vinyl way is so easy. It's a great way to create a beautiful gift or to celebrate a special occasion, and only takes just a few minutes to make!
I'll walk you through the whole process, including my best tips for perfect application on a curved glass surface. And unlike a real glass etching project, you don't need ventilation, gloves, or a respirator! Nice, huh?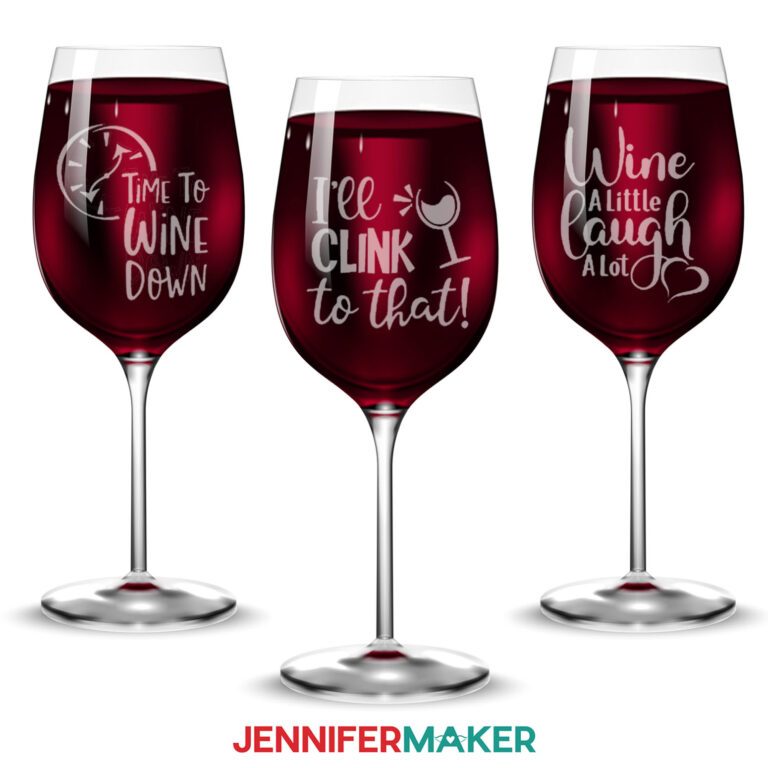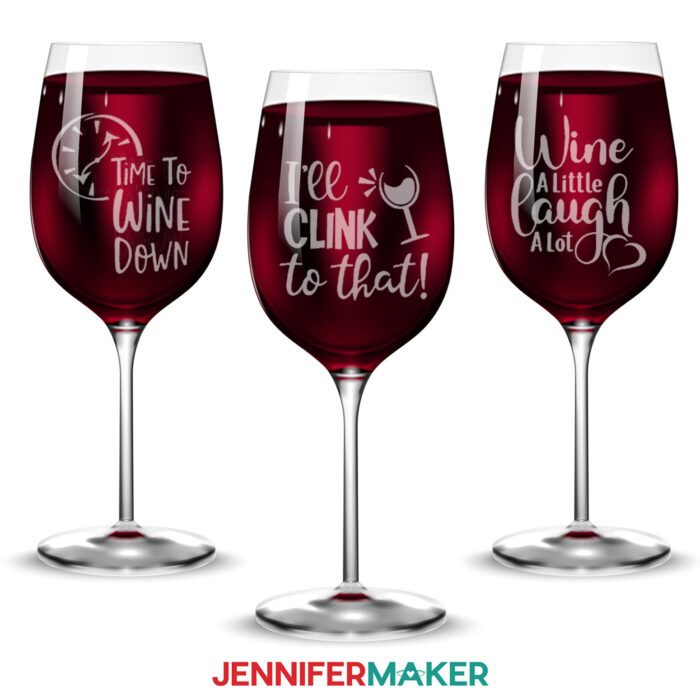 I've got three cute wine glass design options to share with you, or you can use or make your own. Just be sure that your design can be sized small enough to cut on your Cricut. I'll use my Cricut Maker 3, but you can even use the Cricut Joy, which I love to use for little projects like this.
You only need a few key materials and tools to get this project done and ready for some bubbly. I used 12oz stemmed wine glasses, but you can use any kind of glass you like. You'll also need some Cricut Frosted Vinyl, some StrongGrip transfer tape, and some cinnamon.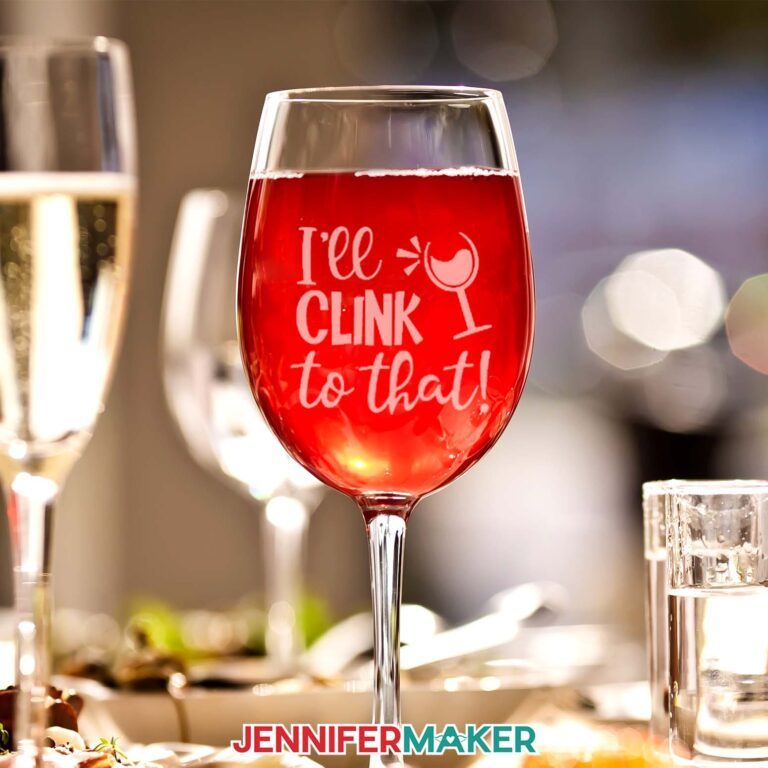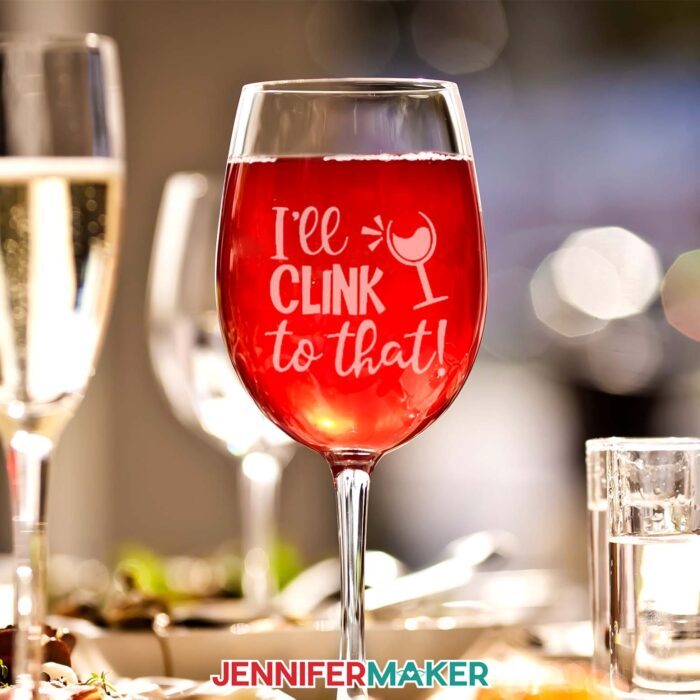 No, I'm not just checking if you're paying attention. I bet you're thinking, "Jennifer, you've had some pretty crazy crafting ideas, but what's with the cinnamon?" You'll just have to watch the tutorial to see!
Aside from a few more items you can find in the materials list, you're ready to make some fun faux etched wine glasses with awesome frosted vinyl for glass!
Ready to learn how to make wine glasses with frosted vinyl for glass? This post contains some affiliate links for your convenience (which means if you make a purchase after clicking a link I will earn a small commission but it won't cost you a penny more)! Read my full disclosure policy.
Materials And Tools to Make Wine Glasses with Frosted Vinyl for Glass
How to Use Frosted Vinyl for Glass to Make Faux Etched Wine Glasses!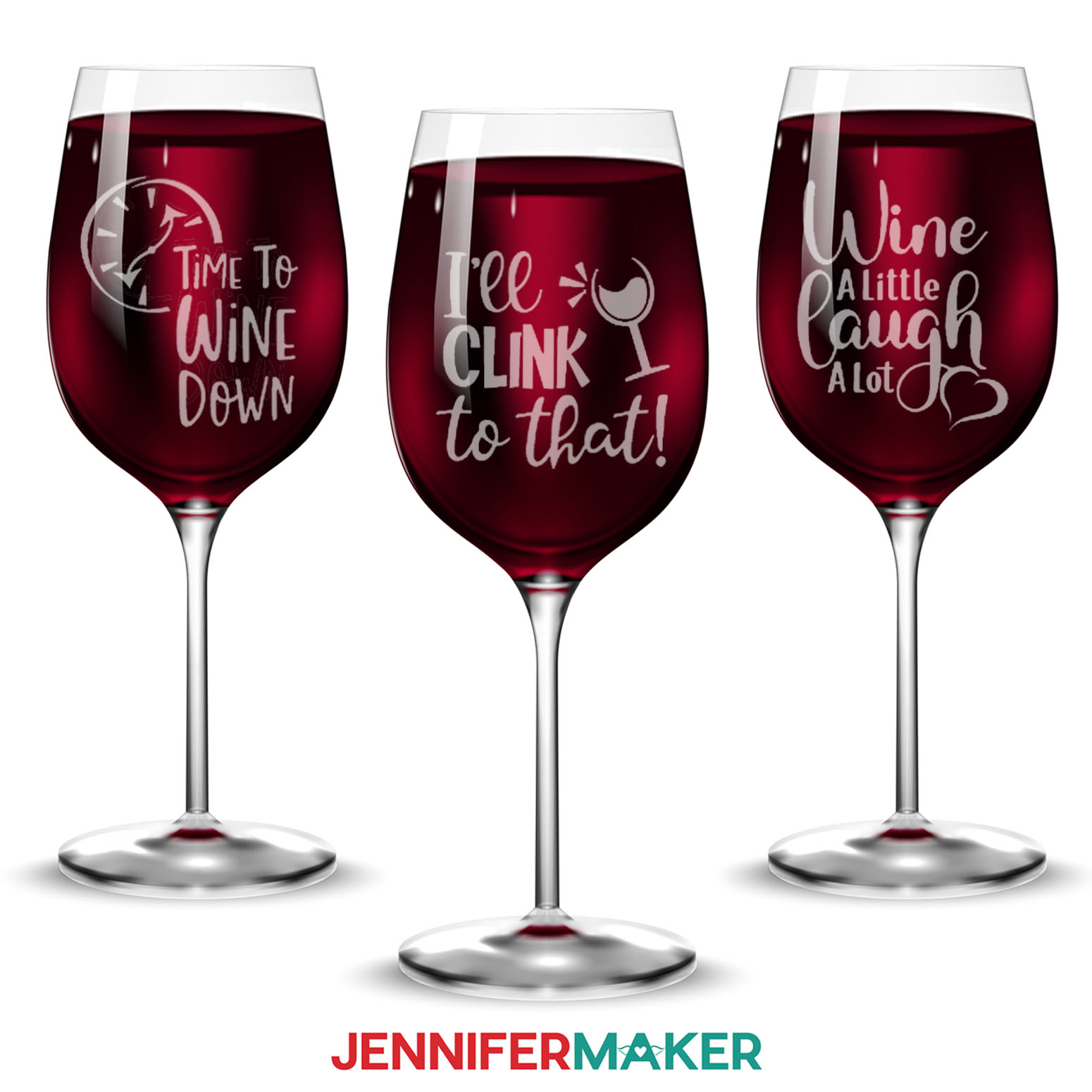 Frosted Vinyl For Glass
Learn how to easily get an etched glass look without the messy etching cream by using frosted vinyl for glass!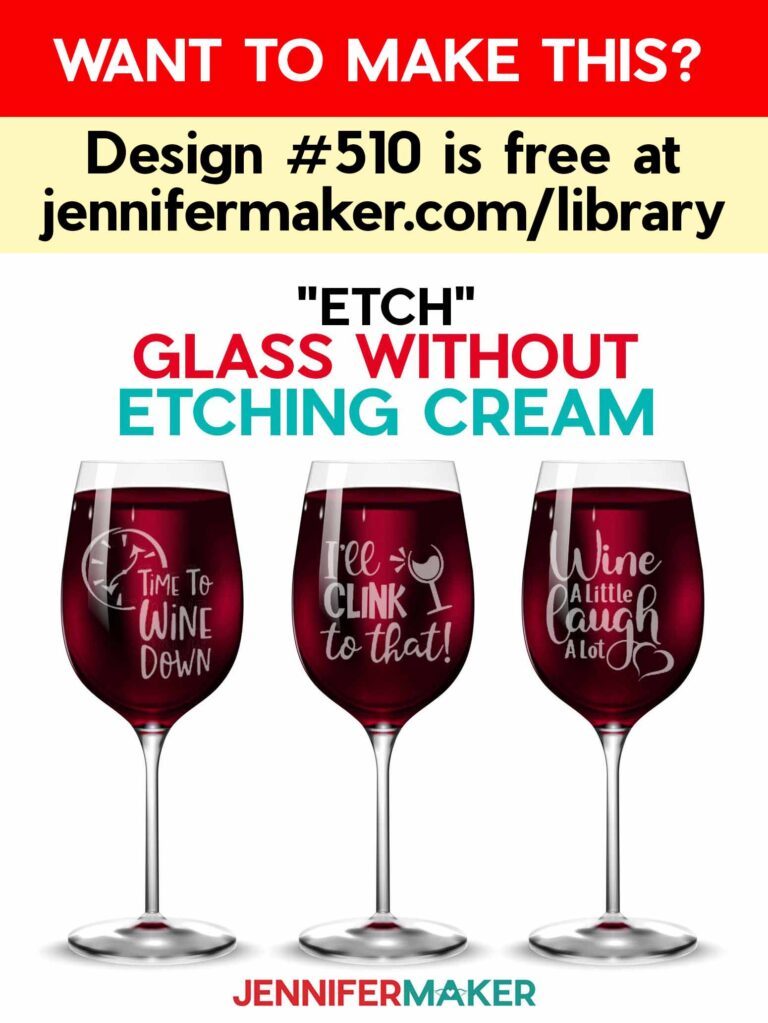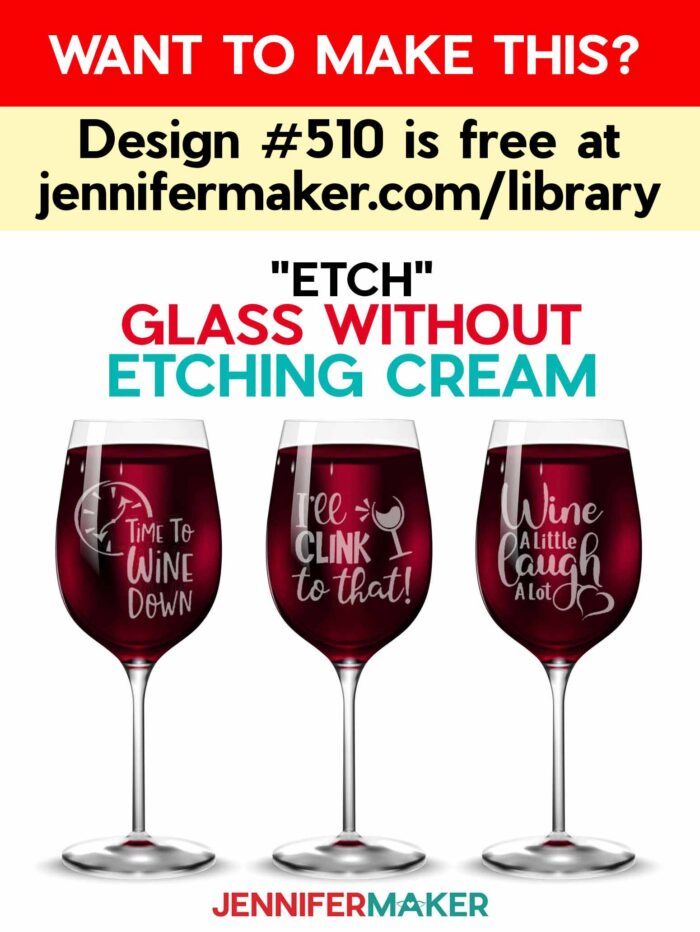 Answers to Your Questions About How to Make Faux-Etched Wine Glasses with Frosted Vinyl for Glass
Q: Is there vinyl that looks like etching?
A: There certainly is! Frosted vinyl is awesome, and applying it to glass really gives the frosted look of an etching, which is so cool!
Q: Can you use regular vinyl for glass etching?
A: Glass etching with chemicals is different than what I showed you in this tutorial. To get the etched effect, you do need to use frosted vinyl. However if you're wanting to actually etch your glasses with etching cream, using permanent adhesive vinyl to create a stencil is a great way to get your design, company logo, etc. on your wine glass! Learn how to do glass etching two ways with my easy etched wine glasses and bottles tutorial, as well as my etched casserole dish tutorial.
Q: How do you fake etch glass?
A: Just follow this tutorial! I tell you everything you need to know about creating frosted vinyl decals with your Cricut that you can apply to any glass, plexiglass, or other clear surface!
Q: Is etched glass more expensive?
A: Etching glass does cost a bit more than using frosted vinyl to achieve a very similar visual effect. You have the cost of the etching cream, applicators, and of course all of the personal protective equipment (PPE) to do the craft safely. Using frosted vinyl is faster and easier and a fraction of the cost of doing a chemical etching.
Q: What are the disadvantages of glass etching?
A: Like I said above, it costs quite a bit more when you consider the PPE you'll need. Using frosted vinyl instead of traditional etching techniques means you can be a bit more versatile with what you're decorating, too. Etching a window, for example, would be tough (and messy!) but with frosted vinyl you can decorate glass windows, glass doors, create a really neat privacy film, the possibilities are endless!
Q: Will vinyl stay on wine glasses?
A: If you hand wash your frosted vinyl decorated wine glasses with warm water and a mild dish soap after use, you can expect to enjoy your decals for several years to come.
Get my free SVG/DXF/PDF files to Make Wine Glasses with Frosted Vinyl for Glass!

I'd love to see YOUR beautiful faux-etched wine glasses! Please share a photo in our Facebook group or tag me on social media with #jennifermaker.
Love,