Learn all about the new Cricut Joy Xtra cutting machine and it's easy cut, draw, foil… plus print then cut!
Cricut has a new bundle of joy to add to its line-up of cutting machines … the Cricut Joy Xtra. This is a "extra" cool version of the popular Cricut Joy cutting machine … but this new one lets you make things a little bigger and a little better, because you can use it to cut, draw, and foil regular letter-size materials, like 8.5 by 11″ and A4 , AND the Cricut Joy Xtra has a print then cut sensor that lets you cut awesome STICKERS and printable iron ons! And yet it's still compact enough to hang out on your kitchen counter or a bookcase. In this Ultimate Guide, I'll show you all the things you can make with the Cricut Joy Xtra and help you decide if its right for you!
Want to save this Ultimate Guide? Enter your email below and we'll send the link and free Xtra cute sticker set straight to your inbox.
Tip: You can buy your own Cricut Joy Xtra now at my affiliate link!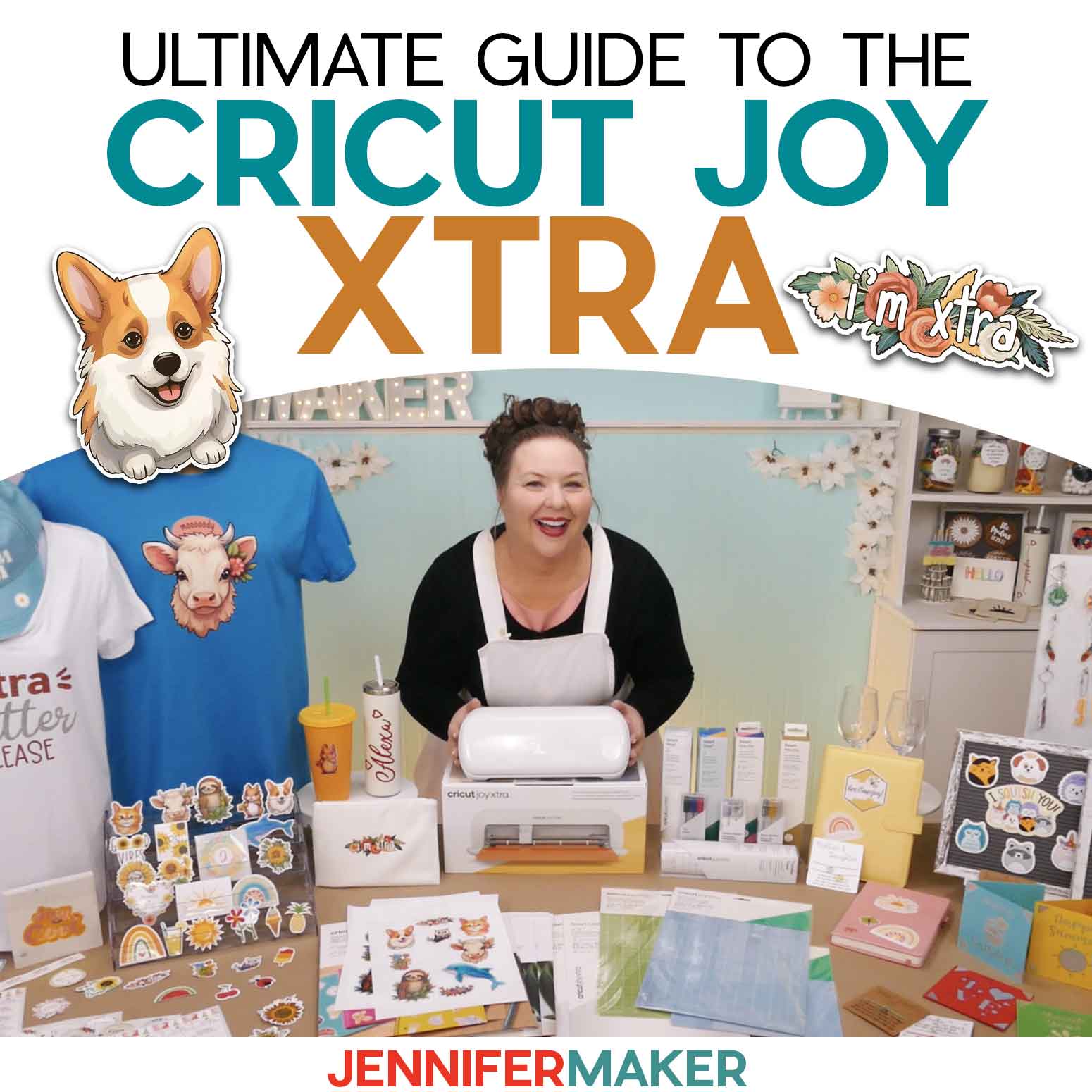 Watch my full and honest review of the Cricut Joy Xtra with all its pros and cons here:
What is the Cricut Joy Xtra?
The Cricut Joy Xtra is a small yet really powerful cutting machine. It's sized in between the original Cricut Joy and the Cricut Explores and Makers, making it perfect for people who want to make cool things without having a dedicated crafting area.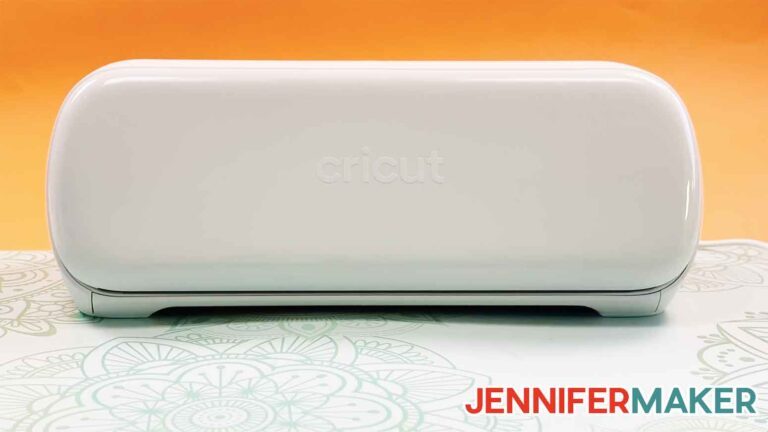 The Joy Xtra does more than the original Joy and it's amazing all the things you can create with it. Look at all these fun things you can do!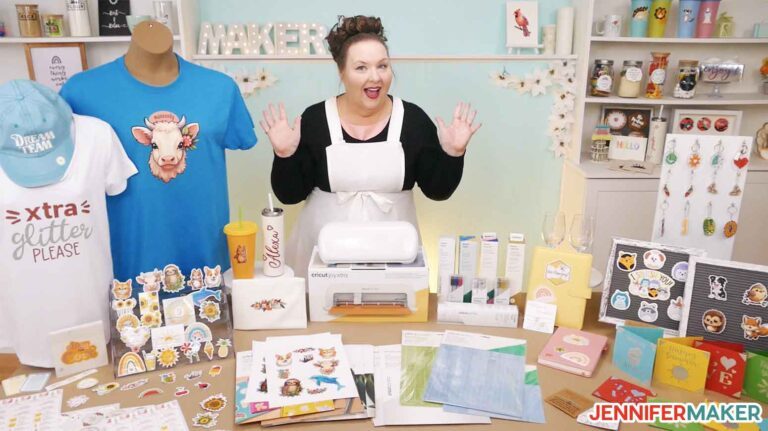 I've had the new Cricut Joy Xtra for about a month now and I'm really enjoying it — many thanks to Cricut for sending me this compact little cutting machine in advance so I could learn it and show you. I'm giving the machine they gave me away so I can buy my own— read to the end of this Ultimate Guide to learn how you might win it.
What are the Main Features of the Cricut Joy Xtra?
The Cricut Joy Xtra is definitely a step up from the original and smaller Cricut Joy — it can make everything the original Cricut Joy cutting machine can make, like cards, mugs, shirts, and so on, but thanks to its slightly larger size up from the original Cricut Joy, it can make all of these things a little bigger and a little better.
Print Then Cut
First, the Cricut Joy Xtra has a print then cut sensor, unlike the original Cricut Joy. This means you can print something on your home printer and then put it into your Joy Xtra to have it cut out … like stickers! You can do SO many cute stickers, whether they are individually cut stickers or a whole sheet of stickers, like this Xtra cute corgi sticker I made with an AI art generator (get it free in my library!)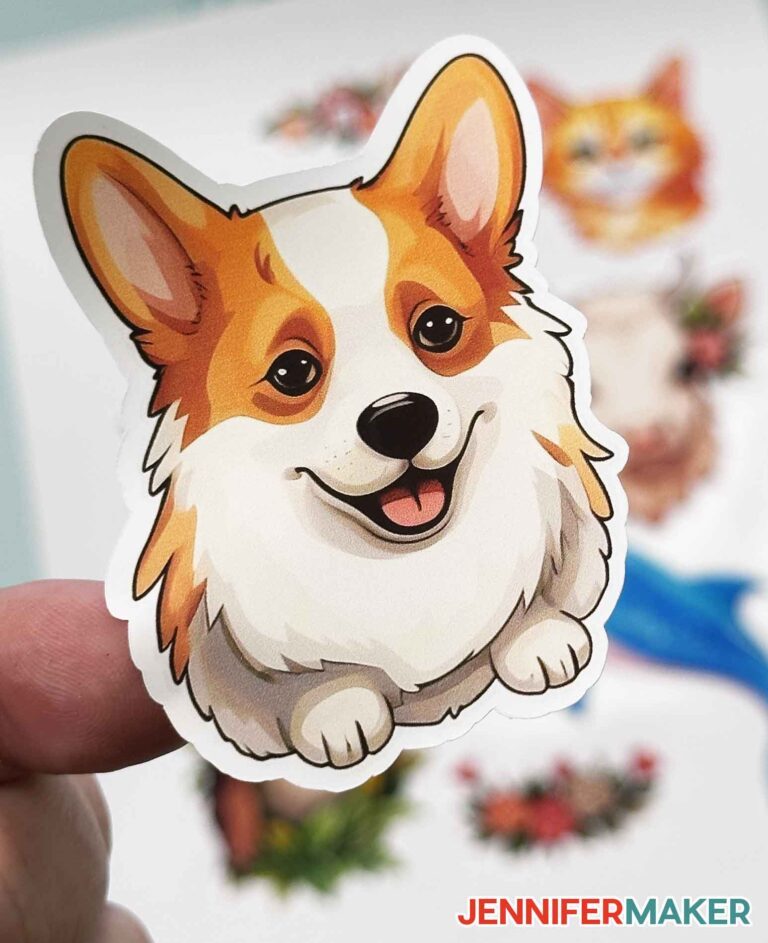 Larger Cutting Area
Second, the Cricut Joy Xtra can work with materials up to 8.5″ wide by 12″ inches long on mat. and up to 9.5″ wide and longer off a mat using Smart Materials. The original Cricut Joy was limited to 5.5″ wide. So that means you can use regular letter size and A4 size vinyl and paper with the Cricut Joy Xtra, and it really opens up a lot more projects for you than with original Cricut Joy. Most shirt designs will fit on the Xtra, and you can even do signs and many papercrafts, too! Here's a cute "Moody" cow shirt I made with my Xtra: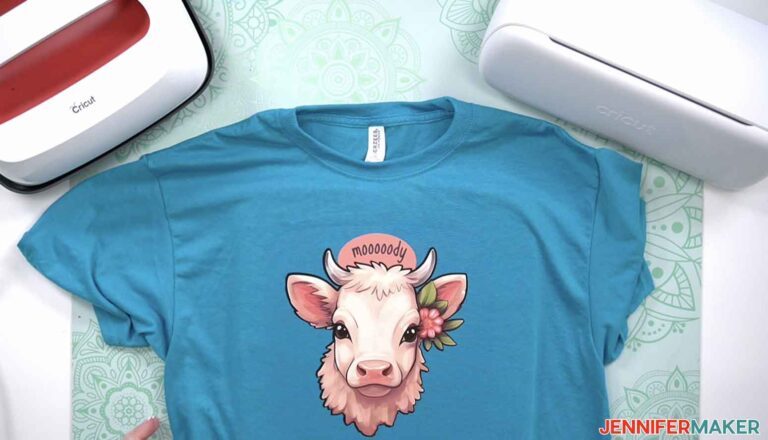 Cuts, Draws, and Foils
Third, you can still cut, foil, and draw all the same things that the smaller Cricut Joy can do … you can just go larger now with the Xtra. You can cut on Xtra-sized machine mats, or you can use Xtra-sized Smart Materials that come in adhesive vinyl, iron-on vinyl, and label paper, and label vinyl. And you don't have to use Cricut's materials at all – as long as it fits on a mat and you can cut it with the Xtra, it's good to go. You can cut over 50 different types of materials, including cardboard, faux leather, foil paper, and window cling. Lots of stuff!
Compact, Space-Saving Design
Fourth, the Cricut Joy Xtra is really compact. Sure, it's not as small as the original Cricut Joy, but look at how small it is! And it's a nice neutral color – all white – so it'll look good anywhere, even if you keep it on your kitchen table or a bookcase in your living room. And it only weighs six pounds. And yet it can cut 9.5 inch wide Smart Materials for a maximum cutting width of 8.5" inches, which is almost double what the original Cricut Joy can do. So I think that's pretty awesome! Here's the Cricut Joy Xtra with the original Cricut Joy and the Cricut Explore 3 so you can compare the sizes: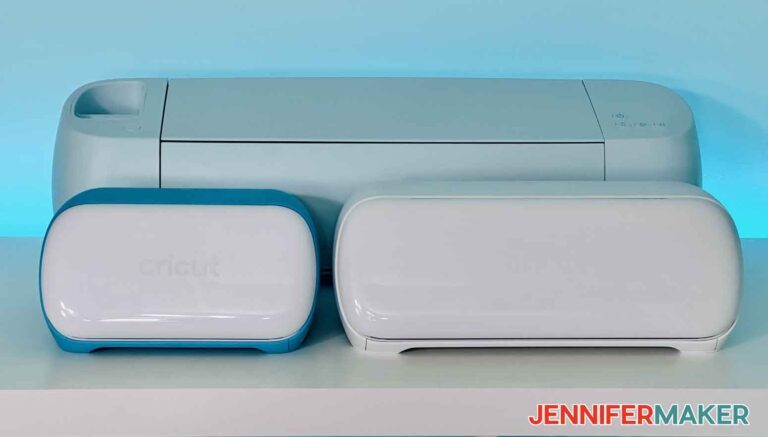 Compatible with Joy Tools
Fifth, all the original Cricut Joy blades, tools, and accessories are compatible with the Cricut Joy Xtra. That includes the foil transfer tool and the pens and markers, too (yes, including the Joy's watercolor pens). The only thing that's different are the mats and Smart Materials – that said, you can still use all of the smaller Joy Smart Materials, you'll just need to put them on an Xtra-sized mat to cut them.
Reasonable Price Point
Sixth, the Cricut Joy Xtra's retail price is $199, which is only $20 different from the retail price of the original Cricut Joy. So unless you find an amazing deal on the Joy and don't think you'll want to ever do Print Then Cut, I'm going to recommend you get the Cricut Joy Xtra instead.
What to Know Before You Buy
First, just like the original Cricut Joy, the Cricut Joy Xtra has no scoring tool or deep cut blade. If you need those things, you'd want to step up to an Explore.
Second, the Cricut Joy Xtra connects to your phone, tablet, or computer using Bluetooth. And, let's be honest, sometimes Bluetooth drives us all crazy. If you don't like relying on Bluetooth, it's your only option with the Cricut Joys. The Explores and Makers have USB in addition to Bluetooth. Bluetooth is not really that bad, though. And you can use the Joy Xtra with iPhones, iPads, Android phones and tablets, Macs and Windows laptops and desktops, so there's a lot of options.
Third, you still need to swap out the blade with the pen or foil transfer tool, if you decide to use them, just like with the smaller Cricut Joy. If you're planning to do a lot of cutting and drawing, this might bug you after a while.
That's about all I could come up with for drawbacks, and everything I mentioned as an issue is true of the original Cricut Joy as well. If they are deal breakers for you, consider a Cricut Explore instead.
What Comes with the Cricut Joy Xtra in the box?
Blade + housing (it'll be inside your machine when you get it)
Power Adapter & Cord
Cricut Joy Fine Point Pen (0.4 mm)
Mini Weeder (so cute!)
Free trial membership to Cricut Access (new subscribers only)
50 Ready-To-Make projects online
Materials for practice cut (I had a sheet of iron-on vinyl, label paper, removable adhesive vinyl, and transfer tape)
Welcome Card
User Guide & Safety Instructions
Warranty document
Just How Large Does the Cricut Joy Xtra Cut?
Cricut Joy Xtra can cut single images up to 48 inches (121.92 cm) long, or repeated images up to 20 feet (6 m) long on Smart Materials. If you're not using Smart Materials, you can cut. up to 11.75 inches (29.8 cm). Here are more details on sizes the Xtra can cut:
Material/Mat Type
Material size
Cut size maximum
Smart Materials (rolls)
9.5 in (24.1 cm) wide
8.5 in (21.59 cm) wide
12 in (30.48 cm) long
10.5 in (26 cm) long
13 in (33 cm) long
11.5 in (29 cm) long
19 in (48.3 cm) long
17.5 in (44 cm) long
24 in (61 cm) long
22.5 in (57 cm) long
3 feet (0.9 m) long
34.5 in (87 cm) long
20 feet (6 m) long
48 in (121.92 cm) long
(can do repeated cuts for full length of roll)
Machine Mat – 8.5 in x 12 in (21.59 cm x 30.48 cm)
Up to 8.5 in x 12 in (21.59 cm x 30.48 cm)
8.25 in x 11.75 in (20.9 cm x 29.8 cm)
Card Mat (fits one card)
Cuts all available Cricut card sizes
Cuts all available Cricut card sizes
Note: Print Then Cut size maximums vary based on your design.
The Joy Xtra is Great for Beginners
Overall, I think the Cricut Joy Xtra is like the perfect beginner machine. It'll do bigger projects, it'll cut stickers and stuff, but it's still compact and super easy to use. There's no buttons on it – everything is controlled through Cricut Design Space, which remains free to use.
New Materials for the Joy Xtra
And, something else really cool, is that since the Xtra can do all of those cool stickers, Cricut now has a new family of printable products: sticker paper, sticker vinyl, waterproof sticker vinyl, and even printable iron on sheets for light and dark fabrics. I've been playing with it to make my cute watercolor stickers, which I created with an AI art generator, and I just LOVE the new materials!
Fir,st there is NEW printable sticker paper – this is just like adhesive label paper, but unlike the OLD Cricut sticker paper, this stuff is thin enough to go through everyone's printer! It's new and improved and I love it. I've got links to the new Cricut Printable Sticker Paper below this video, but if you go looking for it, make sure you get the one that looks like this and has green printing on the liner. Here is my sticker set I made with the printable sticker paper.
Next up is the printable vinyl, which is also new with the release of the Cricut Joy Xtra! Printable vinyl is a step up from printable sticker paper as it's more water resistant and available in cool finishes – so in addition to white, you can also get it transparent, gold, and silver. Here is my sticker set on white printable vinyl – look at how good that color looks. And here's my sticker set on silver – just look at how it shimmers and glows! I LOVE this stuff!
And then there's Printable Waterproof Sticker Sets, which come in two parts – the printable vinyl and a special laminate that sheet that goes over it to make your stickers waterproof. The laminate sheet also blocks UV, so your colors will remain bright even if you put them outdoors or on a vehicle. Here is my sticker Set on the Printable Waterproof Sticker in transparent holographic. I am putting this cute little squirrel on a tumbler … I love it.
Another cool thing you can cut on the Joy Xtra is Printable Iron On, which means you can make full color designs on shirts, tote bags, makeup bags, pillows, and so on. They have one for light fabrics, which is see-through, and one for dark fabrics, which is white so your colors look vibrant even on dark materials. Here is my "I'm Extra" design on a white pouch, printed on the iron on for light fabrics. Looks great, don't you think? And here's my watercolor cow on a red shirt, printed on the iron on for dark fabrics – I love how vibrant it looks, even on a dark color like this. And yes, you can wash these – just wait 48 hours before washing, turn inside out, and use cold water.
Smart Materials
I mentioned the Smart Materials earlier for the Joy Xtra, and you can get lots of vinyl sized perfectly to fit the Joy Xtra. Cricut even added another new Smart material – the Prismatic Glitter Iron On, which is a microplastic, flake-free glitter. This stuff sparkles without being rough or messy, and it's super smooth to the touch. I love this for things that you might wear or touch a lot, as it's a lot more comfy than regular glitter iron on. And, for my friends who like Cricut Infusible Ink and sublimation crafts, you can even sublimate on top of the Prismatic Glitter Iron on. Super cool!
My Verdict on the Cricut Joy Xtra
My verdict on the Cricut Joy Xtra is that it is a VERY cool little machine that really does a lot. I think it's great for anyone who wants to try out Cricut crafting, and I also think it makes a great portable machine that you can use on the go or in small places. So I really like it, and I think you will too.
If you get one, we can set it up together! Look for my Cricut Joy Xtra First Project video where I show you how to unbox, setup, and do your first cut. This is the perfect place to start when you get your own Cricut Joy Xtra!
If you want to make stickers, I can help you there too – you can get my cute watercolor sticker designs totally free in my library. Look for design #503.
If you are new to Cricut crafting, I have a set of step-by-step cheat sheets that can help you learn to make things in the free Cricut Design Space app. It's called Cricut Coach Playbook and it's helped nearly half a million crafters so far. I recommend you get a copy of the Playbook to make your Cricut life easier. You can get a digital copy at cricutcoach.com or pick up a print edition on Amazon!
Cricut Joy Xtra: Just the Facts
Cricut Joy Xtra Specs:

Dimensions: 12.48 in x 4.46 in x 5.87 in (compare to the original Joy, which is 5.50 in x 8.40 in x 4.25 in)
Weight: 6.03 lbs (compare to the original Joy, which is 3.85 lbs)
Max Width: 8.5 in (21.59 cm) wide on Smart Materials, or 8.25 in (20.9 cm) on a machine mat.
Max Cut Size: Single designs up to 48 inches long, repeated designs up to 20 feet long using Smart Materials. Other sizes vary based on the material and mat type.
Box Contents: Machine, blade + housing, power adapter & cord, Fine Point Pen, Mini Weeder, a free trial to Cricut Access for new subscribers, 50 projects online, and materials for your first practice cuts (iron on vinyl, adhesive vinyl, transfer tape, and label paper)
Unique Features: The Joy Xtra is essentially a larger version of the Joy, providing more project versatility.

Difference Between Cricut Joy and Cricut Joy Xtra:

The Joy Xtra allows for a wider range of projects, with wider Smart Materials and a larger cutting width. It also has the super-useful Print Then Cut capability.

Compatibility:

Accessories: Cricut Joy pens, markers, blades, and the Foil Transfer System are usable with the Joy Xtra. You fit use pens, markers, blades, or other accessories in the Joy Xtra if they are meant for the Explore, Maker, or Venture, however.
Mats: Use only the Joy Xtra's wider mats.
Pens: Only Cricut Joy Pens, which are specially sized for the machine, can be used in the Joy Xtra.
Power Cord: The Cricut Joy Xtra's power cord is interchangeable with the Cricut Joy' Xtra's power cord. However, it's not compatible with other Cricut machines.

Connectivity:

The Joy Xtra connects via Bluetooth and does not require a PIN for Bluetooth pairing. USB connectivity is not available for the Joy Xtra.
Answers to Frequently Asked Questions about the Cricut Joy Xtra
How do I get a Cricut Joy Xtra?
You can get one at Cricut's shop when it is released on September 7, 2023. It will also be available at other retail stores across the US, UK, Ireland, and Euroepean Union.
How much is the Cricut Joy Xtra?
The Xtra is $199 USD and €249,99 EU.
Can I connect the Cricut Joy Xtra machine to my mobile device and computer?
Yes, the Xtra has built-in Bluetooth and can be paired with a compatible mobile device (iPhone or Android) or Bluetooth-enabled Windows or Mac computer.
Does the Cricut Joy Xtra require internet?
An internet connection is needed initially for software installation and machine setup. While you can work offline with Design Space for Desktop or iOS, an internet connection is required for the Android mobile version.
Is a USB cable required to connect Cricut Joy Xtra to my computer?
No, Cricut Joy machines connect via Bluetooth only.
Are there free images or fonts with Cricut Joy machines?
Yes, the Joy Xtra comes with 50 ready-to-make projects. Additional free fonts, images, and projects are accessible in Design Space, plus I have many available in my free resource library here on JenniferMaker.
What are Smart Materials?
Smart Materials are specialized crafting materials that don't require a cutting mat. Types include Smart Vinyl, Smart Iron-On, Smart Label Paper, and Smart Label Vinyl. Smart materials may be used with the Cricut Joy Xtra, but they are NOT required.
Why is there space at the top and bottom of my Smart Materials?
The machine requires this space for various operational reasons, like rollers gripping, sensor detection, and material feeding.
Why does my machine make a small cut in Smart Materials?
This is a blade alignment cut and will not interfere with your design.
How are Cricut Joy Xtra machine tools and accessories different?
They are tailored to fit the machine's compact and portable size.
How do I ensure I'm using the right projects with my machine?
When starting Design Space, select your specific machine model to customize your experience.
Can I use Cricut Explore and Cricut Maker accessories in Cricut Joy machines?
No, due to its compact size, the Cricut Joy requires uniquely sized accessories.
Do I need an adapter for using a pen with Cricut Joy machines?
No, Cricut Joy Pens fit directly into the clamp without needing an adapter.
How to Win a Joy Xtra Cutting Machine
Cricut sent me this Cricut Joy Xtra free of charge so I could review it. But I don't accept free products as I feel it can influence my ability to give an unbiased review. Normally I'm able to just purchase everything I need on my own, so I always know its value compared to my hard-earned money, but I can't do that for something that isn't in the stores yet. So I'm going to go buy my own Cricut Joy Xtra as soon as it's available, because I think it's worth it.
I held a giveaway to win this Cricut Joy Xtra cutting machine, and picked a winner at random on September 6, 2023 — the winner is @anniekelly1486 on YouTube
Reminder: Winner was contacted personally by my email address ONLY in the late evening of September 6, 2023.
Get my free Xtra Cute Sticker set design files!

I hope you enjoyed this cutting machine review and found it useful! Let me know what you think in the comments, or ask me any questions you have – I'm always happy to help! If you use my sticker set, please share a photo in our Facebook group or tag me on social media with #jennifermaker.
Love,