Learn all about Cricut Foil Transfer and how you can use it to make beautiful and shiny projects with your Cricut Explore or Cricut Maker cutting machine!
Cricut just introduced a fun new tool and material — the Cricut Foil Transfer Tool and Foil Transfer Sheets! Cricut sent me a Foil Transfer Kit and some extra transfer sheets in advance so I could test it out and tell you all about it! The best thing about the Cricut Foil is how easy it is to use — within minutes of opening the kit I was able to create a beautiful foiled card. I've now made a number of different projects with the foil transfer and I'm excited to show you and tell you everything I've learned! You're going to love this!
See the Cricut Foil Transfer Tool in action as I create two different foil projects in this step-by-step tutorial video:

First, let me explain how this works. You just put the special Cricut Foil Transfer Tool into your Explore or Maker, choose or upload a design in Cricut Design Space, change the Linetype to "Foil" (fine tip, medium tip, or bold tip), put your base material on your cutting mat, tape a foil transfer sheet on top of your material, load your mat into your Cricut, and press the flashing button! Then sit back while your Cricut puts the foil on your material.
I love that the Cricut Foil Transfer is pressure-activated, not heat-activated like the Foil Quill, which means NO heat is involved at all. The Cricut presses the special tool presses down onto the foil sheet, transferring the foil onto your base material. No special adapter is needed — the Foil Transfer Tool fits right in Clamp B of your Explore or Maker. So unlike the Foil Quill, you don't need another power source. Just your Cricut, the tool, and a foil transfer sheet.
The Foil Transfer Kit comes with three differently-sized tips: Fine, Medium, and Bold, as well as 12 small (4″ x 6″) foil transfer sheets and tape. I love that there are three different tips, so we can choose the size that works best for our projects. I found I liked the Bold Tip the best, unless my design was particularly small and intricate, and then it was great to have the fine and medium tips.
Here's a handy chart so you can see how the Cricut Foil Transfer Tips compare: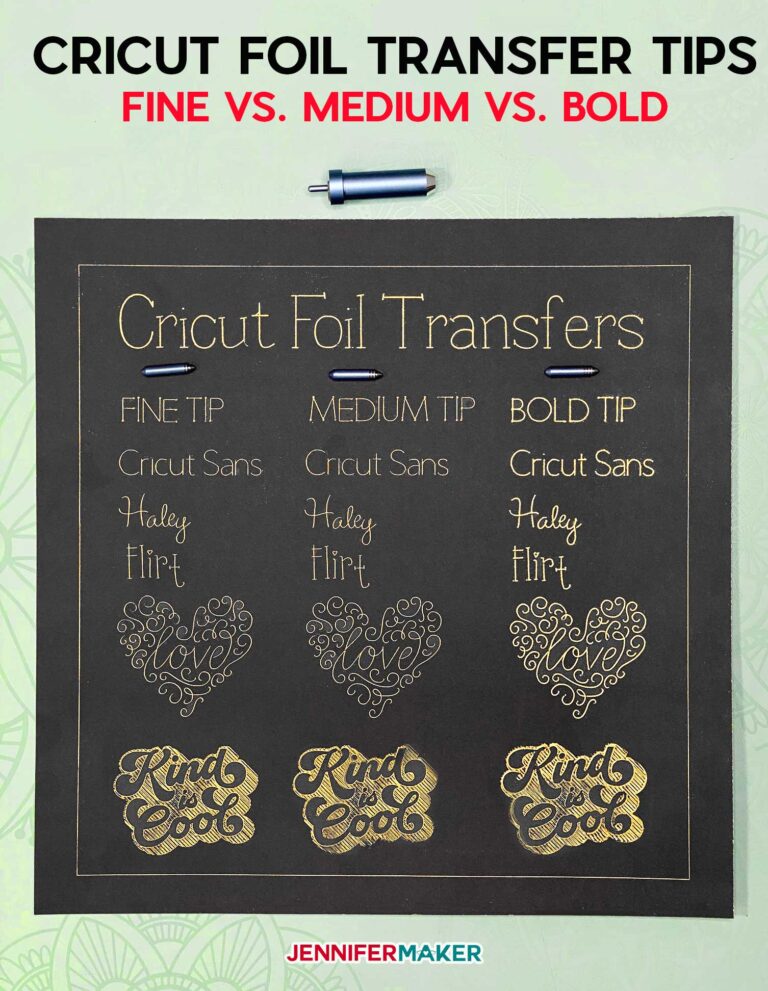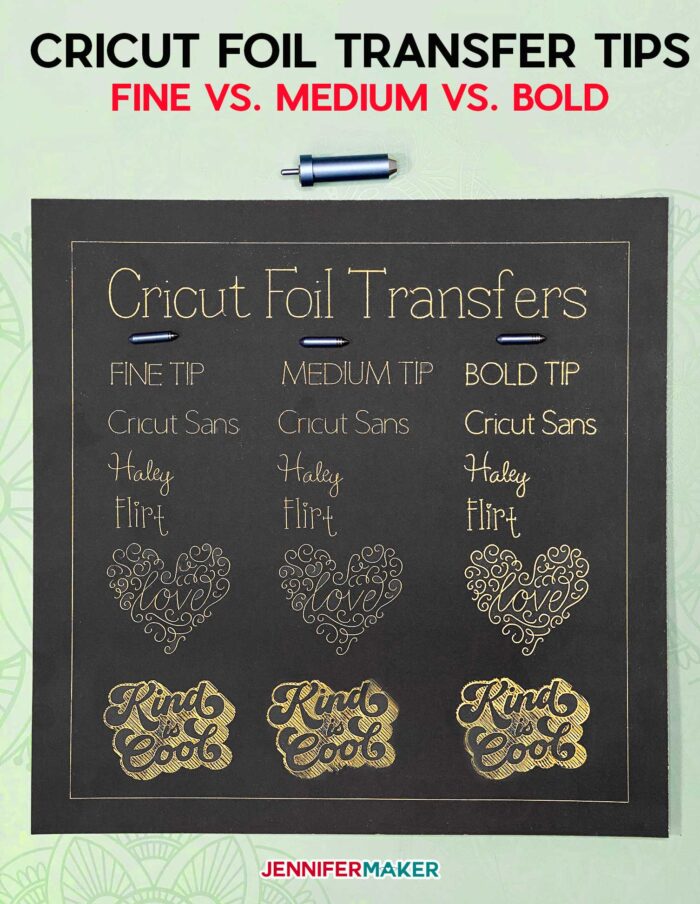 You can transfer the Cricut foil onto a variety of different materials, such as cardstock (light, medium, and heavy), adhesive backed paper, faux leather, foil embossed paper, watercolor paper, pearl paper, vellum, printable vinyl, and Kraft board. The smoother the surface, the smoother your foil transfers. I see many pretty foiled cards, shiny faux leather earrings, and gorgeous Kraft board boxes in our future!
And yes, before you ask, you CAN cut and foil in the same project. The Cricut Foil Transfer Tool is fully integrated with Cricut Design Space, which lets you combine multiple linetypes (draw, score, cut, and foil) all in one project. You can even change the Foil Transfer Tool tip in a single project, combining different sizes. This pretty foil feather card was scored, then foiled, then cut — all in my Cricut!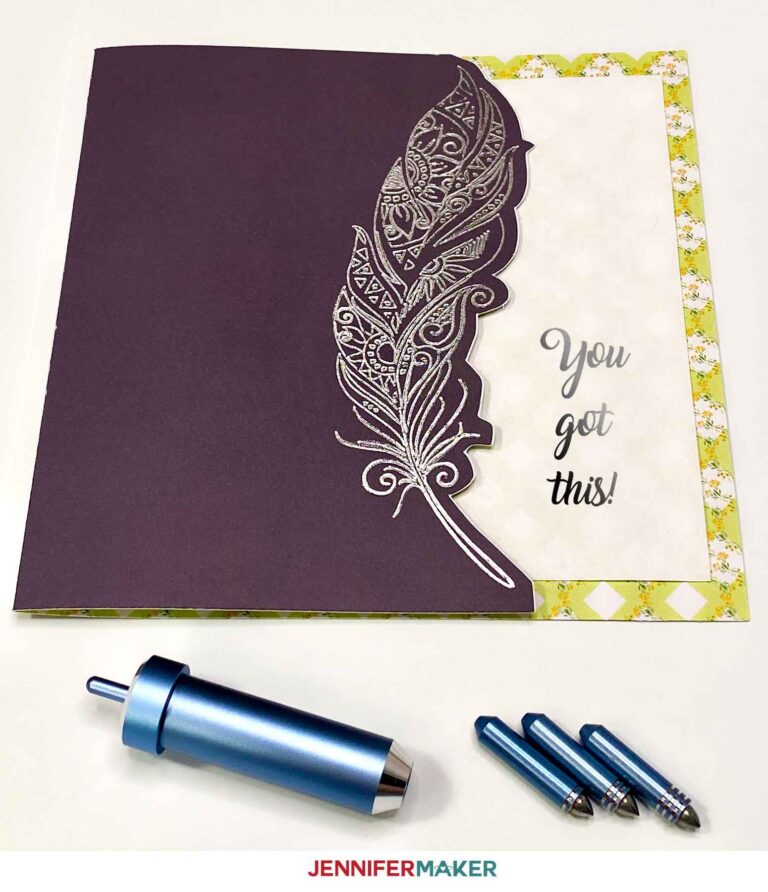 Another cool thing you can do is use different colors of foil in the same project! Here is a foiled sunflower card I designed using gold and green foil — get this design free in my library (design #242).
You can order the Cricut Foil Transfer Kit and Foil Transfer Sheets now over at the Cricut Shop!
This post contains some affiliate links for your convenience (which means if you make a purchase after clicking a link I will earn a small commission but it won't cost you a penny more)! Read my full disclosure policy.
My Cricut Foil Transfer Tricks & Trips:
Be sure to tape down all edges with the provided tape. (Yes, you can re-use the tape.)
If your transfer sheet seems to be ripping, use "Less" pressure when you go to make your project. If that's still not good enough, choose a thinner material setting (i.e., use "light cardstock" instead of "medium cardstock"). I only had this issue on the Maker, which is a higher-pressure machine than the Explores. Note that if you are foiling and cutting at the same time and need to change your pressure back to Default or More for the cut, just pause your machine and you can then change your pressure in Design Space.
You can combine different tips (Fine, Medium, and Bold) in the same project.
You can foil and cut (or draw or score) in the same project as well!
Don't worry if your foil transfer sheet doesn't like perfectly flat and smooth — a little tugging at the tape line won't effect the project.
Save your scraps! While you can't re-use a section of the foil transfer sheets you've already used, you can cut out the parts you have not and use them for small projects!
Do not let your foil transfer sheet touch your cutting mat — if it does, the foil will come right off onto the adhesive surface of your cutting mat! (Yes, I did it by mistake.)
If a little foil transfers somewhere you didn't want it (it happened to me once in a corner — I think I pressed too hard when taking the tape off), just remove it with an eraser. I used a small dollar store eraser and it came right off for me.
You'll find your base material sticks more to your cutting mat where you applied foil. Just flip your mat over onto your surface and slowly pull it away from you material — go slow and be patient.
Store your tips on the magnet bar in your Cricut's storage compartment to keep them from getting lost!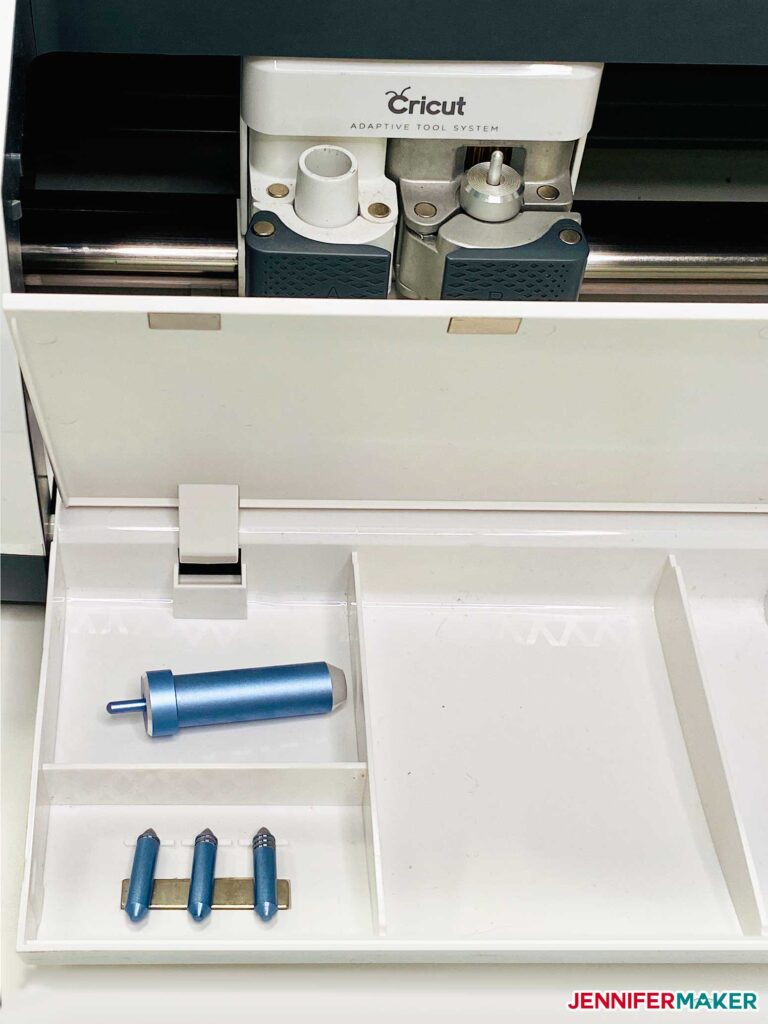 Here are helpful answers to questions about Cricut Foil Transfer:
Where do I get the Cricut Foil Transfer Kit or Foil Transfer Sheets?
You can purchase the foil transfer items from the Cricut store as well as from craft stores like Joann. Here are the available products right now:
What's the difference between the Cricut Foil Transfer Tool and the We R Memory Keeper Foil Quill?
The Cricut Foil Transfer Tool uses pressure, not heat, to transfer the foil. The 3-in-1 tool (housing plus 3 tips) is simpler to use than the Foil Quill's 3 separate tools with cards, and no extra power is needed to use the Cricut Foil Transfer Tool. Also, the Cricut Foil Transfer Tool can use the special Foil linetype in three different sizes, while the Foil Quill relies on the Draw linetype. One other important thing: the Foil Quill requires you to remove the pen adapter from one clamp in a Cricut machine clamp and use one of their special adapters to make the Foil Quill fit (removing the pen adapter voids the warranty for Cricut machines).
How do the three tips work on the Cricut Foil Transfer Tool?
The tips change easily. To insert a tip, just put it into the end of the housing — a magnet locks it in. When you want to remove the tip, depress the plunger at the top and it'll come right out. You can tell the difference between the foil transfer tips by the lines — one line is for a fine line, two lines is for a medium line, and three lines is for a bold line.

Which side of the transfer sheet goes up?
Be sure to place your foil transfer sheet with the SHINY COLORED side up. On the silver foil transfer sheets, both sides are silver, so put the SHINY side up.
Do I have to tape the foil transfer sheet down? What kind of tape do I use?
Yes. The Foil Transfer Sheet will not adhere to your base material without pressure, so it needs to be taped down. Tape strips are included with Foil Transfer Sheets. If you run out, use a tape with light adhesive, such as washi tape, painter's tape, or masking tape. Always test your tape on your base material first to ensure it won't tear or harm the material when removed.
Do I need cut my foil transfer sheet before taping it down?
If your base material the same size or larger than your foil transfer sheet, then there's no need to cut the sheet first. But if your foil transfer sheet is larger than your base material, trim it down first. You cannot allow the foil transfer sheet to extend beyond the edges of your base material or it will transfer to your cutting mat.
Will the foil transfer if tape is covering part of the design?
No. Make sure you do not have tape covering any part of your design area. The tape will not allow the foil to transfer properly, plus the simple act of the foil transfer tool crossing over tape could cause the transfer sheet to tear.
Can I use the foil transfer sheets more than once?
No. Once the foil is transferred, you cannot transfer anymore. If you hold a used sheet up to the light, you'll see the foil has completely transferred. But you can trim the unused parts of your foil transfer sheet out and save them for small projects in the future!
Why does my foil transfer sheet rip when I make a project?
There may be several reasons. Here they are in the order you should check:
Do you have the right size tip in your Foil Transfer Tool? If you tell your Cricut you're using the bold tip but actually have the fine tip in, you may have an issue with this.
Did you select the right material? If you selected a thicker material than you're actually using it, you can get tearing. Change your material setting to a lighter material setting.
Did you select too much pressure? If you changed your pressure setting to "More," reduce it. I use "Default" on my Explore and "Less" on my Maker.
Is there tape covering any part of your design area? If so, your sheet can tear when the tool goes over the edge of the material. Move the tape so it does not cover your design area.
Is your foil transfer sheet wrinkled? If there are wrinkles or pronounced ripples in the foil, it can rip during transfer.
Did you remove the foil transfer sheet before cutting? If you're doing a foil transfer and cut in the same project, be sure to remove the foil transfer sheet before you cut, or it will just cut the transfer sheet. Cricut Design Space will prompt you to do this so you don't forget.
Why are there lines down my transferred foil?
The white star wheels on the roller bar may result in some foil transfer on your mat or material. To avoid this, move the star wheels to one side. (I moved my years ago and have never moved them back.)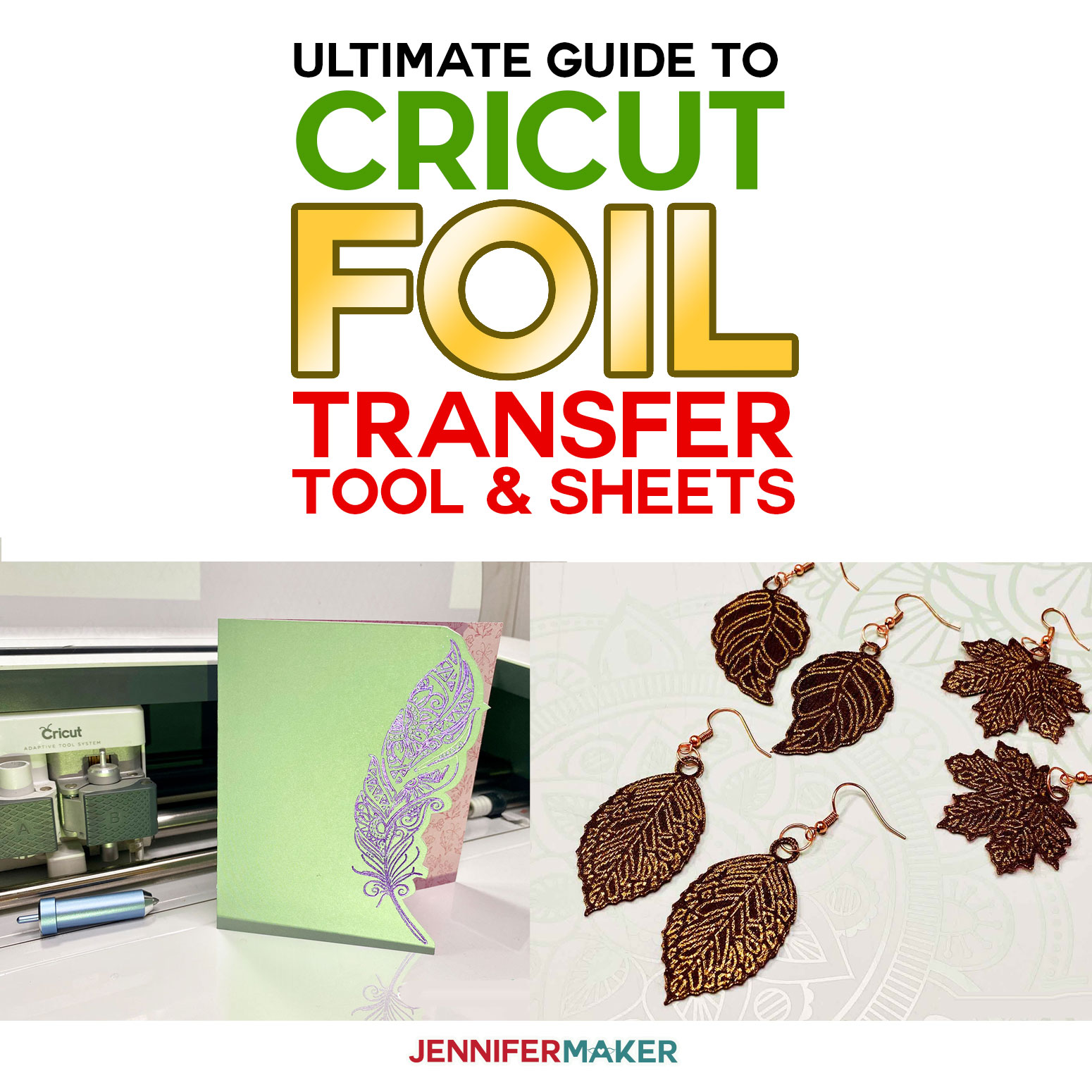 Why didn't my foil transfer smoothly?
If you use a textured base material, like a linen texture, wood grain texture, or pebbled texture, it's harder for the foil to transfer to it smoothly. The smoother the better!
Can I use my iPad or phone to do Cricut foil transfers?
No, the Foil linetype is only available on Design Space for Desktop, just like the Knife blade. So you won't be able to choose the Foil linetype on iOS or Android versions, nor will you be able to see foil-specific projects there.
What materials can I use with the Cricut foil transfer sheets?
cardstock (light, medium, and heavy)
adhesive backed paper
faux leather (avoid the pebbled texture)
foil embossed paper
watercolor paper
pearl paper
vellum
printable vinyl
Kraft board
What projects do you have for the Cricut Foil Transfers?
My new Mandala Letters are designed specifically to use with the Cricut Foil Transfer Sheets. This is design #240 in my free resource library.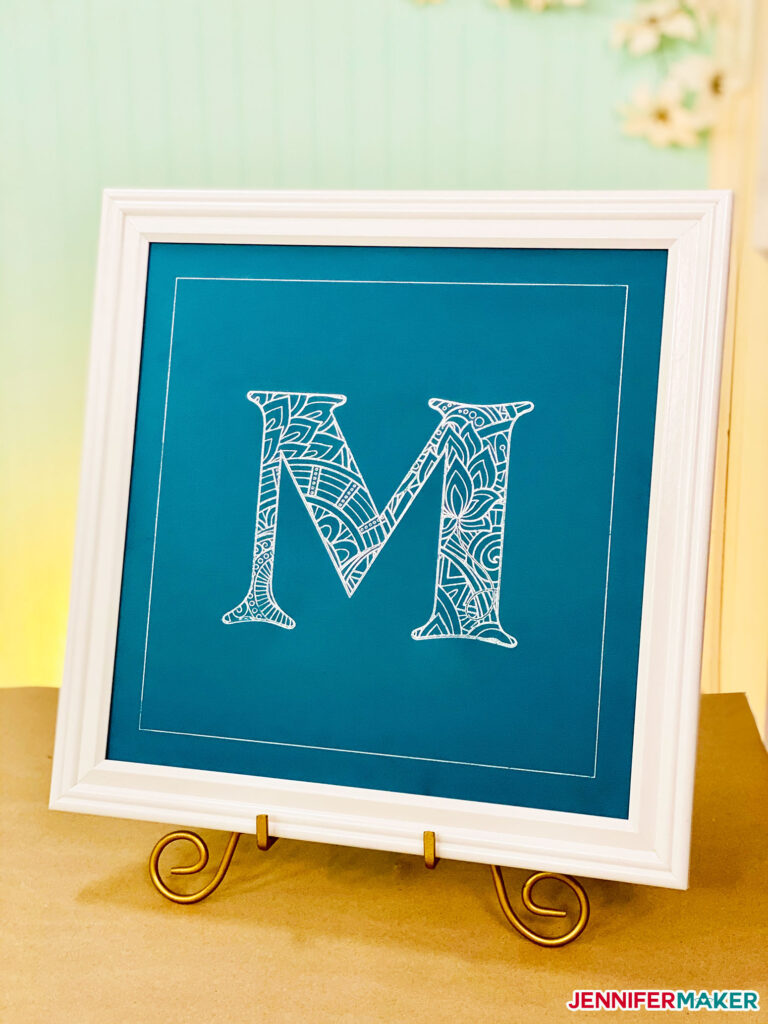 My leaf earrings also work great with faux leather and foil transfer sheets!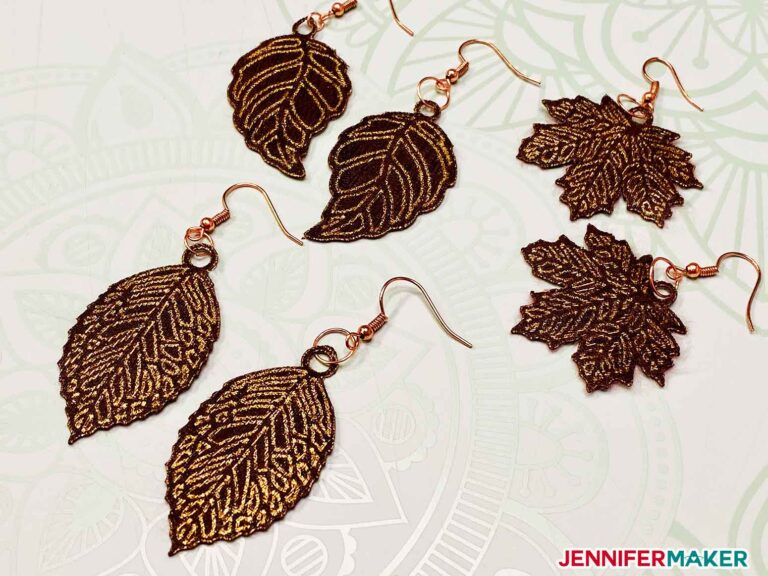 And, of course, the feather card design I showed in my video: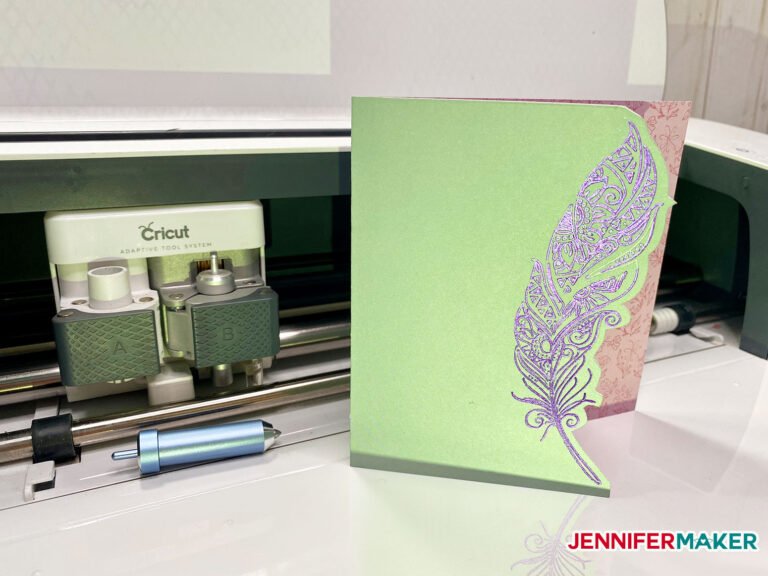 If you'd like to make the feather card, please watch my video for a full tutorial! The feather card is design #241 in my free resource library.
How to Make the Cricut Foil Feather Card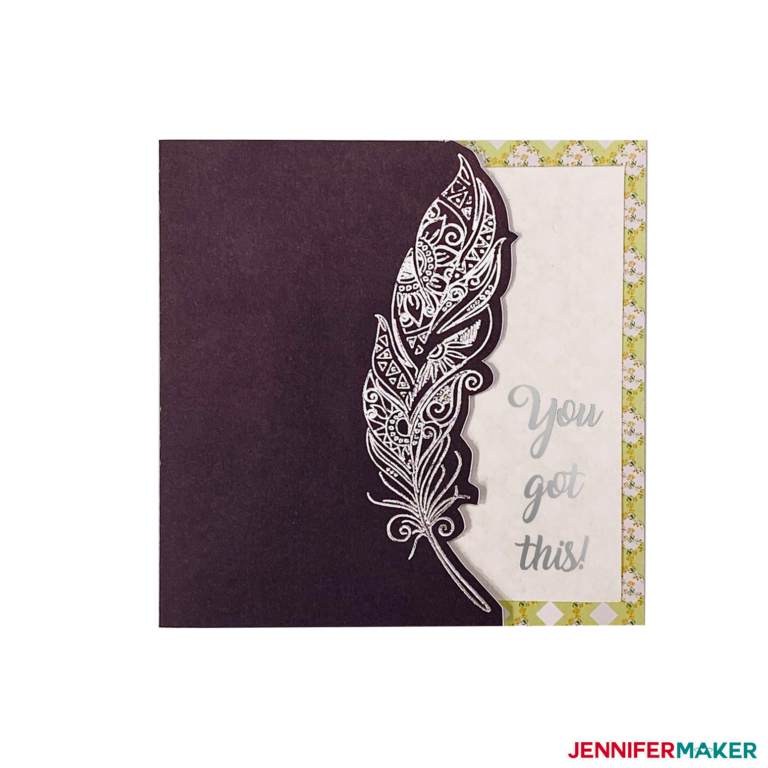 Foil Feather Card
Yield: 1 card

Prep Time: 5 minutes

Active Time: 10 minutes

Total Time: 15 minutes

Difficulty: Easy to Medium

Estimated Cost: $1

Make a beautifully detailed and foiled feather card on your Cricut -- score, foil, and cut in the same project!
Get my free SVG files to make Cricut Foil Transfer projects
I'd love to see your Cricut foil transfer projects! I know you'll come up with some amazing ideas on how to use this cool material. Please share a photo in our Facebook group or tag me on social media with #jennifermaker.
Love,