Is your craft space disorganized? Are you finding that you're NOT crafting as much as you'd like because you can't find what you need, or you have no space to work? Yep, been there, done that! So I'm doing a 30-Day Organized Craft Room Challenge. And I invite you along with me to organize your craft space and rekindle your joy of crafting!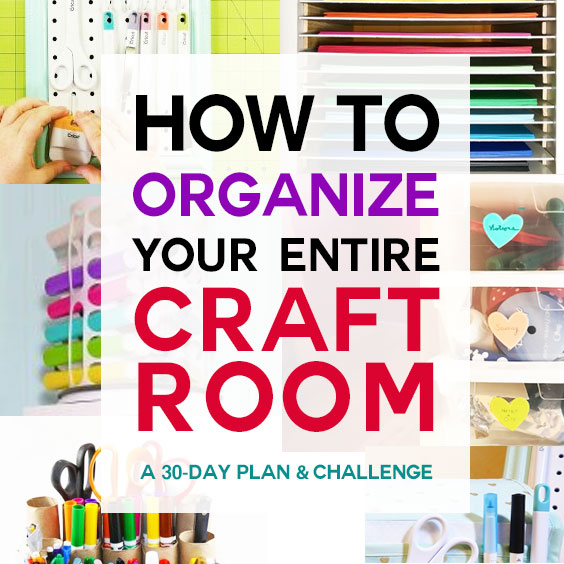 I know many of you have beautiful craft spaces already, but I also know a whole lot more of you struggle with this.
It's easy to get overwhelmed with craft supplies and "craftermath" (you know, all the stuff left over after you finish a craft).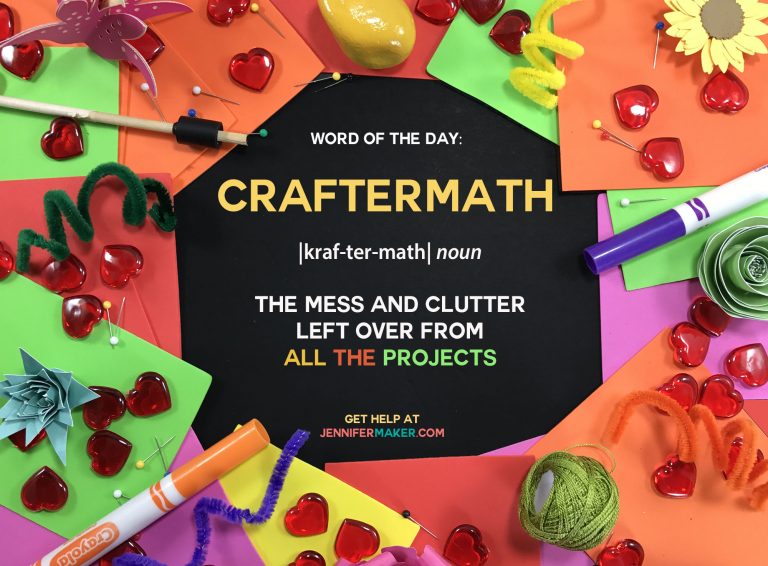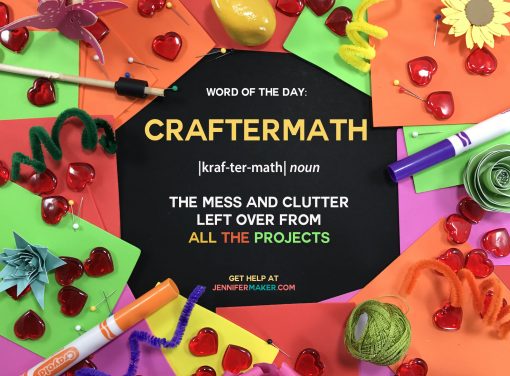 But I can help! I love to organize things, and I'm in the midst of organizing and upgrading my own craft room, too!
TODAY is the day to start organizing your craft room.
What Makes ME the One to Help You?
Ok, confession time.
I am NOT a tidy person.
I tend to get things out and not put them away. I get extremely focused on particular tasks, and tidying up is something I don't do when I'm focused. Over time, that can become a big issue for me.
So what do I do to counter this? I create "put-away places" for each item I have. The more likely I have a place for something, the more likely it is to go back into that place when I am done. The phrase, "a place for everything and everything in its place" is very apt.
Thus, I have become very good at organizing my stuff over the years. I can take a crammed, messy room — one that's been used, say, as a dumping ground for stuff from the rest of the house — and organize it into an efficient place with space to actually do things. And I can do it FAST because I don't mess around. I can teach you how to get to the core of the issue and get things done, too.
So here's my story: My house used to be a home office with four employees. So we had a LOT of furniture, office equipment, boxes, and work-related things accumulating here for many years. In 2011, after the business had downsized considerably to the point where it was just me, I decided it was time to make serious changes. The basement, garage, and family room were entirely full of stuff.
Room by room, I began emptying and organizing the spaces. First, we did the garage, where we installed shelving and a huge workbench. Here's a photo of the garage. (That easel-shaped thing in the middle is a project we were working on — a simple and quick-to-make clothing rack)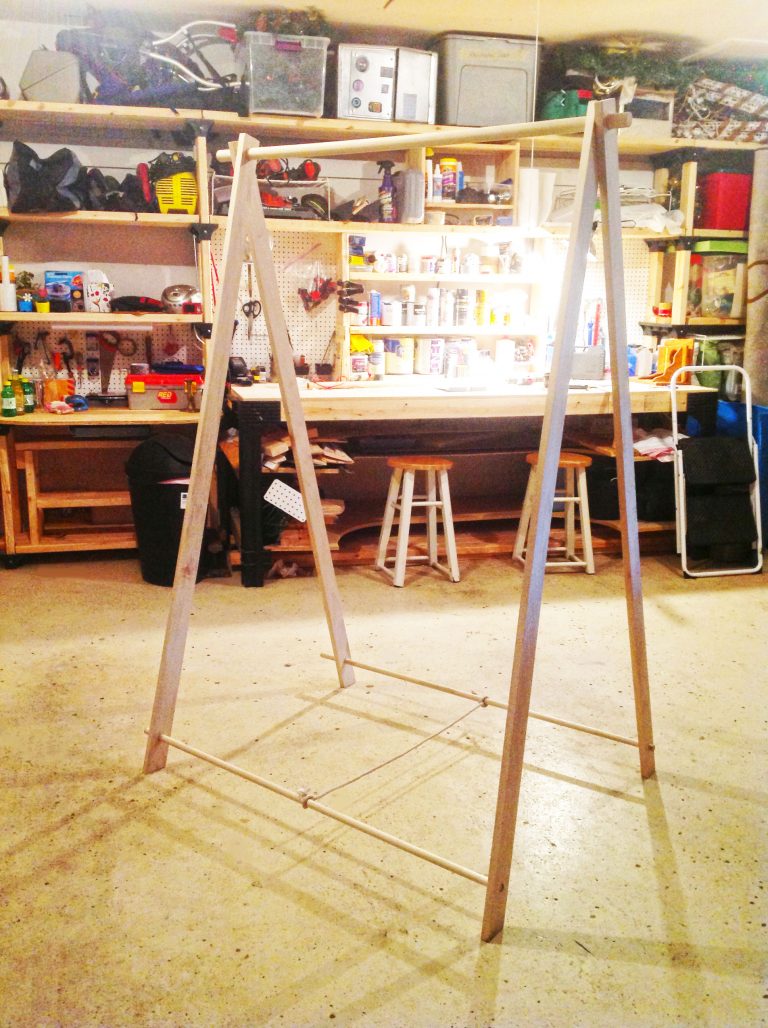 Then we did the basement, where we turned it into my sewing studio and our family's project space. You would NOT believe what it looked like before (and, sadly, I have no before photos.) Here's a photo of my sewing table and fabric storage in the studio: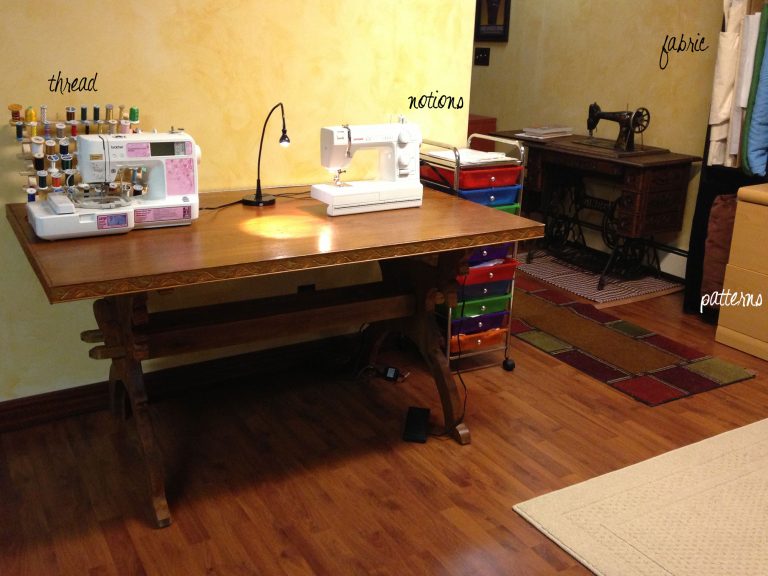 Now, it's time to tackle the "family room," which is my office and improvised craft space. I want it to be an amazing craft room in addition to my office, because I love to craft. And I am accumulating more crafting supplies and doing more projects for this blog. I also want a pretty, bright space in which I can take photos and videos of projects to share with others.
I am documenting the entire process of organizing my craft room. I even took a before picture. But I'm not putting it on the blog. (Yeah, it's that bad.) If you want to see what what the family/office/craft room looks like BEFORE, you'll need to join the challenge.
I've always amazed people at how fast I can transform and organize a room, so I thought I should show YOU how to do it, too. It isn't hard — I can show you, one step at a time.
Together, we can make an organized craft room!
How Does the Organized Craft Room Challenge Work?
Just sign up for the challenge (it's free!) with the form at the bottom of this post. You'll receive a DAILY email with organization information, tips, and an assignment. (Yes, you have to actually organize your craft space!)
I am working right alongside you, and I'll be sending you photos of MY organized craft room as I do each assignment with you. Those in-progress photos will only appear in my emails — you will not see them anywhere on this blog! You are welcome to send me photos of your progress as well — I'm happy to be your accountability partner. I do not judge.
The 30-day challenge will also include lots of useful information: ways to make your craft room more efficient, ideas to store all sorts of craft items, and great tips and tricks from my own craft room.
Here are the types of organizational projects and tutorials I will share during the challenge:
We can do this together!
Not sure if YOU can do it? It works for many people! Check out Heather's craft room makeover, organized with my methods!
Join the Free Organized Craft Room Challenge Here
Click the image below to get started!
You will receive your first e-mail — and first assignment — immediately after joining! Remember, it's free.
You CAN do this. I am here to help and guide you. The daily emails serve as positive reminders to prompt you to take action. I will not guilt or shame you — everything I do is intended to empower and enable you to make these positive changes.
I look forward to sharing my organized craft room with you via email … and I hope you'll share your progress with me as well.