I'm so excited to finally give you a craft room tour! Come peek inside my special place and see all of my organization projects and storage solutions.
I didn't always have a craft room. In fact, for the longest time, I simply crafted wherever I could find some free space. But about a year into this blog journey, I decided it was time for a dedicated craft space. I came up with some designs and got to work, cleaning, sorting, organizing, and decorating. It's been a year since I began, but I'm so happy to be able to give you a complete craft room tour!
Live Craft Room Tour Video
You can watch my entire LIVE craft room tour in the video on this page! This video was recorded in my Craft Room Organization Facebook group.
Now, I think it's important for you to see where this all started. The journey is as important as the destination, right? This is what this room looked like when we moved into the house.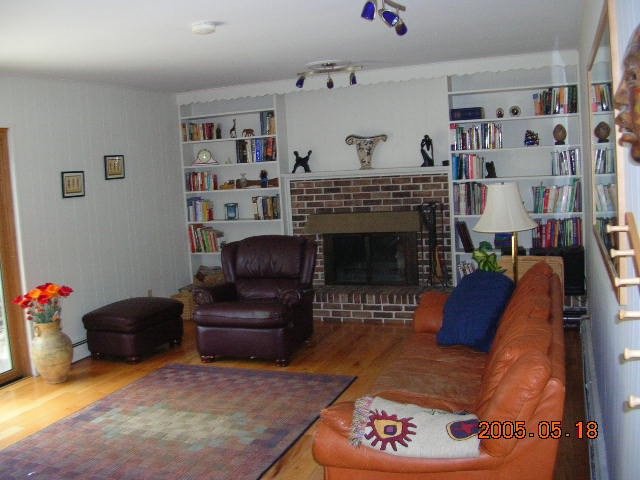 And here's what it looked like after we moved in and did some painting. This 14′ x 20′ room used to be our family room. Note the fireplace!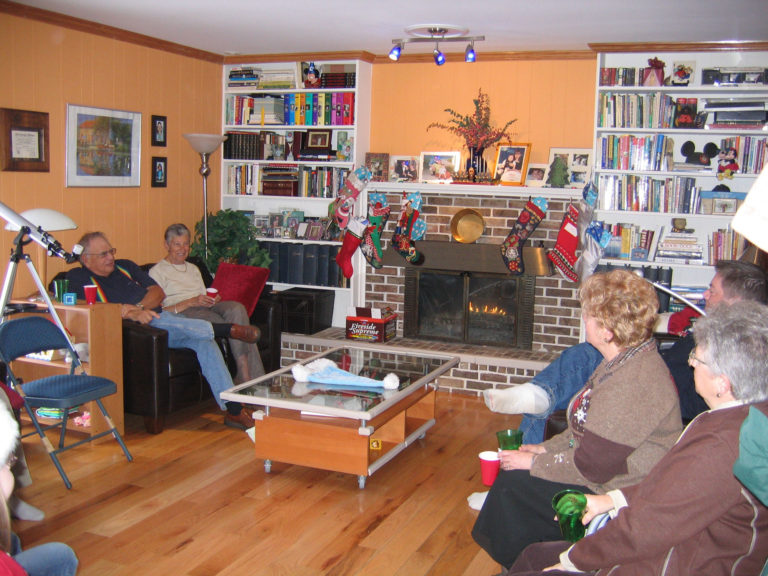 Then over the years, the room became my office and one corner of it changed to look like this (see the closet nook tutorial and desk tutorial here). You can still see the old yellow-orange paint on the wall here.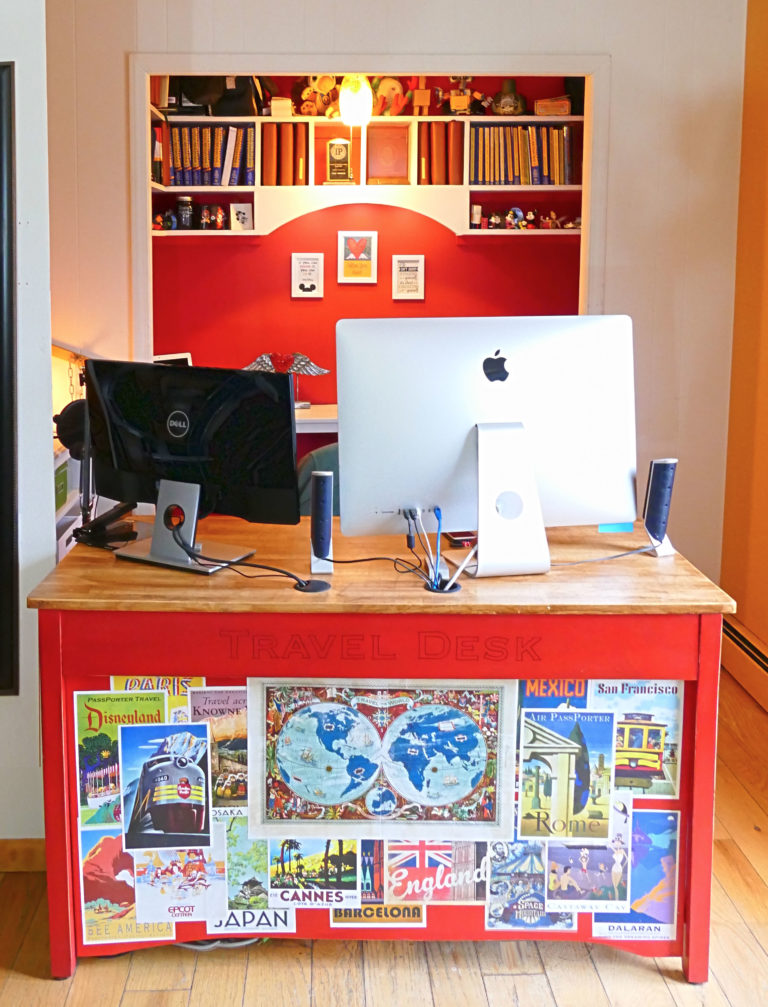 This was a fine space to work. The only problem was that the rest of the room looked all dark and dreary this: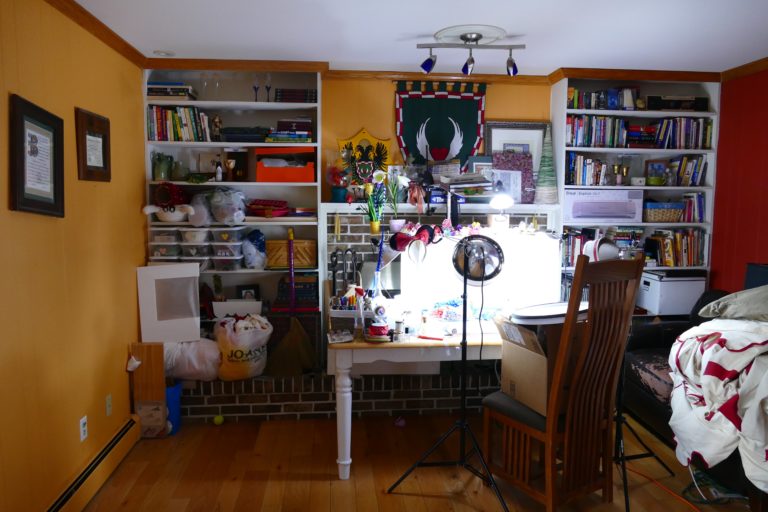 That table and chair you see there is where I crafted for a year. It was WAY TOO SMALL and a terrible use of the space. I resolved to change this, and I did!
So come on in and take my craft room tour! This post contains some affiliate links for your convenience (which means if you make a purchase after clicking a link I will earn a small commission but it won't cost you a penny more)! Read my full disclosure policy.
Let's Do This: My Craft Room Tour!
As you walk into my craft room, this is what you are welcomed with. Quite a bit different than before!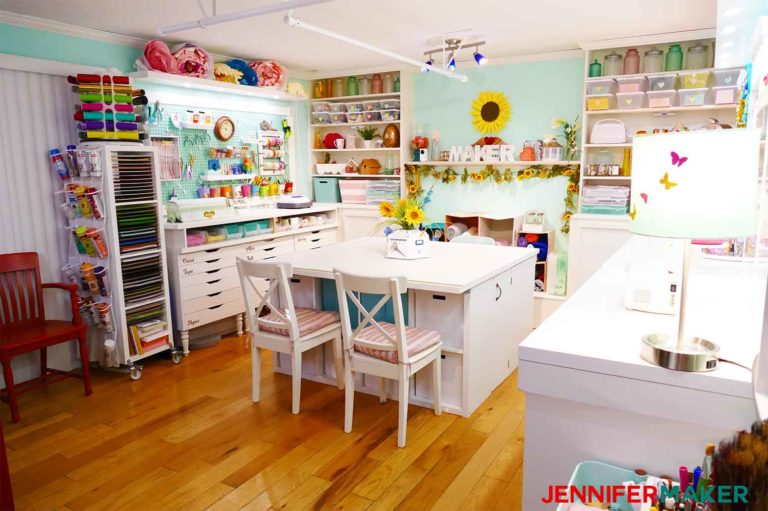 First, let's look at the final craft room floorplan so you can see how my craft room looks overall: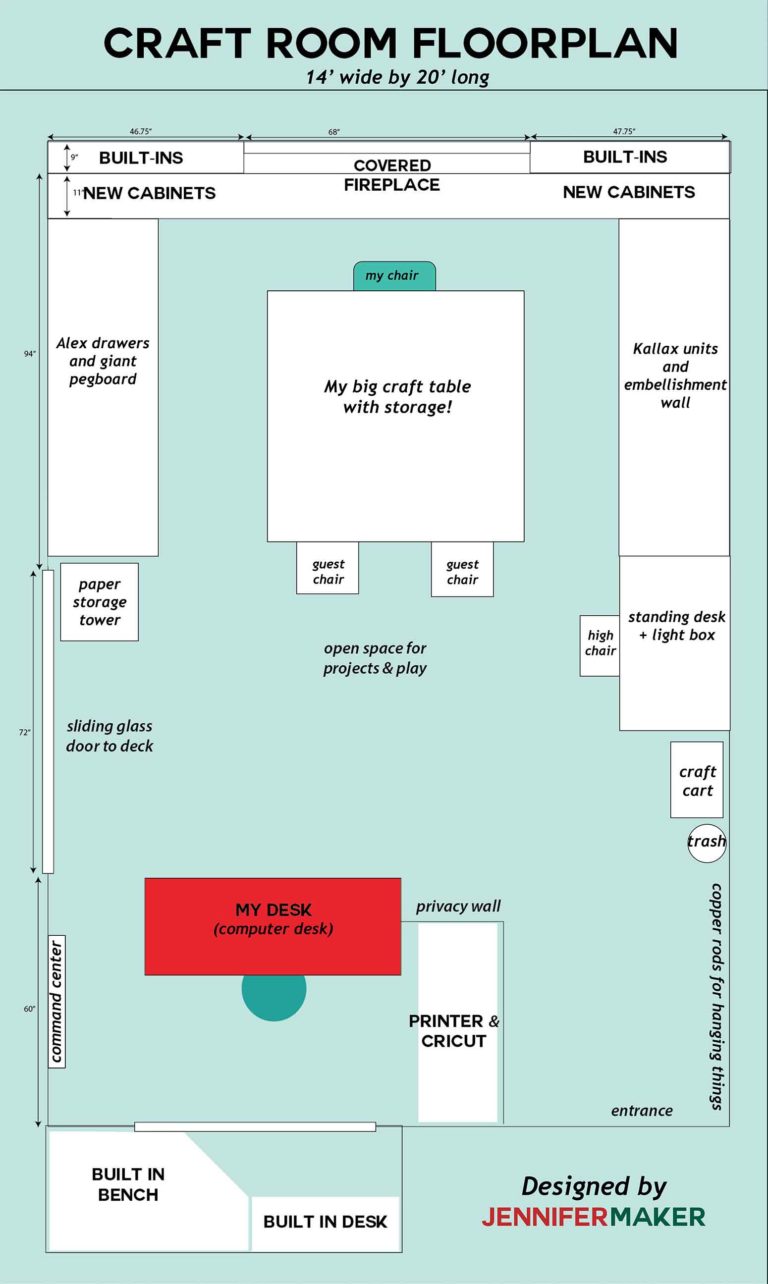 I created many of the storage solutions in this craft room, and nearly all of them have tutorials on my blog. There's just one missing at this point, and that's only because I just finished it!
My Craft Room Table
The focal point of the room is this HUGE craft room table, which is 5′ x 5′ and has room for me and guests, plus tons of storage. It even hides my two trash cans underneath. Here's the full tutorial to make the IKEA Craft Room Table with Storage!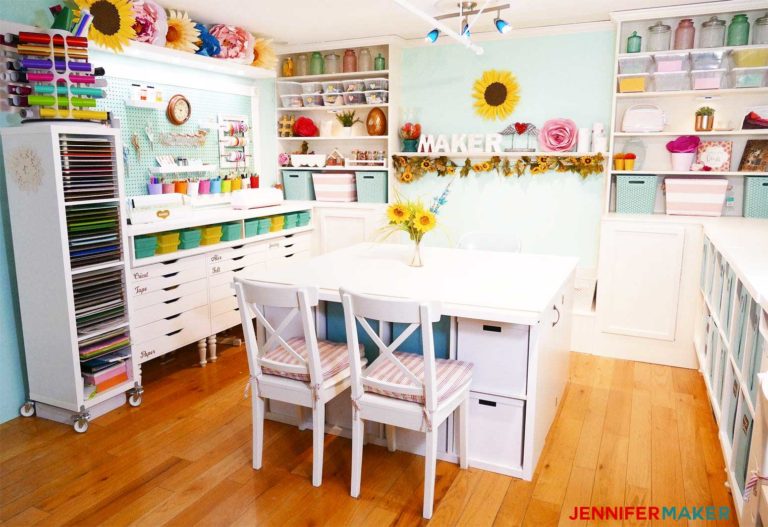 My Craft Room Tall Standing Table / Light Box:
I have another table in the room — my tall standing table. I use this mostly as a lightbox for taking well-light photos, but I can also close it and use the space for other projects, like sewing. You can read exactly how I attached the legs to the IKEA craft room storage in this tutorial.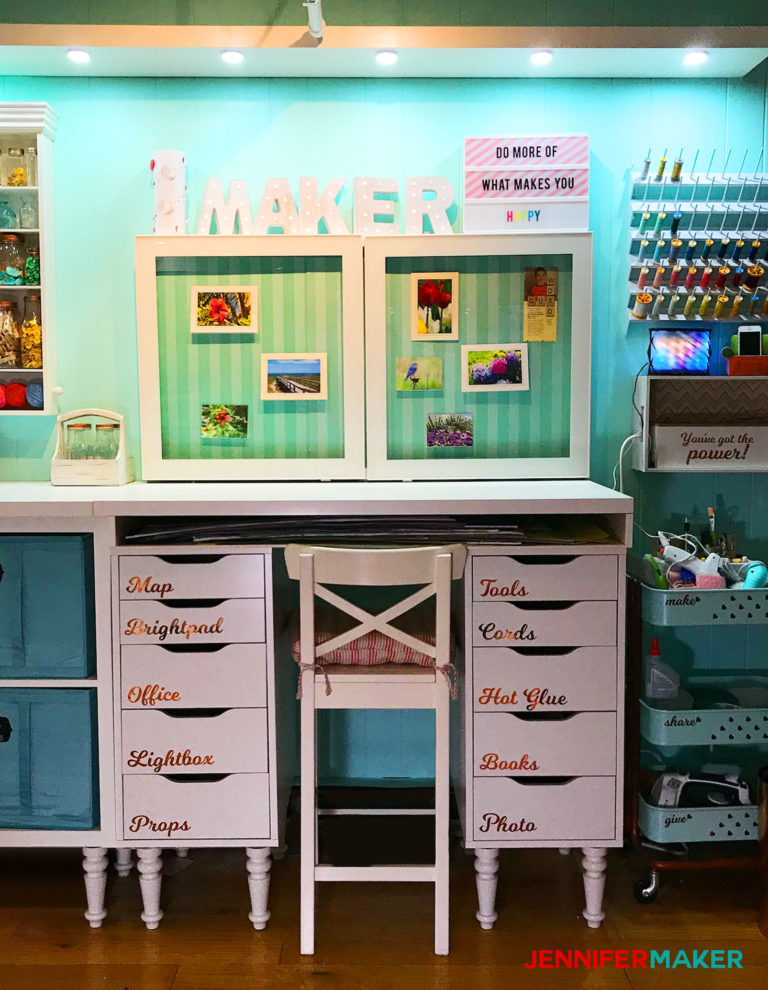 Here's another photo of this standing craft table with one of my sewing machines on it: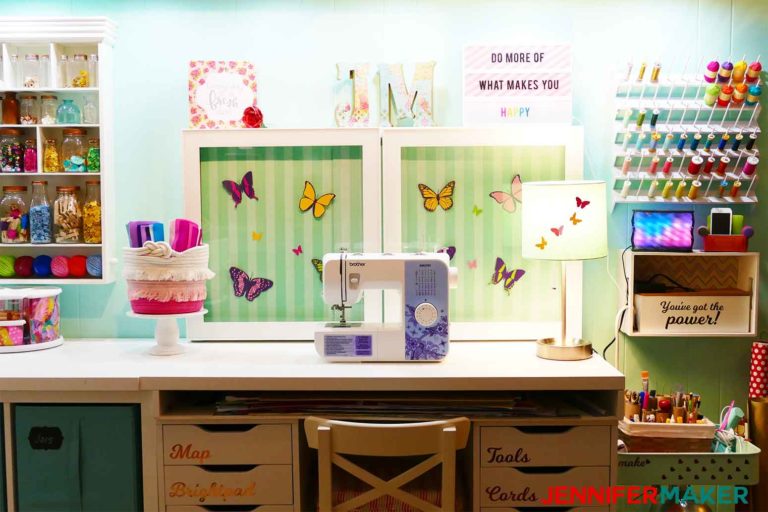 Over on the right side of standing desk is my craft cart! I love this thing — it's cute and it moves around the room as I need. I painted and decorated mine — learn more about where I got it and how I painted it here: IKEA Raskog Cart: The Best Craft Organizer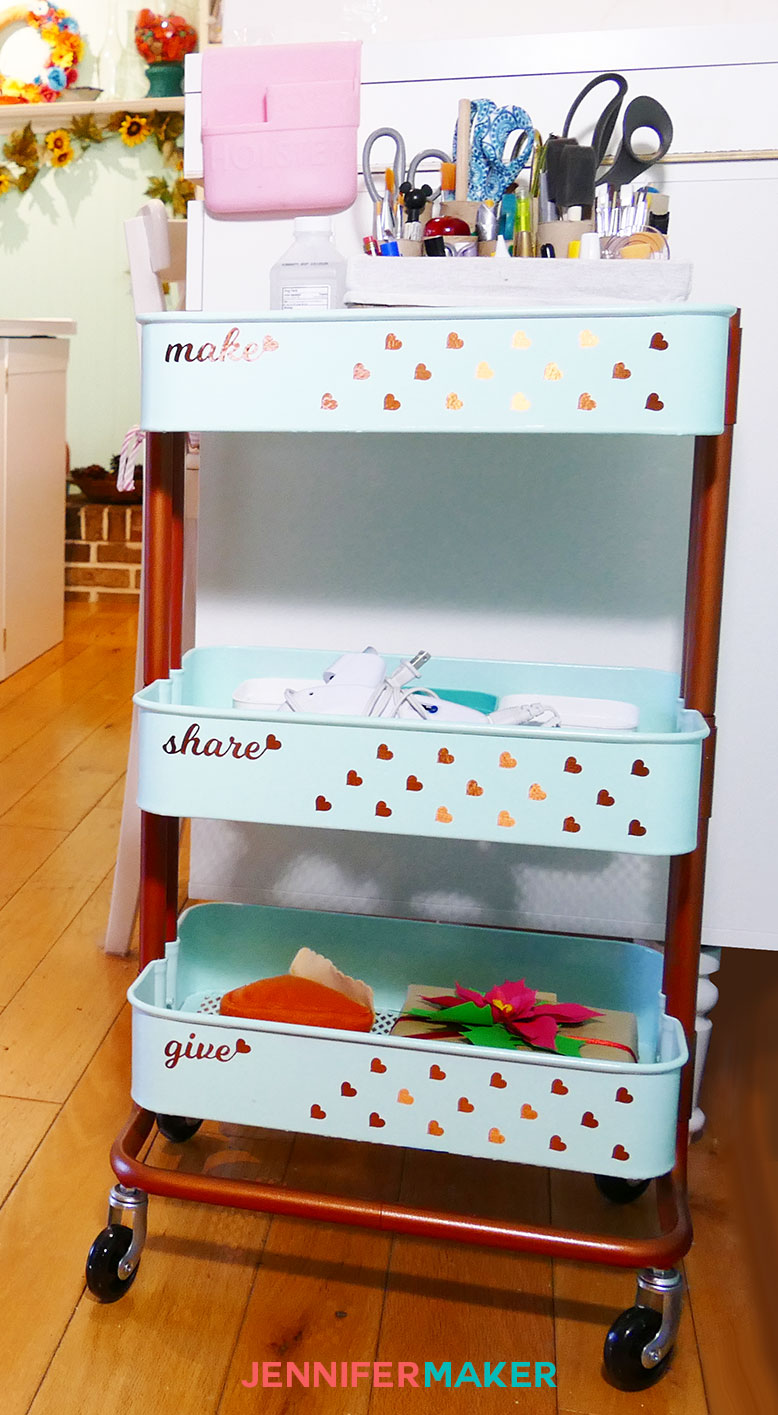 Beside the craft cart is my hanging wall, where I can hang various things and projects. Right now it's holding paper, but it could be used for any number of things. Learn how to make these curtain rods inexpensively and easily here!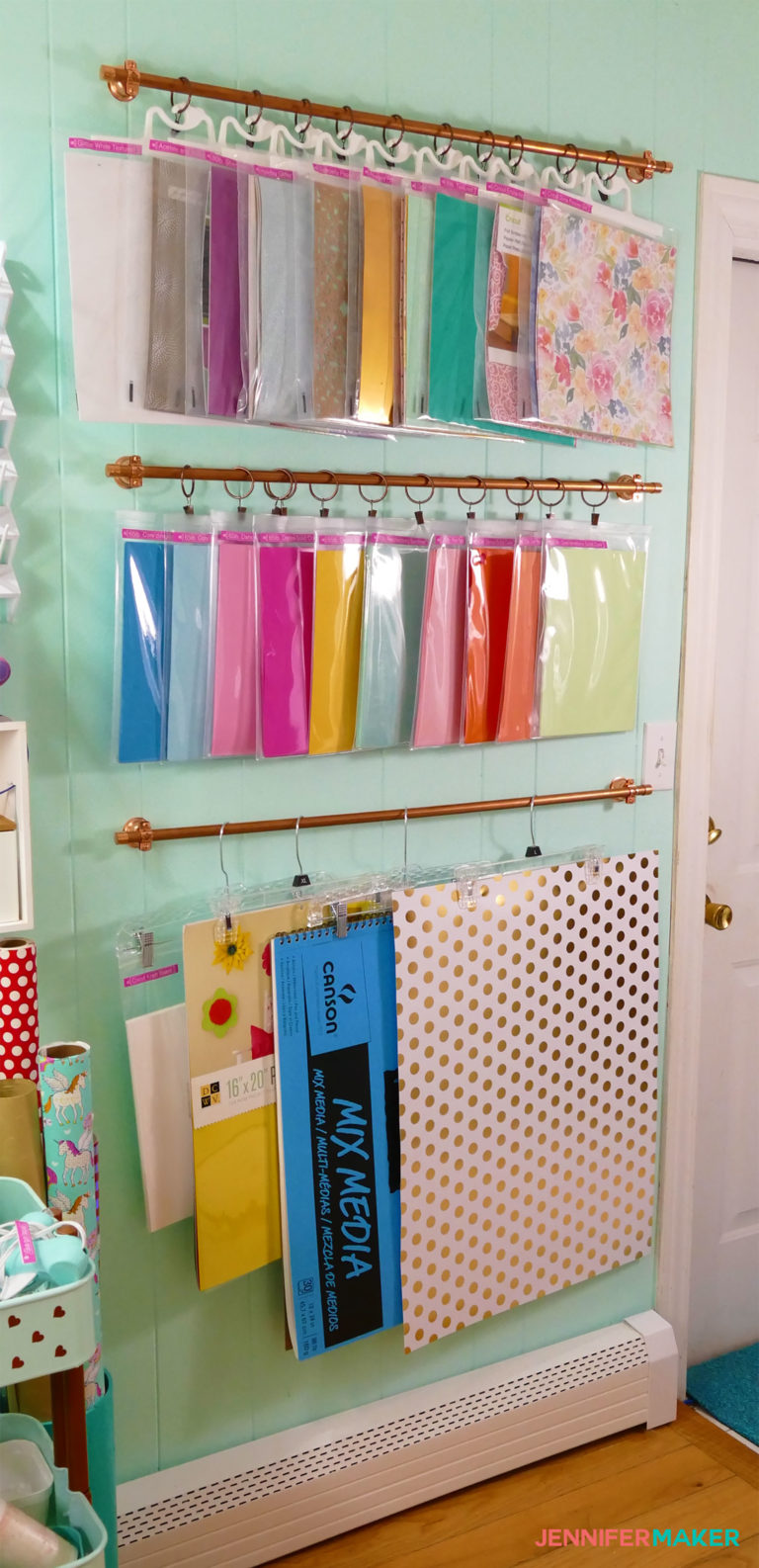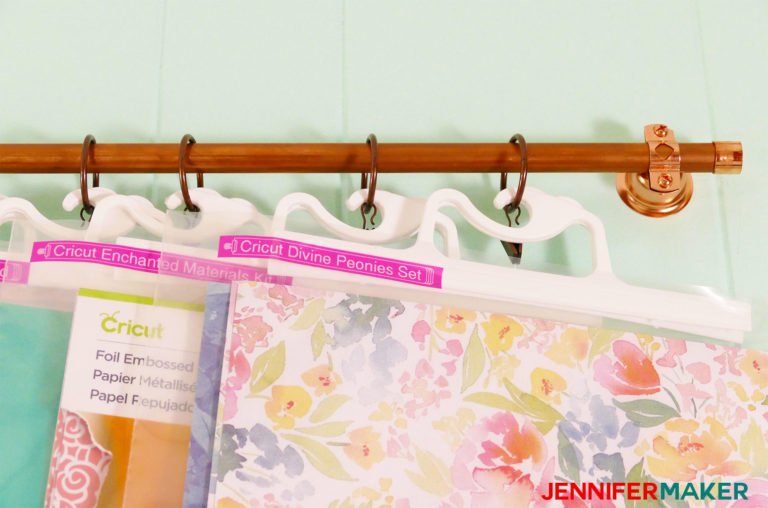 Moving down the room, we come to my embellishment wall. This is where I keep my bits and bobs, as well as my craft paints. I love those embellishment shelf units (here's where you can get them). (Tip: You can watch us put these up on the walls, and see each item as I put them on the shelves, in this video in my Facebook group.)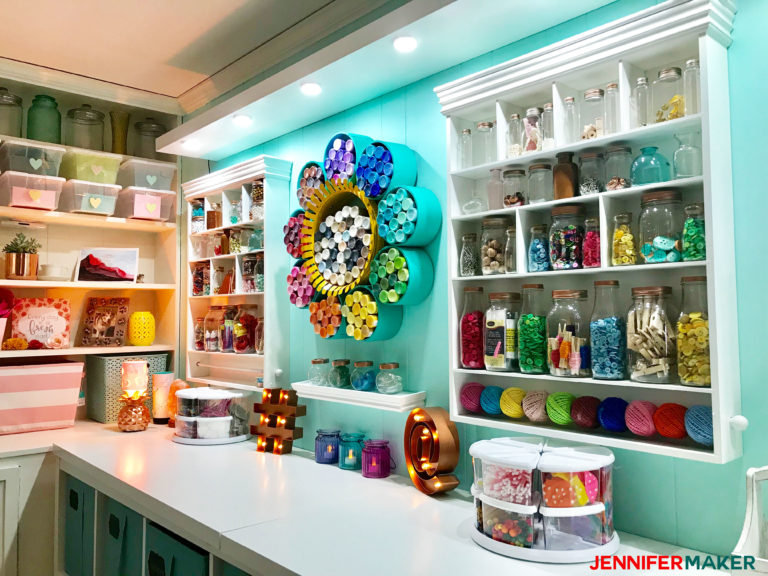 I've gotten a lot of questions about the other things in this photo, so here are more links to where I purchased various storage items:
Floating Shelves – https://www.ikea.com/…/produc…/40103751/…
LED Puck Lights – https://amzn.to/2qlvRye
Small plastic rectangular containers – https://amzn.to/2qjQ081
Corked glass jars – https://amzn.to/2v81yB5
Big Mason Jars – https://amzn.to/2Hr6m72
Medium Mason Jars –https://amzn.to/2GOgDsT
Little Mason Jars – https://amzn.to/2IFWHIY
The flower in the middle is my Paint Flower! I made this from PVC pipe and a duct collar — get the Paint Flower tutorial here!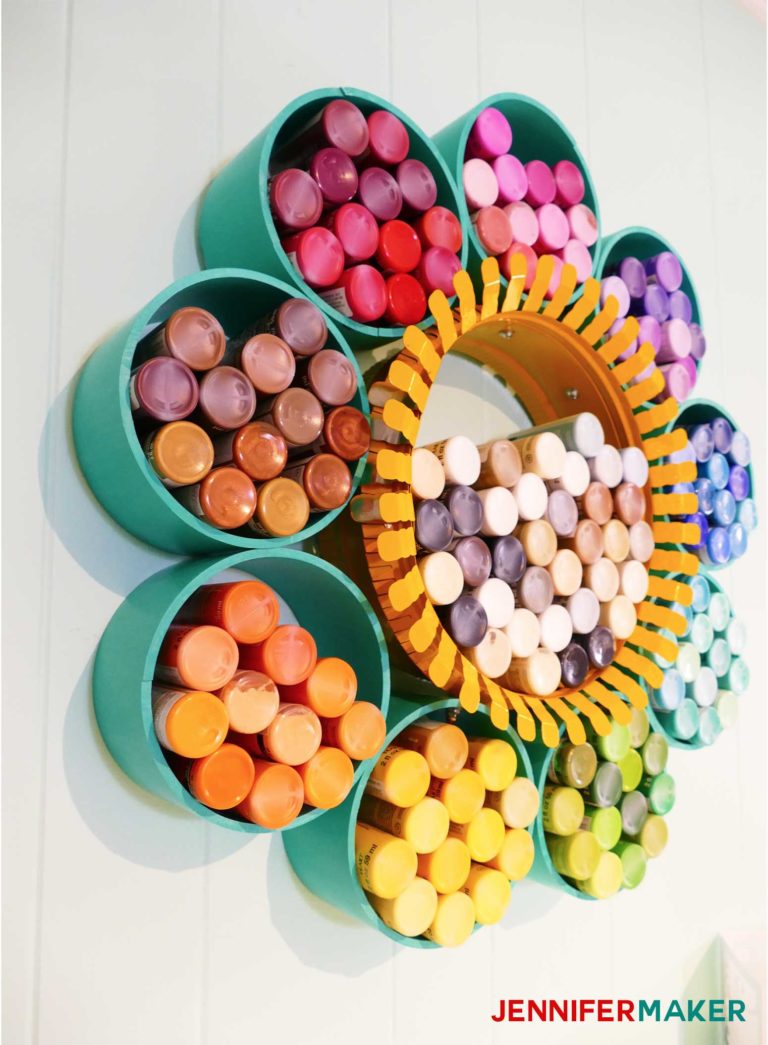 That overhead shelf with the lights is something we made, too! We have two of them in this room and they provide excellent illumination and storage. And, yes, I have an entire tutorial for the lighted shelf as well: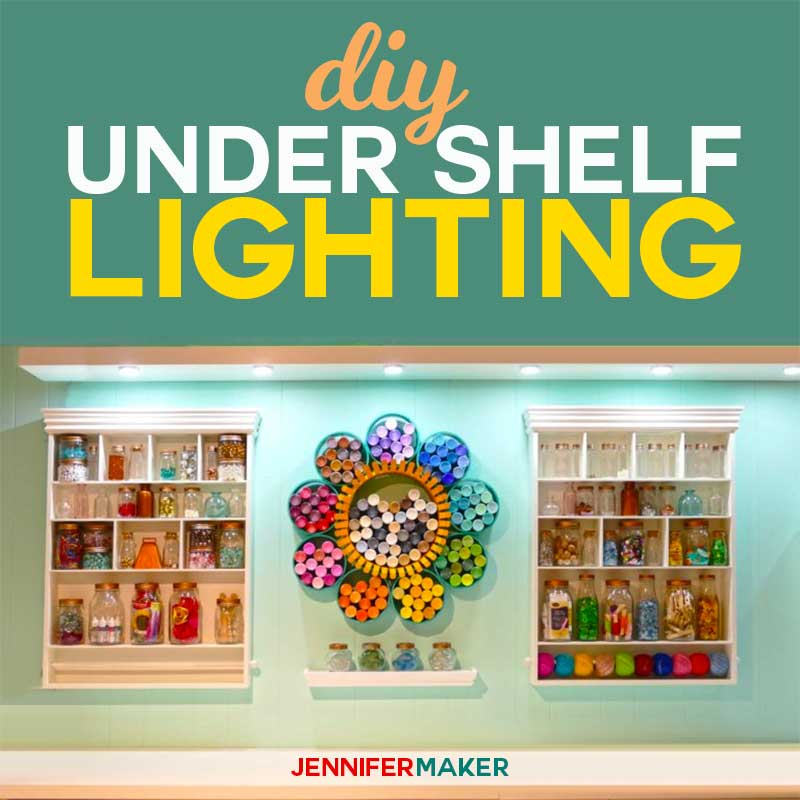 Remember, how I mentioned we had a fireplace in this room? You can see no trace of it now, other than the mantle. We completed covered (and insulated) the opening, then put a removable panel over it. I think it turned out great and serves as an excellent background for me when I'm doing video tutorials:
this video in my Facebook group
Moving around the craft room, we get to my giant pegboard! This thing is amazing for keeping tools handy, plus it's just so darn cheerful that I can't help but smile. You can learn how to make the large framed pegboard here.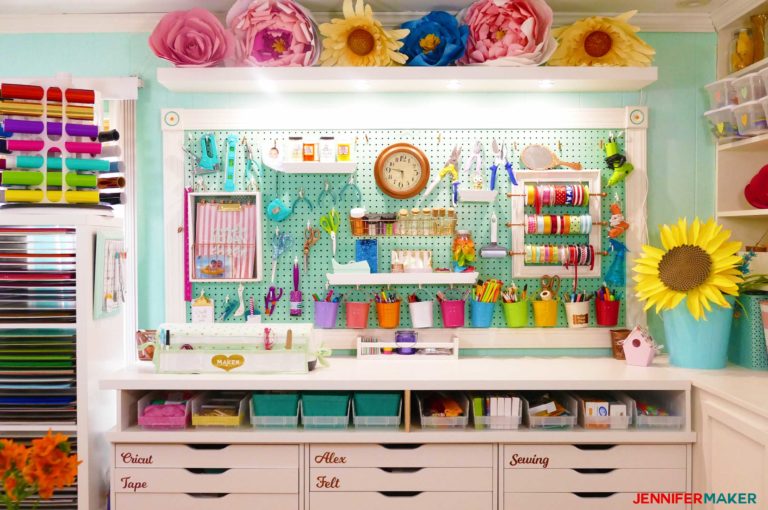 The ribbon organizer is another craft room project on my blog — get the ribbon organizer frame tutorial here!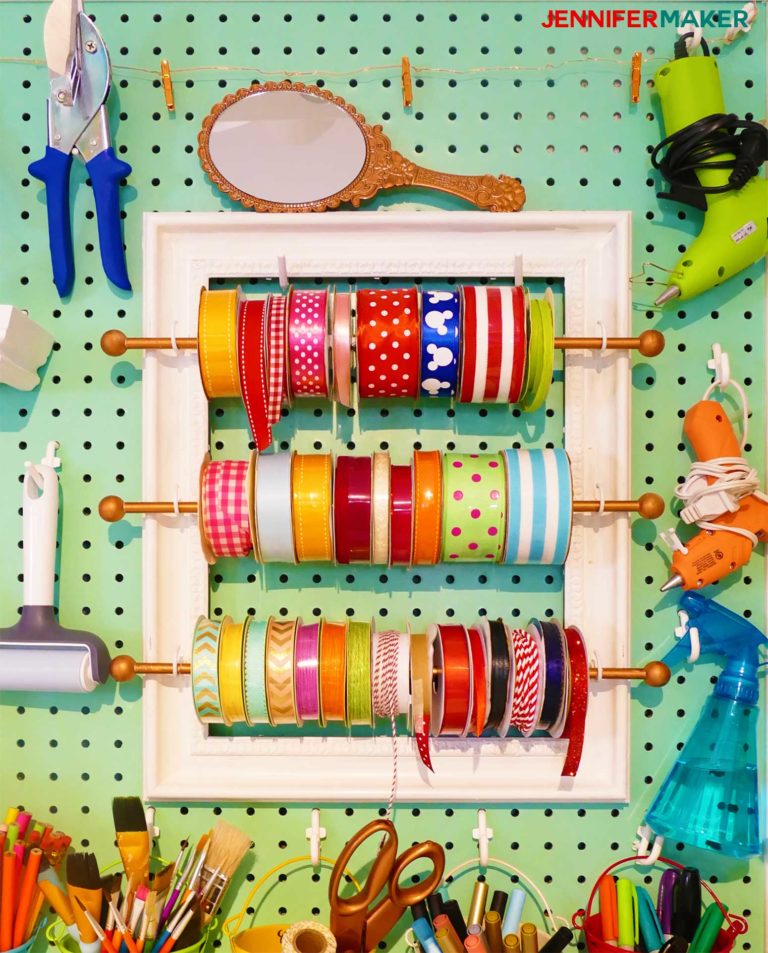 If you'd like to know what each item is on my pegboard and where I found it, check out my Pegboard Accessory Ideas post: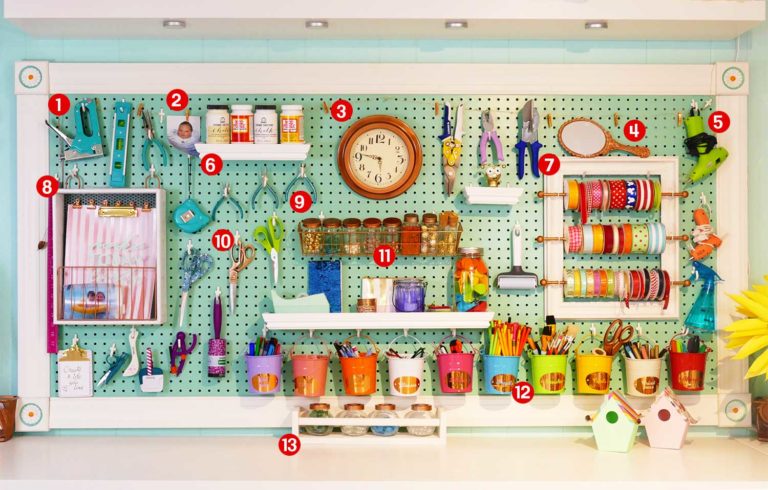 Next to my pegboard is my paper storage tower, which holds 12″ x 12″ paper as well as letter-size paper. Here's the tutorial to make the Paper Storage Tower.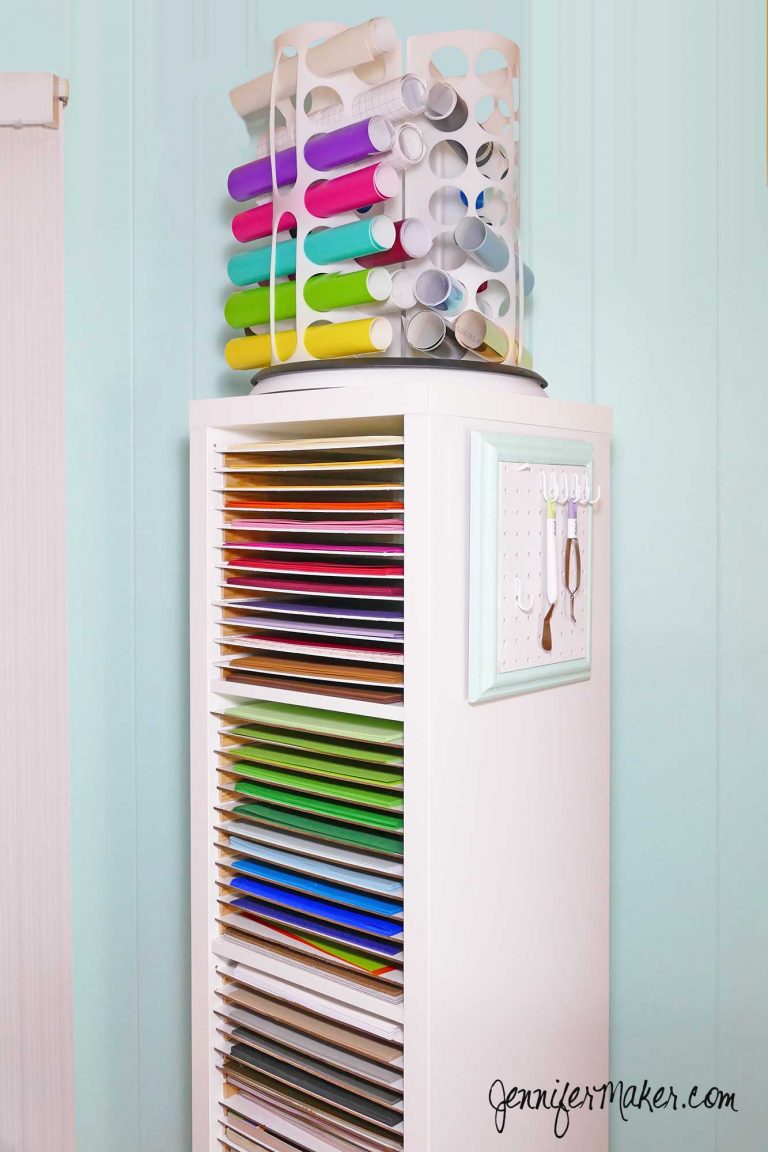 And that little pegboard on the side is my framed and portable craft tool pegboard (tutorial here).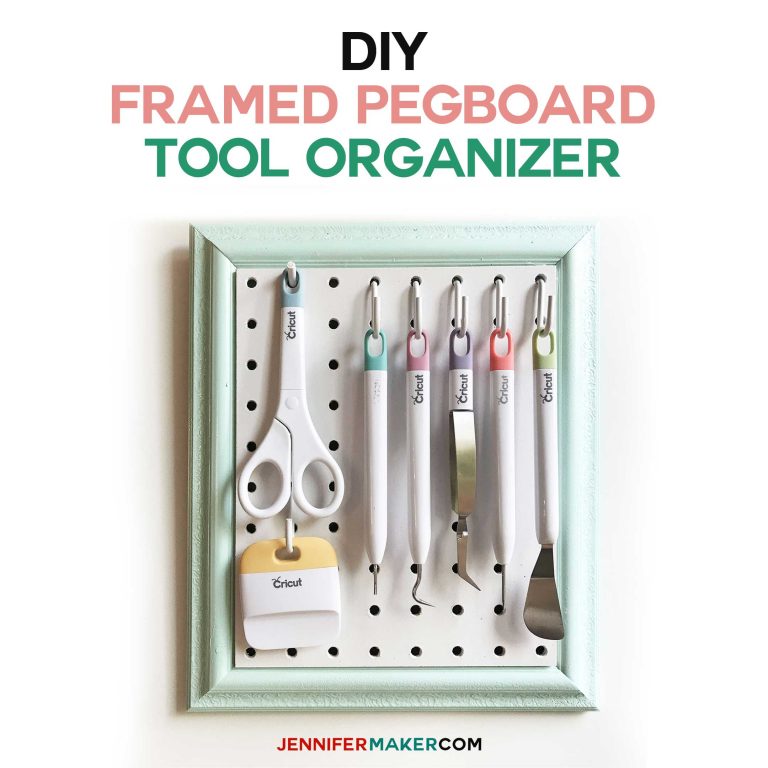 The last thing to show you is my latest project, a craft command center! It's made from old shutters and a whiteboard, and it can store notes and papers. Here it is with the shutters closed: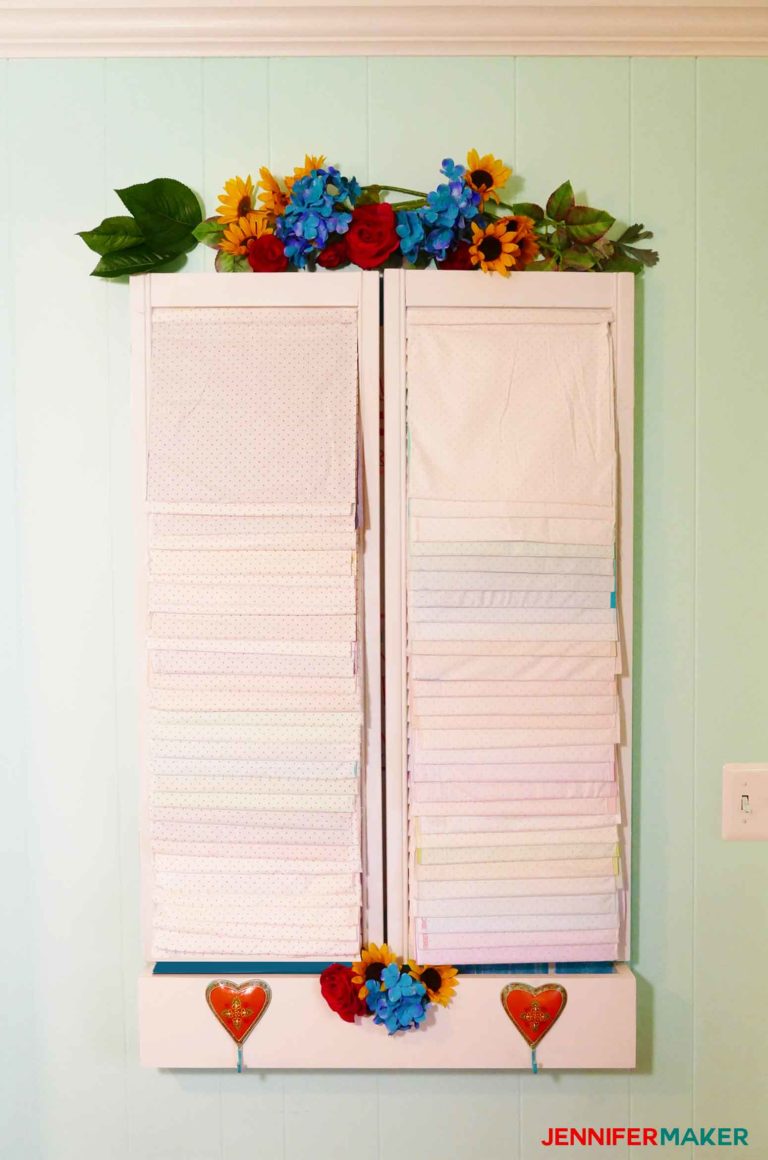 And here's the command center with the shutters open: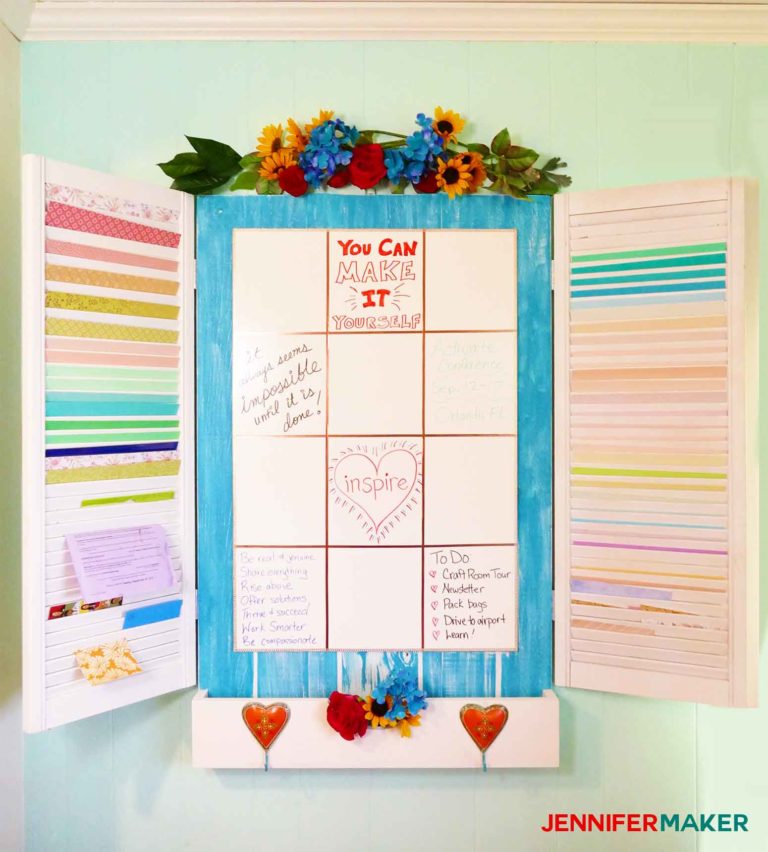 I don't yet have the tutorial online for this command center, but you can learn how I made the paper storage for the shutters here.
I hope you enjoyed this little tour of my piece of heaven! Please let me know if you have ANY questions and I'd be happy to answer them for you.
Love,