Thanks to my Cricut habit, I'm drowning in paper. Can you relate? We need to conquer this problem and organize our paper, especially our 12 x 12 scrapbook paper! I looked into some pre-built paper storage solutions, but … they are very pricey! DIY to the rescue! I came up what I'm calling my Paper Tower of Power, and you're going to love this for your scrapbook paper. It's a 12×12 Vertical Scrapbook Paper Storage Organizer that I put together myself from things that are easily obtained. It holds a LOT of paper, and fits both 12×12 scrapbook paper and regular letter size. And it's amazing. I may need to build another one.

This is one my IKEA hacks. So it's not very expensive, and you can customize it to your needs. I've even got a tutorial for a similar organizer that holds craft vinyl! If a vertical tower isn't right for you, or you need more storage, the IKEA unit I use comes in many different sizes and configurations. Check out my tip on adding legs to IKEA furniture to really class it up! And if you're making a trip to IKEA, check out my IKEA Shopping Tips & Tricks!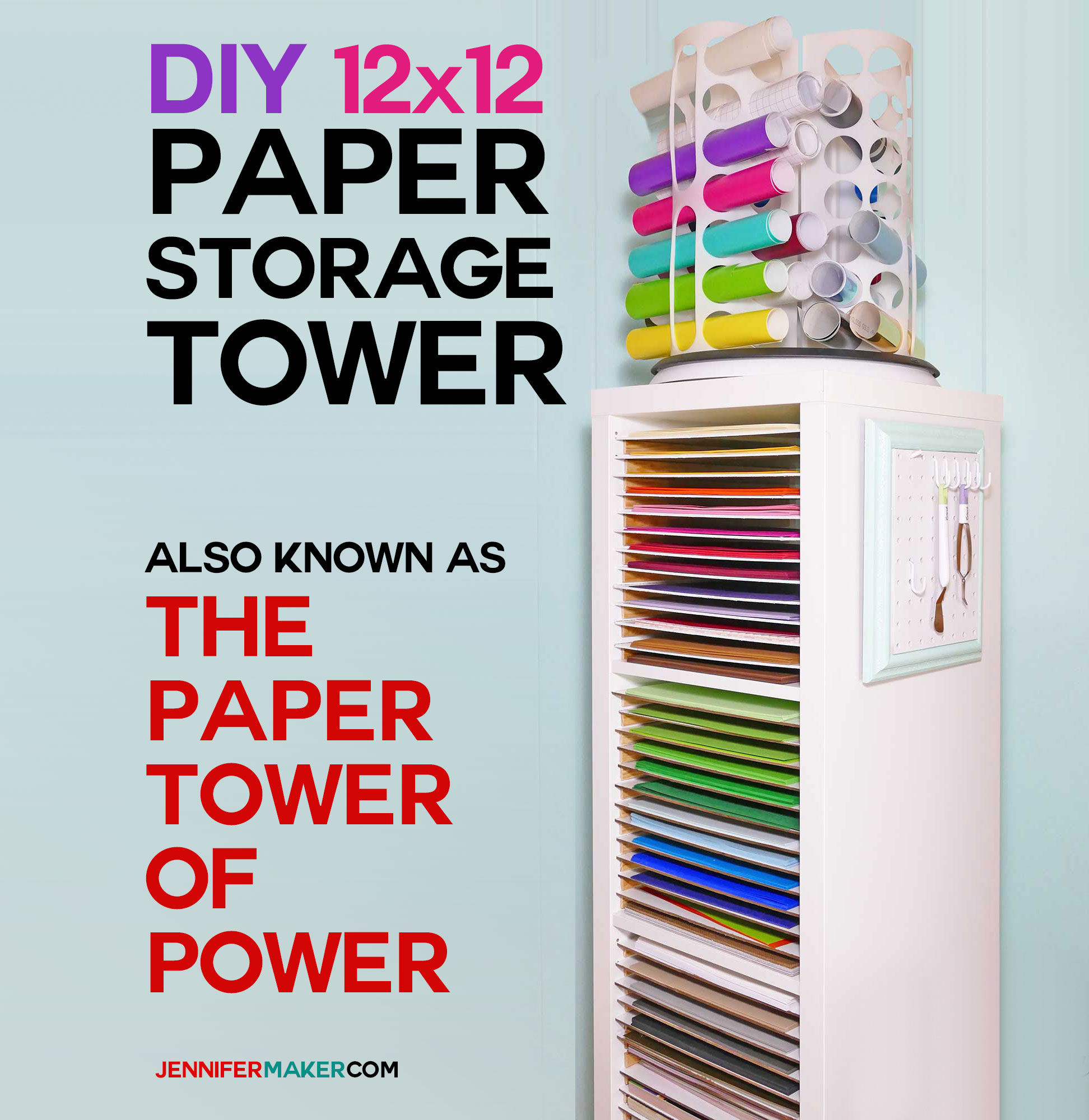 Reader Tracy Gooch made a paper storage tower following this tutorial: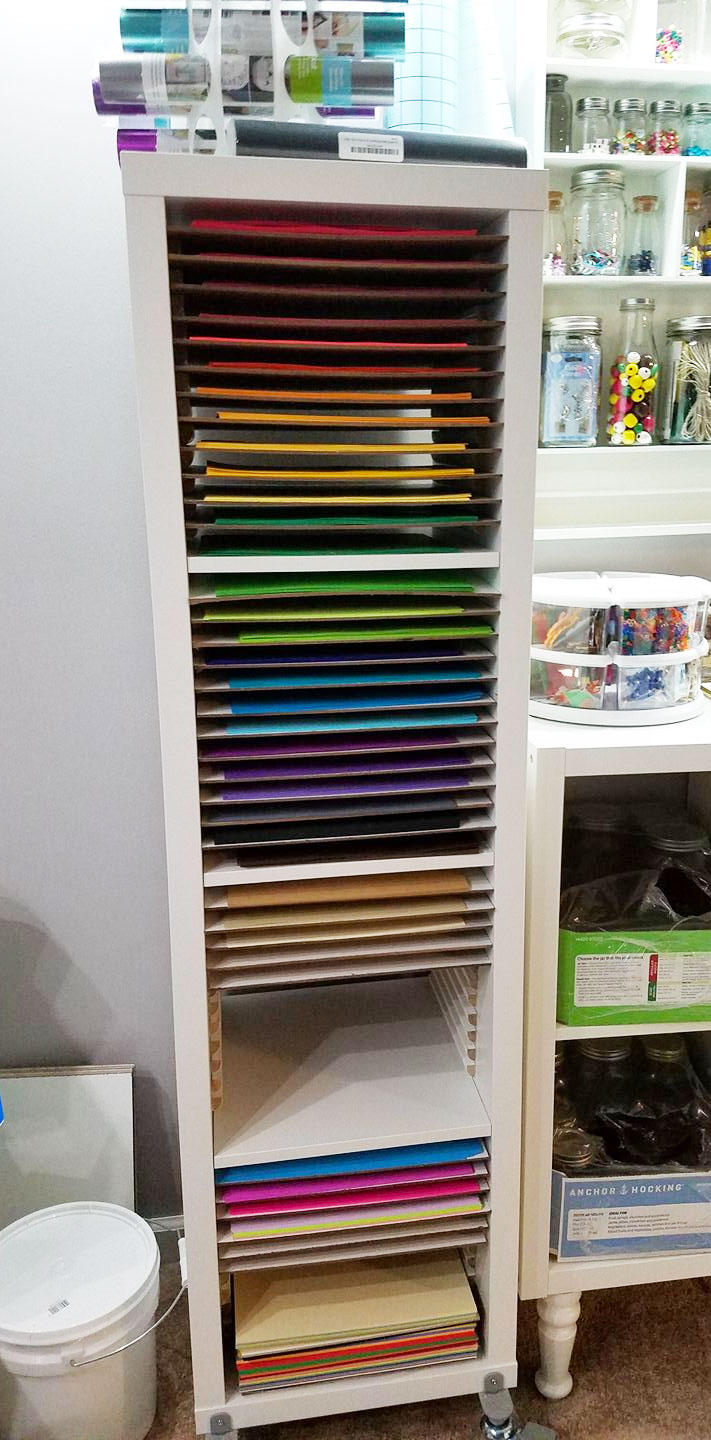 Here's a great "double tower" version of this organizer made by reader Arlene from That Paper Flower Chick!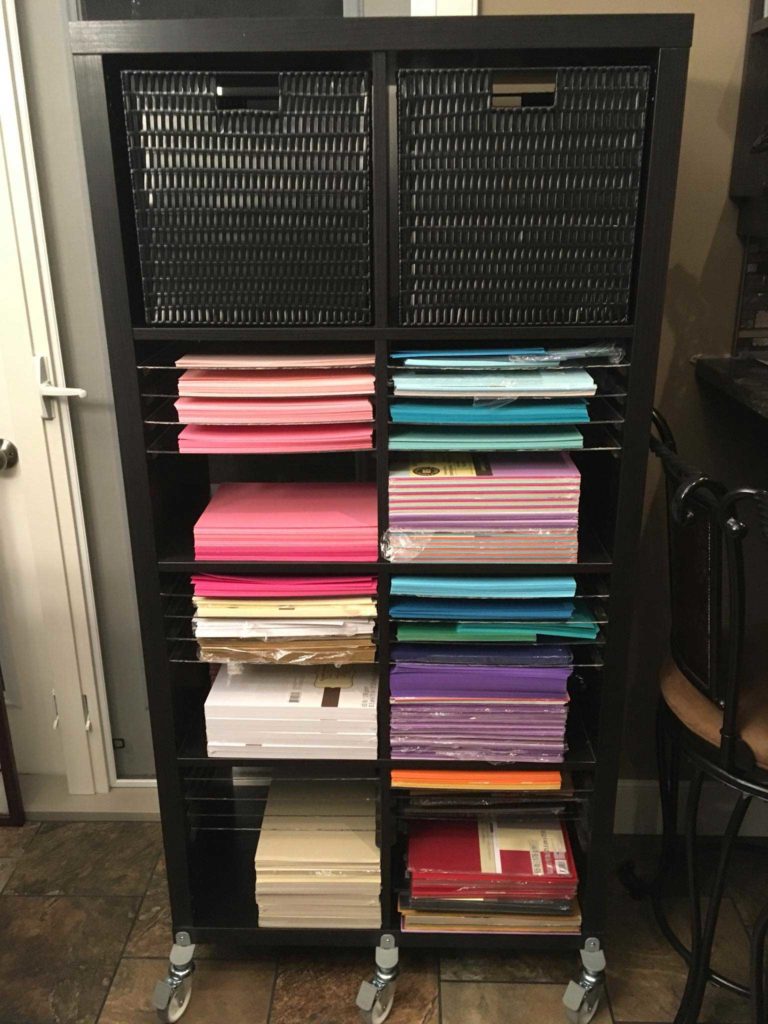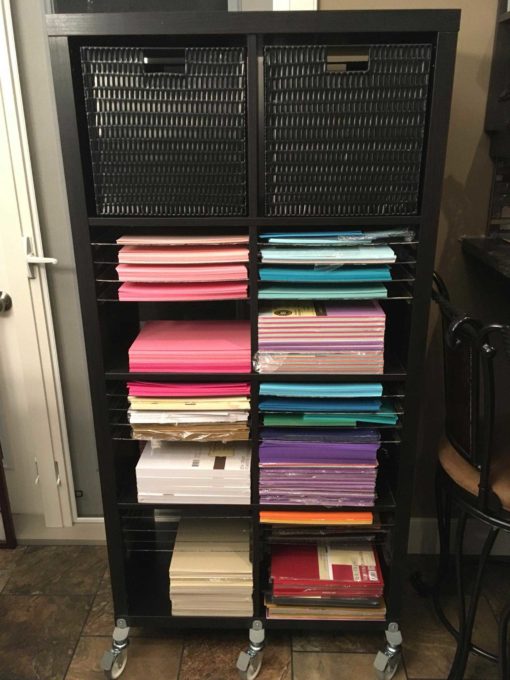 This post contains some affiliate links for your convenience (which means if you make a purchase after clicking a link I will earn a small commission but it won't cost you a penny more)! Read my full disclosure policy.
What You Need to Make My 12×12 Paper Storage Vertical Unit
IKEA Kallax storage unit item 002.758.48, one unit (you can buy this on Amazon if you don't live near an IKEA) – I bought one new at IKEA for $35
IKEA caster rails for Kallax item 002.886.57, two sets, about $12 each — also on Amazon (these are optional if you want your Paper Tower of Power to be able to roll around the room) – note: it seems IKEA no longer sells these, so you can instead get the IKEA Rill Caster (set of 4)
Shoe Moulding strips, 1/2″ — you'll need about 30 feet per cubbie. The link goes to a flexible product you can buy online; however, I used long pieces purchased at my local home improvement store. (I bought 12 10-foot lengths for my paper storage tower) — note that you could also use quarter-round strips, but they are more expensive
White panelboard sheets – 1/8 in. x 4 ft. x 8 ft. (I bought two for $13 each at Lowes)
Hot glue gun and glue sticks
Design #51 – Template so you can mark your storage unit (available in my free resource library)
Pencil
Painter's tape
White acrylic paint (optional)
How to Make the 12×12 Vertical Scrapbook Paper Storage
First, assemble your Kallax storage unit. I put mine together in about an hour, maybe a little less. It wasn't difficult. Here are my boxes and other materials ready to go.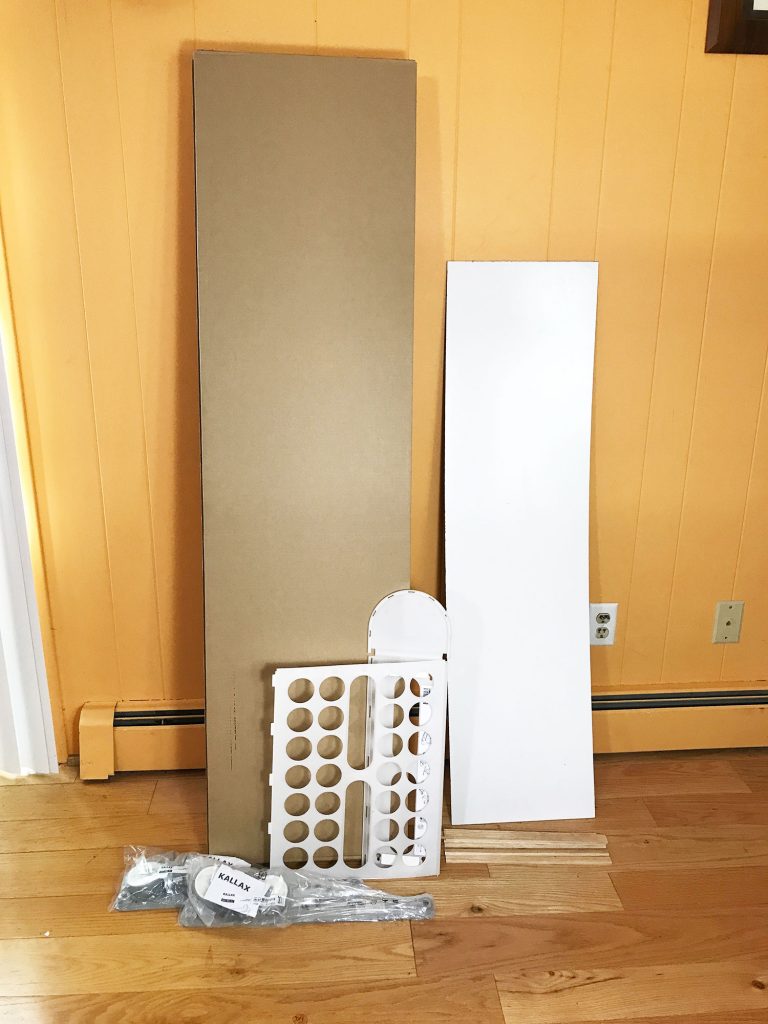 Next, put the two caster rails on the bottom of your tower, if you decide to use them. I love them because now I can move my paper around the room with me as I work.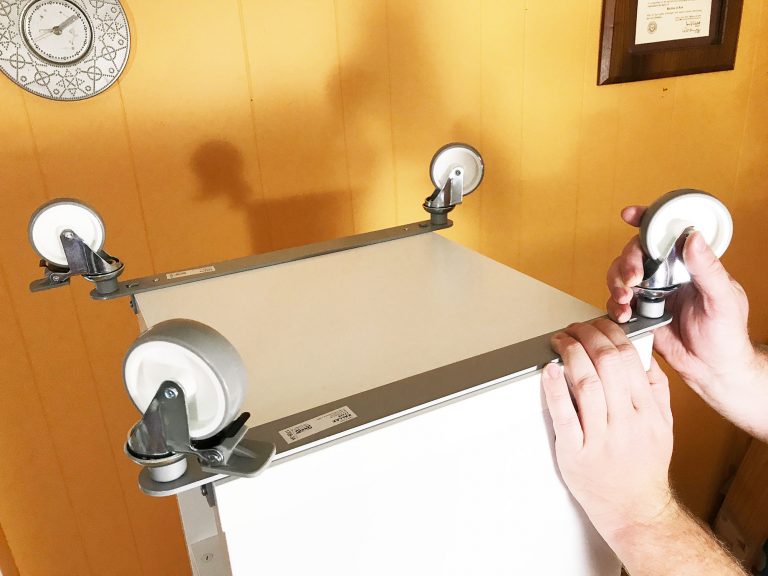 Prepare your moulding strips by cutting each strip into 10″ long sections. A handsaw will work fine for this. We used our table saw to make it faster.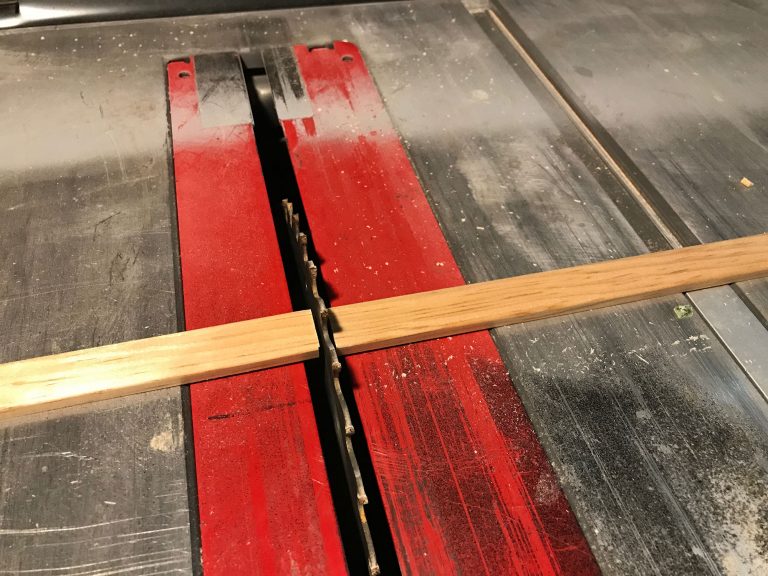 Cut your white panelboard down into shelves that are exactly 13.25 inches x 15 inches. I recommend you cut just one shelf and then make sure it fits perfectly in your storage unit. It should not be either too tight or too loose. Here is a diagram that shows the best way to cut it to get the maximum number of shelves.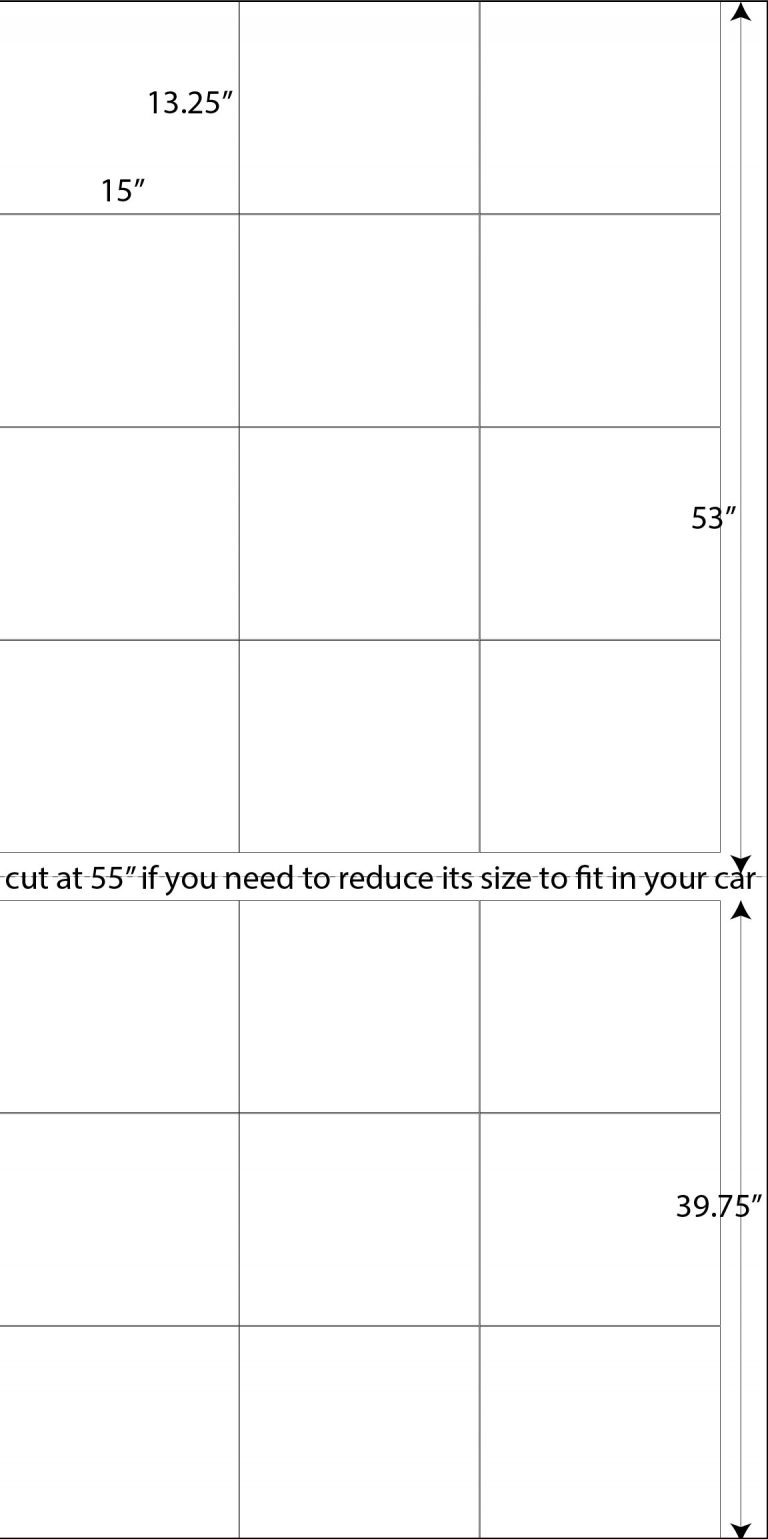 You should be able to get 21 shelves from each sheet (you need 48 shelves total if you want to fill every cubby). We used our table saw to cut these. You may be able to get your local home improvement store to cut this down to size for you, but be aware that they may not be as accurate as you wish.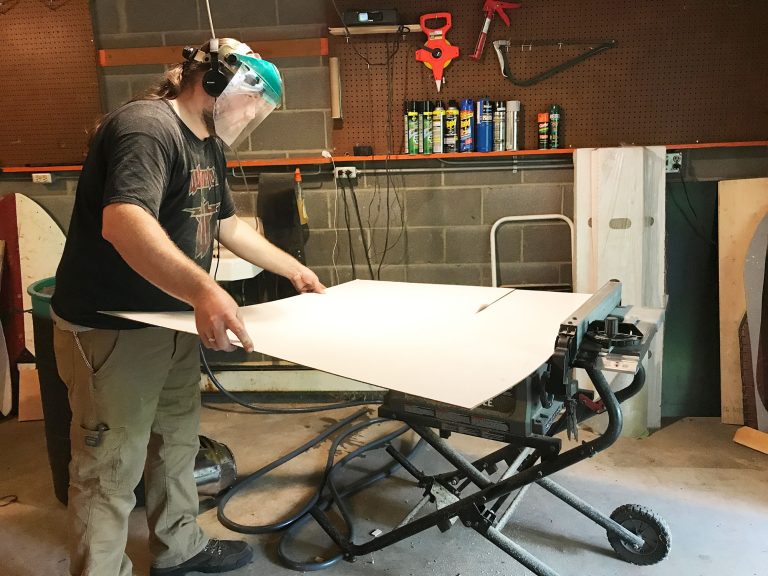 Tip: You'll likely want to cut your sheets down at the home improvement store so they fit in your car. If you do this, DO NOT have them simply cut in half. Ask them to cut each at 55″ — that way you can get the maximum number of shelves out of each one (see diagram above).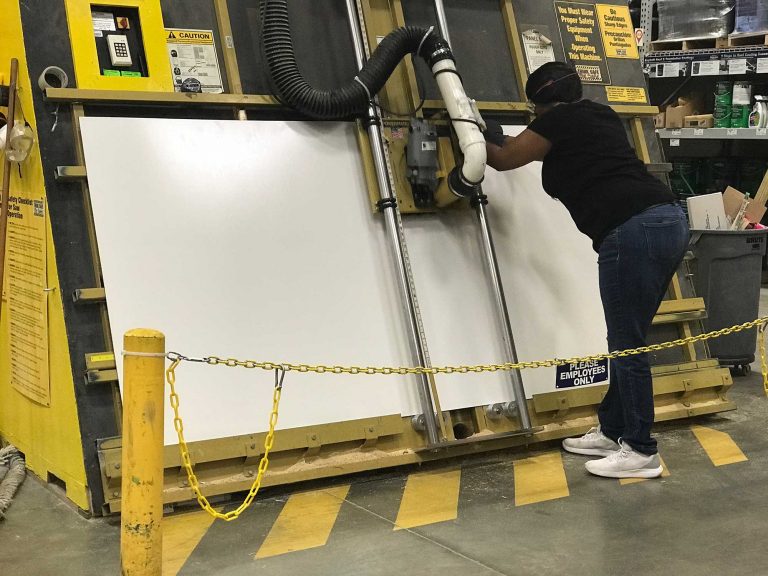 Now you want to mark the inside sides of your storage unit using my template. I recommend you center it inside the unit, flush with the bottom, and then tape it in place so it doesn't move around. Mark both sides with the pencil. Note that you also want to use the top edge of the template to mark the top-most shelf. You should have 12 lines on each side to make 12 shelves per cubbie.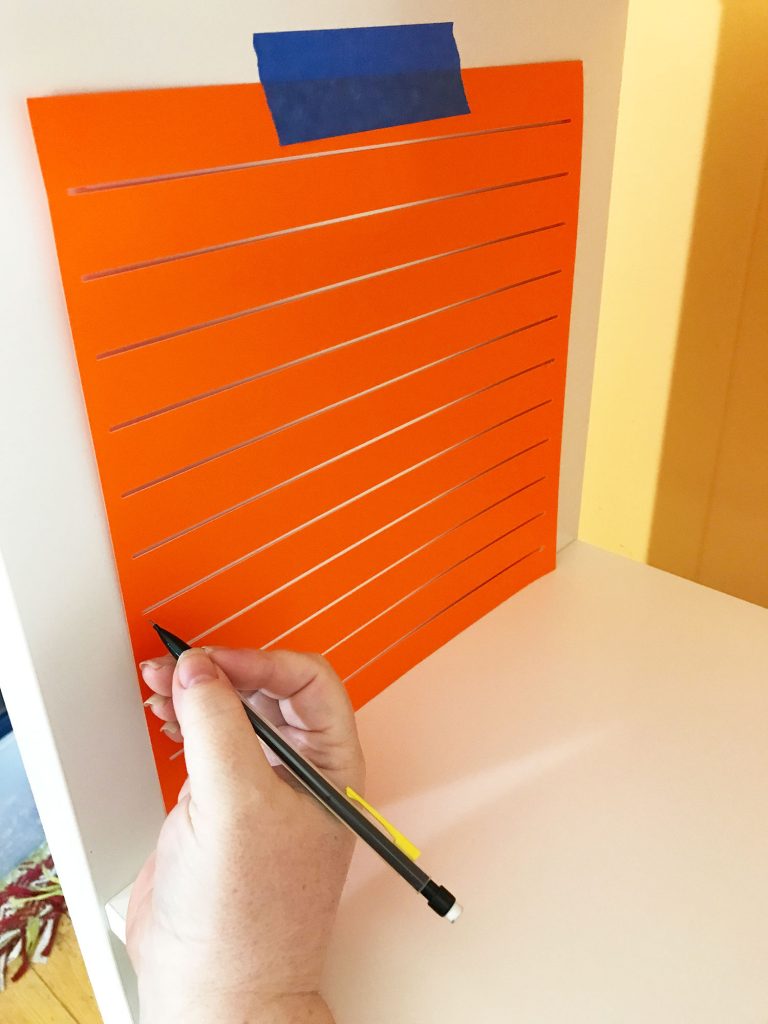 Apply a generous strip of hot glue to one of the flat sides of your cut moulding section. Press the moulding with the glue on it to the inside of your unit, lining up the top of the moulding with your pencil marks. Note that the glue will set quickly — you'll have only a second or two to adjust if you get it slightly off.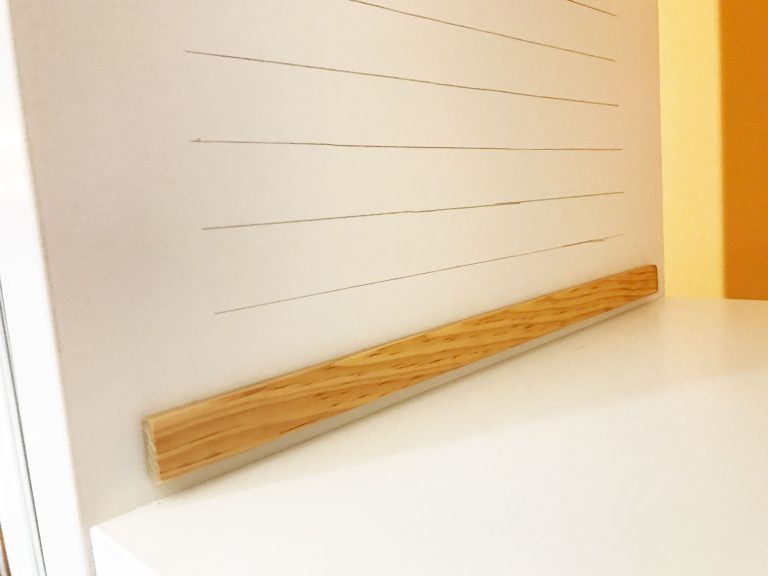 Note: You could, of course, use a different glue for this. Hot glue is what I tried first and it worked great, so I didn't bother with anything else.
Continue applying the moulding sections as close as you can to your pencil marks until you have them all in place.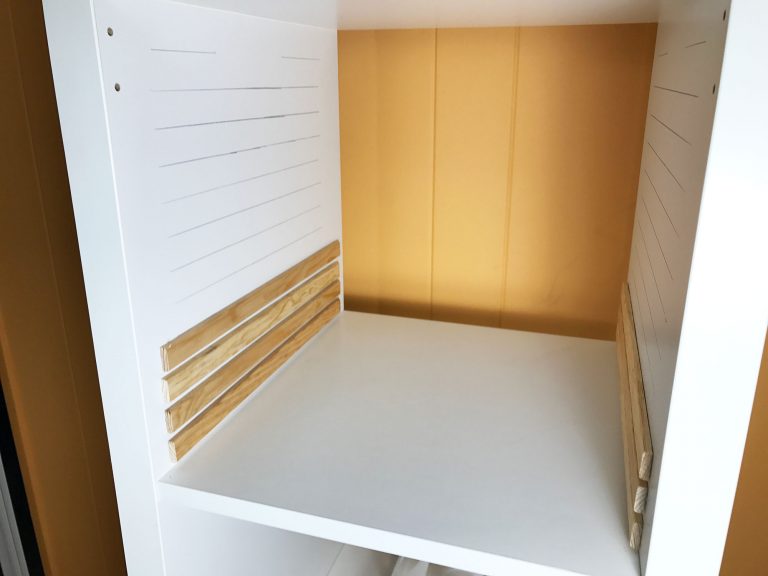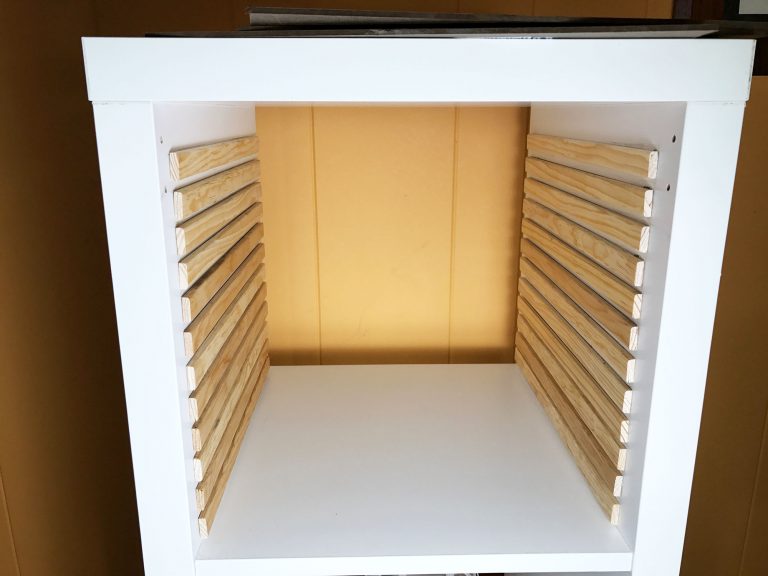 Slide in each shelf of your paper storage unit.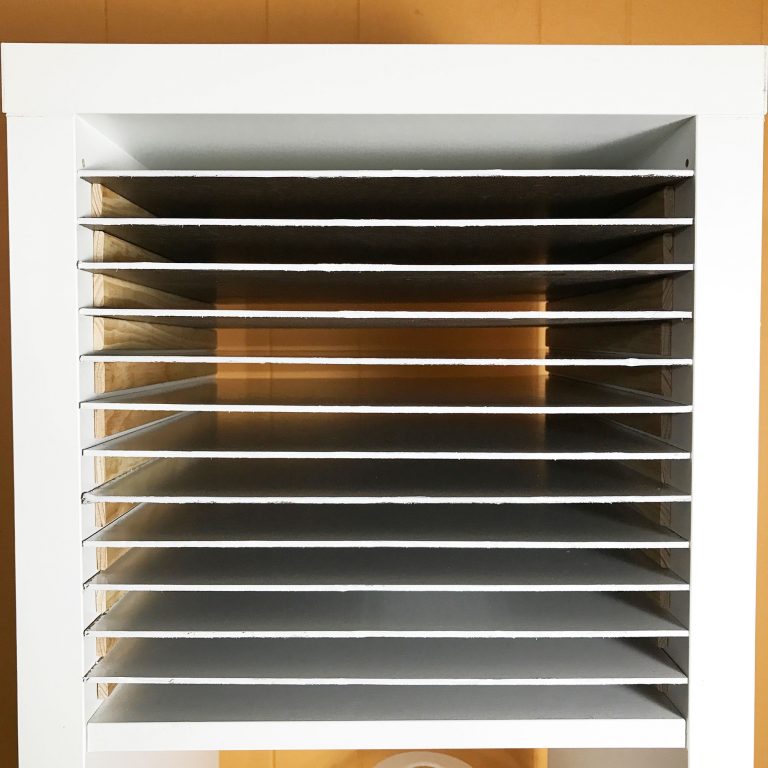 If the raw edges of the shelves bother you, paint them with white acrylic paint. I did this for one set of shelves on my 12×12 vertical scrapbook paper storage organizer, then decided it wasn't such a big deal.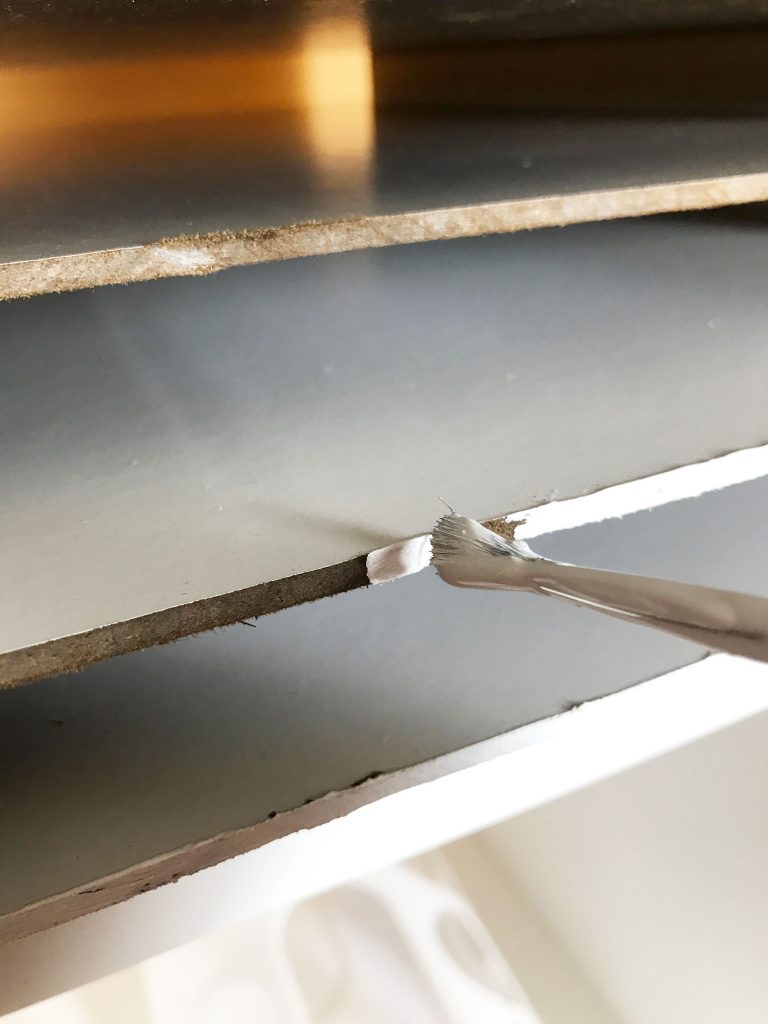 Load up your paper and enjoy your 12×12 vertical scrapbook paper storage organizer!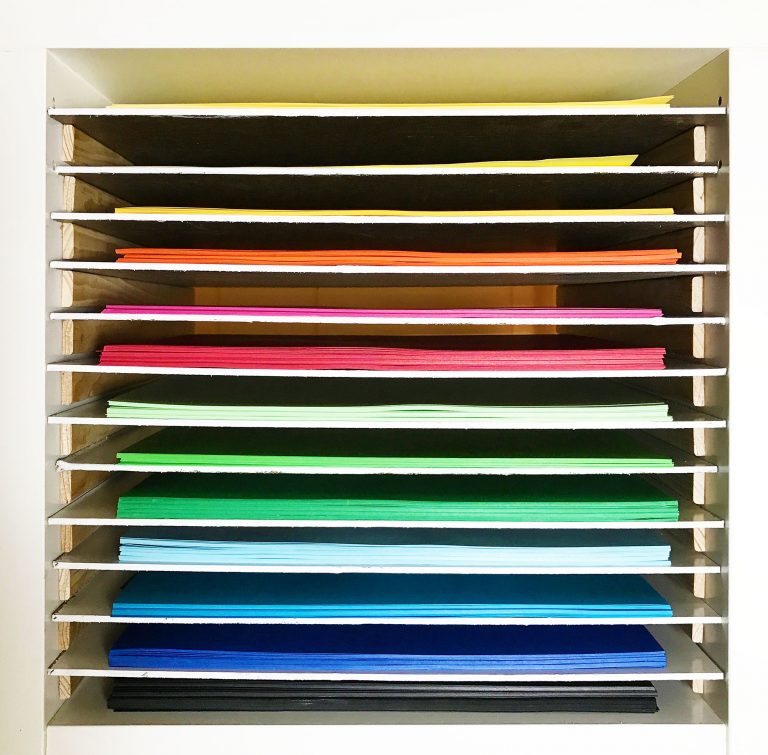 Notes on the 12×12 Vertical Paper Storage Organizer
I mostly have 8.5 x 11 paper, so I put it on each shelf the long way, close to the edge, so I can see all of my paper easily.
Paper stacks fit great on the shelves, too!
You can slide the shelves out to get to your paper — they'll stay in place thanks to the long moulding section on each side!
If you want a vertical solution for your shelf divider's check out TopShelfDIY.com's IKEA Kallax Shelf: DIY Shelf Dividers — she has a secret slot system!
I used the top of my Paper Tower of Power to store vinyl. I put three IKEA paper bag dispensers (Variera) on a 16″ lazy Susan. I can fit 42 rolls on it and it turns so I can access it easily — great solution for me.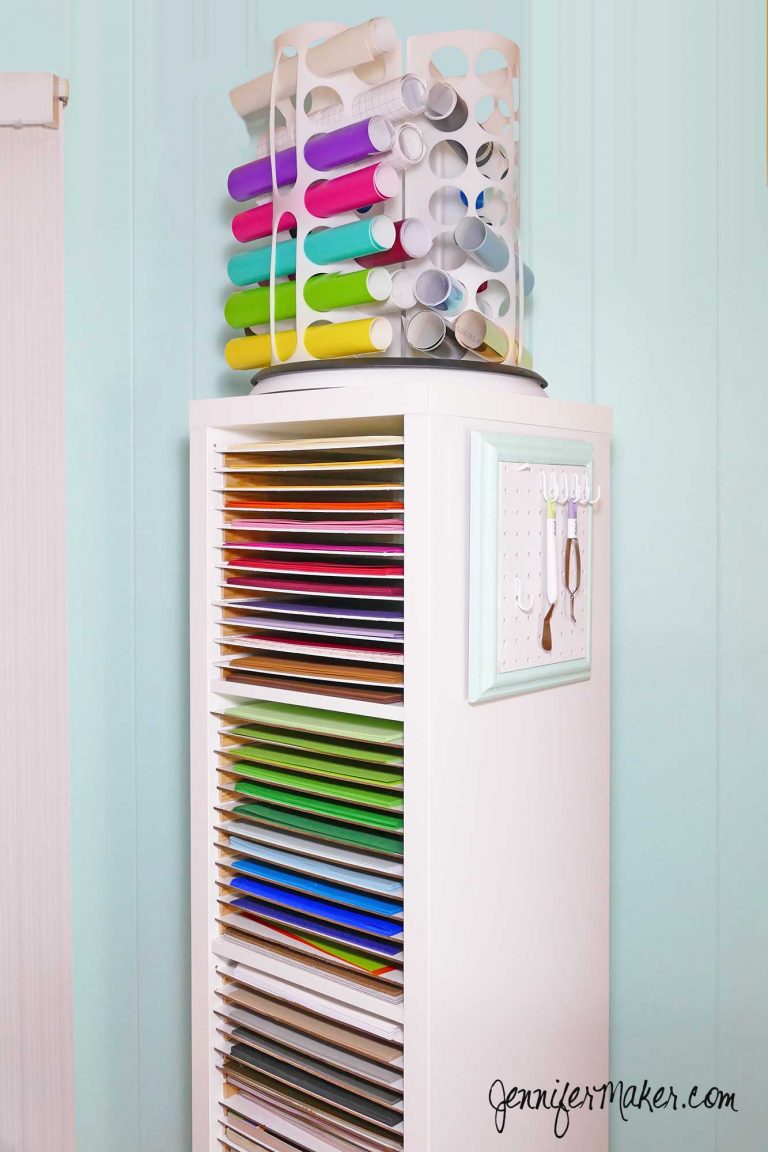 I hung my framed pegboard craft organizer on one side of my tower so I could keep my tools with my paper and vinyl.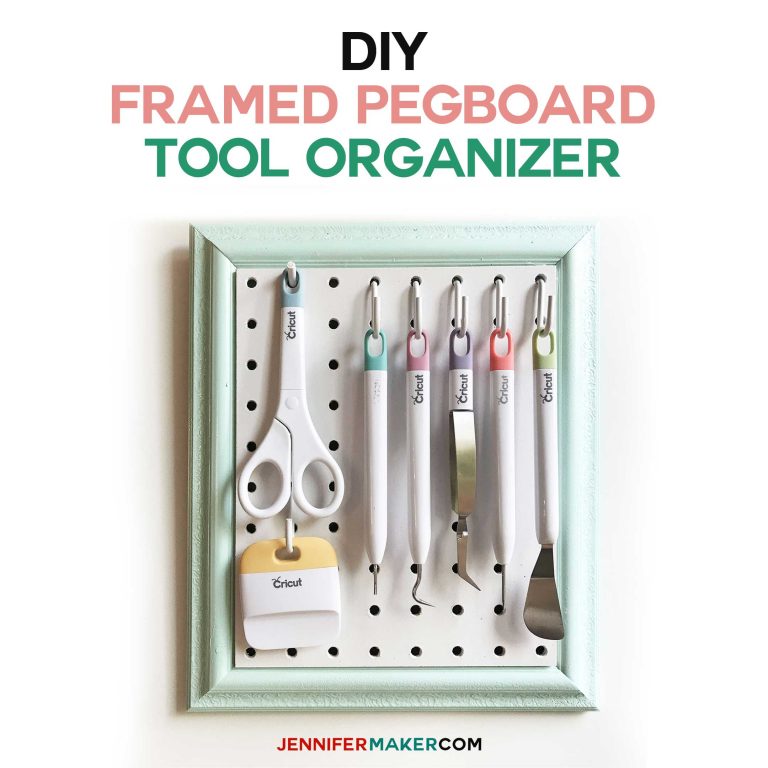 On the other side, I put an over-the-door shoe organizer that holds my cans of paint and adhesive: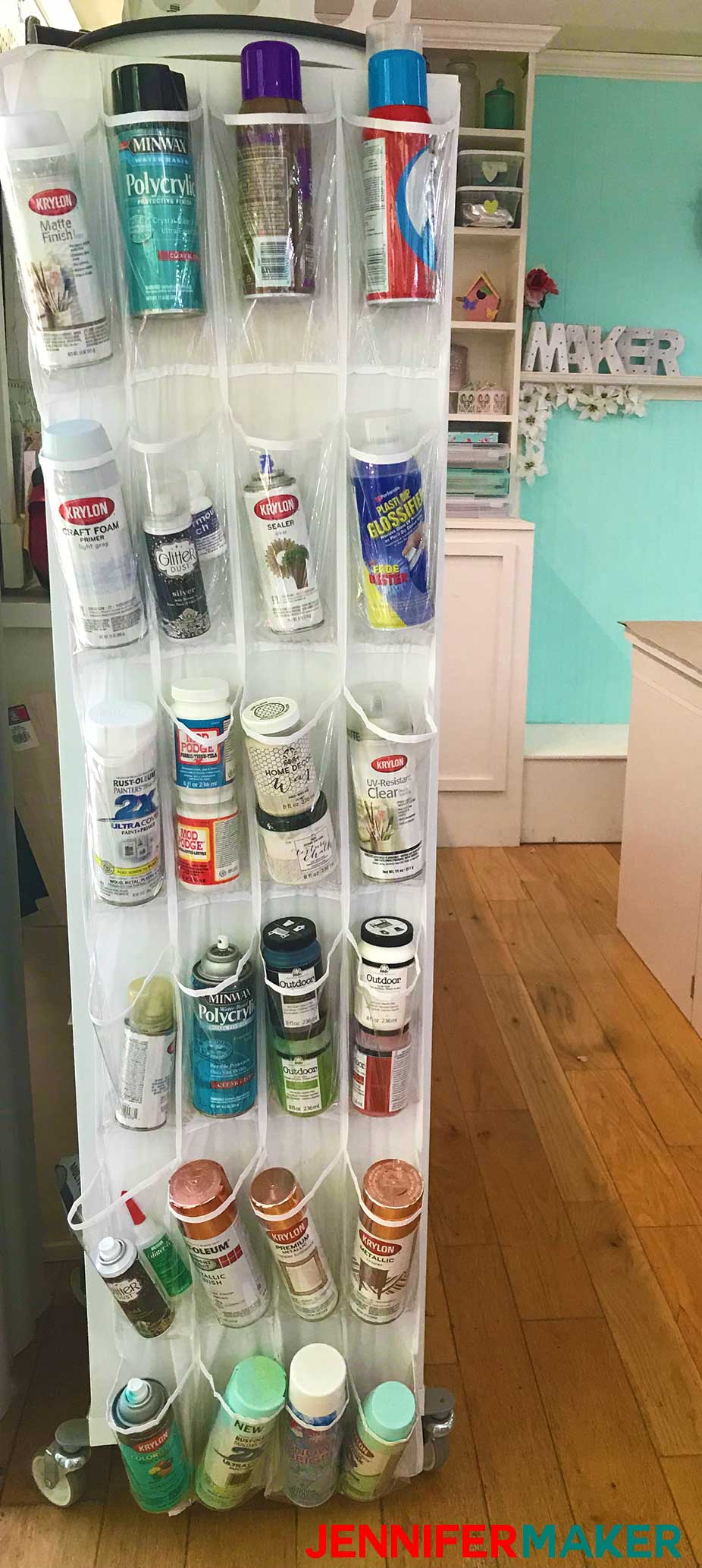 If you like this idea but need to store your craft vinyl, I made a matching storage organizer tower just for vinyl storage! Check out my craft vinyl storage tower tutorial here!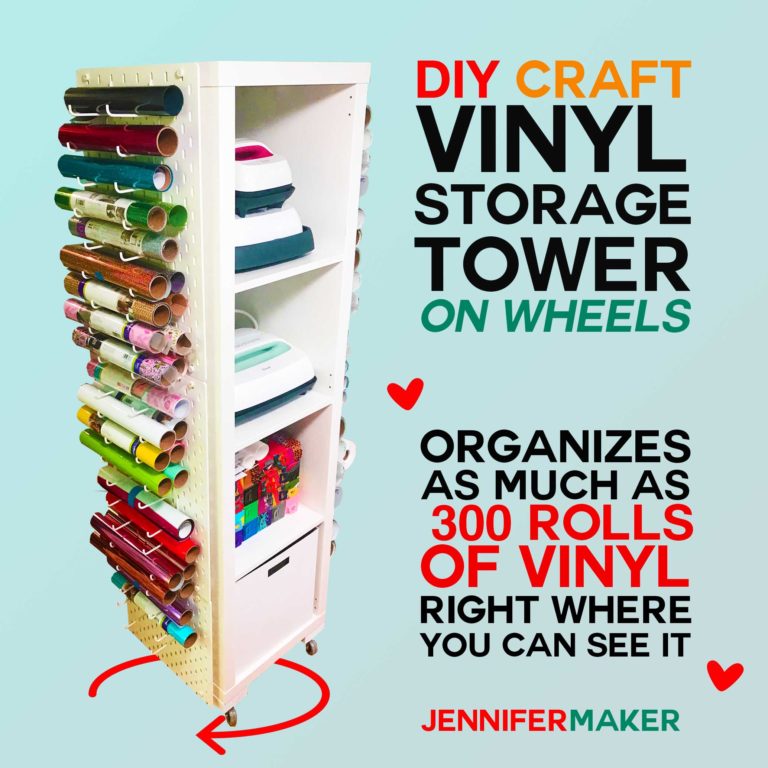 Get the Paper Storage Organizer Shelf Marking Template
I'm sharing the shelf marking template I made and used — it works perfectly for the IKEA Kallax shelves and ensures you mark straight centered guidelines. It's Design #51 available in my free resource library — get the password to it by filling out this form:

I hope you also make a Paper Tower of Power to get your paper chaos under control, too! If you make one, send me a photo at [email protected] or tag me on social media with #jennifermaker so I can share it here with your permission.
Please let me know if you have any questions!
Love,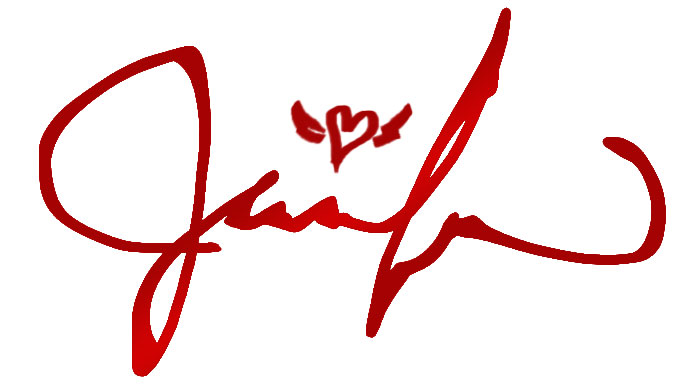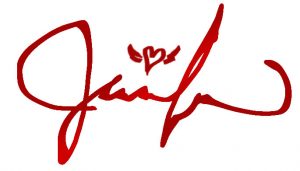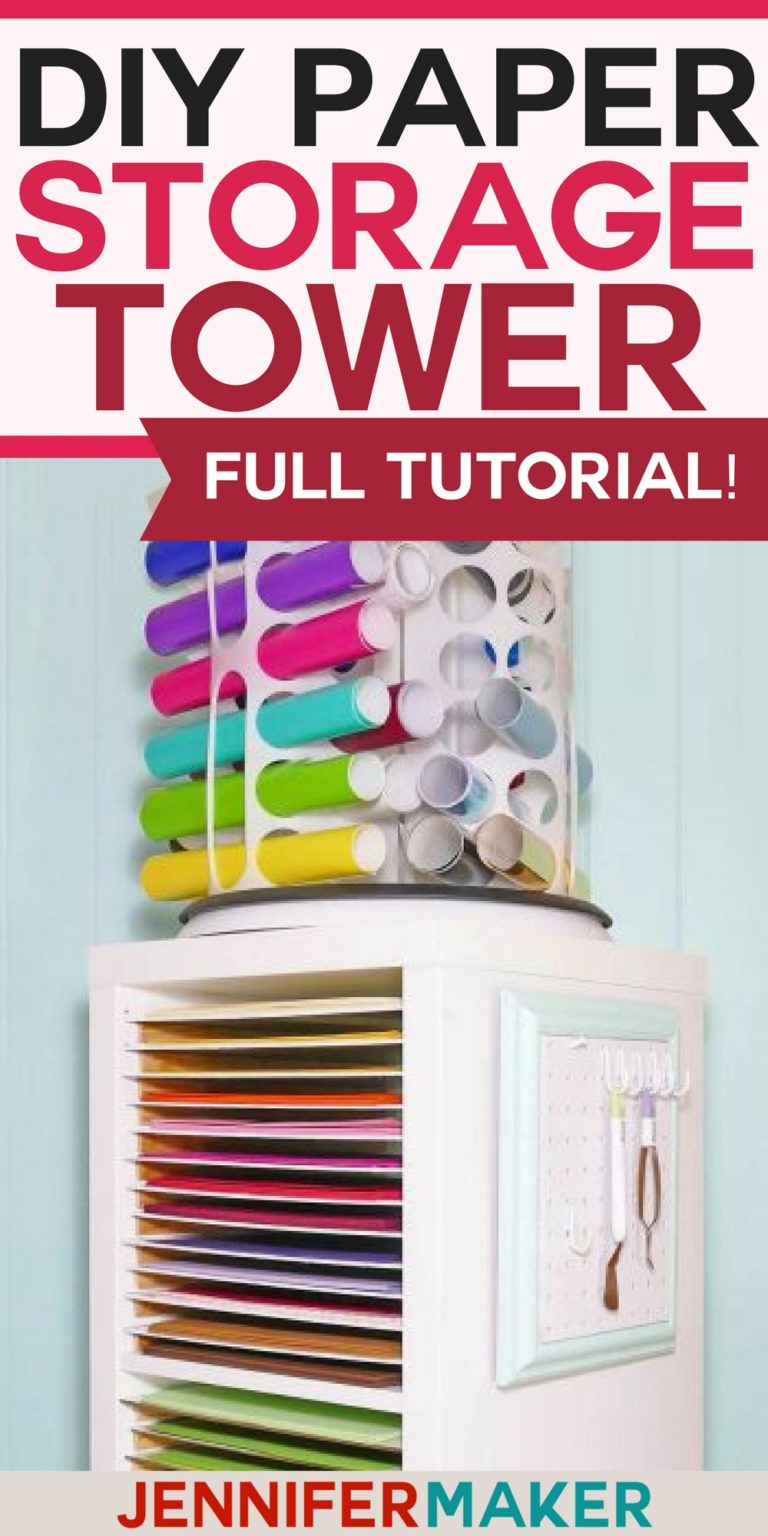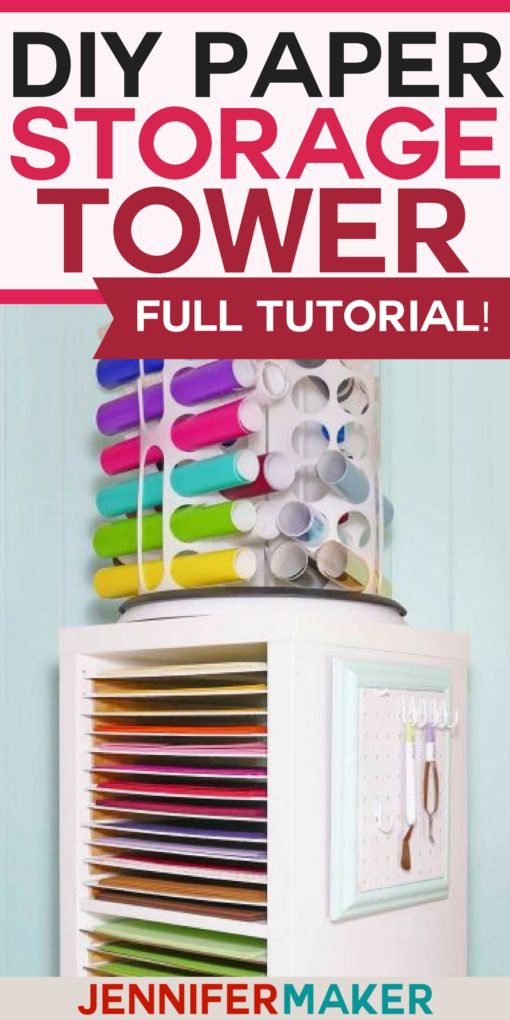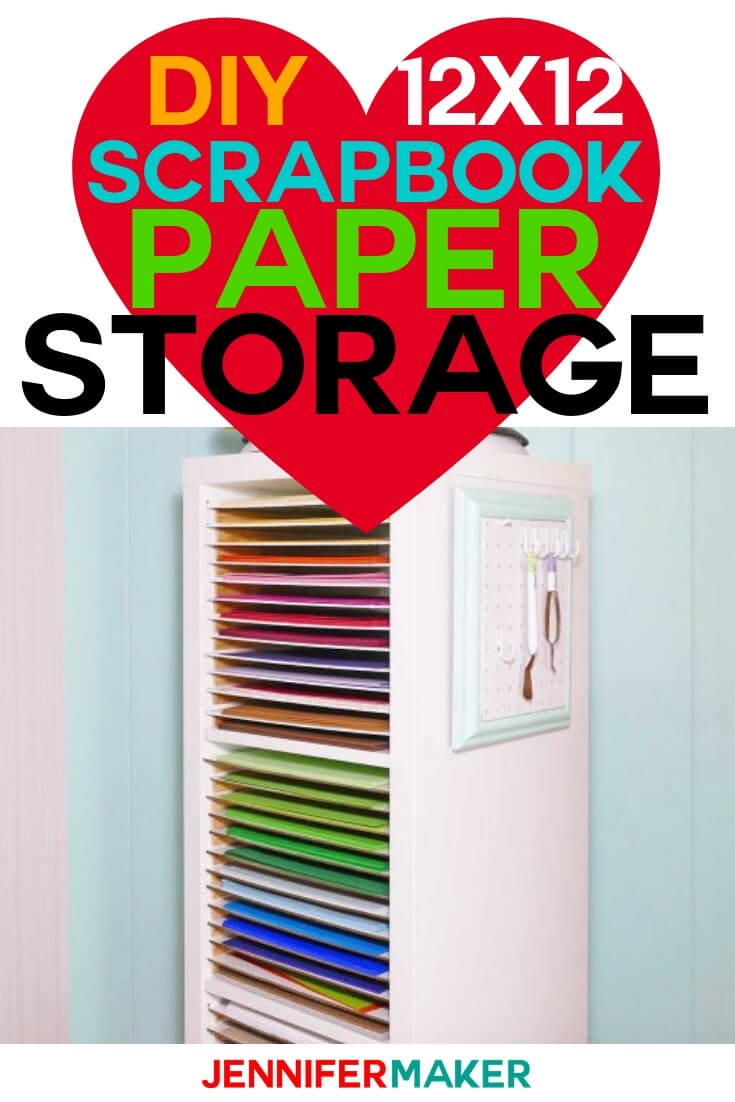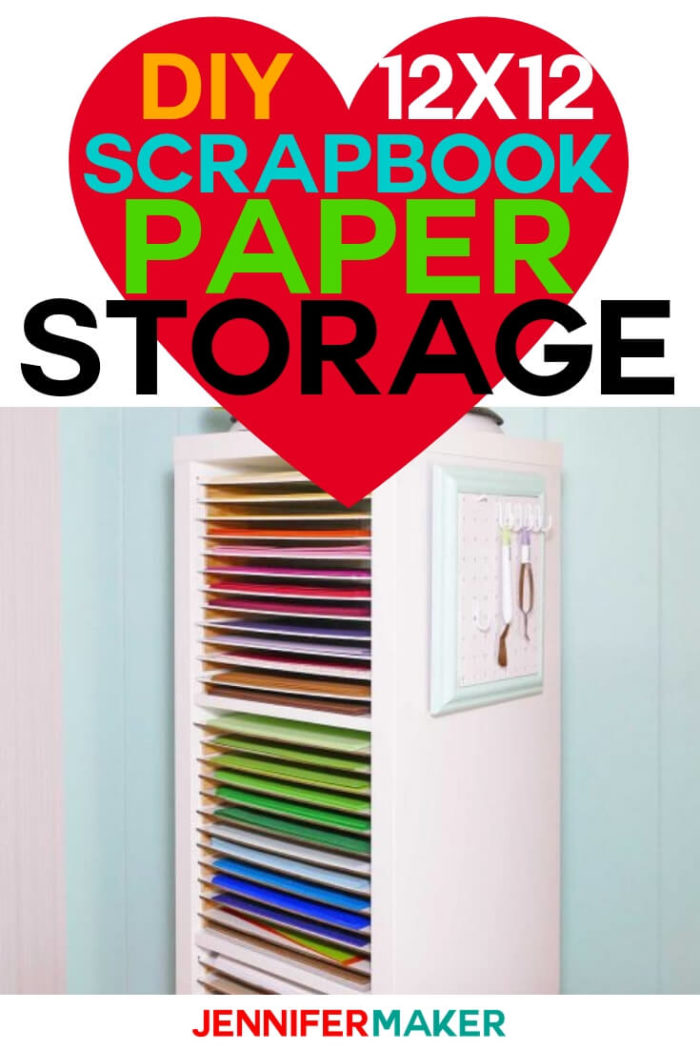 P.S. If you liked this post, you might also like my other IKEA Hacks: