Spring will come even if I have to make all the flowers myself! I'm back today with my third flower: a rolled paper carnation! Several of you lovely crafters liked my rolled paper peony and rolled paper rose and requested I try a carnation and I thought it would be a fun challenge.
And, indeed, the paper carnation turned out to be fascinating to design! A carnation is a very full, ruffled, rounded flower, so I really had to pack the petals in there. And I made every petal in my pattern unique because I thought it would add to the wild, full look of a carnation.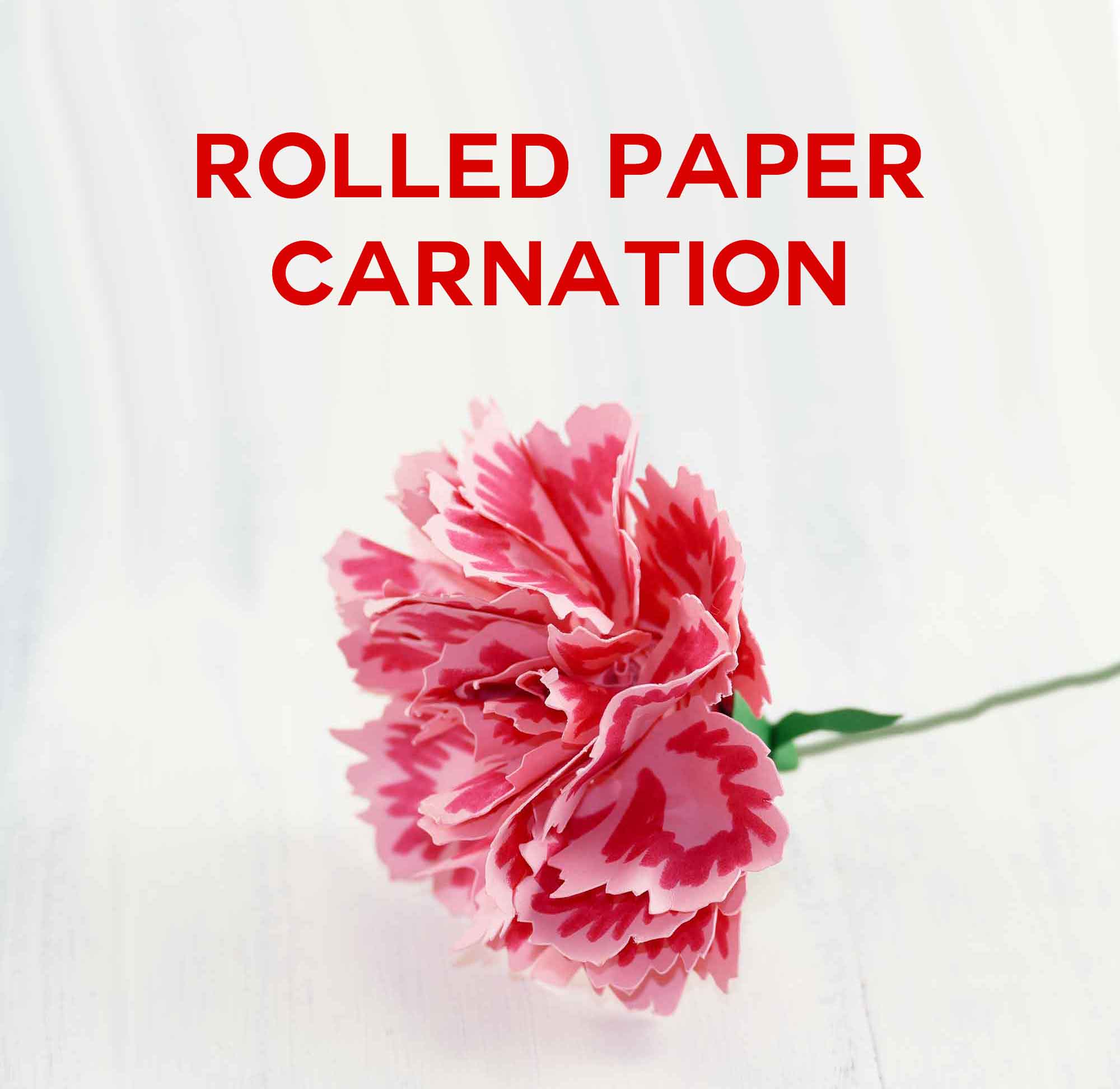 Another particular feature of a carnation is the cone-shaped sepal underneath the bloom. I was able to make the sepal from a rolled pattern as well, including the tiny leaves on it. It took several tries to get right, but I think it looks pretty spot-on now.
One of the biggest challenges for this rolled paper carnation was getting the petals to ruffle convincingly. I came up with a technique, but you really need to SEE me do it to appreciate it. So I made a full-length video of myself making a carnation. I recommend you watch it in conjunction with this tutorial.
Check out this pretty pink carnation made by reader Deb Raines — she did a fantastic job of capturing the ruffled look of the petals.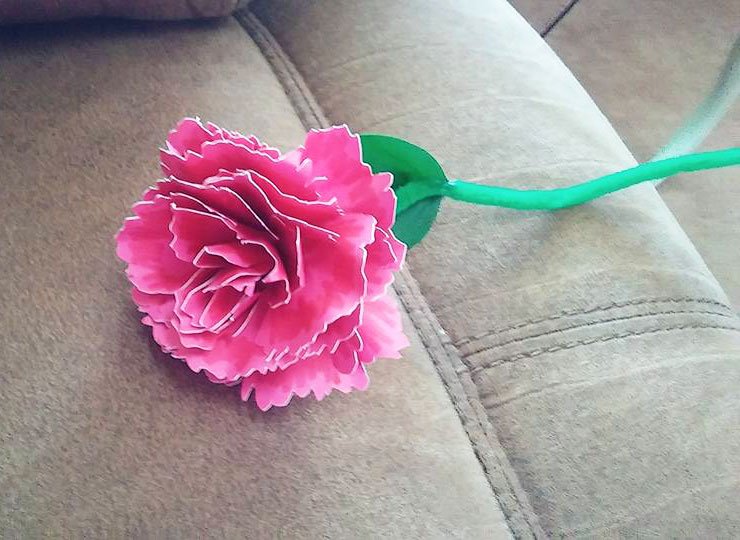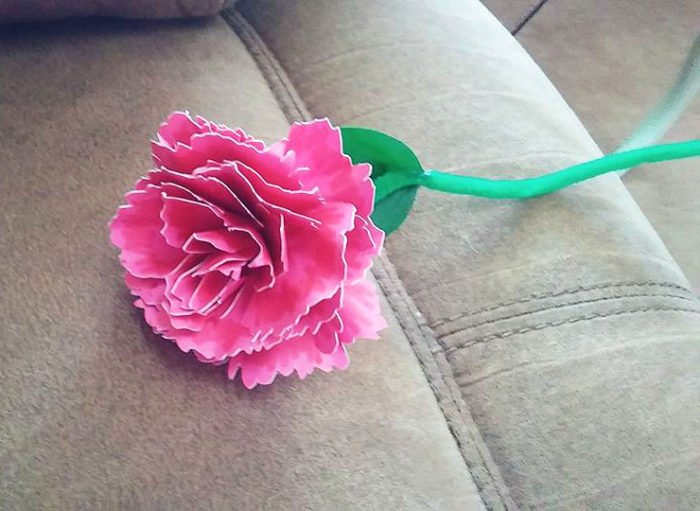 Rolled Paper Carnation Materials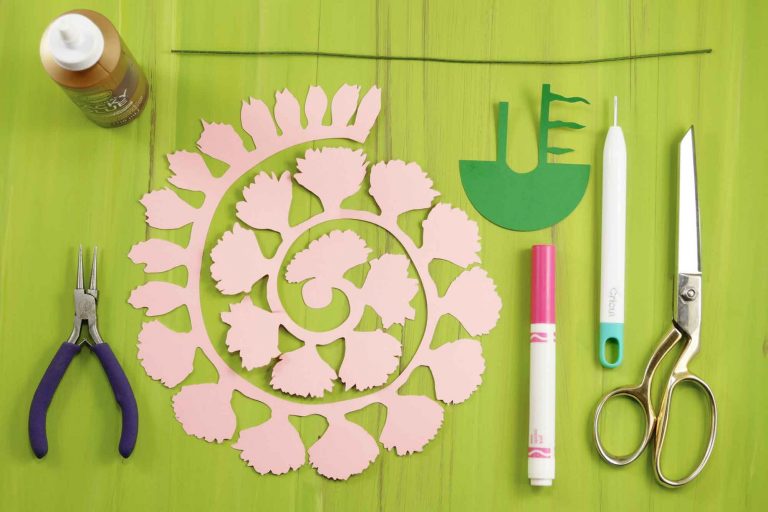 Some of the items below are affiliate links for your convenience.
Design #19 – Pattern (both the petal/sepal outline and the cut files are available free in my Resource Library — get the password by subscribing for free at the bottom of this post).
Paper (you can use regular paper or card stock, white or colored, plain, printed, or painted) — for the pink carnation you see here, I used regular pink cardstock
Scissors or a cutting machine, such as a Cricut Explore Air 2
Quilling tool (or tweezers, long-nose pliers, a toothpick with a slot cut into it, or just something skinny and cylindrical)
Long-nose pliers
Glue (I used Aleene's Original Tacky Glue) or hot glue
Markers to compliment your carnation color (I used a pink Crayola marker)
Florist stem wire
Step-by-Step Tutorial:
Step 1: Cut out the petal and sepal pattern (Design #19) using my outline or cut files. Both are available in my Resource Library — get the password to it by subscribing for free at the very bottom of this post. You can use scissors, but I used a Cricut cutting machine. (Love that thing!) On the Cricut, I cut the petals out at 8″ wide by 9″ high, and the sepal is cut at 3″ wide.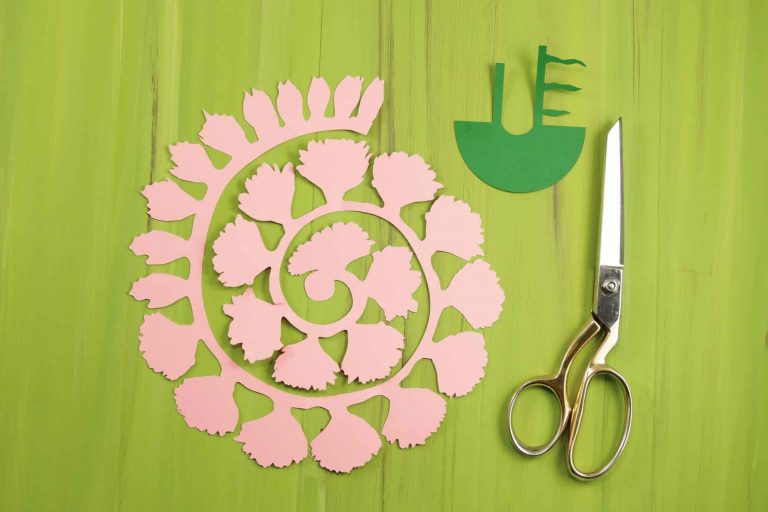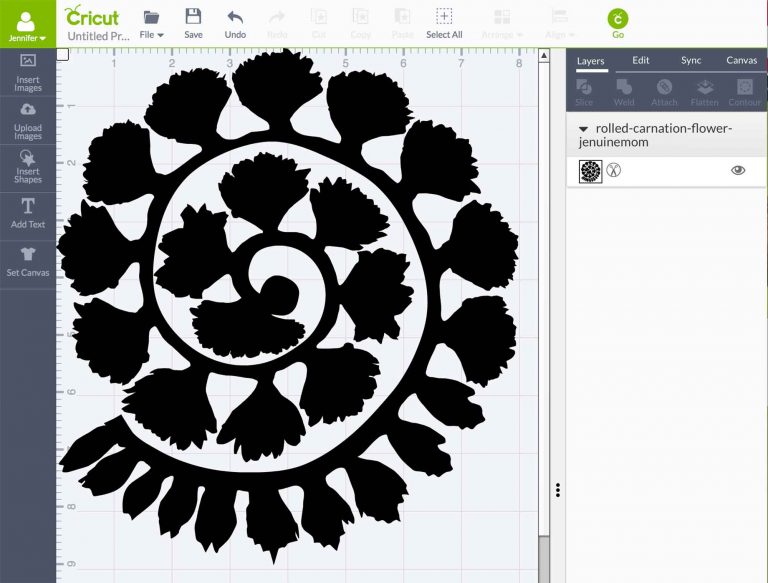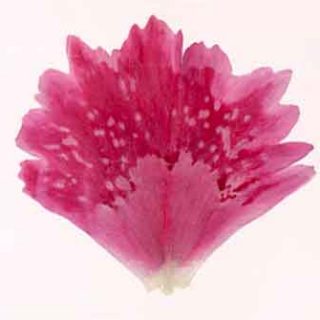 Step 2: Now use your coordinating marker to color BOTH sides of the petals. This is really a scribble, but it's a scribble with intent! I am mimicking the pattern I see in this carnation petal. But I do it pretty quickly and rather inartistically. I like the random, wild nature of it. But you can do whatever strikes your fancy!
Step 3: Now it's time to ruffle those petals. I used my long-nose pliers to grab onto the petals and twist the paper. I do this several times on each petal, in different places, to achieve the look. This is hard to describe — please see my video to get the technique.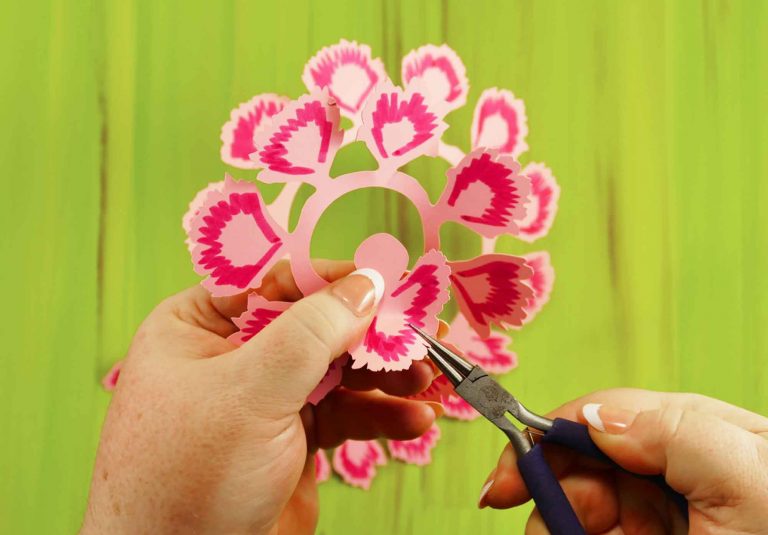 Step 4: Once the petals are all ruffled, it's time to roll up your carnation. If you did the rolled peony and rolled rose, you'll find this to be a little more challenging — the ruffled petals are less cooperative about being rolled up. But it's definitely doable. Just go a little slower and tuck in wayward petals when necessary.
Here is a video showing how to roll paper flowers, including the carnation:
Step 5: Once your carnation is rolled up, fold up the circle on the bottom, dab some glue on it, and press it against the bottom of your flower. I like to press on the petals as I hold it to dry to ensure as many petals get glued down as possible.
Step 6: Once your flower is mostly dry, it's time to ruffle those petals a little more. Some of the petals will be too close together — use your pliers to curl and ruffle the petals more to separate them and fluff out the flower.
Step 7: Now let's make the sepal. Take your cut-out sepal shape, orient it as you see below, and begin rolling it from the shorter vertical strip. It will roll into a cone shape as you go.
Step 8: Once the sepal is rolled up, fold down the petals and arrange the cone in the size/shape you want (I opened it up a little). Then glue the cone down and the end of the petal strip.
Step 8: Let's add a stem! Take your stem wire, insert it through the sepal, fold over the tip, and pull the tip down into the sepal. It will lodge at the bottom. Feel free to put a bit of glue on the stem tip inside the sepal if you want it to be extra secure.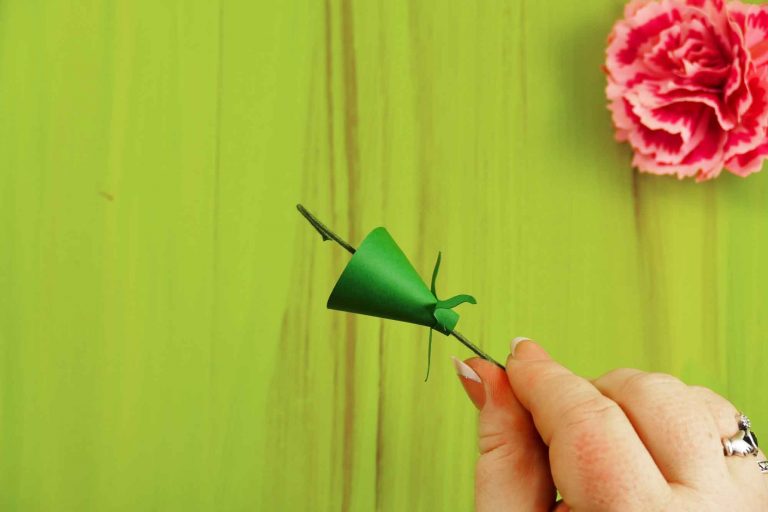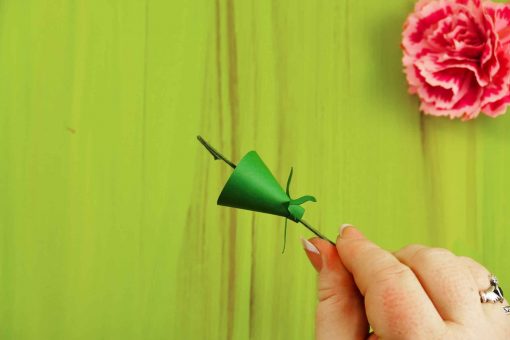 Step 9: It's time to attach the stem and sepal to the flower. Put a generous amount of glue inside the sepal, then place your flower into it. Hold it a full minute (with some pressure) until it is dry enough.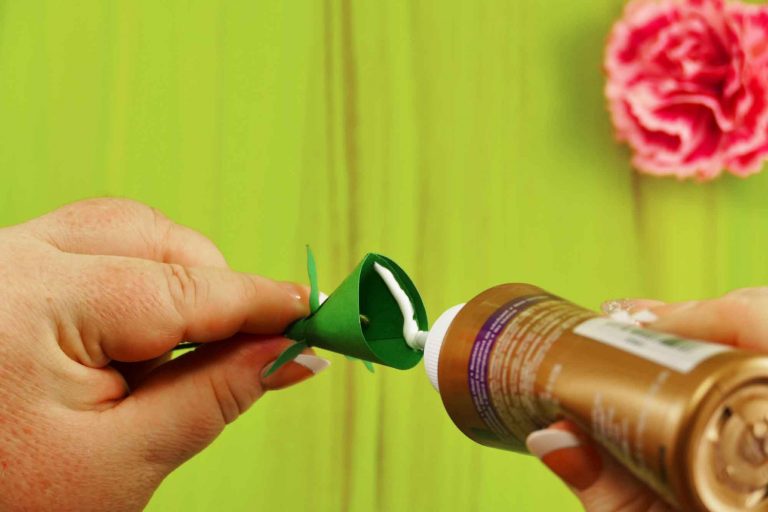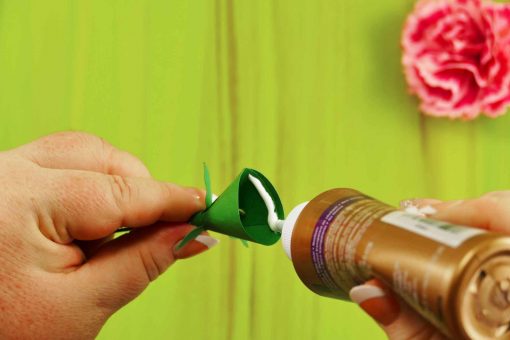 Voila! You have a pretty paper carnation!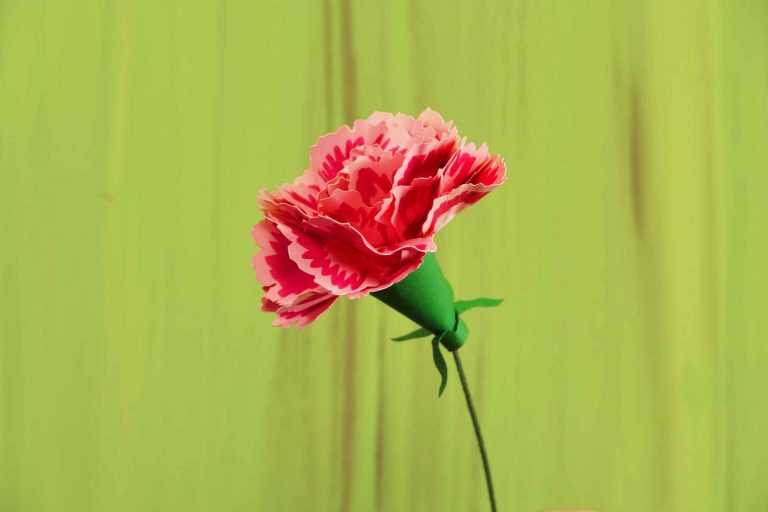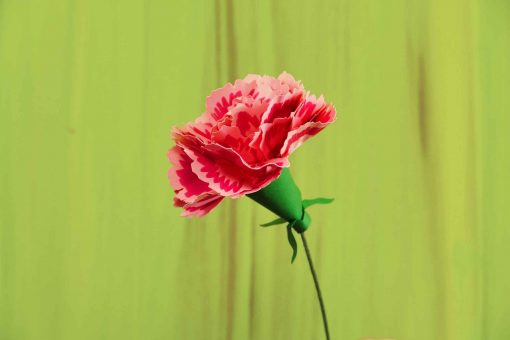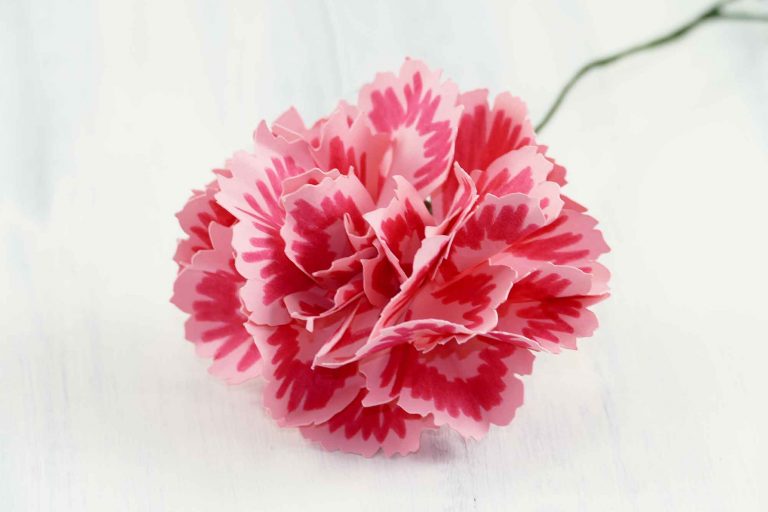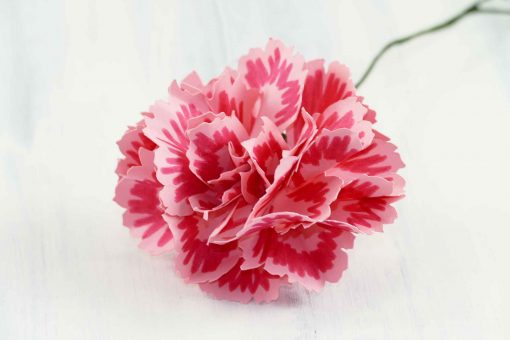 As you can probably tell, I'm having a blast making these flowers. And I have plans to make more. If you have requests for flowers, let me know and I'll see what I can do.
Here is the video showing the full carnation flower making process!
Love,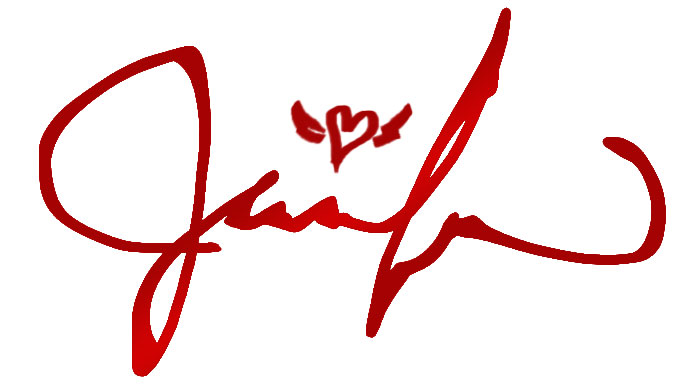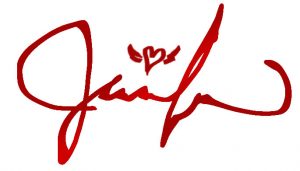 Shop for flower-making supplies:
Link this tutorial? Pin it for later!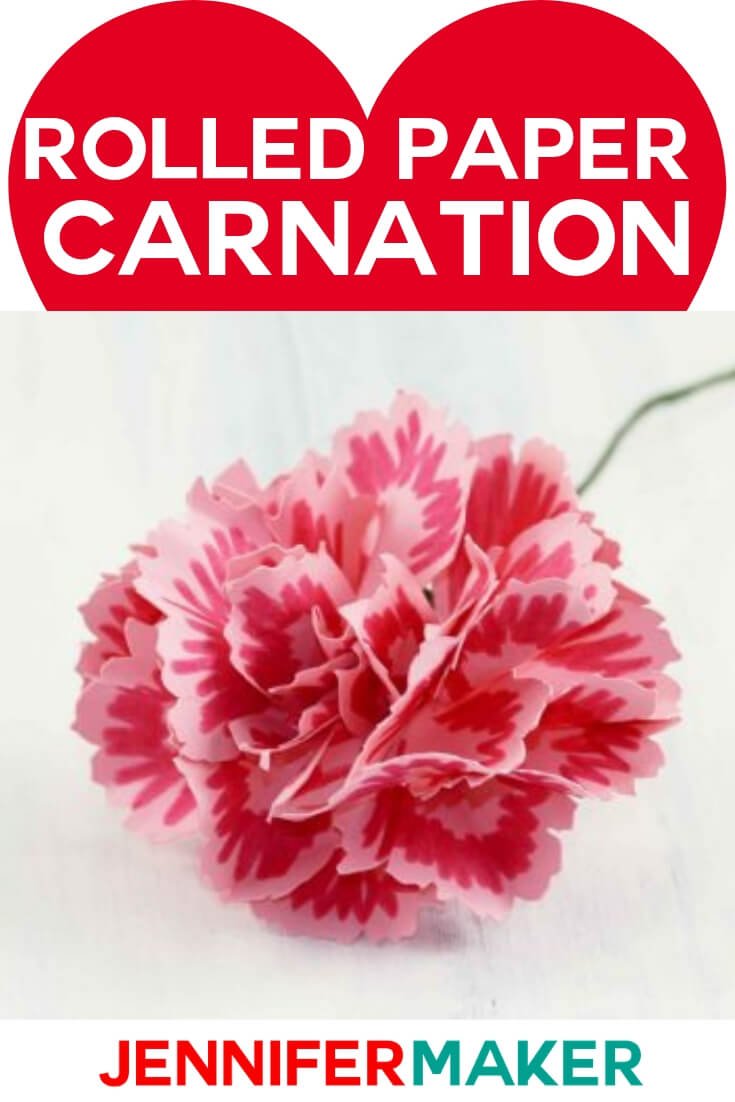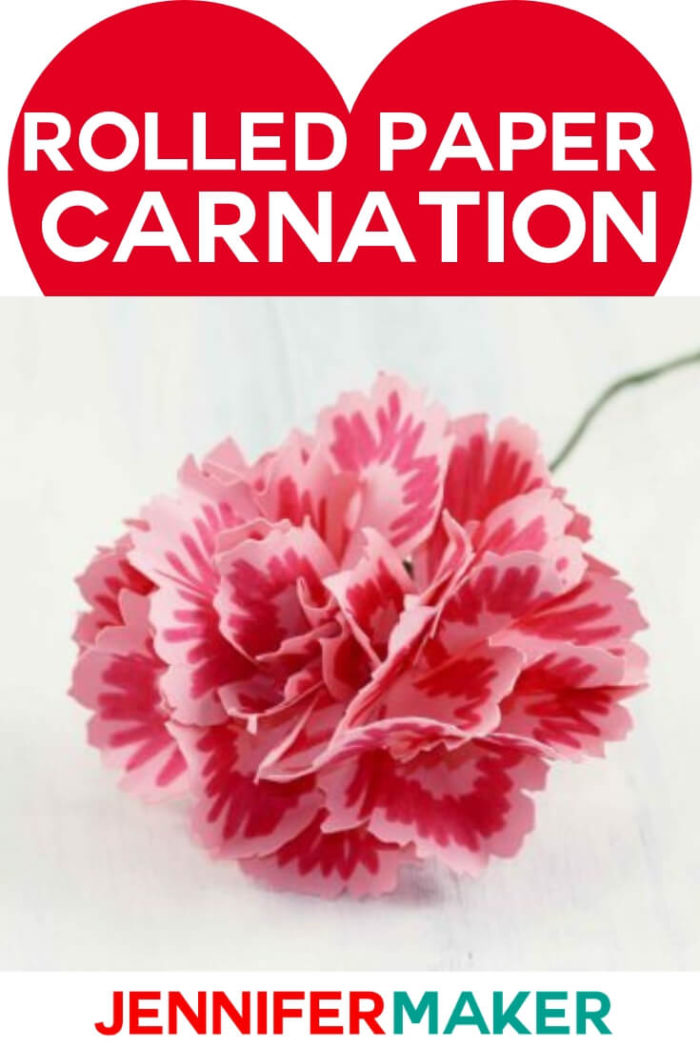 More Rolled Paper Flower Tutorials & SVG Cut Files
View all my paper flowers here.
More Fun and Easy Craft Posts
DIY Dry Erase Board — So Simple & Cute
Make a Craft Supply Organizer in 5 Minutes!
DIY Paper Winged Heart with Hidden Messages