Learn how to make the Cricut vinyl projects of your dreams!
We're lucky that there are so many options when it comes to Cricut vinyl projects! New colors, textures, and patterns show up all the time! It can be a challenge to keep them all straight, even if you're focusing just on heat transfer vinyl. Especially if you're just starting out or want to decorate a new material. If you're looking for beginner Cricut projects, I have a lifesaver of a free design collection for you featuring several types of vinyl in different combinations! We'll discuss which vinyl goes best with different materials, how to heat it, and how to layer for lovely, lasting results!
Watch the full step-by-step tutorial video on how to make Cricut vinyl projects:

This is a Cricut Mystery Box project — it uses all the same vinyls that you could have gotten in the "Sailor's Delight" mystery box that came out in August 2022. While this mystery box is no longer available for sale, you can still purchase the individual vinyls, which are all links below in my material list. Learn more about Cricut Mystery Boxes and their contents in my Cricut Mystery Box Guide.
While the options may seem overwhelming there are four main variables in Cricut vinyl projects: the item made of a known material to be decorated with a design using some type of vinyl and applied with specific heat settings. Once you've made a decision on one part, your choices for the next one are limited by it, so the process is much less overwhelming! Even if you're a Cricut beginner, I think these Cricut project ideas are a great way to begin.
Here's a fun project example:
I knew I wanted to try out Cricut's SportFlex Iron-on vinyl, which I haven't used very much.
According to Cricut's instructions, it works best with polyester and nylon since it can stretch with those fabrics. But it doesn't stick well to items with lots of cotton. A polyester t-shirt seemed like the perfect fit!
Since SportFlex is really thin and should only be layered with the same vinyl, I chose my single layered Love design. It has big sections of vinyl that will be comfortable due to the vinyl's stretchiness, but the details are still thick enough that the vinyl shouldn't tear during weeding.
Ready to try my process? Great! Let's start.
Pick Your Item
Well, what do you want to decorate? Make note of its material, care instructions, and dimensions to check that the vinyl you have is compatible! I decided to try a polyester shirt, canvas zipper pouch, and cotton canvas tote for my Cricut vinyl projects.
Pick Your Vinyl or Vinyls
Do you have material you want to try for the first time? Or is it time to use up some of your vinyl stash? See what you have that is compatible with your item. I have lots of tips in my Ultimate Guide to Vinyl! It helps to have a few options in mind so you can narrow them down according to your design. If you're making your first project, follow my steps using the same materials to really learn the process.
Pick Your Design
This part is easy – just download some of my free designs for these easy Cricut projects!
If you're working with a large item, the Love design looks lovely nice and big. I'll show you an easy way to resize it in Cricut Design Space to fit your shirt.
The Beach Life design also works well both big and small!
And if you're ready to try out some layering, my Multicolored Ship is a good place to start! It's super customizable and makes a perfect bag decoration! If you want to layer, plan out the design's order. Not all vinyls can go on top of each other, which I'll tell you about in the full video. Take notes, especially if you use options like glitter vinyl.
Make a Plan
Once you're sure your item and vinyl are compatible, and that the design will work well with your choices, don't jump right in.
There are lots of details in HTV crafting, so save your time and materials with a bit of research and planning, especially if you're layering vinyl. Use the Cricut Heat Guide to check which temperature and time each vinyl needs according to your item's composition and the heat press you're using. There are some things to keep in mind when layering different vinyls with varying temperature needs, I'll show you how to adjust the process for them.
Craft!
You know this part! Use my free files and tutorial to make your Cricut crafts. Remember, have fun!
Learn for Next Time
It's always good to reflect on each project. That's the best way to learn! What worked well? What would you do differently? Did you get a great idea everyone should know? Or do you have a question to help your next project go smoother? Make some notes for yourself, but I'd love for your to share your results in our Facebook group!
Now that you know the process, get your materials and supplies ready!
I used my Cricut Maker 3 for these Cricut vinyl projects, but you can also use an original Maker or machine from the Explore series, including a Cricut Explore Air. You could even make them small enough to cut on a Cricut Joy. A Green StandardGrip Machine Mat, fine-point blade, and brayer are all you need for perfect cuts!
When you get to the weeding, your scissors and weeding tool will get a workout. If you're using white vinyl like me, a Cricut Bright Pad can make all the difference. The cut lines are so much easier to see when you weed on a light box like this!
And when you're ready to apply your heat transfer vinyl, prepare your heat press, pressing mat, heat resistant tape, and lint roller! Since SportFlex is so thin, I'll show you how to protect it with some multi-use butcher paper. I love that stuff!
Looking for more Cricut vinyl projects? Here are some of my favorite projects. There's a vinyl design for everyone in this list!
12 Target Dollar Spot Projects
Cricut Joy Projects – 4 with vinyl!
Three Balloon Bouquets with vinyl tips
Three Graduation Cap design ideas
Four Color Glass Etching designs – use vinyl as a powerful stencil!
13 Vinyl Designs Using the New Cricut Heat Presses
Eight Cricut Vinyl Projects for Home Decor
Three Layered Vinyl T-shirt Designs
Two Intricate Heart Designs using the wet vinyl method
Six Layered Vinyl Animal Designs for cups or lots of other items
Four DIY Porch Signs using Smart Vinyl
Intricate Heart Mandala with tips on cutting Glitter vinyl
Six Spring Home Decor Decals on my Amazon Live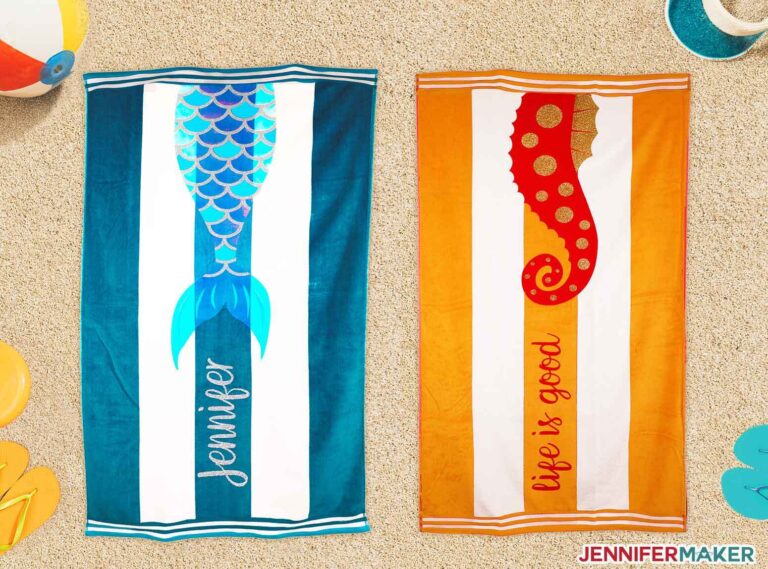 Two Customizable Beach Towel Designs with Smart Vinyl
Ready to make some Cricut vinyl projects? I'm super excited to show you how! This post contains some affiliate links for your convenience (which means if you make a purchase after clicking a link I will earn a small commission but it won't cost you a penny more)! Read my full disclosure policy.
Materials to Make Cricut Vinyl Projects
How to Make Cricut Vinyl Projects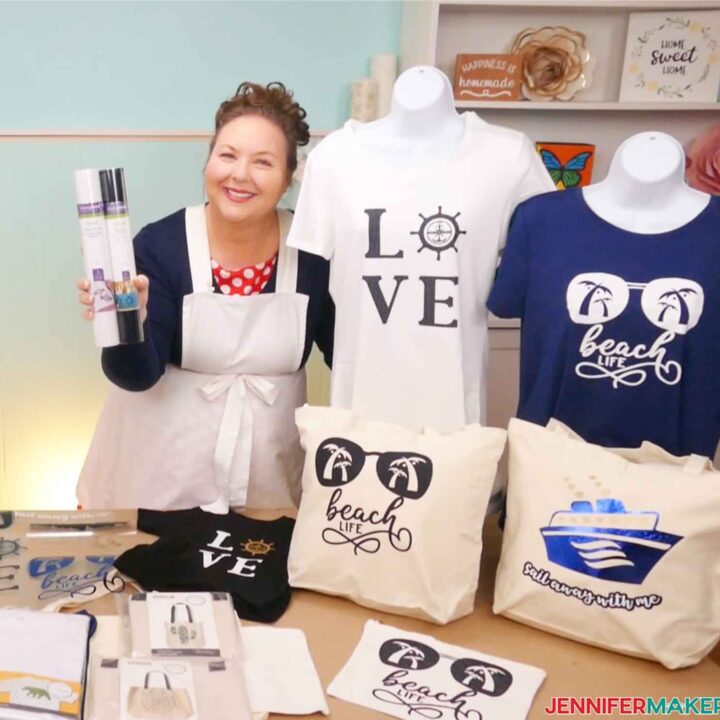 Cricut Vinyl Projects
Yield: 1

Active Time: 15 minutes

Difficulty: Easy

Estimated Cost: $10

Create fun, nautical Cricut vinyl projects.
Answers to Your Questions About Cricut Vinyl Projects
Q. What should I put vinyl on?
The options are almost endless! Depending on which type you're using (permanent vinyl, removable vinyl, HTV, or other specialty vinyls like holographic vinyl or stencil vinyl) you can decorate water bottles, tote bags, home decor items, shadow boxes, school supplies, or even your new Cricut machine! Vinyl is a great way to customize your surroundings with craft projects like planner stickers, car decals, and even your own t-shirt designs!
Q. How do you make a vinyl project on Cricut?
After adjusting the SVG in Design Space, use the cutting machine to make it out of the vinyl, weed the excess, prepare your item, and transfer the design with heat!
Q. What do you need for Cricut vinyl projects?
You really just need a Cricut cutting machine, fine point blade, cutting mat, vinyl, a weeder, a heat source, and a compatible item to decorate for an easy project!
Get my free SVG files for the Cricut vinyl projects!

Now, I'd love to see your Cricut vinyl projects and the different ways you use different types of vinyl! If you make anything with these designs, please share a photo in our Facebook group, email it to me at [email protected], or tag me on social media with #jennifermaker.
Love,