Check out these beautiful paper flower designs created by students of the CUT ABOVE Design Course!
Something remarkable happened to me recently. I stepped out of my comfort zone and into a world of teaching. I set out on the adventure of teaching some dedicated crafters and readers of this blog how to design SVG cut files, just like I do here. I had been thinking of doing it for some time now, but I'll be honest—I wondered if I could really do it. But my readers asked, and I listened, and I created a special course I call the CUT ABOVE. At about halfway through our course, I taught them how to make their very own paper flower designs.
They say a picture is worth a thousand words, so let me know SHOW you the paper flowers that my amazing students have designed:
Aren't these just so AMAZING? And this is the first flower designed by these individuals, to my knowledge. Way to go!
If you are eager to learn how to design paper flowers yourself, you can learn how in my CUT ABOVE SVG Design Course.
Enrollment is currently open for a limited time, but will close very soon. I do this on purpose so I can limit the number of students that enroll — this allows me and my team to give them more personal attention. If the course is closed by the time you read this page, you can join the waiting list for the next time enrollment opens here.
If you're not yet heard of the CUT ABOVE Design Course, I can show you through this course how to create SVG files that work with minimal fuss and bother, allowing you to create beautiful and cuttable designs on a whim. Use your designs for your personal projects, share them with friends and family, or even sell them to earn extra money!
This eight-part course will teach you:
How to download and install SVG creation software (both Illustrator and Inkscape are covered in this course — both work on Mac OS or Windows)
How to create a simple shape
How to create a complex shape
How to create text
How to trace an image
How to modify your vector shapes
How to properly size and group your projects before saving
How to save your files as .SVG (as well as .DXF and .PNG) and share your files with others
Learn from someone who has been where you are.

I created the CUT ABOVE program because I've been where you are. So let me tell you my story. I got a Cricut, I made a few projects, and then I quickly decided I wanted to create my OWN designs. I wasn't content to just download what other people had designed — I had ideas, and I wanted to see them come to life. So after I made my first paper flower from an SVG, I started to play around. I opened the SVG in my illustration program — which I already had installed because I am a graphic designer. And I quickly realized how easily it was to modify and create, and I had the POWER I had to make precisely what I wanted.
That day, I designed my first paper flower — a peony with petals based on real peony petals from my garden. I was HOOKED. I began designing LOTS of paper flowers — roses, magnolias, tulips, daisies, sunflowers — you name it, I was tracing petals and creating 3D paper flowers that were AH-mazing, if I do say so myself. I was getting more creative and more adventurous as I went along, because I was learning by doing.
Then, about two months after I began my paper flower design extravaganza, I was contacted by a book publisher. They asked if I would write a book about paper flowers. I almost just said no, I can't do that — I'm not experienced enough. But the truth is, that by this time, I was feeling pretty good about making paper flowers. Thanks to my ability to design them and cut them out quickly right away, so that I could tweak and refine them, I was actually well along at this point. And I've authored 60 books already over the course of my career, so I'm experienced at writing and teaching others who to do what I've learned. So I said yes, I'll write a book and tell everyone what I know about making paper flowers.
A part of me thought it was just a dream. How can being able to design cut files translate into a book deal. But, sure enough, I turned in my book draft and received a check in the mail.
Amazing. I still am pinching myself.
But the real joy here for me, is not a book or a check. It's that now, because I learned how to make my own designs for my Cricut, I can MAKE ANYTHING. You name it, I can do it. When my child comes to me and says, I really like this stuffed animal and I want to make one like it. Can you make me a pattern on the Cricut, mom? I can. We did this many times when she was younger. And that is a feeling like none other. Now that my daughter is older, she's learned how to create her own SVG designs — like this 3D cat!
You can do this, too. And I can show you how.
Now, I know this is a DIY blog, and you might be itching to make these paper flowers that my students designed. Some of them have blogs, and they may choose to put their designs up on their blogs (I'll certainly be encouraging it). In the meantime, though, I can't leave you empty handed, so I made a pretty paper marigold for you to make yourself! Just click the link before to get the tutorial and free SVG file.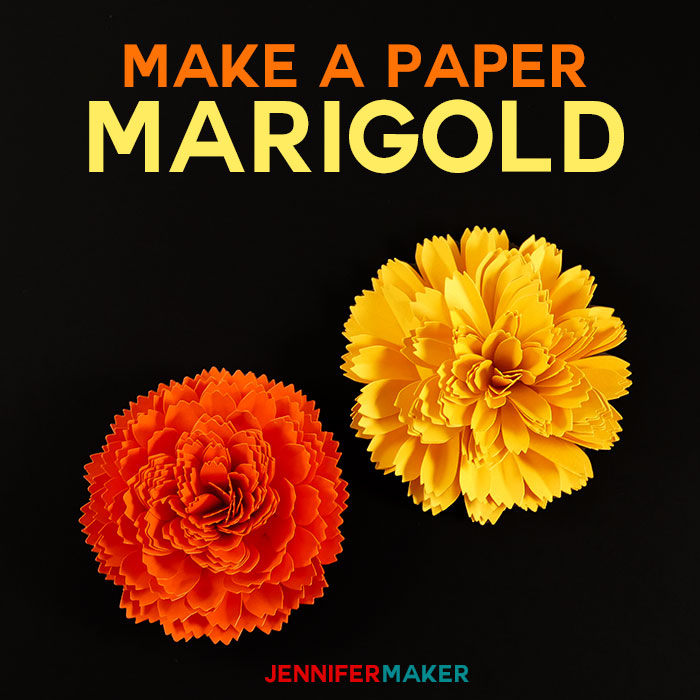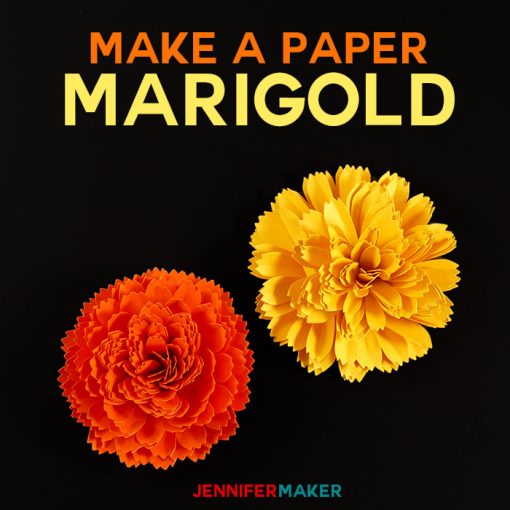 If you want to make more paper flowers, be sure to check out the full (and FREE) collection of my DIY paper flower tutorials!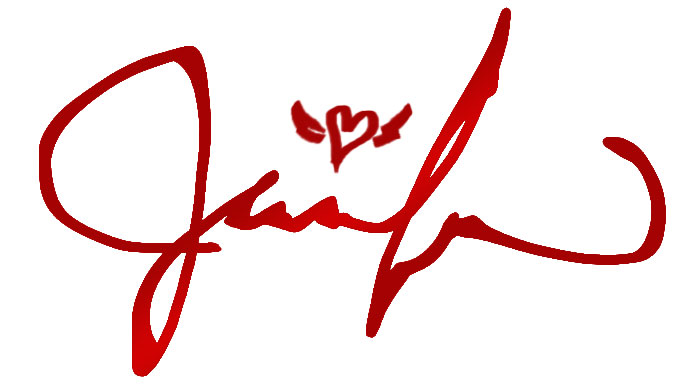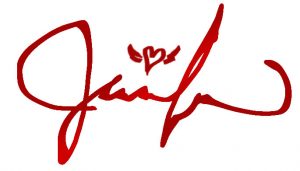 P.S. Get details on my CUT ABOVE course at jennifermaker.com/cutabove