All these pretty paper flowers — what to do with them? Put them on a trellis — a paper trellis card, that is! I designed an easy-to-make trellis tri-fold card for you to decorate with any of my rolled paper flowers, or just leave it as is. You decide how you want to use it!
One of the things I love about this trellis card, other than how easy it is to make, is that it fits in a standard #10 envelope. And the tri-fold format makes a great check/money holder.
So let me show you how I assembled this trellis card — I'll also explain how I put the sunflowers on, in case you'd like to do the same. But definitely feel free to put other flowers on the trellis. If you use any of my rolled flowers, be sure to resize them to be quite a bit smaller — I think the daisies and roses would look particularly nice!

This post contains some affiliate links for your convenience (which means if you make a purchase after clicking a link I will earn a small commission but it won't cost you a penny more)! Read my full disclosure policy.
Materials Needed for the Trellis Tri-Fold Card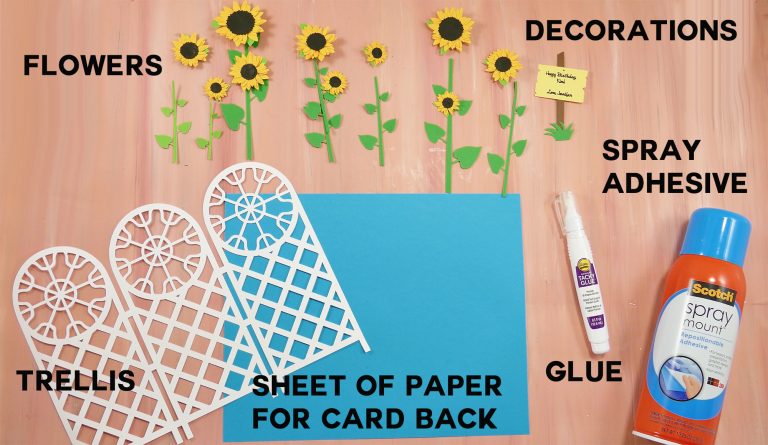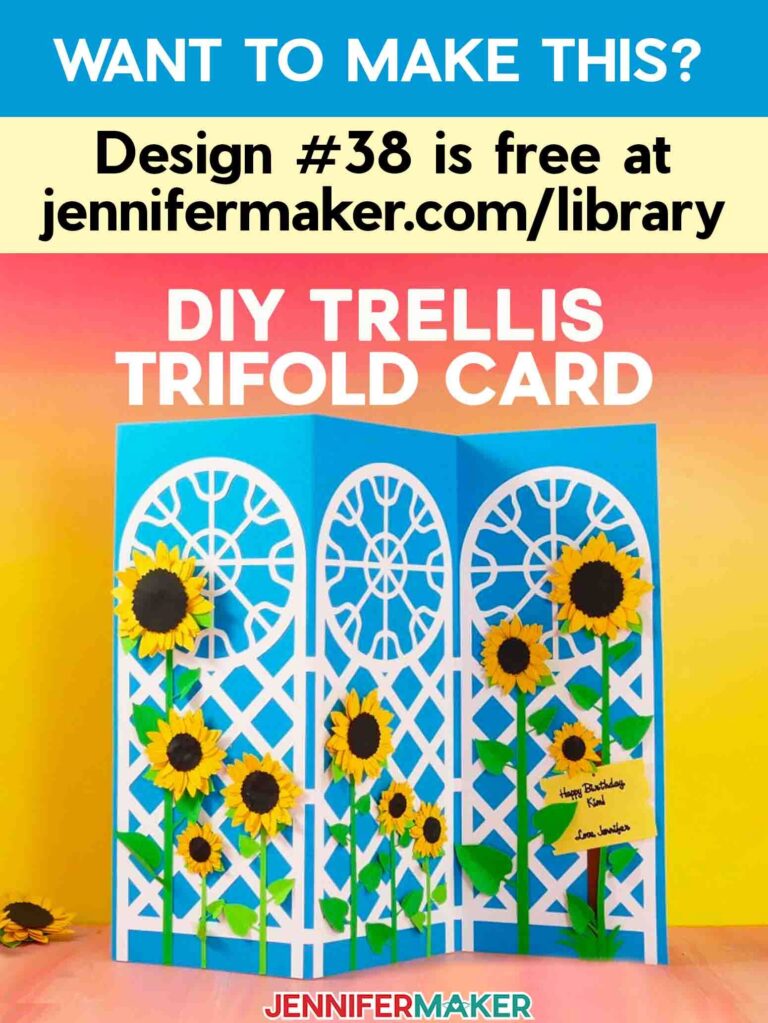 How to Assemble the Trellis Tri-Fold Card
First, cut out the trellis on a piece of white 8.5″ x 11″ cardstock. If you do not resize it, it should be 7.896″ high by 10.325″ wide. I used my Cricut Explore Air to cut this out on the cardstock dial setting.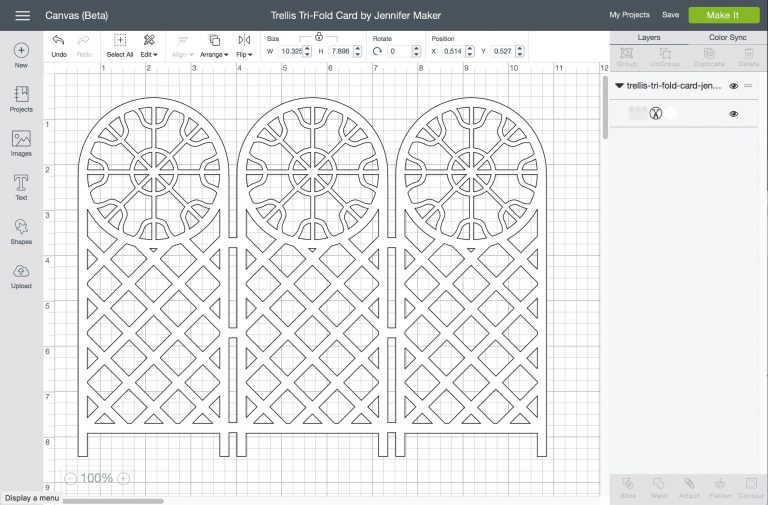 Next, cut out the pieces for any flowers you want to put on your trellis. I cut out a variety of different sizes of sunflowers — see my simple rolled sunflower tutorial.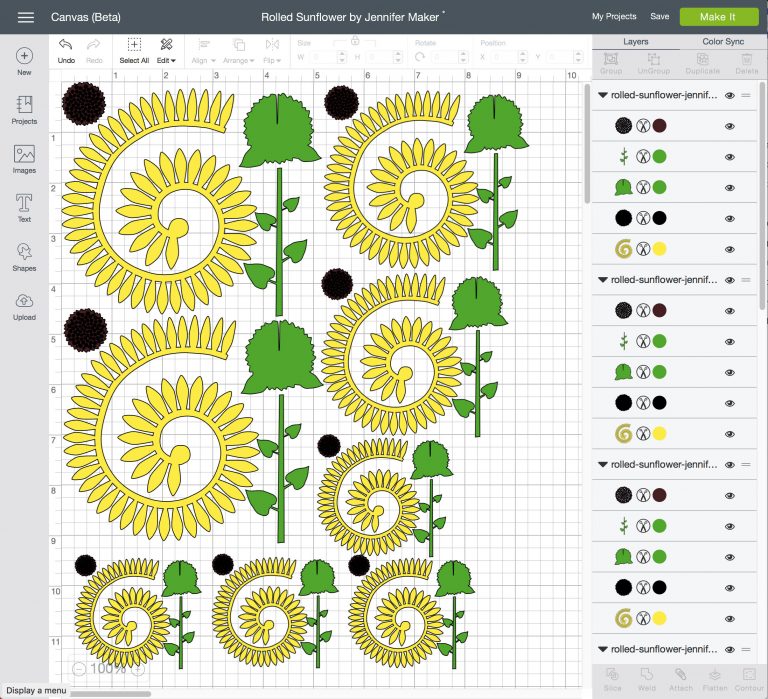 You'll also need to cut a single sheet of cardstock in the color of your choice (I used blue) to 10.5″ wide. I simply used scissors to cut off the half inch of extra paper.
Now that you have everything you need, let's begin by folding the trellis into thirds. To do this, just fold over one of the three sections onto the section next to it, lining it up perfectly. Crease the little connectors in between the sections.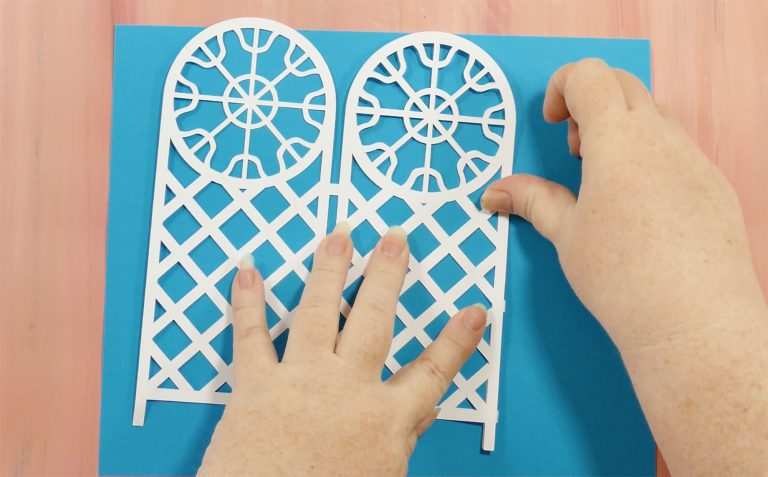 Now fold over the other third of your trellis, but go in the opposite direction to make a "S" shape.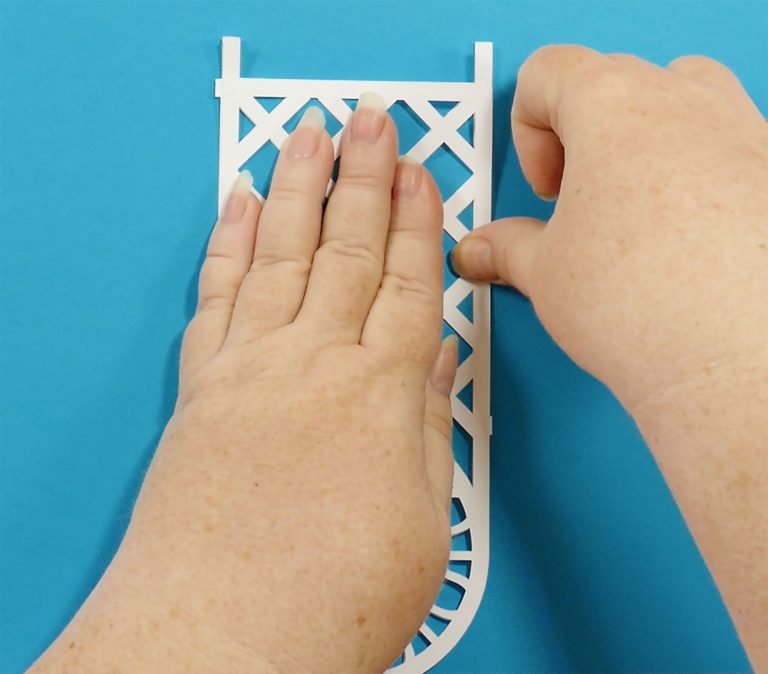 When you are done folding, your trellis should be able to stand up on its own like shown in the photo below. See the "S" shape it makes?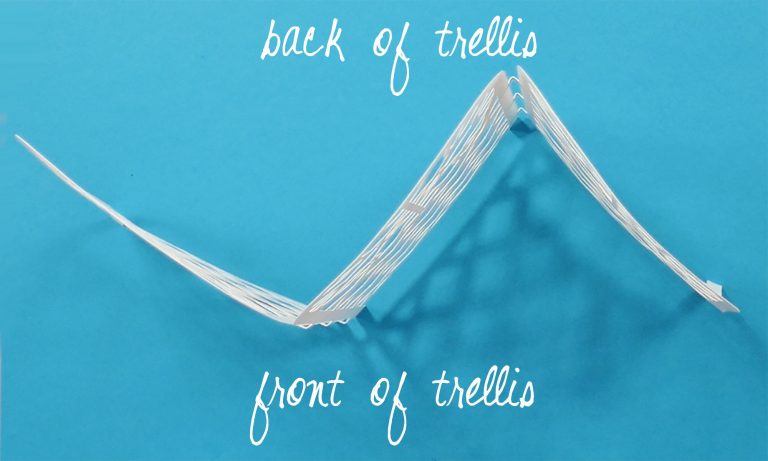 Now spray the back of your trellis with adhesive (refer to the photo above to see the correct orientation of your trellis — I've noted the front and back for you). Wait 30 seconds after spraying, then align the LEFT side of your trellis to the bottom left side of your sheet of cardstock, as I'm doing in the photo below. Leave about 1/8″ between the edge of your trellis and the edge of your cardstock. Press down on the left section to adhere it to the cardstock, but not the middle or right sections.
Once your trellis is in place on your cardstock, fold over the left one-third, using your trellis as a guide. You want to crease it right where you've creased your trellis at the three connection points.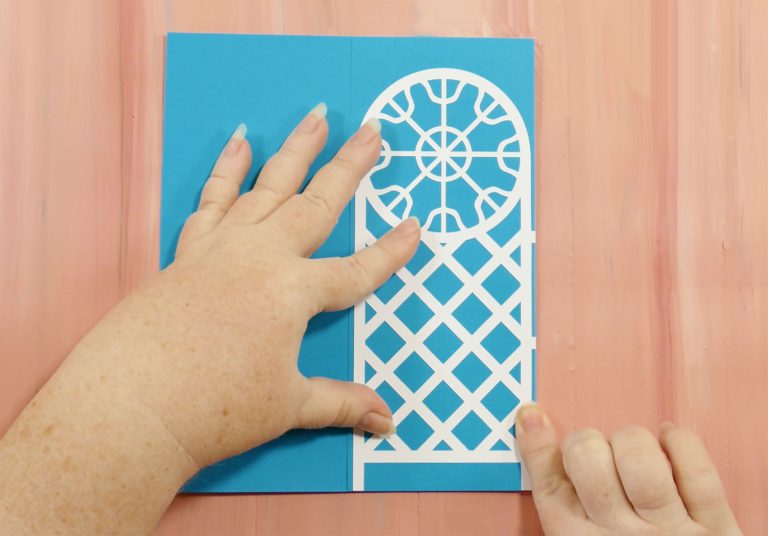 Now fold over the other one-third of the card, remembering that you're making a "S" shape — just match the remaining one-third of the card to the already folded section to get a perfect fold. Here's what it looks like when it is all folded.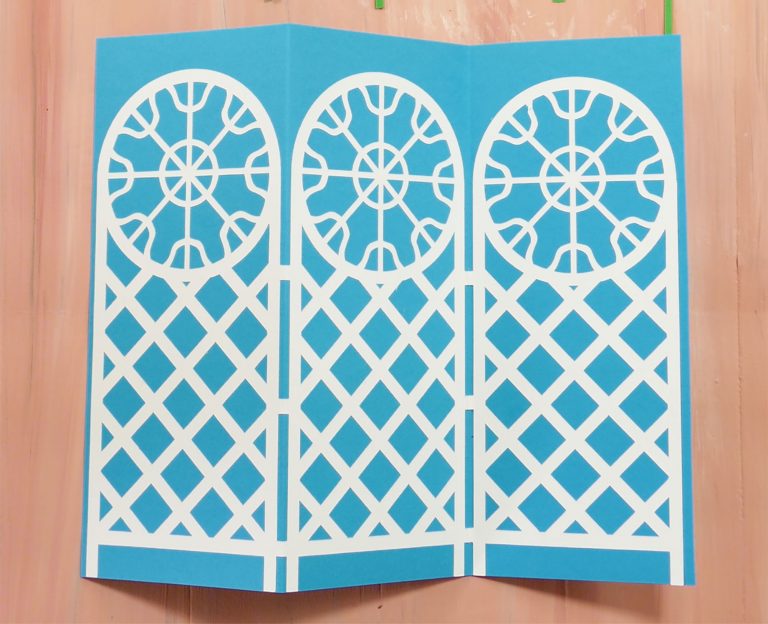 Ready to decorate? I sure am! I've already prepared my sunflowers and stalks, but it's important to decide where you want to put them before you start attaching them. When deciding on placement, keep in mind where each flower will sit when the card is folded — avoid putting flowers in the same layer space to make sure it folds as neatly as possible. In other words, if you put a flower in the upper right corner of the front section, be careful about putting one in the upper left corner in the middle section, as they would be right on top of each other when the card is folded. As long as your flowers are offset from one another when folded, you'll be fine.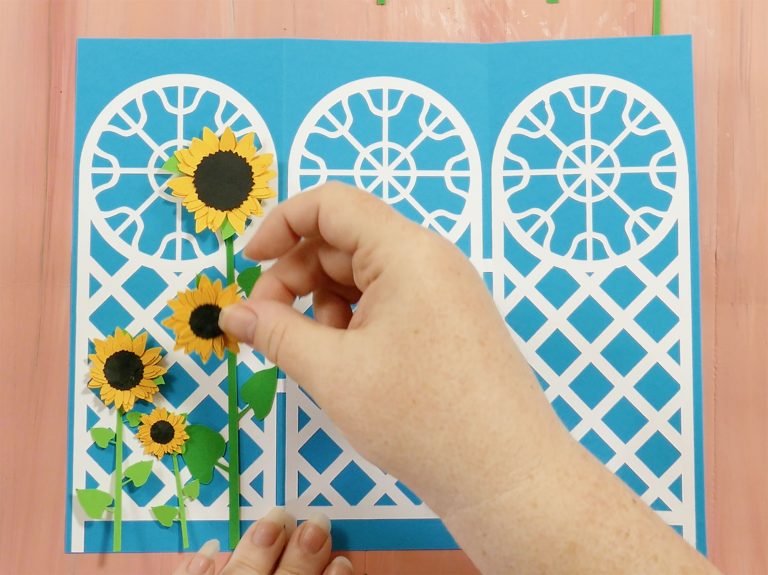 Once you've got a handle on placement, start attaching your flowers. For my card, I'm going to put my stalks on first using spray adhesive. I've folded each leaf in half to give it a more three-dimensional look.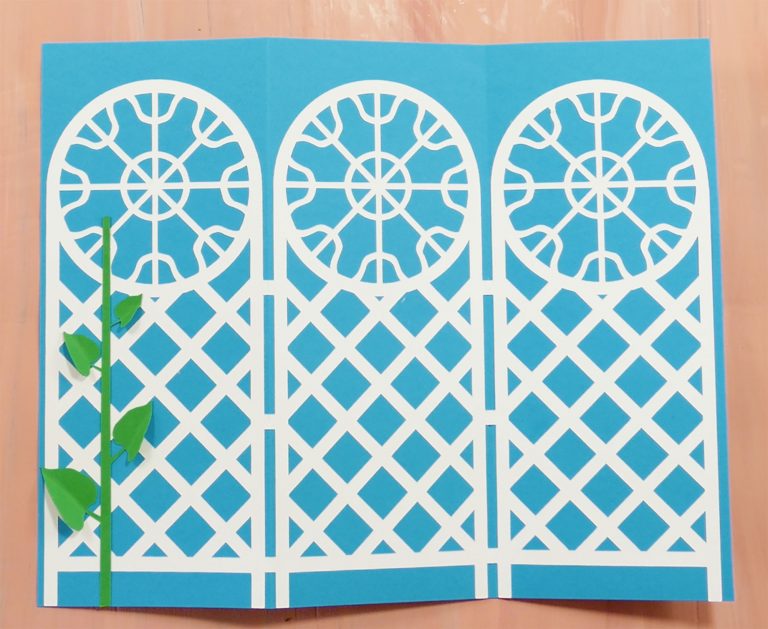 Once the stalks are on, I will glue my flowers on using tacky glue. (I don't think spray adhesive is strong enough for the flowers.)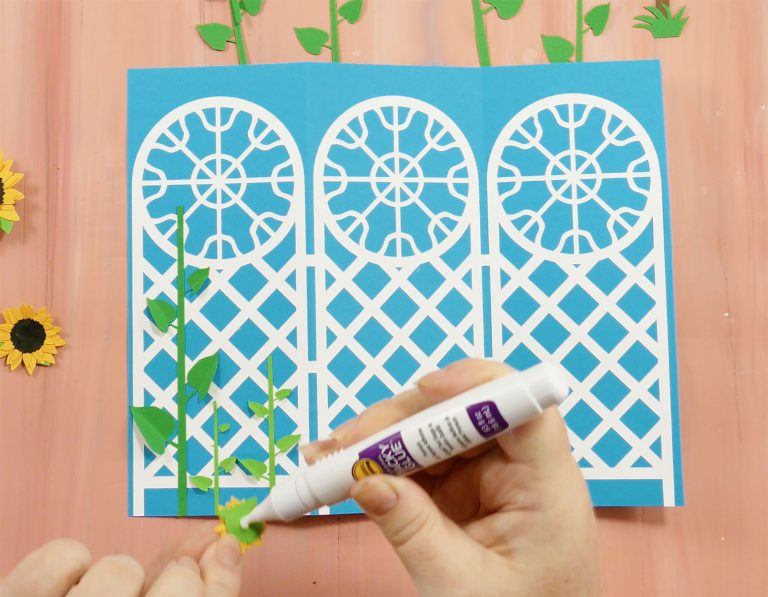 You may want to add more decoration beyond flowers, too. I added a little signpost with a birthday greeting. (This signpost is not in the trellis card files, but you can find other similar signs on Cricut Access.)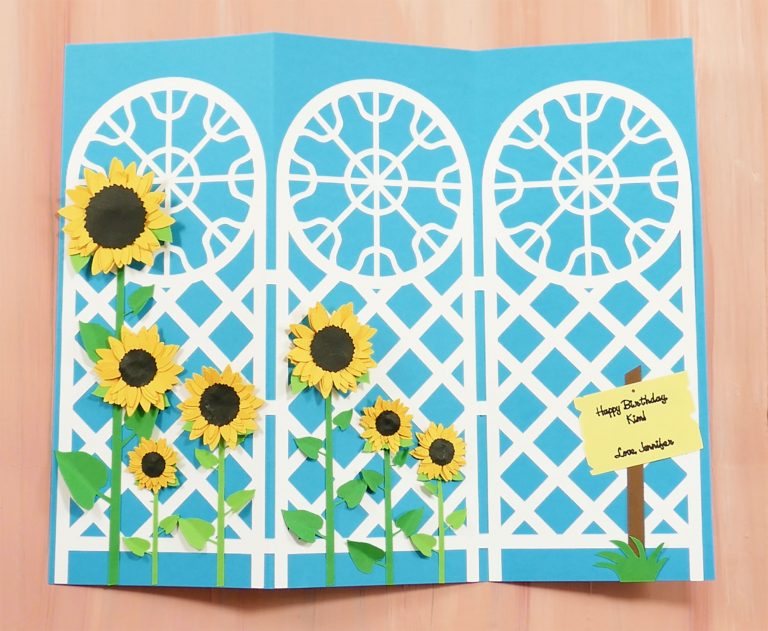 And here is my completed sunflower trellis tri-fold card!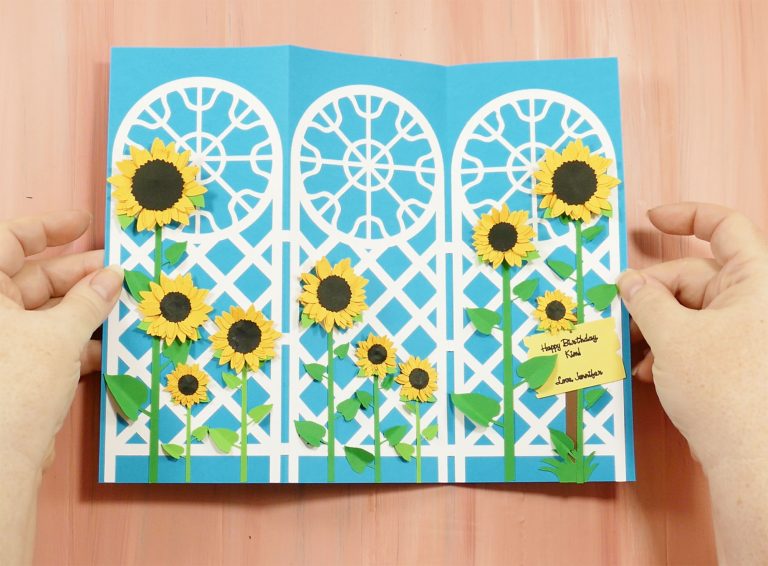 And then you can just fold it up and put it in a #10 envelope, as shown below. The fact that the card is a little smaller means it will fit in the envelope even though the flowers make it thicker.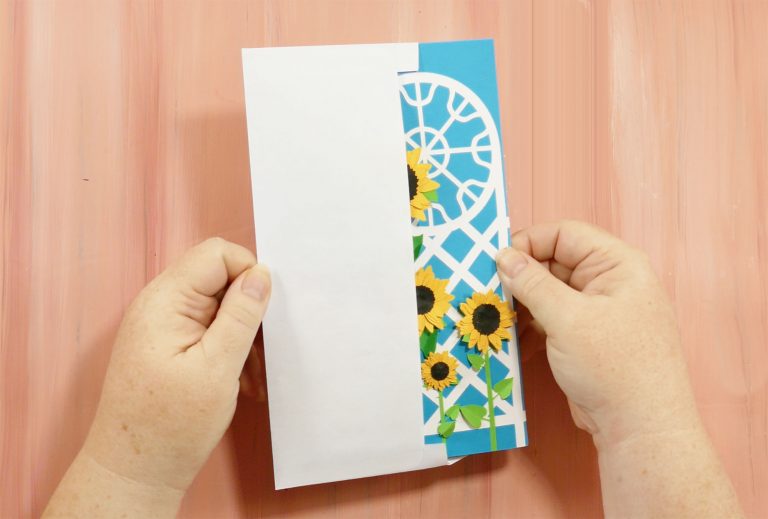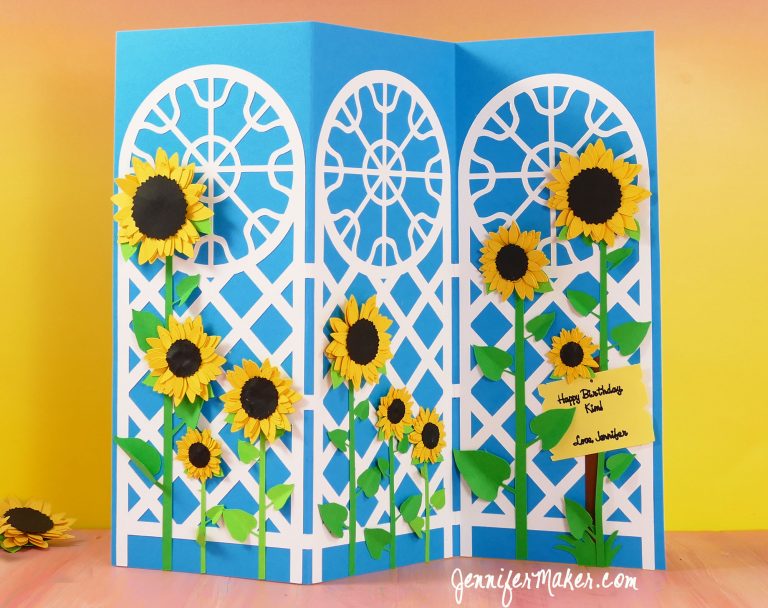 I love how this trellis card turned out — and it was really so easy to make. I'd love to see your project! If you make one, please share a photo in our Facebook group, email it to me at [email protected], or tag me on social media with #jennifermaker.
Free cut files for this garden trellis card
Get the password for the library with the free cut files (in SVG/DXF format) here by filling out this form:
Love,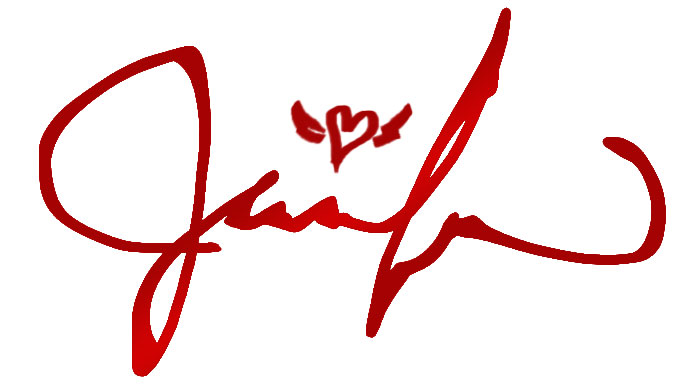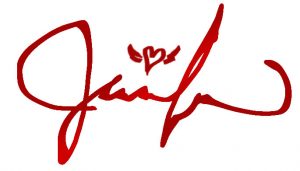 More Paper Flower Tutorials & SVG Cut Files
View all my paper flowers here.