Learn all about new Cricut light boxes — the Cricut BrightPad and Cricut BrightPad Go — and how they work to make weeding vinyl easier!
As a person who struggles with weeding, I'm delighted to report that two new Cricut lightboxes — the Cricut BrightPad and the Cricut BrightPad Go — have been revealed and are now available to buy! Cricut used to have a BrightPad years ago, but it went out of stock and has been missed by many. You may recall that I used it with great success in my stencil project! So they're bringing back this favorite and improving it a bit in the process, because the Cricut BrightPad Go is now CORDLESS!! The Cricut BrightPads make weeding vinyl easier and is also great for things like tracing! I'm excited to tell you all about the Cricut BrightPad and BrightPad Go!
Watch this quick video to see the Cricut BrightPad Go in action!
This post contains some affiliate links for your convenience (which means if you make a purchase after clicking a link I will earn a small commission but it won't cost you a penny more)! Read my full disclosure policy.
What does the Cricut BrightPad do?
The Cricut BrightPad is an ultra-thin LED light box (also known as light pad) that illuminates hard-to-see cut lines for faster, easier weeding of vinyl and iron-on vinyl projects. You can also use the Cricut BrightPad to light up things for tracing, to help you piece patterns, do diamond painting, cut stencils, or just see things a little better. Think of this is an ultra-thin, ultra-bright light box that will brighten up all your crafts!
Cricut graciously gifted me with both the BrightPad and the BrightPad Go in advance so I could review them for you (thanks, Cricut!)
Here is me weeding green permanent vinyl on the Cricut BrightPad Go — see how you can see the light shining through the cut lines? This is at maximum brightness.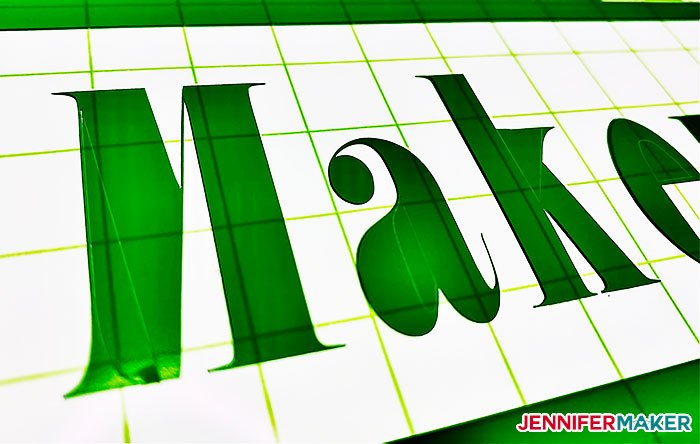 What is the Difference Between the Cricut BrightPad and the BrightPad Go?
The Cricut BrightPad Go is cordless, with a rechargeable, built-in battery for 2+ hours of power and 5 LED brightness settings. It's white with an indigo blue back and has a screen hardness of 6H. The BrightPad Go retails for $99.99 and can be purchased from Cricut.com and other places Cricut products are sold.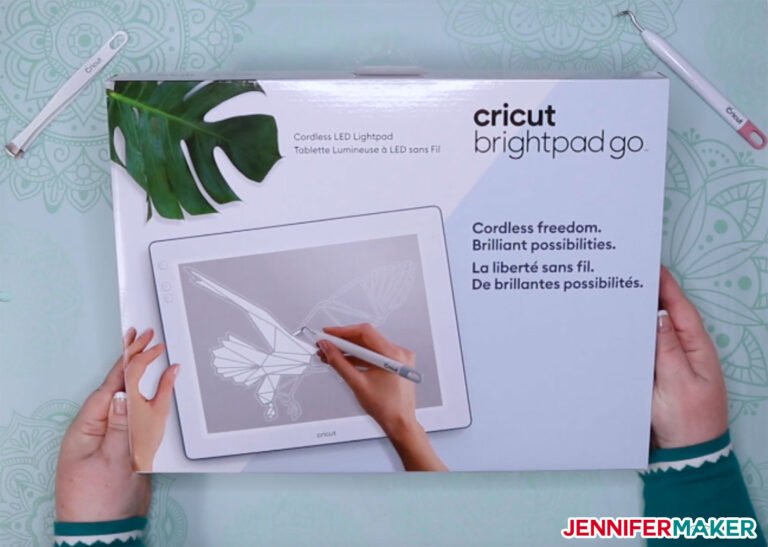 The Cricut BrightPad is corded and has 3 LED brightness settings. It's white with a mint back and has a screen hardness of 4H (so not quite as hard as the Go). The Cricut BrightPad retails for $59.99 and is only available at Target stores and Target.com until September 4th, after which you can get it at the Cricut shop.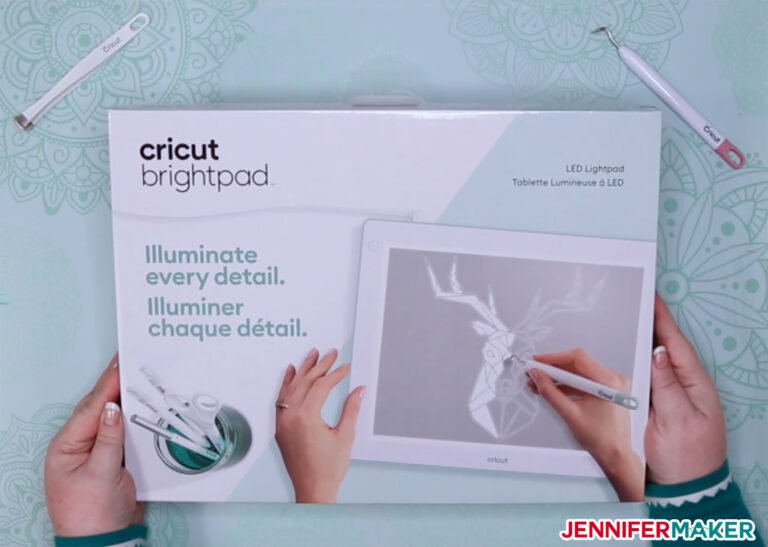 What size are the Cricut BrightPads?
Both the Cricut BrightPad and the Cricut BrightPad Go have a lit area of 11.5″ x 9″ (29.2 cm x 22.8 cm). Outer size is 15.9″ x 12″.
How bright are the Cricut BrightPads?
The Cricut BrightPad Go has five brightness settings and goes all the way up to 4200 lumens! (Note that this is a bit brighter than the old Cricut BrightPad, which went up to 4000 lumens. The Cricut BrightPad (corded) has three brightness settings and goes up to 3800 lumens.
Here's how the new Cricut BrightPad Pro compares with the old Cricut BrightPad. Not a huge change, but enough to see: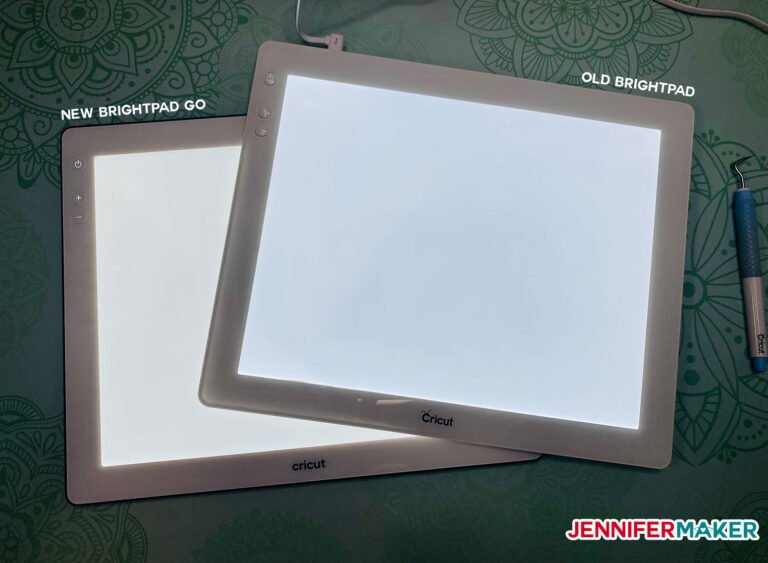 Here are the power buttons on the Cricut BrightPad Go: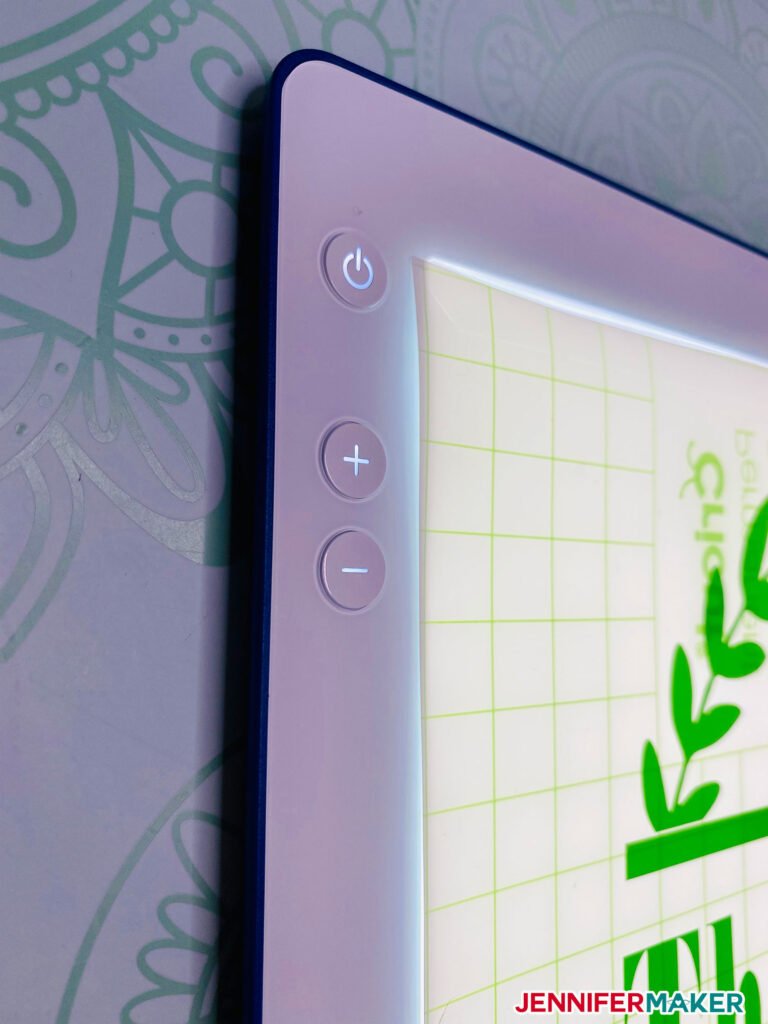 How does the Cricut BrightPad compare to other Light Pads and Light Boxes?
There's a lot of different ones on the market, but one of the BIG things that sets the Cricut BrightPads apart from the ones you see on Amazon is the screen. The Cricut BrightPad screen is HARD and it's meant to resist the sharp point of the weeding tools, whereas the others you see are really just meant for tracing. The Cricut BrightPad's screen is made of a polycarbonate in hardness levels from 4H to 6H (so very hard), whereas the others are made from acrylic or just don't even say.
Another issue we've noticed with other brands is that they aren't consistently bright from edge to edge the way the Cricut BrightPad is.
So if you are planning to use a light box for weeding, which is one of the best uses for it as a Cricut crafter, you're going to be happier with the Cricut BrightPad (and your screen will have far fewer scratches!)
What color are the Cricut BrightPads?
The BrightPad Go is white and indigo — here's what the back side of it looks like: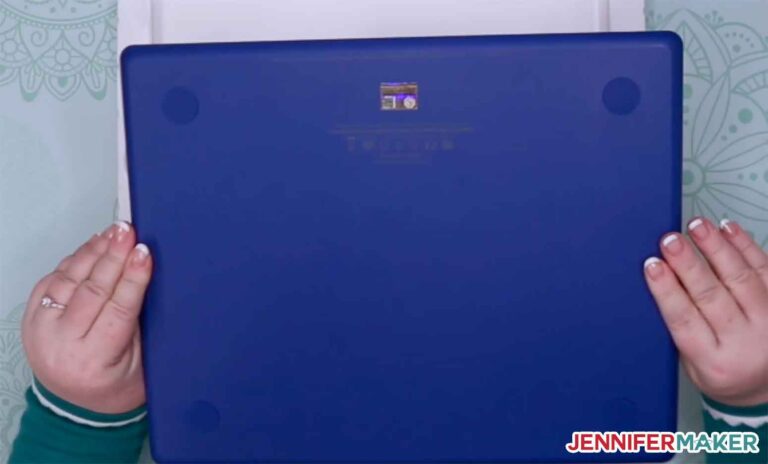 The Cricut BrightPad (the one with the cord) is white and mint — here's what it looks like on the back: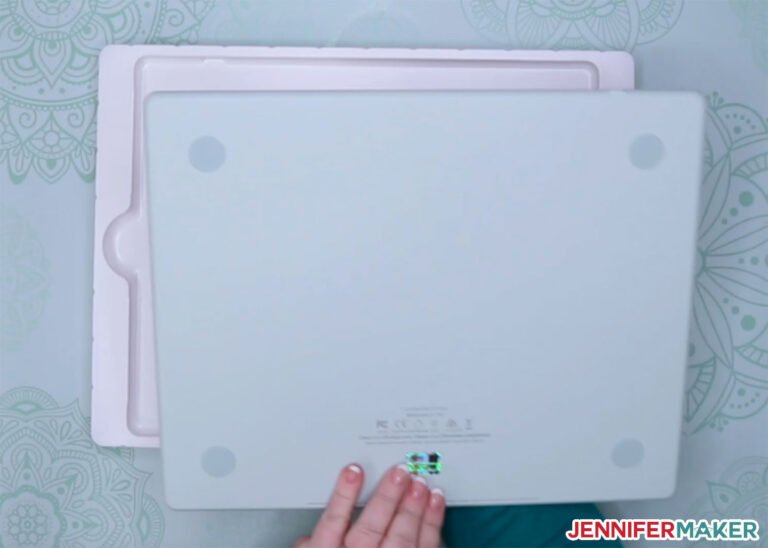 What other features does the Cricut BrightPad have?
Non-slip bases
One-button controls
Flicker-free light
Super lightweight
Super slim (6.3mm for the BrightPad, 8.5 mm for the BrightPad Go)
Cute colors (okay, maybe not important to everyone, but I always care)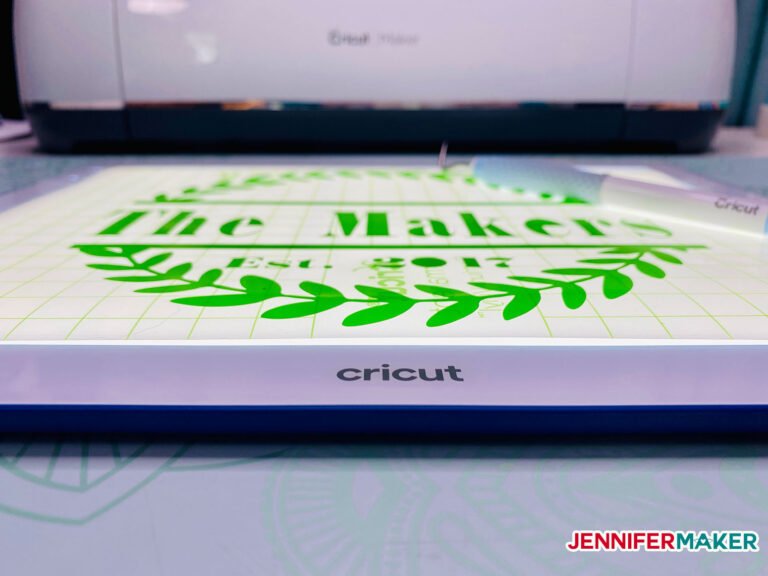 Why use a Cricut BrightPad?
I bought the original one for my daughter years ago, before I was really into vinyl crafting. She ADORED it, and used it to trace a lot of things. I "borrowed" it from her when I began learning to weed vinyl … and that's where I found it most useful. It helps me see the cut lines on some (though not all) vinyl. It works best for mid-to-dark toned vinyls. It still doesn't help with glitter vinyl, but I'm not sure there's much hope for that other than to use the baby powder method!
Basically, the Cricut BrightPad shows the cut lines better – that means less eye strain. And I'll take that any day.
Here's the older Cricut BrightPad helping me weed my Paper Heart Lantern years ago!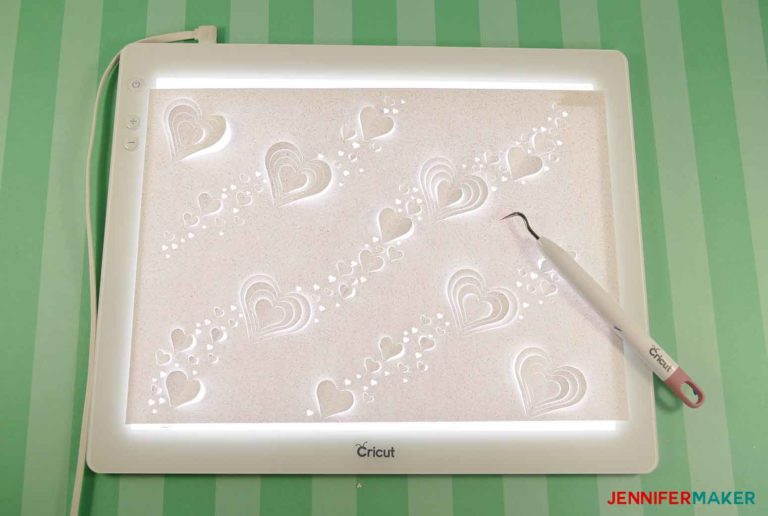 And here I am using it to make a stencil for my stepping stone project: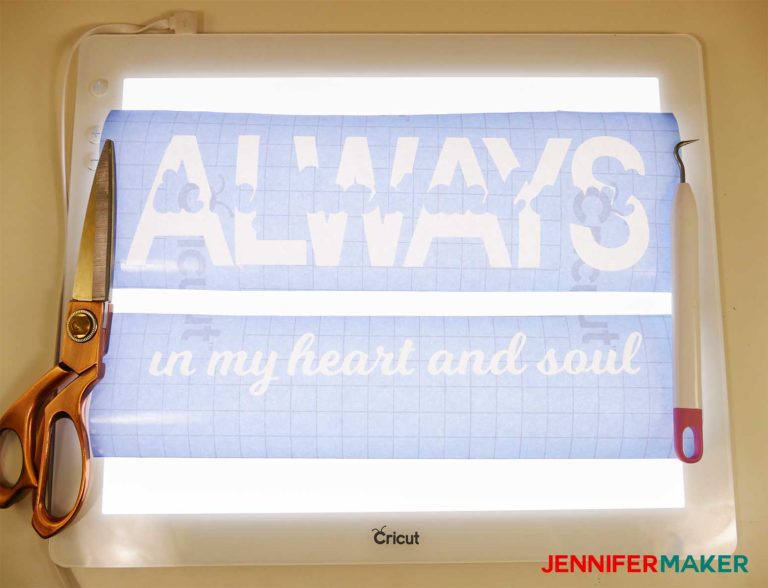 I'm excited about being able to go cordless with the Cricut BrightPad Go, too!
How do I use my Cricut BrightPad?
Get it out of the box, turn it on, put your vinyl or whatever you're working on right on the lighted surface, and get to work. I sometimes tape my vinyl to the lightbox with painter's tape while I work to keep it in place, but you do whatever works for you.
Tip: My Cricut BrightPad Go had a charge when I first took it out of the box, so I was able to start immediately!!
Does the Cricut BrightPad have to be plugged in?
If you have Cricut BrightPad Go, no you don't have to plug it in while you're using it — you can use it cordless so long as you've charged its battery. If you have the Cricut BrightPad, yes, you'll need to have it plugged in for it to work.
What comes in the Cricut Bright Pad box?
Cricut BrightPad itself
USB power cable
Wall adapter (BrightPad Go only)
Paperwork (quick start guide, safety card, warranty card)
Here's everything in the Cricut BrightPad Mint Box:
And here's everything in the Cricut BrightPad Go Box: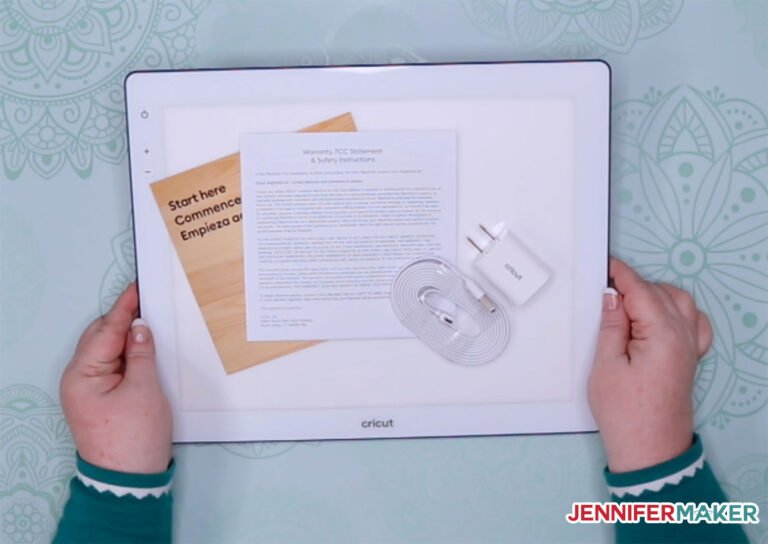 How long is the USB cord?
The cord is just about six feet long for both versions of the Cricut BrightPad. So not very long. I don't think you could make it longer unless you used an USB extension cable, which I have not tried yet.
How long does the battery last?
It depends on how bright you use your BrightPad. The lower the brightness, the longer it lasts. If you have it on max brightness, you'll get 2 hours out of it. At a lower brightness, it can last up to 12 hours!
How do I check my BrightPad Go battery level?
If your BrightPad or BrightPad Go is plugged in and you power button is a solid white, that means you have a full battery. If the power button slowly fades on and off, that means your battery is charging.
If your BrightPad Go is not plugged in and the power button flashes red slowly, that means there is 5-15 minutes remaining on your battery. If the power button flashes red quickly, that means it has less than 5 minutes remaining.
Which is better: Cricut BrightPad or Cricut BrightPad Go?
Cricut BrightPad Go is the winner for me, hands down. I need the ability to move my BrightPad around and I don't like having a cord get in my way. Plus it comes with a wall charger, which I always need because I'm always losing mine.
Will there be other colors for the Cricut BrightPad?
Great question! I don't know. I do know that the older Cricut BrightPad came in multiple colors — mine is pink, and there is also a mint one. So… maybe one day?
Can I see the Cricut BrightPad in action?
Yes! Here is a video demonstrating weeding on the Cricut BrightPad (we used our pretty mandala heart).
How do I get a Cricut BrightPad?
If you want the cordless version, order the Cricut BrightPad Go from the Cricut shop — it's now available!
If you want the less expensive version and don't mind the cord, go to your local Target (or Target.com) and get the corded Cricut BrightPad!
Got more questions? I'd love to help! Leave a reply here or ask over on my Cricut Crafters & Makers group!
Love,