Cricut Joy is a compact Cricut cutting machine that is PERFECT for home decor, adorable labels, and easy cards! \
The Cricut Joy cutting machine changes how you make labels, cut vinyl, and create cards! If you've ever wanted to make super-cute labels that basically write themselves, cut long strips of vinyl without a mat, and cut amazing cards super fast, you can do it with the Cricut Joy! The Cricut Joy is my favorite tool for making quick cards and handy labels. And, also, it's adorable, and portable, and affordable.
Cricut sent me my own Cricut Joy (squee!) so I can experiment and show you how this amazing little machine works in advance! I unboxed it and did my starter project live with everyone the day the Cricut Joy was announced — here is a replay of that fun peek at the Cricut Joy!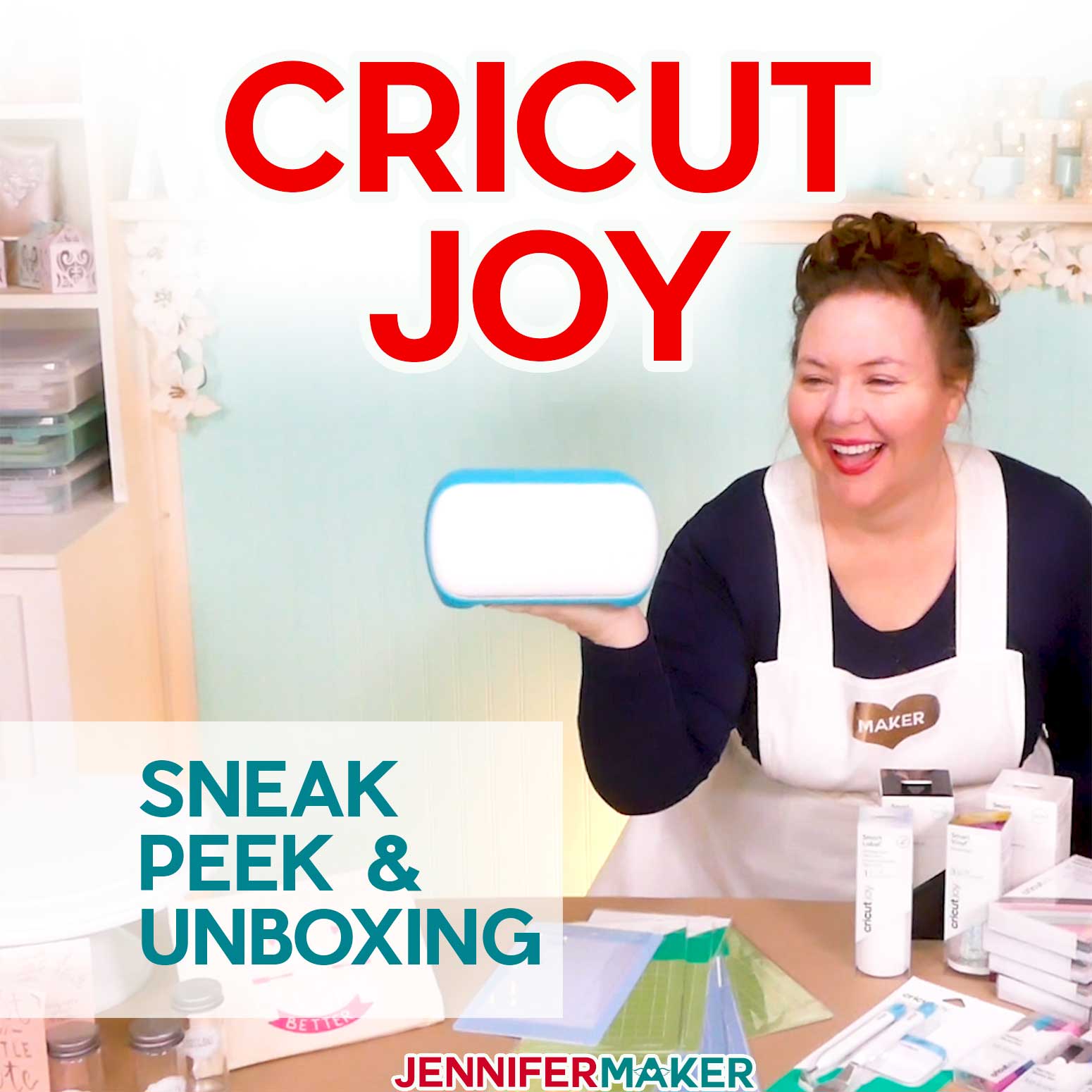 Let's look more closely at what the Cricut Joy is and how it actually works! This post contains some affiliate links for your convenience (which means if you make a purchase after clicking a link I will earn a small commission but it won't cost you a penny more)! Read my full disclosure policy.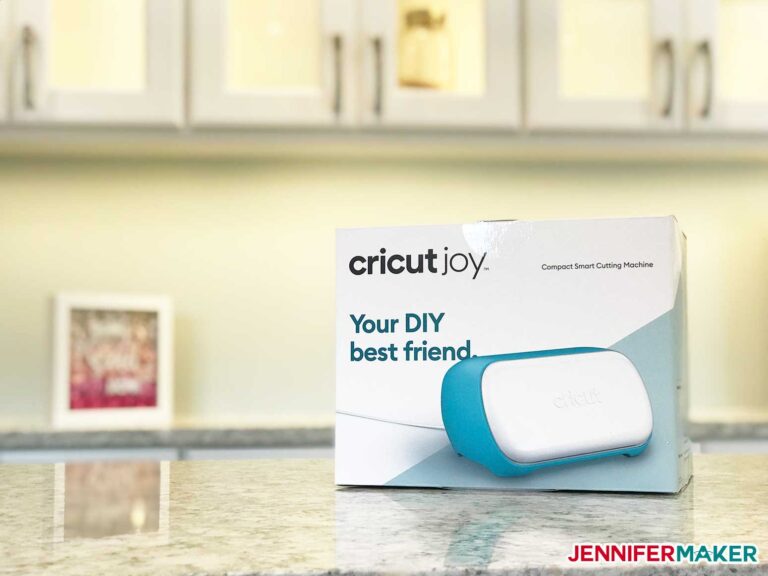 What special things can the Cricut Joy Cutting Machine do?
LONG CUTS: Cut a continuous image up to 4.5″ wide and 4 feet long!
EASIER CARDS: New "Insert Card" sets and new Card Mats cut just the top layer of a card!
AMAZING LABELS: New line of pens and markers can write on the Smart Vinyl and won't rub off!
REPEATED SHAPES: Cut repeated shapes up to 20 feet long
CUT VINYL WITHOUT MATS: You can cut Smart Vinyl without a mat! No need to change mats when you change colors!
PORTABLE: Light enough (under 6 lbs.) and you can take it anywhere
Cricut Joy Tutorials Galore!
I have many fun and easy tutorials for projects sized just for the Joy, including: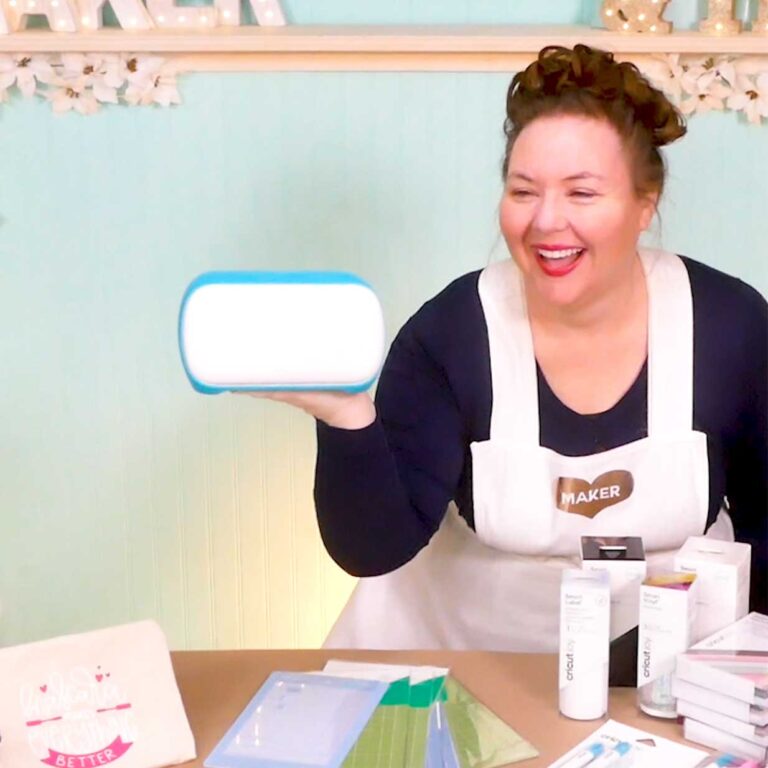 Answers to Your Cricut Joy Questions
I know you have many questions, so this page is the place for all the questions and answers about this fun cutting machine! If you have questions you'd like me to research, please just let me know!
Where can I get the Cricut Joy?
Get it from Cricut as well as in craft stores like Michaels and JoAnn. It's also available on Amazon!
How Does the Cricut Joy Differ From the Maker or Explore?
The Cricut Joy is smaller, lighter, more portable machine that can do long cuts on Smart Vinyl without a mat, cut and write on unique labels with new pens and writeable vinyl, and make super-fast cards using the Card Mat. The Cricut Joy is for fast cards, labels, and decals. If you need to cut thicker, denser, bigger stuff, you use your Explore or Maker. Check out my in-depth guide on all Cricut cutting machines in Which Cricut Should I Buy?
How Much Is the Cricut Joy?
Retail price is $179.99. View on Cricut.com. But you can get it for under $150 most days.
What Materials and Accessories are available for the Cricut Joy Materials?
Smart Vinyl – $5.99–$28.99.
Smart Iron-On – $7.99-$13.99.
Smart Labels – $7.99.
Infusible Ink – $7.99
Insert Card Sets – $6.99
Transfer Tape – $4.49-$18.99.
Adhesive-Backed Paper – $6.99-$7.99.
Pens and Markers – $8.99.
Standard Grip & Light Grip cutting mats – $9.99 (4.5″ x 12″ long) and $8.99 (4.5″ x 6.5″ long)
Card mat (4.5″ x 6.25″) – $14.99
Starter Tool Kit – $7.99
Blade ($12.99) + Housing ($32.99)
Tote – $39.99
Can I Cut Things Other Than Their Materials?
YES! You can use the Standard Grip and Light Grip cutting mats to cut regular cardstock, vinyl, and all the usual things you can cut on a Cricut Explore, including faux leather.
What Size of Materials Can I Cut?
You can cut materials up to 4.25″ wide and 11.5″ long (if using a cutting mat) and up to 5″ wide by 20 feet long (if using Smart Vinyl) on the Cricut Joy.
The Cricut Joy is cute, but what can one even make with this?
TONS of stuff! Signs, wall decals, super cute cards, amazing labels, iron-on decals, Infusible Ink projects… so much stuff. You often don't need a huge cutting area to make really cool projects.
Can I get the Cricut Joy in a different color?
The Cricut Joy is only available in teal blue right now.
Will the Smart Cutting Materials become available for other cutting machines?
Yes, there are now larger-size Smart Materials available for the new Maker 3 and Explore 3!
Do I Have to Use Smart Cutting Materials?
No, you can cut regular vinyl and cardstock using one of the Cricut Joy cutting mats. If you want to cut matless, however, you need to use the Smart Materials.
What Cricut Joy Accessories Do I Really Need?
Great question! You really and truly do NOT need ALL THE THINGS. In fact, your Cricut Joy has some things in the box already. Here's a list:
Cricut Joy machine
Blade + Housing — this is a special one that fits the Joy
Fine Point Pen, Black (0.4 mm) — this is a special one that fits the Joy
StandardGrip Mat, 4.5″ x 6.5″ (11.4 cm x 16.5 cm) — this is a special one that fits the Joy
Welcome card
Power adapter
Free trial membership to Cricut Access™ (for new subscribers)
50 ready-to make projects online
Materials for a practice cut
There's a lot of things you can get, so I've created a whole guide to help you decide what you need — and don't need — over at Cricut Joy: What Materials & Accessories Do You Really Need?
What About…. ?
Ask your question and I'll find an answer!
Want more help using the Cricut Joy? Sign up for my tips newsletter for Joy-sized projects and inspiration!
https://f.convertkit.com/8b71fa0c65/b7f5f7c10a.js
If you have more questions, just let me know!
Love,