Learn how to make a Kitchen Conversions Chart Decal with adhesive Vinyl for a cutting board or cupboard door!
My daughter Alexa loves to cook and she'll ask me things like, "Mom, how many tablespoons are in a cup?" or "How many quarts are in a gallon?" I can never remember, and I usually tell her to Google it which is a bad idea because her hands are covered in flour or something sticky. So I made a handy Kitchen Conversions decal to put on the inside door of our kitchen! You can also put this on a glass cutting board or anywhere handy. Whether you are a beginner in the kitchen or an experienced cook, a quick reference conversion chart decal is convenient to have while you are cooking! I love adding personal touches to my kitchen, and this kitchen conversion chart goes well with my Vinyl Decals for Kitchen Appliances. So for Day 14 of The Great Maker 25-Day Gift-Away Challenge, I am showing you how to make a Kitchen Conversions Chart Decal with Vinyl!
See exactly how to make a kitchen conversions decal in my tutorial video (or keep scrolling if you prefer a printable step-by-step photo tutorial):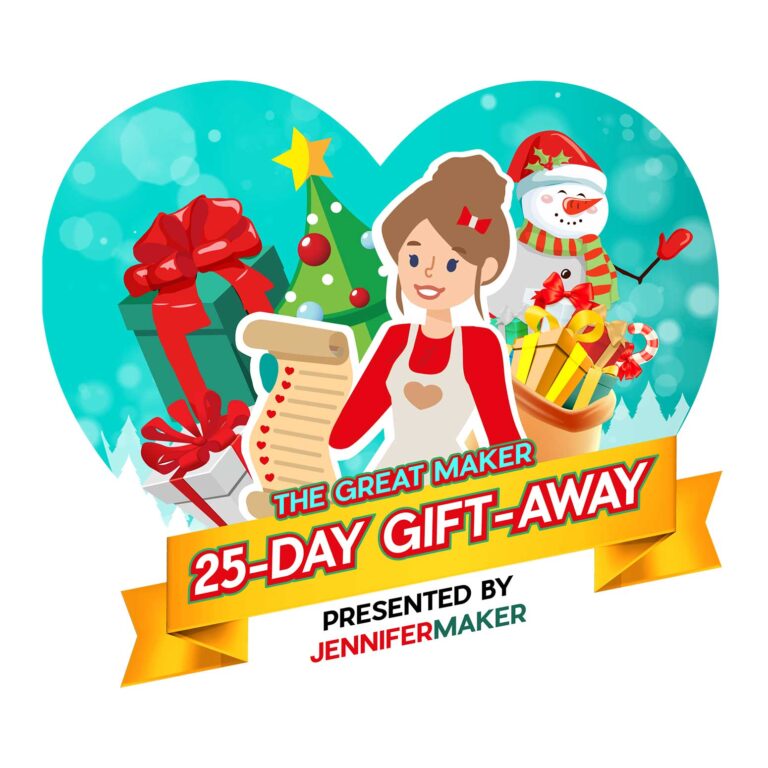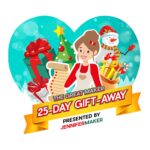 What is The Great Maker 25-Day Gift-Away?
This is an
annual tradition
here at JenniferMaker! Every day for the first 25 days of December we gift you with a brand new project, design, tutorial, and video. On top of that, we host a giveaway with 25 prizes. Some of the amazing prizes are
Cricut cutting machines
, sewing machines, gift cards, and beautiful
print editions of our popular Cricut Coach Playbook
. You can even earn bonus entries for sharing photos of the daily projects!
Click here to learn more about The Great Maker 25-Day Gift-Away!
This decal is made from one 12″ x 16″ inch piece of permanent adhesive vinyl, and you could use any color you want. If you have dark wood cabinet or cutting board, a white vinyl would work better than black!
You also need the same size sheet of transfer tape so you can get your vinyl design onto your cupboard door or cutting board.
Now you just need a place to put your decal! In this photo tutorial, I'll show you how to apply the decal to the underside of a glass cutting board, but you could really put it anywhere that won't come into direct contact with food. For example, you could put it on the inside of your kitchen cupboard door as I did (see my video to learn how I did that).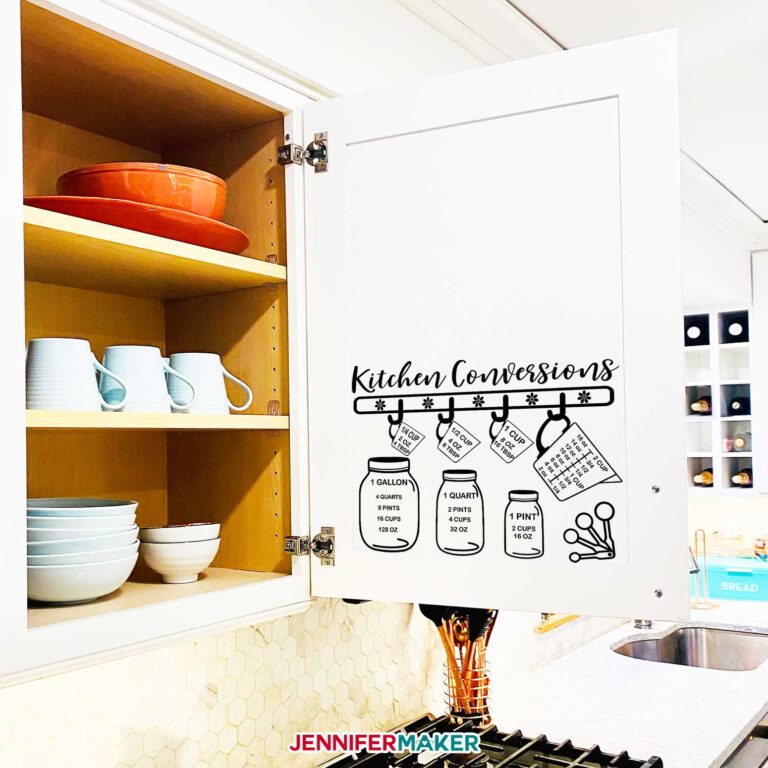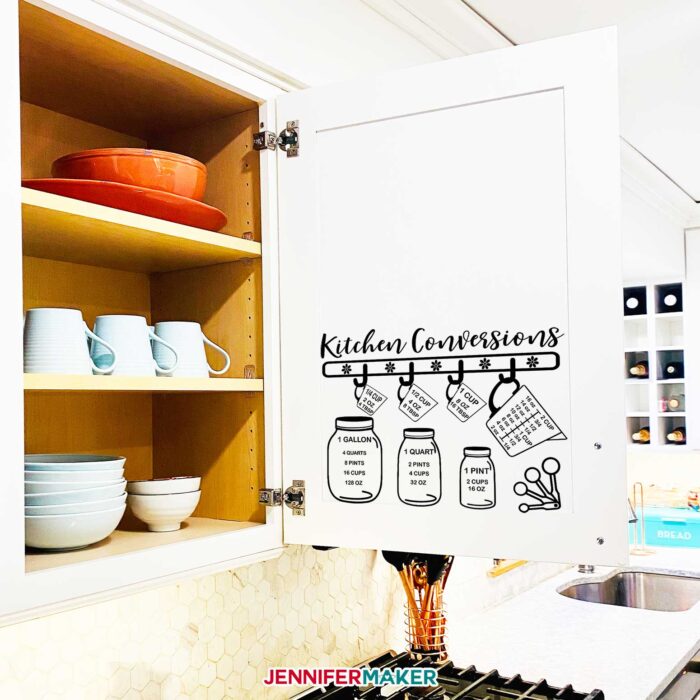 If you decide to make a cutting board, I've used this fifteen point seventy five inch by twelve inch glass board I found on Amazon — the link is below!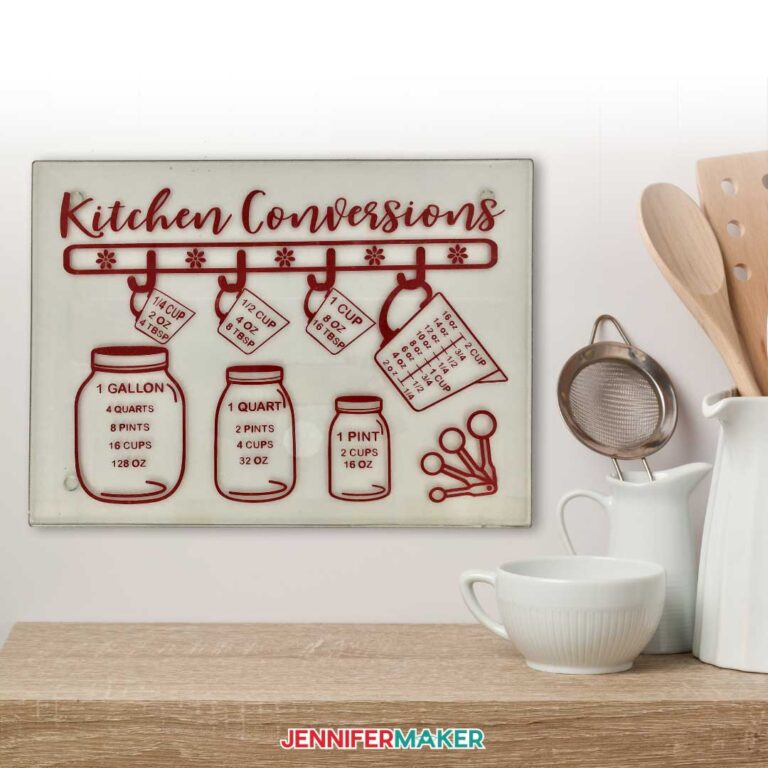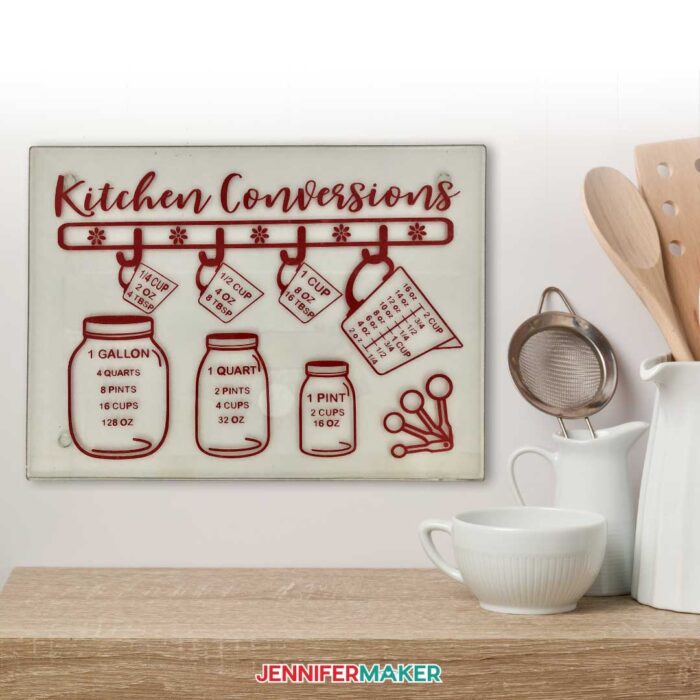 To cut my vinyl, I used a Cricut cutting machine, along with the fine point blade and a green standard grip mat.
Other useful tools include a weeding tool, painter's tape, isopropyl alcohol and lint-free cloths like blue shop towels or coffee filters.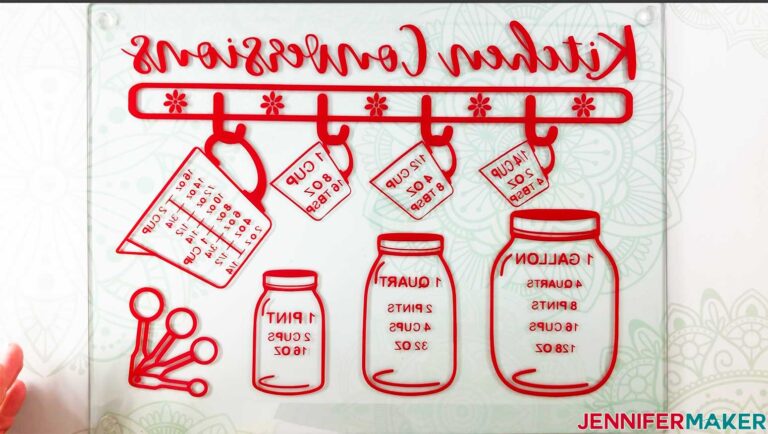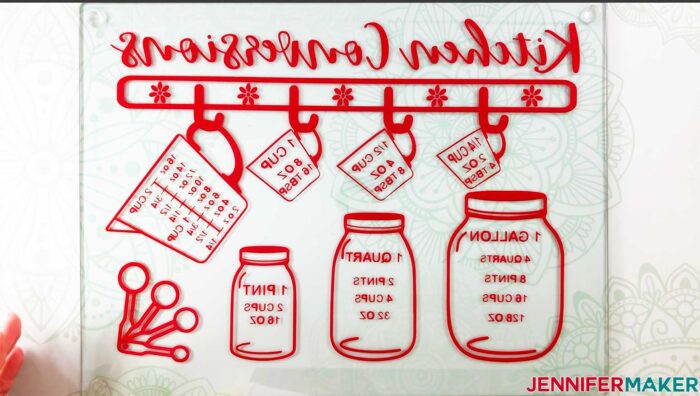 So let me show you where to get my kitchen conversions design and then how to cut and apply it to the inside of a kitchen cabinet door! This post contains some affiliate links for your convenience (which means if you make a purchase after clicking a link I will earn a small commission but it won't cost you a penny more)! Read my full disclosure policy.
Materials to Make a Kitchen Conversions Chart Decal
How to Make a Kitchen Conversions Chart Decal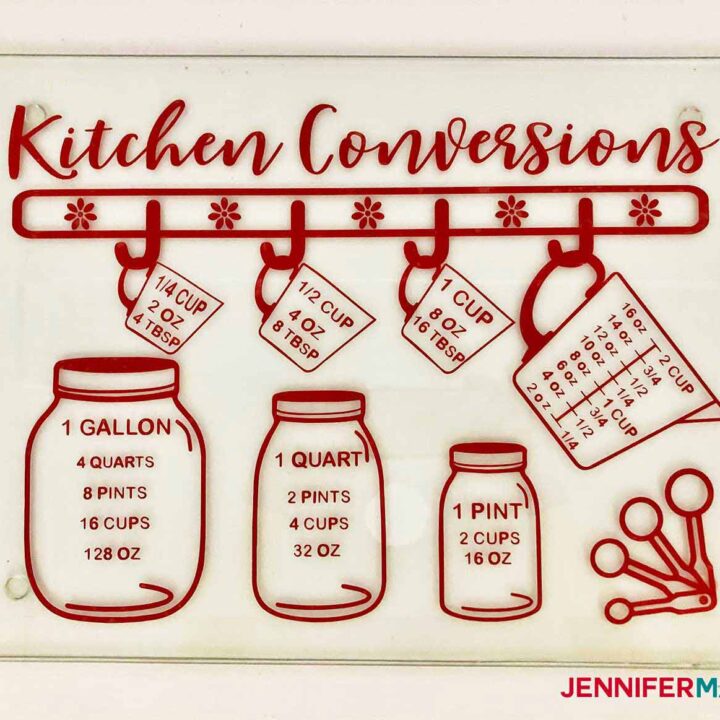 Kitchen Conversions Decal
Yield: 1 Glass Cutting Board

Active Time: 1 hour 45 minutes

Total Time: 1 hour 45 minutes

Difficulty: Medium to Difficult

Estimated Cost: $25

I've always wanted to have a kitchen conversion chart close at hand when cooking and baking. What better place for it than on a cutting board or the inside of a kitchen cupboard? I am super excited to add this to my kitchen and I hope you will be, too!
Instructions
Note: I also applied the Kitchen Conversions design to the inside of a cupboard door! If you would like to try this as well, be sure to check out the video on my blog!

STEP 1: GET THE KITCHEN CONVERSION CHART DESIGN

You can get my Kitchen Conversion Chart SVG design file # 265 from my free resource library (get the password to the library in the form at the bottom of this page. Here is what my Kitchen Conversion Chart design file will look like when you upload it to the Cricut Design Space: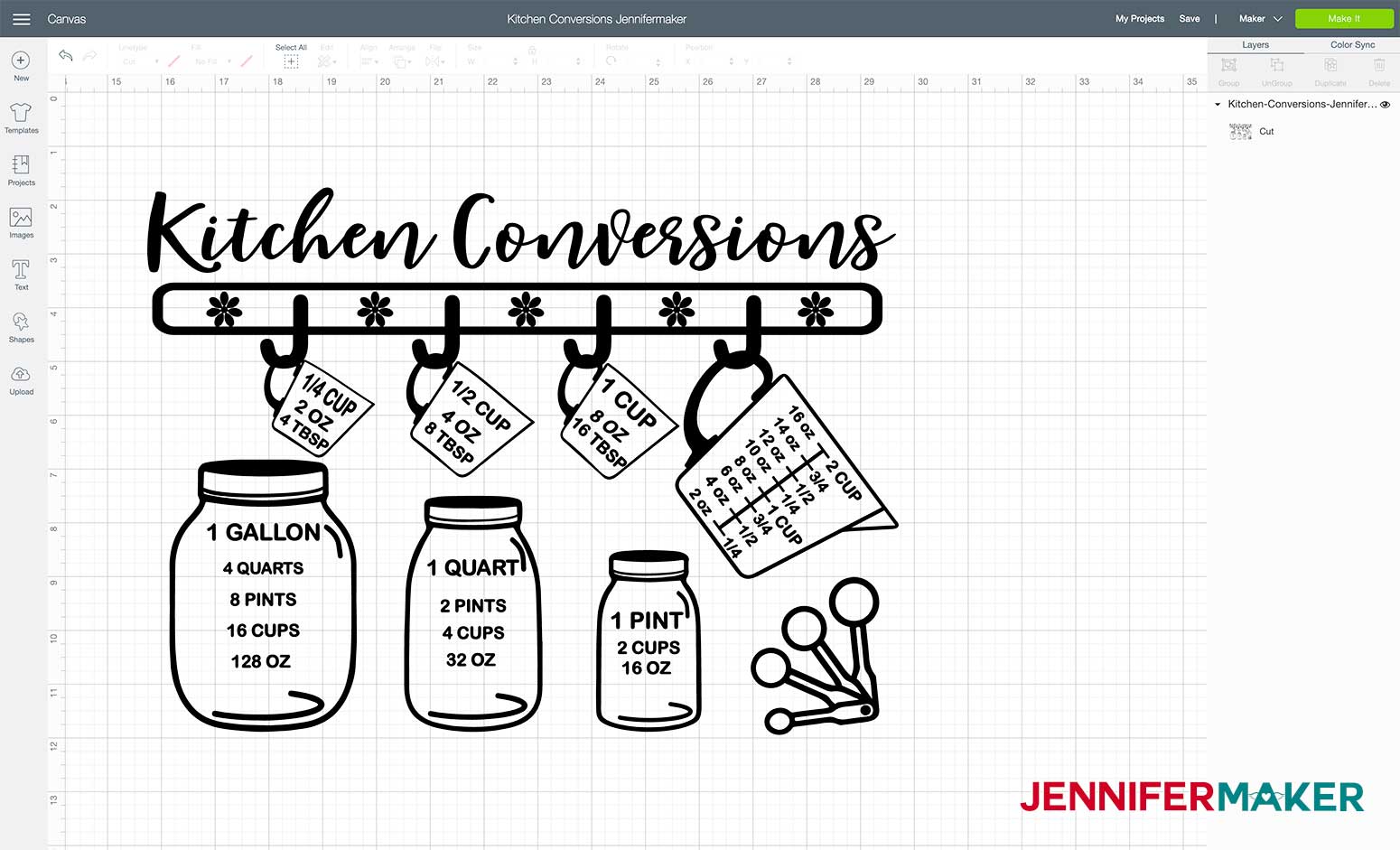 Tip: If you are not sure how to upload an SVG cut file to the Cricut Design Space, watch this helpful video training series I made. If you are on an iPad or iPhone, here is how to download and upload SVG files to the Cricut Design Space app.
STEP 2: CUT THE KITCHEN CONVERSION CHART DESIGN

Upload the Kitchen Conversion Chart design into Design Space. The design is sized for the glass cutting board that is in the materials list. If you are using a different medium to apply your Kitchen Conversion Chart design to resize the design accordingly.

Click Make It.

On the Mat Preview screen be sure to MIRROR the design if you are using the glass cutting board in the materials list. The reason for mirroring the design is that we will be putting the design on the bottom of the cutting board. Select Vinyl as your material setting.

Once the design is cut, weed it. I found that using the reverse weeding technique for this design worked well. You most certainly can weed the design the traditional way.

If you are going to reverse weed your design, leave the cut vinyl on your mat and place a sheet of transfer tape (about the same size as your design) onto the top of the vinyl. Burnish the transfer sheet to the vinyl with your Cricut scraper.

Turn your mat upside down and roll the design off the mat.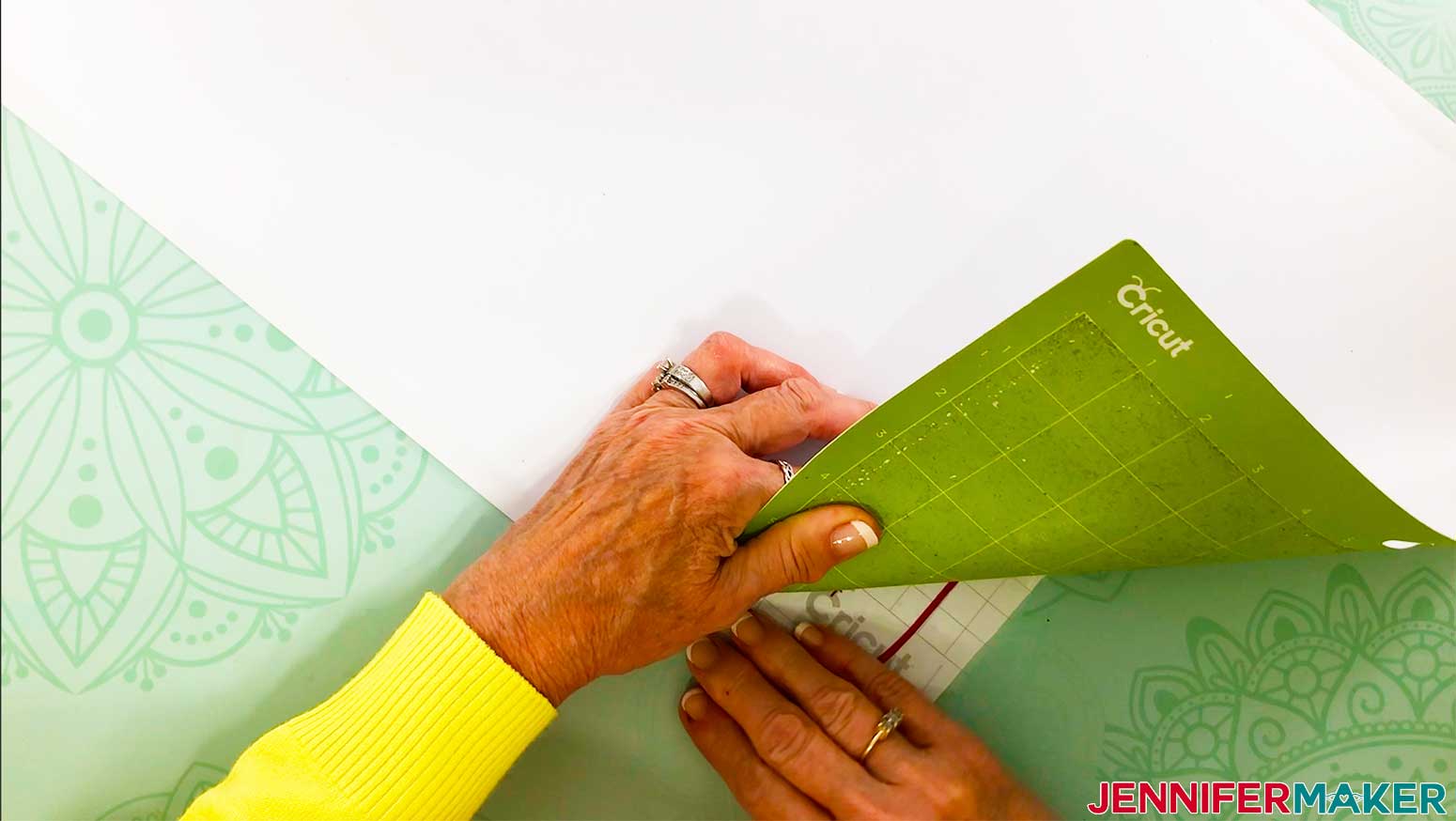 Now place the design with the transfer tape side down on the mat. I like to place the design back on the mat to weed it. The mat acts as another set of hands to hold down the design for easier weeding. Again, be sure to burnish the vinyl to the mat. Remove the paper backing off the vinyl. Save the paper backing as we will use it later. If pieces stick to your paper backing as they sometimes do even with traditional weeding, just push the backing back down and burnish that area a bit more.

After I removed the paper backing from the vinyl I began to weed the design. Go slow, take your time. Try to not touch the areas of the design too much as you don't want the oil from your fingertips to affect the adhesive of the vinyl. This design does take some time to weed so be patient.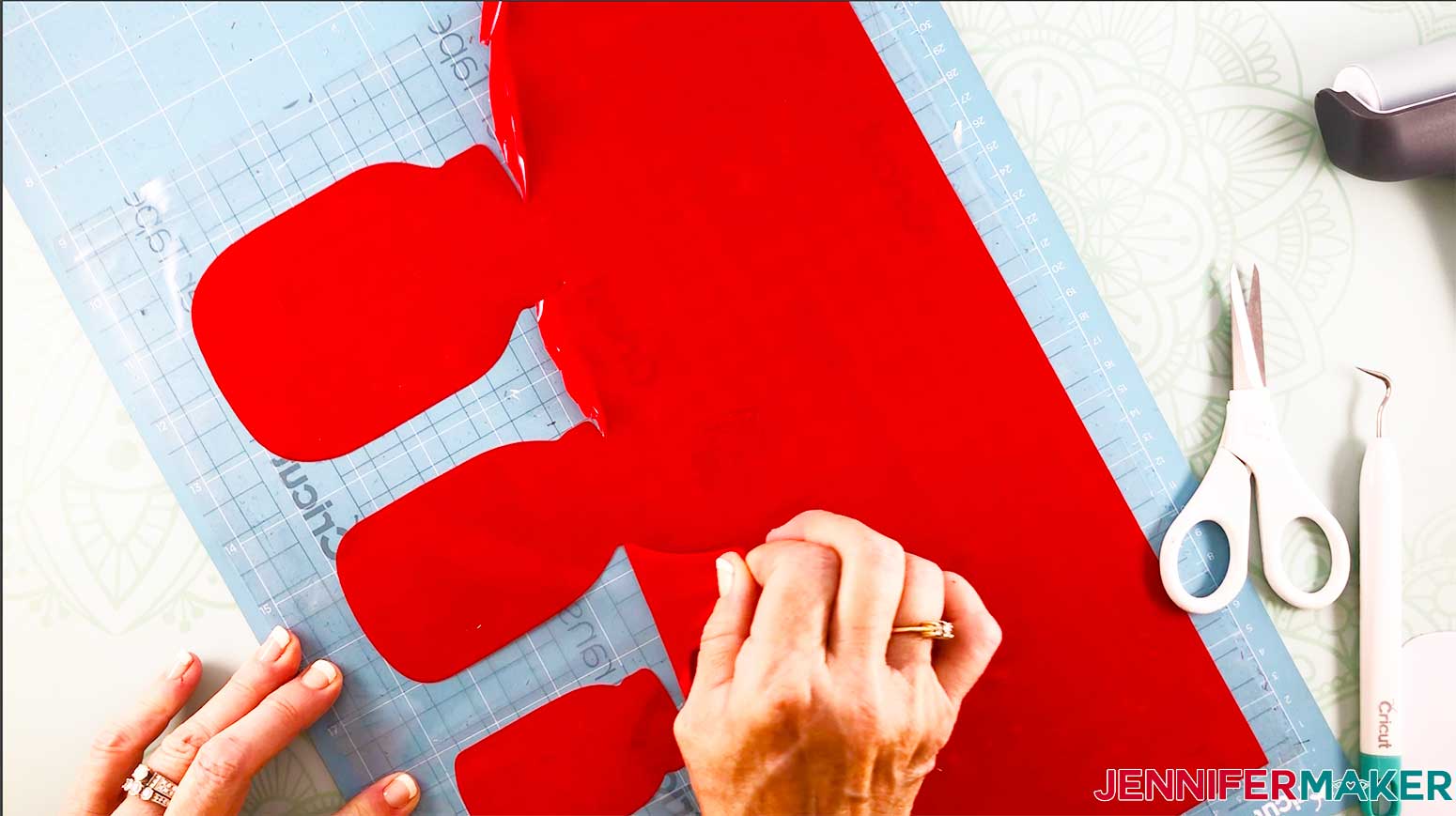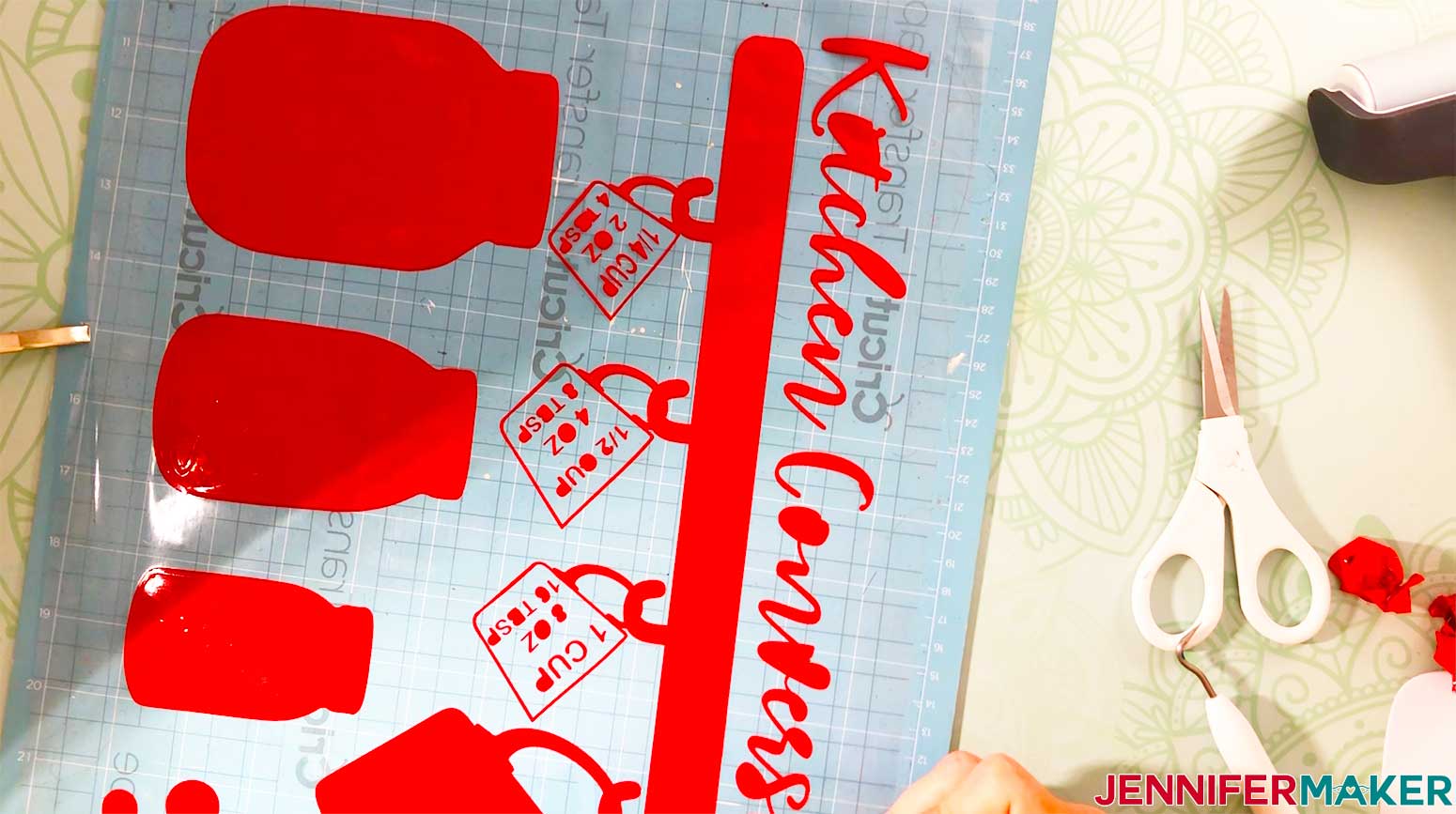 After the whole design is weeded, place the paper backing back on the design while it is still on the mat and burnish it down with your Cricut scraper or Cricut brayer.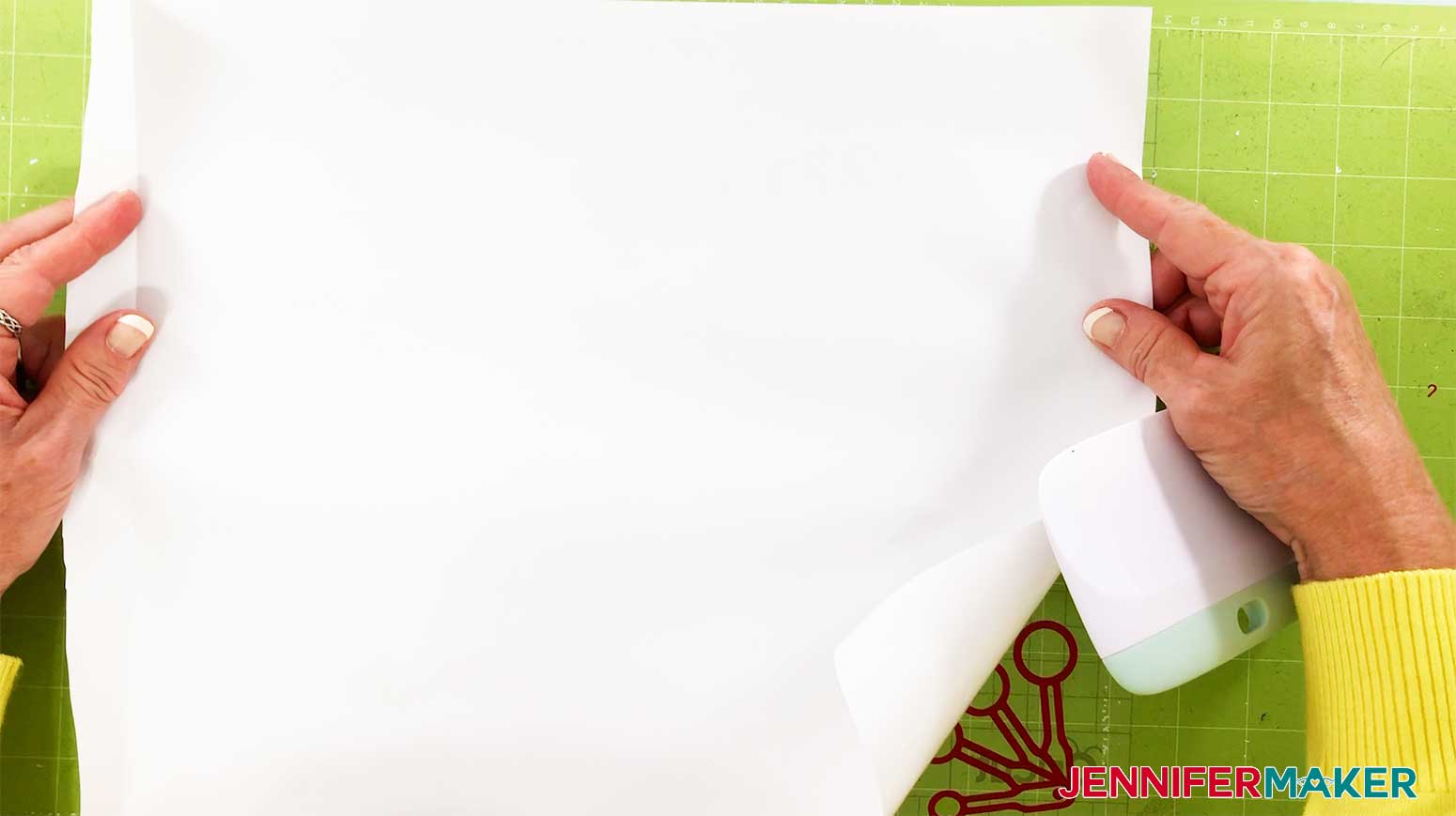 STEP 3: APPLY THE KITCHEN CONVERSION CHART DESIGN TO THE CUTTING BOARD
Before I applied the Kitchen Conversion Chart to the back of the glass cutting board, I first cleaned the cutting board with alcohol and a coffee filter or a lint free towel.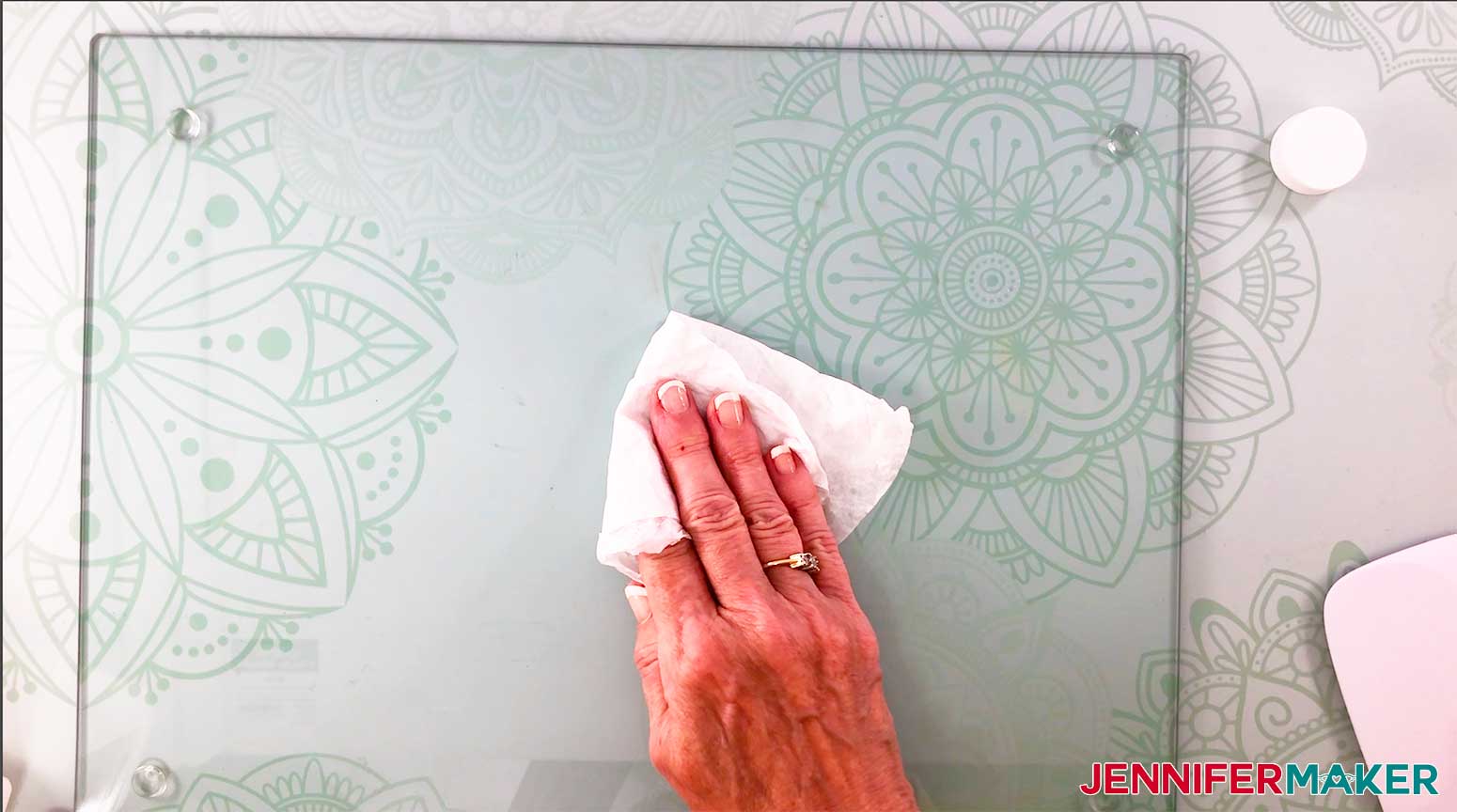 I used my Cricut weeding tool to remove the little rubber feet on the bottom of the cutting board to make room for the design. Lay them adhesive side up on your work surface. We will put these back on once the design is applied.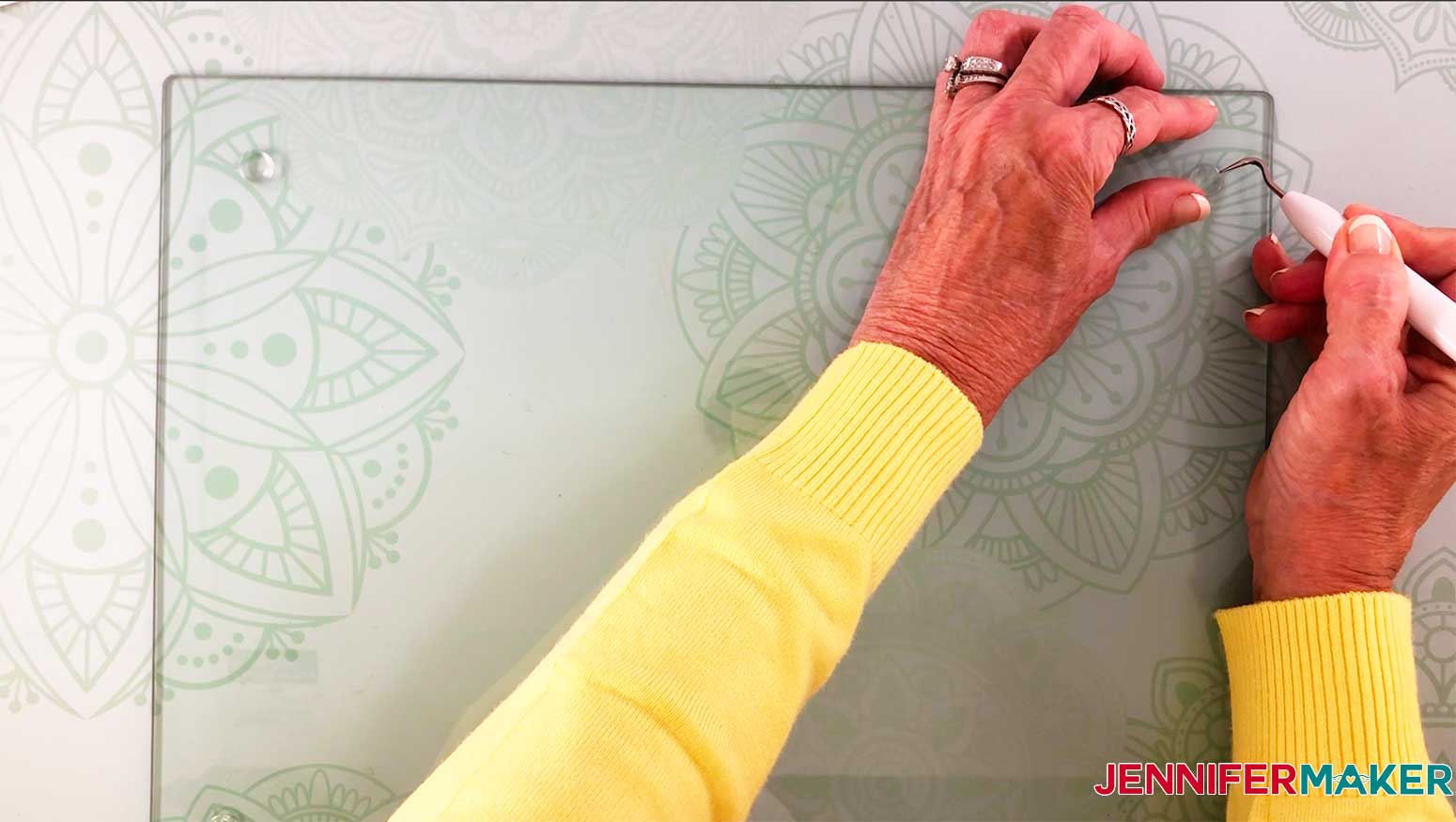 I used the hinge method to apply the vinyl to the glass cutting board. I found this to be the easiest way to assure I laid the Kitchen Conversion Chart design onto the cutting board straight.

Position the vinyl on the cutting board.
Lay a piece of painters tape down the middle of the design. Be sure to use enough tape so that it wraps underneath the cutting board to assure the design does not move.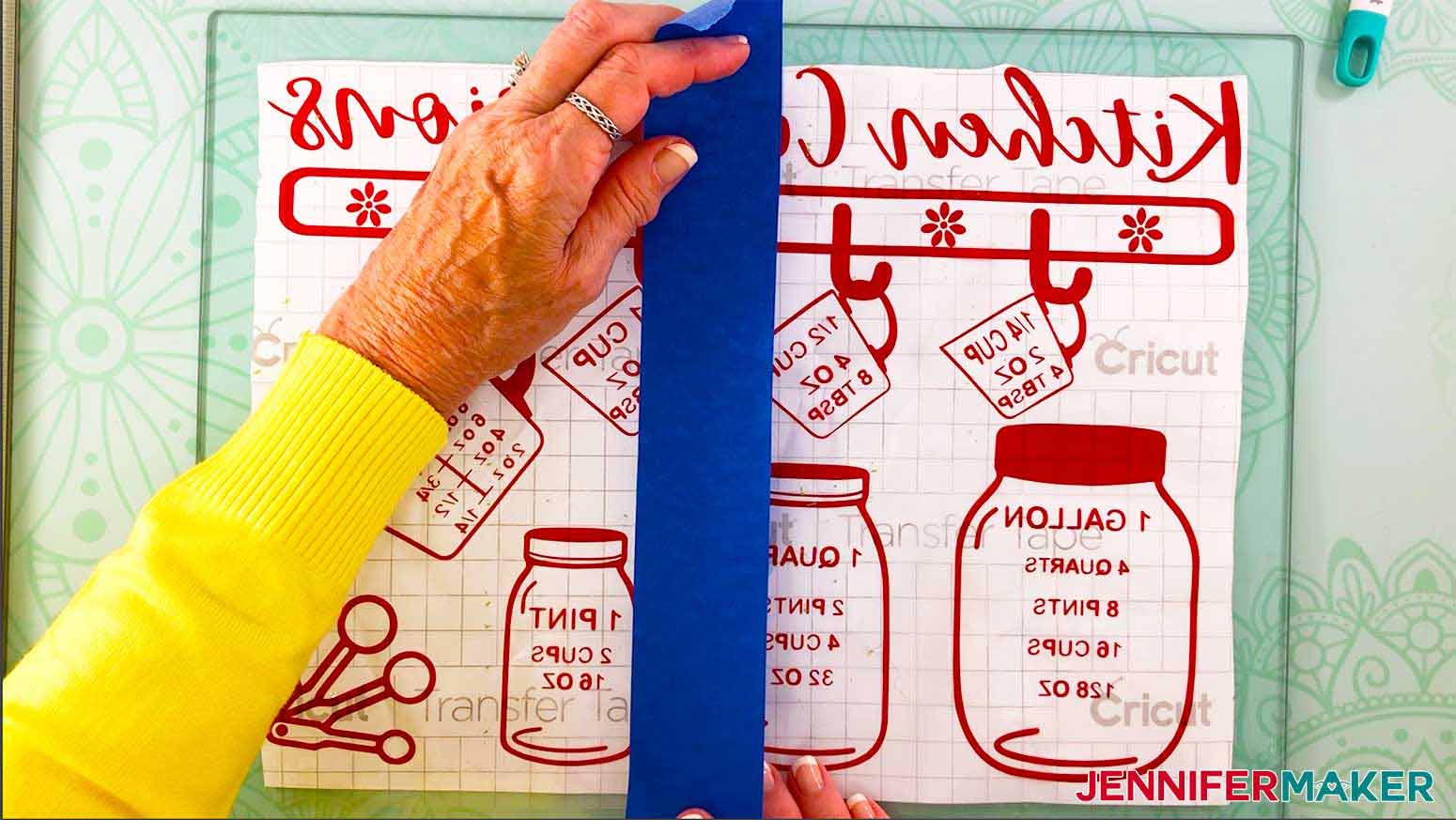 Flip one side over and remove the paper backing. If some of the vinyl sticks to the paper backing just roll the backing back onto the transfer tape and press it down well and continue to remove the backing.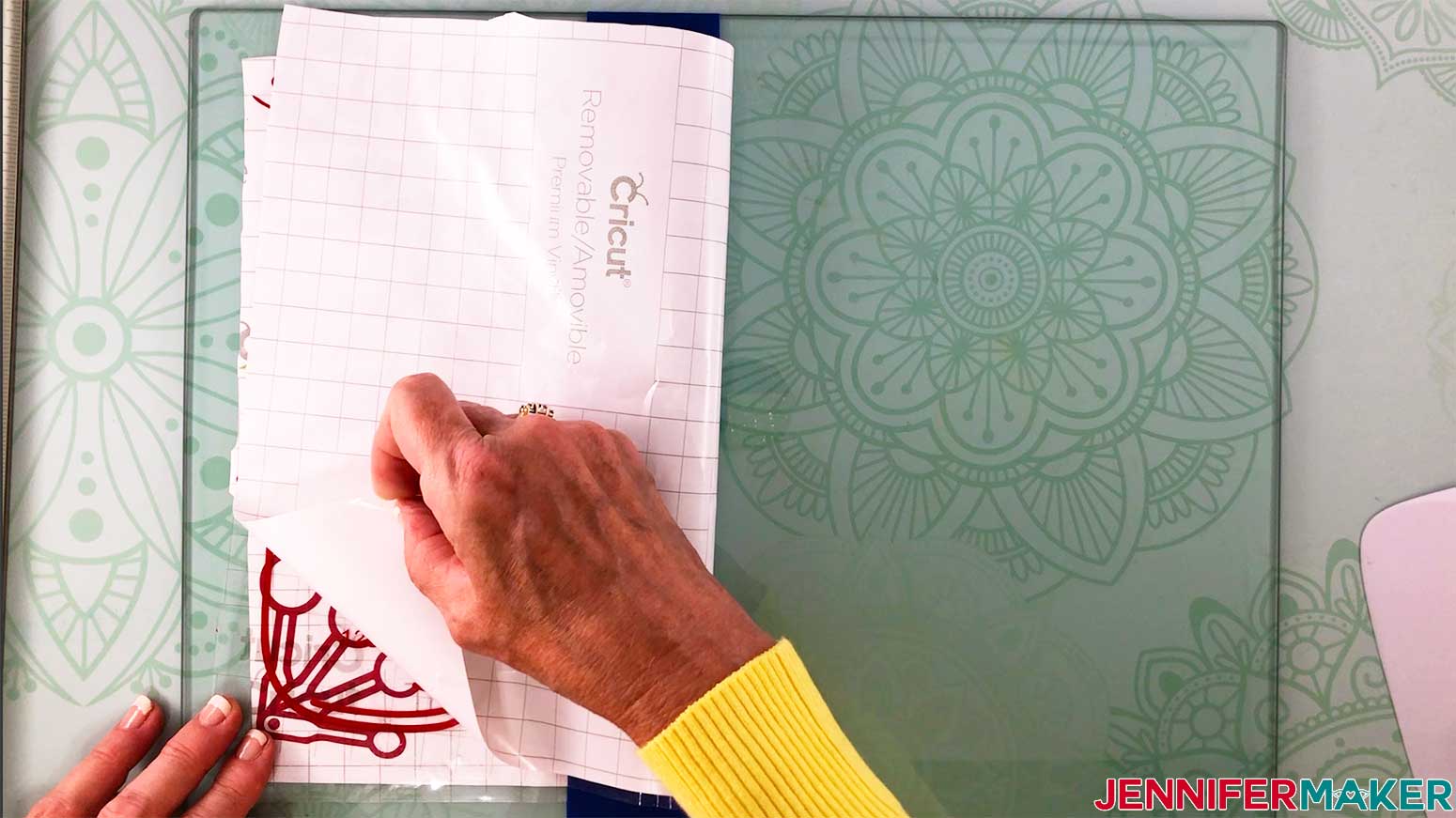 Cut the paper backing off and roll the design slowly onto the cutting board. I will hold the design with one hand and smooth the design down to the board with the other. Once one side is down, burnish it down well with your Cricut scraper.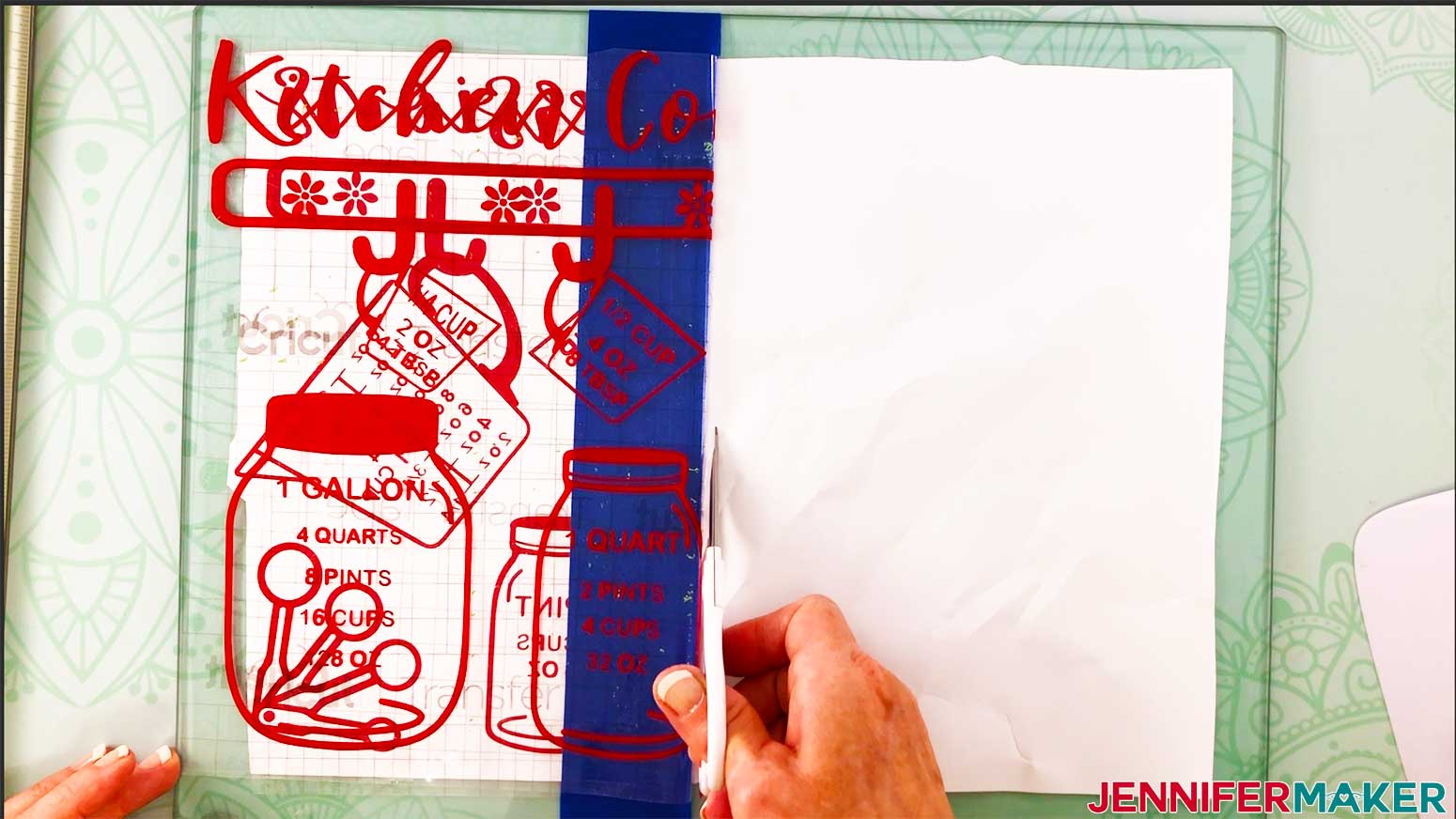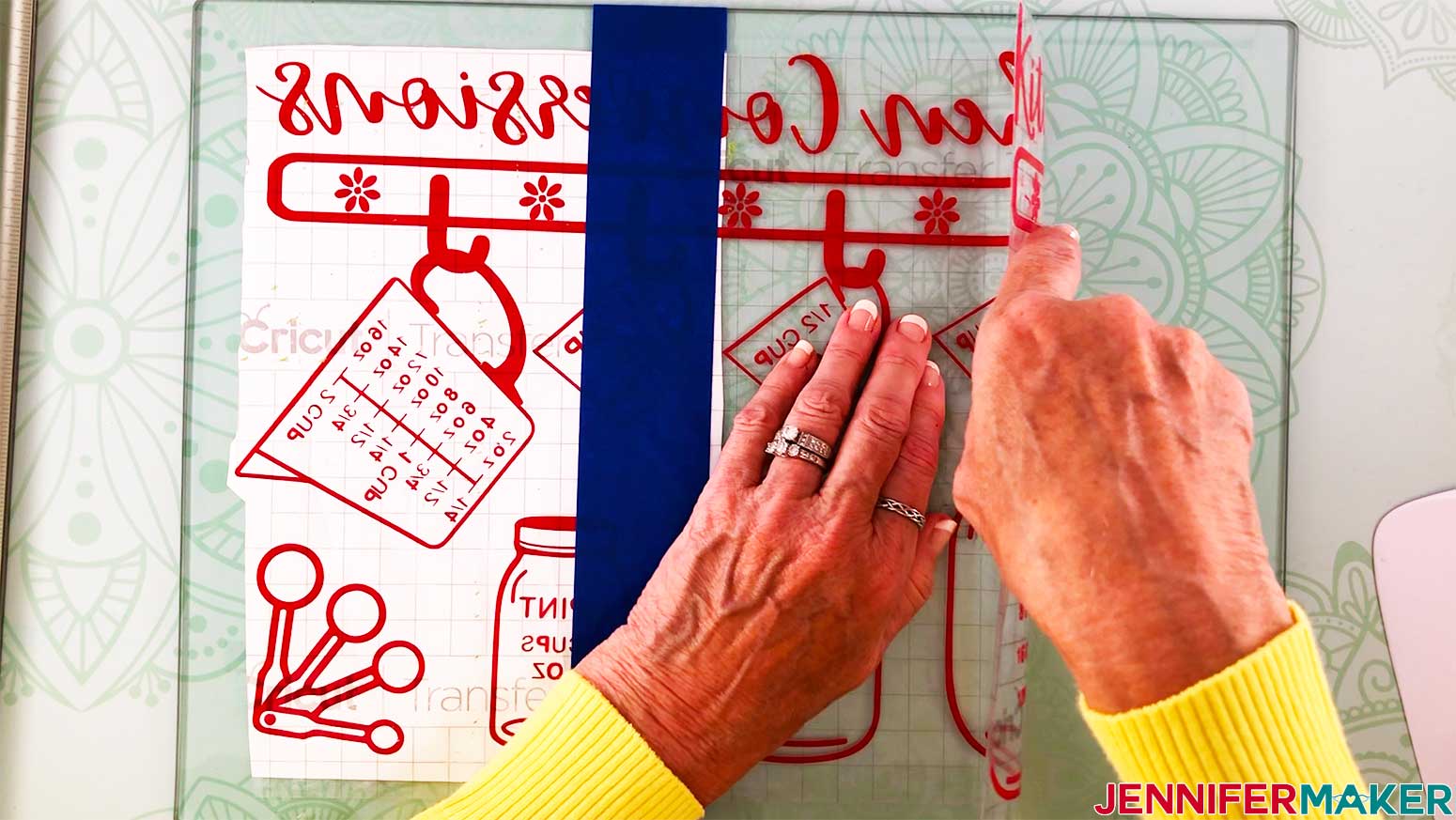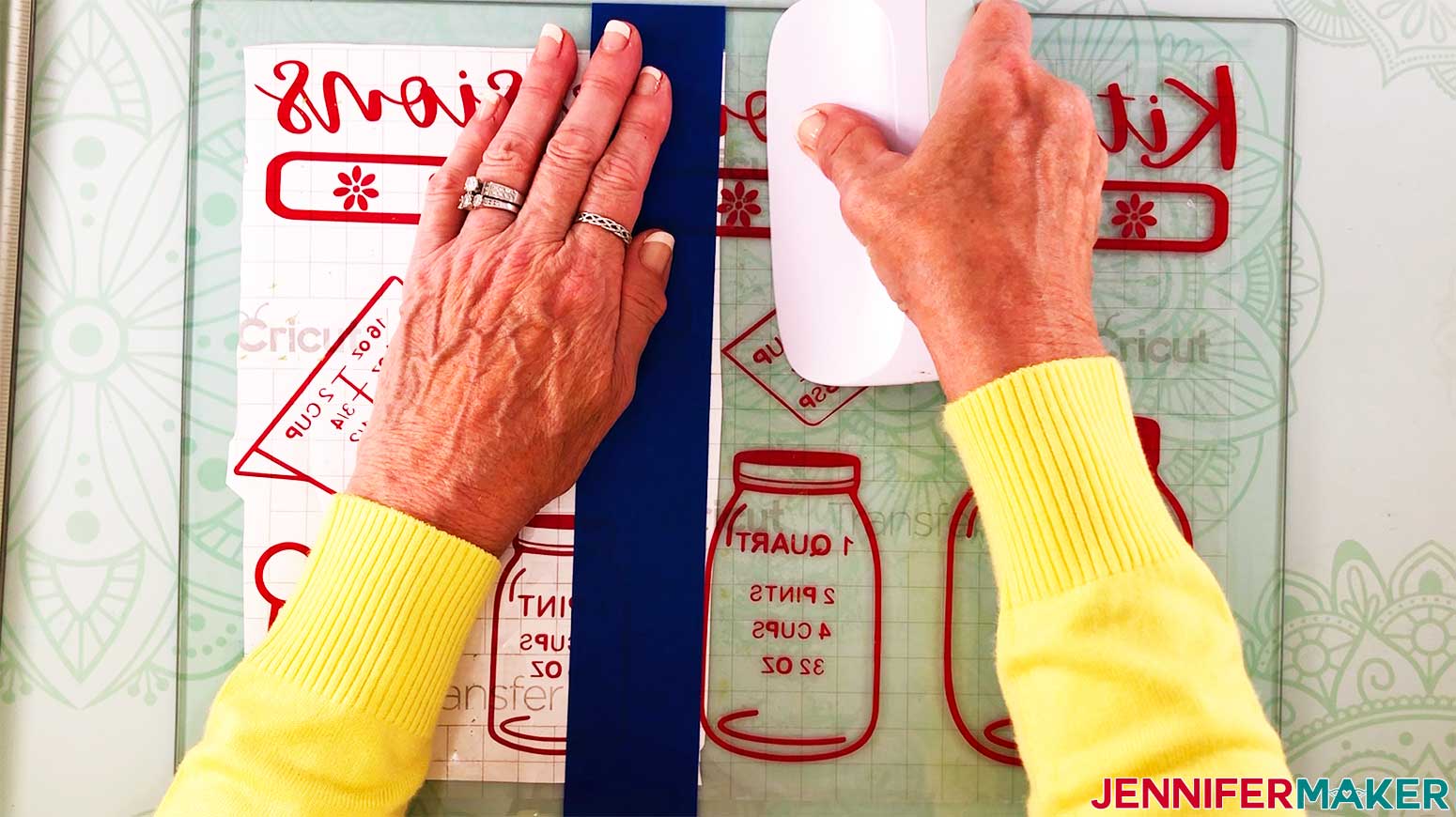 Remove the painters tape from the middle and repeat the above steps with the other side.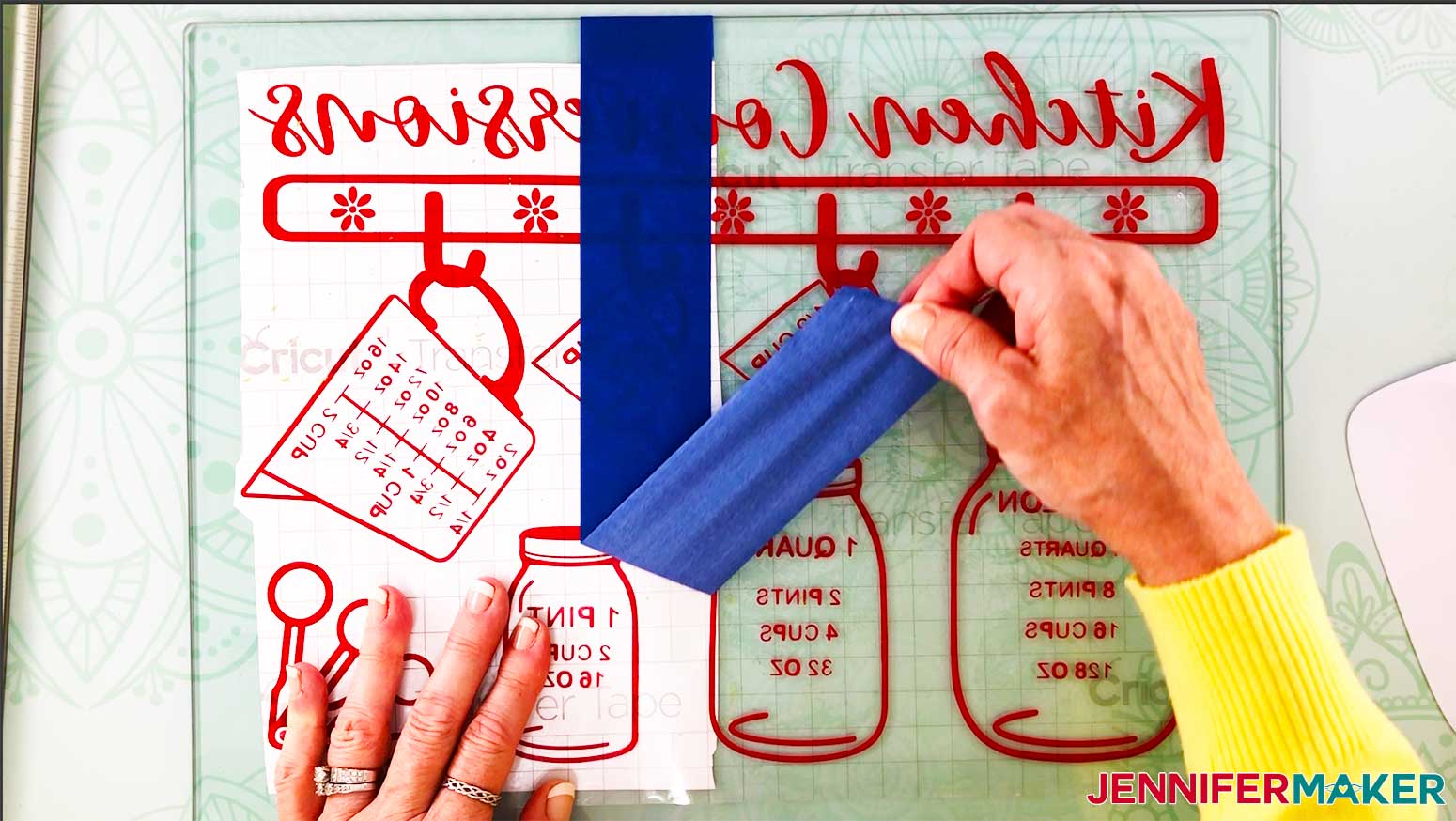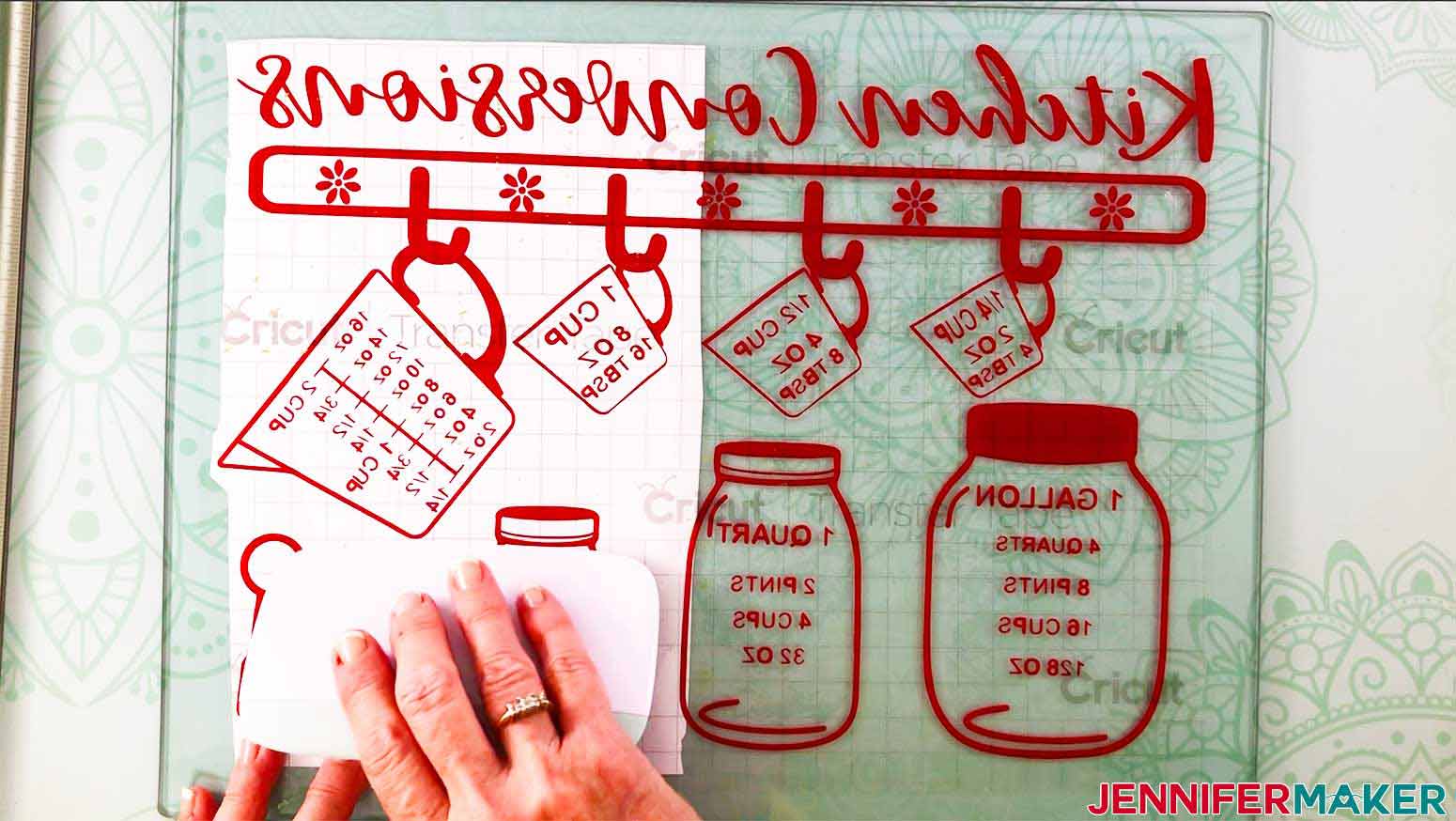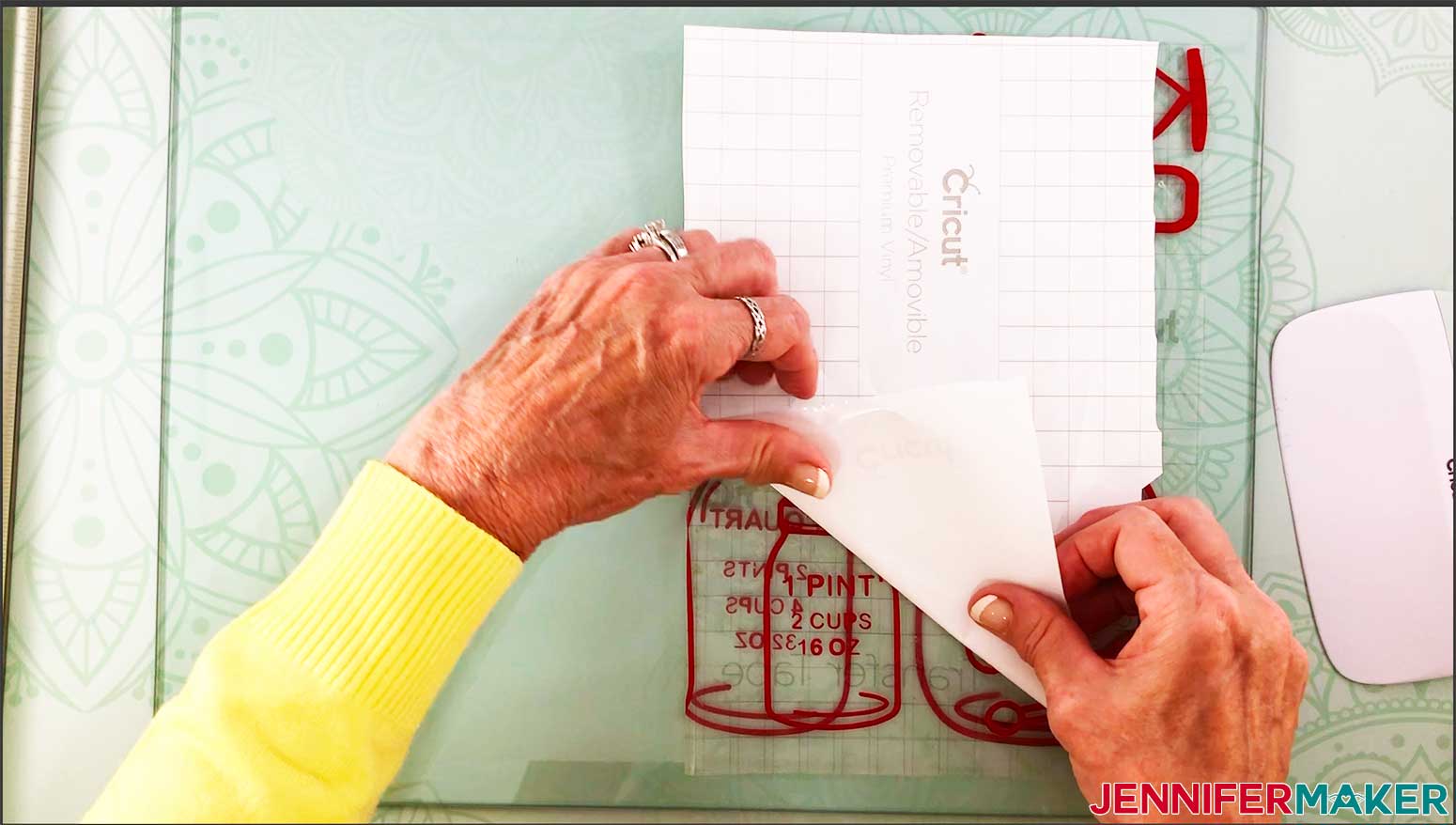 Burnish down the design well with a Cricut scraper.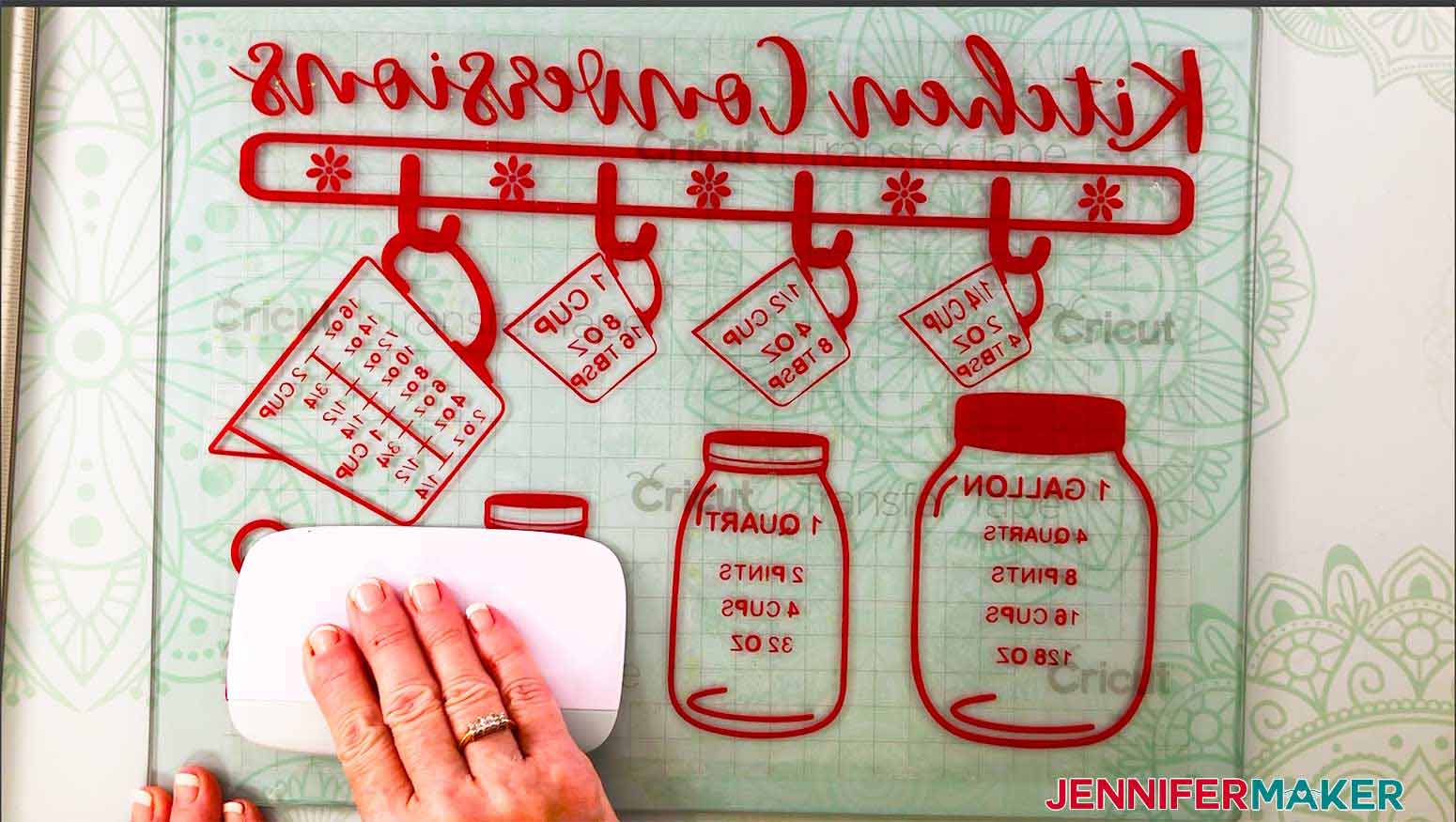 Remove the transfer tape at a 45 degree angle. If any part of the design pulls up with the transfer tape, place the transfer tape back down on the glass, burnish it down with your fingers or a Cricut scraper and continue to remove the transfer tape.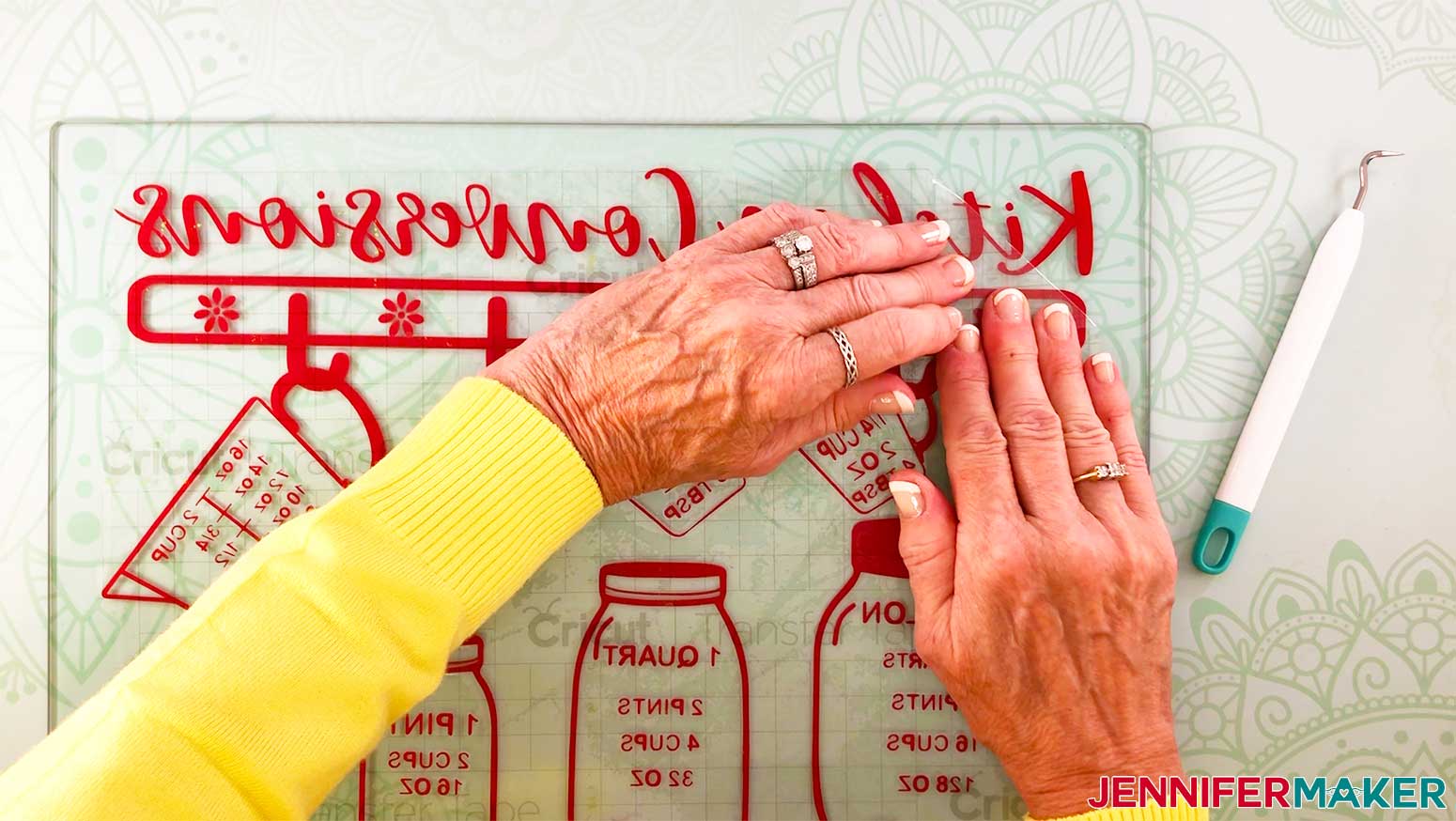 Replace the little rubber feet back on the cutting board.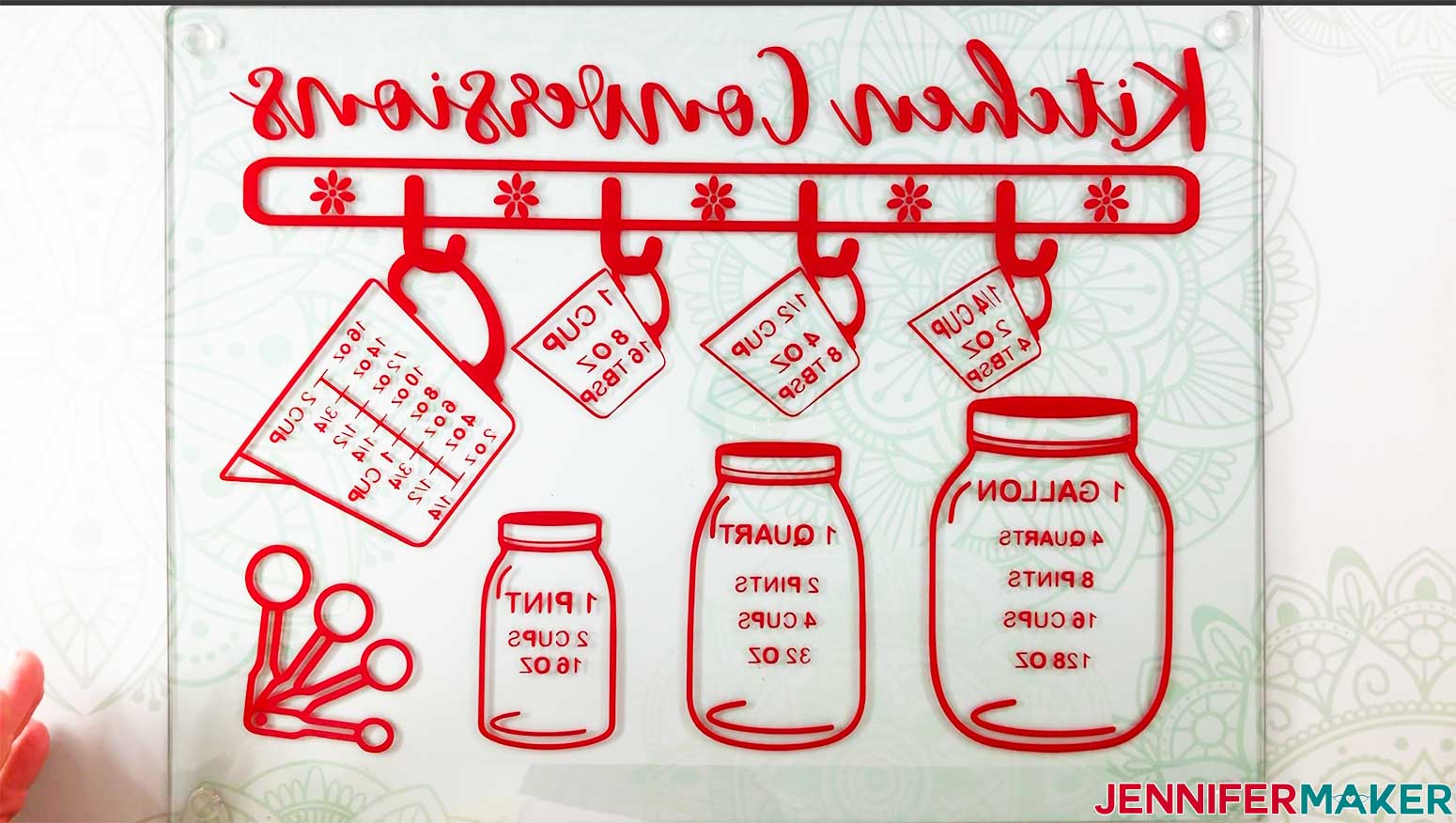 Here is what it looks like all finished!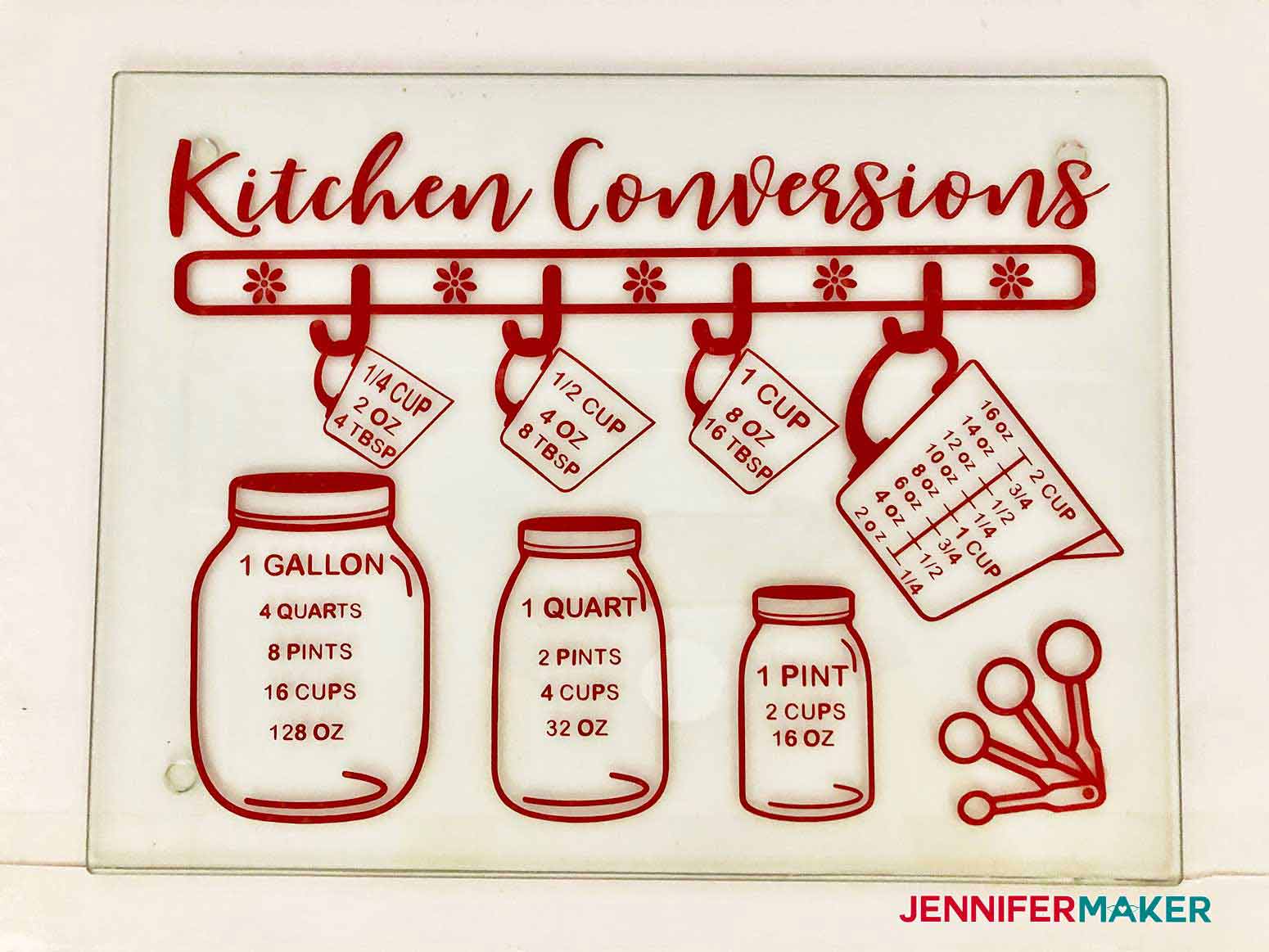 STEP 4: SHOW IT OFF!
I'd love to see what you did with the Kitchen Conversion Chart design. If you make one, please share a photo in our Facebook group, email it to me at [email protected], or tag me on social media with #jennifermaker.
Notes
The finished dimensions of my project using the glass cutting board are 15.75 inches wide x 12 inches high.

Special thanks to the JenniferMaker Design Fairy Team, specifically Design Fairy Vicki, for helping me design and assemble this Kitchen Conversions cutting board.
Answers to Your Questions About Kitchen Conversions Chart Decals
Q: Can you use HTV on this project?
HTV requires heat to activate the adhesive on it, and I, personally, would not use heat on glass.
Q: If you put this design on a cutting board and mirror it, do you still put the shiny side down as you would iron on?
Not at all! Since you have the design mirrored, you will want to put your vinyl shiny side up on your mat to cut it out! This can be a difficult concept to grasp – if you want to see another example of how it works, please visit our Customized Serving Tray post. We do the same thing there!
Q: Can I get this pattern in metric measurements?
A: We do not currently have a metric equivalent of this pattern, but if you'd like to make your own, simply use Contour to remove the imperial measurements, click the Type tool to type in your own conversions, then Select All and click Attach before you cut it.
Q: Can I make this design smaller to fit my 11″ cutting board?
A: Making this design substantially smaller than the 14″ width will make it harder to weed. So you're welcome to try, but understand that it might become next to impossible to cut or weed the small elements if you make this design more than an inch smaller than I've designed it.
Get my Free SVG Files to Make a Kitchen Conversions Chart Decal
I'd love to see your Kitchen Conversions Chart Decal and all the places you put it. Please share a photo in our Facebook group or tag me on social media with #jennifermaker.
See all of the projects, tutorials, and free designs in The Great Maker 25-Day Gift-Away Challenge!
Love,