Warm up your little paws and join me to make some easy sew and no-sew pocket hand warmers. Customize them by using some of my ready-made designs or come up with your own.
Here's a fun fact: I love winter…not so much because of the weather, more-so because of all the fun holidays. But alas, winter means cooler temperatures, so I'm always looking for ways to keep warm. One of my earliest blog projects were heart-shaped hand warmers. But I know of an easier and faster way to make pocket hand warmers and I'd love to share it with you. My new hand warmers are SO cute! I'm going to show you how to make two DIY hard warmer versions: one that you sew and also a no-sew version. Plus we'll add some fun vinyl to make them extra festive.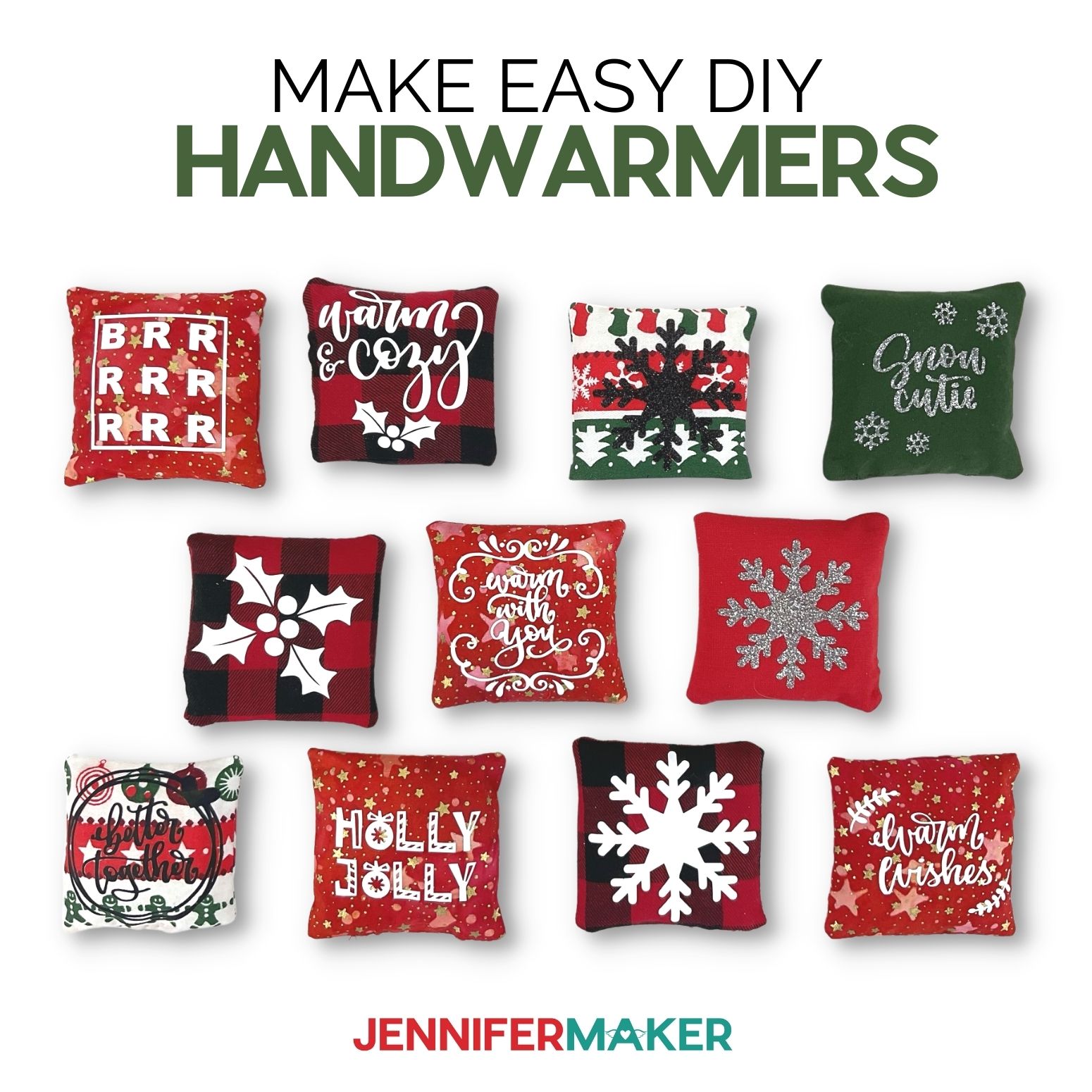 These little hand warmers are great for the entire family. They are also super easy to make so you won't mind making a batch of them if you'd like to give some away to friends or family members.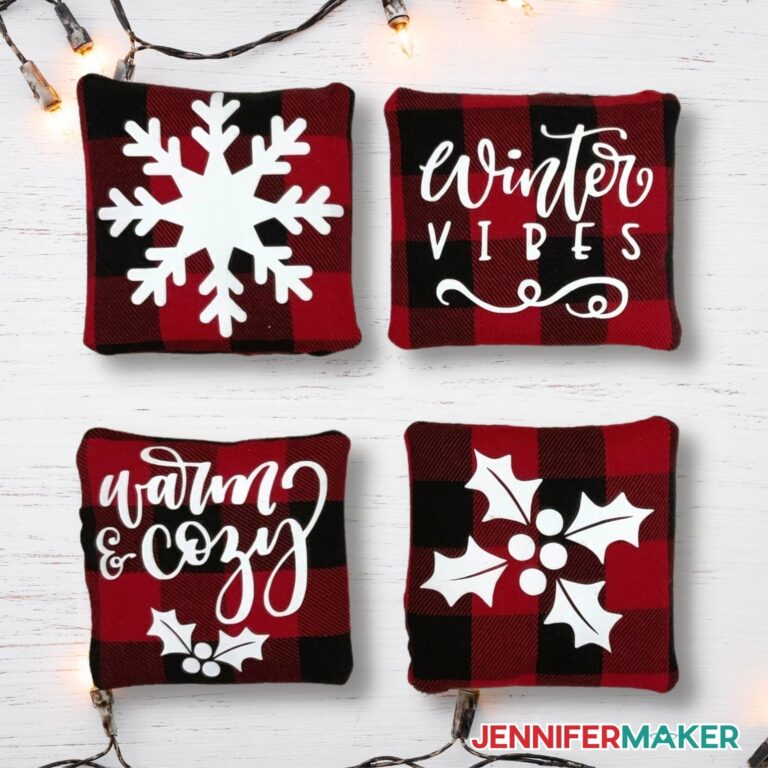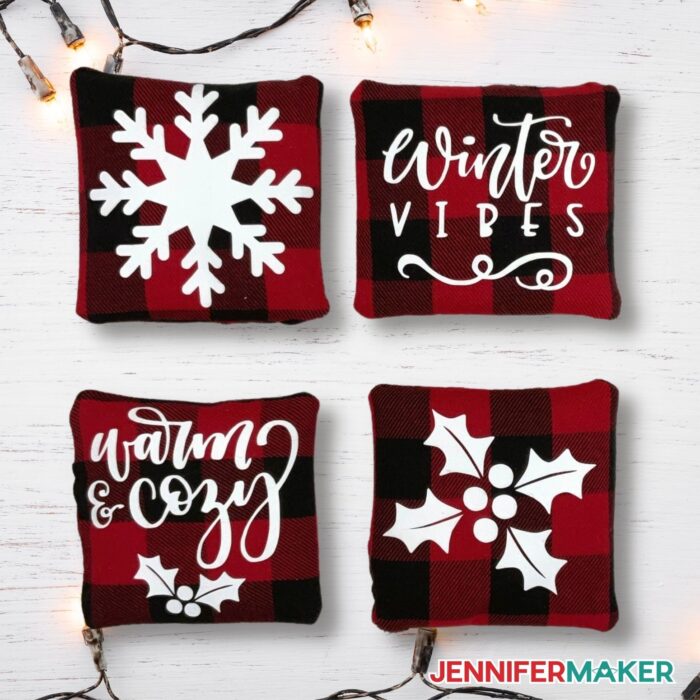 We will start with some pretty fabric. Finding your favorite pattern will probably be one of the most fun parts of this project! There are just so many choices to choose from. I will be using 100% cotton fabric for this project. Pretty pattern fabrics are beautiful, however, if you are going to add my custom designs to your Pocket Hand Warmers, patterned fabrics can interfere with the design. If you are going to sew these, you will need a sewing machine, sewing machine needle, and thread.
We'll use Heat n' Bond for the no-sew version and a heat source like the Cricut EasyPress mini. We'll also use that for our iron-on vinyl. Of course, we'll need our Cricut cutting machine, rotary blade for the Maker, or Bonded Fabric blade if you are going to use the Explore series. We will also need a pink fabric cutting mat and a green standard grip mat for the iron-on vinyl.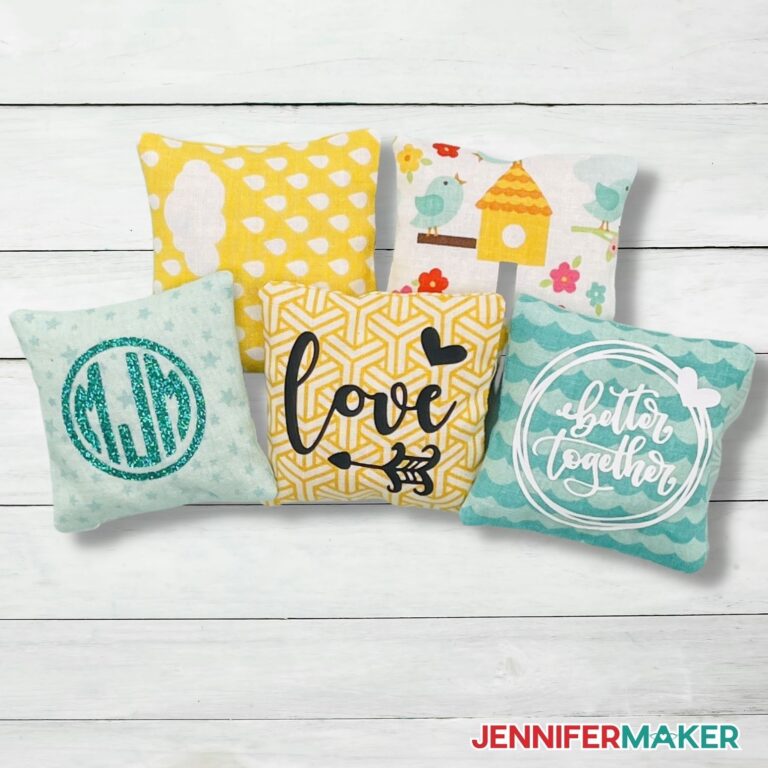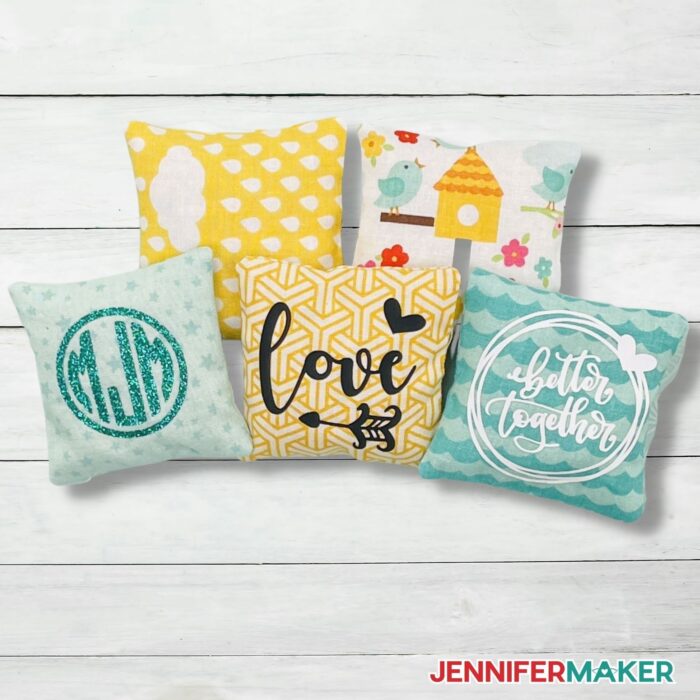 If you don't have a sewing machine, or don't know how to use a sewing machine, I've included a no-sew version so that you too can create some homemade hand warmers! These little pocket warmers are a great way to to keep your hands toasty. They are also the perfect size for little hands to hold while waiting on the school bus on a cold day.
The best part is that all you really need to make this simple project are some squares of fabric and some uncooked rice and you've got yourself a pair of hand warmers!
I've made fifteen different designs for you to use, including these super cute and fun versions for the holidays: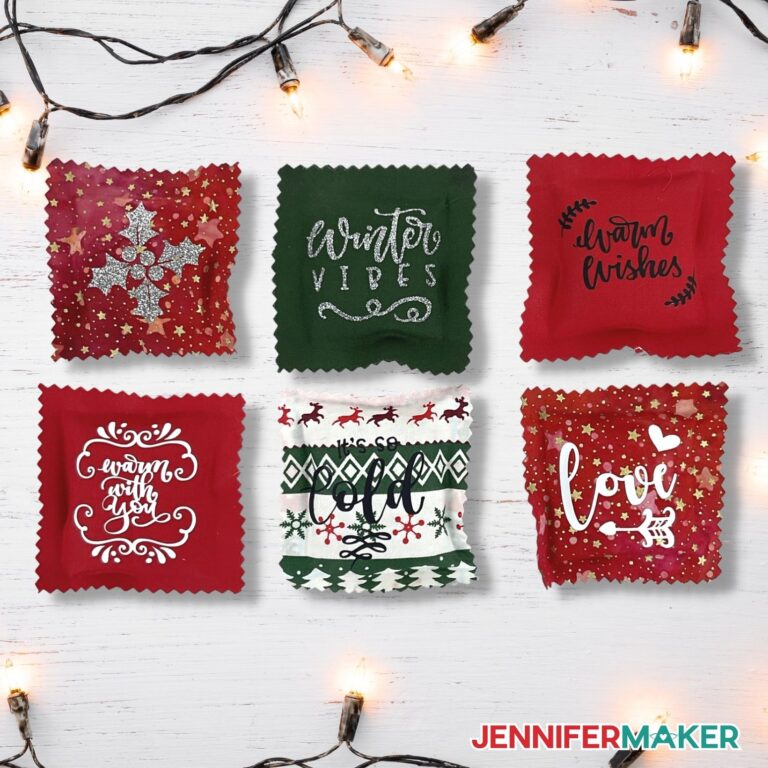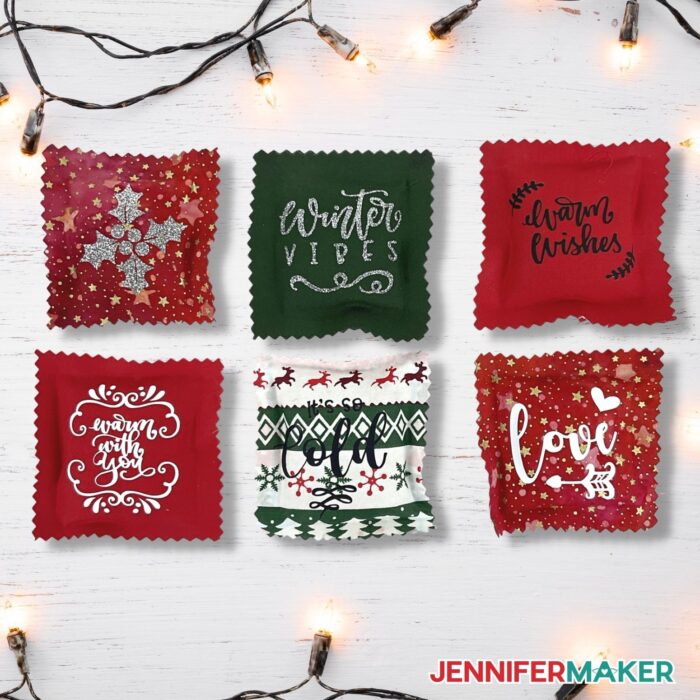 Here's a supply list of what you need to make hand warmers! This post contains some affiliate links for your convenience (which means if you make a purchase after clicking a link I will earn a small commission but it won't cost you a penny more)! Read my full disclosure policy.
Materials to Make Hand Warmers
View my Amazon shopping list with the exact items we used to make this project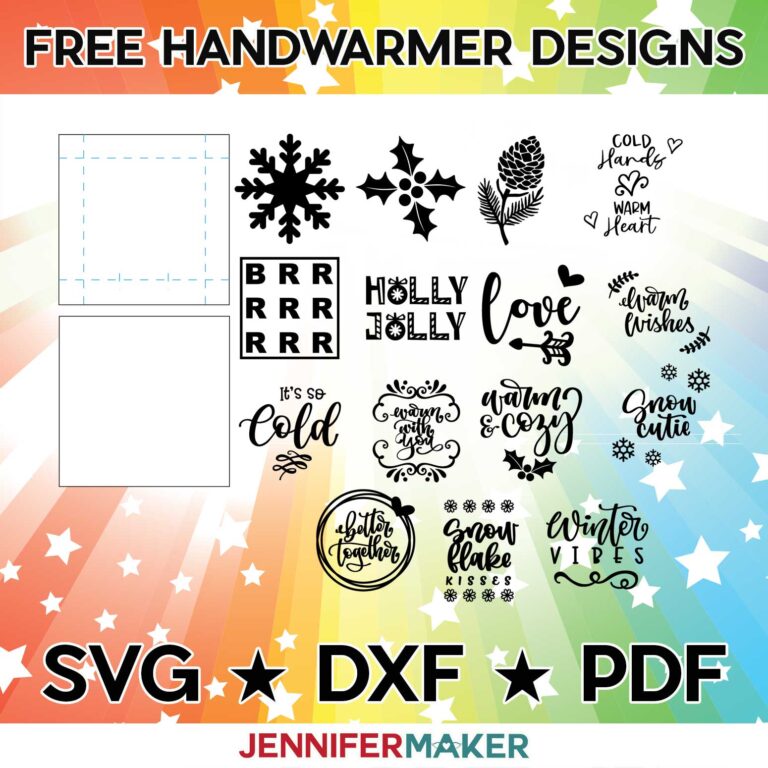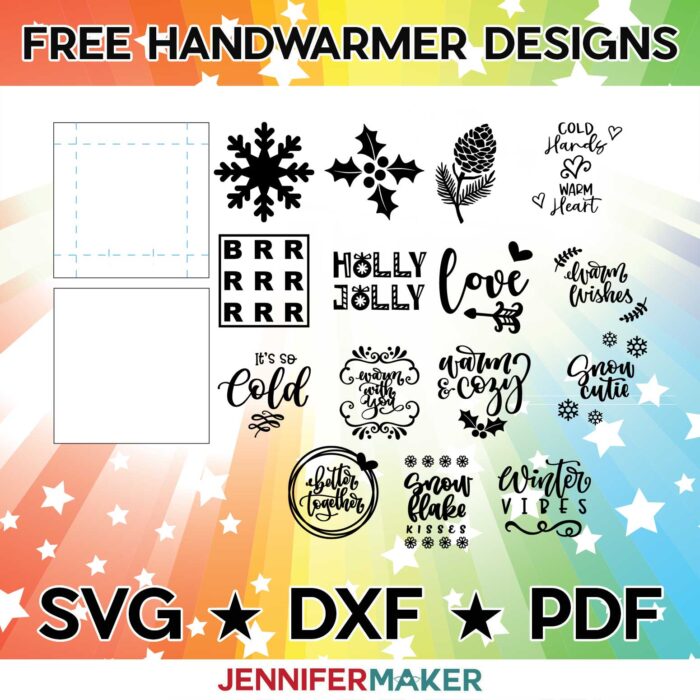 How to Make Your Own DIY Hand Warmers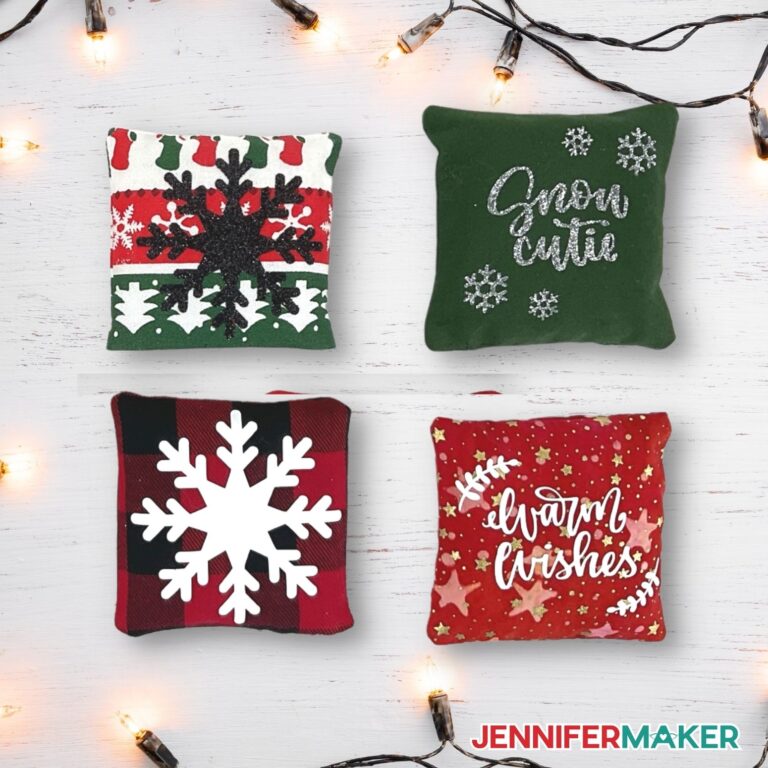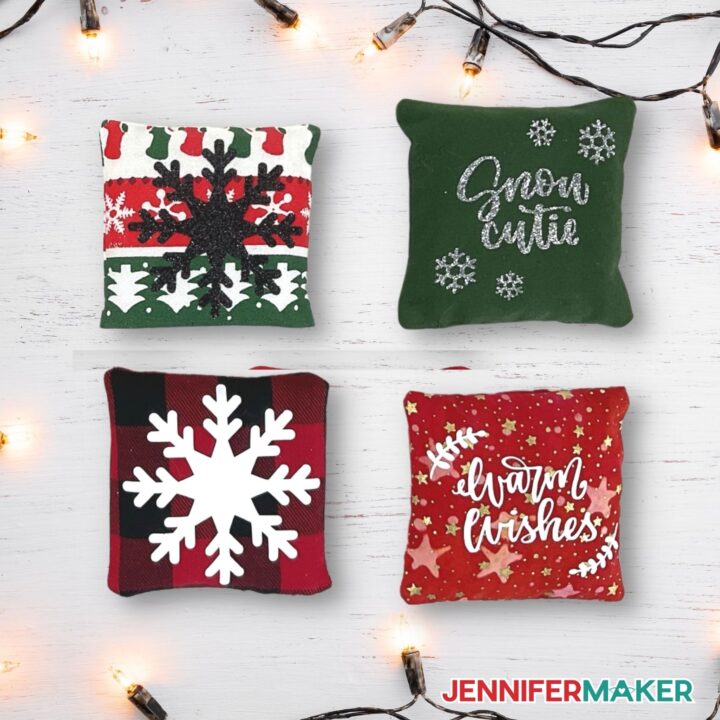 Pocket Hand Warmers
Difficulty:
Easy to Medium
Warm up your little paws and join me to make some easy sew and no-sew pocket hand warmers. Customize them by using some of my ready-made designs or come up with your own.
The detailed step-by-step assembly video on how to create DIY hand warmers is part of Maker Academy Weekend. Get a pass to watch all 20+ workshops, each with a printable handbook, transcript, audio files, design files, and support with a VIP pass below:


These were so fun to make and a pretty easy project if I do say so myself. I'm really loving how these hand warmers turned out with this flannel fabric. Another great idea is to use an old flannel shirt that you no longer use to make your handmade hand warmers during the chilly weather.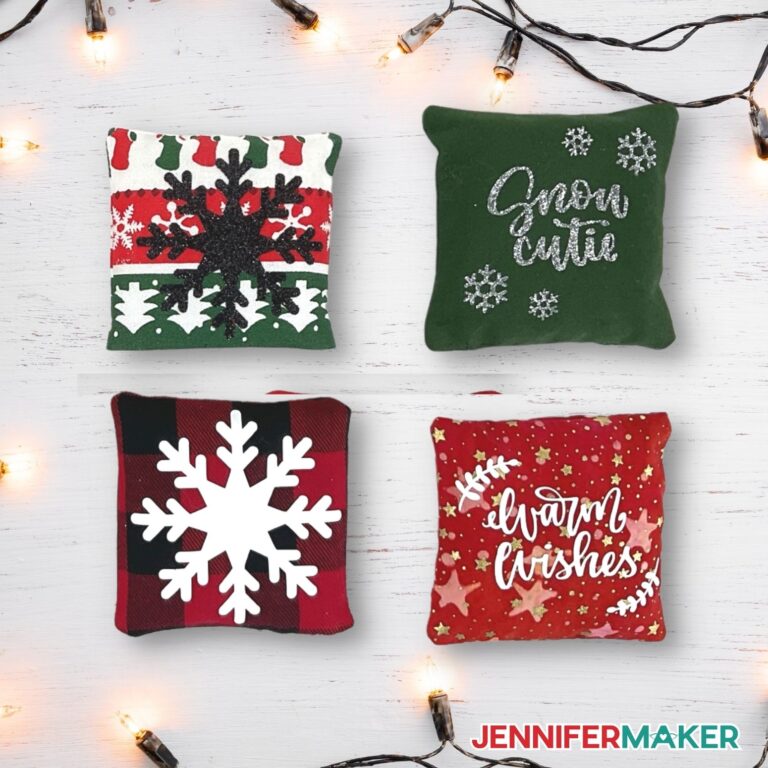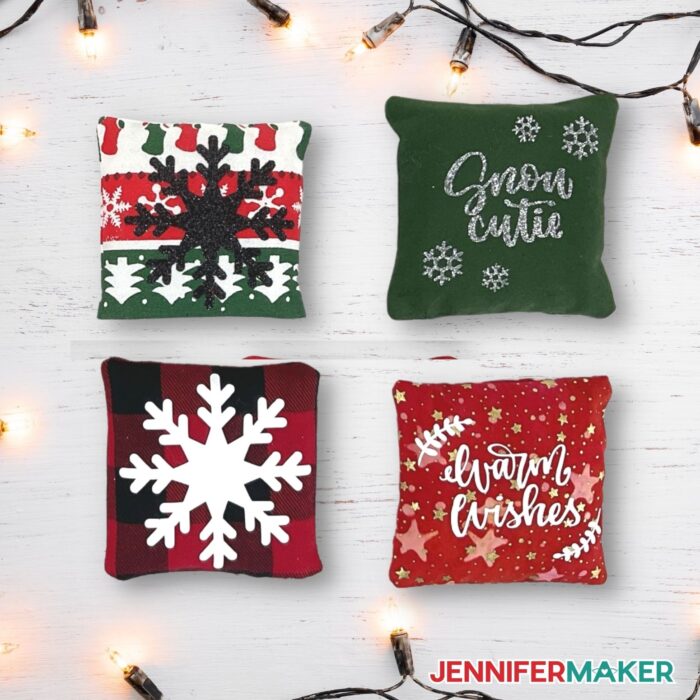 These make for a great gift and perfect stocking stuffers. They will be much appreciated during the winter weather! Here is a cute love theme I made as well. You can get creative and even make heart shapes for them like I did a few years back!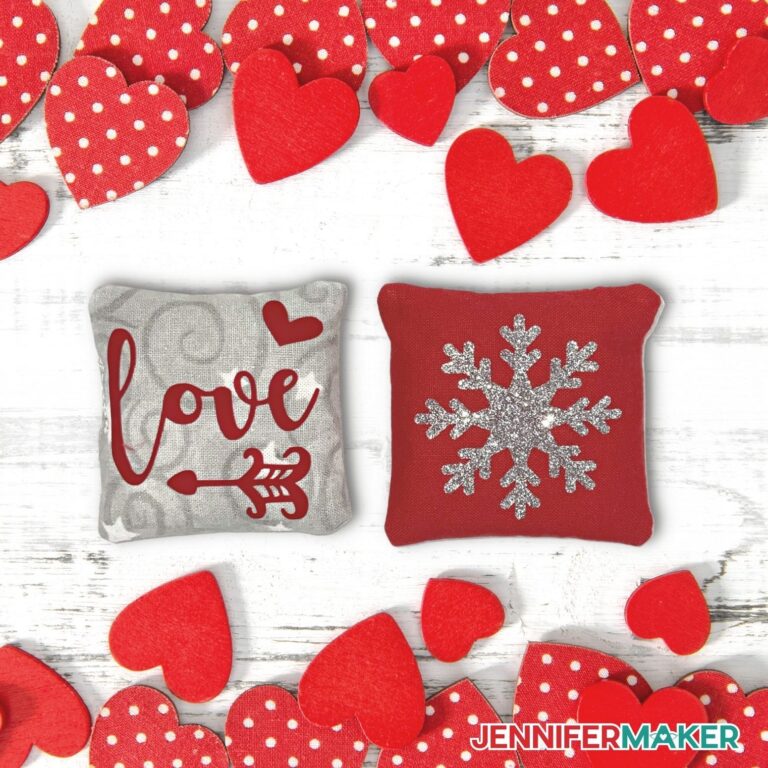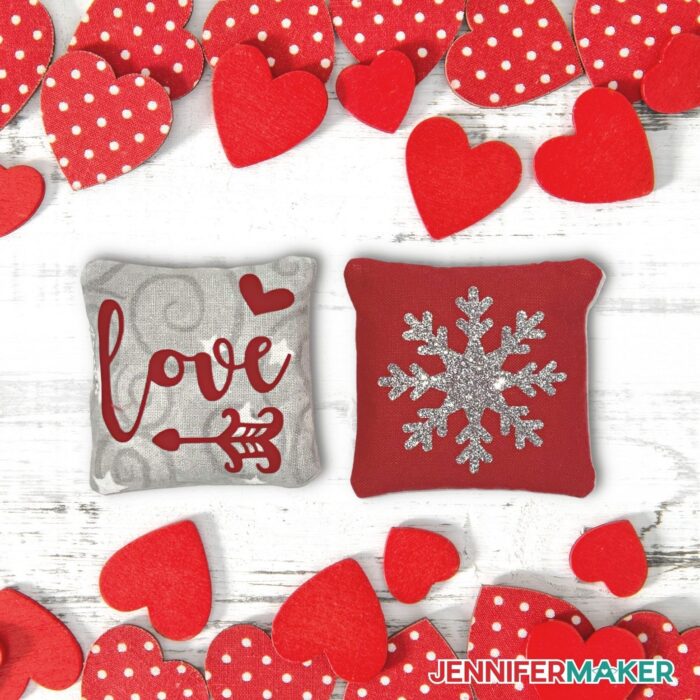 Answers to Your Questions About How to Make DIY Hand Warmers
Q: Where is your tutorial for this DIY Hand Warmers project?
This is a special project we made for our free Maker Academy Weekend event! A complete and detailed step-by-step video premiered during the event November 4-7, 2021 — specifically, this tutorial video was available to watch for free for 24 hours beginning November 6 at 12:00 pm ET! Get access to the workshop video with a VIP Pass to Maker Academy Weekend 2021, which comes with other perks and bonuses, too!
Q: How long do I microwave these handwarmers for to get them warm?
20 seconds is all you need.
Q: Can I really put iron-on vinyl in the microwave?
Normally I would not suggest it, as the heat will weaken the adhesive on the vinyl. But 20 seconds isn't very long. Do not, however, use any FOIL iron-on vinyl as it has enough metal in it that it will spark when you microwave. (Yes, we tested!) Glitter iron-on vinyl is fine, however. That said, if you think you'll use these a LOT, just forgo the iron on vinyl entirely or make a stencil and paint them instead.
Get the free designs for my DIY hand warmers!
I love seeing what you make with my designs and how you use them! Please share a photo of your hand warmers in our Facebook group or tag me on social media with #jennifermaker.
Love,