Learn how to make light-up Paper Christmas Ornaments with my step-by-step instructions for these 3D Festive Layered Designs!
I love putting ornaments on my tree! I especially love the ones I've made over the years, like the Paper Orb and the Glitter Ball Ornaments. So let's make another using the easiest of all materials to cut: cardstock! This gorgeous multi-layered paper Christmas ornament will add some sparkle to your holiday decor. You can keep this for yourself or give it as a gift. So for Day 3 of The Great Maker 25-Day Gift-Away Challenge, I am showing you how to make Light-Up Layered Paper Christmas Ornaments!
See exactly how to make Light-Up Layered Paper Christmas Ornaments in my tutorial video (or keep scrolling if you prefer a printable step-by-step photo tutorial):
This year the big trend in papercrafting has been layered designs. So I'm super excited to teach you how to make this gorgeous multi-layered paper Christmas ornament that will add some sparkle to your holiday tree and home decor. The ornament is shaped like a snow globe and it shows Santa and a reindeer flying over a snowy scene … see how cute this is? The ornament also makes a great gift, but I won't judge if you just keep it for yourself!
To make these layered paper ornaments, you'll need a variety of 8.5″ x 11″ 65 lb. cardstock in whatever colors you want — I used yellow, gray, blue ombre, white diamond glitter, and a metallic silver foil. The links to the exact papers I used are listed later in this tutorial.
You also want some adhesive foam dots — those are the secret to getting the cool dimensional look with your layers. See how the layers have slight shadows behind them in the photo below — that's thanks to the foam dots!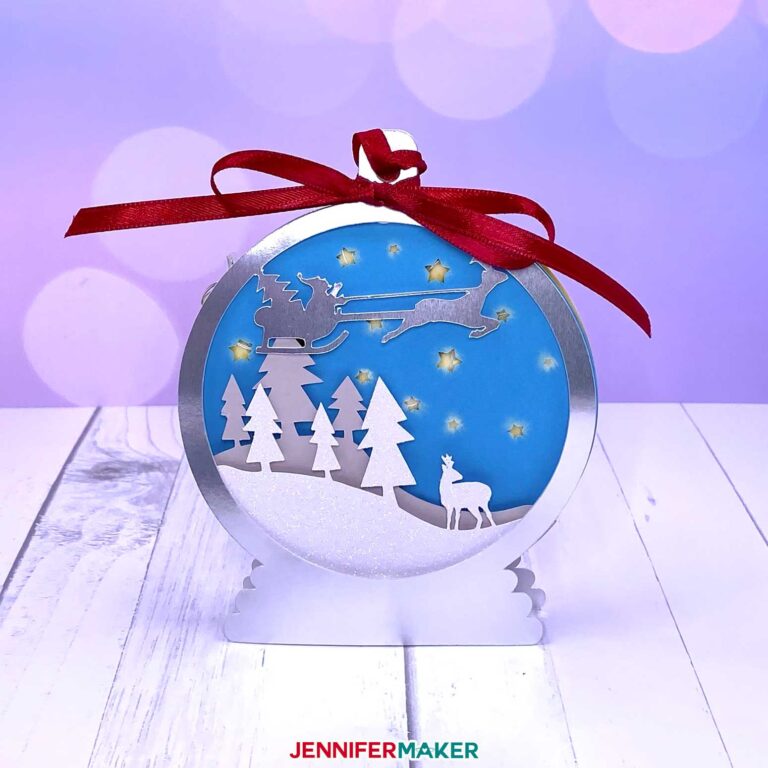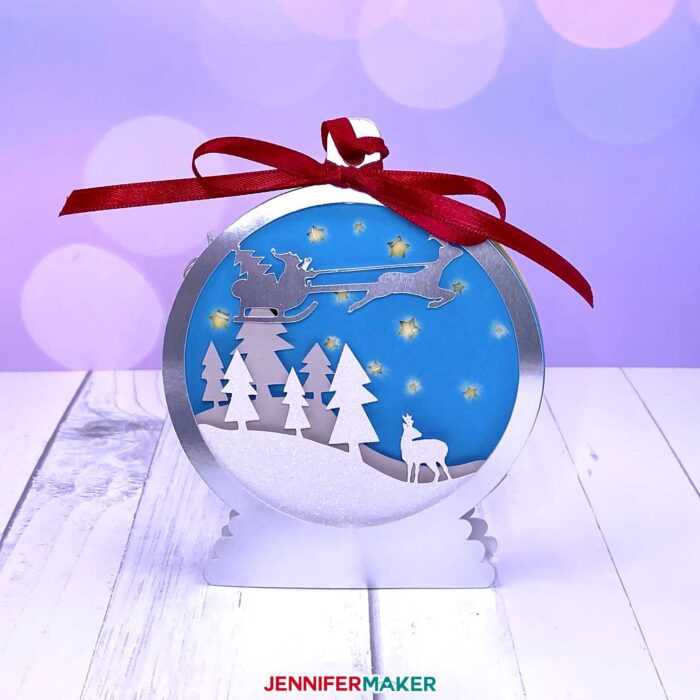 And if you'd like your ornament to light up as mine does, you just need a strand of LED fairy lights that are battery operated. Be sure to get the MICRO size so they fit in your ornament and not bulk it up. I also recommend you get LED lights with warm white color, as I have here, as I think it really makes the ornament magical.
And, of course, you'll want some ribbon or string to hold up your ornament once it is all done! I'm using a one quarter inch wide double-sided red satin here.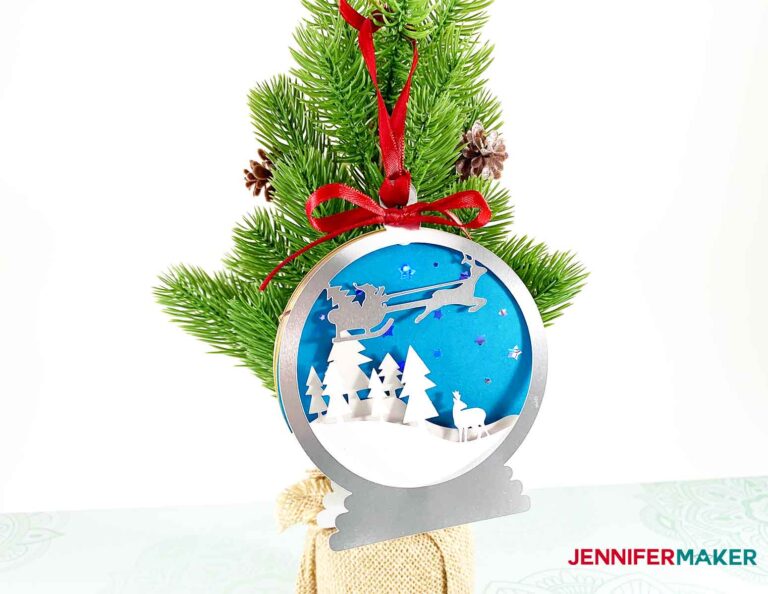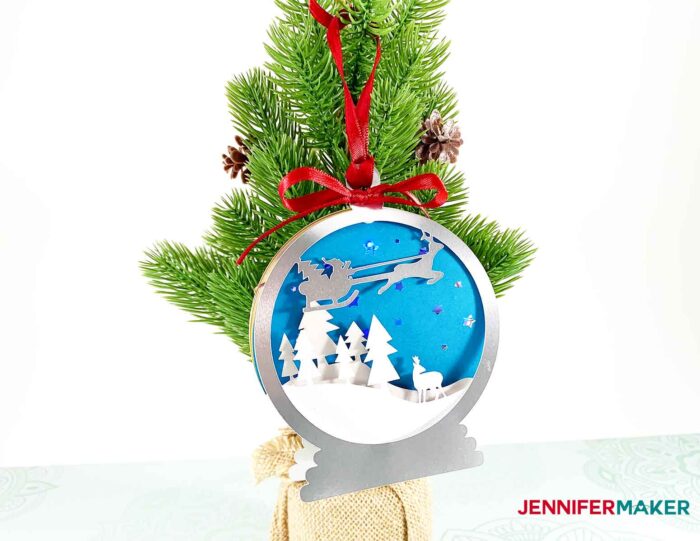 I cut these ornaments on my Cricut cutting machine using a green StandardGrip cutting mat and my fine point blade. Other useful tools include a pair of scissors and a weeding tool for getting the intricate bits of the paper out of your cut design.
Here is this Santa ornament as cut and assembled by Jen, a "Communications Hero" on my team!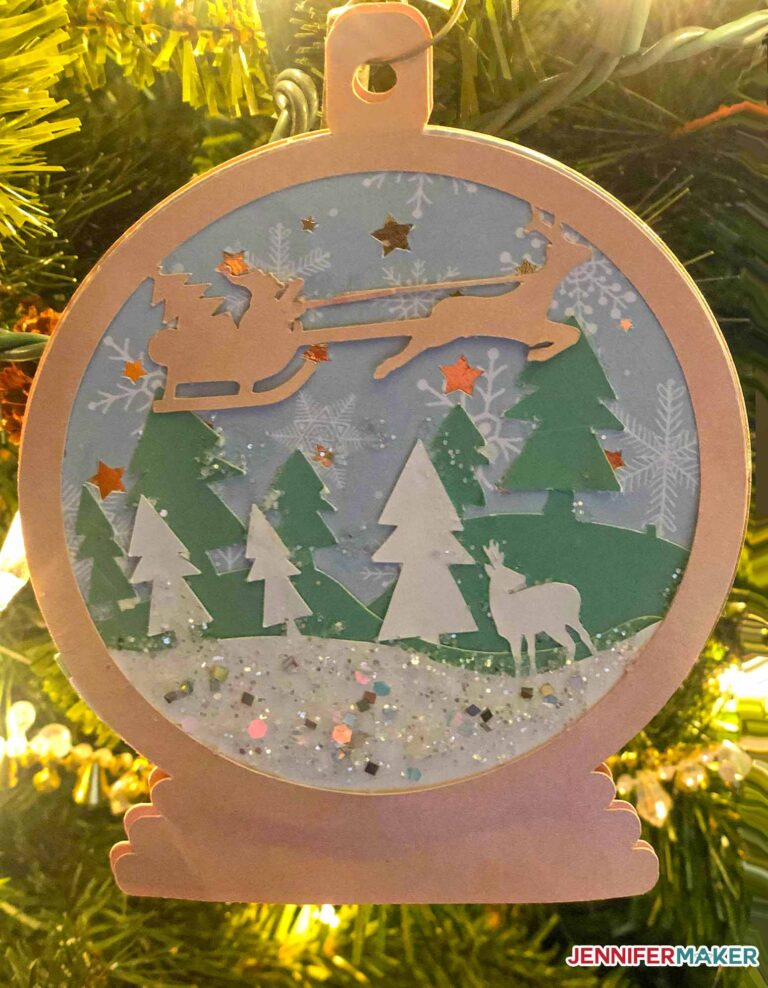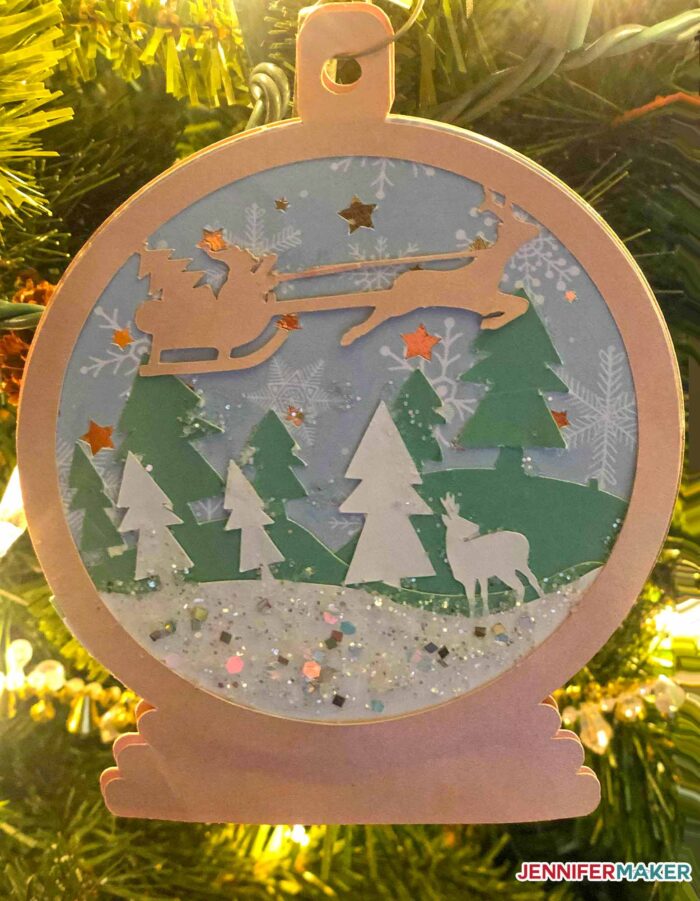 Ready to make this fun ornament? Let me show you where to get my free ornament design and then how to assemble your awesome layered, light-up Christmas ornament! This post contains some affiliate links for your convenience (which means if you make a purchase after clicking a link I will earn a small commission but it won't cost you a penny more)! Read my full disclosure policy.
Materials to Make Paper Christmas Ornaments
How to Make Paper Christmas Ornaments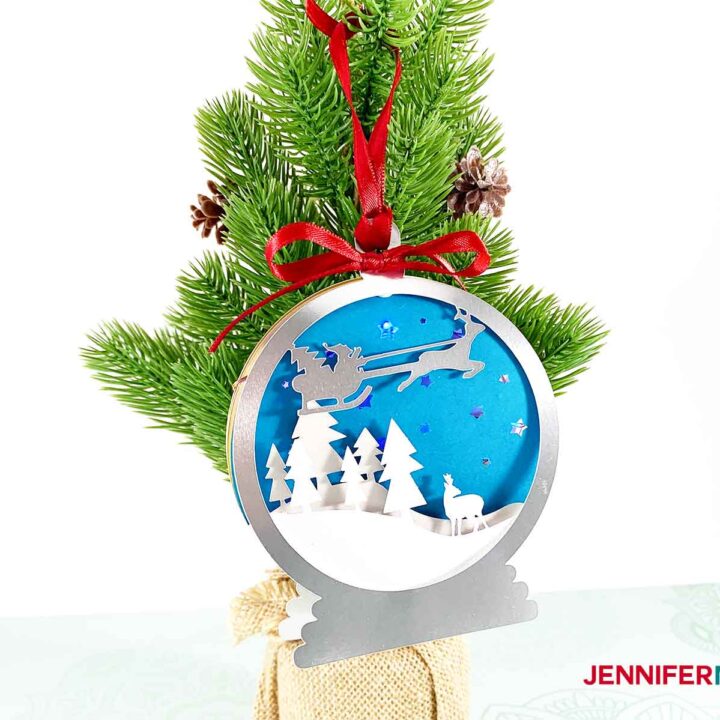 Paper Christmas Ornaments - A 3D Layered Design
Yield: 1 ornament

Prep Time: 10 minutes

Active Time: 10 minutes

Total Time: 20 minutes

Difficulty: Easy

This gorgeous multi-layered paper Christmas ornament will add some sparkle to your holiday decor.
Tools
Instructions
STEP 1: GET MY FREE SVG DESIGN FILE FOR THE ORNAMENT

Get the free paper Christmas Ornaments design from my free resource library (get the password to the library in the form at the bottom of this post).

Here is what the 3D layered paper Christmas ornament SVG cut file will look like when you upload it to Cricut Design Space.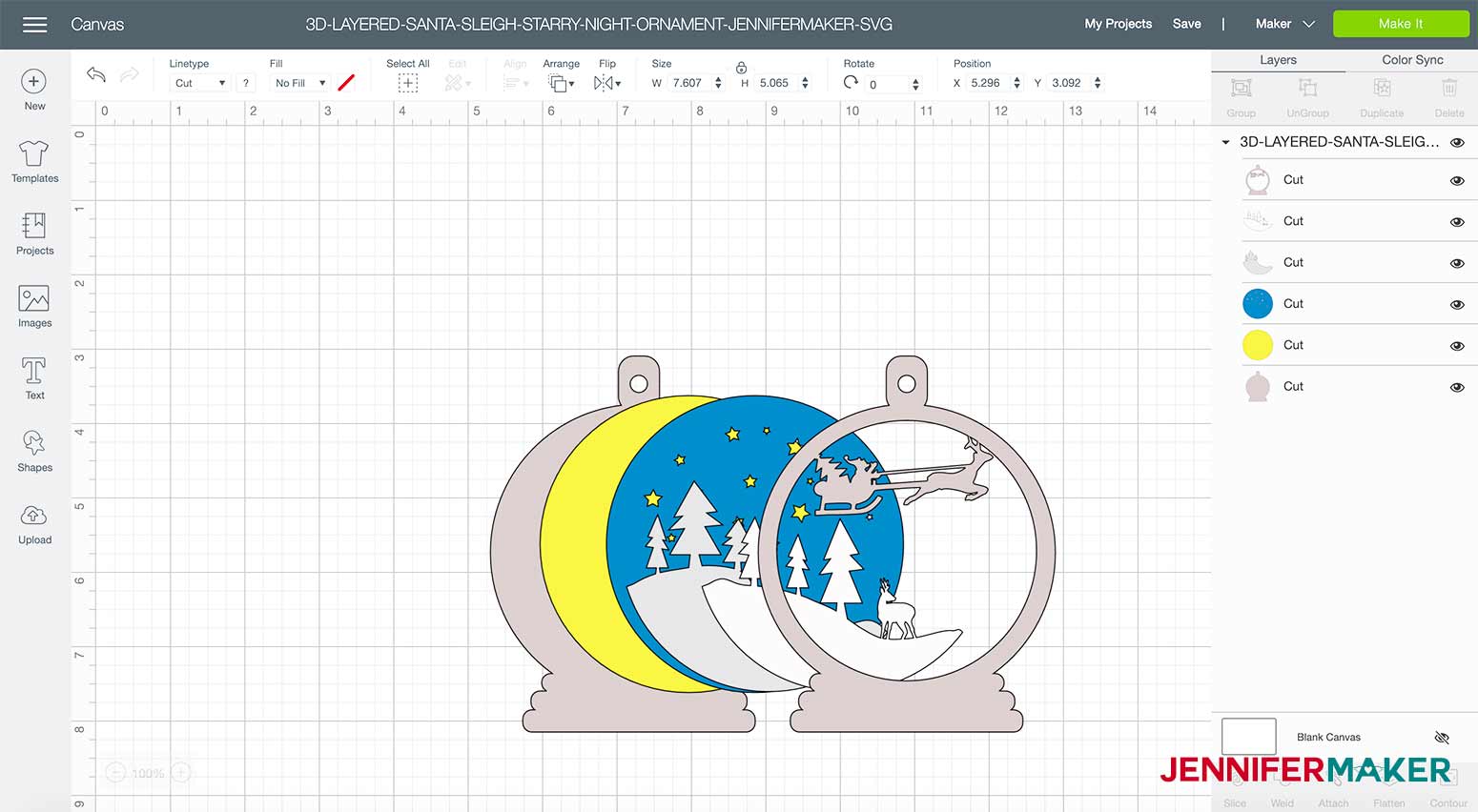 If you're not sure how to upload an SVG cut file to Cricut Design Space, watch this helpful video training series I made. If you're on an iPhone or iPad, here's how to download and upload SVG files to the Cricut Design Space app.

And here's a look at what you need to make it: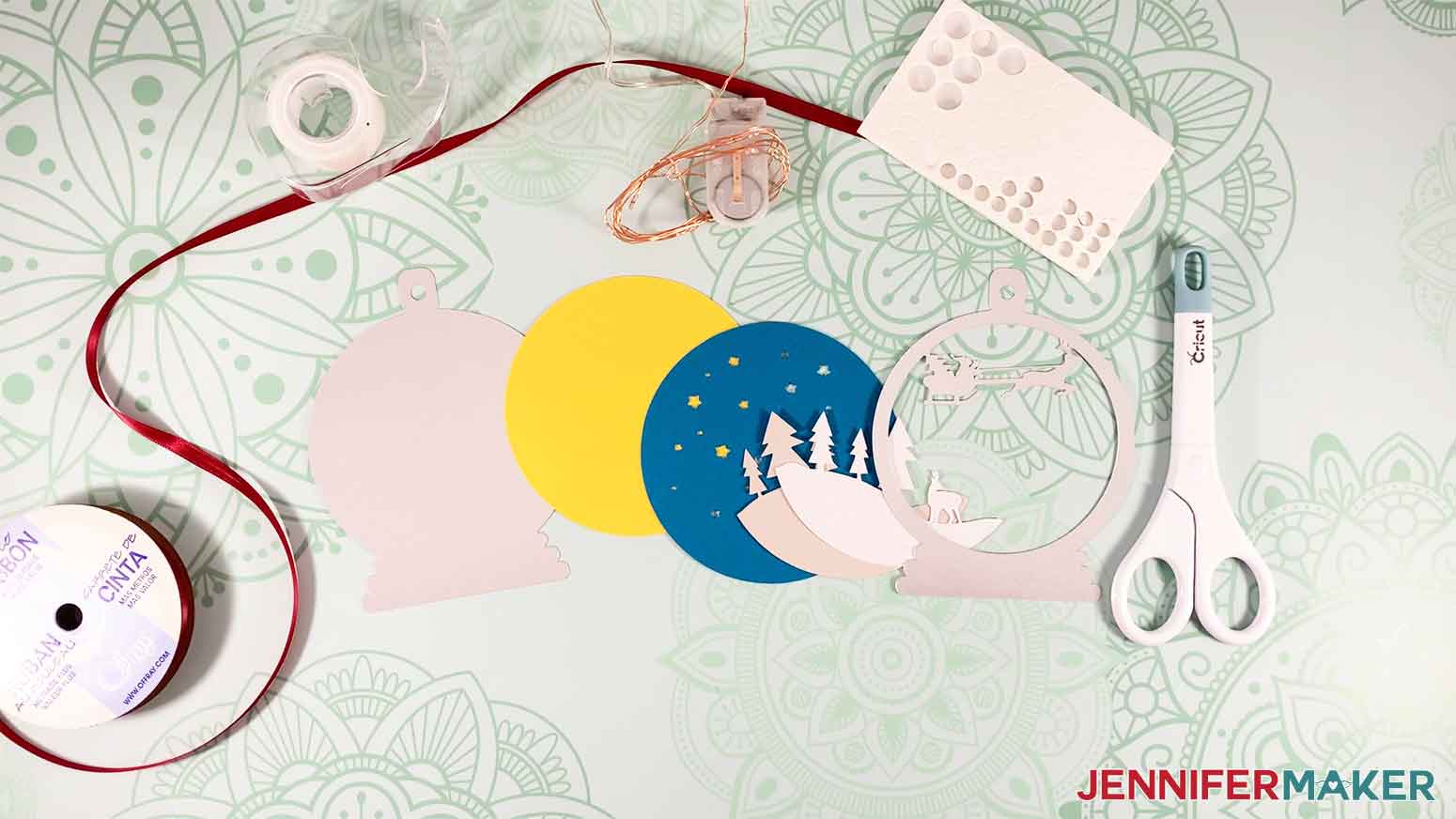 STEP 2: CUT OUT YOUR DESIGN

Yes, this is super easy! The design will be spread out onto 5 different mats according to color. You can leave it just like this and hit CONTINUE.

When selecting materials, select foil poster board for the first mat and either medium cardstock or glitter cardstock for the remaining mats, depending on the order.

(If you have any issues cutting, check out my Cutting Problems Guide because it tells you all the tips I use to get clean cuts consistently.)

STEP 3: ASSEMBLE YOUR PAPER CHRISTMAS ORNAMENT

Remove your materials from the mat by flipping the mat over and pulling the mat away from the material, this way it doesn't curl up.

Next, use the foam dots to attach the yellow cardstock to the back piece of the ornament.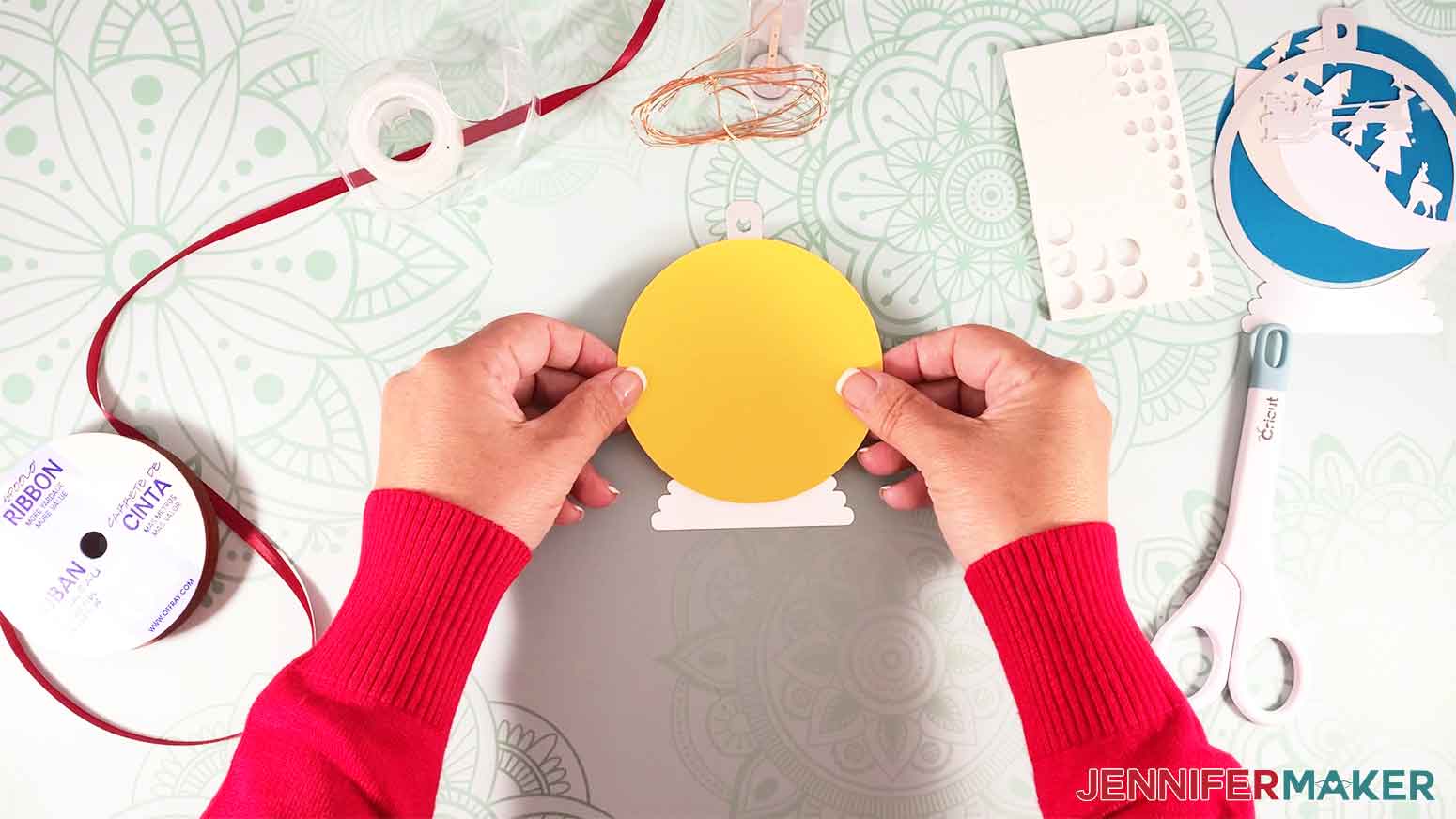 Tape the battery pack for the fairy lights to the back of the ornament.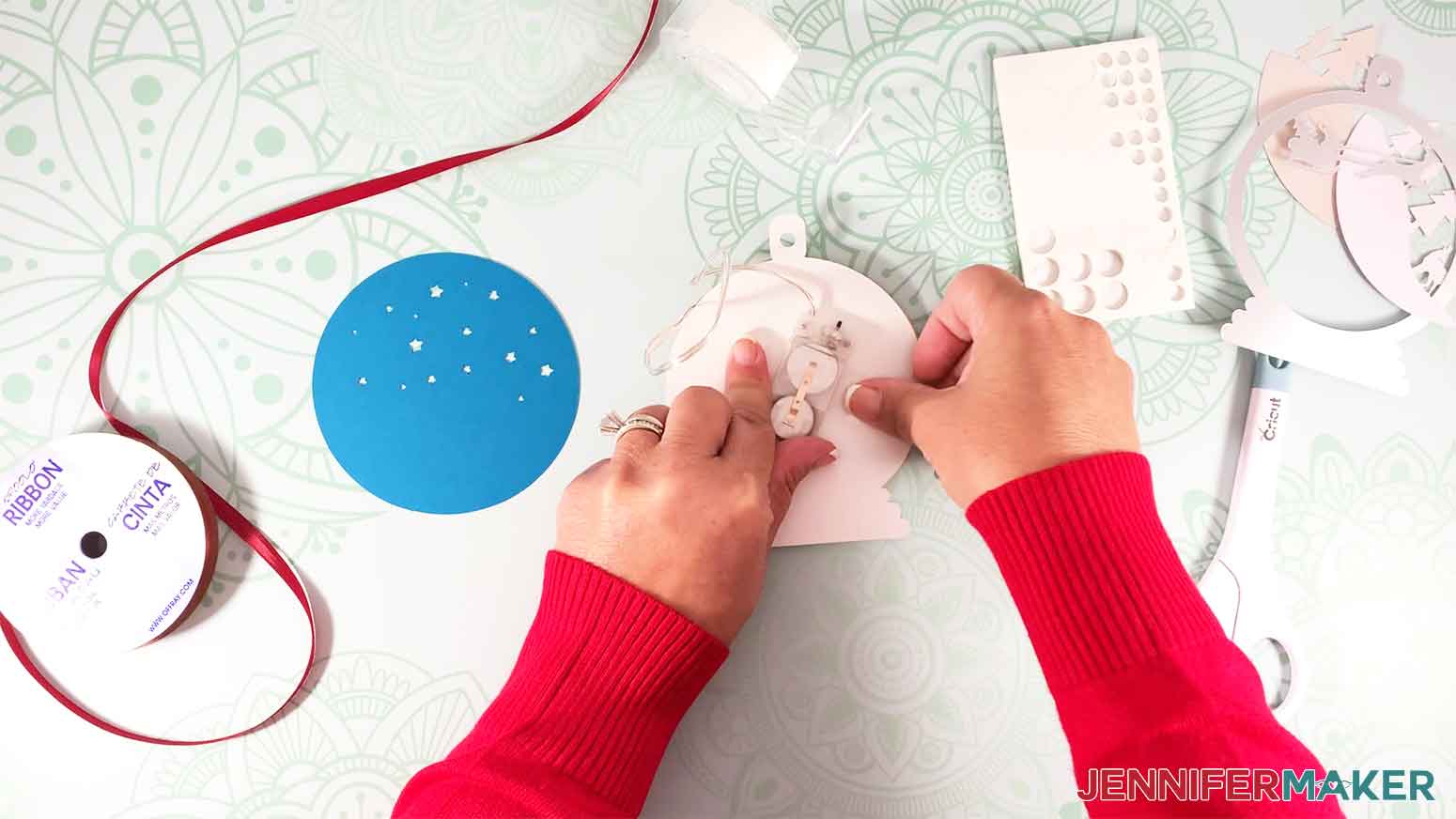 Bend the wire around the outside so the lights are on the front side of the yellow cardstock. Spread the fairy lights out a little but keep them toward the top and use scotch tape to secure them in place.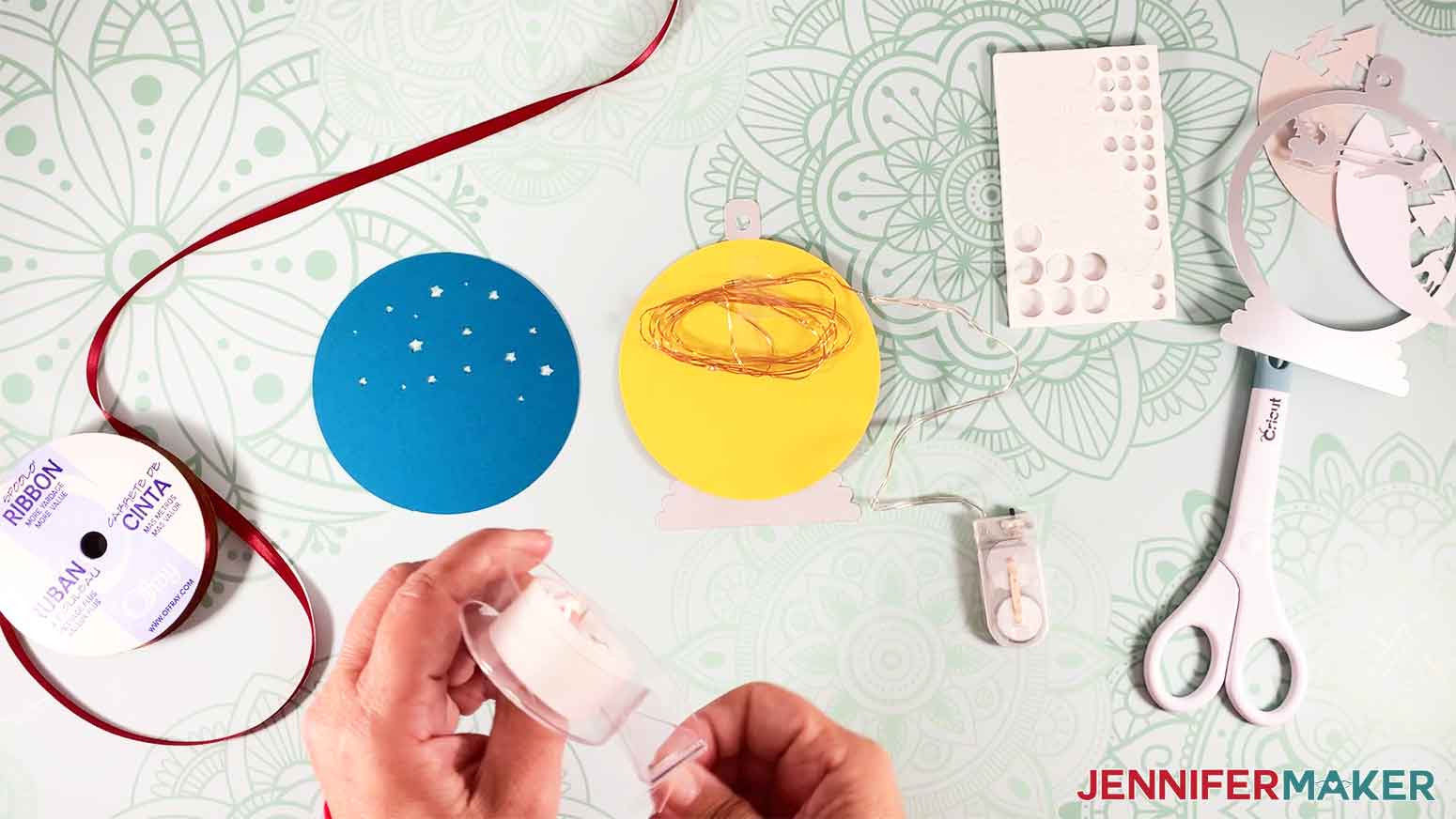 Continue assembling your paper christmas ornament by using foam dots to adhere each layer on top of one another as it appears in the design.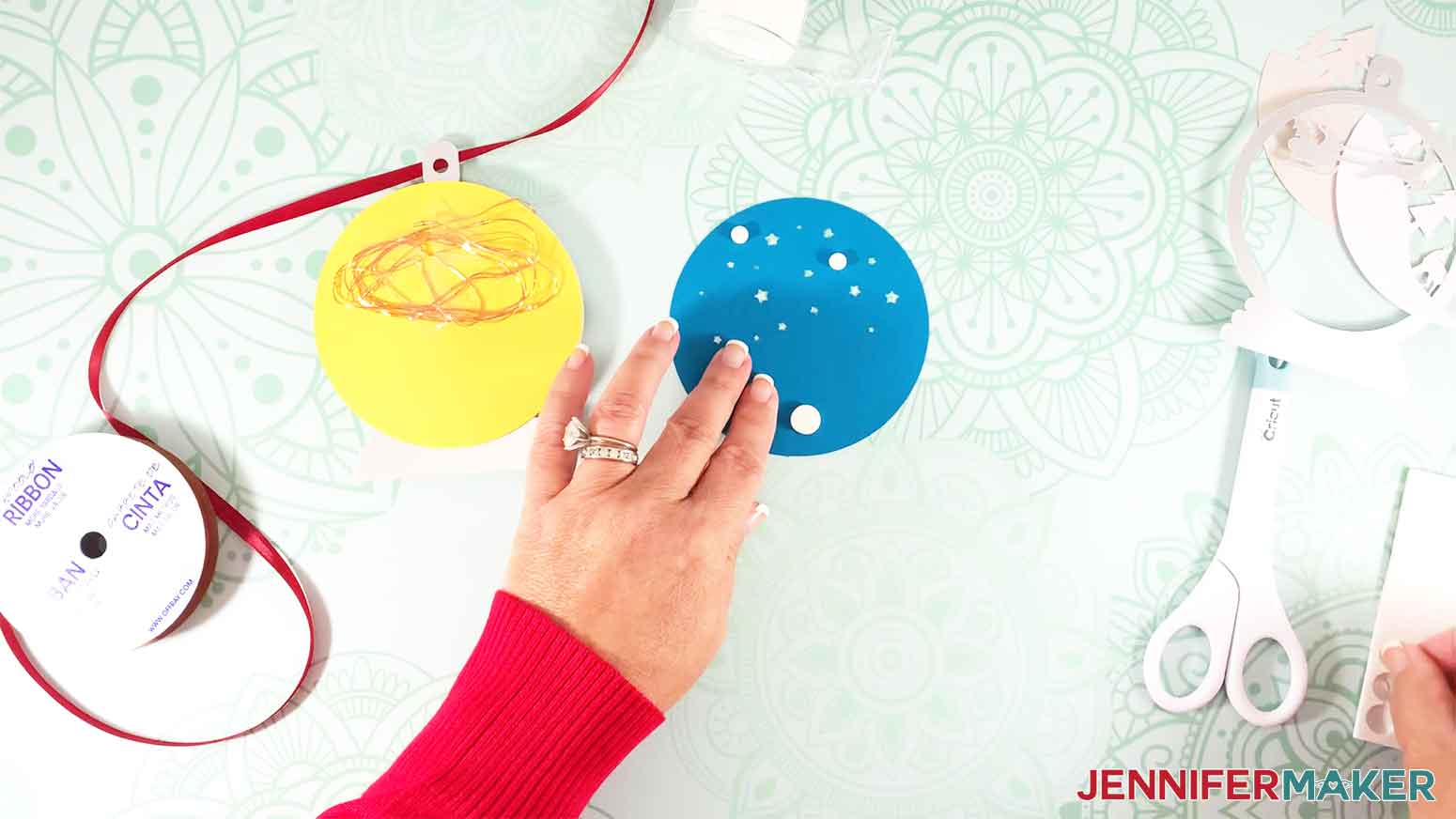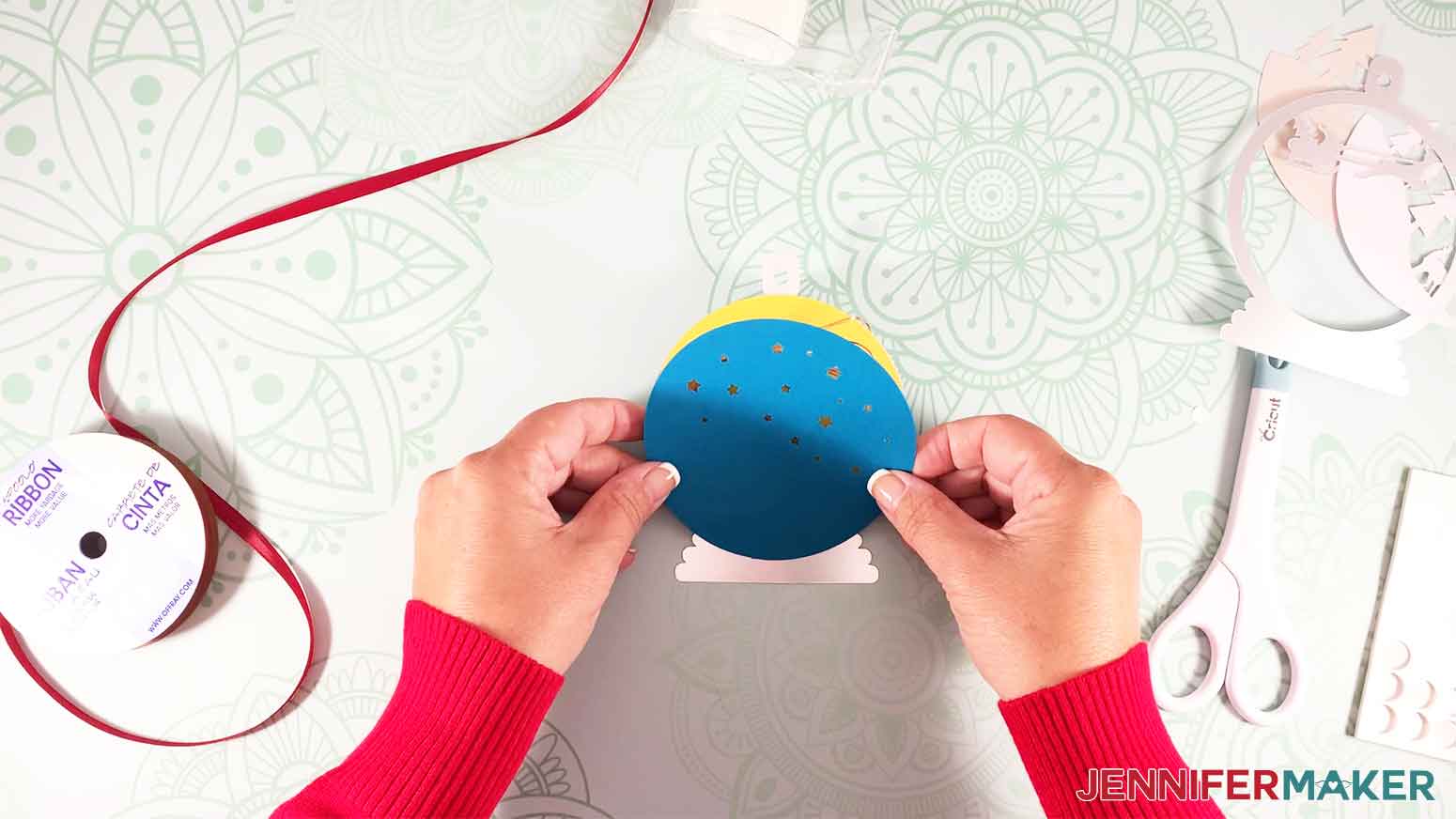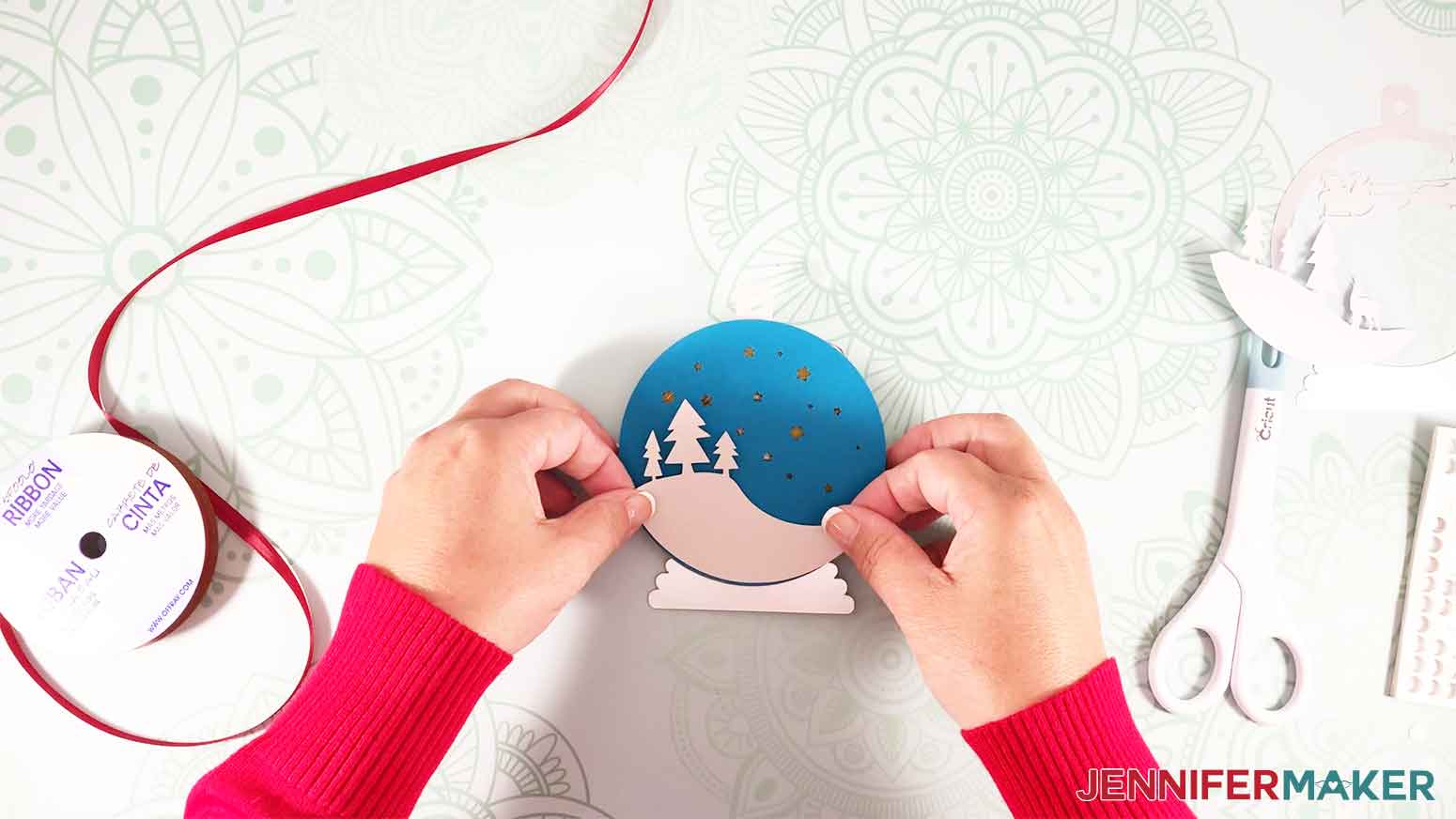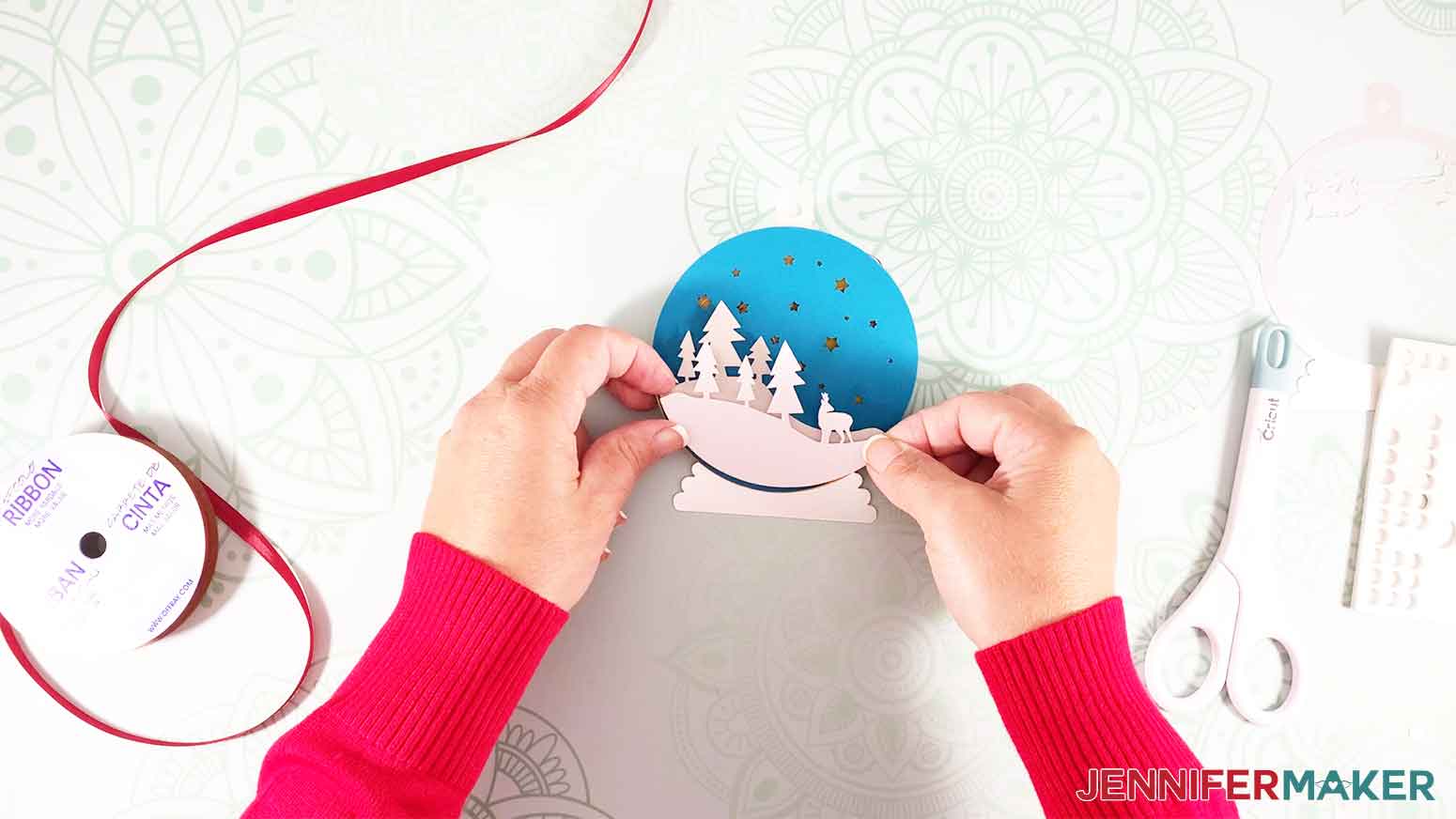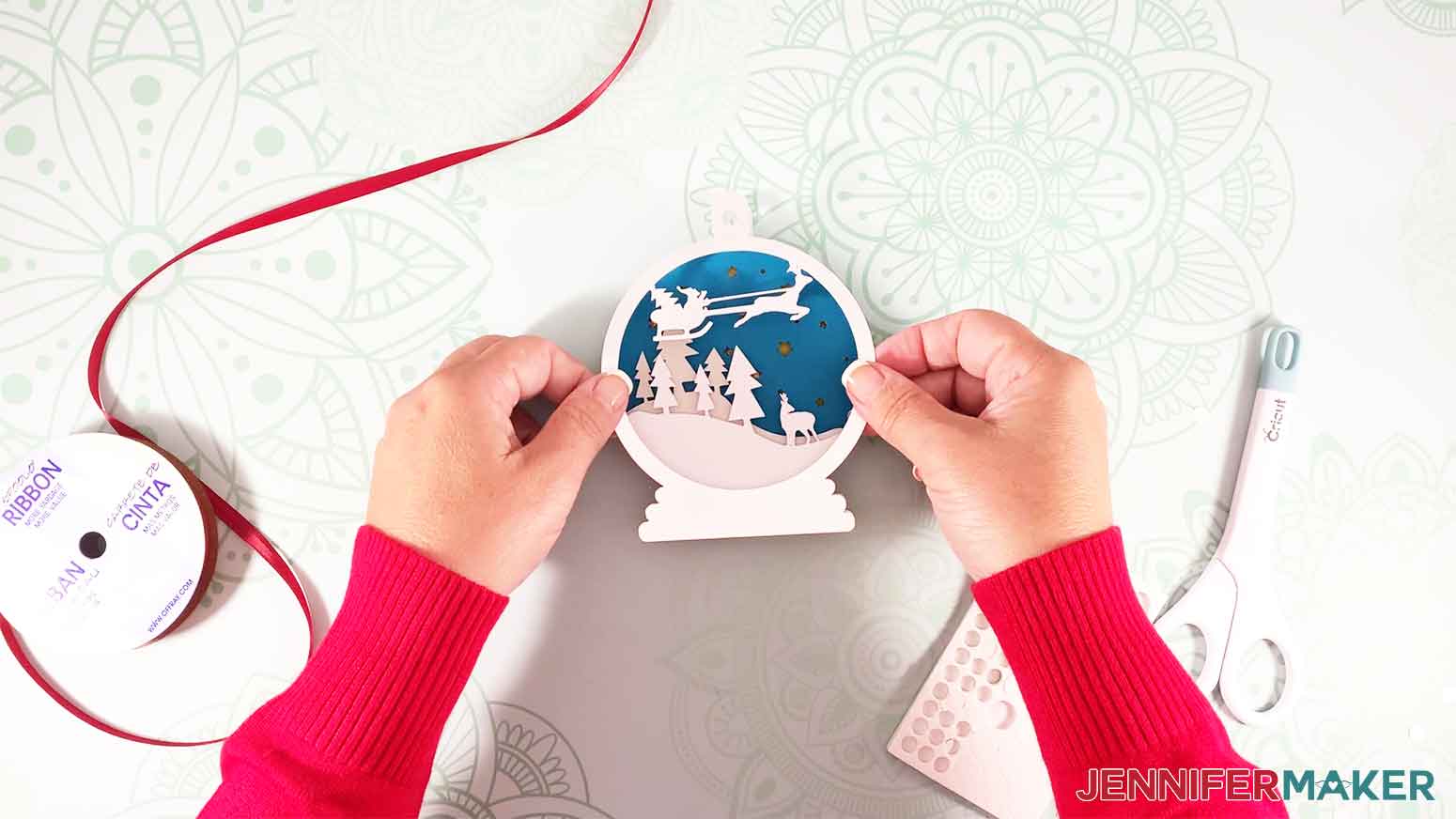 When all the layers are in place use the ribbon to tie a pretty ribbon at the top.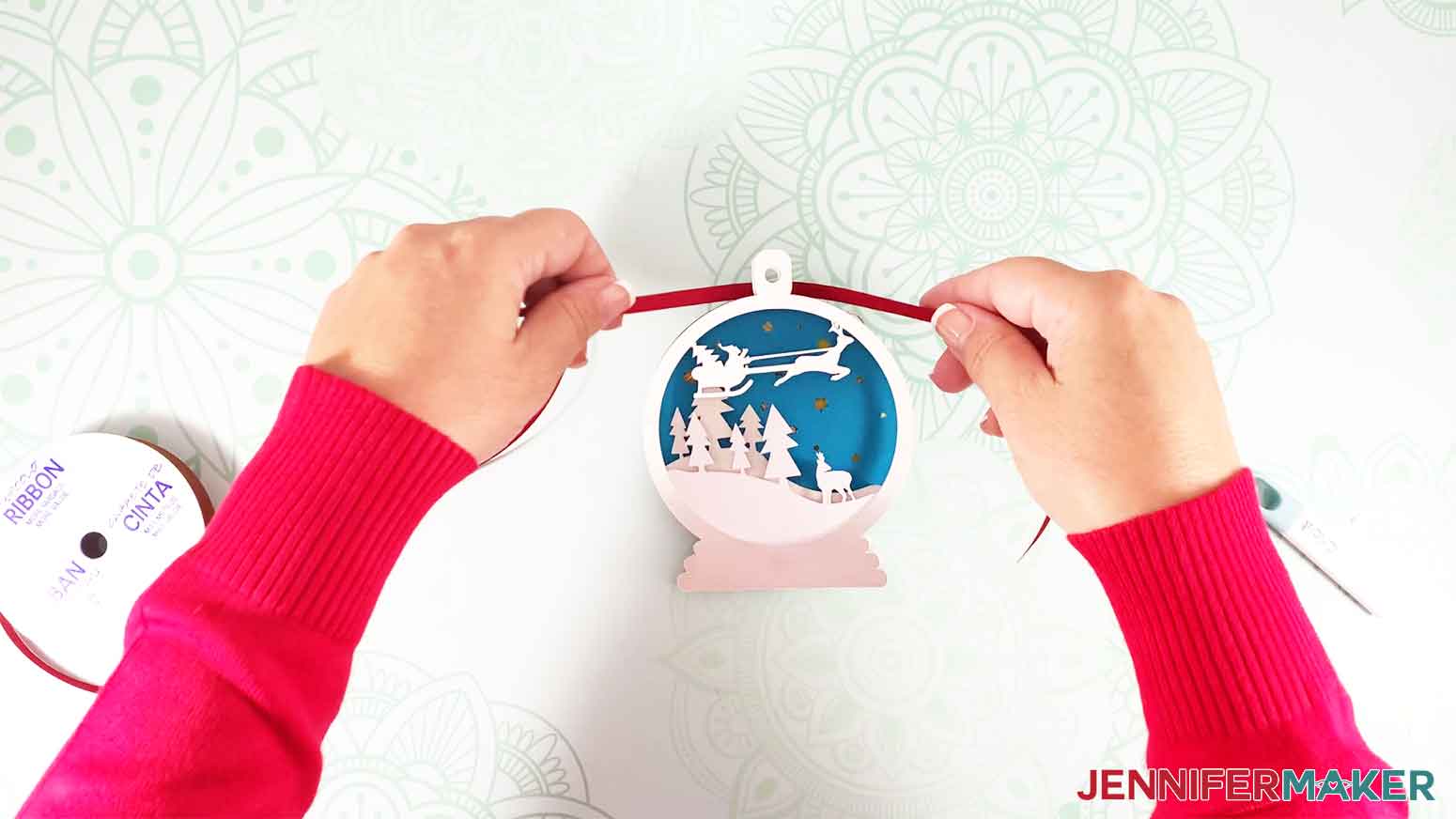 Use another piece of ribbon to make a loop to hang the ornament.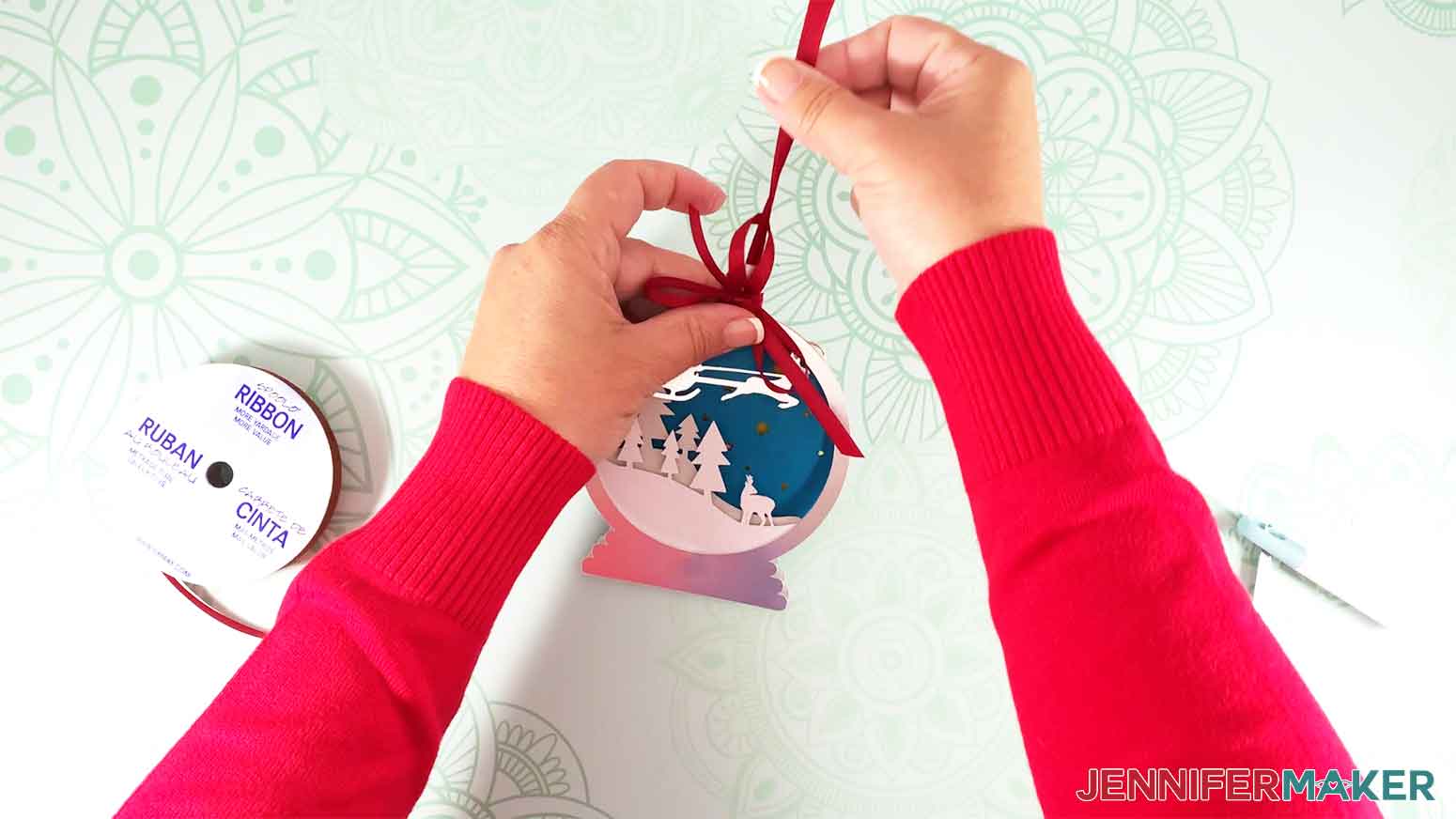 STEP 4: SHOW IT OFF

Now flip the switch to turn on the fairy lights and enjoy your beautiful new 3D ornament.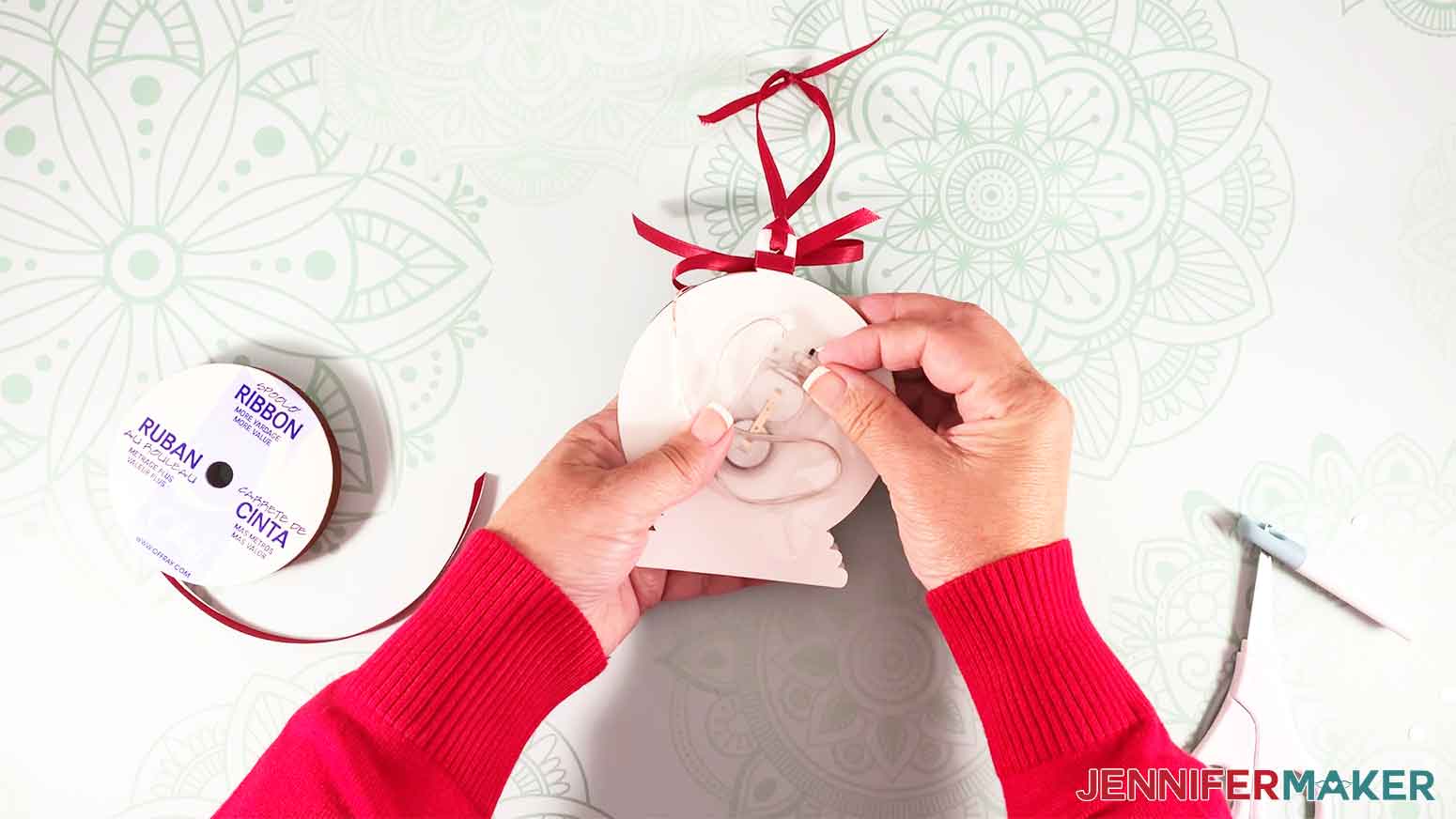 I just love how the stars light up!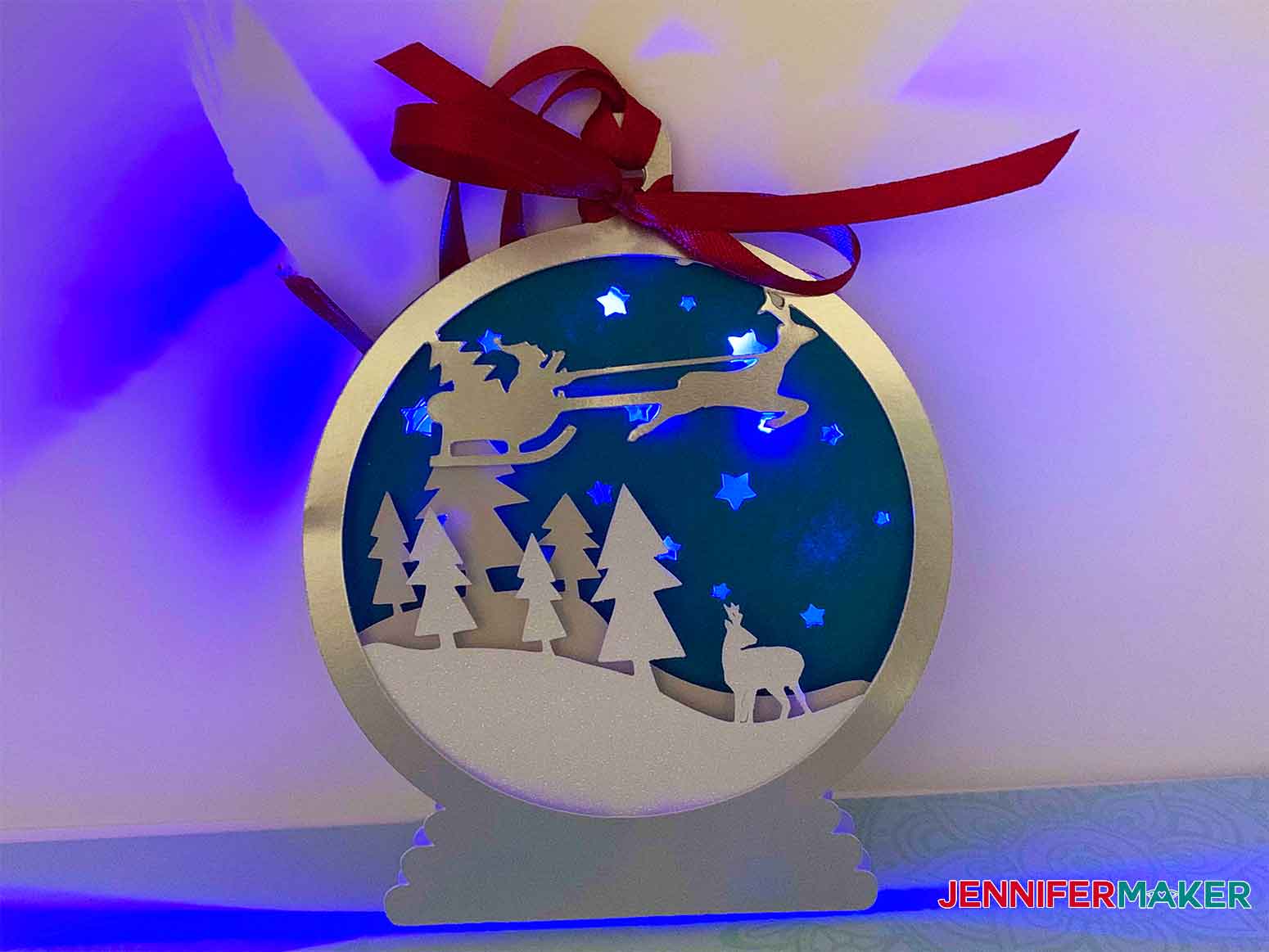 Notes
Special thanks to the JenniferMaker Design Fairy Team, specifically Design Fairy Debbie, for helping me design and assemble this beautiful Paper Christmas Ornament.
Answers to Your Questions About Making Paper Christmas Ornaments
Q: Can you use colored paper instead of cardstock?
For this project you really need to use at least 65 lb. cardstock as it is thicker and will create a more rigid ornament.
Q: What length fairy lights do you need?
We use a 7.2 foot length of lights, but it's the number of lights that matter, not the length! You want a small strand, with about 20 lights. And make sure the fairy lights are the micro light kind! Regular fairy lights, although they are small, are still too large for this ornament!
Get my free SVG files to make this Paper Christmas Ornaments
I'd love to see your layered paper Christmas ornaments! I know you'll come up with some great color combinations, too! Please share a photo in our Facebook group or tag me on social media with #jennifermaker.
See all of the projects, tutorials, and free designs in The Great Maker 25-Day Gift-Away Challenge!
Love,