If you use one of the AH-mazing Cricut cutting machines, you probably have a love/hate relationship with the cutting mats. Without these mats, we couldn't do the amazing things we do with our Cricuts. But always knowing which of your mats to use for a project isn't as simple as it may seem. At this point, there are four different cutting mats — the blue LightGrip mat, the green StandardGrip mat (my favorite), the purple StrongGrip mat, and the pink FabricGrip mat. But which of the Cricut cutting mats are the right amount of sticky for your project? Let's talk about this AND how to keep (or restore) stickiness.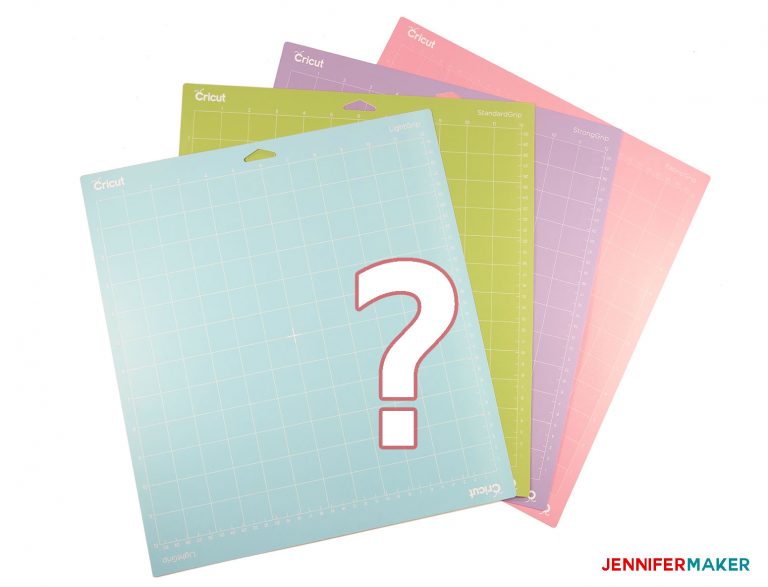 Having just the right sticky cutting mat is SO important for your Cricut project success. In fact, this is my #1 tip when it comes to Cricut projects. Use a sticky mat! A machine mat that isn't sticky will cause your material to slide around causing miscuts of various sorts. Also, a cutting mat that is sticky enough will make removing paper-based materials so much easier, because all of the little bits stay on the mat and your project doesn't need weeding or fiddling about with.
If your project just isn't cutting right, the first question you should ask yourself is this: Is your mat is sticky enough?
Note: Cricut updated their mats in autumn 2017—they used to have a floral pattern on them, but now they are solid colors (like all of my photographs in this post). Also, the adhesive seems different than before. They are working fine for me, but some other crafters preferred the older ones. Also, this post contains some affiliate links for your convenience (which means if you make a purchase after clicking a link I will earn a small commission but it won't cost you a penny more)! Read my full disclosure policy.
So let's begin by going over each of the Cricut cutting mats and the types of materials for which they are intended:
The Blue LightGrip Mat
The Cricut LightGrip Mat is the go-to mat for many people. Cricut recommends you cut the lightest materials on it—for example, copy paper (printer paper), thin cardstock, vellum, construction paper, and vinyl on the blue LightGrip mat. I personally find that these materials cut well on this mat only when the mat is pretty new, however. But, when you need to cut vellum, a sticky blue LightGrip mat is definitely the way to go.
The Green StandardGrip Mat
The Cricut StandardGrip Mat is my personal go-to mat for most of my projects. I have three times as many green StandardGrip mats as any other color in my craft room! I like it best because it remains the stickiest (without being too sticky) for the longest duration. Cricut recommends you cut medium-weight materials on it, such as cardstock, pattern paper, washi paper, and vinyl (self-adhesive, iron-on/HTV, and window cling). I also use it for bonded fabric (in my Cricut Explore Air). I sometimes use an older StandardGrip mat when I cut felt or fleece on my Cricut Maker simply because those materials leave a lot of residue and the green StandardGrip mats are less expensive to replace than the pink FabricGrip mats. In most cases, I would tell you to use this green StandardGrip mat.
The Purple StrongGrip Mat
I believe the Cricut StrongGrip Mat is the least used mat of the four. When they say strong, they mean STRONG. This adhesive's grip is crazy. And if you use it for material that isn't equally strong it will tear or otherwise destroy it. Cricut recommends you use the StrongGrip mat for heavyweight materials such as thick cardstock, glitter cardstock, magnet sheets, chipboard, posterboard, aluminum foil, craft foam, balsa wood, and fabric with stiffener. I cut all my cardstock on the green StandardGrip mat, not this StrongGrip mat. What I use the purple StrongGrip mat for is really thick materials, like cardboard, Kraft board, and leather.
The Pink FabricGrip Mat
The pink Cricut FabricGrip mat is the newest member of the mat family having come out when the Cricut Maker debuted. Use the pink mat for fabric and crepe paper. The FabricGrip mat is a bit thicker and stronger than the other mats, but isn't as sticky—it's intended to just keep the fabric in place as the rotary blade or bonded fabric blade travels over it. The rotary blade doesn't drag on the material the same way the standard fine point blade does. It's preferable that the FabricGrip mat be less sticky so when you remove your fabric, you don't leave too many fibers and threads behind. You can also use this mat with bonded fabric and the bonded fabric blade, too. This mat is the trickiest to keep clean, however!
Ok, so how do you keep the Cricut Cutting Mats Clean?
Ah, the big question! My first suggestion is to keep your mats as clean as you can by always putting that protective clear cover back over them when they are not in use. Your mats will still get dirty with bits of leftover material, though, so here's what you can do:
Cleaning Blue, Green, and Purple Cutting Mats
Use a scraper to remove all of the leftover materials after you finish cutting.
Run a sticky lint roller over your mat to get the smaller bits that are hard to scrape off.
Wipe your mats down with a non-alcohol based cleaning wipe, such as Purell wipes or baby wipes.
Wash the mat with water and gentle dishwashing detergent, then allow to dry.
Note: Some people like to re-apply adhesive to their mats. If you do this, please note that this can void your warranty on your machine because it can gunk up your rollers. But if your warranty has expired and you don't mind experimenting, you can tape the edges of your mat and use something like 3M Spray Adhesive (the repositionable type).
Cleaning Pink FabricGrip Mats
Avoid touching the adhesive surface at all as the oils from your fingers can damage the adhesive.
Do not use a scraper to get fabric bits off the pink mat, as you can accidentally remove the adhesive.
Use tweezers, the Cricut spatula, or Cricut's StrongGrip transfer tape to clean Fabric Grip mats.
Do not use soap and water or any other cleaning agent on a FabricGrip mat.
For extra fuzzy materials, like felt and fleece, consider putting transfer tape behind your fabric before sticking it to the mat—this will keep your mat free of fuzz.
Note: The Pink FabricGrip mats will continue to work even with leftover fabric and fiber remnants on the mat—the rotary blade will cut right through them.
Get my Free Cricut Cutting Mat Cheat Sheet So You Never Forget Which Mat to Use!
(The Cricut Cutting Mats Cheat Sheet is #89 in my Free Resource Library.)
Please let me know if you have any questions!