Drowning in fabric? Can't find that material you KNOW you have somewhere? Check out these easy and simple fabric organization ideas and storage solutions!
Sewing was my first craft. And I still love to sew. My daughter also loves to sew. You know what that means, don't you? We have a LOT of fabric and need to keep it organized. It got so bad at one point that my daughter's felt and fleece collection was threatening to take over my craft room! So I've come up with a bunch of different fabric organization ideas that I think you're going to love.
The biggest problem with storing fabric is that you really need to SEE it to find and use it. That means just chucking it in plastic bins is counter-productive. Been there, done that. At one point, I think I had like 10 plastic bins holding my fabric collection and I couldn't find anything.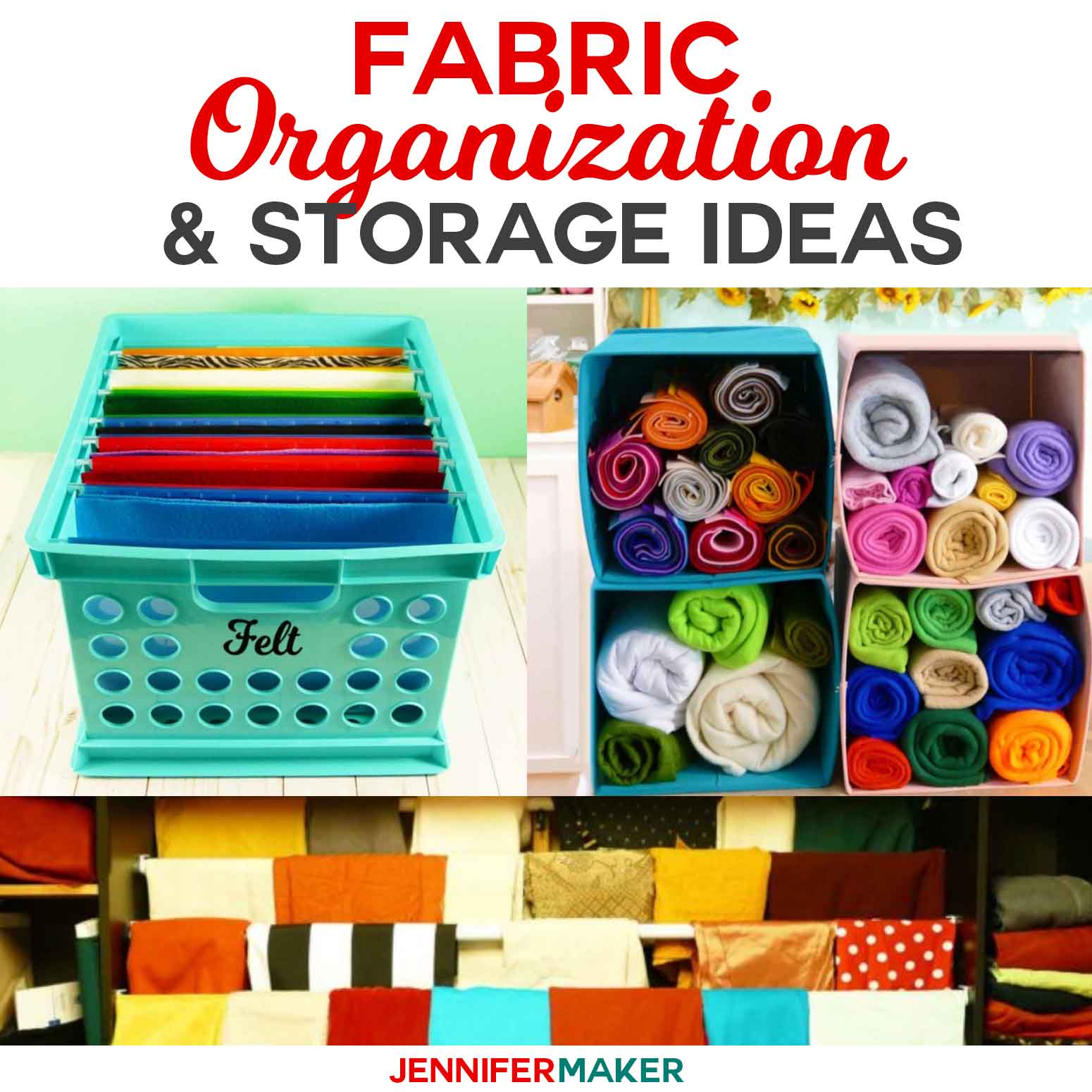 So now I keep my fabric out where I can see it, but that is problematic, too. You can't just have piles of it laying about. It's messy and chaotic. So instead I've come up with several different ways to store different types and sizes of fabric.
Check out these fabric organization ideas from my craft room and sewing studio. This post contains some affiliate links for your convenience (which means if you make a purchase after clicking a link I will earn a small commission but it won't cost you a penny more)! Read my full disclosure policy.
Fabric Organization Ideas: Felt
Let's start with organizing FELT, as I feel it's one of the most challenging things to store. Here's where I started — a simple drawer in my Alex units in my craft room. It was okay for a few pieces, but because felt loves to stick together, it was tough to go through the drawer to find what I wanted. And it got messy fast.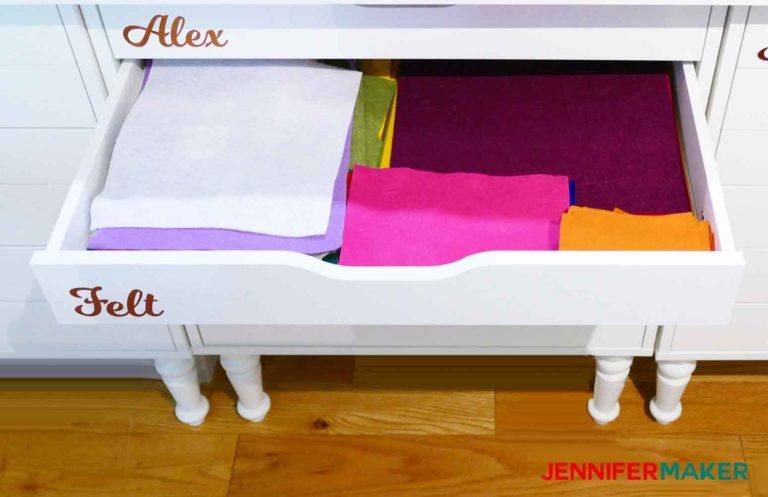 Next, I moved to a file organizing system, since the store-bought felt pieces are letter-sized. This was VERY organized and kept the felt clean and dust-free, but it made it rather hard to see all the various colors. Still, I like this and I still use it for some of my felt. By the way, this cute file box came from a craft store (Michaels maybe?), but you can find a similar file crate here.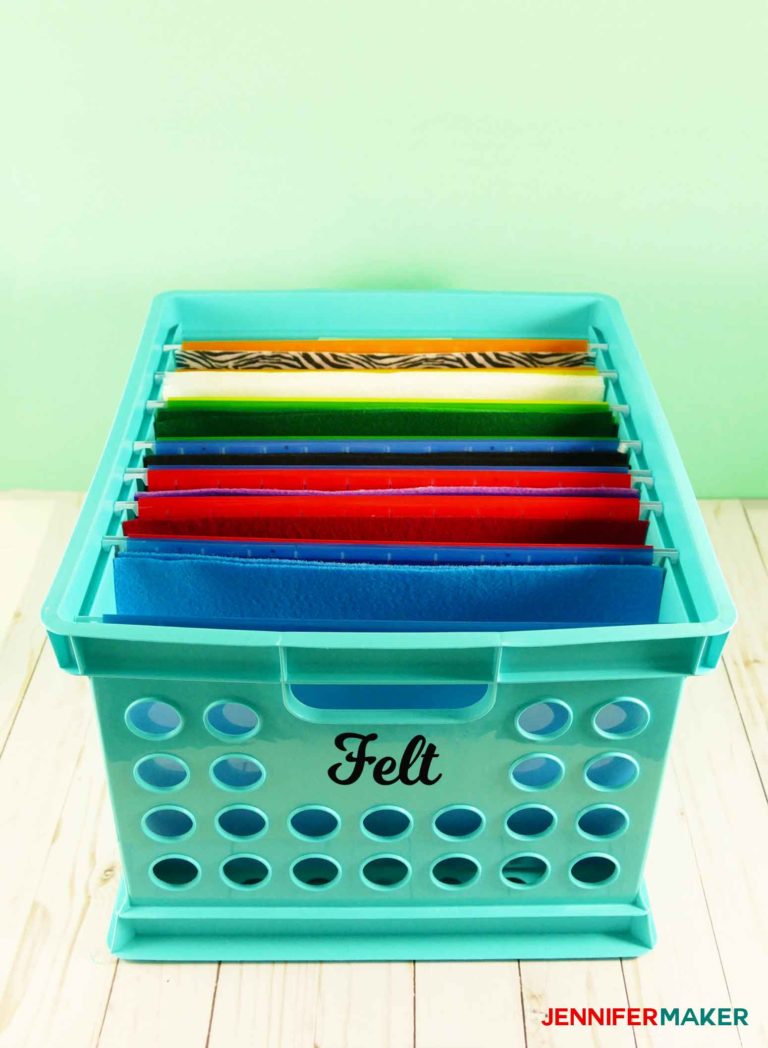 Finally, I settled on rolling my felt and storing it in cubes. Rolling the felt helps to avoid it getting creased or folded, and I can still see every color. I prefer this felt organization system best because it's both cute and functional! And we can see our felt collection at a glance.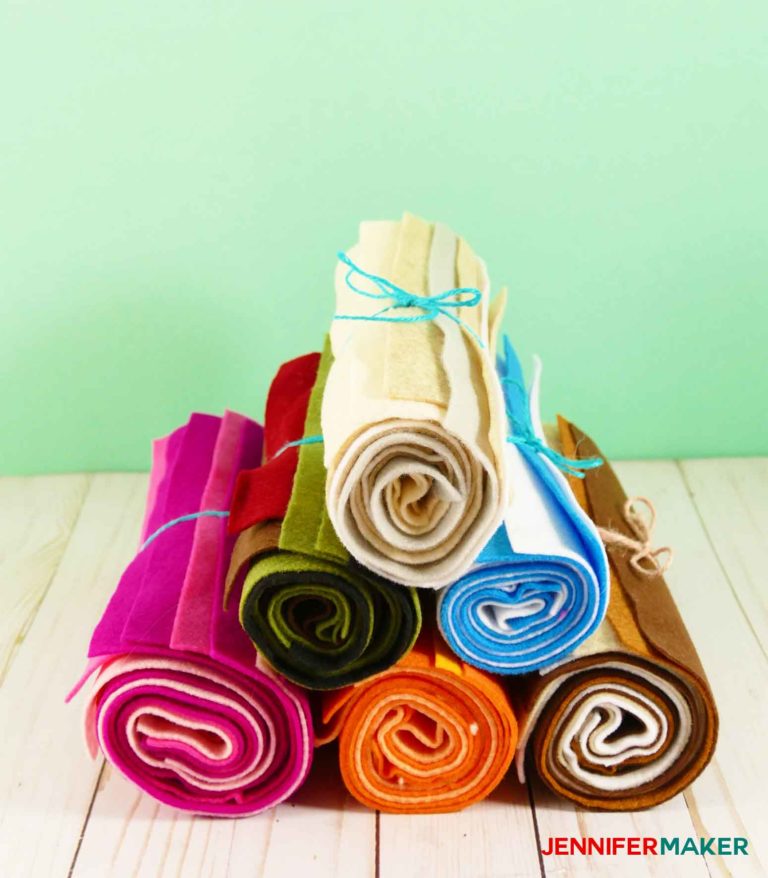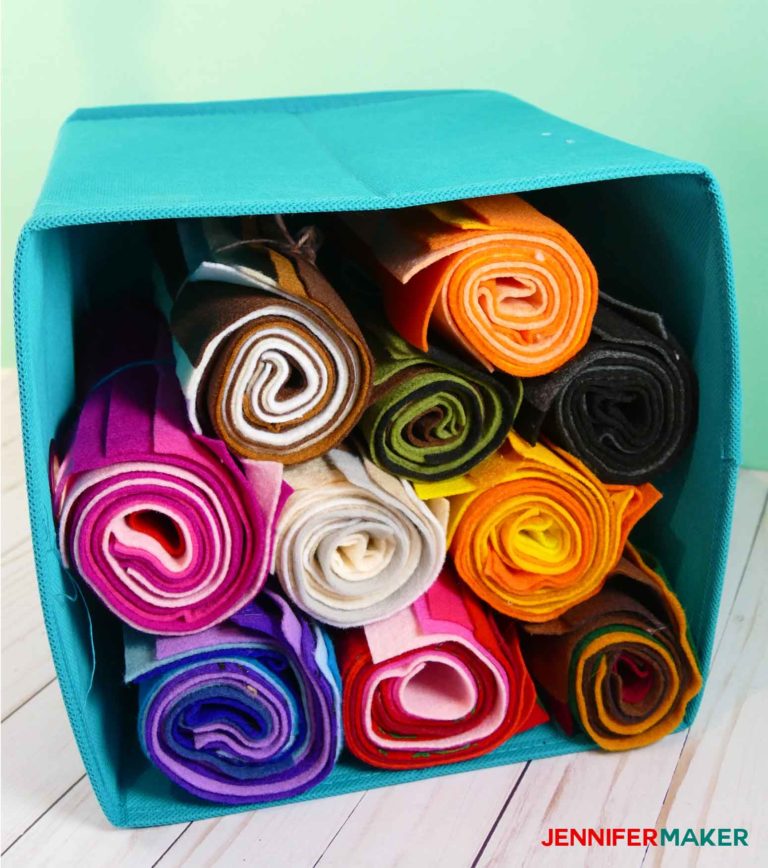 Fabric Organization Ideas: Fleece
Like felt, fleece is hard to hard to store. For a while I just had it in boxes, but that quickly became a mess. So I like to roll the fleece up now and stack it. This lets us see the colors AND how much we have at a glance!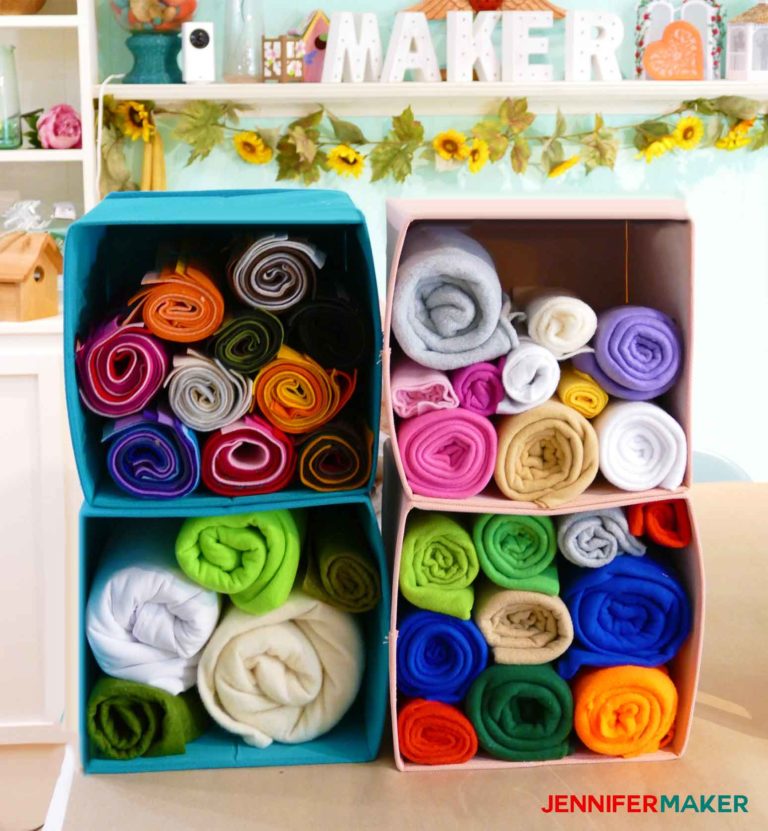 Fabric Organization Ideas: Cotton and Linen
Again, I prefer to see all of my fabric. So several years ago I took some old office furniture (bookcases and file cabinets) and made this fabric organization unit. There are four closet rods installed between the two bookcases, on which I hang my fabric. This allows me to see what I have super easy. I don't worry about dust, because I usually wash the fabric right before I use it anyway. I've had this unit up for five years now and it is a great system for me!
I use the drawers in the file cabinets at the bottom for scraps — keep reading to learn more!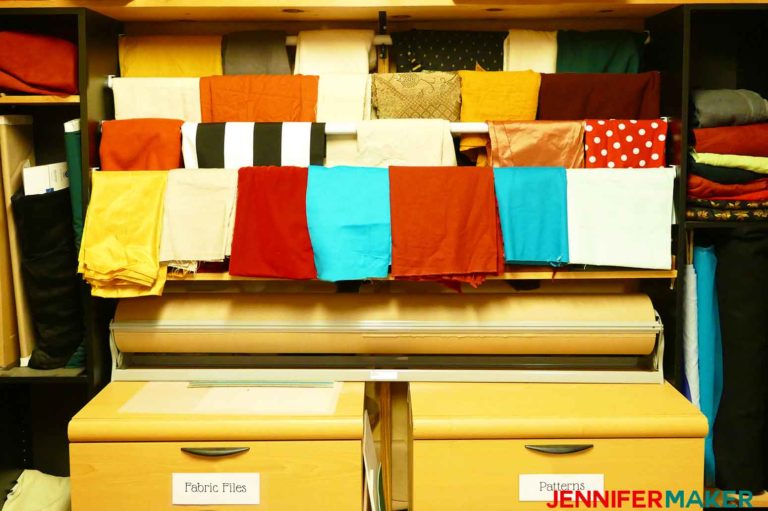 Here's a great fabric organization idea from one of my readers, Lisa Carrocchio — she stores her fabric in baskets on big metal shelves. So easy to see all her colors and patterns!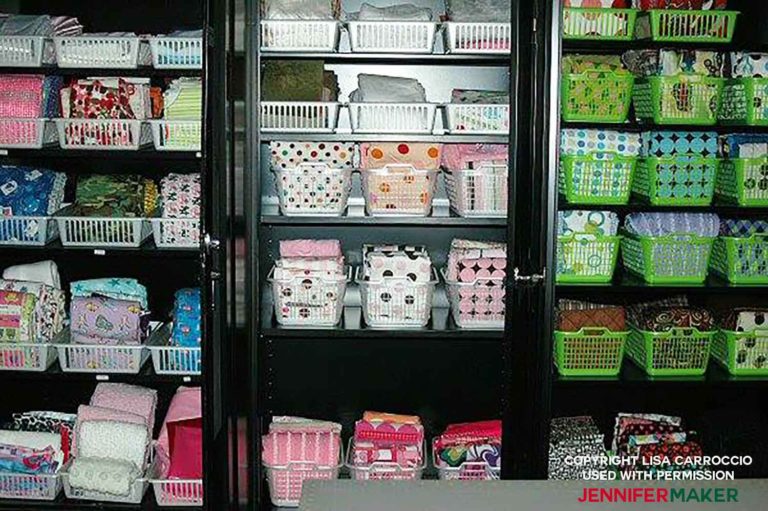 Reader Anne Akridge likes to sort her quilting fabric by color and stack it in glass-fronted bookcases. It looks neat and it's easy to see at a glance what she has!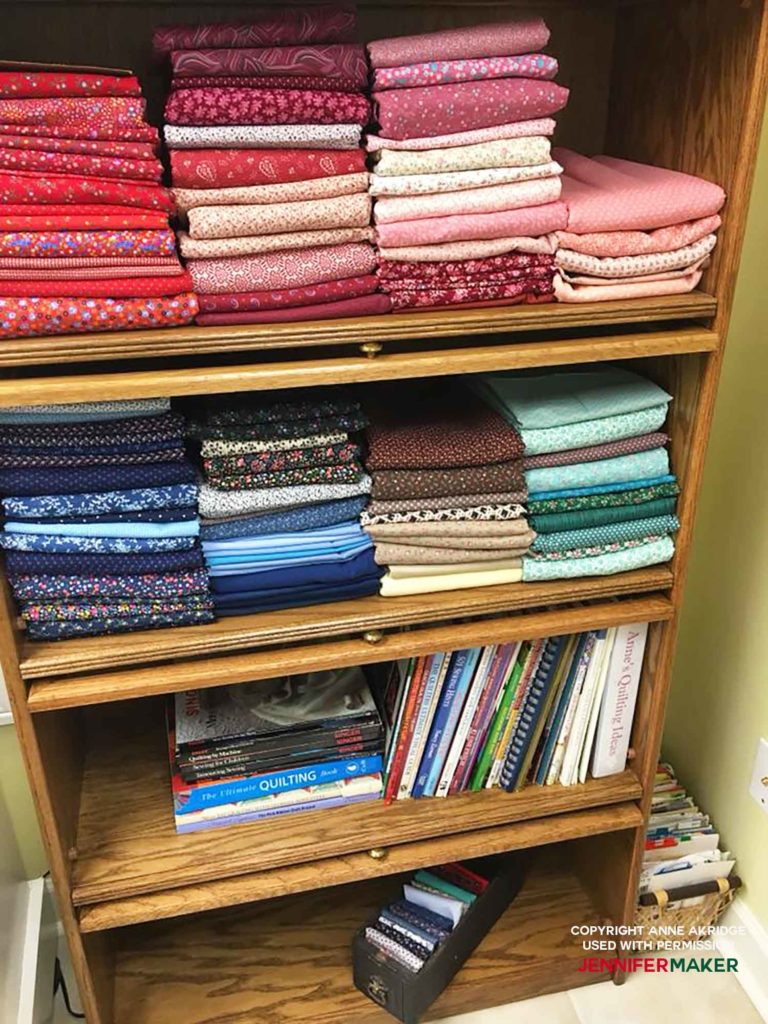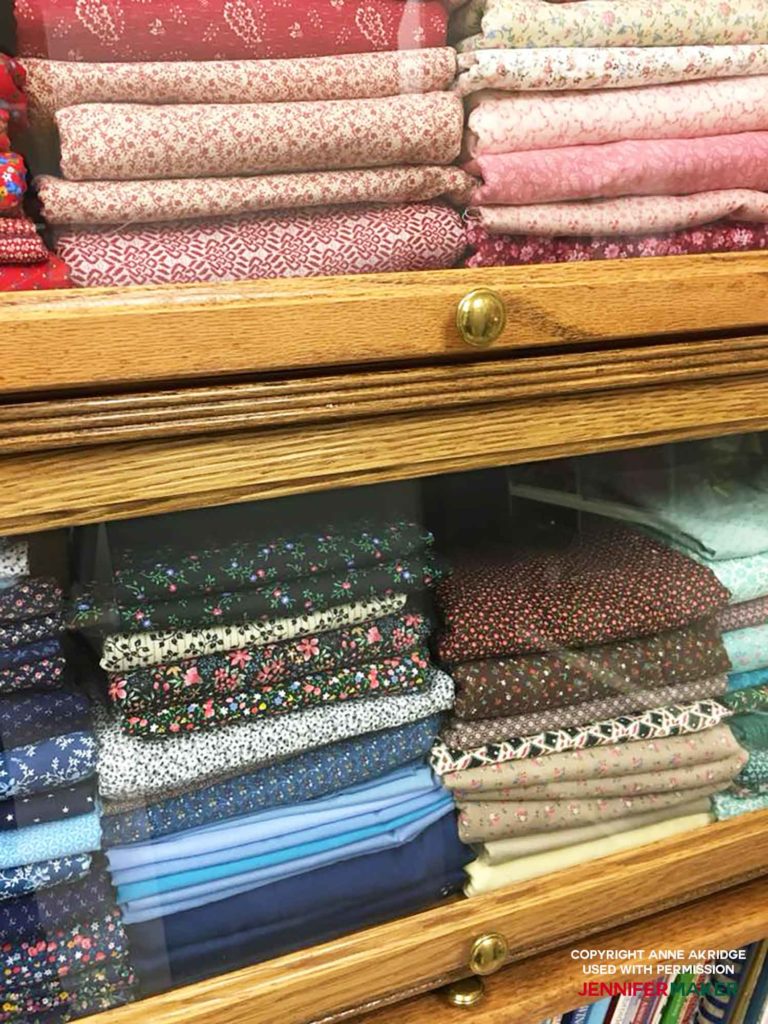 Or how about using a hanging clothes organizer for your fabric? That's what Jennifer McNichols uses for her fabric, and I think it's a brilliant idea!


Jennifer also uses old DVD shelves to organizer her fabric collection!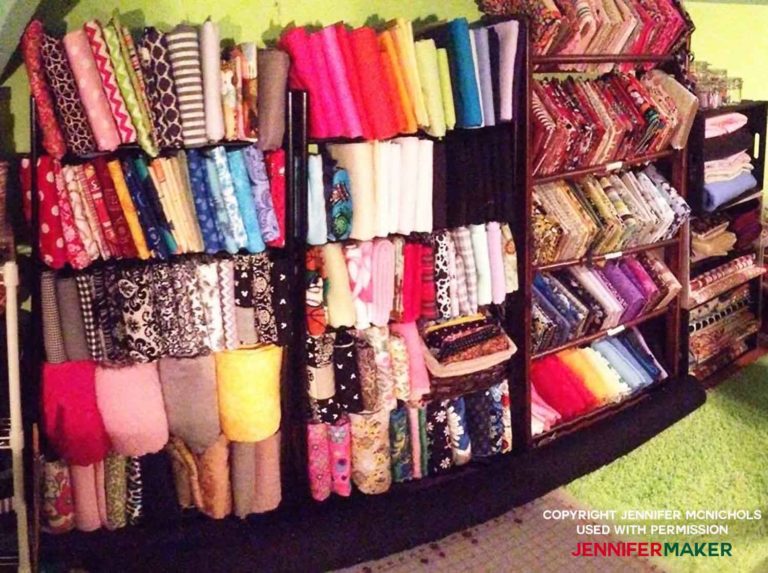 Reader Sophie Hyde converted a closet into a fabric storage motherlode. Look at how easy it is to see everything she has!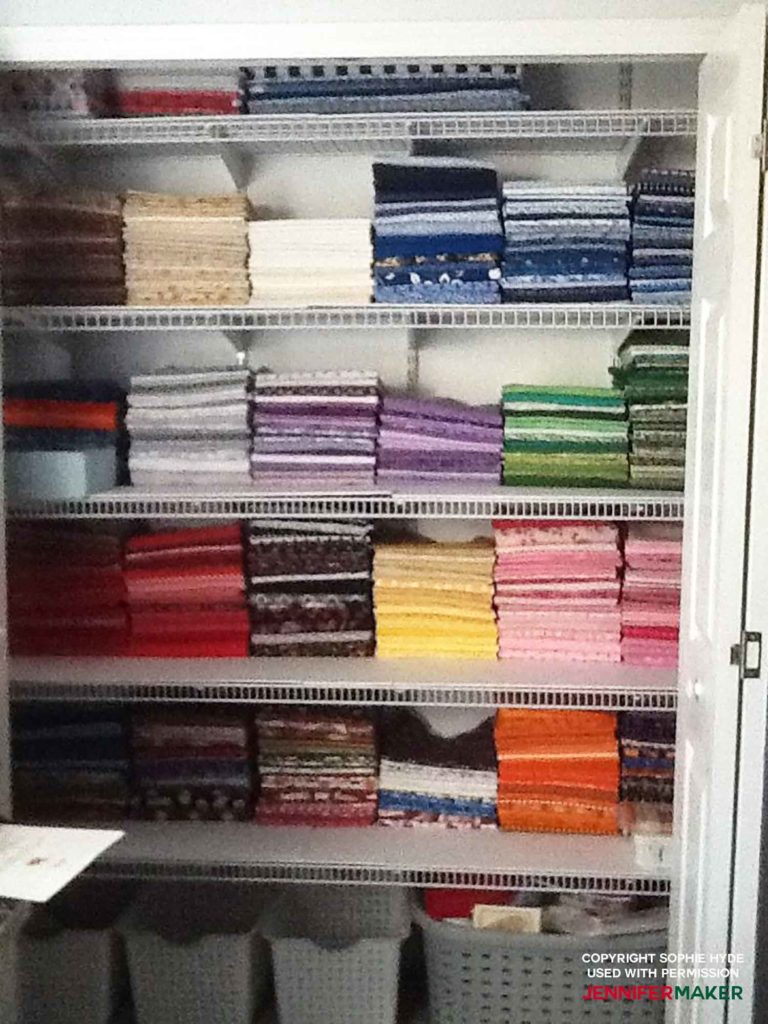 Fabric Organization Ideas: Scraps
Scraps are such a pain! I don't like to throw them away unless they are super small, because you just don't know when you might need it. So I hang them over file folders in the file cabinets. Now they are neat, unwrinkled, and super easy to see! I also put small quantities of fancier fabrics, like silks and taffetas, in this drawer.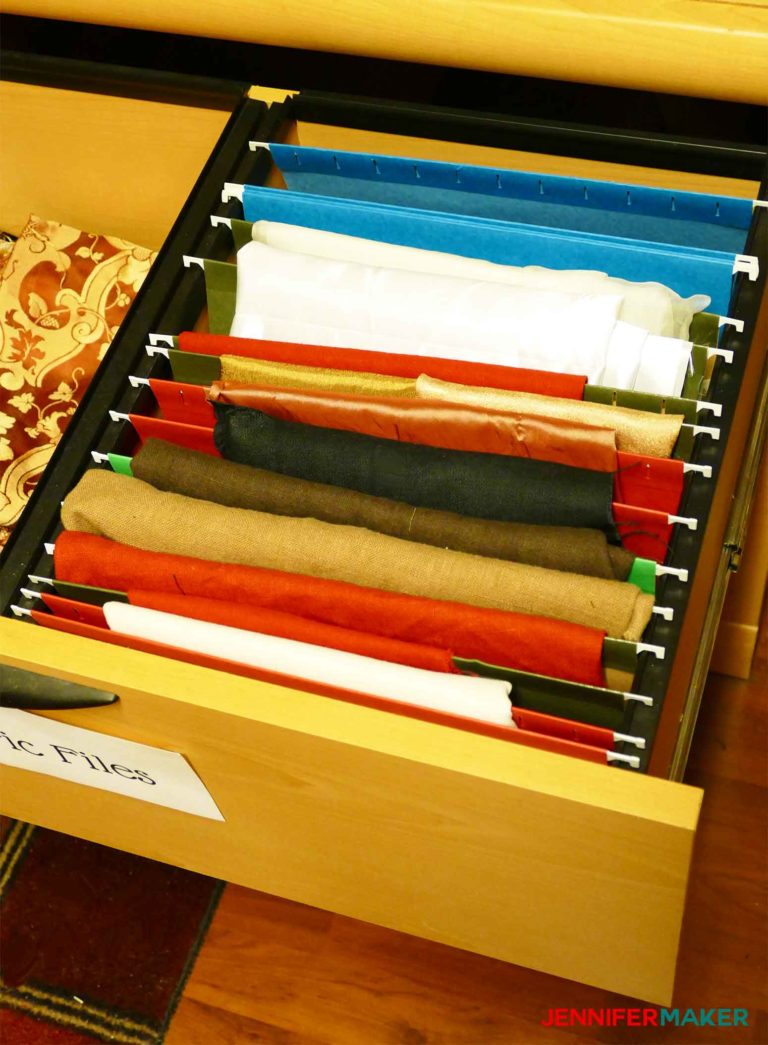 If you have a great system for organizing and storage your fabric, please share a photo of your setup! Please share a photo in our Facebook group or tag me on social media with #jennifermaker.
Love,