Make a stunning paper sunflower with this step-by-step tutorial and free template. This mesmerizing sunflower makes beautiful home decor!
After I made my giant paper rose a couple of weeks ago, a number of you asked me to make a large paper sunflower. I happily dove into that project, only to discover the seed head of the sunflower was somewhat of a challenge. My first couple of tries of the giant paper sunflower were uninspired and a little weird. So I dug deeper.
One of the keys to success with a paper flower is studying real flowers and shapes. So I learned more about the sunflower. I traced its petals and spent a long time studying the seed head. I was intrigued to learn that the sunflower's seeds grow in a Fibonacci pattern. That was when inspiration struck! I designed a seed head based on a mesmerizing Fibonacci spiral and it all fell into place.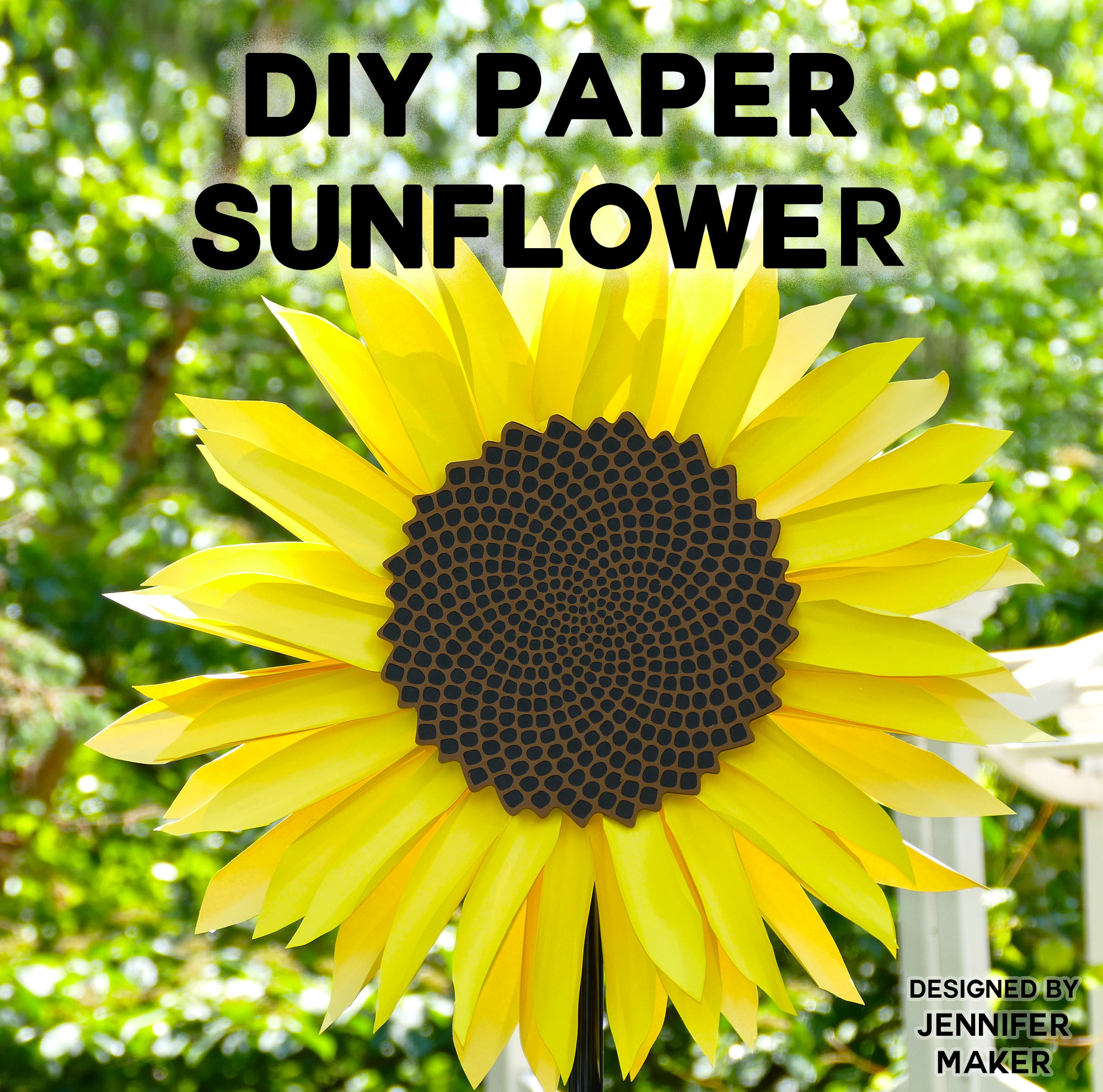 Many of my readers have made this paper sunflower with great success! Look at this gorgeous sunflower made by Jennifer Persbacker. She made the sunflower with a shiny paper over the seed head — it's just stunning!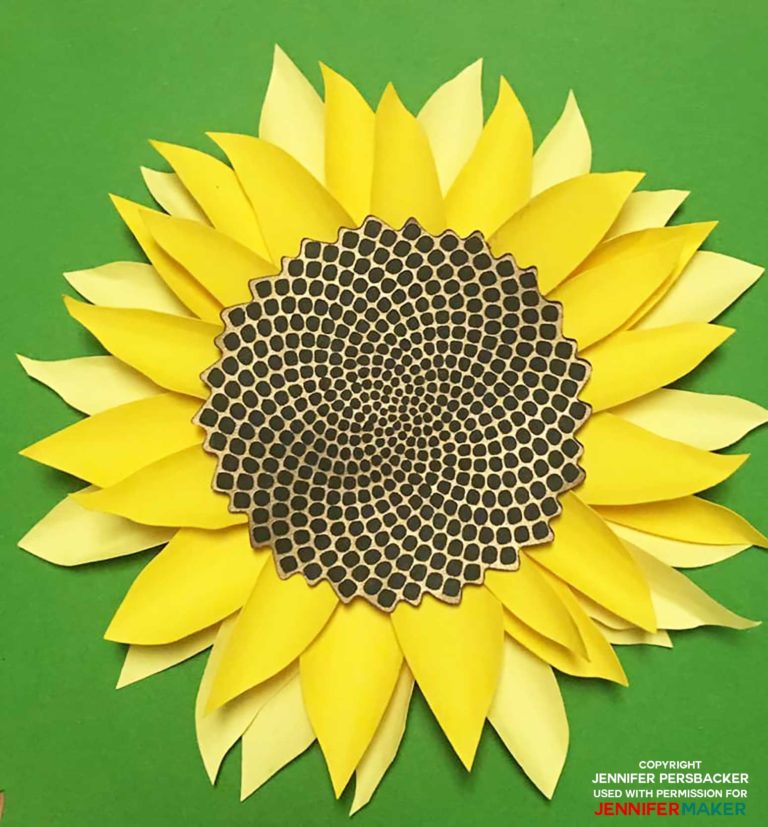 Here is a cheerful sunflower made by reader Misty Morgan — it makes me happy just looking at it!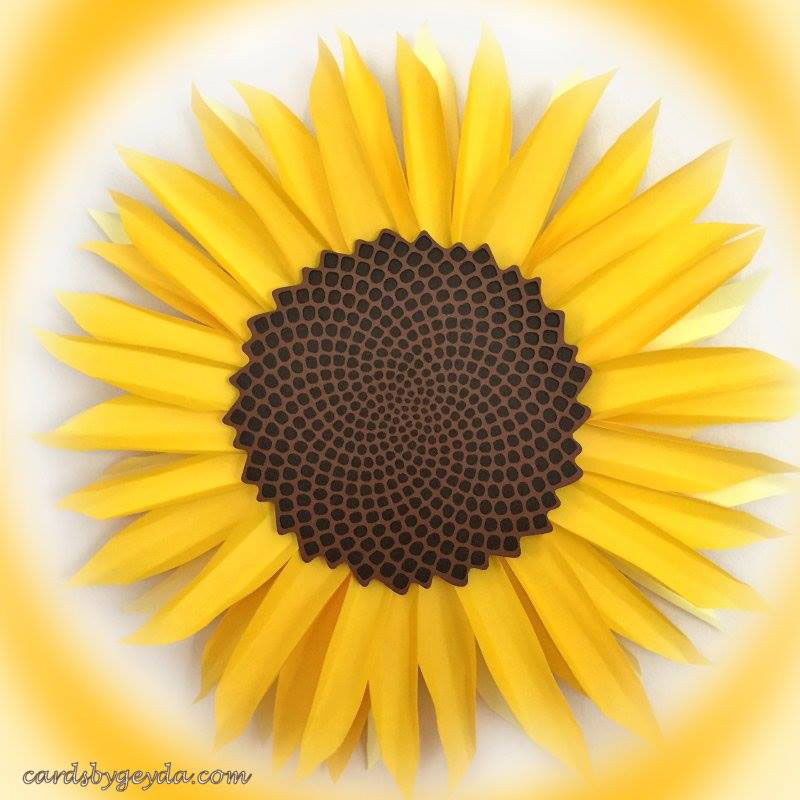 The end result is a lovely and huge paper sunflower with a gorgeous center. Take a quick look at this DIY giant paper sunflower outside in the sunshine in the video below:
And you can make one, too! It's not that difficult — I've got a full tutorial and assembly video to show you how.
Watch the full assembly video for the giant paper sunflower tutorial so you can see me put the sunflower together — pictures speak louder than words!
I'm excited to show you how to make a paper sunflower! This post contains some affiliate links for your convenience (which means if you make a purchase after clicking a link I will earn a small commission but it won't cost you a penny more)! Read my full disclosure policy.
Giant Paper Sunflower Craft Materials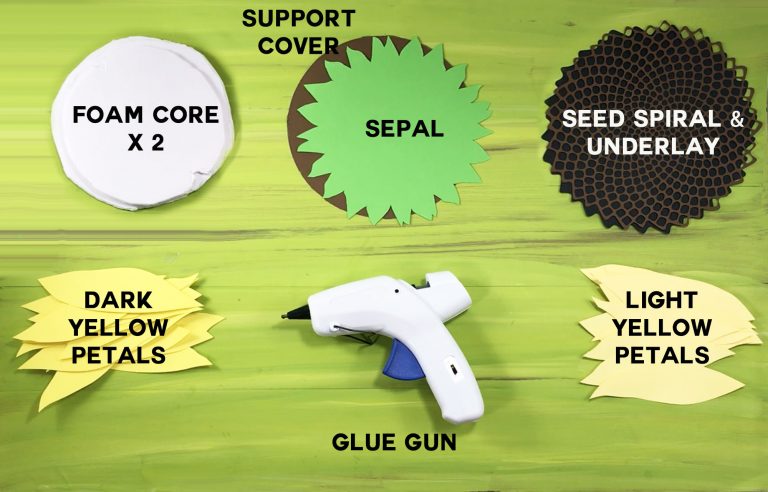 * Note on yellow cardstock: I used two different colors of yellow to give my sunflower more depth. Five sheets in bright yellow and four sheets in muted yellow.
How to Make a Big Paper Sunflower
First, cut out your petals, seed head, sepal (base), and foam core cover. You can cut everything with scissors or a cutting machine. If you cut things out with scissors, you'll want to print the seed head rather than try to cut it. If you're using a Cricut, simply upload the SVG file to Cricut Design Space and click Make It — everything is sized and in the correct number for you to just load up your mats with paper and feed them into your Cricut. There is no scoring or attaching to worry about.
Here is what the paper sunflower file looks like uploaded to Cricut Design Space.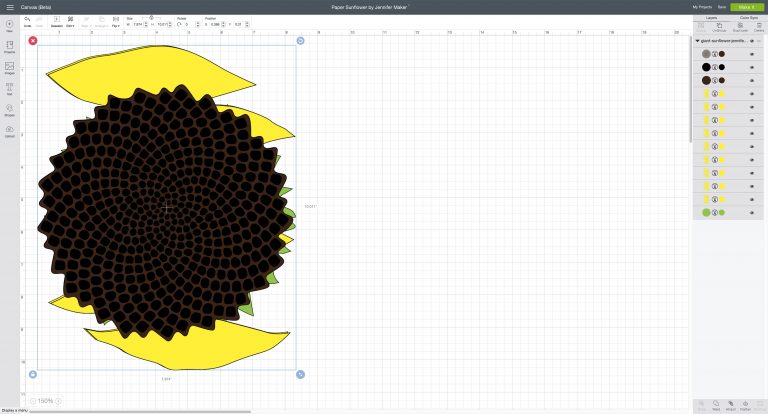 IMPORTANT NOTE: If you're not sure how to upload an SVG file to Cricut Design Space, or you're having issues (such as getting a message that says "unsupported file"), please watch my free training series, SVGs Made Simple. It will help you SO much!
Begin by attaching the spiral seed pattern to the black seed underlay. To do this, spray the backside of the spiral seed pattern with spray adhesive, wait 30 seconds, then attach it to the underlay. Pay attention to how it lines up so you get it in the right place. If you see spots where the spiral bumps out over the underlay, just keep rotating it until the bump-outs disappear. I show how to do this in the assembly video. Once attached, set the seed head aside.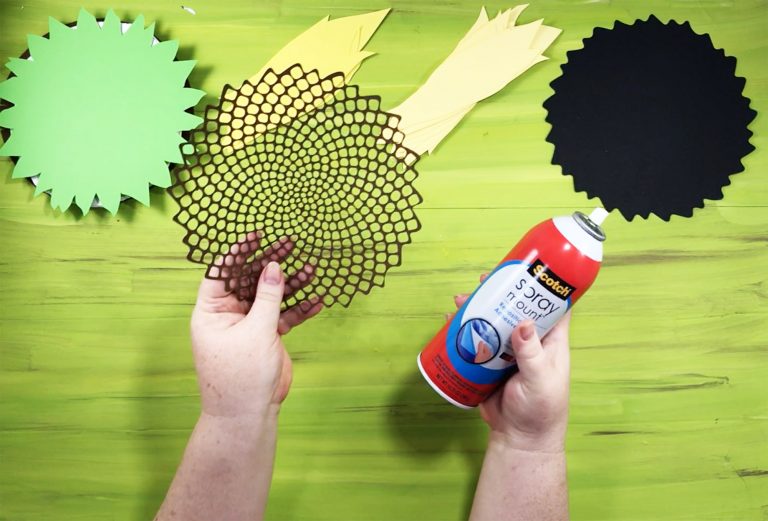 Now it's time to work on those petals. If you cut out petals on different intensities of yellow, start with the lighter colored petals. Start by creasing your petals lengthwise several times so you have about 7-8 creases parallel to each other on your petal, then smooth it out. This simulates the texture and shape of a real sunflower petal.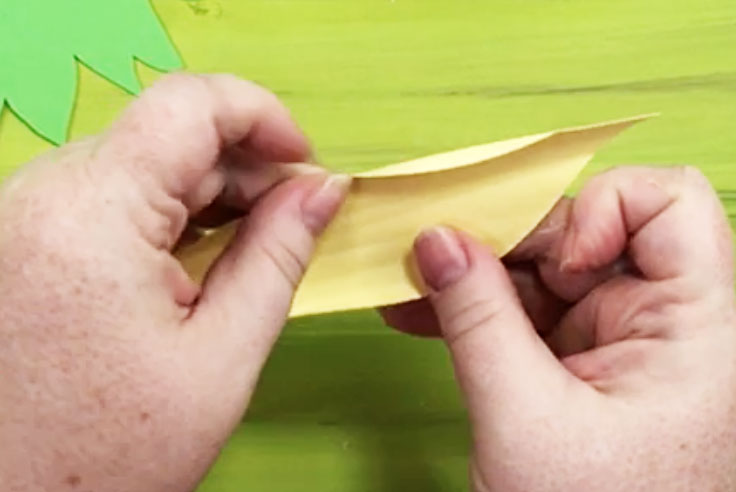 Once the petal is shaped, put a small dab of hot glue at one tip of your petal (whichever tip you want), then attach the petal tip to the edge of your sepal.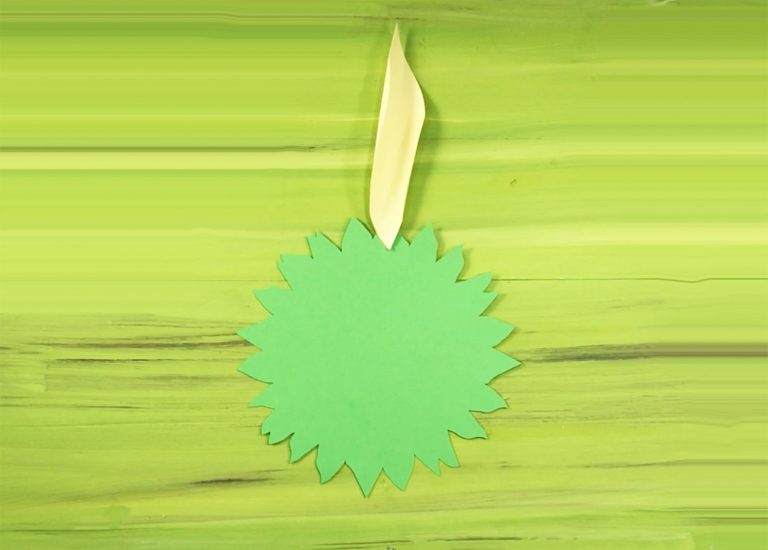 The next petal goes on directly across from the first. The third and fourth go at 90 degree angles to the first and second, so you have one petal at each of the cardinal points around your sepal. Doing it like this helps you keep your petals balanced, like a real sunflower.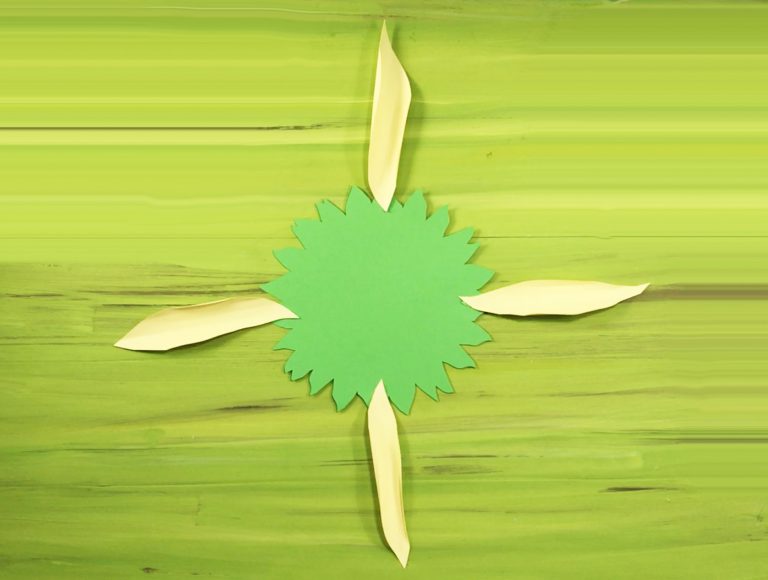 Continue shaping and attaching your petals around your sepal, filling in the spaces between petals as you go. Keep going until you have about 16 petals attached.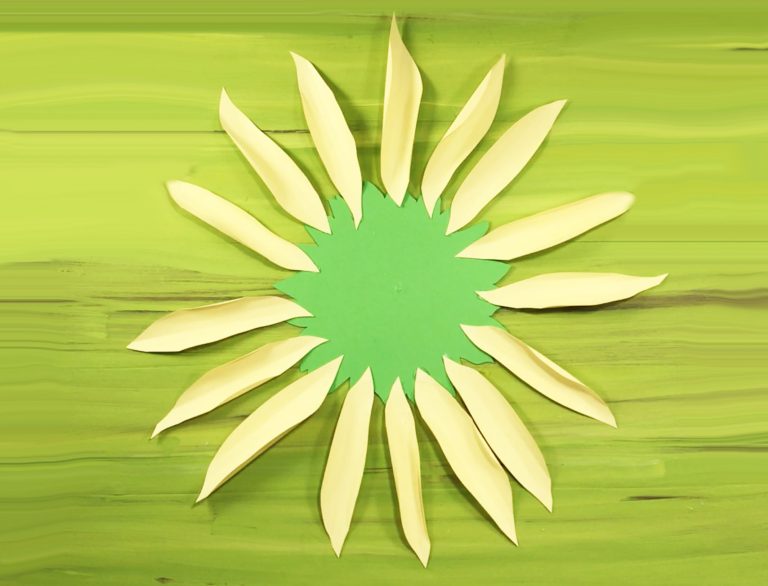 If you cut darker yellow petals, switch to using those now. Shape and attach petals and place these around your sepal, in between the petals you already attached. You should notice your sunflower start to fill in.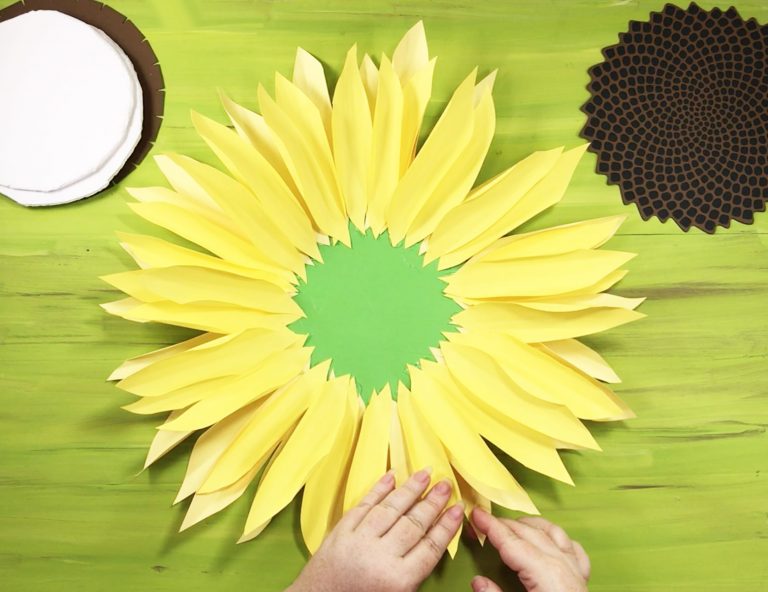 Once you've put another 16 petals on, take a good look at your sunflower. Do you see any gaps in petals? Use your remaining darker yellow petals to fill in those gaps.
Then go back and fill in any additional gaps with the lighter yellow petals, being sure to sandwich them between layers.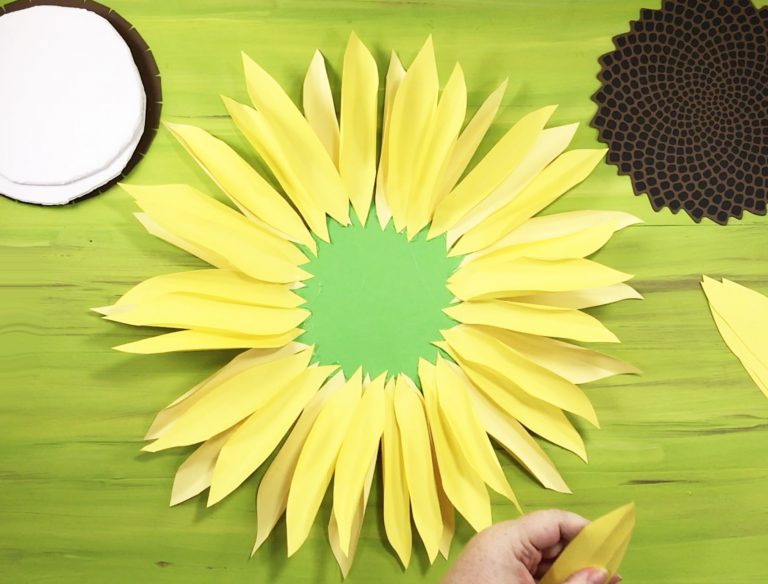 Once you have all 55 of your petals on your sunflower, it's time to build up the center. Cut out two circles from your foam core (I used regular scissors to cut them out). Your circles should be just under 6.5″ in diameter. Glue them to each other with hot glue.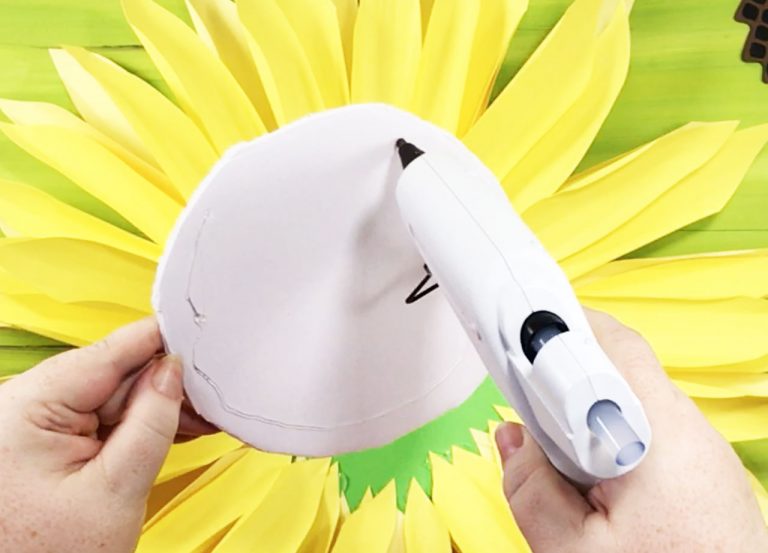 Now fold down the tabs on your foam cover piece, then attach to your glued circles. Glue down the tabs to the edge of your foam circles as well.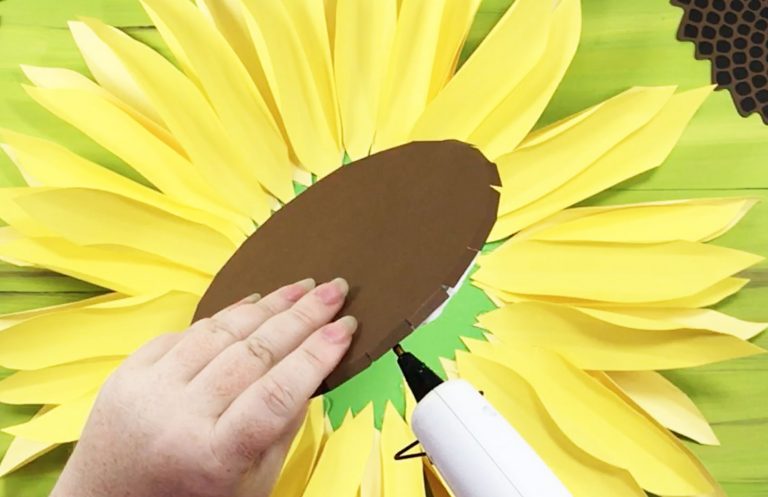 Now glue this center support to the very center of your paper sunflower, cardstock side up. It'll look like a big Thin Mint!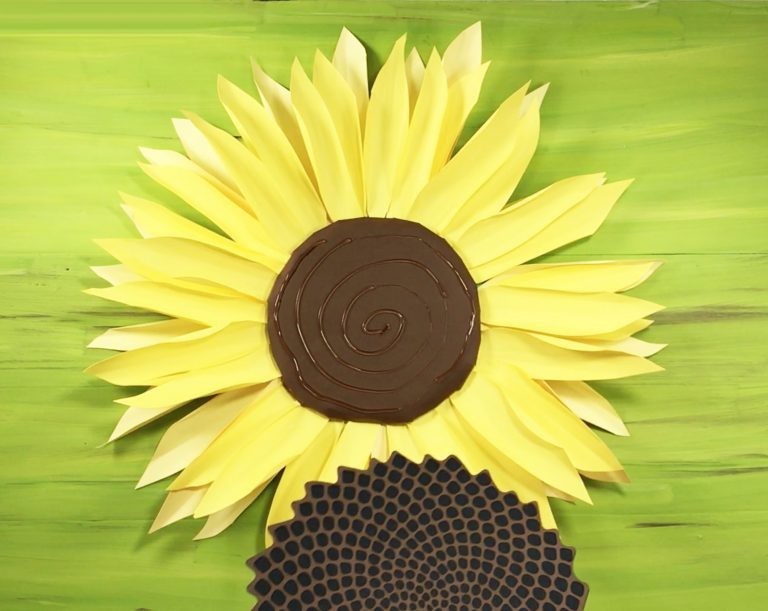 And now you can glue the seed head to the center support in your sunflower. Make sure you put hot glue in a spiral starting at the edge of the support and going all the way into the middle, then attach the seed head.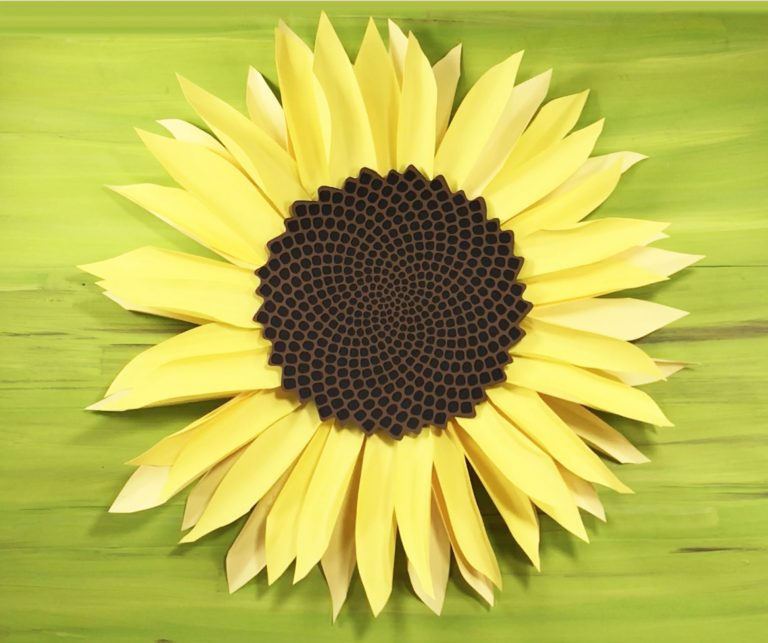 If you want to hang your paper sunflower on a wall or backdrop, cut out another circle about 5″ wide, cut two small notches in either side and then wrap stem wire around it. Glue the wire down on the back to keep it in place, then attach the hanger to the back of your flower with hot glue.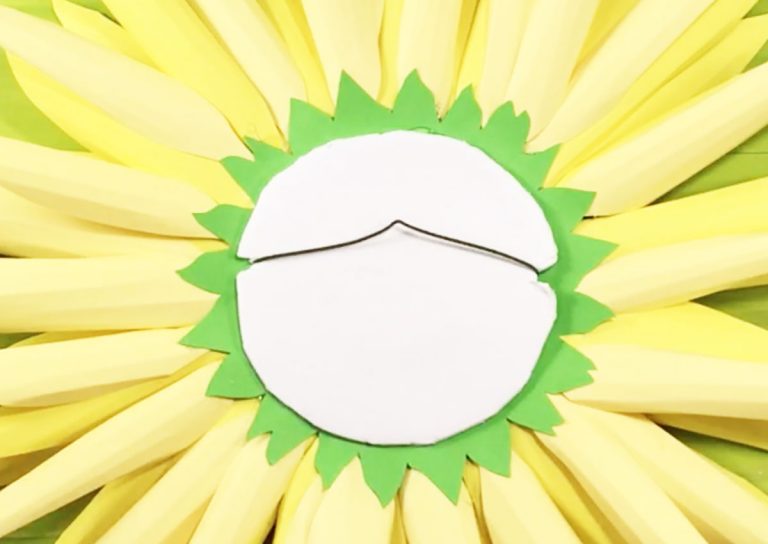 Want to attach a stem to your paper sunflower DIY? The easiest way is simply to put a dowel (wrapped in floral tape) through the hanger on the back of your sunflower, which is what I've done in my photos. If your sunflower will be seen from the backside as well as the front, cut out another green sepal piece, fold it in half, cut a slit in it along HALF of the fold's edge (sepal edge to sepal center), then put this around the top of your dowel at the back of your paper sunflower. Glue the sides of the slit so it makes a cone shape, then glue the cone itself to the back of your sunflower.
I think this giant sunflower paper flower is so cheerful! I've now made several of them and I'll be decorating my renovated craft room with them. You can also use them for decorating around the house, wedding receptions, photo backdrops, you name it. These paper sunflower decorations are really attention-getting and gorgeous. I'd love to hear what you make with this design. Please send me photos at [email protected], and I will include them here with your permission.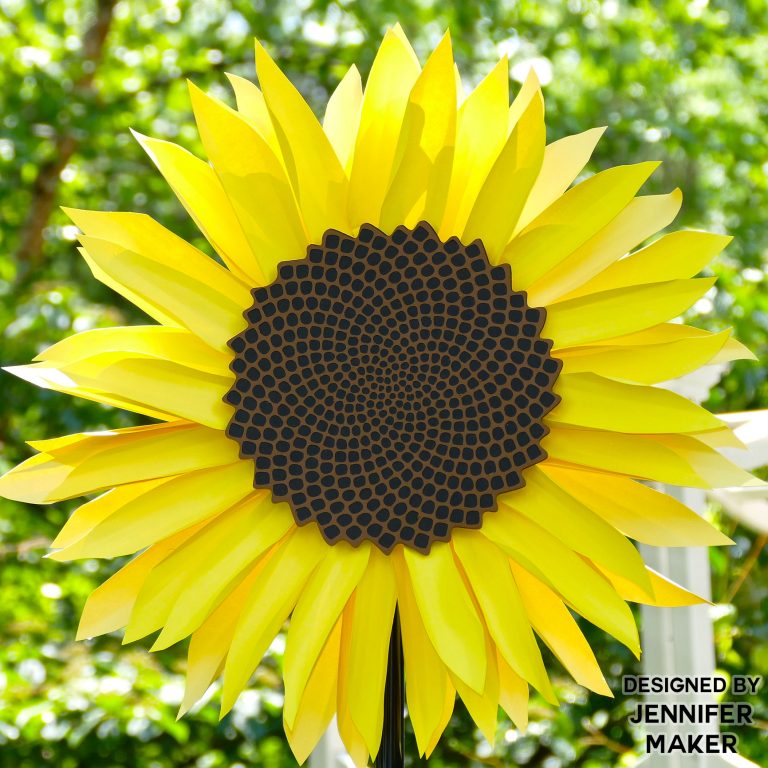 Free Cut Files for the Giant Paper Sunflower
Get the password for the library with the free giant sunflower pattern and giant sunflower SVG/DXF/PDF files here by filling out this form:
Love,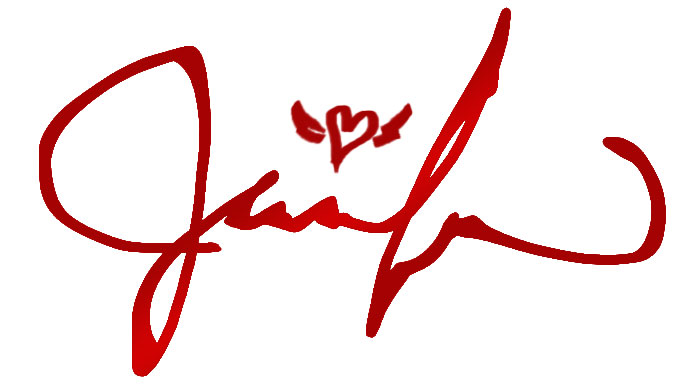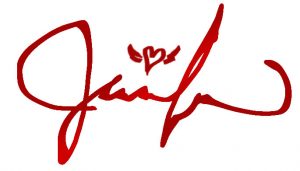 More Paper Flower Tutorials & SVG Cut Files
View all my paper flowers here.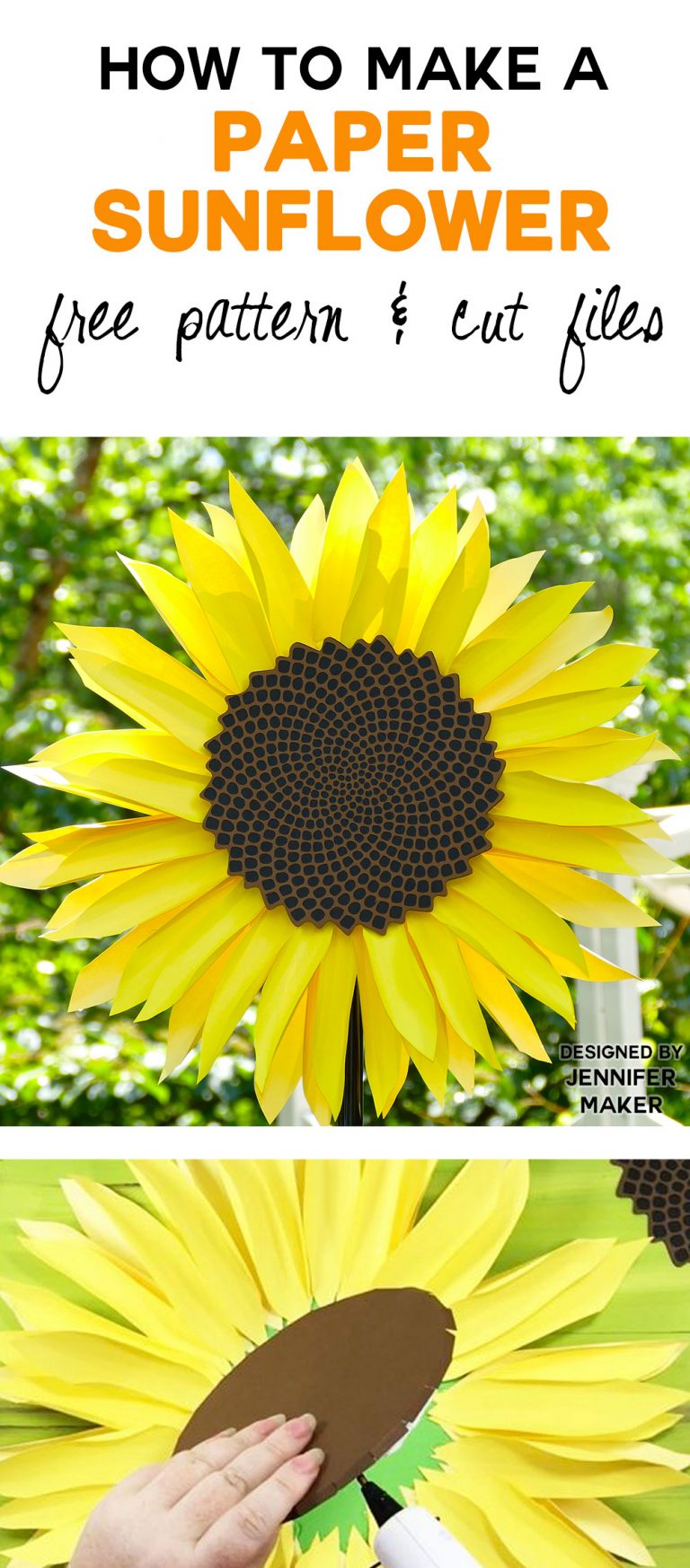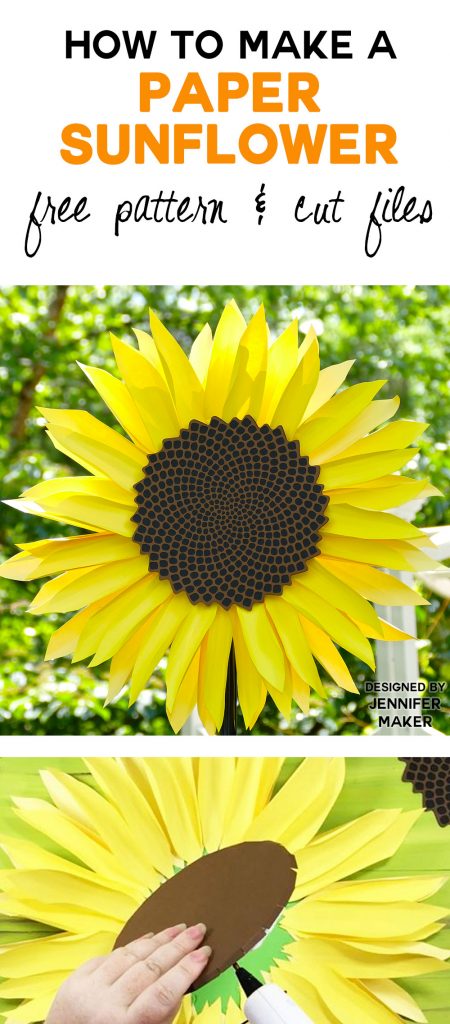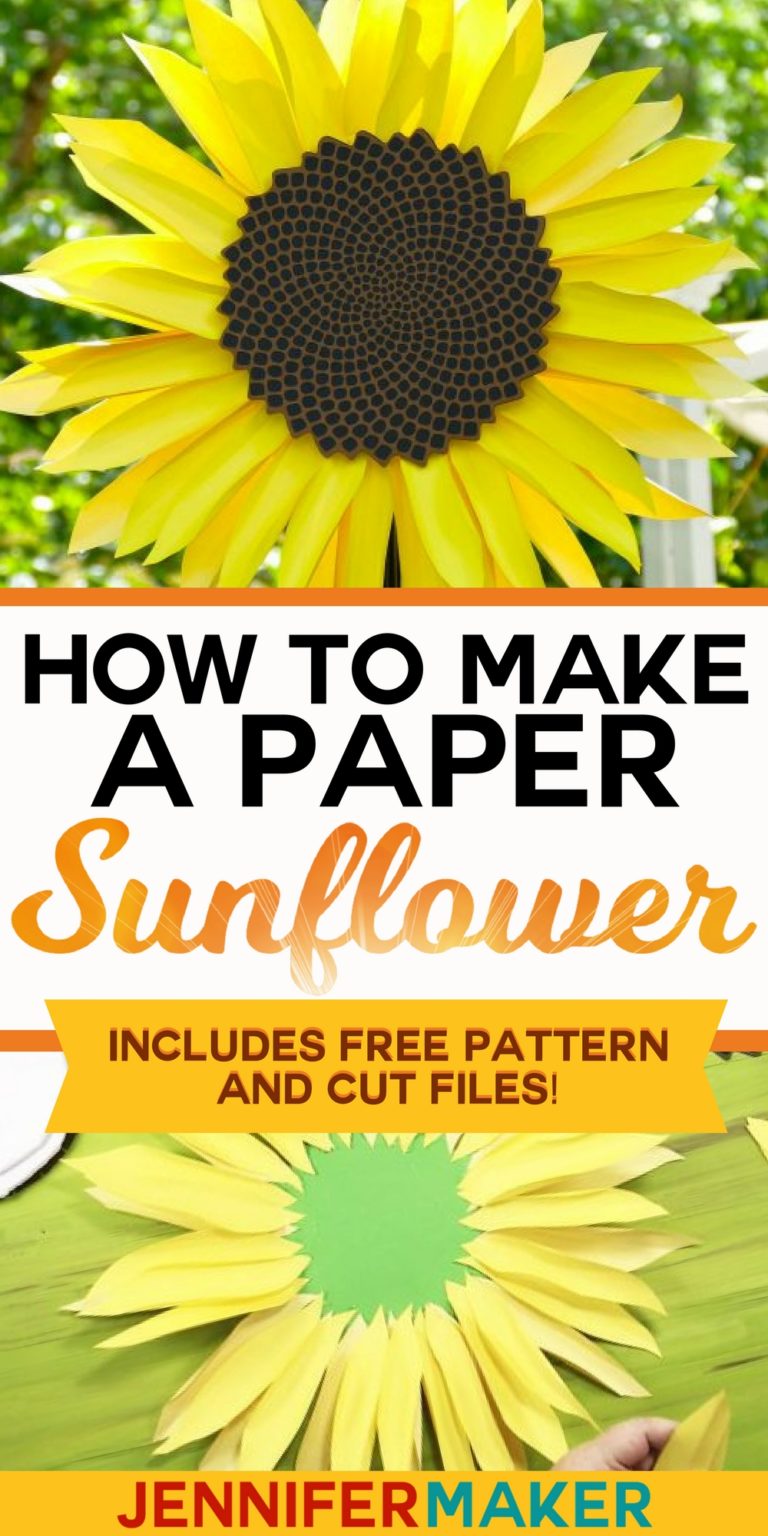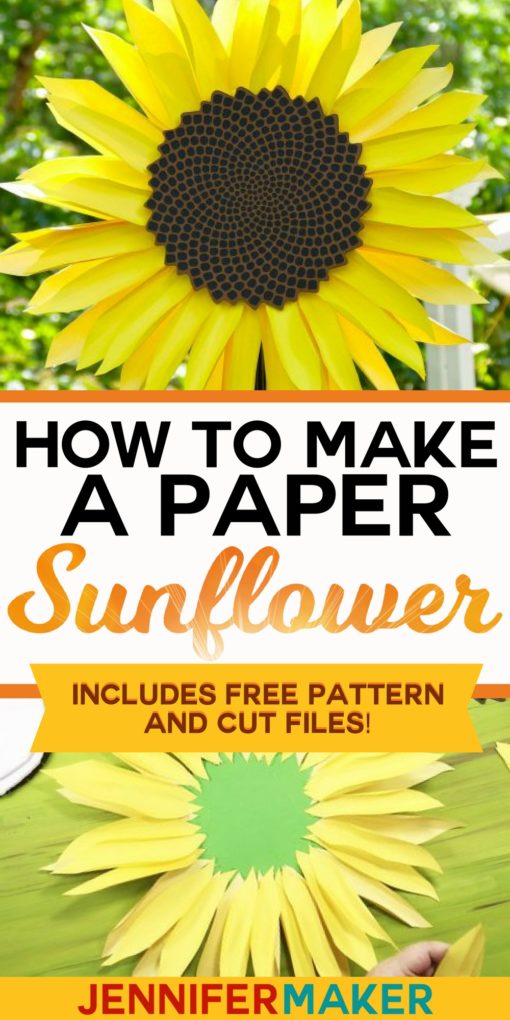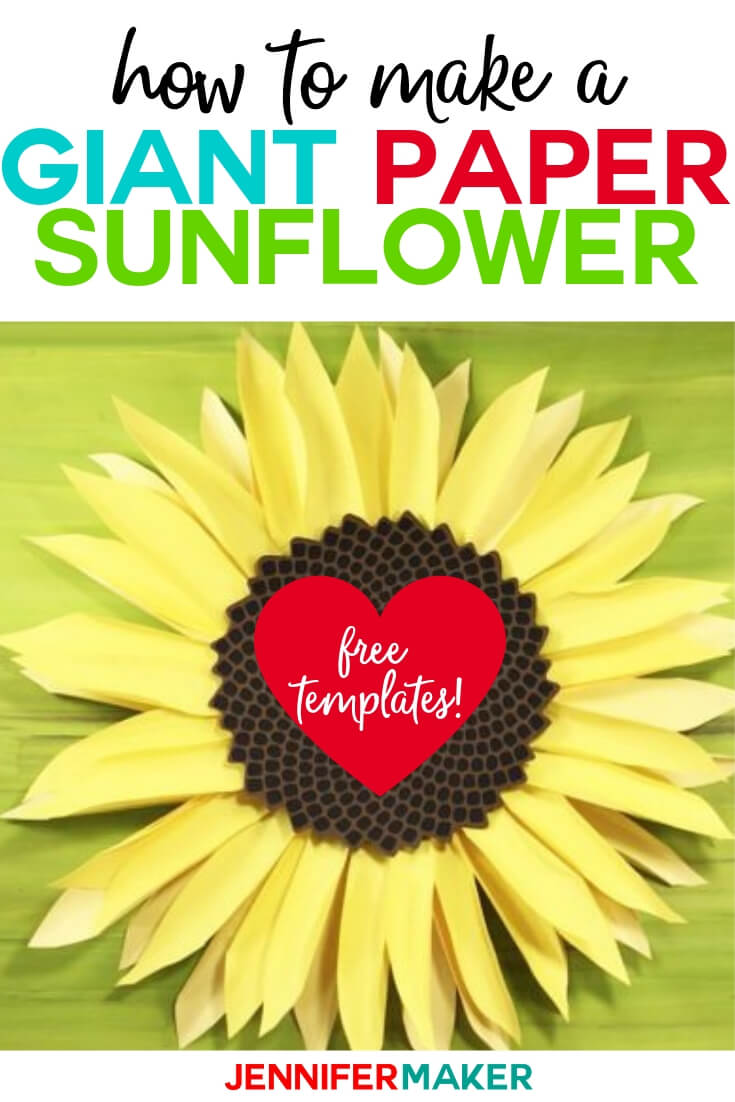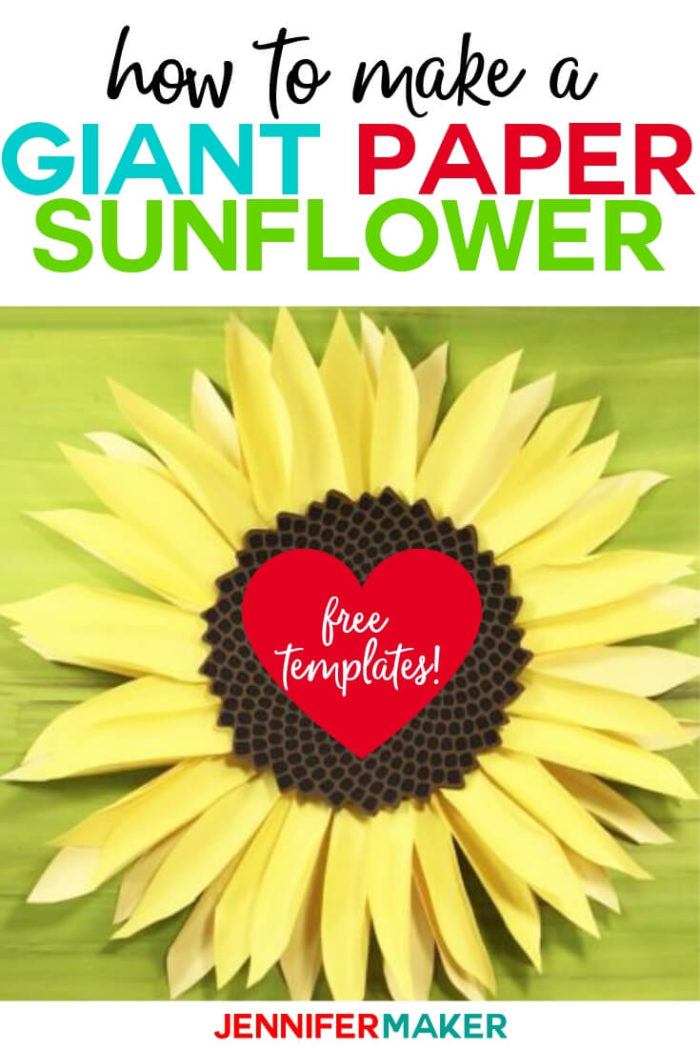 More Fun and Easy Craft Posts
DIY Dry Erase Board — So Simple & Cute
Make a Craft Supply Organizer in 5 Minutes!
DIY Paper Winged Heart with Hidden Messages
DIY Sharpie Mugs — Four Different Techniques
Do you like to make 3D paper crafting projects, too? Share and leave a comment below!