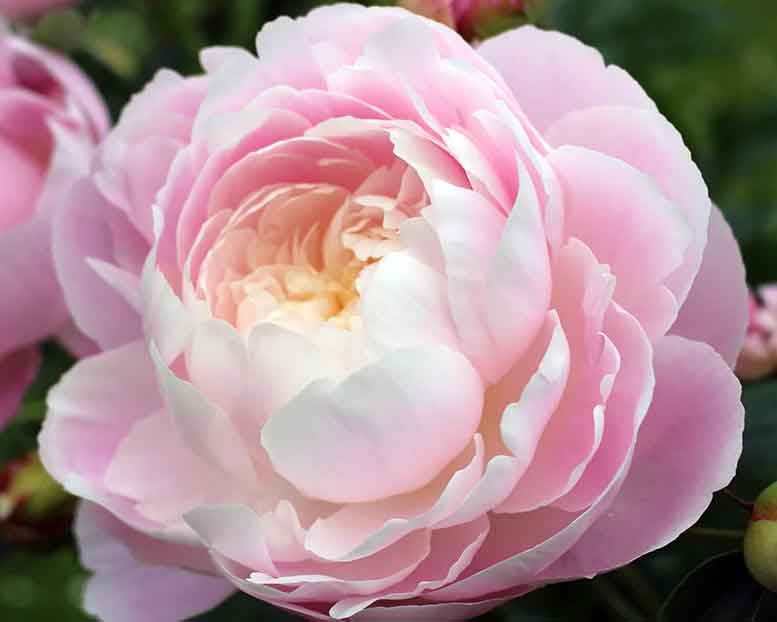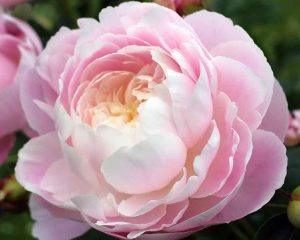 I've been enjoying the unseasonably warm weather! Would you believe it was nearly 70 degrees here in Ann Arbor yesterday? It's only February! And it feels like spring, which makes me think of flowers. It's way too early for real flowers, but I love papercrafting and I've learned how to make pretty rolled paper flowers. And unlike real flowers, these paper flowers will last much longer and require neither sun nor water. One of my favorite flowers is the peony, which grows on bushes in my front yard. The problem with peonies, however, is that they only last for about a week or so in June. Then they drop their petals in a gloriously messy explosion all over my lawn. So I set out to figure out how to make a rolled paper peony. I looked up the exact petal shape of the peony (it turns out the inner and outer petals are slightly different) and I created a pattern in Adobe Illustrator. It took a few tries to get right, but I believe I've made a simple pattern that is easy to roll and looks pretty.
Want to save this project? Enter your email below and we'll send the project straight to your inbox.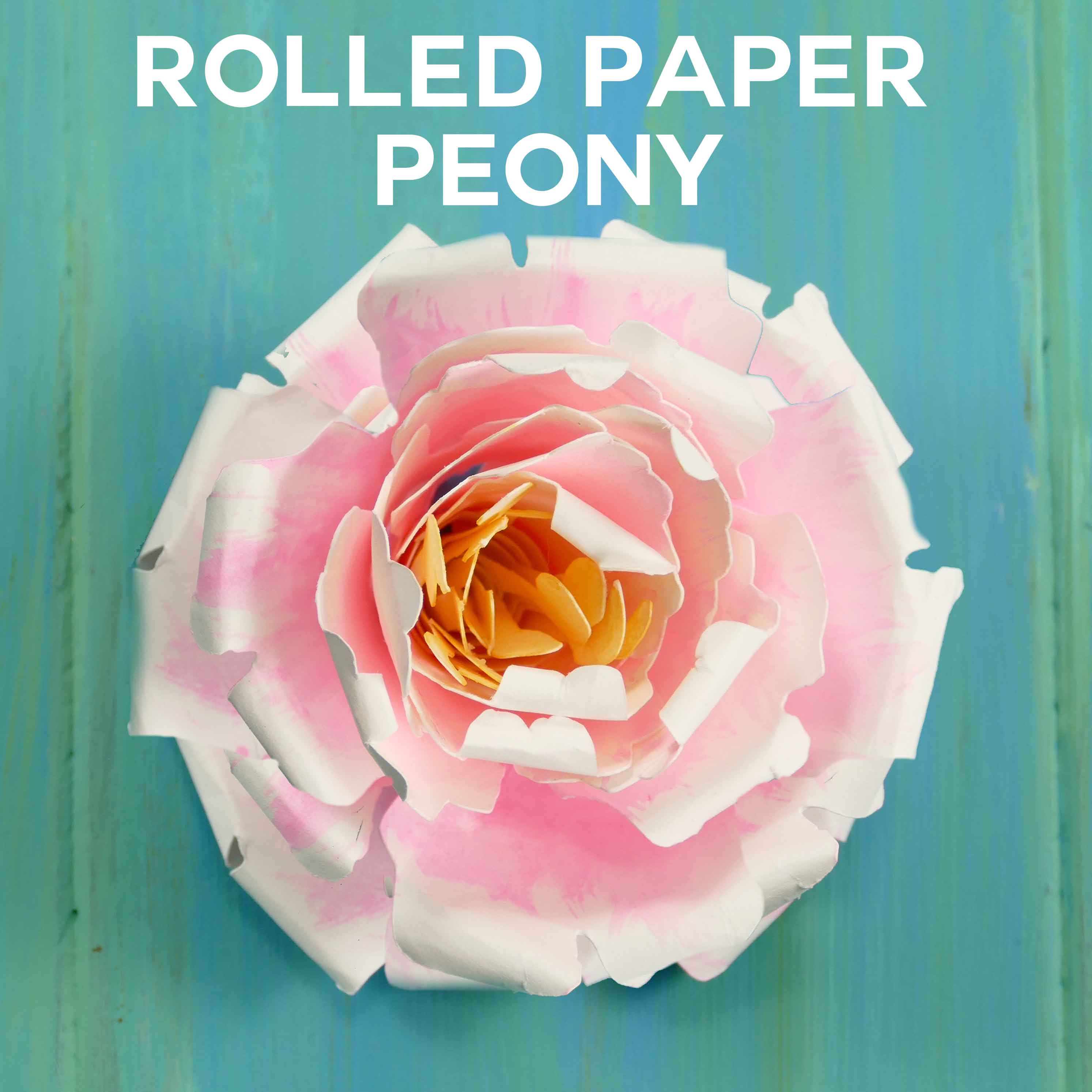 Fun Fact: These paper peony flowers were my very first Cricut design and tutorial, created less than a week after I got my cutting machine!
Anyone can make one of my paper peonies — you don't need to have special tools. That said, it is so much fun to use my new Cricut to cut out the pattern. I am in love with my Cricut. So I'm giving you both the cut file for the Cricut or Silhouette, as well as a simple pattern if you use scissors to cut it out instead.
Tip: I've made my FIRST craft video that features this project! Check it out here or at the link later on in the article.
Rolled Paper Peony Materials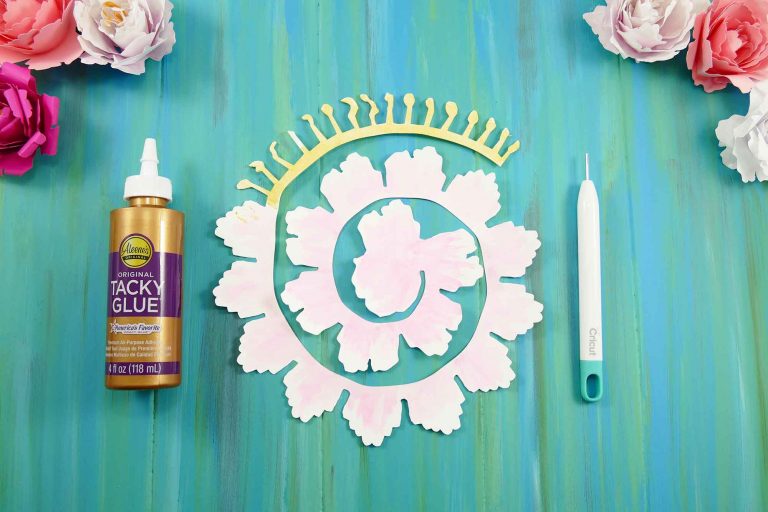 This post contains some affiliate links for your convenience (which means if you make a purchase after clicking a link I will earn a small commission and it won't cost you a penny more)! Read my full disclosure policy.

Oh! Have I mentioned yet that I bought a Cricut Explore Air 2? Oh my … it's amazing. I bought a rose gold version from Joann Fabric & Craft store that came with some extras. I'm having SO much fun with it! I am now making my own designs (as you can tell from this post) and it's really powerful. You can expect to see a lot more projects that involve the Cricut in some way in the future, as well as more cut files!

How to Make Paper Peonies: Step-By-Step Tutorial
If you plan to cut out your peony using scissors, download my free patterns (Design #17) from my Resource Library (you'll need the password, which you can get my subscribing for free to my newsletter—see the signup box at the very bottom of this page). I have two—one is just the flower outline (a peony flower SVG), the other is the flower outline (peony paper template) with pre-painted petals and stamen, like shown in the video I made. If you plan to use a cutting machine like a Cricut, I also put the peony SVG cut file and DXF cut files in my Resource Library.
UPDATE: In July 2017 I updated this file to include the circle at the end, which helps finish off the flower and keep it all neat and tidy. You will not see that end circle reflected in my images or the video, however, as they were all taken before I modified it. But I have updated the directions in this post to account for it.
Here's what the paper peony flower looks like in Cricut Design Space: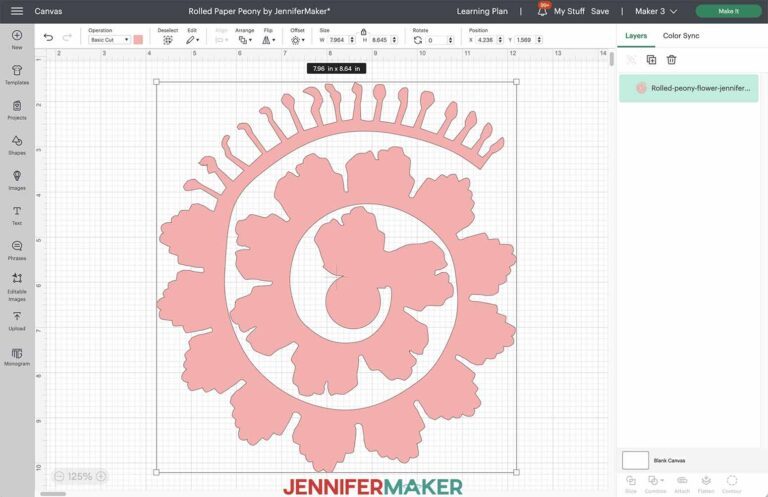 Cut out the peony pattern using your preferred cutting method. If you're using a Cricut, cut yours as big as possible — real peonies are pretty huge. You can optionally color your flower, as I have done. Water colors look very pretty, because you can mimic the soft graduation of color from the inside to the out. Markers would also make a statement. You can leave it plain—it's your choice.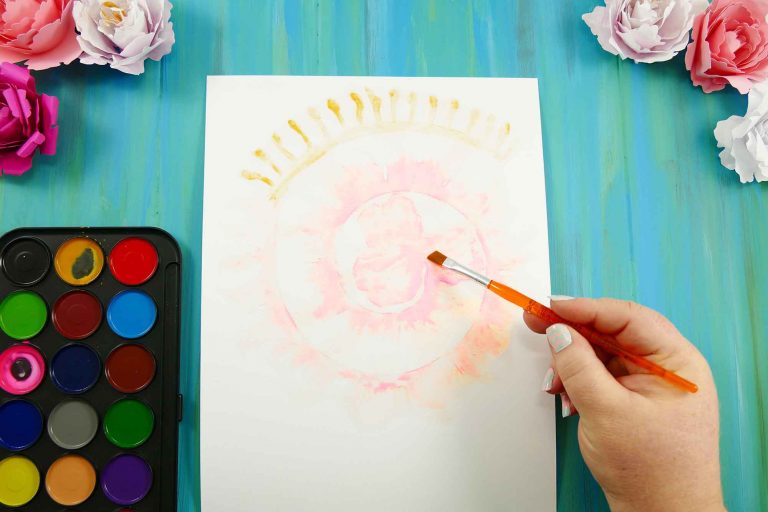 You can also optionally distress the petals for a more natural look. Real peony petals have texture and curves. I like to distress them in one of two ways. One way is to put the petals on a piece of foam and use the blunt, curved end of a tool to rub the paper. But another way is to simple ball up and crumple the petals (leave the stamen untouched), then smooth it all out. Works like a charm.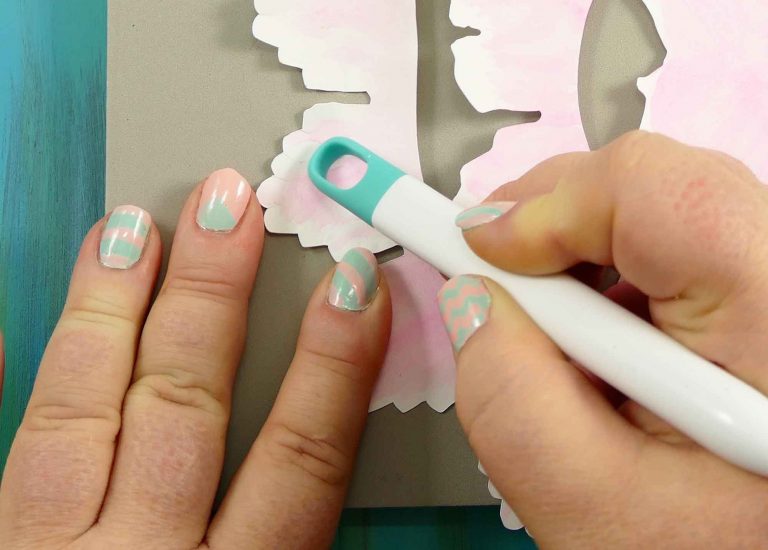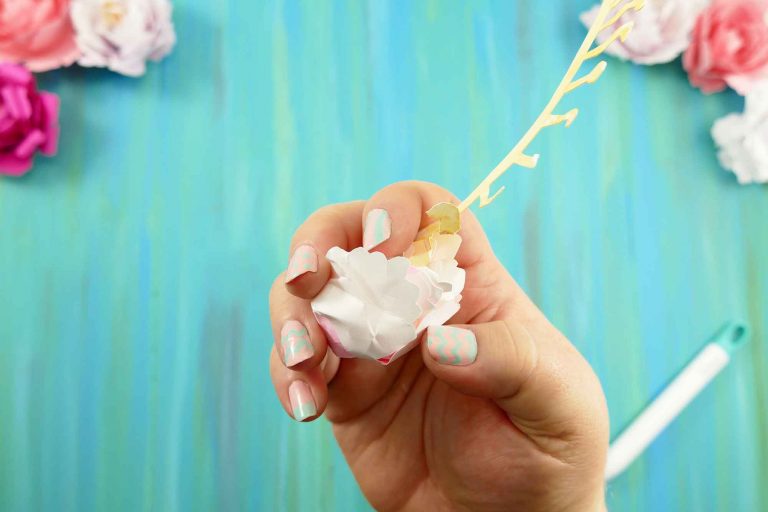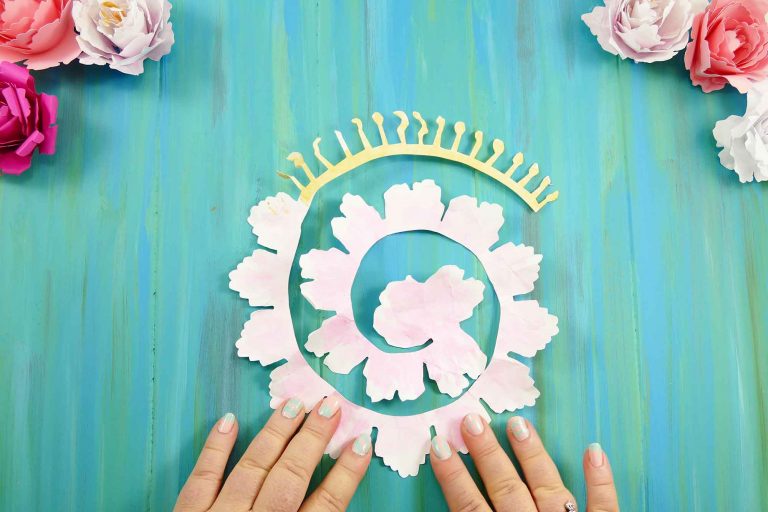 Now it's time to roll the flower! If you have a quilling tool, insert the loose end of the pattern (where the stamen are) into the slot at the end of your tool and begin rolling toward you. If you use pliers or tweezers, just keep a firm grip on them so the paper stays in place as you roll them toward you.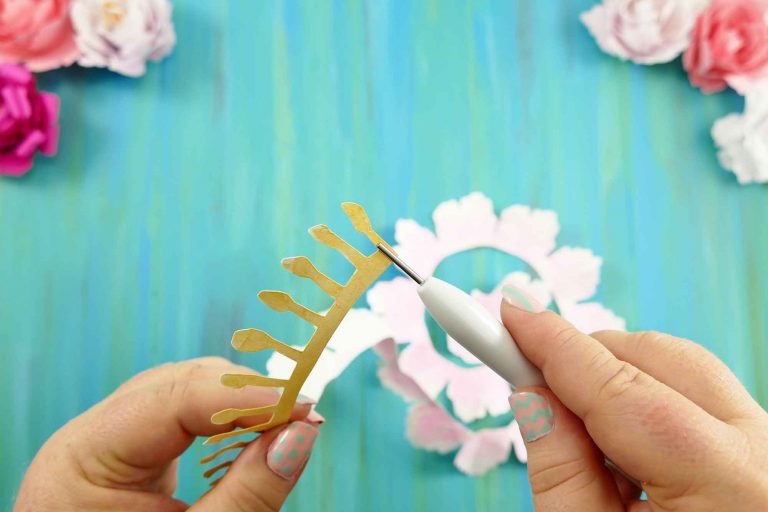 Try to keep the bottom edge of the paper aligned with itself as you wind the paper. It will get a bit more difficult to wind it as you get more and more paper on the tool. You can use your finger to guide it as you wind it. Eventually, the paper will resist staying aligned with the bottom — this is fine, so long as you keep it on the tool and mostly above the handle.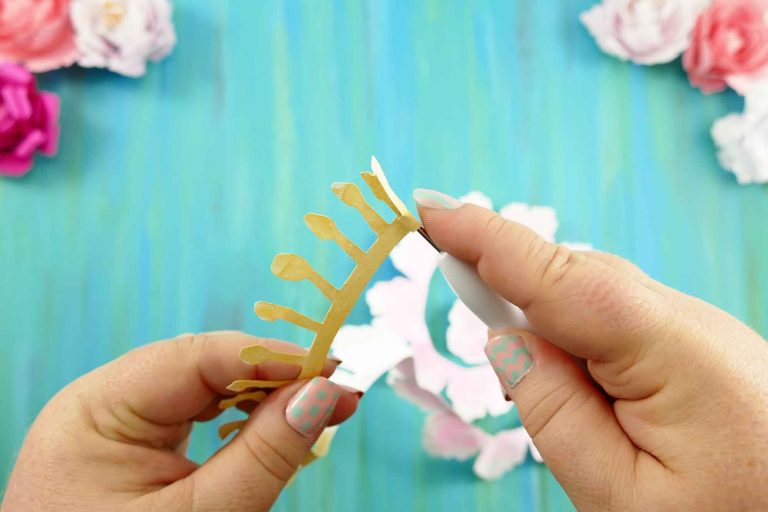 Once you've wound all the petals onto the quilling tool, fold up the bottom petal.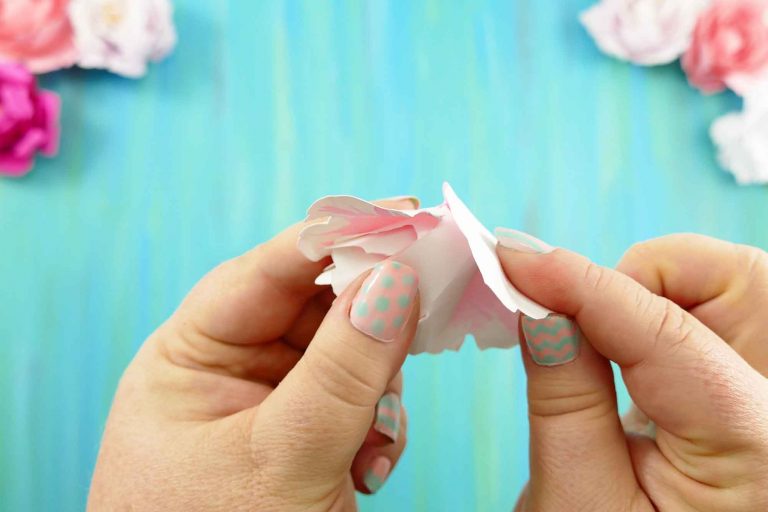 Now release the paper and your flower will unfurl before your eyes. You can keep it in a bud shape, but I prefer to encourage it to open up more by gently twisting the center in the opposite direction it was wound.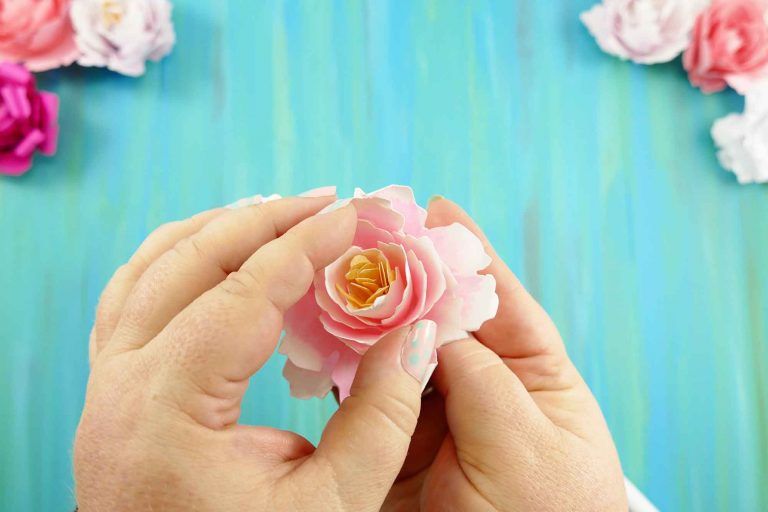 When you have your flower opened up the way you want it, put some glue on the bottom CIRCLE (updated July 2017), fold it so it tucks under the flower itself, and gently press down on the stamen and petals to make sure the bottom touches the flower while the glue sets.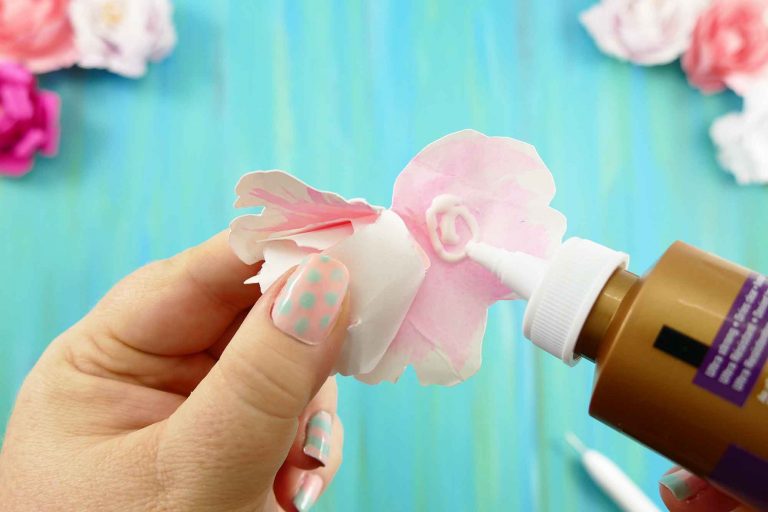 I like to use my quilling tool to curl the outer petals outward and the inner petals inward, just like the petals of a peony.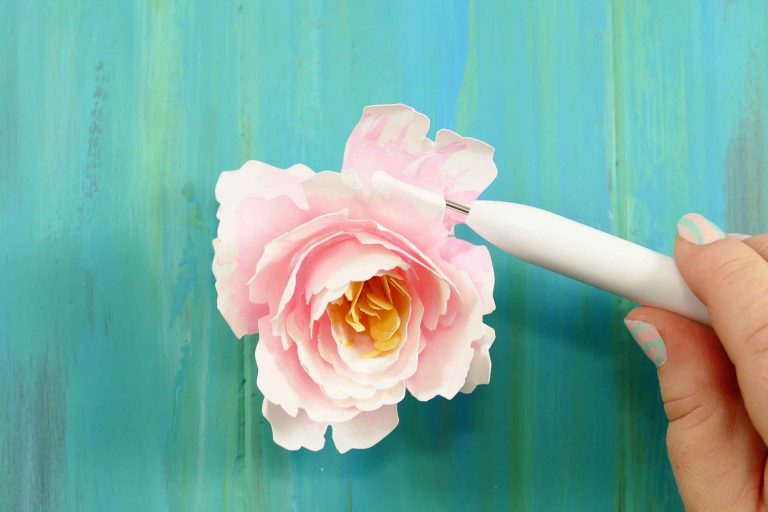 You can make peonies with different kinds of paper. You can crumble or wrinkle the paper before you quill it for a more natural look, too. Try experimenting with different colors and sizes!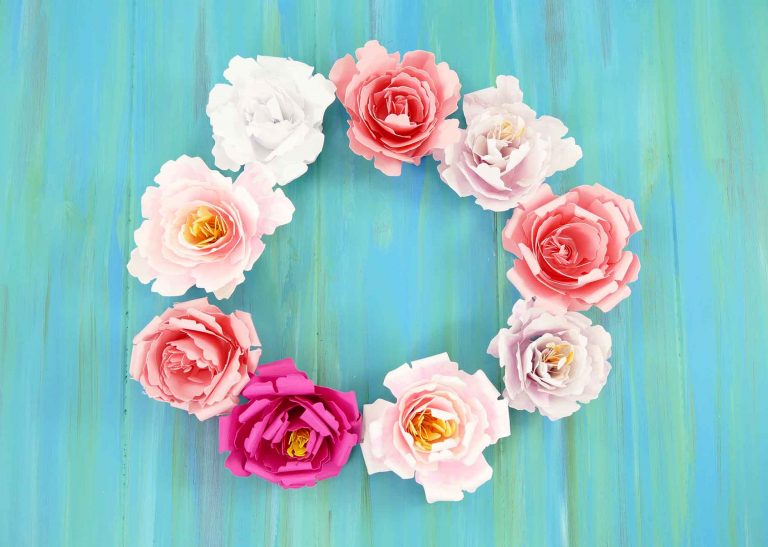 Want to see how to make the paper peony in real-time? Check out my video below—and please subscribe to my channel while you're there to be notified of other awesome craft videos!
Like these rolled paper flowers? I have made more patterns — I have a rose, tulip, daisy, magnolia, carnation, and sunflower. I also have a project planned that uses all these flowers together, too! (Update: I made it — it's a paper flower wreath! See it on my paper daisies post.)
Free Cut Files for the Rolled Paper Peony
You can get the password to my resource library that has ALL of my free cut files in it by filling out this form:
Love,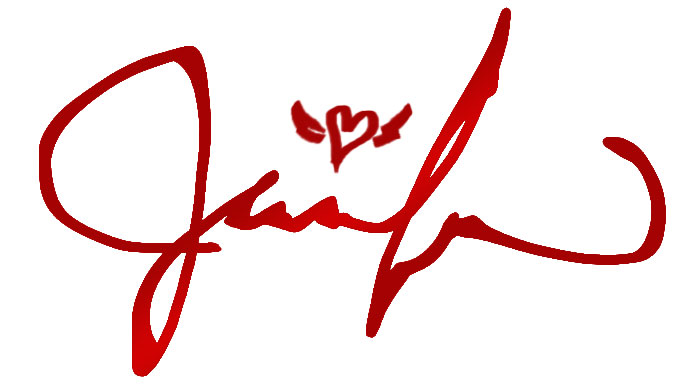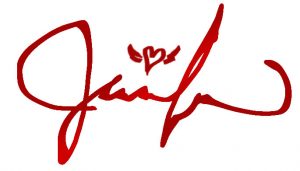 P.S. If you'd rather make giant peony flowers, I have a tutorial for those, too!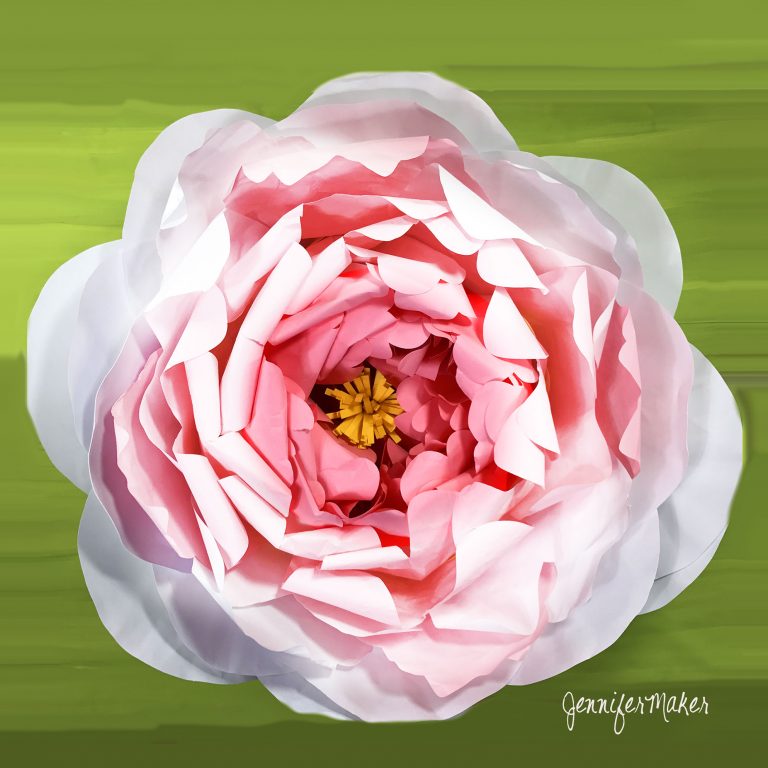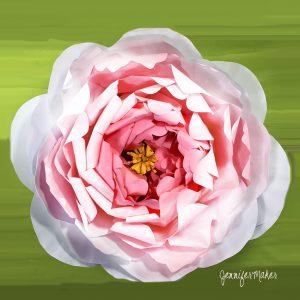 I also have a crepe paper peony!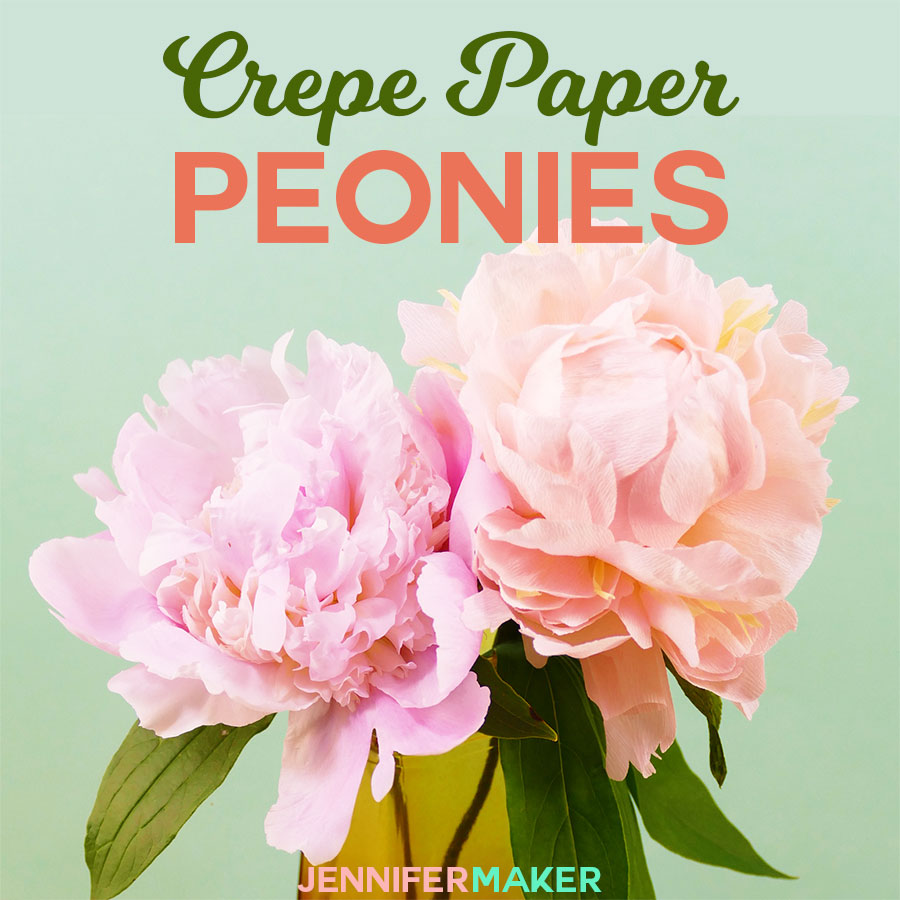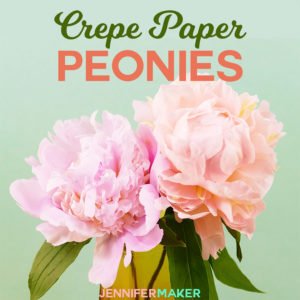 More Paper Flower Tutorials & SVG Cut Files
View all my paper flowers here.