Entertaining is fun with these gorgeous DIY charcuterie boards, creating what is essentially an infinitely customizable serving tray!
Personalized serving trays are perfect for entertaining. And right now the trend is charcuterie boards — they are crazy popular! So I thought, how can I make one with my Cricut? I came up with a fun DIY charcuterie board project I just have to share! This is a fun and easy way to customize your very own charcuterie tray. I made four different designs that are ready to be cut and added to your tray. I'm also going to show you how to make a custom design from a blank template.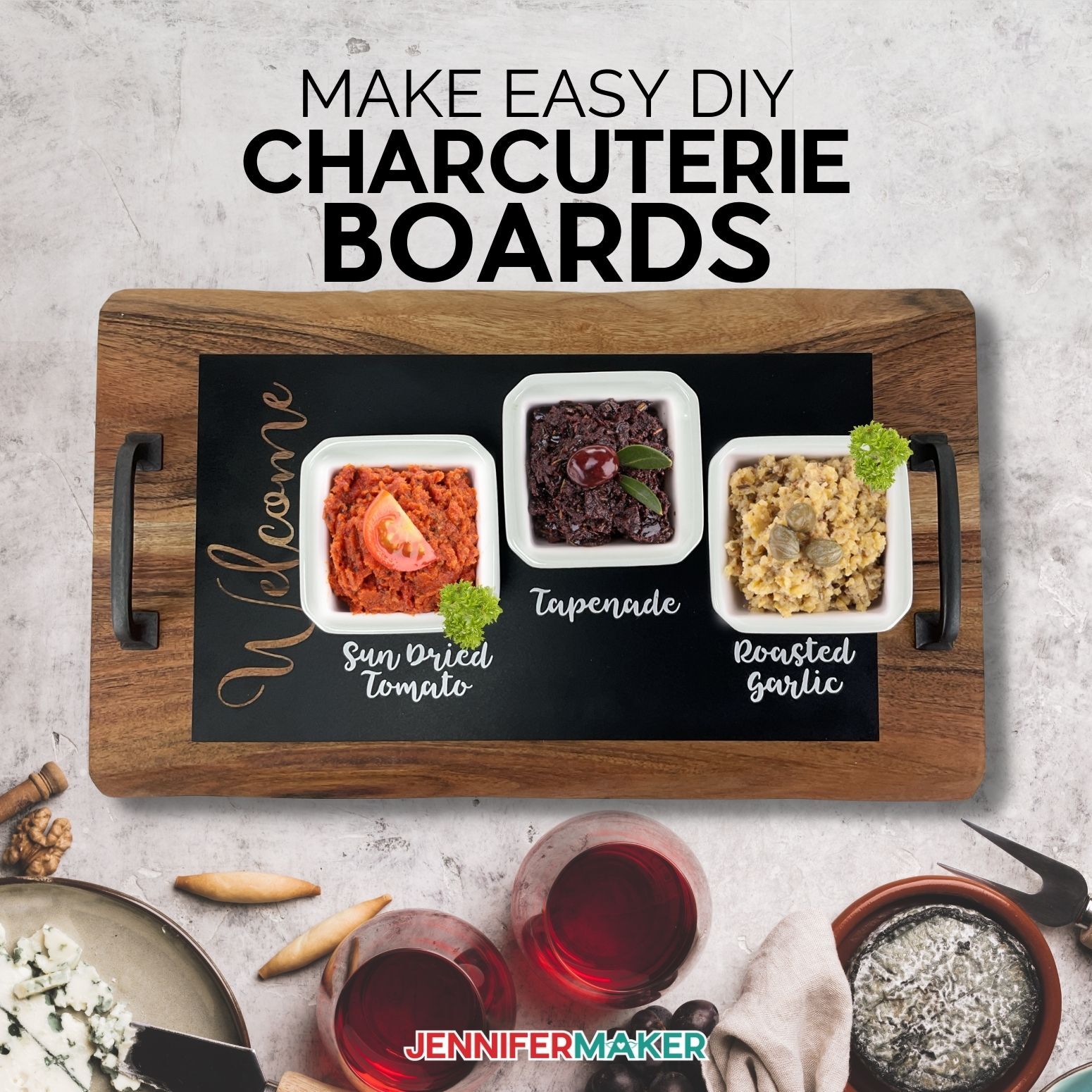 Let's take a look at the materials we will need for this DIY charcuterie board project.
We will start with a tray, mine is made from hand crafted acacia wood and measures approximately 15 by 9 inches. Isn't this wood so beautiful? Originating from one of the largest wood plantations in Asia, Mountain Woods products are farmed using responsible and environmentally friendly forestry practices. It's a win-win!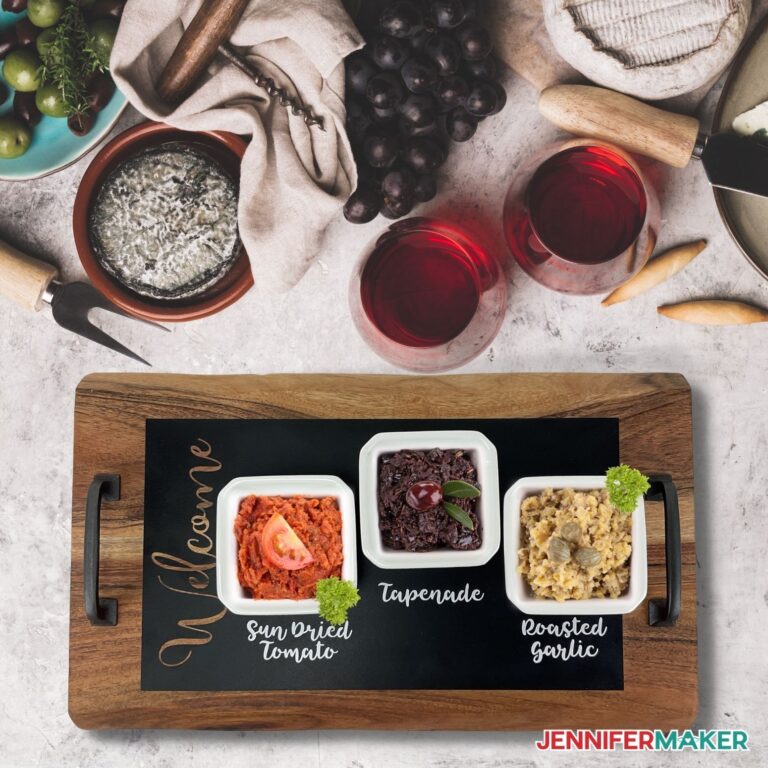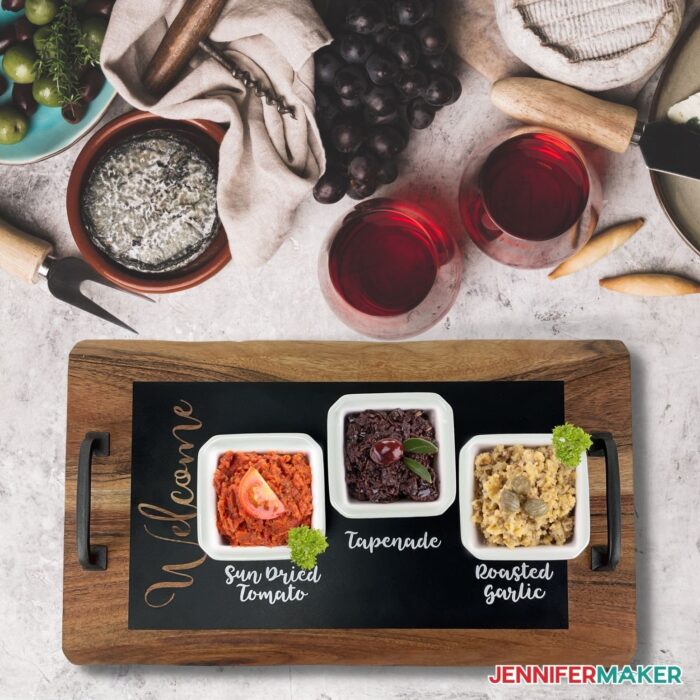 We'll also need some handles, I got these three inch brass handles that we will add with the help of our drill. Then we will need some vinyl, I'm using chalkboard vinyl and some white removable vinyl, along with some transfer tape. Next, we'll write on our board with chalk or chalk markers, whichever you prefer. And of course we will use our Cricut cutting machine and a mat, along with a weeding tool and extra large scraper.
And with the chalkboard vinyl, you can use chalk or chalk markers to label your board. But, that's not all, I'm also showing you how to make faux chalk labels!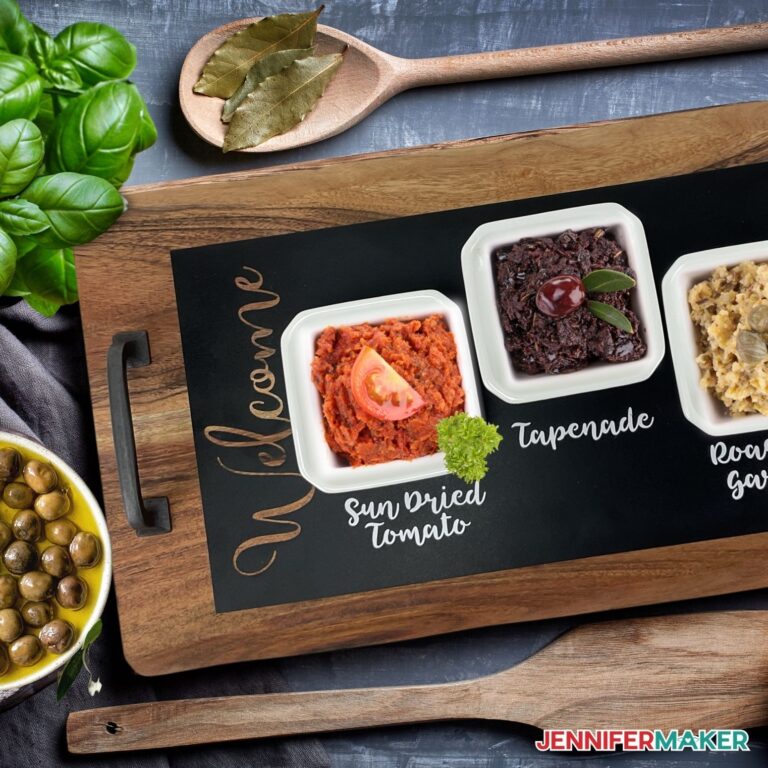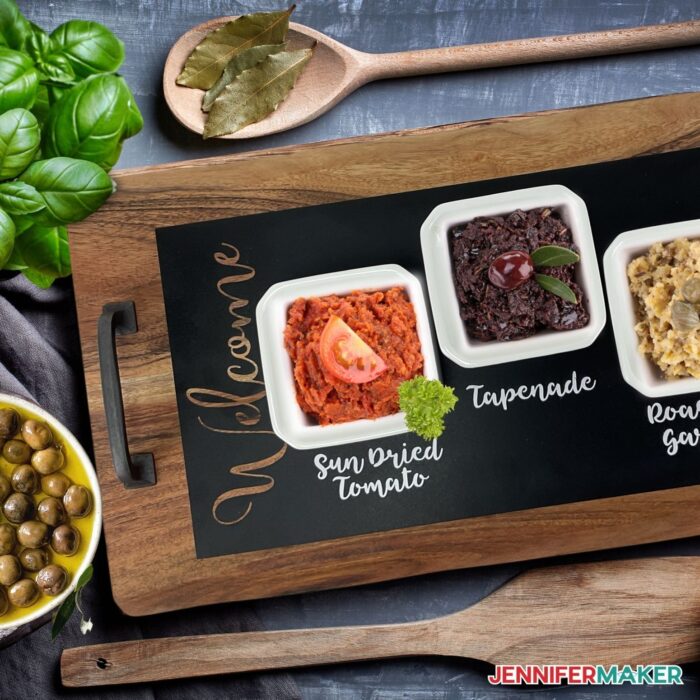 Add small bowls or plates of food and you're ready to host your next party! You're sure to wow your guests and have them asking where they can purchase one as well!
I've seen lots of charcuterie boards over the past years and they've become increasingly popular. I've seen some create-a-cheese platters with a variety of cheeses. Others have fresh fruit, cured meats, fresh herbs, hard cheeses.
If you are hosting a special occasion, such as a birthday or holiday, add your favorite things to your charcuterie board and it's sure to be a big hit!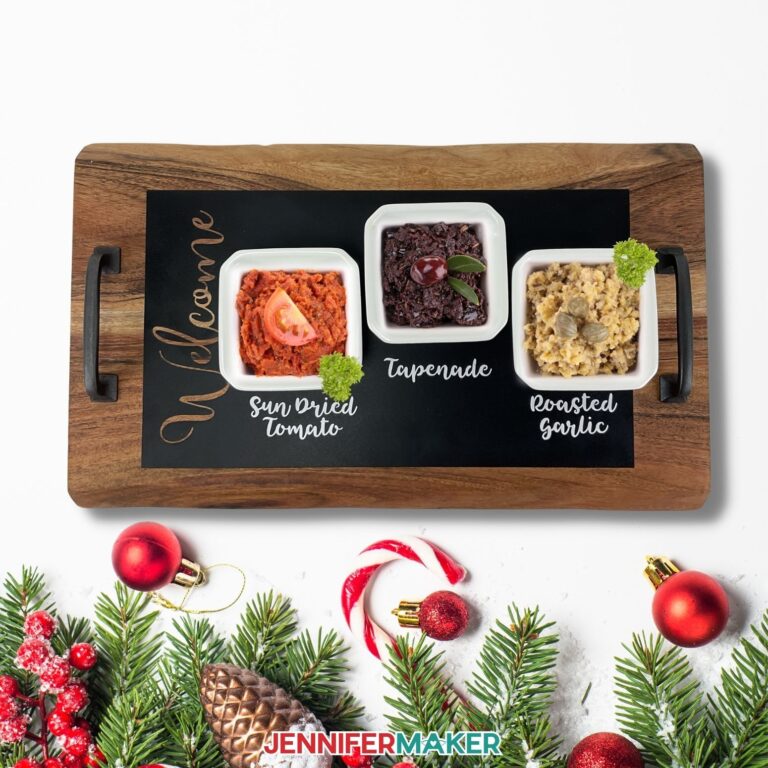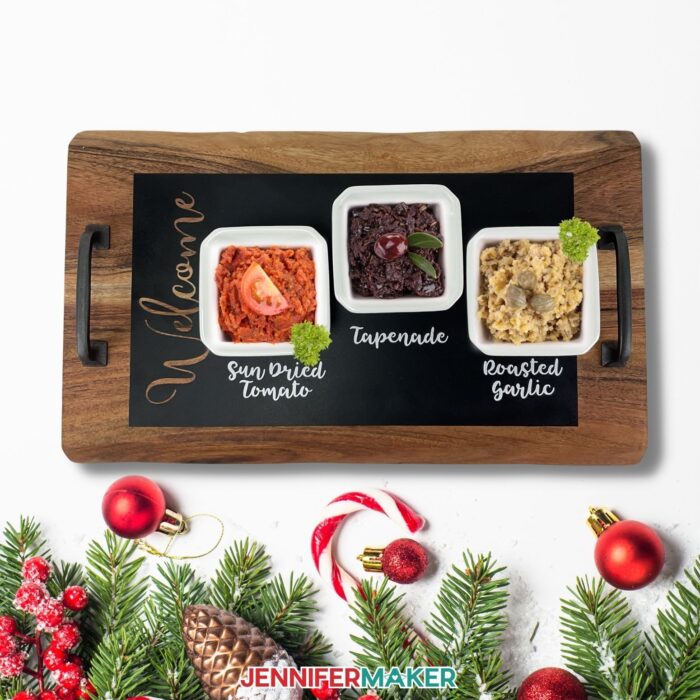 Here's a supply list of what you need to make your charcuterie boards! This post contains some affiliate links for your convenience (which means if you make a purchase after clicking a link I will earn a small commission but it won't cost you a penny more)! Read my full disclosure policy.
Materials to Make DIY Charcuterie Boards
View my Amazon shopping list with the exact items we used to make this project
How to Make Your Own DIY Charcuterie Boards
The detailed step-by-step assembly video on how to create these personalized vinyl letter decals was broadcast during Maker Academy Weekend 2021. Get a pass to watch all 20+ workshops, each with a printable handbook, transcript, audio files, design files, and support with a VIP pass below: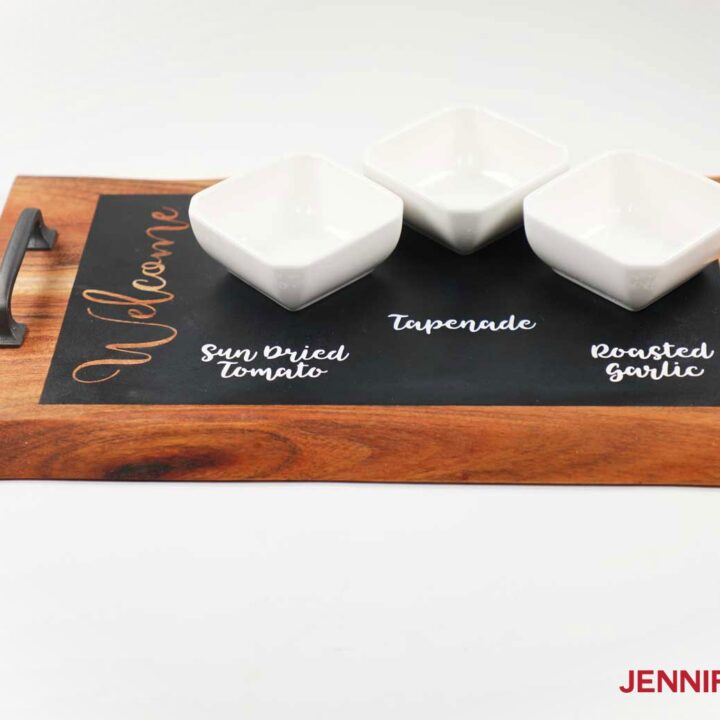 Charcuterie Trays
Total Time:
1 hour
15 minutes
Entertaining is fun with this gorgeous customizable serving tray!
I absolutely love how these turned out! It's pretty easy to turn a simple charcuterie board into a beautiful charcuterie board. Now just imagine your favorite assortment of meats, a few slices of cheese, dried fruit, and you've just created the perfect charcuterie board and are bound to have a great day!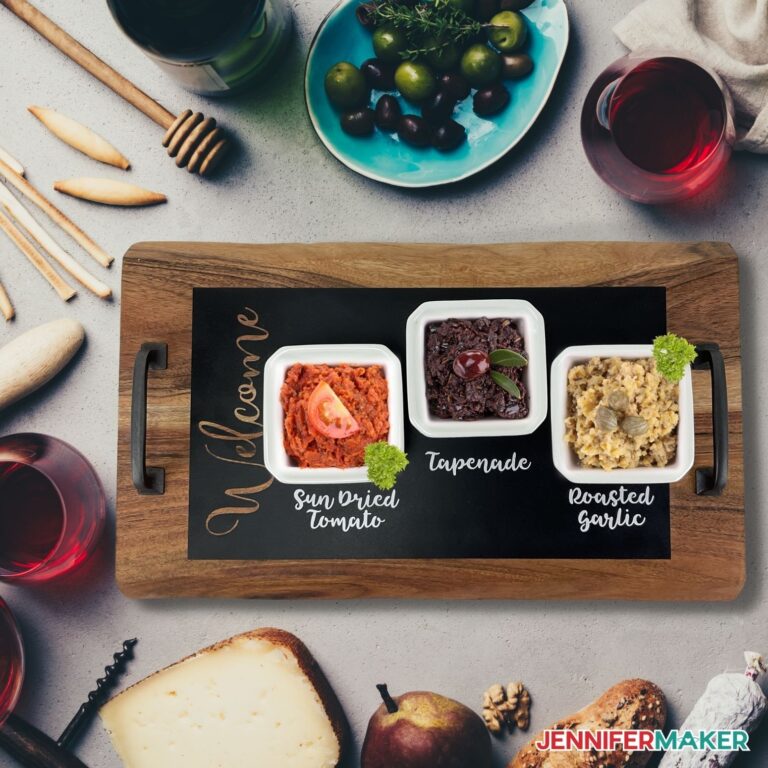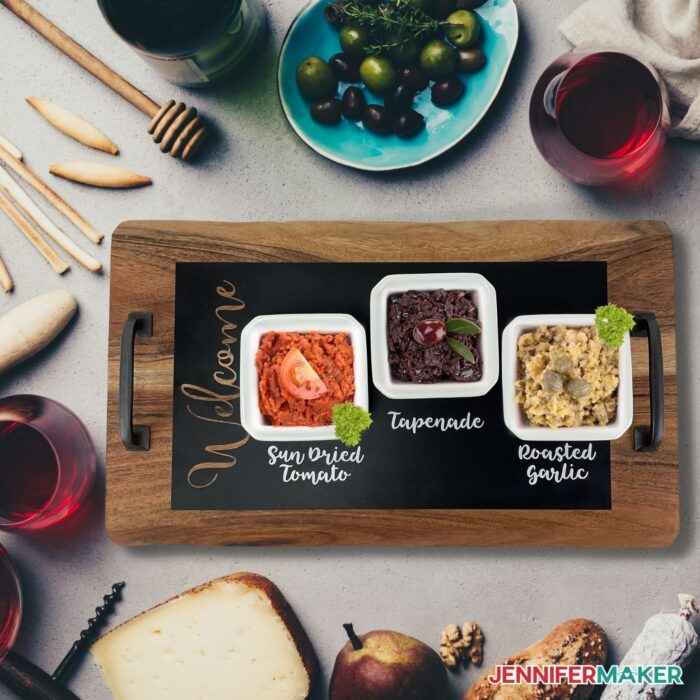 Answers to Your Questions About How to Make Your DIY Charcuterie Boards
Q: Where is your tutorial for this charcuterie tray project?
This is a special project we made for our free Maker Academy Weekend event! A complete and detailed step-by-step video premiered during the event November 4-7, 2021. Get access to the workshop video and printable workbook with a VIP Pass to Maker Academy Weekend 2021, which comes with other perks and bonuses, too!
Q: My store doesn't have any charcuterie boards! Where do I find them?
If you can't find charcuterie boards at your local craft stores, try ordering them from Amazon. I really love the one I picked as they are environmentally friendly! If that's not an option, be sure to check out your local dollar store!
Q: What do I put on a charcuterie platter?
Some ideas I've seen have pretty simple ingredients such as blackberry jam, fresh rosemary sprigs, cherry tomatoes, red grapes, you can even add a glass of wine too. How much food you add will depend on the number of your guests. Of course, you can always make one for yourself as well! Whatever you decide to fill yours with, this homemade charcuterie board is a great way to add a nice touch and set up a fun way for you or your guests to have a nice meal.
Get the free designs for my charcuterie boards!
I'm looking forward to seeing what you make with my designs and how you use them! Please share a photo of your DIY charcuterie board art in our Facebook group or tag me on social media with #jennifermaker.
Love,