Let me show you how to make these fun wine gift bags that you can personalize.
Bottles of wine are like gift cards … they're easy to give, but often don't feel very personal or something as you're giving them. That's why I design so many gift card holders, so it's high time we made a wine bottle holder, too! These wine bottle gift bags are simple to sew and decorate. You'll be amazed at how easy it is to cut and sew these bags up quickly. Then you get to have fun with the iron-on designs. In fact, you can even personalize these with names! You can even etch wine glasses to go with them. So for Day 23 of The Great Maker 25-Day Gift-Away Challenge, I am showing you how to make wine gift bags!
See exactly how to sew and decorate wine gift bags in my tutorial video (or keep scrolling if you prefer a printable step-by-step photo tutorial):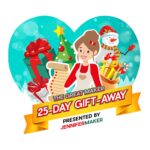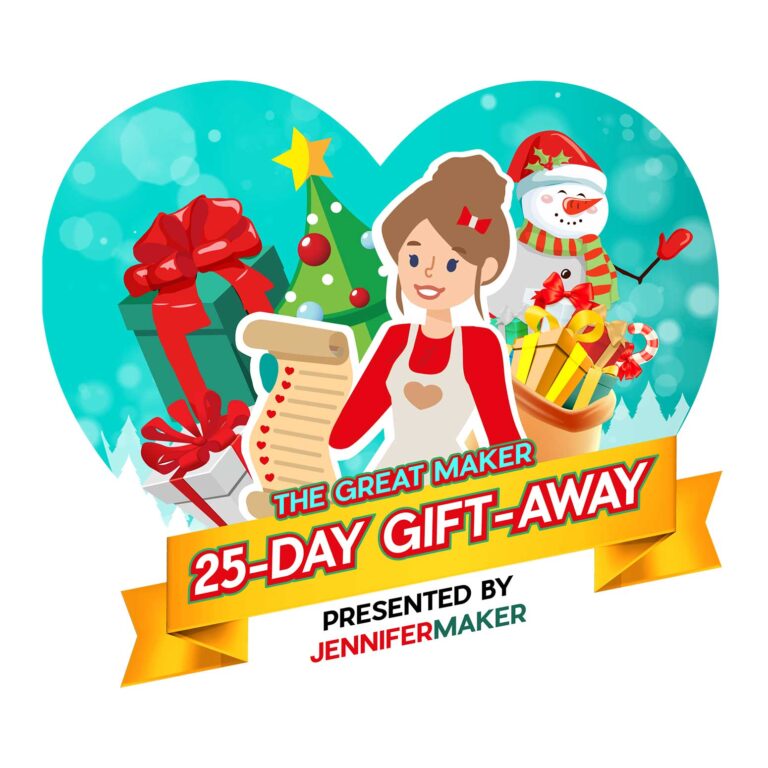 What is The Great Maker 25-Day Gift-Away?
This is an
annual tradition
here at JenniferMaker! Every day for the first 25 days of December we gift you with a brand new project, design, tutorial, and video. On top of that, we host a giveaway with 25 prizes. Some of the amazing prizes are
Cricut cutting machines
, sewing machines, gift cards, and beautiful
print editions of our popular Cricut Coach Playbook
. You can even earn bonus entries for sharing photos of the daily projects!
Click here to learn more about The Great Maker 25-Day Gift-Away!
Now, you don't have to sew these wine bottle bags, but it's really pretty easy to do so I'm going to show you. If you'd rather just buy wine bags, I've got a link to some that are the right size below in the material list below.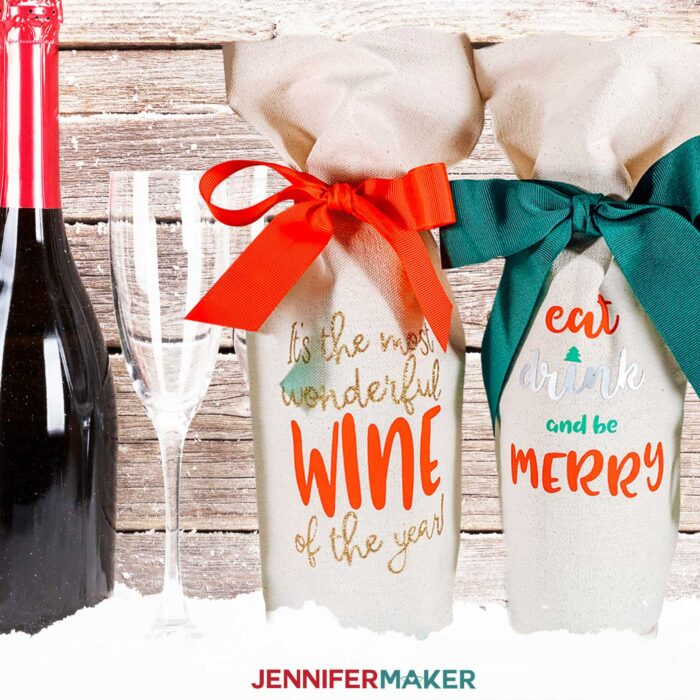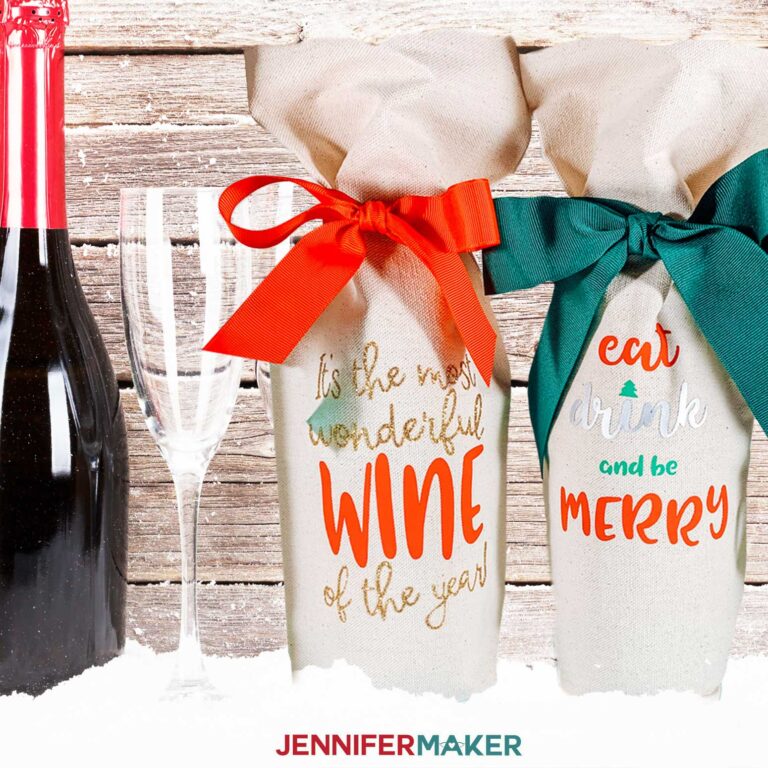 To sew the wine bags, you need a 12″ x 16″ inch piece of white cotton duck canvas. Or go for a whole yard, which will make six gift bags!
You also need all-purpose thread and 28″ of ribbon — I'm using grosgrain ribbon here.
And you need a way to sew your wine gift bags. You can, of course, sew this bag by hand with needle and thread. Or you can use a sewing machine. I will show you how to sew it with this beginner sewing machine I love.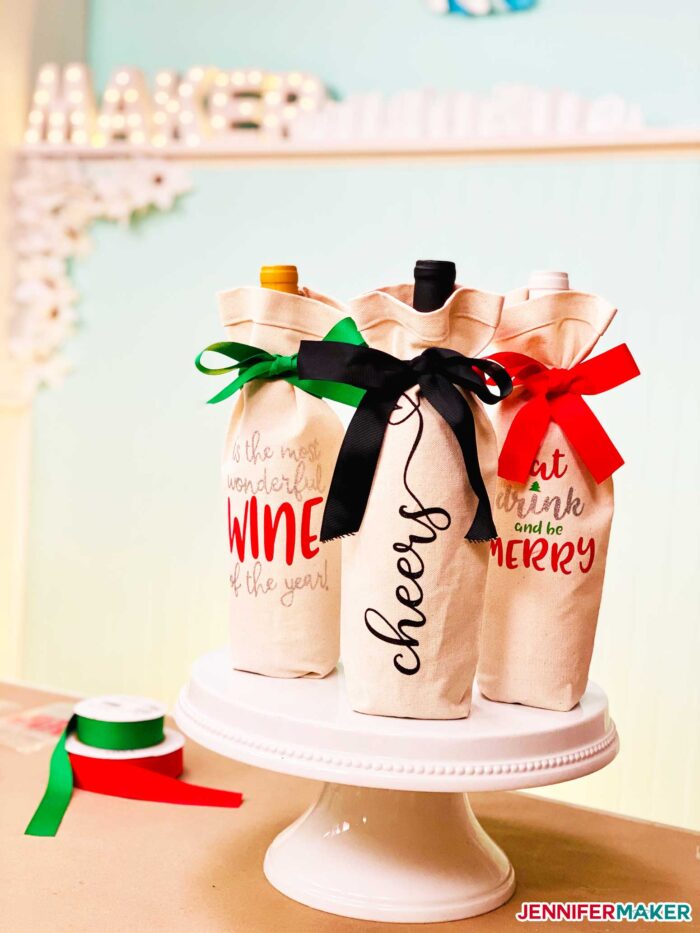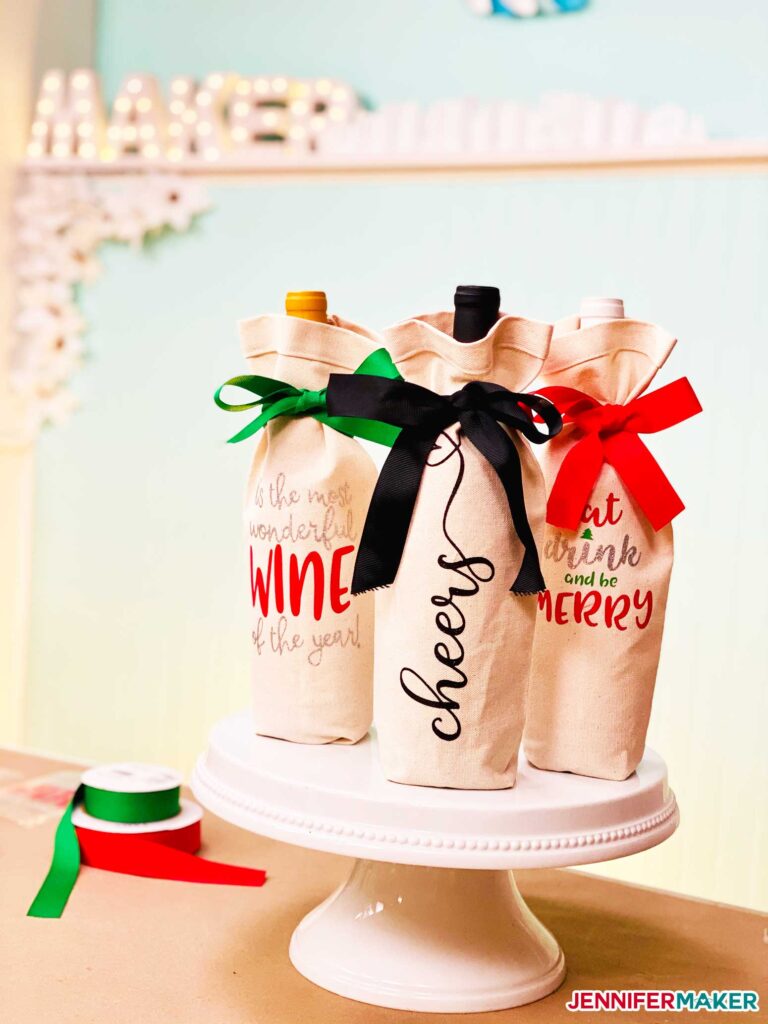 Other useful tools for sewing the wine bottle bags include a washable fabric pen, quilting pins, thread snips, and an iron.
Now to decorate the wine gift bags, we're using iron-on vinyl, also known as heat transfer vinyl. I'm using red, green, silver, and black, as well as gold and silver glitter, but you can use any colors you wish!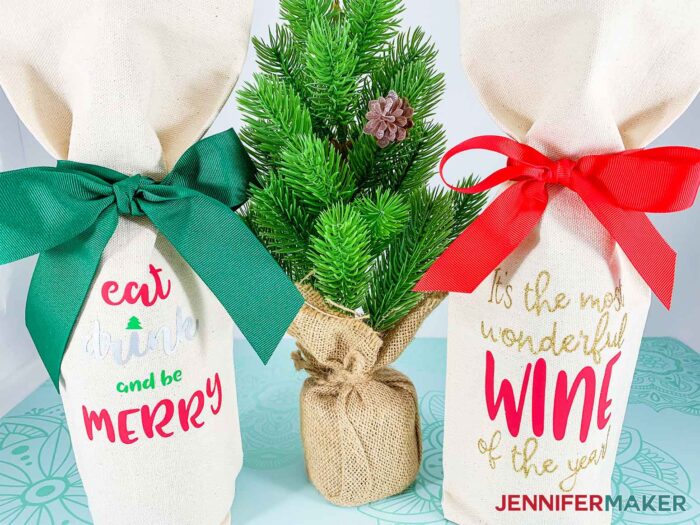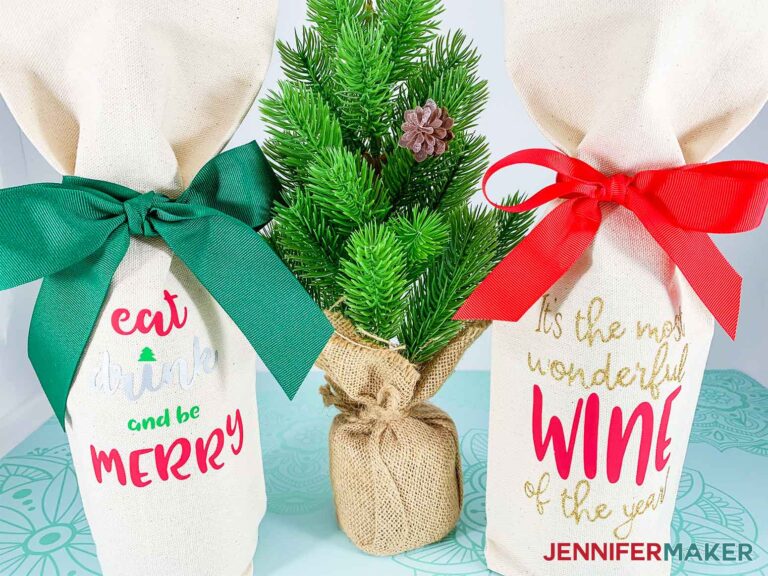 Last but not least, you need the sewing pattern and the fun bag sayings — I've prepared four designs for you to use ("Cheers" "Eat Drink and Be Merry!" "Mama Juice' and "It's the Most Wonderful WINE of the year!")
So let me show you where to find the files, and then I'll show you how to sew and apply the iron-on vinyl to your wine gift bags! This post contains some affiliate links for your convenience (which means if you make a purchase after clicking a link I will earn a small commission but it won't cost you a penny more)! Read my full disclosure policy.
Materials to Make Wine Gift Bags
How to Make Wine Gift Bags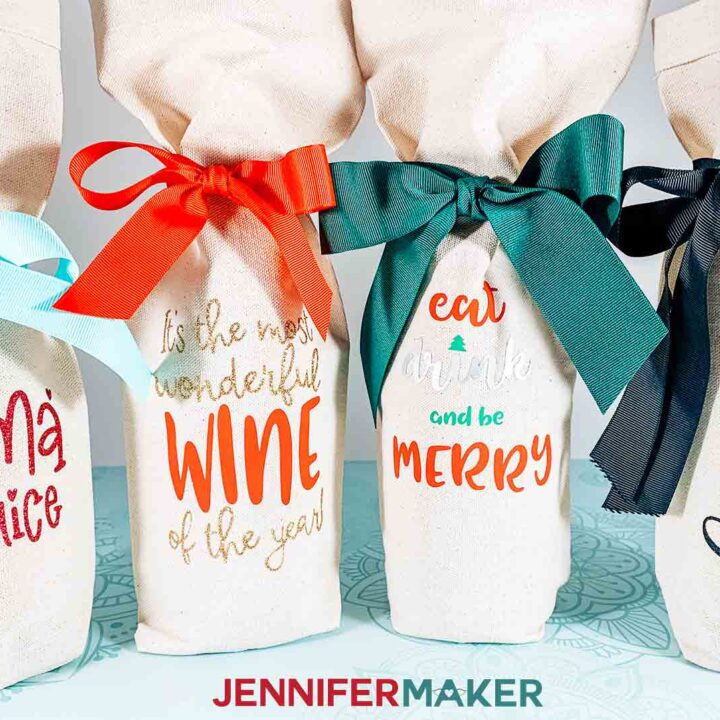 Wine Gift Bags
Yield: 1 wine bag

Prep Time: 30 minutes

Active Time: 1 hour

Total Time: 1 hour 30 minutes

Difficulty: Easy to Medium

Estimated Cost: $5

A step-by-step tutorial on how to sew and customize super cute wine gift bags to give as a gift or keep for yourself!
Answers to Your Questions About The Wine Gift Bags
Q: Can you use fabric glue instead?
The primary concern would be the weight of the wine bottles. Fabric glue holds together fabric really well, but isn't manufactured to hold a heavy weight like that of a wine bottle. I do think you can use a generous amount of a quality glue and it should be okay, but make sure to support the bottle with your hand when you pick it up, just to make sure!
Q: What other fabrics can you use?
Any strong material like upholstery fabric, denim, or outdoor fabric are just a few you can use to make these great wine bags!
Get my free printable pattern and SVG cut files to make Wine Gift Bags
I'd love to see your wine gift bags and all of the cute things I know you'll put on them!! Please share a photo in our Facebook group or tag me on social media with #jennifermaker.
See all of the projects, tutorials, and free designs in The Great Maker 25-Day Gift-Away Challenge!
Love,