I'm in full blown craft room planning mode now. I even designed and started building the first piece of furniture for my craft room — it's a paper and vinyl organizer on WHEELS! I'll be posting the tutorial on that organizer very shortly. In the meantime, be sure to check out my easy-peasy DIY craft tool organizer you can make in 5 minutes — I still love and use this daily! There are so many great craft organization ideas on Pinterest on how to organizer your supplies in your craft room. I'm listing my favorite ideas here, both for own reference and also because perhaps it will give you some ideas as well.
This post contains some affiliate links for your convenience (which means if you make a purchase after clicking a link I will earn a small commission but it won't cost you a penny more)! Read my full disclosure policy.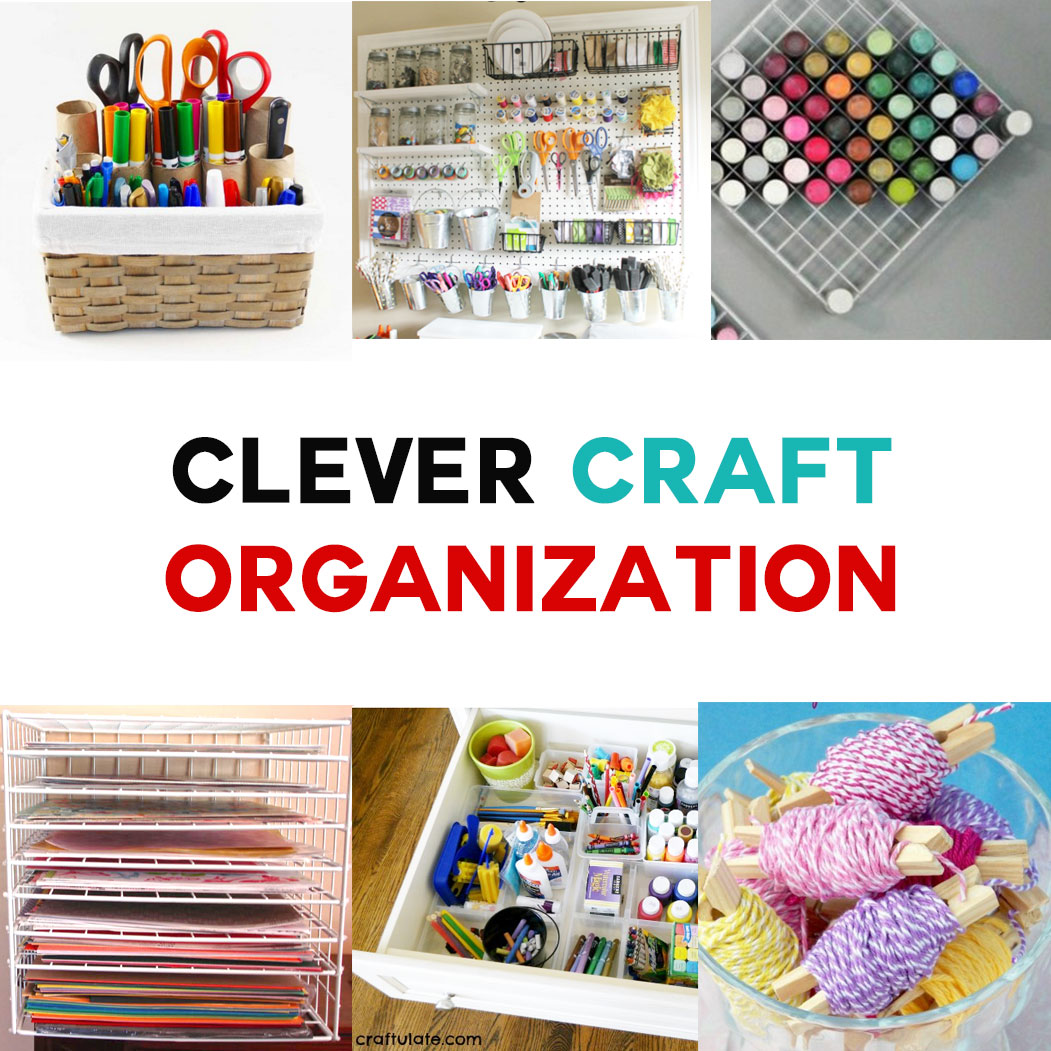 Amazing Ways To Organize Your Craft Supplies
5-Minute Craft Tool Organizer
I made this craft organizer earlier this year when I was tired of sorting through piles and cups scattered here and there. It sits next to me while I craft and it's one of my favorite things now. And the best part? It took just five minutes to put together and — I think — looks cute!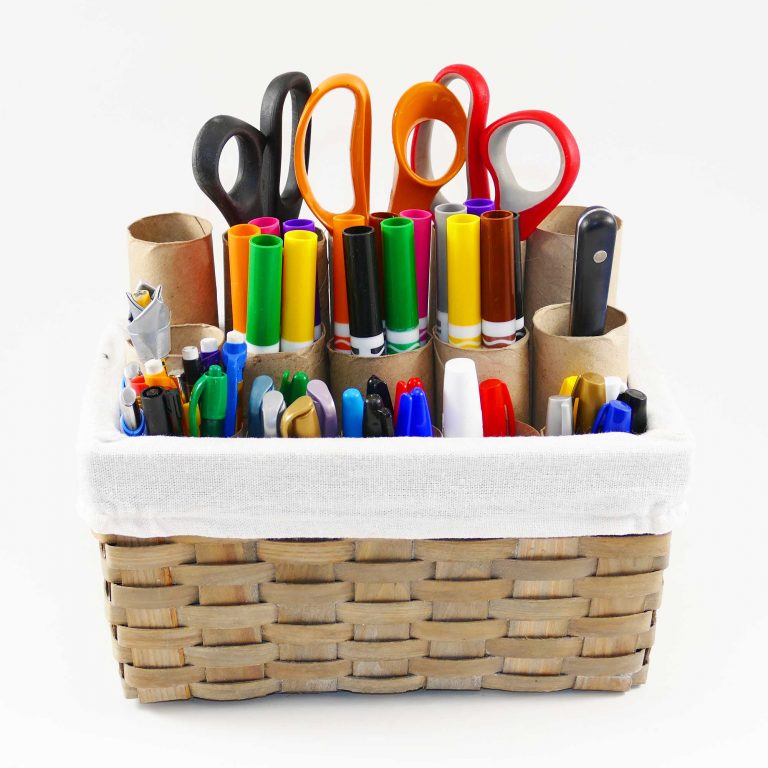 Get the tutorial: DIY Craft Organizer in 5 Minutes!
Giant Pegboard
A place for everything and everything in its place … on a giant pegboard! I plan to add a giant peg board to my craft room to organize a variety of things. Peg boards are easy to decorate and customize to suit your needs. This is one of my top craft organization ideas I plan to implement! Check out my Ultimate Pegboard Organization Guide.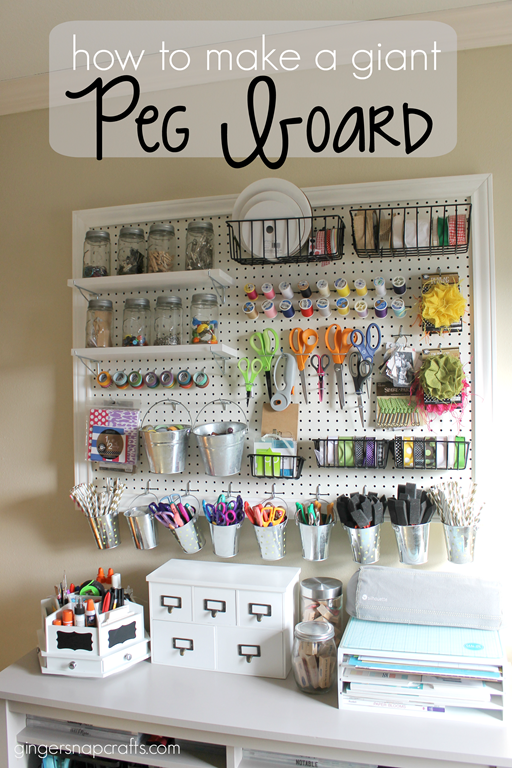 Get the tutorial: How to Make a Giant Peg Board from GingerSnapCrafts.com
Craft Drawers
But not everything needs to be out in the open, now does it? That's where drawers come in! But if you just toss things into drawers, you've just got yourself more clutter — and it takes too long to find things. So enter the Craft Drawer. Organize big, wide drawers with dividers and containers to keep everything organized and easy to find.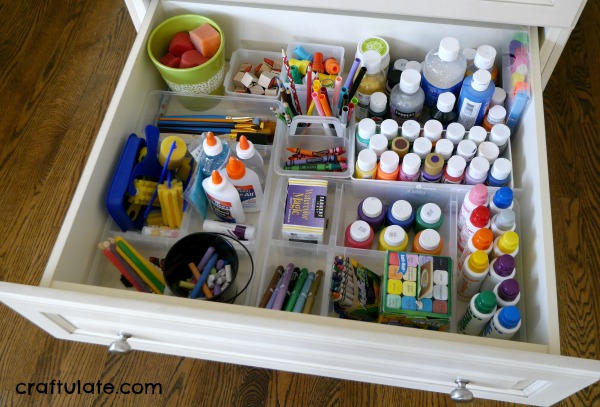 Get the tutorial: Organizing Craft Materials from Craftulate.com
Rolling Paint Storage
I don't know about you, but I'm amassing quite the collection of little bottles of paint. They are colorful, so I want to be able to see them. Plus, seeing them makes it so much easier to pick the right color. I love the idea of this rolling paint storage cart — it can move around the craft room with you, going wherever you need it. This makes so much more sense than storing them in one place, then moving them somewhere else to use them.. and then not putting them away. (Yeah, that's me — I see 3 little bottles of paint sitting on my craft table right now.)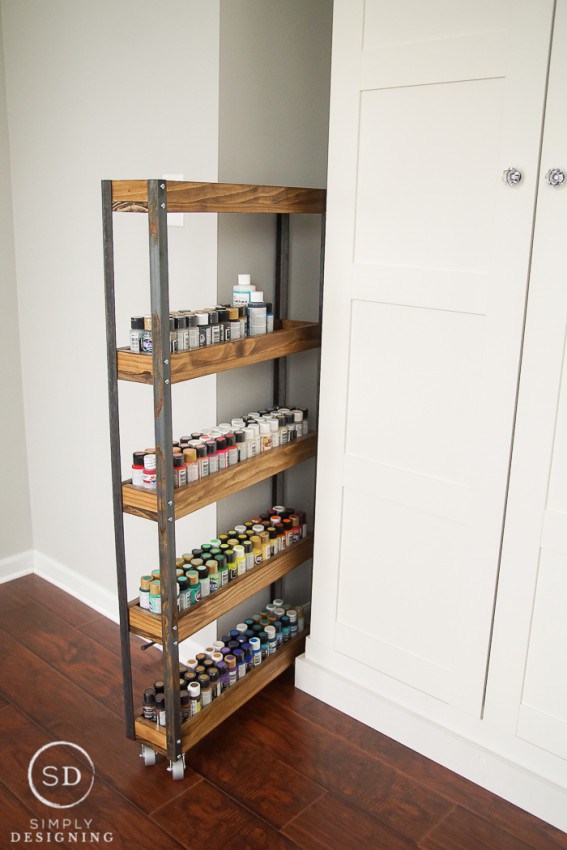 Get the tutorial: Industrial Rolling Paint Storage
Hanging Paint Storage
If floor space is at a premium but you've got plenty of wall space, consider putting your paints up on the wall with this clever wire rack tip. The bottles fit right into the holes of the wire rack. One of the most brilliant craft organization ideas! And, another bonus is that your paint is ready to pour, thanks to its orientation while being stored.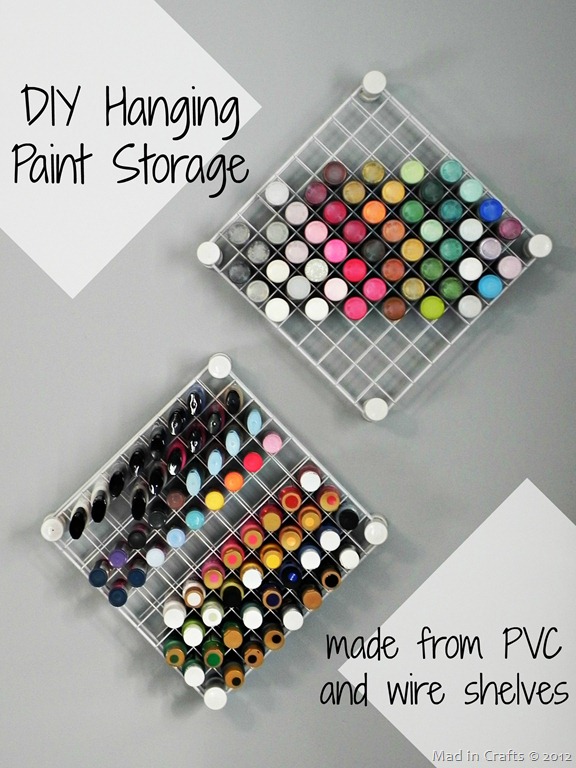 Get the tutorial: Craft Room Organization: PVC and Wire Shelf Paint Storage
Twine and Floss Organization
I have a lot of loose twine, floss, and even some ribbon. Right now it's all stuffed into a box and I can't find anything — plus it's getting tangled! I want to organize this and I love the idea of using clothespins — easy and inexpensive.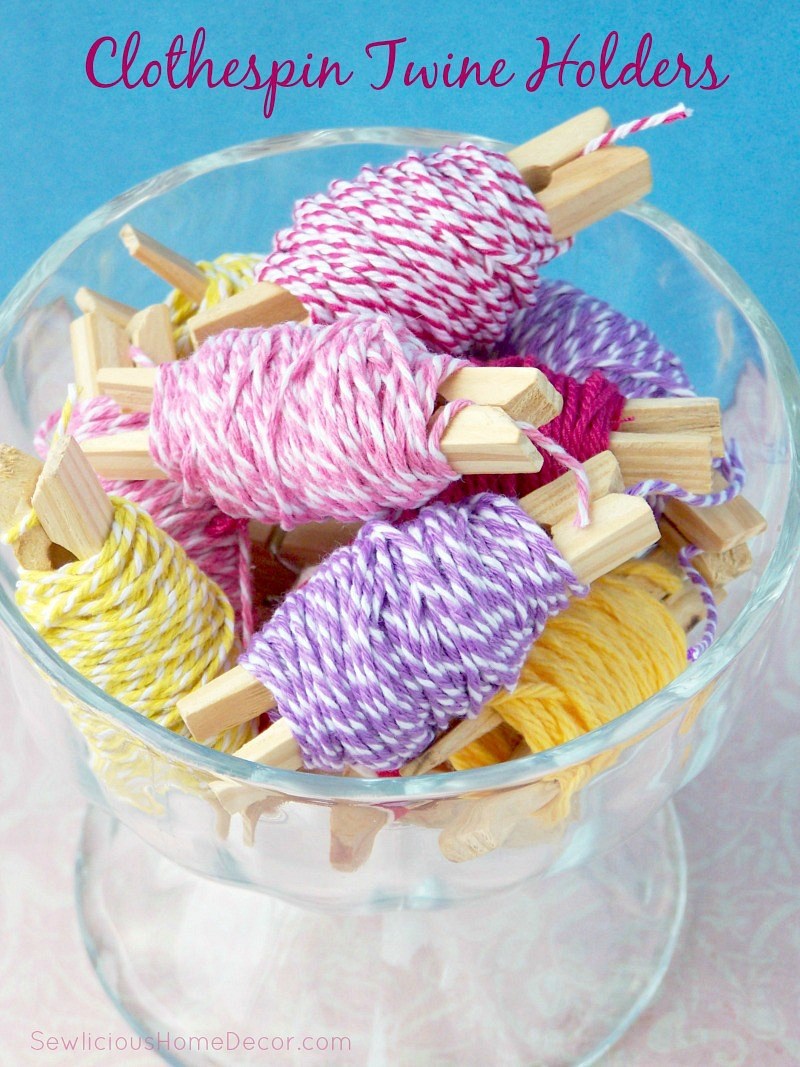 Get the tutorial: Clothespin Twine Holders from SewliciousHomeDecor.com
Paper Storage Trick
I've been struggling with inexpensive ways to store my ever growing collection of paper. One of the great ideas I came across was to use wire shelving from Target, zip-tied together, to create paper-sized shelves. This is something anyone can do without having any special tools. Also check out my awesome DIY Paper Storage Tower!
Get the tutorial: Scrapbook Paper Storage Solutions
Source List for Craft Organization Ideas
There are really so many ways to organize — so what's stopping you? I'd love to see YOUR clever organization ideas. Please share them, and feel free to send me photos to include at [email protected].
Love,