Learn how to make your own DIY winter scene window clings to brighten up a window or decorate a pretty picture frame!
Two winters ago I made some sweet little birdhouse window clings for my bathroom window. They are still there and every time I see them, I can't help but feel a little more cheerful. AND, the best part is that even though they're made of something as simple as window cling material, those birdhouses look as good as the day I put them up two years ago. Many of you have been asking for a winter scene window cling set, so for Day 22 of The Great Maker 25-Day Gift-Away Challenge, I am showing you how to create some cute winter scene window clings to decorate your home for the holidays.
What is The Great Maker 25-Day Gift-Away? This is an annual tradition here at JenniferMaker! Every day for the first 25 days of December, we gift you with a brand new project, design, tutorial, and video for something YOU asked us to make. On top of that, we host a giveaway with 25 prizes, everything from Cricut cutting machines (four of them this year!) to project prize packs with all the materials for popular JenniferMaker projects to beautiful print editions of our popular Cricut Coach Playbook. You can even earn bonus entries for making the daily projects! Click here to learn more about The Great Maker 25-Day Gift-Away!
You can put your winter scene window clings in an actual window, or if you don't have a good window, you can put it into a frame with a glass like this!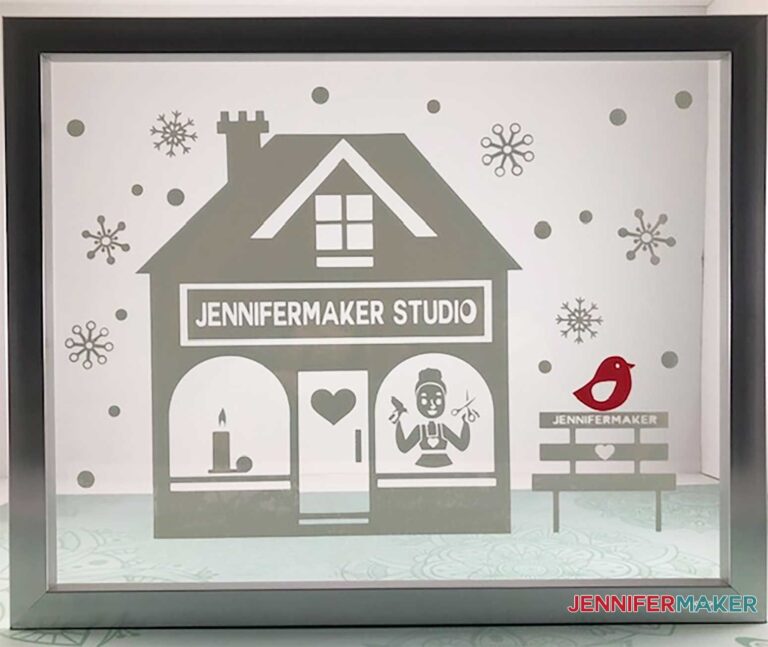 Note: Normally I include a video alongside my tutorials during our 25 Days of Maker Projects, but — alas — my passion for making projects until the wee hours of the night every night this month has finally caught up with me and I'm feeling under the weather. When I'm better rested and able to make a video, I will do so and include it here. I promise I will finish the 25 Days, but it may not happen within 25 actual days. I truly appreciate your understanding and grace with me. For those who are doing the Gift-Away, I still have a Word of the Day for you: CLING …. and here's an extra bonus word: SNOWFLAKE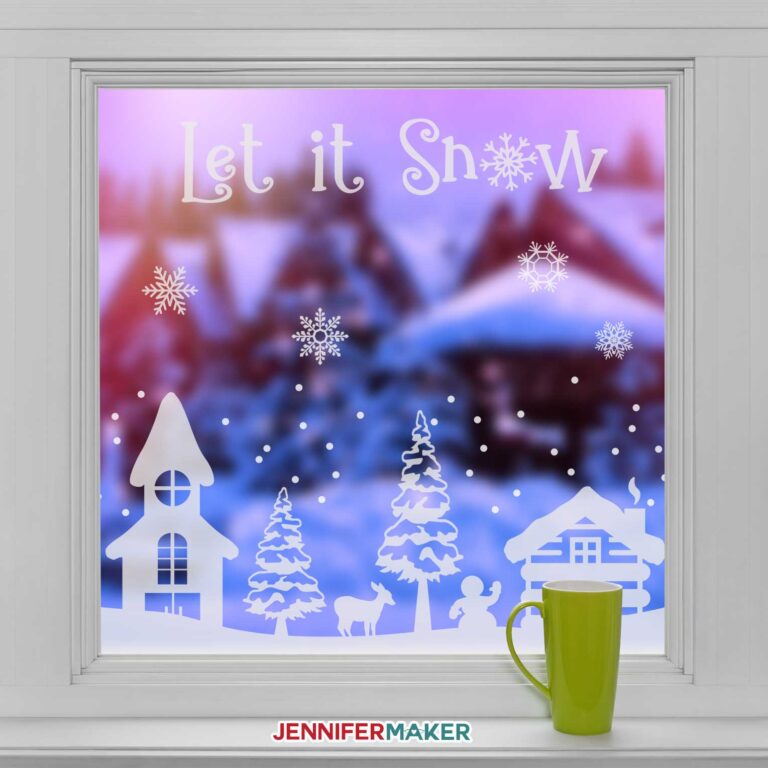 Ready to make your own cute winter window clings? I'm excited to show you how! This post contains some affiliate links for your convenience (which means if you make a purchase after clicking a link I will earn a small commission but it won't cost you a penny more)! Read my full disclosure policy.
Materials to Make Cute Winter Scene Window Clings
Step 1: Get my free Winter Scene Window Cling Design
My free SVG cut file contains many different designs to make your own window cling winter scene. Get my window cling designs (Design #186) from my free resource library (get the password to the library in the form at the bottom of this post).
Here's what the SVG cut file will look like when you upload it to Cricut Design Space: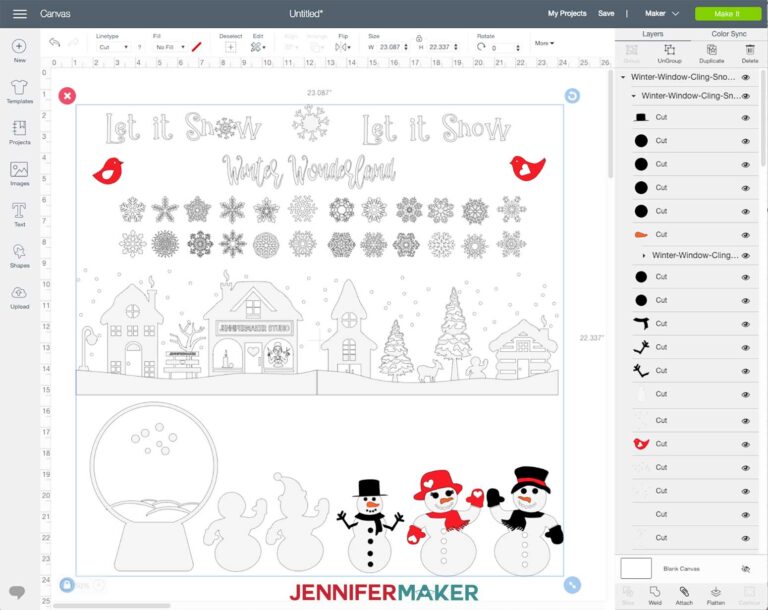 Tip: If you're not sure how to upload an SVG cut file to Cricut Design Space, watch this helpful video training series I made. If you're on an iPhone or iPad, here's how to download and upload SVG files to the Cricut Design Space app.
Step 2: Prepare Your Winter Scene for Cutting
Measure the size of the area you will be applying the designs to and then once you choose the design you want to create resize the design to fit appropriately on your surface.
NOTE: If you are using a design with lettering and the design is going on the inside of your window to be viewed from the outside, you will want to mirror your designs so that the lettering can be read from the outside. If there is no lettering in your design it is up to you if you want to mirror.
Step 3: Cut Out Your Winter Window Cling Design
Put your window cling on the cutting mat with the liner side (paper side) DOWN.
Set your machine to cut the cling. On the Maker, Select "Browse all materials," then select "Window Cling." On the Cricut Explore Turn the Smart Set Dial to "Custom" and select "Window Cling" from the list of custom materials. All other types of machines refer to your user guide to determine how to use a "Kiss Cut."
Step 4: Weed Your Cut Design
Once your window cling design is cut out ,use your tools to weed the design. Cling weeds just like vinyl does. If there are intricate cut outs in your design you can also apply the design to the surface and weed your design from the surface. It is sometimes easier to see where to weed once the design is applied to the surface.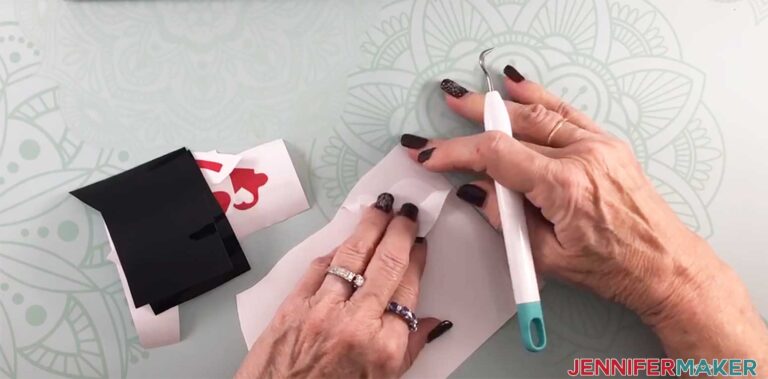 Step 5: Clean Your Surface and Position the Cling
Clean the surface that the design is going to be applied to with some alcohol and a lint free cloth or coffee filter. Allow the surface to dry before applying your design.
Once the design is weeded it can be applied to the surface in one of two ways:
1. Place the weeded design on the surface, burnish down with scraper and then remove the paper backing.
2. Remove the design from the paper backing and apply to the glass by hand. Burnish with the scraper. (This method works best for small window cling designs—not large designs.)
Window cling is different from vinyl in that it has no adhesive on the back and can be repositioned easily. Use the weeding tool to pick up any window cling you need to move and reposition it by hand.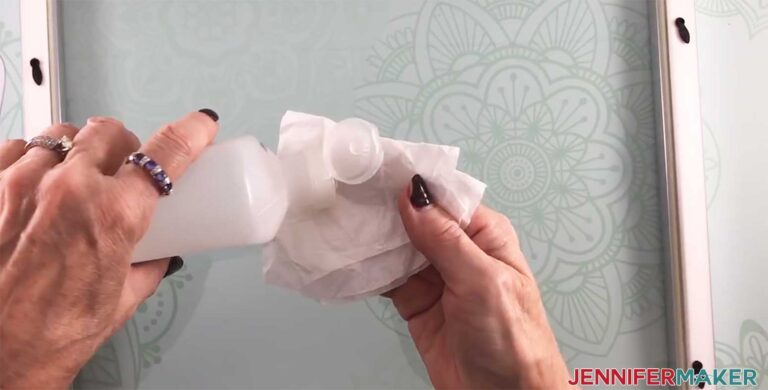 Step 6: Burnish the Window Cling Design on the Glass
Once you are happy with how your window cling design looks, use your scraper to burnish it down well to the glass.
NOTE: Some of the designs in the files have color layers. If you choose to use the color layers, you will again need to decide how you will be applying them to your surface. If it is a mirror or the inside of a window, just lay each piece down onto the surface and layer. If you are going to want the color layers to be seen from the outside, you will need to put your layers together first, then flip the whole design over and apply colored layer side to the window. This assures that the colors can be seen from the outside.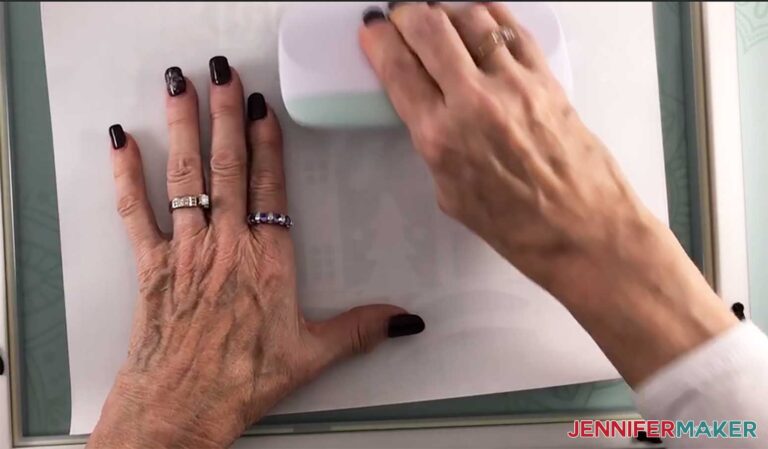 Get my free SVG files to make your own Winter Scene Window Clings!
I'd love to see your window cling projects and where you put them! If you make one, please share a photo in our Facebook group, email it to me at [email protected], or tag me on social media with #jennifermaker.
Love,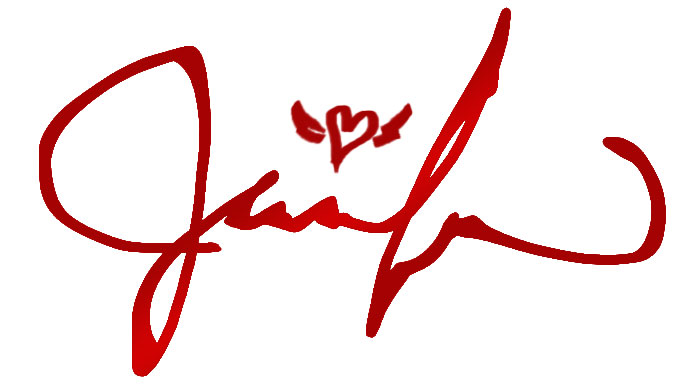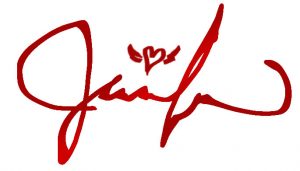 Want to remember this? Save the Winter Scene Window Clings to your favorite Pinterest Board