Learn all about the different sublimation machines and what you really need to get started in sublimation!
Everyone is talking about sublimation and all the things you need for it these days, including the equipment! But just what IS a sublimation machine and how does it work? A sublimation machine can produce dyes that you then can transfer to materials such as plastic, card, paper, or fabric, using heat. With a desktop sublimation machine, also known as a dye sublimation printer, you can print full color designs and transfer them to surfaces without any weeding. The finished results are AMAZING and sublimation can open up so many doors for you—everything from colorful polyester T-shirts to vibrant coffee mugs. So to help you pick the best sublimation printer for your needs and budget, let's take an up-close look at four different sublimation machines, including purpose-built sublimation printers and converted inkjet printers.
Want to save this? Enter your email below and we'll send the guide straight to your inbox.
Watch my video to see all four sublimation machines head to head!
What is Sublimation?
First, let's talk about the sublimation process itself. Sublimation works by using heat and pressure to transfer dye onto polyester fabric or another polyester-coated surface. The dye is first printed onto a piece of transfer paper using a sublimation printer. Then, the transfer paper is placed on top of a surface, and both the dye and surface are pressed together with heat. Applying high temperatures and pressure causes the dye to vaporize and then change back into a solid form to "sublimate" onto the fabric like magic! And once the dye has been transferred into a sublimation-friendly surface, it is permanent and will not fade, peel, or crack over time.
This makes sublimation an ideal method for crafting projects that will be used frequently or exposed to wear and tear, such as T-shirts, aprons, towels, and doormats. You will get the best results from sublimation on polyester fabrics and polyester-coated surfaces.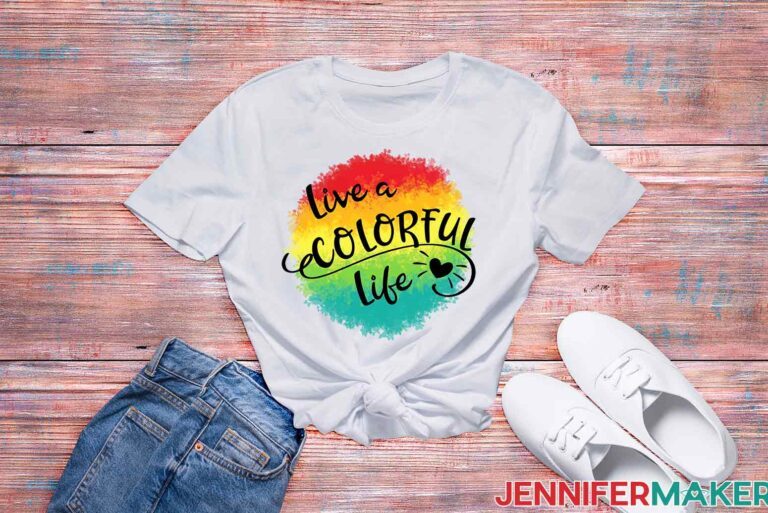 What Machine Do You Need for Sublimation?
Dye sublimation printers are the cornerstone of sublimation crafting, but I know that picking the right one can be stressful. I've tested the four most popular types and brands of sublimation printers to remove all of the guesswork out of picking the right sublimation machine for you.
I tested the Sawgrass SG-500, which is a purpose-built sublimation printer. Sawgrass has been making dye sublimation printers for over 25 years, and they are pioneers in their field. Sawgrass does make a couple of other fancier sublimation printers.
I also tested the Epson SureColor F170, which is also a purpose-built sublimation printer. Epson has been making commercial grade dye sublimation printers for high capacity applications for quite some time now, and they recently brought out this desktop version for those of us to use at home.
I also looked at inkjet printers that can be converted to sublimation printers, specifically the Epson EcoTank with its a large reservoir that makes it easy to use sublimation ink rather than inkjet ink, and the Epson Workforce also filled with sublimation ink. Workforce printers have cartridges, but you can get empty refillable cartridges and fill them up with sublimation ink instead. All four printers produced great quality prints that transferred with heat to polyester fabric and sublimation ready ceramics, plastics, glass, and wood in my testing, and all are viable sublimation machines.
Ready to pick out the best sublimation machines for your needs? This post contains some affiliate links for your convenience (which means if you make a purchase after clicking a link I will earn a small commission but it won't cost you a penny more)! Read my full disclosure policy.
View my Amazon shopping list with these exact sublimation machines and supplies!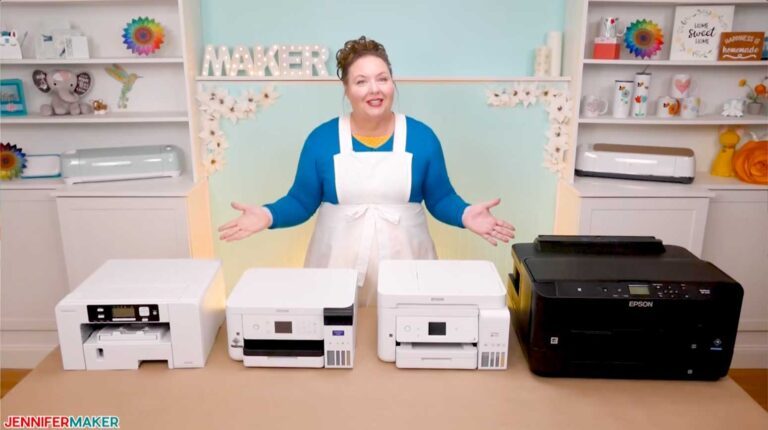 Which sublimation printer worked the best? It depends a LOT on your needs, but my favorites are the Sawgrass and the Epson EcoTank — I preferred the Sawgrass for ease of use and maintenance, and the Epcon EcoTank for price.
How do Sublimation Machines work?
Sublimation machines are printers with special dye sublimation ink in them. The printer can be purpose-built for sublimation, like the Sawgrass or the Epson F170, or they can be a desktop printer you converted to use sublimation ink, such as an Epson EcoTank or Epson Workforce. The sublimation ink is kept in reservoirs or cartridges by color (black, cyan, magenta, and yellow) and fed through tubes into specialized nozzles that contain thousands of teeny tiny holes, called a print head. The tiny holes create sublimation ink droplets as small as four nanometers, which means you can create high quality and high resolution images in full color with your amazing little sublimation machine.
Note: Not all inkjet printers can become sublimation machines. Be cautious of trying to convert your own home inkjet printer into a sublimation printer. I mostly only recommend Epson printers be converted, and I think most people will find the Epson EcoTank Printer to be the best choice, as it is easiest printer to convert. Learn more about converting an Epson EcoTank in my guide.
Do you have to maintain sublimation printers?
Yes! Sublimation ink can dry out much faster than typical inkjet ink, resulting in clogged print heads. Ink is more likely to dry out faster if you live in a warm, dry climate, or like to keep your heat turned up in the winter. The easiest way to keep your sublimation printer in top condition is to simply print a page in your sublimation printer regularly, at least once a week or every few days. This keeps the ink flowing through the nozzle heads and less likely to dry and clog. If you forget to do this, you may get clogged print heads, which requires printhead cleaning. You can clean your print head in your printer settings or preferences — check your printer manual for the specific details.
Tip: The Sawgrass sublimation printer will automatically perform a printhead check to keep your ink flowing nicely, BUT you have to keep your Sawgrass turned on for this check to be done!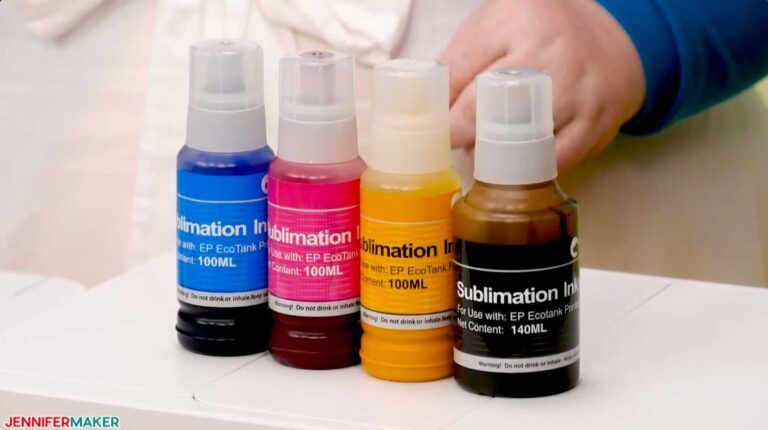 What other sublimation machines do I need?
In addition to the sublimation printer, you need a heat source that reaches temperatures of 350° to 400°F, such as a heat press. So sublimation machines might also include heat presses like the Cricut Autopress or other traditional clamshell or swing-away heat presses. There are also specialized heat presses, like the Cricut Mug Press and tumbler presses.
What is the difference between Sublimation and Heat Pressing?
Sublimation is a printing technique that uses heat to transfer dye onto polyester fabrics and other polyester-coatedsurfaces. The great thing about dye-sublimation printing is that it produces a high-quality image that won't fade over time. The biggest downside of sublimation is that it can only be done on certain types of materials. Another downside is that you need specialized equipment in order to do it—namely, a sublimation machine and a high heat source, such as a heat press or convection oven.
Heat pressing, on the other hand, is a term for transferring heat transfer vinyl (HTV), also known as iron-on vinyl. Heat pressing can be done on a wide variety of materials, including cotton, polyester, and spandex — even wood! Heat pressing is a popular choice for crafters because it's relatively simple to do and doesn't require any special equipment other than the heat press itself. You can often even do it with a household iron. The biggest downside of heat pressing is that it isn't as durable as sublimation. This means that your design is more likely to fade over time or crack and peel if it's not properly cared for. However, heat pressing is still a popular choice for crafters who are looking for an easy and inexpensive way to add designs to their fabric projects.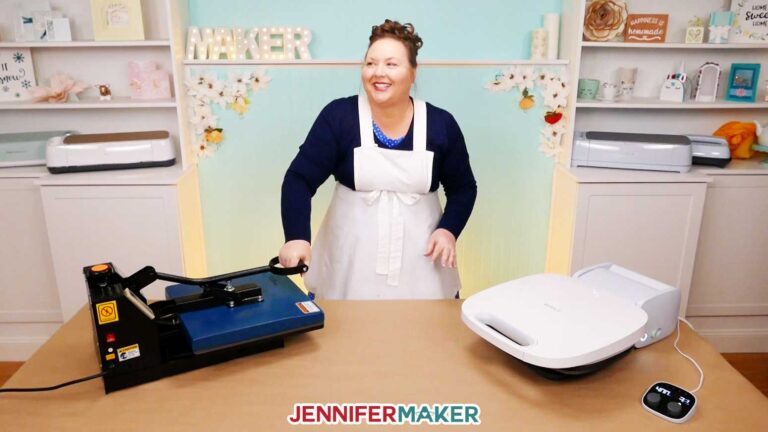 How does sublimation compare to screen printing?
Sublimation transfers the dye INTO the fabric of a fabric, while screen printing lies a thin layer of ink on top of the fabric. Sublimation is more durable than screen printing. On the other hand, screen printing can be done on cotton shirts, which is not easy to do with sublimation. Sublimation printing is a great way to create easy, full-color designs on fabric and I feel it is easier for beginners, too.
What can you transfer sublimation ink onto?
You want to use what is known as sublimation blanks, which can be as simple as 100% polyester fabric (like T-shirts) or something like a piece of glass, ceramic, wood, or slate that has been coated with a polyester. It's important that the surface be able to absorb the ink, but even a super thin coating of polyester on an otherwise non-polyester surface will do the trick. If you prefer natural materials like cotton over polyester, there are ways to sublimate onto those, too! There are MANY sublimation blanks available these days and you can now sublimate onto almost anything with a little creativity. Here are some of my favorite sublimation blanks at Amazon.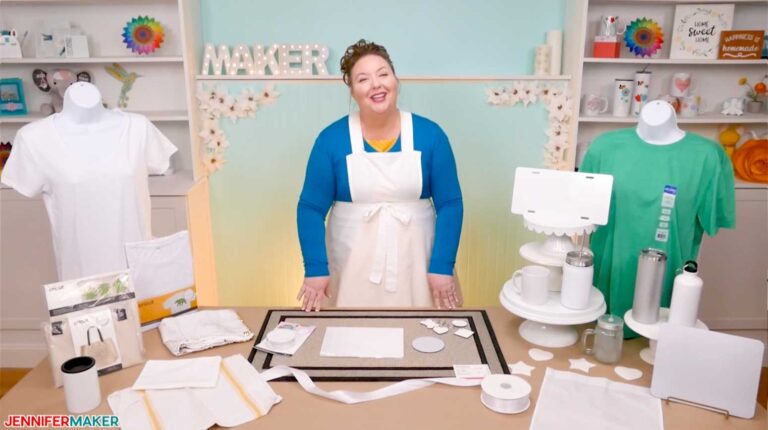 Questions About Choosing the Best Sublimation Machine For Your Needs
Q: What is a sublimation printer good for?
Sublimation printers are good for creating images that can be permanently transferred with high heat to polyester-coated surfaces, creating beautiful, full-color items that don't fade, crack, or peel.
Q: What is the difference between a sublimation printer and a regular printer?

Dye-sublimation printers create images made with sublimation ink that can transfer to a substrate with high heat. Regular printers create images with ink that cannot transfer with high heat. The print from a sublimation printer will appear faded when it is first prints on the transfer paper, but becomes vibrant with heat and pressure. The print from a regular printer appears vibrant on the paper from the start, but cannot be transferred. The dye sublimation printing process requires sublimation ink and polyester surface for a vibrant print.
Q: What is the difference between a heat press and sublimation?
A heat press applies heat and pressure to transfer heat transfer vinyl or sublimation to a surface. Sublimation is the actual process of changing a special ink to a gaseous state with high heat and pressure. You can use a heat press for sublimation, but a heat press can also be used for things beyond sublimation, too. So the main difference is that a heat press is machine and a sublimation is a process. Typically, you'll want a heat press machine of some sort when you do sublimation.
Q: Is Cricut a sublimation printer?

No, a Cricut is a cutting machine which can cut things like iron-on vinyl, Infusible Ink transfer sheets, and paper. Most people use a Cricut to cut heat transfer vinyl, which you can heat press onto fabric and wood. You can use a Cricut to do a type of sublimation called Cricut Infusible Ink, which is a pre-printed sheet of sublimation-dyed transfer paper that can be cut with a Cricut. You can also put Infusible Ink pens and markers into a Cricut and have it draw on laser copy paper, then transfer that to an appropriate surface. So while a Cricut is not a sublimation printer, it can be a sublimation machine if you cut a Infusible Ink transfer sheet or draw with an Infusible Ink pen.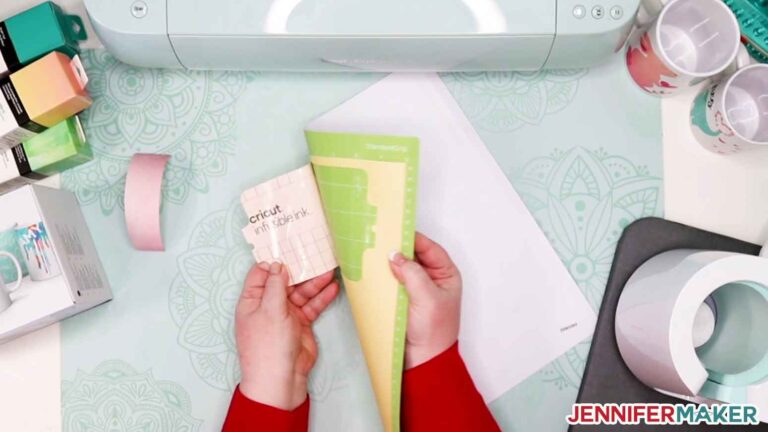 Q: What do you think is the best sublimation machine?
Of the four sublimation printers I tested, I preferred the Sawgrass and the Epson EcoTank. Between those two, it gets a little harder to choose. The Epson EcoTank will have no support whatsoever, other than what we can find from others who are using it online, because it is a converted home inkjet printer. Whereas the Sawgrass is well supported in many different ways. But generally I don't ever really need support on any of my equipment. It will be less expensive to keep the Epson EcoTank with the Hiipoo ink on tap, as I can order it from Amazon, and have it the next day. I can also get Sawgrass ink cartridges quickly, but they are more expensive. They're also smaller at 31 milliliters versus the 140 bottles that I can get with the Hiipoo ink. So not only is it easier to just get more sublimation ink bottles, but they're going to last longer before I have to refill them than with the ink cartridge as well. So in terms of price, I think the best sublimation printer is the Epson EcoTank, because the overall cost is lower, quality is just as good as the others, and the ink is going to last longer before a refill.
That said sublimation printer maintenance is a really, really big factor for me. I am not going to use my sublimation printer daily, and that means I may get clogged print heads. I'm going to find it tedious to feel like I have to print something every few days, just to keep the ink from drying out on the print heads. And when it does get dried out, you need to clean the print heads, which takes both time and ink, two things I'd really rather not spend. So for this reason, and the fact that this one is really slow compared to this one, the Sawgrass is my go-to printer, despite the cost and the need to buy more expensive ink cartridges more often, because a printer that works when I need it to, even when it's more expensive, is way better than a printer that is finicky and needs a lot more maintenance.
Q: What do I need to get started with sublimation?
Check out my Sublimation for Beginners Ultimate Guide for more details!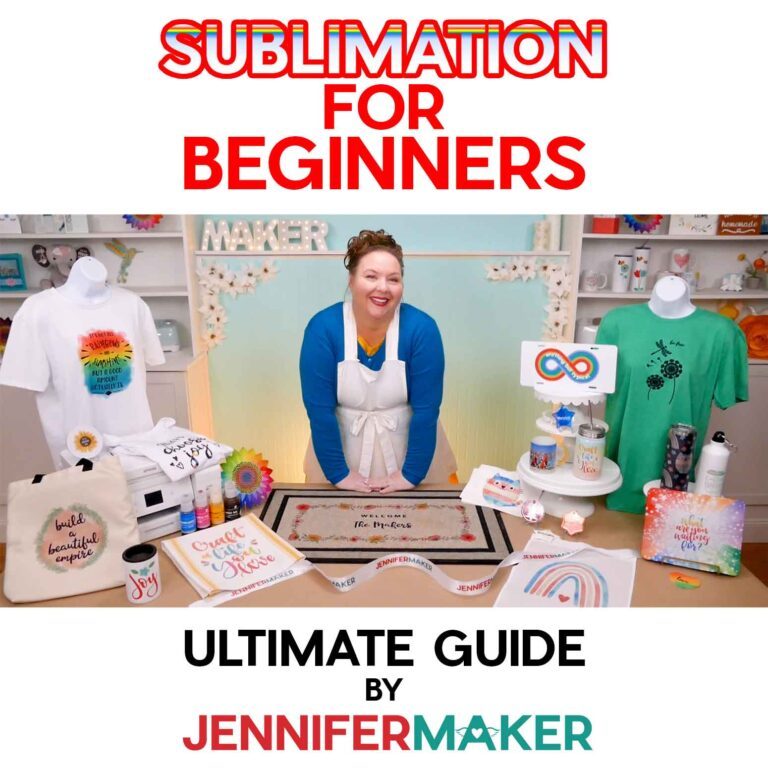 Get my free digital sublimation print test "Subliflower" with color hex codes!

I'd love to what other questions you have about sublimation machines! Let me know in our Facebook group, email it to me at [email protected], or tag me on social media with #jennifermaker.
Love,