Did you recently get a Cricut and are looking for easy-to-make projects? Or are you in need of fast and easy-to-make cards? I have you covered with this free sweet and simple greeting card set!
The inspiration for this greeting card set was the "enjoy" card everyone makes as their first project. I took the idea one step further with more detailed cuts, a continuation of the card motif inside, and a place for a gift card. This would make a great "Second Project" for any new Cricut owner. These can be cut very quickly, giving you a ready-to-use stash of cards. They may look simple, but you can get fancy with patterned card stock, glitter, decorations, and other embellishments. I personally like them just as they are. Whatever works for you!
All cards are the standard 5″ x 7″, so you can put them in envelopes and mail them easily. Each card uses just two sheets of paper. No scoring or gluing is necessary. Just cut, insert, and you're done! And once you are comfortable with these cards, check out my really fun shaker cards!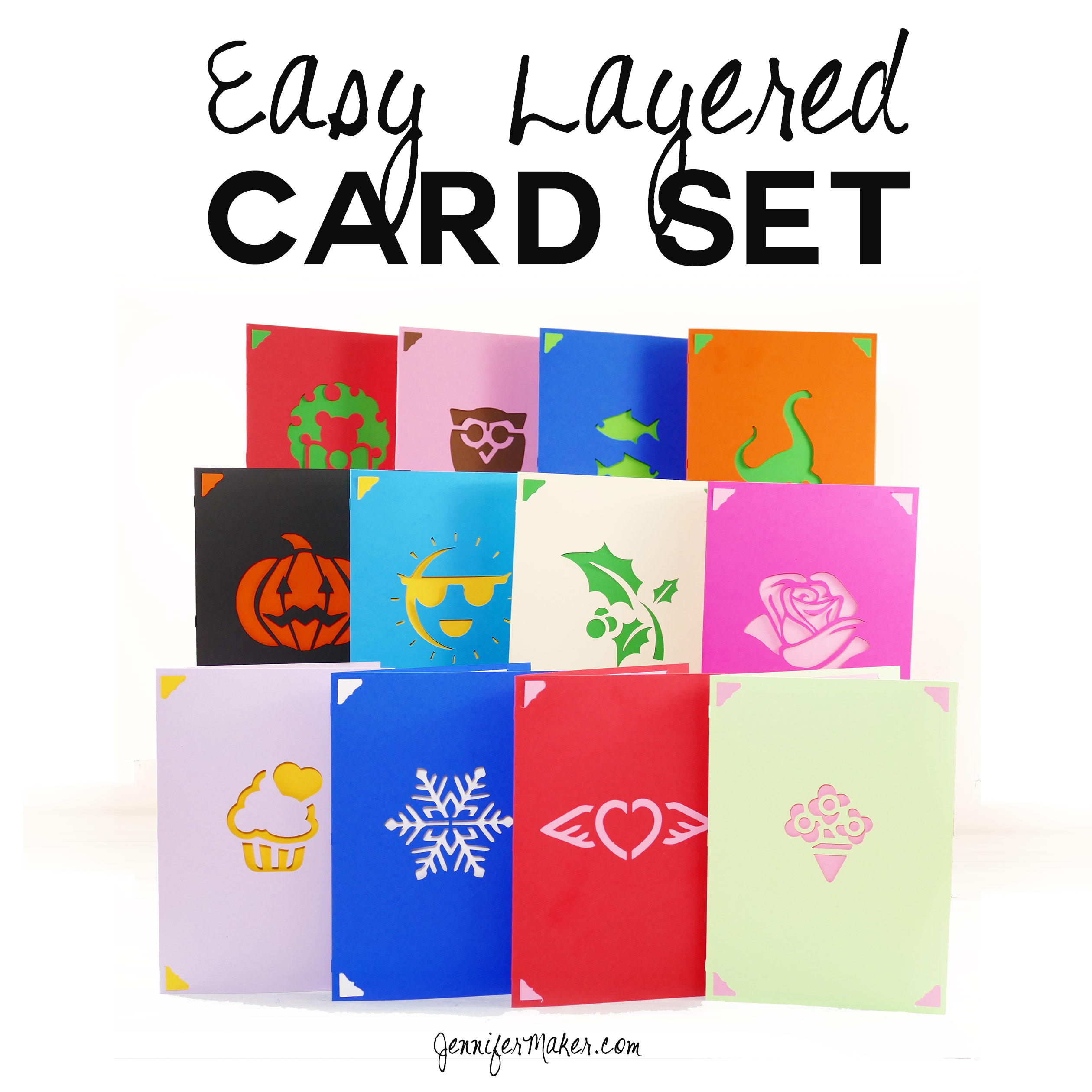 Here's a close up of my two favorites: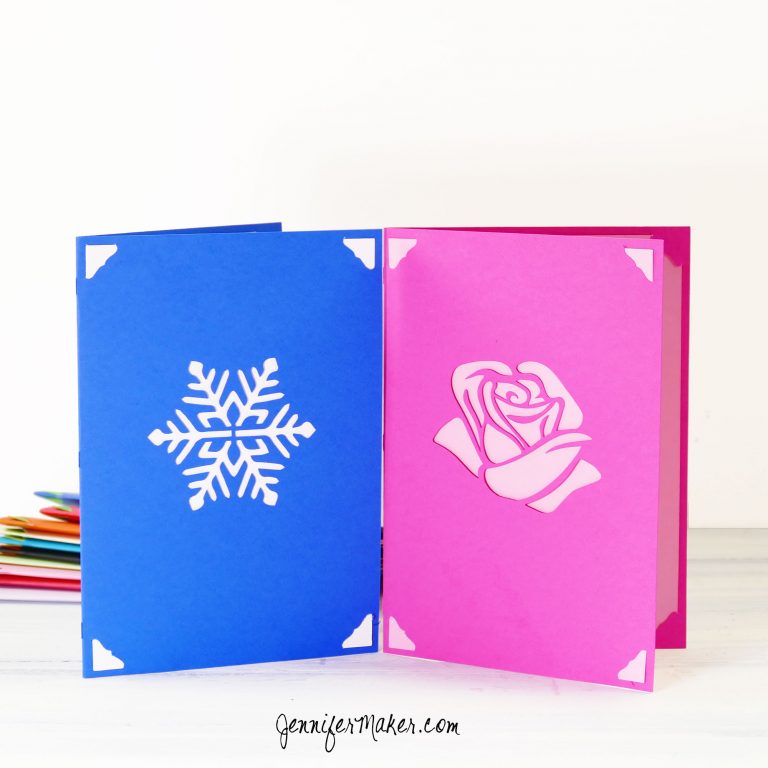 Here's what they look like on the inside: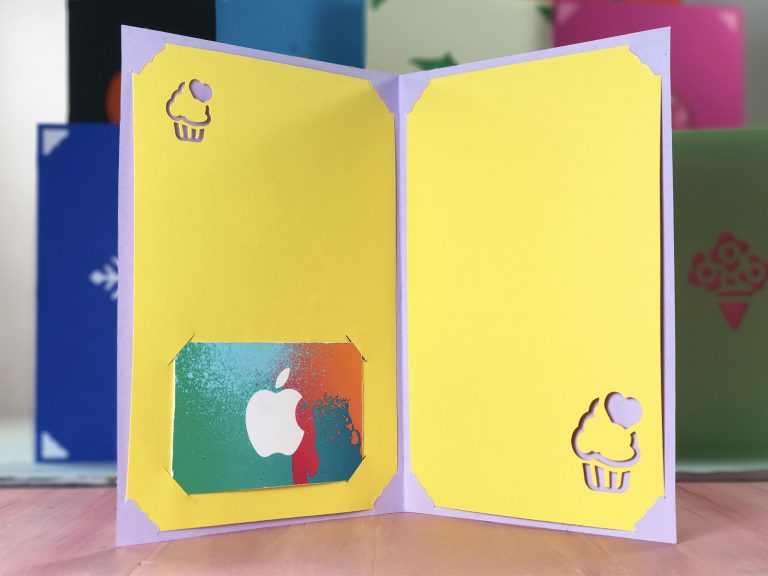 If you like this project and feel ready to try something a bit more complicated, check out my Pop-Up Butterfly Card, which is good for Cricut beginners.
This post contains some affiliate links for your convenience (which means if you make a purchase after clicking a link I will earn a small commission but it won't cost you a penny more)! Read my full disclosure policy.

Materials for My Easy Layers Greeting Card Set
How to Make the Easy Layers Greeting Cards
Step 1: Get My Free Easy Layers Greeting Cards SVG File
Get Design #42 which are the greeting card designs from my free resource library (get the password to the library in the form at the bottom of this post).
Step 2: Prepare your Greeting Cards for Cutting
When you unzip the Easy Layers Card Set file, you'll find that each design is its own SVG file.
How to Upload the Files to Cricut Design Space
Go into Cricut Design Space and click the Upload button.
Click Upload Image.
Browse until you find the folder with the files you downloaded. There is a file for each card.
Select the file you want (it will have ".SVG" at the end of the filename).
Once the card images appear onscreen, click Save.
Click the card image under "Recently uploaded images"
Click "Insert Images."
Here's what the Sunny Day Card SVG file looks like uploaded to Cricut Design Space: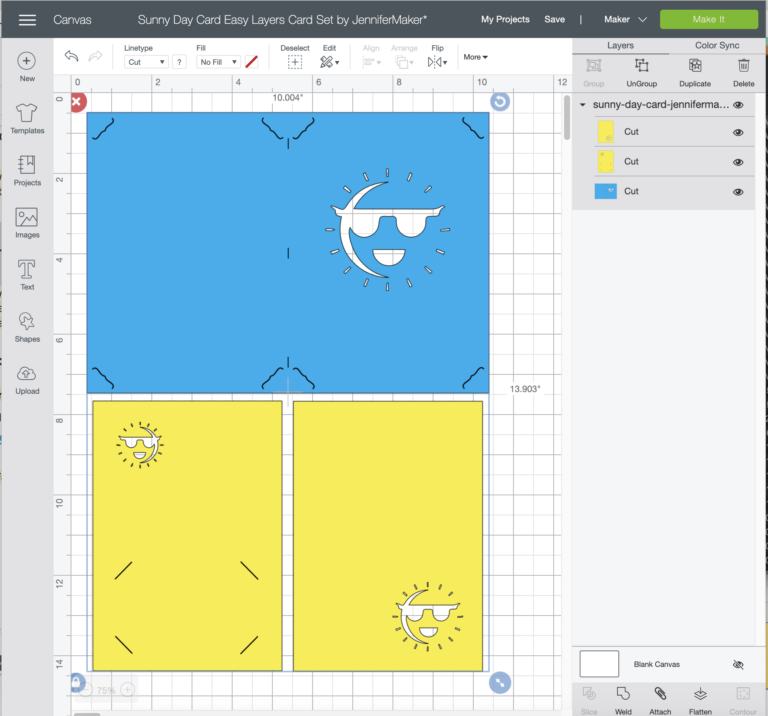 Tip: If you're not sure how to upload an SVG cut file to Cricut Design Space, watch this helpful video training series I made. If you're on an iPhone or iPad, here's how to download and upload SVG files to the Cricut Design Space app.
How to Remove the Gift Card Slots
This is simple to do in Cricut Design Space:
Upload the image and place it on your canvas following the steps above.
Click the image on your canvas and press the Ungroup button.
Click Shapes > Square — this will place a square on your canvas.
Click and drag the square over the section of the card with the gift card slots. You can resize the square with the blue double-arrow icon in the lower right corner.
Hold down the Shift key, then click both the square and the card section beneath it to select them both.
Click the Weld button in the bottom right.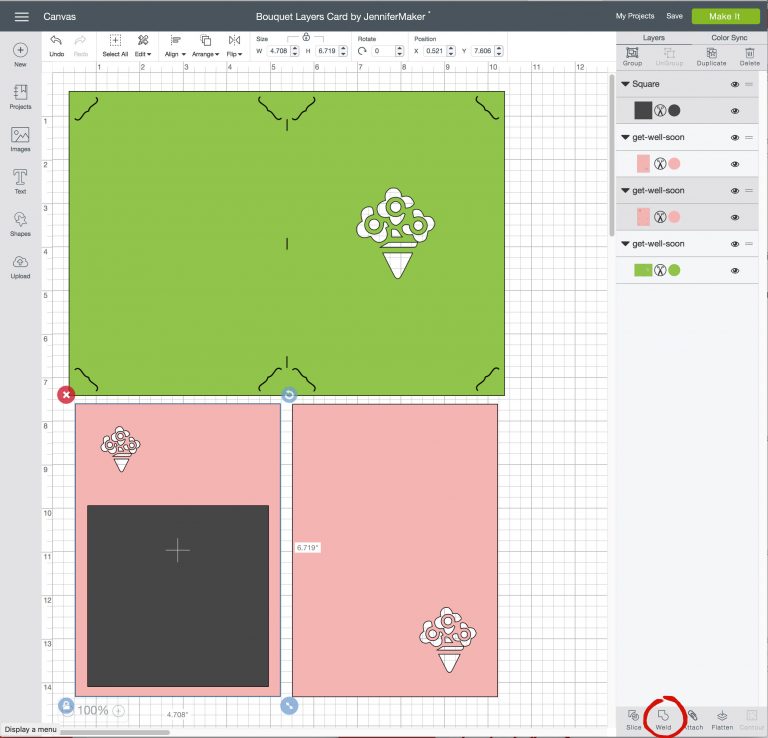 Step 3: Cut Out Your Greeting Card Design
Load your fine-point blade place and place a piece of cardstock onto your StandardGrip Mat (green mat). Make sure your paper is placed in landscape orientation, wider rather than taller.
Click the green Make It button in the top right corner of your Cricut Design Space Canvas screen.
Click the green Continue button in the bottom right corner of the Mat Preview screen.
Select the material type (cardstock), pressure (Default), load your mat into your Cricut, and push the flashing Go button to begin cutting.
Each card is a two-sheet project, so you'll need to load another mat with another sheet of cardstock into the machine. Design Space will show you what color will be cut next, or you can use whatever colors you want.
Step 4: Assemble Your Card
Remove your cardstock from your cutting mat. (Read this tip to learn how I remove cardstock from my Cricut Cutting Mat so my cardstock doesn't tear or curl.)
Fold your card in half, place the inside sheet in place and add a gift card.
Step 5: Get Even More Free Easy Greeting Cards
This first set was so much fun to design, and so many of you reached out to me asking for more designs. So, if you enjoy this set of easy greeting cards, I know you'll want to download my second set of Easy Layers Greeting Cards.
Free Cut Files for the Greeting Card Set
Get the password for the library with the free greeting card files here by filling out this form:
Win a Custom Easy Layers Card Design!
Don't see a design you like among this set? I'm giving away one (1) custom design to 10 lucky winners. That means you can tell me what you'd like to see on this style of card (PG-friendly, no trademarks), and I'll design it for you. The card will become available to everyone else, unless your design is so specific that I don't think it should be shared. To enter, use the form below (tip: there are ways to enter more than once). I'll be drawing names randomly at the end of the week. If you win, I'll contact you to find out what design you'd like me to make.
Update: The 10 winners have been selected and notified!
Love,