Thinking of creating or upgrading a craft room? Watch my progress and see my ultimate craft room plans for inspiration!
It's no secret I love to craft. A few years ago I updated my basement and turned it into a sewing studio, complete with huge tables for pattern cutting, a custom-designed fabric storage system, and filing drawers for patterns. But that space is for sewing. Since I began to refocus on this blog, I've been doing all my crafting here in my office. You may have seen photos and videos of it already — every time I do a Facebook Live video, I'm sitting at my desk in my office. Well, I've decided it's high time to turn my office into an ultimate craft room.
Check out the source list for my craft room plans later in this post!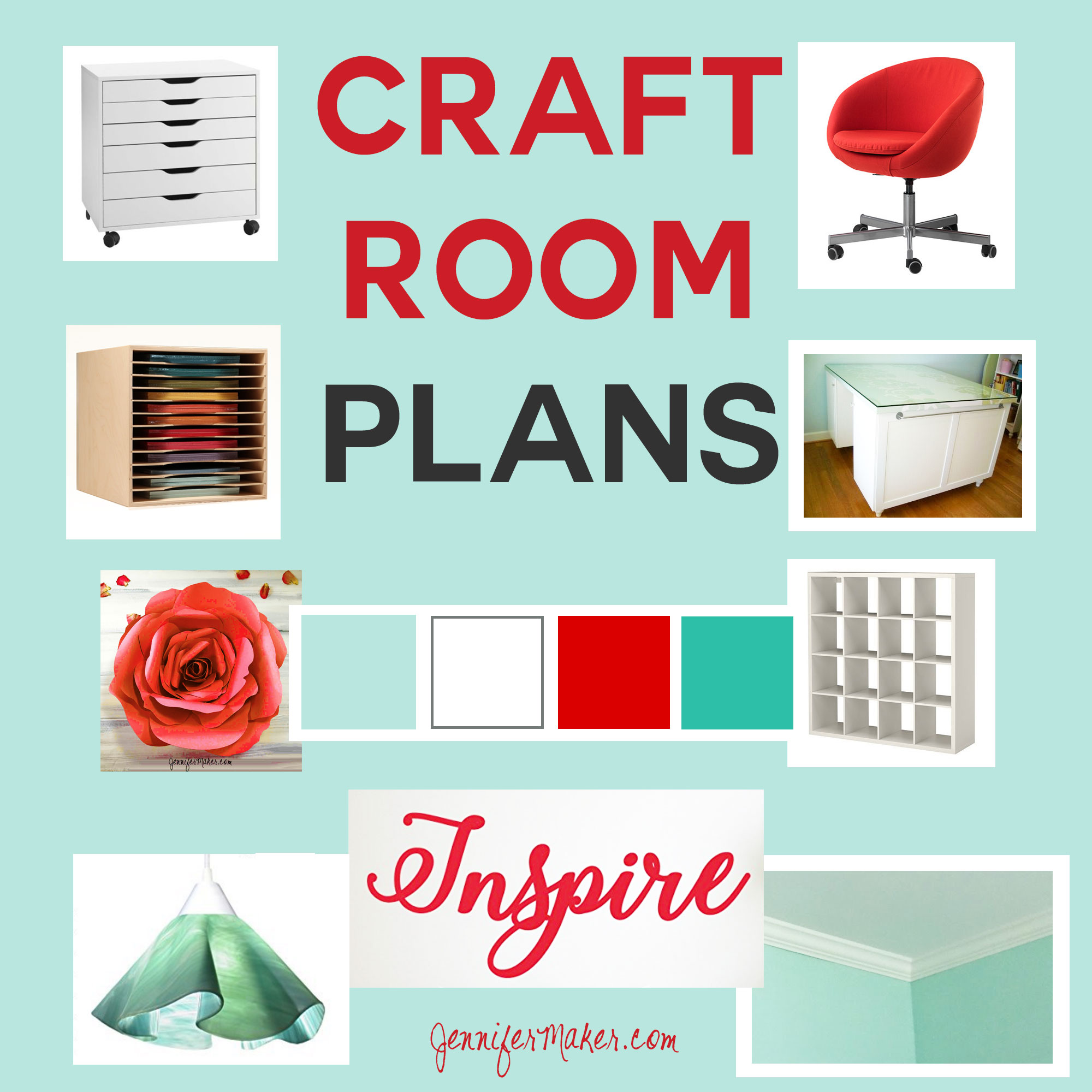 I don't need all this office space I have just to work — all I need for that is my desk (you can find that tutorial here) — and most of it is going to waste. But I could use this space to organize my craft materials, which are growing rapidly, and create more places to do and make things.
It's going to be a big job. My office still looks like a family room! Here's what it looked like right before we moved in (that's me with Alexa when she wasn't quite 1-year-old).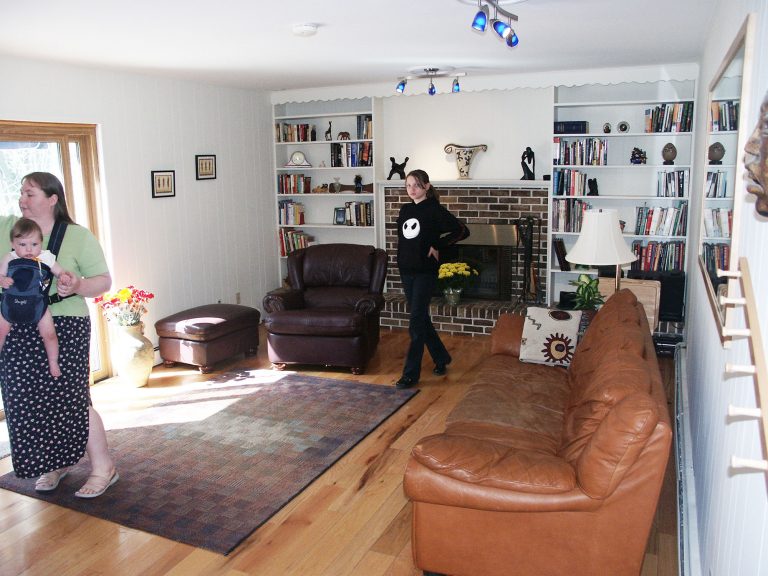 But, as they say, the journey of a 1000 steps begins with one. So here I am, announcing my craft room plans to the world. I'm keeping my awesome travel desk and my lightbox — and of course the built-ins all stay — but everything else goes! I think I'm even going to paint! I am SO EXCITED!
Here's what my office/craft room looks like now, sans all the furniture (and with a whole lot more "craftermath"):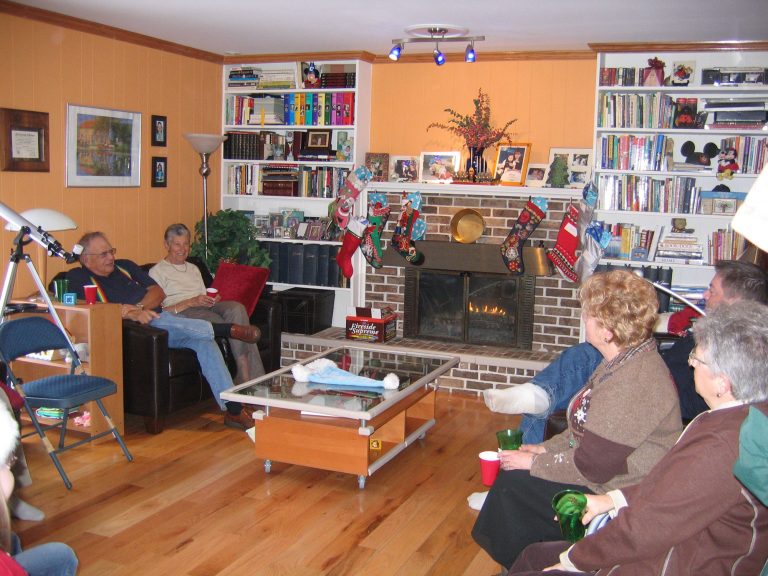 My office/craft room is about 14 feet by 20 feet, so approximately 280 sq. ft. It's not the biggest space, but certainly not small either. The room has a wall of built-in shelves, a fireplace with mantel, a large sliding glass door that goes out onto my deck, and my closet nook with a built-in bench, desk, and more shelves. It also has lovely wood floors and even some wood crown moulding that we installed after we moved in. There's a reason why I moved my office here (it used to be in the basement).
Here's a floor plan of my space. I think there's plenty of potential here!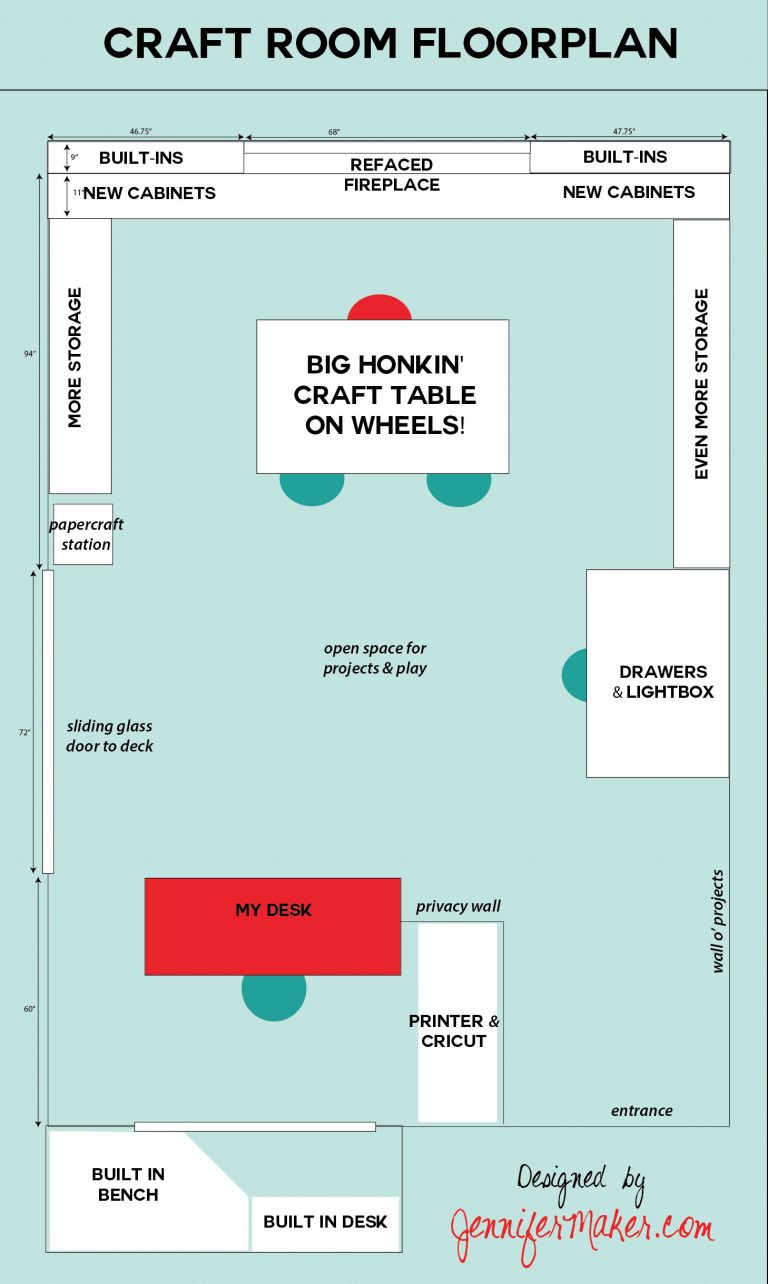 My Craft Room Plans
So, what am I going change? Oh, where DO I start? Let me go through the list with you. If you fall in love with some or all of the items you are seeing and want some for yourself, I've included affiliate links for your convenience. Click here to read my full disclosure policy.
Here is my craft room plans mood board: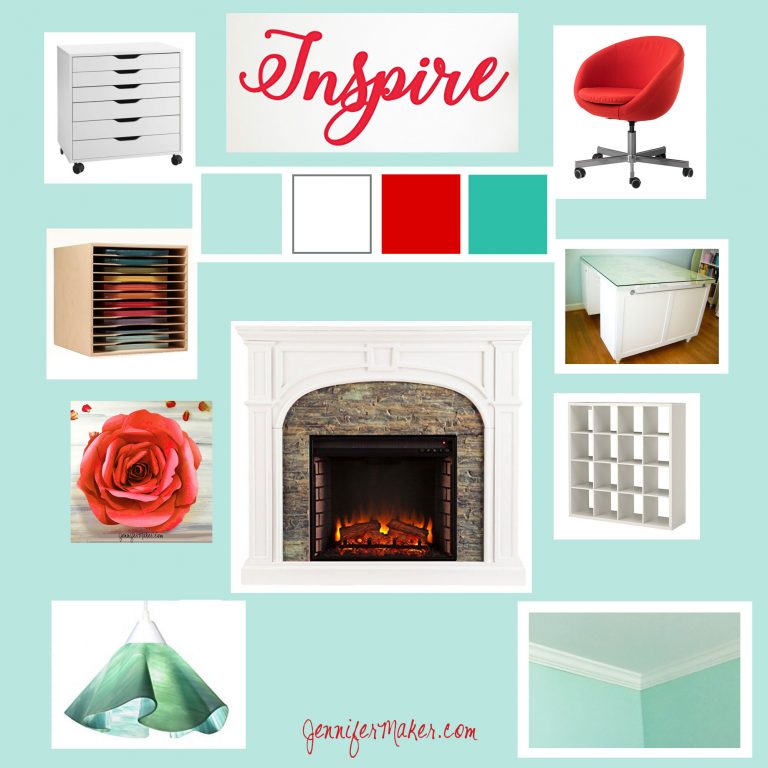 The color palette. I'm going for accents of turquoise and red (do you recognize those colors from my blog header?) on main colors of white and aqua. Feminine and powerful, like me. Rawr!
The walls. Two walls are goldenrod, another wall is dark red, and another one is white. I like the colors still, but they are much more appropriate for a room you socialize in than for a room you craft in. I need to lighten up this room and open it up. So I'm going to paint the walls a light aqua, like the background of the mood board shown above. I think it will go wonderful with all the white shelving.
The crown moulding. It's a lovely oak, but it's just not going to go with my aqua and white scheme. So I plan to paint the moulding and the trim around the windows white. You can see how I think that will look in the lower right corner of my mood board.
The fireplace. Ugh, I've always disliked this '70s fireplace. Such dark and boring brick. I'm either going to paint it all white and cover parts of it with white wood, like the fireplace shown in my mood board, or I'm going to reface it with tile. If I get stuck, I'll just paint the whole thing white. We also plan to build waist-high cabinets that extend outward from the built-ins on either side of the fireplace. I want to hide that big brick shelf as much a possible AND use all the possible space.
The lighting. The room has only two little track lights (those are the blue lights you see above the fireplace). They are super wimpy and need to go — this room needs more lighting. I'm madly in love with the seafoam teal light shown in the lower left corner of my mood board — they look like glass skirts!
The need for a big craft table. So I have in mind an IKEA hack, similar to the one you see on the right side of my mood board, which is by Kari over at ikeahackers.net. It has the right look, but I will probably use storage units rather than cabinets. Mine will definitely be on wheels, unlike hers — I need to be able to move it around easily. I also like the idea of cover it with glass, like she did, to make it easier to clean up messy crafts.
The need for more storage. I plan to store paper in some of my shelves, so I will be using perfectly-sized paper holders inside white IKEA Kallax storage units. I have an idea for the perfect paper crafting station that wheels around the room — I can't wait to make it. If I can float it, I may also use some of the Martha Stewart Living Craft Space units — they are SO cute! I really like her Three Drawer Flat File Cabinet. Or I may just go with the IKEA Alex drawers to save money. I also want to have at least one pegboard on the wall for tools.
The decor. I need a red chair — red is my power color. And I love the big "Inspire" wall art. I want that word big and red somewhere in my craft room. And I'm thinking of putting my giant paper flowers around the room, because they bring me such joy. A pretty valance of giant flowers over the sliding glass door would be very cheerful!
Source List for My Craft Room
So those are my plans for the craft room so far. What do you think? If you want to check out any of the items for yourself, you can shop the post below by clicking on any photo for more info.
[ess_grid alias="craftroomplans"]
I plan to work on my craft room this summer, so watch for more posts and tutorials as I make things (because you all know how much I love to make things)!
September 2018 Update: My Craft Room is DONE! You can tour my craft room and see all the projects I made for it here.