Learn several methods to create sublimation on canvas projects!
Sublimation is a great way to transfer vibrant, full-color images onto materials like metal, plastic, ceramic, and glass. But did you know that you can also use sublimation to create beautiful works of art on canvas? I'll show you how to sublimate on canvas in several different ways so you can find the method that best fits your needs and vision! I'm also going to show you how to make a custom photo canvas. Beautiful sublimation canvases add the perfect touch to your holiday decor and photo canvases are the perfect gift.
Want to save this project? Enter your email below and we'll send the project straight to your inbox.
Watch the full step-by-step video showing you exactly how to create your sublimation canvas art with a VIP pass to Maker Academy Weekend 2022!
In this project, I'll show you how to sublimate on stretched canvases (also known as gallery wraps), as well as how to stretch a sublimated canvas onto a wooden frame. To get the best results, we'll experiment with a few different materials to help the sublimation process, too. As canvas does not usually have a polyester coating, I'll show you how to use laminating pouches, sublimation heat transfer vinyl, sublimation spray, and white polyester material in different combinations. A craft knife and damp washcloth will be helpful for some of the projects, as there can be paper residue to remove.
If you want to remove the cotton canvas to work with it, you'll also need a flat head screwdriver, long nose pliers, and a staple gun. If you use the polyester fabric wrapping technique, you'll use the staple gun with cardstock and a hot glue gun to clean up the back.
You'll also need the usual sublimation tools for dye sublimation printing — if you are new to sublimation, check out my Sublimation for Beginners Guide. Specifically, you need a sublimation printer and ink, compatible paper, a desktop computer, and a free Google account will get you started! A heat source is also important. I'll use my Autopress, but you can use an EasyPress 2 or 3, also. Uncoated white butcher paper and cardstock will help protect your press from the ink.
Heat Resistant Tape, scissors, a lint roller, and a measuring tape or ruler will help with each project!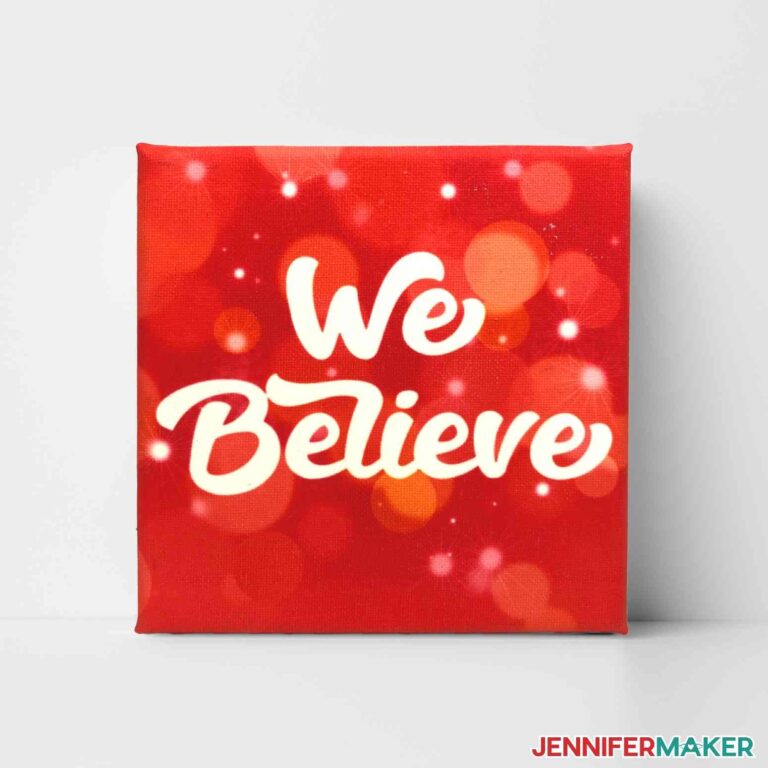 Look at just how cute these canvases turned out. I think they would make the perfect gift for someone special! They also go really well as seasonal decor during the holidays and can make a house go from regular every-day to festive in just a few minutes!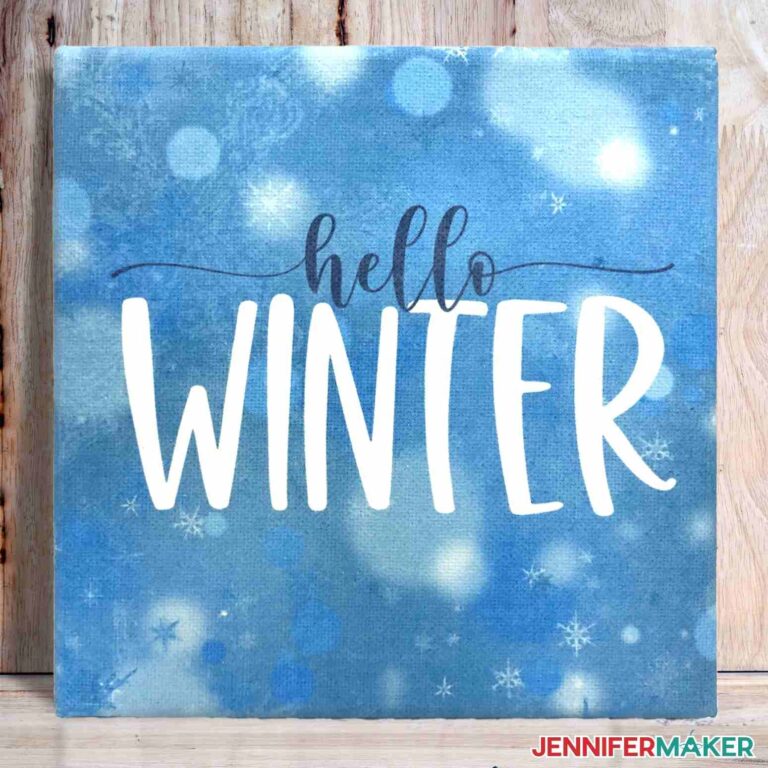 I'll also show you how my printing technique to make a photo gallery wrap with a perfect print — here's a sublimation canvas with Greg and I that's going to look wonderful on the wall!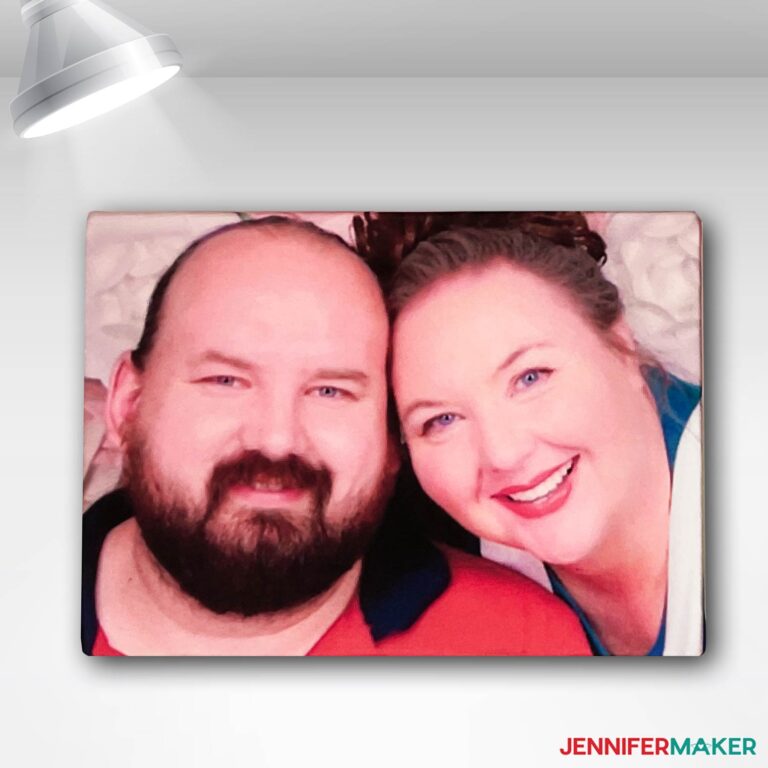 Here's a supply list of what you need to make your own sublimation on canvas! This post contains some affiliate links for your convenience (which means if you make a purchase after clicking a link I will earn a small commission but it won't cost you a penny more)! Read my full disclosure policy.
Materials to Make a Sublimation on Canvas
View my Amazon shopping list with the exact items we used to make this project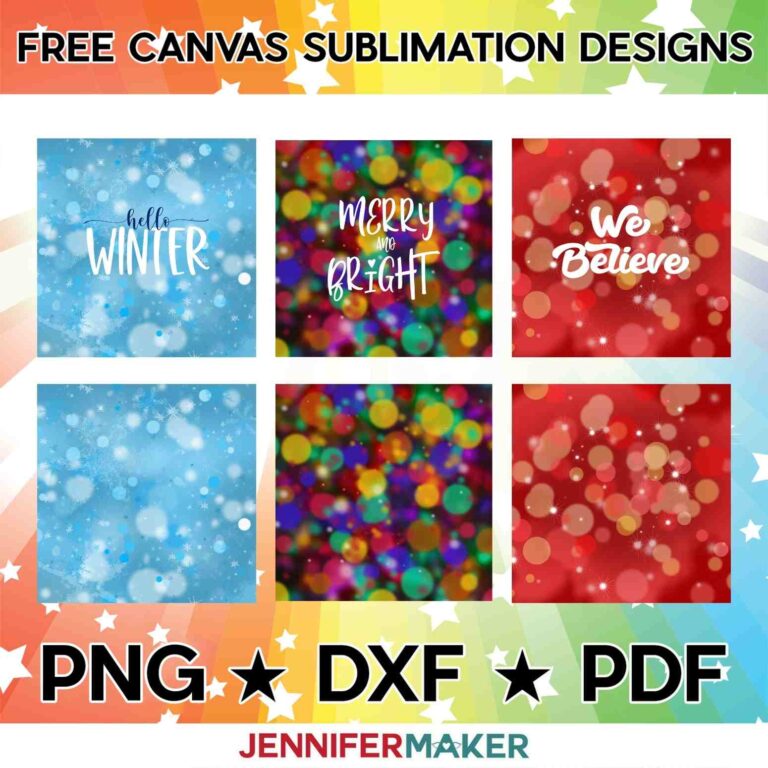 How to Make Your Own Sublimation on Canvas
The detailed step-by-step assembly video on how to create sublimation canvases debuted during Maker Academy Weekend 2022, held online November 3-6, 2022. Get an on-demand pass to watch all 20+ workshops, each with a printable handbook, transcript, audio files, design files, and support with a VIP pass below:
Answers to Your Questions About How to Make a Sublimation on Canvas
Q: Where is your tutorial for this project?
This is a special project we made for our free Maker Academy Weekend 2022 event! A complete and detailed step-by-step video premiered during the event November 3-6, 2022 — specifically, this tutorial video was available to watch for free for 24 hours beginning November 6 at 4:00 pm ET! You can get access to the full video, the printable handbook that details how to make this beautiful project if you get a VIP Pass to Maker Academy Weekend 2022, which comes with other perks and bonuses, too!
Can you use sublimation on canvas?
Yes, so long as your canvas surface is coated to accept the sublimation ink. You can buy polyester canvas, but if you already have a cotton canvas, you can coat it with sublimation coating spray, laminate, or clear dye sublimation HTV. Then you just sublimate onto the canvas as you normal!
Is canvas a polyester?
Most canvas material is cotton, but some canvas fabrics are polyester. Check the manufacturers specifications to find out. If you have a canvas already and you are unsure of the fabric content, you can try the burn test. To do this, take a small swatch of the canvas and hold it with tweezers over an empty sink, then slowly move a small flame toward the swatch — cotton fibers will ignite as the flame gets close, while polyester fibers will curl away and melt.
Could I make a reverse canvas for my sublimation print?
Yes! A reverse canvas is a great option to frame a sublimation canvas. Learn how to make a reverse canvas in my tutorial here.
Can I sublimate on Dollar Tree canvas?
Yes, but you'll need to coat them first using one of the techniques I teach in this tutorial.
What fonts did you use in your sublimation designs?
Get my free PNG design files for these canvases, including backgrounds so you can make your own!
I love seeing what you make with my designs and how you use them! Please share a photo of your sublimation on canvas in our Facebook group or tag me on social media with #jennifermaker.
Love,