Learn how easy it is to make a gorgeous sublimation T-shirt with beautiful, long-lasting results!
Do you want to make t-shirts with any design you want on them? This sublimation T-shirt tutorial is the best way to get started! While I love layered heat transfer vinyl shirts, sometimes I want a different look and feel. Especially with full-color watercolor designs being so popular. Getting beautiful results is really easy once you've learned my sublimation shirt basics. There are a few details to get right, but I've done lots of experimenting for you. So you can learn from my experiments (and mistakes!) to make your own beautiful shirt with sublimation transfers.
Want to save this project? Enter your email below and we'll send the project straight to your inbox.
Watch my full video on How to Make a Sublimation T-Shirt:

Print sublimation on t-shirts is such a fascinating process! And it's really not as intimidating as it may sound. Basically, special sublimation dyes and papers are activated with heat. The inks become a vapor and dyes the surface in just a few seconds. And since the printed designs become part of the shirt's fibers, you can't feel them! That is extra helpful if you or a loved one have sensory issues.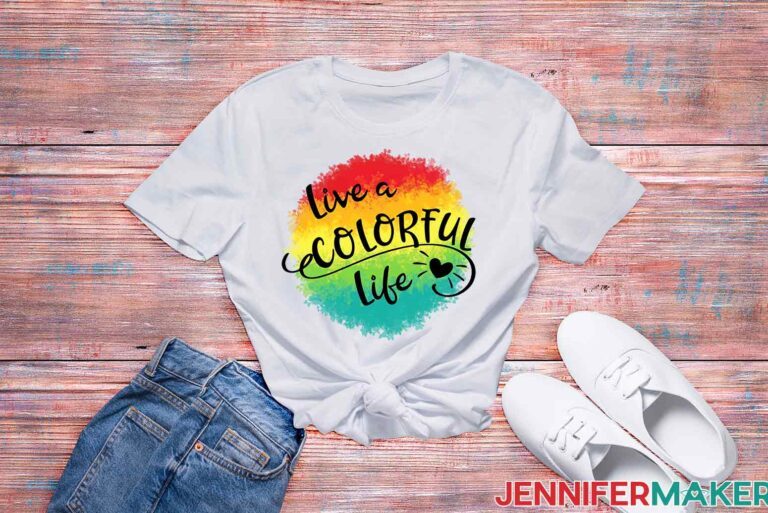 Even better, you can transfer any design your printer can create! So you can use high quality PNG files and similar designs with gradients. That is a HUGE upgrade from layering HTV vinyl or even patterned Infusible Ink. I'm sharing some beautiful watercolor designs with blended, vibrant colors so you can see just how much detail you can get with sublimation.
A sublimation t-shirt takes some special materials and equipment, but once you're all set up, the process is so fast and easy. If you're new to sublimation, be sure to check out my Sublimation for Beginners tutorial!
Of course, we need a shirt! I recommend that you start with a white Cricut polyester t-shirt for your beginner sublimation project. I tested many different shirts for this project (with varying degrees of success- watch the video to see them!) and found that the most important part of a sublimation t-shirt is the polyester content. If you want to test your process before using a shirt, you can sublimate on a piece of polyester fabric with the same material content.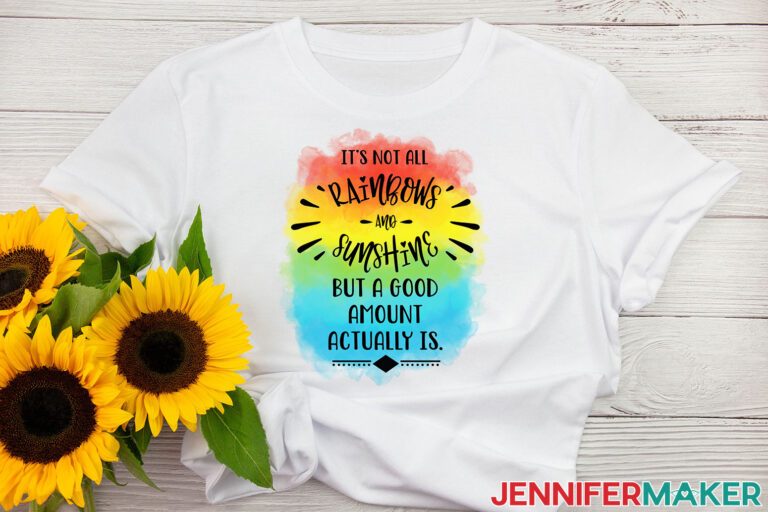 And yes, you will need a sublimation printer and a way to control it. I'm using my Epson EcoTank ET-4760, but you can find information on several printers in my Best Sublimation Printer to Buy in 2022 post. I find sublimation printing easiest from my desktop computer using Google Docs (really!). Then, you'll need compatible ink and paper. I used Hippo Ink and 8.5″ x 11″ A-SUB paper. You can learn the best materials for your needs in my Sublimation for Beginners Ultimate Guide.
And like I mentioned earlier, sublimation requires heat. Lots of it!
You can use an EasyPress, traditional heat press machines, or a Cricut Autopress, which is my favorite. You usually cannot use a household iron because sublimation ink activates at 350°F (175°C) and irons don't get hot enough.
I like the Autopress the best because I don't have to worry about pressure or opening it when it's done. I can multitask! You can learn more about the Cricut Autopress at my full review.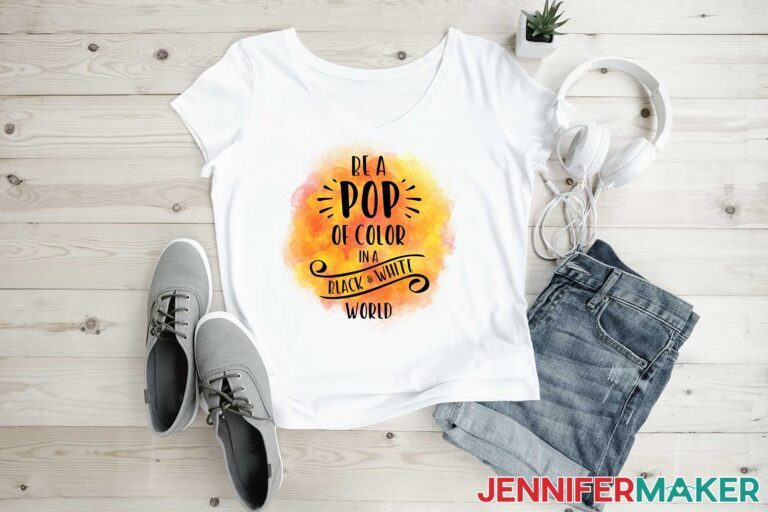 Once you have your shirt, printer, paper, and ink selected, there really aren't many things you need to make a sublimation t-shirt. But they're very important for safety and perfect results!
Sublimation ink gets so hot that it turns to vapor during its processing, and this vapor can transfer to nearby surfaces. I'll show you how to use white butcher paper and white cardstock to avoid unwanted ink transfer on your shirt and press. Heat resistant tape will also help keep the design in place to avoid blurry images.
And just like the ink vapor can get on paper, it can get on you! Good ventilation is important any time you use sublimation. Have your windows open and a fan going to help the fumes dissipate quickly. And don't breathe in very close to the project while it's still warm.
I can't wait to see what you make with these designs and all your new sublimation skills! With all the possibilities for creativity, I know your crafting future is indeed bright!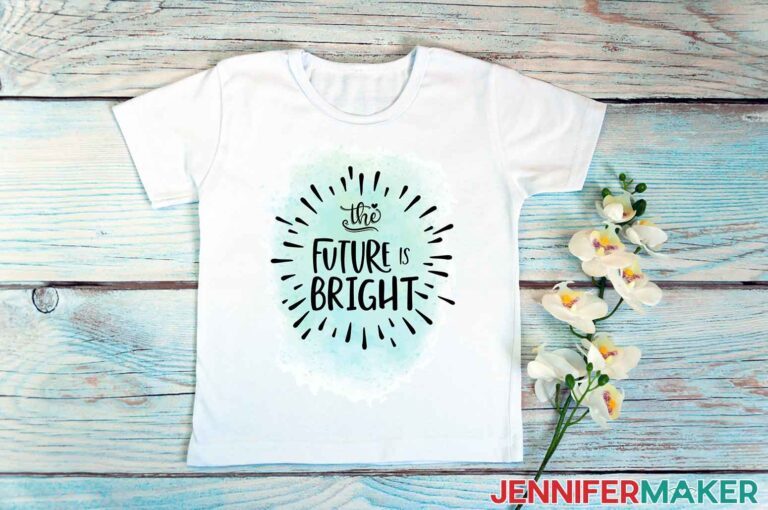 Sublimation Startup
Need a little extra help understanding how to get started with sublimation? Join Sublimation Startup for a logical, step-by-step guide to getting setup for success with sublimation! You can ask questions and feel confident that you'll get help! The Sublimation Startup mini-course is also great for those who enjoy learning from Jennifer Maker's easy-to-understand, calm, and clear method of teaching. This is a no-fluff, no-mess, no-distraction workshop … it's like sitting down with Jennifer in her craft room to learn directly from her! We work in logical steps to build your understanding and confidence with sublimation, and then provide support to keep helping you as you continue on your journey! Register now!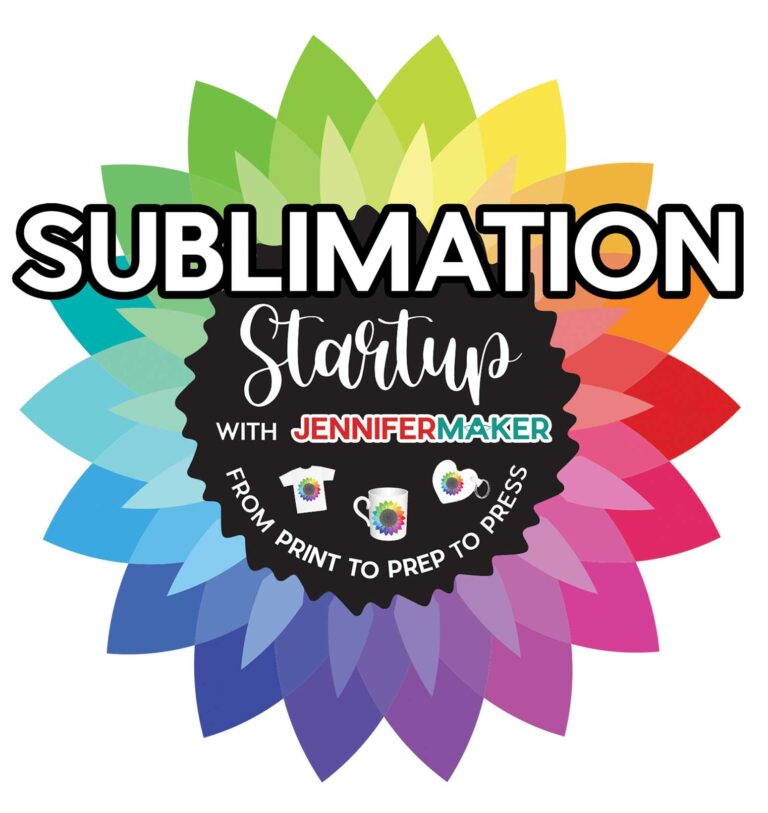 Ready to make a sublimation t-shirt using my free designs and step-by-step tutorial? You're going to love it! This post contains some affiliate links for your convenience (which means if you make a purchase after clicking a link I will earn a small commission but it won't cost you a penny more)! Read my full disclosure policy.
Materials to Make a Sublimation T-Shirt
How to Make a Sublimation T-Shirt
Beginner Sublimation T-Shirt
Yield: One T-Shirt

Active Time: 45 minutes

Total Time: 45 minutes

Difficulty: Easy

Estimated Cost: $5-$10

Learn how to make a beautiful sublimation T-shirt with easy techniques for flawless application!


I also have a group just for sublimation crafting where you can get help and tips from other crafters who love to sublimate, too! Come join us at jennifermaker.com/sublimationgroup to ask questions, share ideas, and get inspired!!
Questions About How to Make a Sublimation T-shirt:
Q. What is a sublimation T-shirt?
A sublimation T-shirt is made by heating dye sublimation ink to a gaseous state, which soaks into the fabric of the shirt, then cools back down into a solid state to create a permanent design.
Q. Can you sublimate on any T-shirt?
Technically yes, but you'll get the best results easiest with white polyester T-shirts, like ones from Cricut. You can use a poly blend shirt, but the design may not be vibrant, especially after washing. And you can sublimate on dark shirts if you use darker ink or add a light colored substrate to it first, like white glitter vinyl. Remember that different types or shirts might use different temperatures or pressing times, so always check!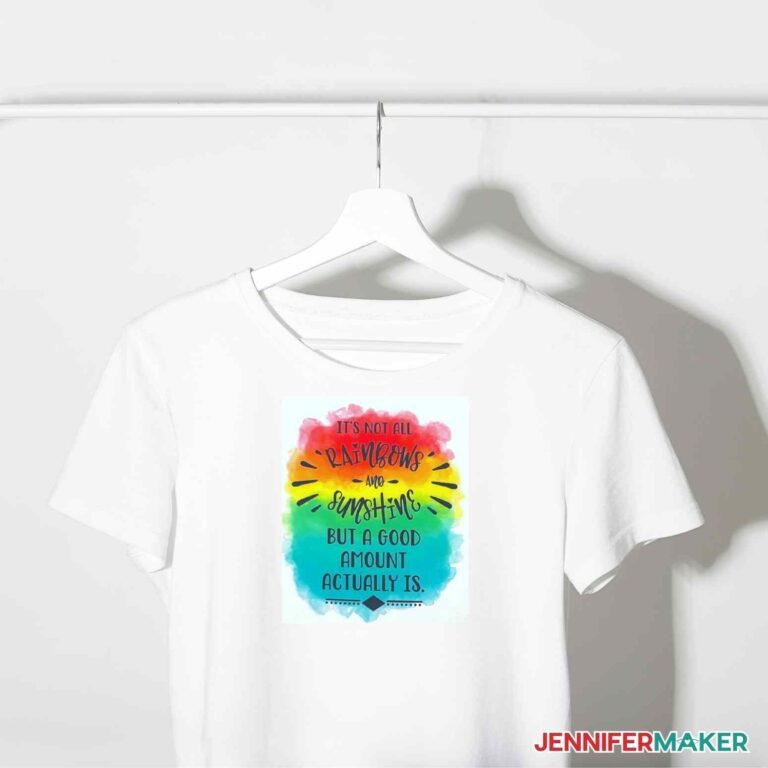 Q. Can I sublimate on a 100% cotton t-shirt?
Again, technically yes, but you might not like the result. And as a person who prefers the feel of cotton, I understand why you'd want to! Unfortunately, I found that sublimating on a cotton shirt produced less vibrant designs that loss their color more quickly in the wash. Eventually, the color will virtually all wash out. So I do not recommend you waste your ink and efforts on a 100% cotton T-shirt. Watch for my upcoming tutorial that shows alternate ways to sublimate onto 100% cotton T-shirts.
Q. What shirt material is best for sublimation?
By far, the best shirts for print sublimation are polyester shirts or poly blends with at least 65% polyester.
Q. How many washes does sublimation last?
There are many variables, but if you use a mostly polyester shirt and follow my tips, your sublimation T-shirt should last as many wash cycles as the shirt itself!
Q. Is sublimation better than vinyl?
It all depends on your preferences and goals! Dye sublimation is fast, flexible, and permanent, but it requires some extra equipment that heat transfer vinyl doesn't.
Q. Do sublimation shirts fade?
Even the best sublimation T-shirts will eventually fade, just like clothing you'd buy at a store, even ones made with screen printing. But since the dye soaks into the fibers, sublimation images will last much, much longer than HTV decorations.
Q. Can I use a sublimation printer for regular prints, too?
No, a sublimation printer (whether purpose-built or converted) only prints in sublimation ink. And you cannot really switch a converted printer back to being an inkjet printer without a LOT of effort and wasted ink.
Q: What kind of paper do I use?
While some people will use just regular laser paper, I really recommend you use special sublimation paper for the best and most vibrant results and ink transfer. I used A-SUB paper during my tests.
Q: What kind of ink do I use?
You must use special sublimation ink to do a sublimation shirt. I used Hiipoo Ink for these tests
Q: How do I test my sublimation prints for vibrancy and color?
Use my free subliflower design to see how your colors look! It's Design #385 in my resource library!
Q: What else can I put my sublimation prints on?
In addition to polyester garments, anything with a high polyester count or a special sublimation coating will work. I've had SO MUCH fun learning to sublimate with you! Here are just a few of the items I've sublimated and some tips I've learned along the way:
Get my Sublimation T-Shirt designs (and many more) for free!
I can't wait to see your sublimation T-Shirts! Watch for more sublimation tutorials and please ask any questions you have in our Facebook group >or tag me on social media with #jennifermaker.
Love,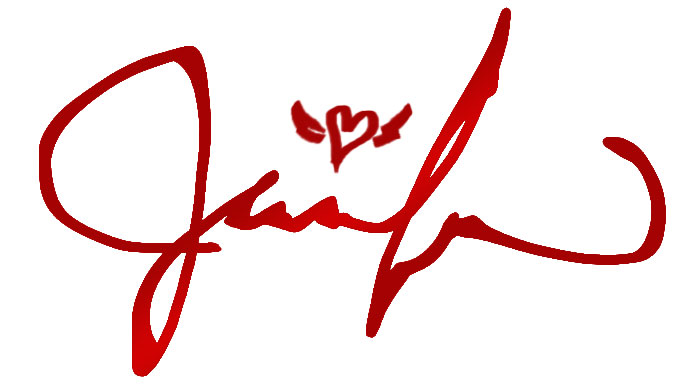 Want to remember this? Save the How to Make a Sublimation T-Shirt tutorial to your favorite Pinterest Board.