"Ask me anything," I said. That could be a dangerous statement, but I meant it when I said it! Last week I emailed my lovely readers and asked them a big question: "If you could ask me anything, what would it be?" And you all responded with many wonderful questions. I received questions about general crafting and making things with the Cricut, as well as questions about myself. I am replying to each person who wrote to me personally, but I thought it would be fun to share here on my blog as well. Here are the answers to the questions I received about myself — I will answer the crafting-related questions in separate blog posts.
"What got you into crafting?" (from Erica)
I can't remember a time when I haven't been crafting, to be honest. My mother is an artist and crafter, and she had me doing things from a very young age. In fact, the first time I was ever in the newspaper was at age 4, and it's a picture of me fingerprinting (see below). So, I think the real answer to this question is that my mother got me into crafting. She was always introducing new crafts to my sister and I, and she continued to pursue her own crafting interests all through my childhood, providing us with an excellent role model. Now she is a painter, but she's also content to come over to my studio and do random crafts with me, too.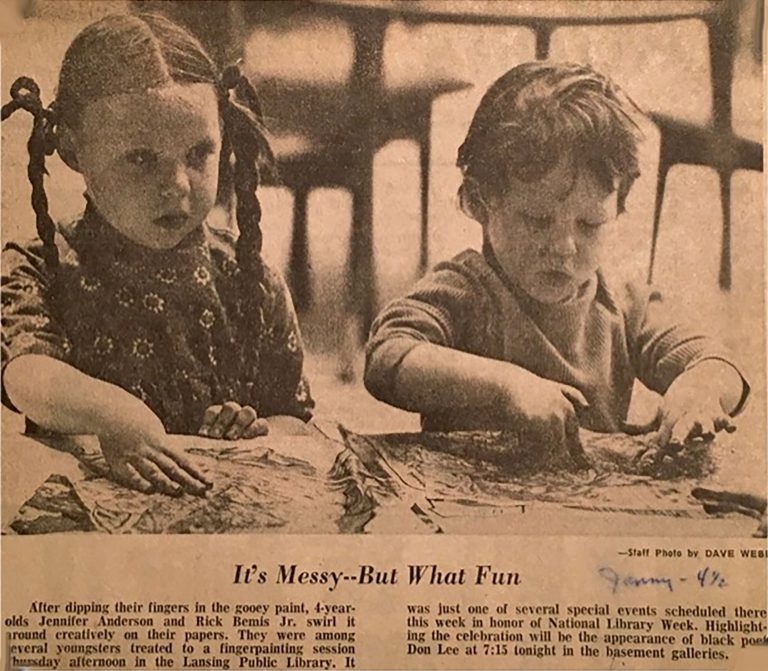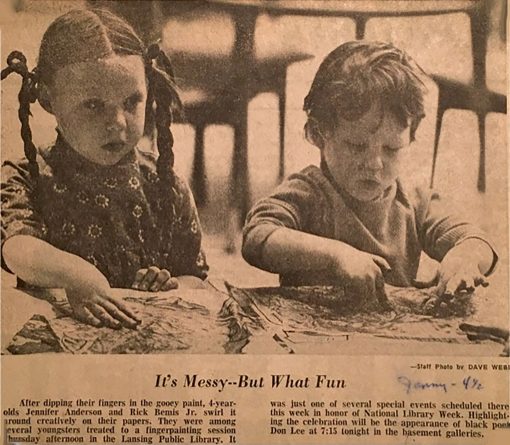 "How do you find time to get creative and what do you have to give up to do it?" (from Leslie)
Being creative is both a mindset and a priority. Making things makes me happy, so I am constantly thinking about what I could make next. I get a lot of ideas, only some of which I actually follow-through on. And that's mostly just because of time. Like everyone else, I have a busy life. I work full-time from home with my own company, plus I'm a mom. What I gave up a while ago was TV, and that leaves me time to craft in the evenings and on the weekends. I do occasionally watch Netflix with my family, but it's rare. I typically craft after dinner and I spend several hours at it. This vastly enhances my sense of well-being.
"Have you ever made something for someone very special in your life? What was it and how did you feel when finished?" (from Beth)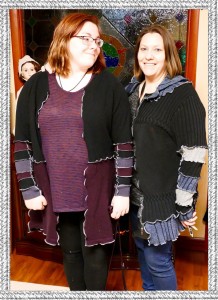 Yes, many times! I love to make things for those I care about. My most recent project, the DIY Enchanted Rose, was something I came up with for my friend Sara. I will be very happy to send it to her. One year I made sweater coats for my mother and sister — that was a lot of fun, because while they picked out the colors, I got to put all those colors into an arrangement that looked good. When my daughter was about 4 years old, she asked me to build her a set of stairs so he could reach the hidden "room" in her closet (one of those above the stairs sort of cubby holes). I made her a set of wooden stairs with hidden compartments — it was the first time really working with wood and a jigsaw, and it set me on a path to more wood projects.
"What can you not do without for your crafting, your favourite go to ? Is it glue, threads, papers, your favourite scissors?"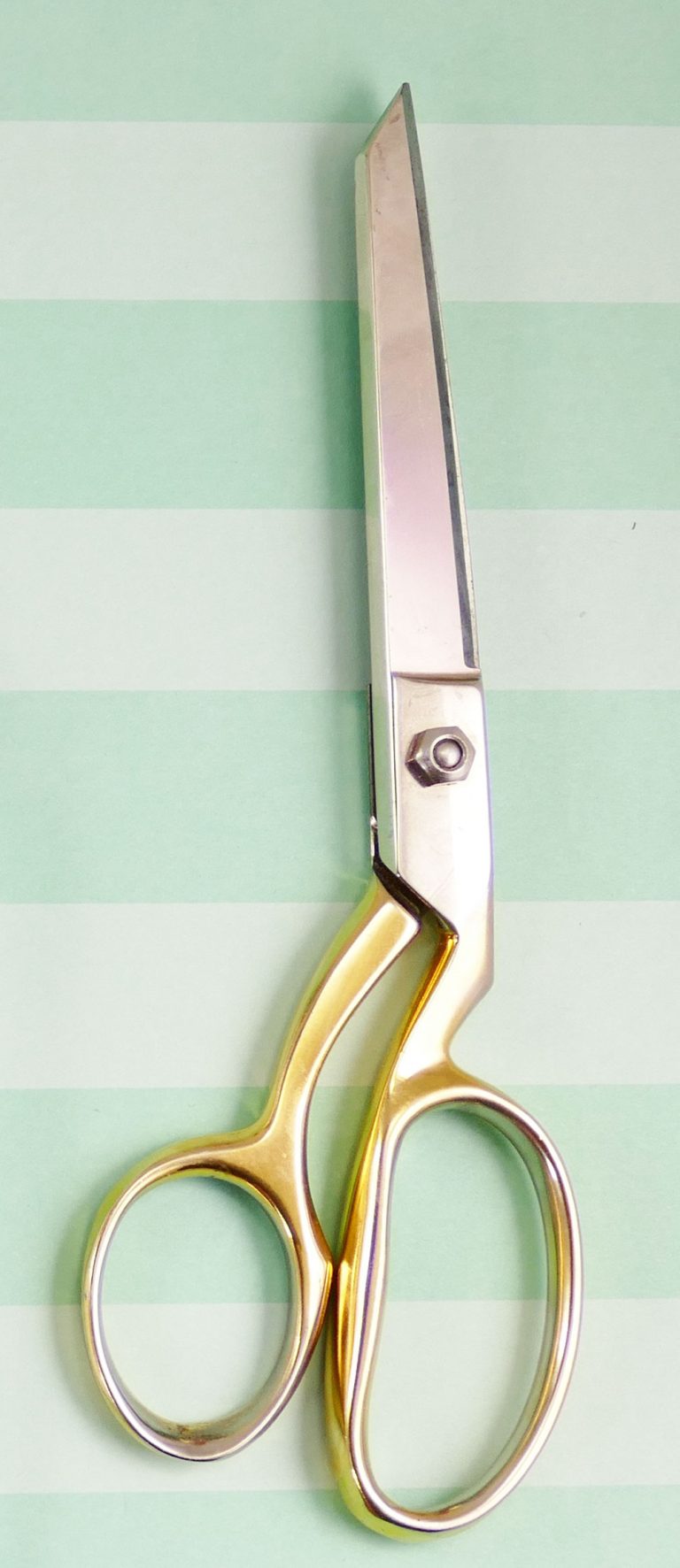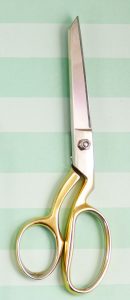 I use my scissors a LOT. I think nearly every craft I do involves scissors. Even using my Cricut involves scissors, as I often have to cut paper down to size. And I need scissors for all my sewing, of course. My favorite scissors of all-time are my gold Gingher shears, which are made from high carbon cutlery steel and hand polished and tuned. They last FOREVER, but if if you ever have a problem, they will fix or sharpen them to new condition for just $12. I have a pair for crafting and a pair for sewing. I love those scissors!
JULY 2017 UPDATE: I now have a tool I use more than my scissors, believe it or not. It has surpassed every other craft tool I use. Click here to see what it is!
"Is there a product that you will happily buy despite the expense?"
Yes, I will happily buy whatever product it is I currently need. Ha! Pretty much that's true, though. I spend more at the craft store than anywhere else. I am an expert when it comes to maximizing my coupons.
"What would be your ideal job?" (from Deirdre)
When I originally wrote this Q&A, I was still the founder of a company that publishes Disney travel guides called PassPorter. I'd been doing this for nearly 20 years at that point, and it was very fulfilling. It was a little like being a florist, except I delivered information that makes people happy rather than simply pretty flowers. I had many hats there, including things like author, social media marketer, podcast host, and developer of our PHP-based online travel guide system. I found this very satisfying.
Shortly after I wrote this, however, my craft blog exploded and began to take more and more of my attention. And at the same time, things began to wane with my company and it was no longer able to support me and my family. So in 2017, I made the decision to devote myself to JenniferMaker and haven't looked back since.
In recent years, I've taken more of an interest in the idea of social influence. I've always been one, I just didn't know it had a name. I think I enjoy this the most. I love that I can help others in my social circles by leading them to information or choices that work best for them. In a way, the JenniferMaker blog is an extension of that interest. So, if I had to pick one thing, it would to be a social influencer, helping out as many people as I possibly could by expanding my reach into new and emerging areas.
"Will you please come to my house and show me how to do this Cricut stuff?" (from Trisha)
Ah, if only I could! I love to teach in person — it's often easier to show someone than to just write out directions and give you photos, plus I can be there to answer all your questions. Videos are the closest I've come to being able to teach as though I were in person. That's why I work so hard on my videos and try to make them as clear and helpful as possible.
"What other interests do you have outside of Disney and crafting?" (from Megann)
I like to play games (video games and tabletop roleplaying games) and I am a member of the Society for Creative Anachronism (SCA), where I am a member of the Order of the Laurel (arts) and the Order of the Pelican (service).
"When do you have time for work? Or is this what you do now?" (from Tammy)
I get up early and work during the day from home, and I craft at night and on the weekends. I am a Type A personality who likes to have a very full day. I have very little downtime, except late at night. I cut out a lot of things that other people do (for example, no TV).
"What is the best thing that you have ever done?" (from Jean)
Wow, that's a tough one! I would have to say having my child and starting my company are two of the best things I've ever done. But if you meant what the best thing I've ever made is, that's even harder. I really like the Snowflake Sweater Coat I made a few years ago.
"What is your most enjoyable thing that you have made? Do you have a favourite that had inspired you of crafting?" (from Betty)
The funny thing is that I fall in love with nearly everything I make. That may be part of why I love crafting so much — it's just so satisfying. It's so hard to pick one thing. The favorite things I've ever made are my daughter, my books, my sweater coats, my paper flowers, my kitchen wall (I painted it to look like a big cabinet), my junior high school art project (big globe with people standing all around it), my numerous SCA costuming projects, and my computer desk and office nook.
"When does love die? When does love become harmful? When does love become a habit?" (from Roxanne)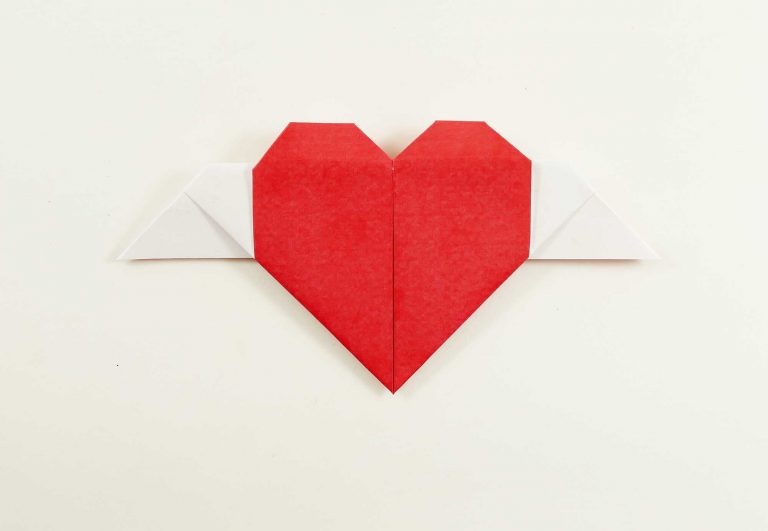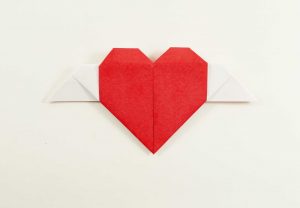 Okay, now those are BIG questions! For me, love never dies. Even when relationships change, or end entirely, I still feel the love. Once I love, it remains a part of me. Love can become harmful when it overrides common sense. I've experienced this a couple of times. Thankfully, common sense prevailed and I acted upon that, allowing love to become secondary. I don't know if I've experienced the habit of love. My feelings of love are ever-evolving — they don't feel like habits. Sometimes love is just there, and not big and bold — one could interpret that as a habit, but I do not. Love is singular and unique.
"How do you decide what you are going to create next?" (from Susan)
I either look at what I personally need or want to make, or I take a cue from someone near me. For example, spring is coming and I'm thinking about flowers, so I've been making paper flowers. But I have some gifts to make for birthdays, and my thoughts are changing to birthday gifts. In other cases, someone may ask me how to make something, and I create that thing they need help with. So I suppose I create re-actively, rather than pro-actively. I am happy with this, and it motivates me!
Well there we go — a little bit of me. I will answer the craft-specific questions later on my blog. Feel free to ask more questions! I'm always happy to share.
Love,