Learn how to make seamless sublimation tumblers with different techniques and awesome results!
One of my favorite parts of sublimation is how easy it makes customizing 3D items, especially skinny tumblers! They're fun and popular, and make amazing gifts. While sublimation tumblers take a bit of practice to perfect, especially creating a smooth seam for continuous designs, I've done all the experimenting for you and have lots of tips to get great results! And, I tested several tool and material combinations to help you pick the best option for your tumblers. I will also show you how to use my high quality, free sublimation tumbler designs fast and easy! August 2023 Update: I've added 3D inflated designs made with an AI generator to the free download!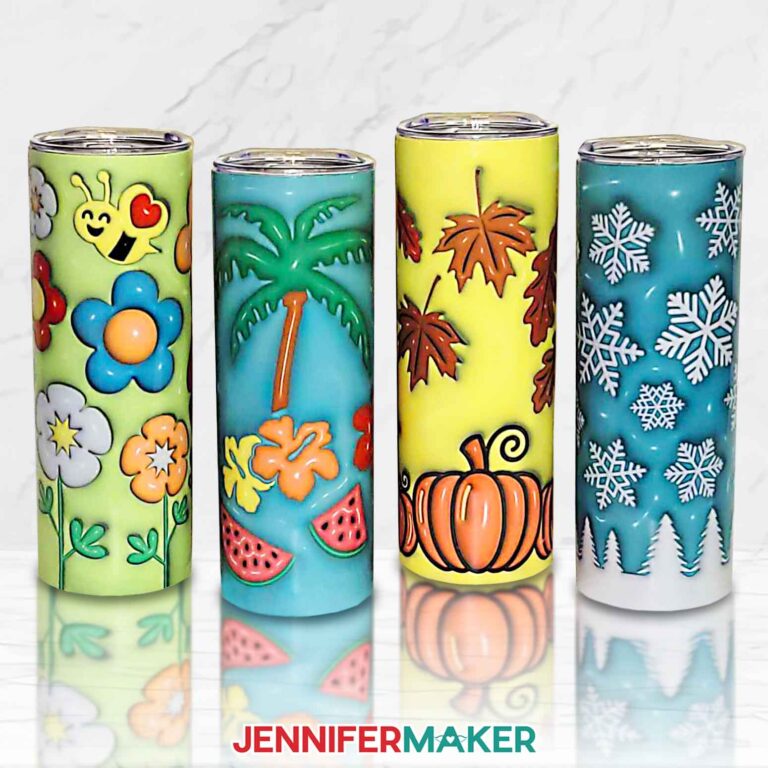 Want to save this project? Enter your email below and we'll send the project straight to your inbox.
Watch my full step-by-step video on how to make sublimation tumblers: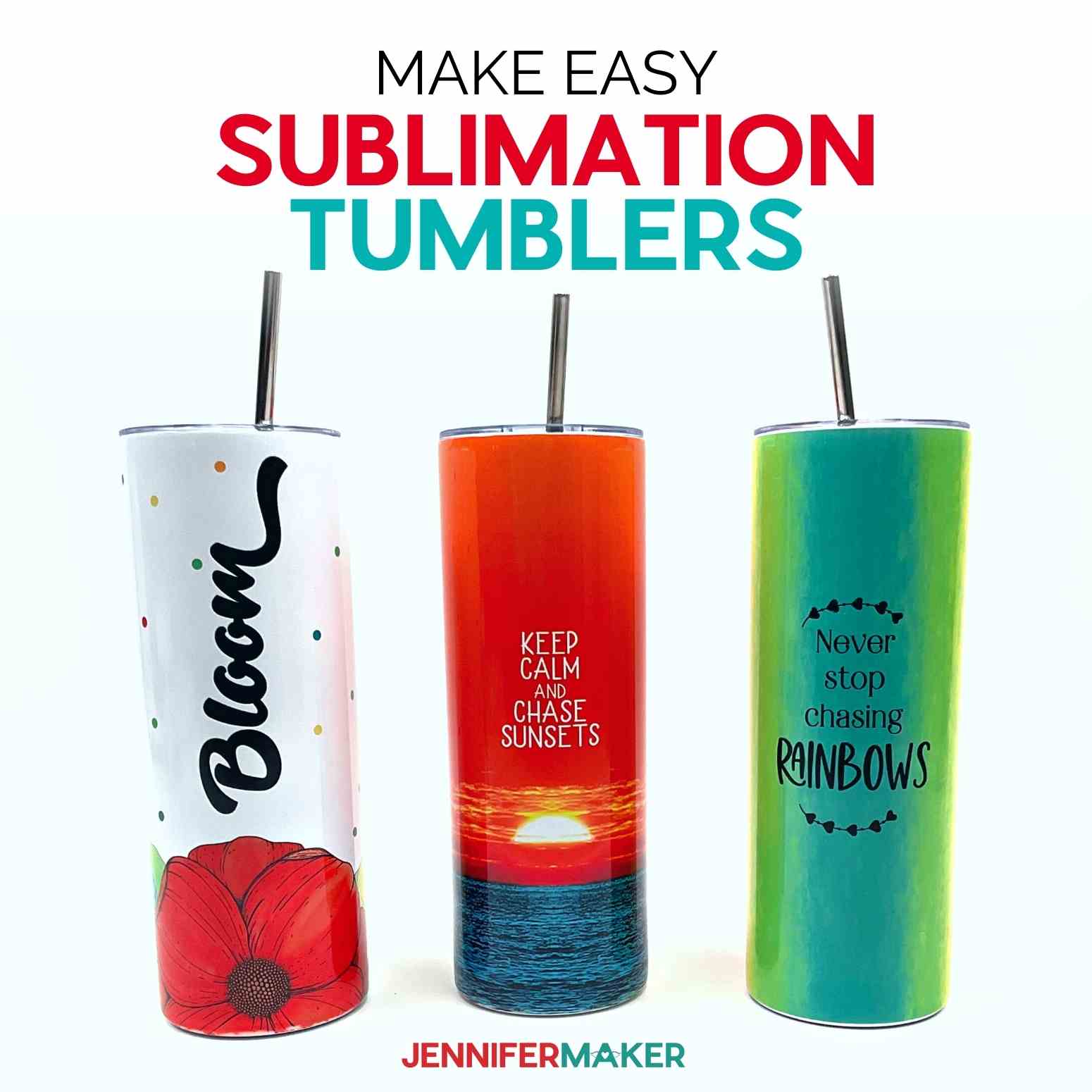 Print sublimation on tumblers is so much fun! It does take some special equipment, but the results are very reliable.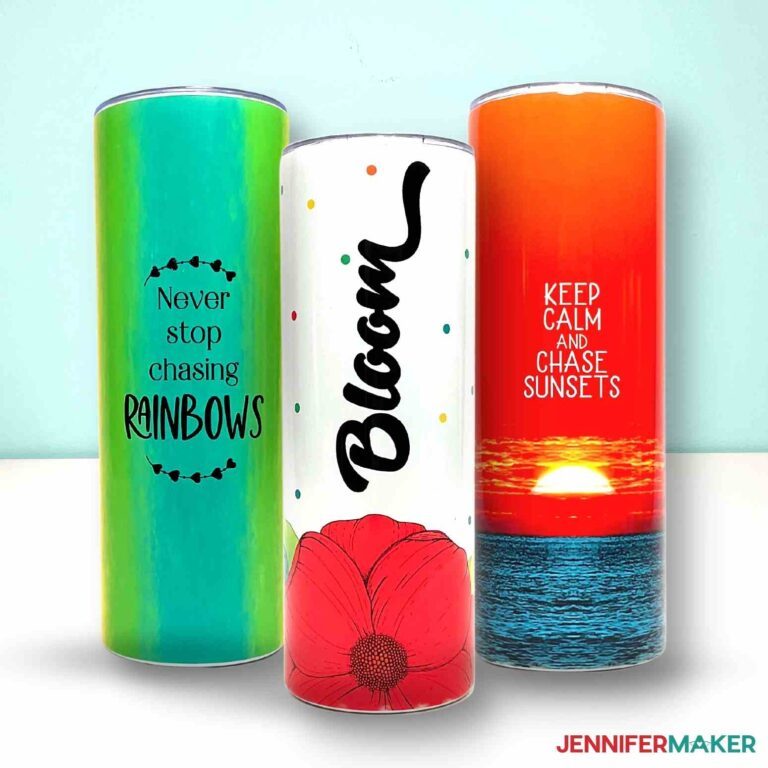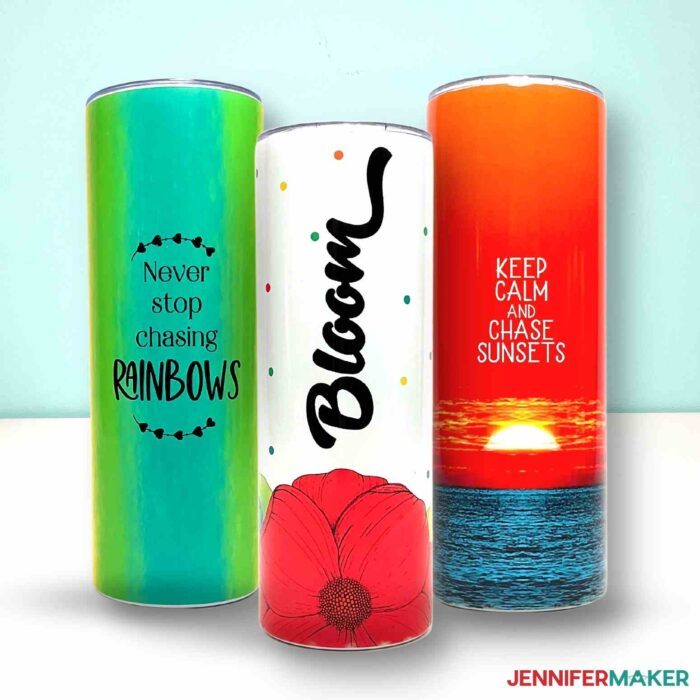 Basically, special sublimation dyes and papers are activated with heat. The inks become a vapor and dyes the surface of the specially-coated skinny tumbler in just a few seconds. And since the printed sublimation designs become part of the tumbler's surface fibers, you can't feel them and they won't peel off! You need compatible sublimation tumblers, which have a special sublimation or poly coating that accepts the ink. My favorite skinny sublimation tumblers are in the material list.
You will need a sublimation printer with compatible ink and sublimation transfer paper, a laptop or desktop computer, and a Google account. I used my Epson EcoTank ET-4760, but you can find information on several printers in my Best Sublimation Printer to Buy in 2022 post. You can see my recommendations for the best results in my Sublimation for Beginners Ultimate Guide.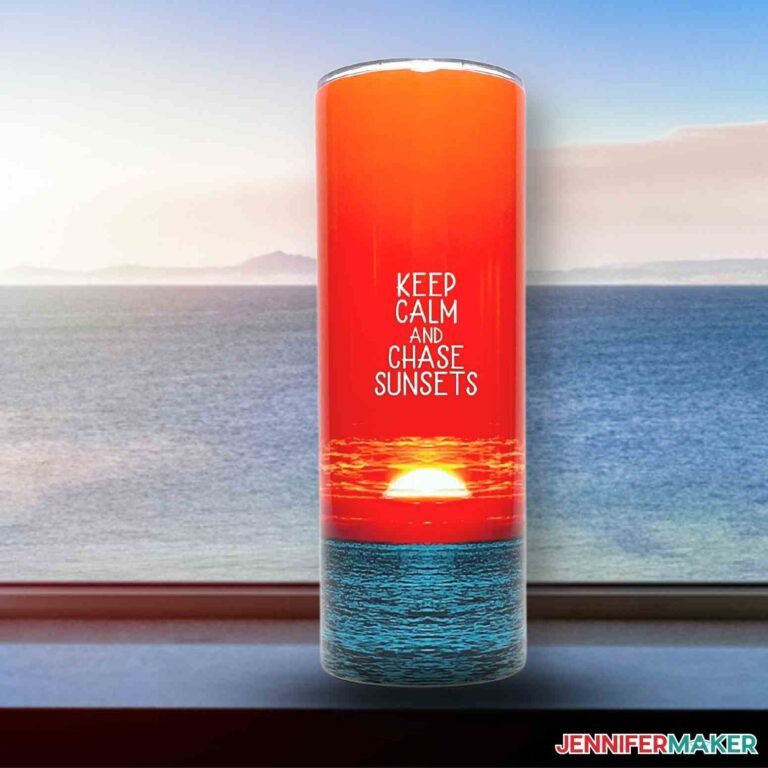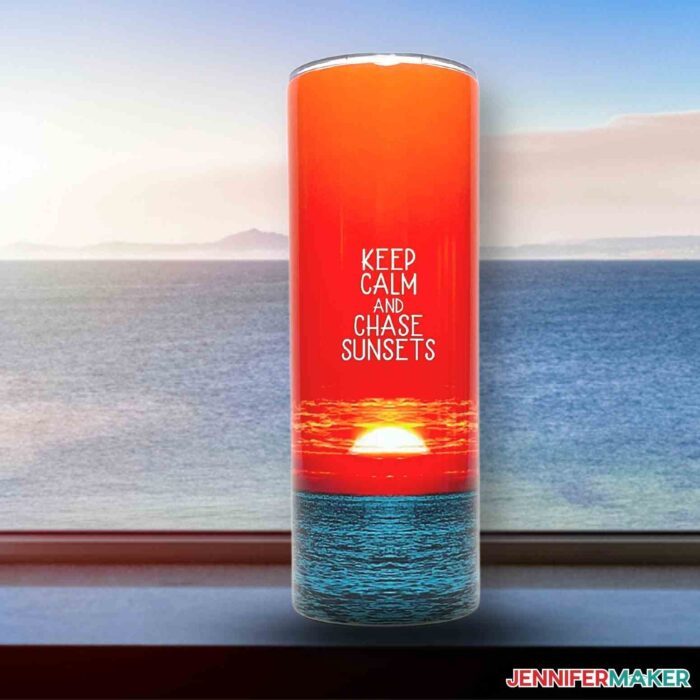 Since tumblers aren't flat (they couldn't hold coffee if they were!) you'll need different heat presses and supplies than those for flat sublimation items. I tested combinations of new products using a tumbler press, a convection oven, a heat gun, shrink wrap tubes, silicone bands, and a heat-resistant felt pad. I'm excited to share the results of my skinny straight sublimation tumbler experiments!
No matter which technique you use, take your time aligning and securing the design to your sublimation tumbler. I'll show you some tips on getting a clean seam using butcher paper, a lint roller, heat resistant tape, a scraper, and scissors or a paper trimmer. It even works for a full wrap design!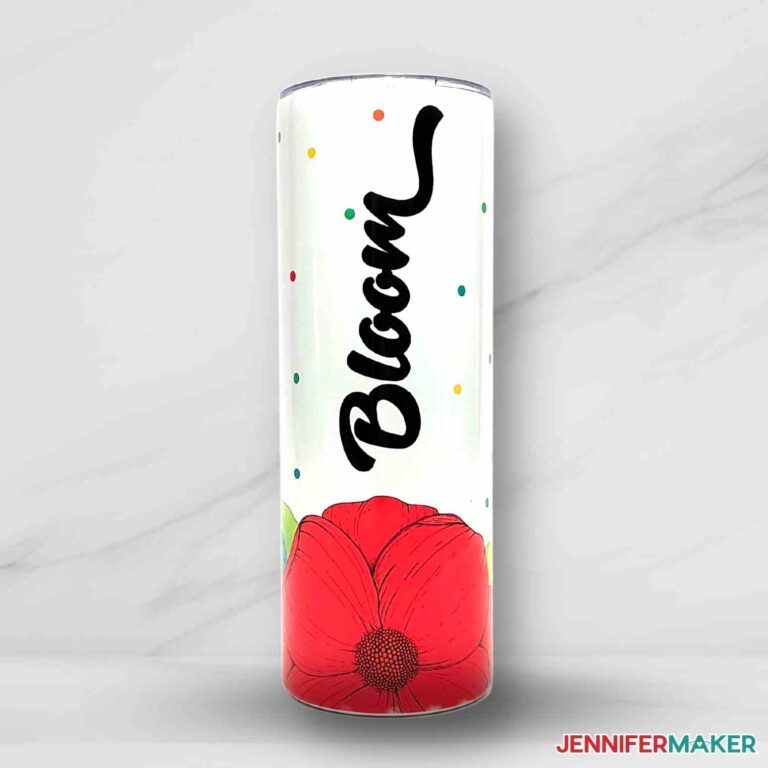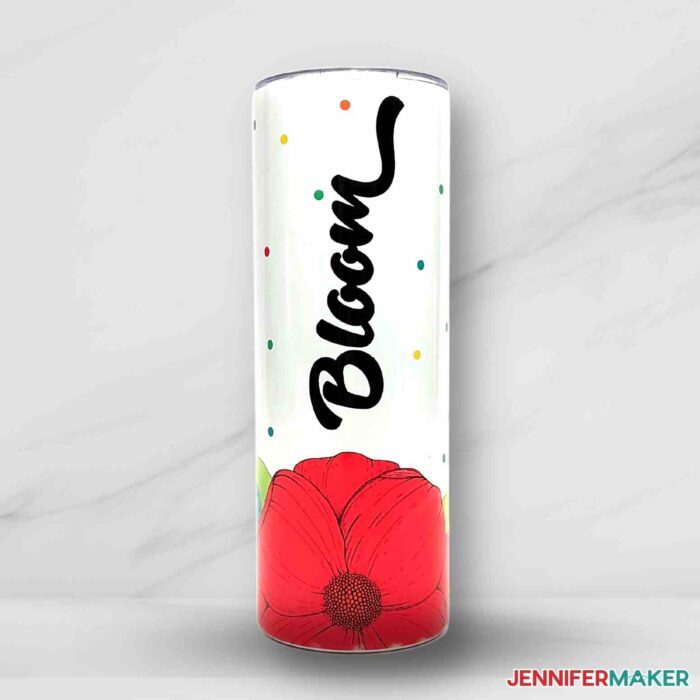 And just like the ink vapor can get on paper, it can get on you! Good ventilation is important any time you use sublimation. Have your windows open and a fan going to help the fumes dissipate quickly. And don't breathe in very close to the project while it's still warm.
I can't wait to see what you make with these designs!
Ready to make sublimation tumblers using my free designs and step-by-step tutorial? You're going to love them! This post contains some affiliate links for your convenience (which means if you make a purchase after clicking a link I will earn a small commission but it won't cost you a penny more)! Read my full disclosure policy.
Materials to Make Sublimation Tumblers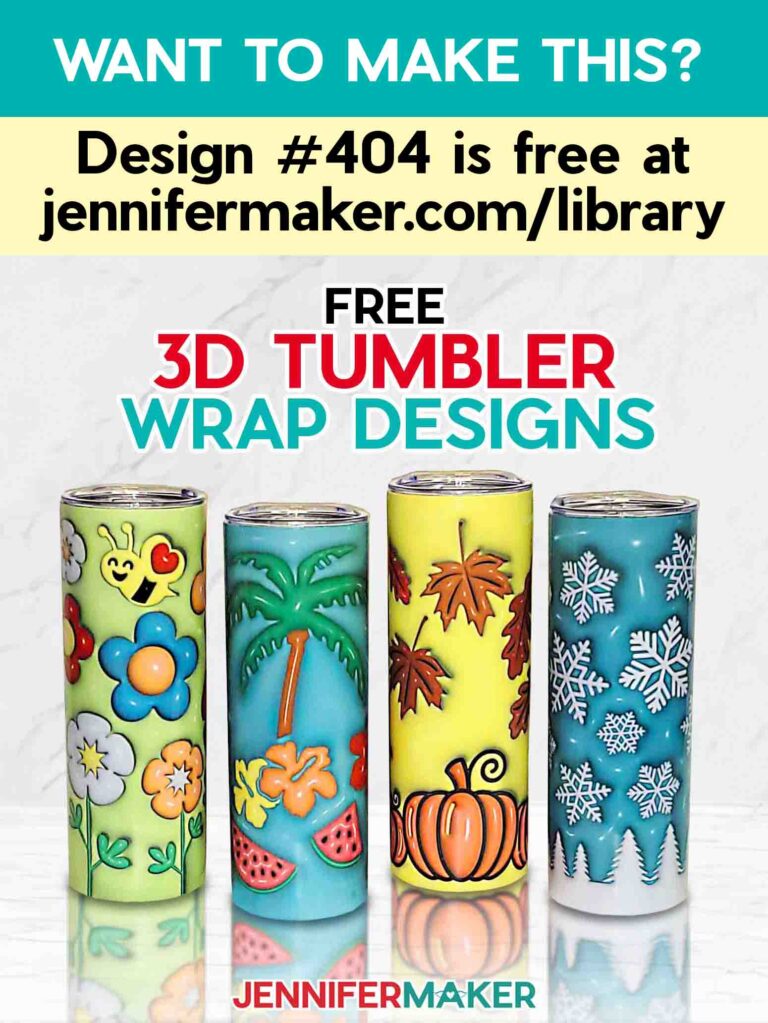 How to Make Sublimation Tumblers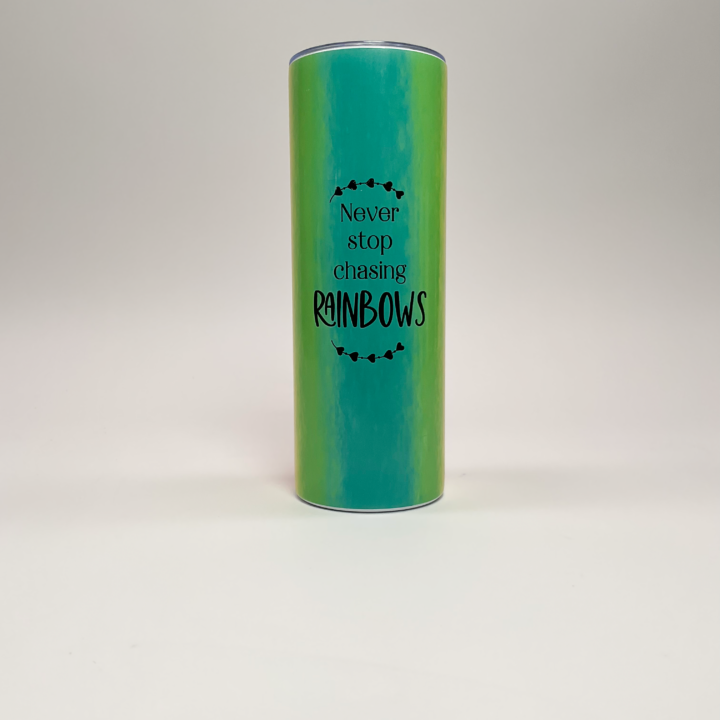 Sublimation Tumblers
Difficulty:
Easy to Medium
Learn to make seamless sublimation tumblers in several ways.
I also have a group just for sublimation crafting where you can get help and tips from other crafters who love to sublimate, too! Come join us at jennifermaker.com/sublimationgroup to ask questions, share ideas, and get inspired!!
Questions About How to Make Sublimation Tumblers:
Q. Can you sublimate on any tumbler?
No, you must use blank tumblers designed for sublimation dye. There are many different types of sublimation tumblers! The 20 oz sublimation tumblers I picked have a clear lid and metal straw, but there are others if you prefer a plastic straw. Just make sure they have the correct sublimation or poly coating. If you can't find them locally, you can order items like wholesale sublimation tumblers online.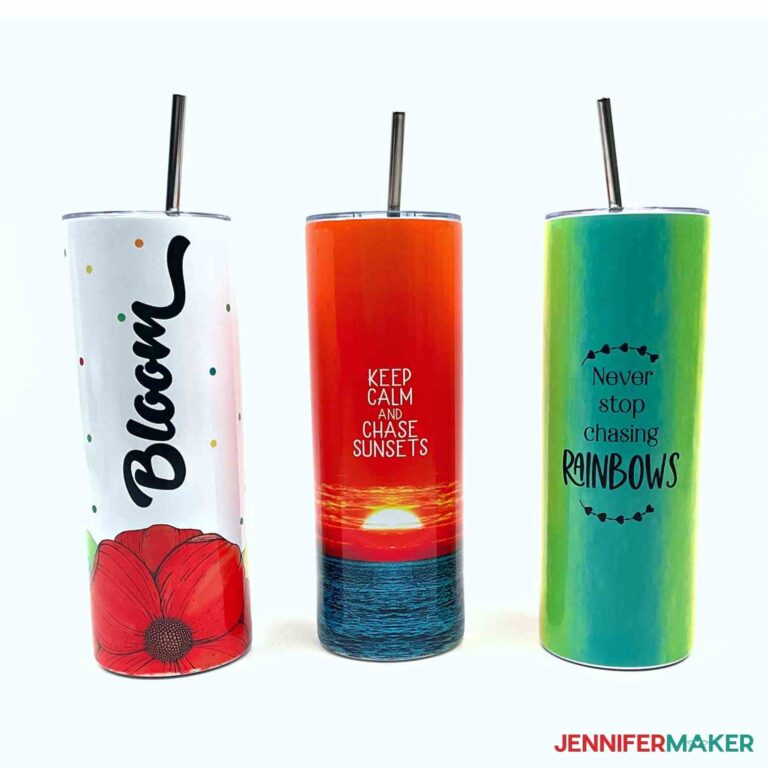 Q. What do you need to make sublimation tumblers?
A printed sublimation design, adequate heat, compatible tumblers, and the tools and techniques in my tutorial! If you want to try without a printer, you can edit a SVG in Cricut Design Space and cut it from an Infusible Ink transfer sheet for another approach to sublimation.
Q. Do sublimation tumblers need epoxy?
No, the dye becomes part of the sublimation surface so you don't have to seal it!
Q. Can sublimation tumblers go in the dishwasher?
Yes, as long as the sublimation blank is dishwasher-safe!
Q. Can you sublimate tumblers in a regular oven?
No, once you use a convection oven for the sublimation process, it is no longer safe for food grade use.
Q. Can I use sublimation printers for regular prints, too?
No, sublimation printing (whether purpose-built or converted) requires high sublimation ink. And you cannot really switch a converted printer back to being an inkjet printer without a LOT of effort and wasted ink. If you don't want to invest in a sublimation printer, you can loo. for online retailers who will make a custom printed sublimation sheet for you! Or, try Infusible Ink transfer sheets.
Q: What kind of paper do I use for these craft projects?
While some people will use just regular laser paper, I really recommend you use special sublimation paper for the best and most vibrant results and ink transfer. I use A-SUB paper most often.
Q: What kind of ink do I use?
You must use special sublimation ink! I used Hiipoo Ink for these sublimation tumblers.
Q: How do I test my sublimation prints for vibrancy and color?
Use my free subliflower design to see how your colors look! It's Design #385 in my resource library!
Sublimation Startup
Need a little extra help understanding how to get started with sublimation? Join Sublimation Startup for a logical, step-by-step guide to getting setup for success with sublimation! You can ask questions and feel confident that you'll get help! The Sublimation Startup mini-course is also great for those who enjoy learning from Jennifer Maker's easy-to-understand, calm, and clear method of teaching. This is a no-fluff, no-mess, no-distraction workshop … it's like sitting down with Jennifer in her craft room to learn directly from her! We work in logical steps to build your understanding and confidence with sublimation, and then provide support to keep helping you as you continue on your journey! Register now!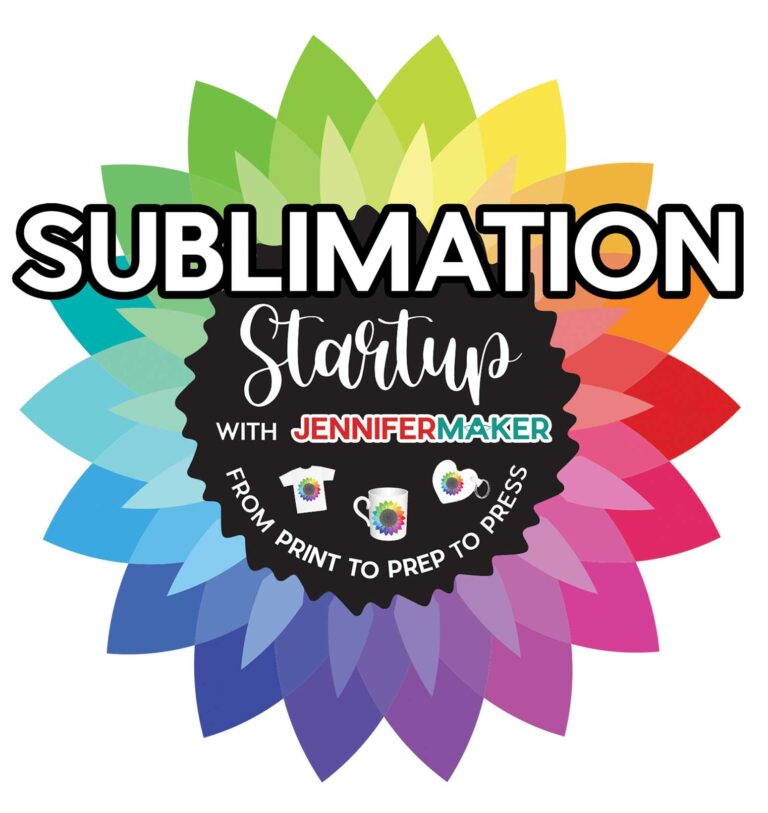 Get my Sublimation Tumblers designs for free!
I can't wait to see your sublimation tumblers! Watch for more sublimation tutorials and please ask any questions you have in our Facebook group or tag me on social media with #jennifermaker.
Love,